January, 18, 2010
1/18/10
7:14
PM ET
By
Matt Mosley
| ESPN.com
Redskins secondary coach Jerry Gray is telling the Washington Post that
he's still pondering an offer from the Seattle Seahawks
. Gray interviewed to become the Redskins' head coach before Jim Zorn was fired and then he talked to Mike Shanahan about staying on as the defensive coordinator.
"I do have an offer from Seattle to be their secondary coach, and it's a one-of-a-kind offer, but I have not signed yet," Gray told the Post on Monday. "I'm not waiting for any particular reason, but with the holiday it hasn't happened yet. I'm not saying it won't happen. We'll see what happens [Tuesday]."
Gray also told the Post that he's not waiting around to hear from the Skins. And I think that's a good idea. Shanahan quickly hired Jim Haslett to be his defensive coordinator and there's not really a spot for Gray with the Redskins. Owner Dan Snyder was a huge fan of Gray's, but he's taking a hands-off approach with Shanahan and general manager Bruce Allen. We'll have more on the Redskins situation throughout the week.
January, 11, 2010
1/11/10
1:15
PM ET
By
Matt Mosley
| ESPN.com
Redskins coach Mike Shanahan has given his temporary coaching staff off until Wednesday. He spent last Thursday interviewing members of Jim Zorn's staff and he plans to let them know quickly about their status. Of all the current assistants, I think that secondary coach Jerry Gray has the best chance of being retained. He's being considered to replace Greg Blache as defensive coordinator, a role that Gray once filled in Buffalo under Gregg Williams and Mike Mularkey.
I spoke with quarterback
Jason Campbell
last night and he's looking forward to visiting with Shanahan. At this point, Campbell's used to learning a new system on an almost annual basis, but he's especially excited about Shanahan because of his reputation for being a quarterback guru. People from across the league have called Campbell to tell him how fortunate he is to have Shanahan taking over.
Campbell had just hung up with his former college teammate at Auburn,
Karlos Dansby
, who snatched a fumble out of the air and raced 17 yards to give the Cardinals a 51-45 win over the Packers in Sunday's wild-card playoff game. I'll be at Valley Ranch for a couple of hours. Let's meet back here this afternoon.
January, 5, 2010
1/05/10
10:18
PM ET
By
Matt Mosley
| ESPN.com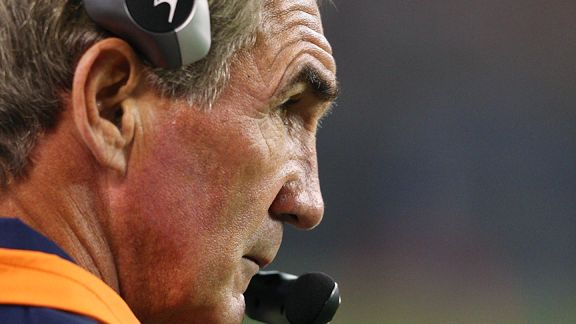 Joe Robbins/Getty ImagesOne of Mike Shanahan's challenges will be to make sure Dan Snyder feels involved in decisions.
Now that
we know
Mike Shanahan is going to be the coach of the
Washington Redskins
, it's time to look at five of his top priorities. Bruce Allen might have the title of general manager, but it looks as if Shanahan will have final authority on football decisions. If that's really the case, here are five things he needs to address -- in no particular order:
Figure out what he's going to do at quarterback:
Dan Snyder and his old pal Vinny Cerrato made a mess of this situation last offseason by pursuing every quarterback not named
Jason Campbell
. Allen has been complimentary of Campbell's work, but this is something Shanahan needs to figure out. I talked to Campbell about Shanahan last week, and he expressed excitement about the coach's credentials. Shanahan obviously won the two Super Bowls with
John Elway
, had some success with
Jake Plummer
and appeared to have
Jay Cutler
headed in the right direction. I think Shanahan will look to draft a quarterback and groom him for the future, but you don't want to throw a kid to the wolves behind this offensive line. If Shanahan believes Campbell could elevate his game, I think it behooves him to invest some time in him. Campbell had the best statistical season of his career while playing behind perhaps the worst collection of offensive linemen in the league. I'd like to see what a quarterback guru such as Shanahan could accomplish with Campbell, who has handled this entire situation with a lot of grace.
Assemble a talented coaching staff:
I think Shanahan brings a great deal of energy to the job after having a season off. But it's not like he played golf the whole time. He spent a lot of time visiting other coaches and watching film at an office in Denver. I have to believe he has basically had a coaching in staff in mind for the past six or seven months. His son, Kyle, will serve as offensive coordinator and there's a lot of speculation that Bengals defensive coordinator Mike Zimmer will fill the same role for the Redskins. Keep your eye on whether Shanahan retains any members of the previous Washington regime. It will be an indicator of how much say Snyder has retained. Snyder loved special-teams coordinator Danny Smith and he's also fond of secondary coach Jerry Gray. My guess is Shanahan will pretty much clean house.
It's time to rebuild the offensive line:
This goes hand in hand with the quarterback situation. You can't ask Campbell to endure another season behind this collection of former undrafted rookies and aging players. It as if your best offensive lineman
Chris Samuels
will probably retire because of a neck injury, and it's not like you received outstanding play from your other veterans.
Randy Thomas
is too old to count on, and
Casey Rabach
is just a serviceable center at this point. I supposed
Derrick Dockery
was your best lineman this season after Samuels was injured, but that's not saying much. Free agency is going to be limited because of the potential for an uncapped season. With the No. 4 pick overall, you need to take a long look at the left tackles in the draft. I know everyone will talk about Jimmy Clausen, Colt McCoy and Sam Bradford, but you don't have to pick a quarterback at that spot. Hopefully Shanahan and Allen will have a logical plan in place. Picking two wide receivers and a tight end in the same round isn't the way to go -- even if you argue that they were the "best players on the board."
It would be nice to figure out the running back situation:
Starting running back
Clinton Portis
has talked about his uncertain future. He's set to make more than $7 million next season (Shanahan money), and at least $6 million of it is guaranteed. I know Shanahan once traded Portis from the Broncos, but I don't think he would have any trouble coaching him. The issue is that Portis talks a better game than he plays these days. He missed pretty much the entire second half of the season with a concussion -- yet he found time to criticize Campbell in recent days. He's a mouthy guy who loves to go behind the coach's back directly to Snyder. If Snyder allows Shanahan to dump Portis, I think that would be a good sign for the organization.
And that brings us to our fifth item, which deals with Snyder:
All this talk of "ultimate say in football decisions" sounds good in theory, but we know how much Snyder likes to be involved. Shanahan needs to do a good job of making Snyder feel like he's involved in decisions. Snyder gave Joe Gibbs a lot of authority, but that was a different situation. He had idolized Gibbs as a kid and was sort of in awe of him. That won't be the case with Shanahan. The last time Snyder hired a coach with a similar demeanor to Shanahan's (Marty Schottenheimer), things ended pretty quickly. If Snyder doesn't give Shanahan and Allen enough breathing room, this could be another failed hire.
January, 4, 2010
1/04/10
7:50
PM ET
By
Matt Mosley
| ESPN.com
The Washington Post
had been reporting
that the Redskins could introduce Mike Shanahan as their new head coach as soon as Tuesday, but the newspaper's Web site
is now saying that offensive line coach Joe Bugel's likely retirement
could delay the announcement.
The thought is that owner Dan Snyder would prefer to honor Bugel on Tuesday and perhaps make an announcement about Shanahan on Wednesday. A club source has told me within the past hour that it would not surprise him if the Skins waited until Wednesday to introduce Shanahan.
Snyder sent his private jet to pick up Shanahan on Monday and the two are expected to meet well into the evening,
according to ESPN's Adam Schefter
. New general manager Bruce Allen is expected to be part of those discussions. The Denver Post reported two weeks ago that Shanahan was already in discussions with the Redskins.
At this point, it's hard to imagine there being a snag. The only head coach Snyder has hired with more pedigree than Shanahan is Joe Gibbs. And Gibbs' second tenure wasn't close to being as successful as his first run. Shanahan is expected to hire his son, Kyle, as offensive coordinator and it's likely that Bengals defensive coordinator Mike Zimmer will be his defensive coordinator.
It's hard to imagine anyone from Jim Zorn's staff being retained. Snyder is a big fan of special teams coach Danny Smith and secondary coach
Jerry Gray
, but that doesn't mean either assistant is safe. You can bet that Shanahan's basically had his staff in place for months. And Snyder is expected to give him plenty of leeway when it comes to decision-making power.
Will Snyder stay out of Shanahan's way and let him choose his own course? I'll believe it when I see it.
December, 31, 2009
12/31/09
6:00
PM ET
By
Matt Mosley
| ESPN.com
The Redskins aren't the first organization to circumvent the spirit of the Rooney Rule, but they may have come up with the most ham-handed process since the rule was invoked in 2003 to ensure that at least one minority was interviewed each time a head-coaching position became available. John Feinstein
blasted both the Redskins and the group that oversees the Rooney Rule
in a column in the Washington Post on Thursday.
The Redskins "satisfied" the Rooney Rule by interviewing secondary coach Jerry Gray for a head-coaching position that's still not technically vacant. Then Gray brought further confusion to the process by at first denying that the interview took place. The Redskins clarified Gray's statement by saying that he meant to say "no comment," which would've been appropriately vague.
Here's how Feinstein concludes his column:
[Mike] Shanahan is going to coach the Redskins. That's all well and good. But the Rooney Rule, even in an instance where it isn't going to produce a minority hire, should not be treated as a joke. There was no way Snyder was going to hire another coach who isn't even working at the coordinator level -- whether he be black, white, green or blue -- to follow Zorn. There are plenty of guys, minority and non-minority, who could have been interviewed next Monday and Tuesday before the surprise announcement that Shanahan was the new coach

But the Redskins, as we know, always do things "the Redskins Way." The saddest part of that -- besides the on-field record and the off-field embarrassments -- is that the NFL won't do anything to stop the madness.
Well played, sir.
November, 25, 2009
11/25/09
10:24
AM ET
By
Matt Mosley
| ESPN.com
Redskins secondary coach Jerry Gray will become the head coach at Memphis,
according to ESPN.com's Joe Schad
. Gray interviewed with Memphis officials Monday and Tuesday and an announcement will probably be made after the Tigers' final game.
No word on whether Gray will finish the season with the Skins, but I'm betting owner Dan Snyder will let him out of his contract to jump into the recruiting process. The founder of FedEx is a powerful Memphis booster and he has ties to the Redskins organization. And Schad reports that former Redskins coach Joe Gibbs also spoke on Gray's behalf.
Gray was the defensive coordinator for the Bills from 2001 to 2005 and he's currently presiding over the No. 1-ranked passing defense in the league (161 yards per game). I've known Gray over the years and we've talked about his interest in returning to the college game. I think Gray would've likely been the interim head coach for the Redskins if Snyder had fired Jim Zorn during the season. For Gray's sake, it's probably a good thing that didn't happen.
Safeties coach Steve Jackson would probably take over as Redskins secondary coach if Gray goes ahead and leaves the team during the season.
October, 18, 2009
10/18/09
4:16
PM ET
By
Matt Mosley
| ESPN.com
Posted by ESPN.com's Matt Mosley
I guess we shouldn't be shocked to
see the Redskins lose
to a once-winless team at this point in the season. It's one of the few things we can count on with this team. Coach Jim Zorn benched starting quarterback
Jason Campbell
at halftime, but the move didn't really inspire the team or his play calling.


This is an awful team right now, and it's not like a coaching change is going to change the Redskins' fortunes. Still, I'm not sure how owner Dan Snyder could stick with Zorn at this point. Snyder and his right-hand man, Vinny Cerrato, haven't given Zorn a public endorsement, in part, because they wanted to see how things played out. Well, losing at home to the Chiefs rivals ending the Lions' losing streak earlier in the season.
There's absolutely no reason to think the Redskins could turn their season around now -- especially with a game against the Eagles coming up next Monday. I think Snyder wanted to wait until after the Eagles game to make a change so that the interim coach would have the bye week to work with. He may not have that "luxury" now.
On Sunday, the Redskins' patchwork offensive line couldn't get any push against the Chiefs. And when the Skins had to settle for short field goals, you had the feeling something like this would happen. Backup quarterback
Todd Collins
provided a brief spark, but he couldn't get anything accomplished when the game was on the line.
The defense kept the Skins in the game, but the offense couldn't generate anything in the second half.
Clinton Portis
had 109 yards rushing on 15 carries. He broke away on a 78-yard romp, but the Skins still couldn't capitalize with a touchdown.
If a change is made in the next day or so, I wouldn't be surprised to see Jerry Gray named as interim head coach. The wild-card pick would be special-teams coach Danny Smith -- just because everyone in the organization loves him. If Gray becomes the interim coach, Sherman Lewis would probably take over as the play-caller. Just another awful day all the way around for Redskins fans.
October, 15, 2009
10/15/09
7:21
PM ET
By
Matt Mosley
| ESPN.com
Posted by ESPN.com's Matt Mosley
As we discussed this morning, the Washington Post
reported that three prominent Redskins players
would like for management to make a public statement in support of coach Jim Zorn so they can stop answering questions about his job security.
Asked about the story Thursday
, Zorn said he didn't need an endorsement from anyone to continue doing his job.
"I can't speak for those guys, because they're grown men," Zorn said. "I think we're all together. I don't think that that has to be done for me to feel better about myself and what we're doing. I think Mr. [Daniel] Snyder, he's tried to help in every way he can to get this team the way it needs to be. And sometimes, you know, it's a process. So, I can't answer more to that question."
I mean what do we expect the guy to say at this point? Mr. Snyder and his right-hand man, Vinny Cerrato, have left Zorn dangling in the wind because they don't want to say anything definitive. Zorn's handled this situation with as much grace and dignity as one could expect. And he'd look completely weak to start asking for a statement from management.
If the Redskins can get past the winless Chiefs on Sunday, they'll have a "Monday Night Football" matchup at FedEx with the Eagles. If they somehow beat the Eagles, I think Snyder needs to come out and commit to Zorn for the rest of the season. If the Skins lose that game, my gut tells me that Snyder will fire Zorn and go with an interim coach -- and it's not going to be offensive consultant Sherman Lewis.
My best guess would be secondary coach Jerry Gray as the interim, and Lewis could call the plays. Gray's been a defensive coordinator in the league and he's well-liked by both the players and management. If you'd asked me a few weeks ago, I would've pointed to defensive coordinator Greg Blache. But he reportedly has some health issues and I'm not sure he'd be up to the task.
July, 28, 2009
7/28/09
2:00
PM ET
By
Matt Mosley
| ESPN.com
Posted by ESPN.com's Matt Mosley
As teams in the Beast attempt to sign their 2009 rookies, let's take a look back at the division's '08 class heading into training camp. Every team found an immediate impact player in '08, but in some cases, those players came from unlikely places.
Redskins safety Chris Horton was taken in the seventh round, but he quickly became a starter. Of course, we all know the early returns on the Skins' second-round receivers -- and tight end -- are shaky at best.
We'll go team by team and see which players are prepared to make the biggest leaps in '09. And let's also find out who's feeling the heat in terms of making the roster. Special thanks to NFC West blogger Mike Sando for coming up with this idea:
2008 picks: 6

Projected 2009 starters: (2) Cornerback Mike Jenkins, a first-round pick out of South Florida and RB Felix Jones, a first-round pick out of Arkansas (I think the Cowboys want to return Marion Barber to his closer's role).
Potential starters: (1) Cornerback Orlando Scandrick, a fifth-round pick out of Boise State definitely could beat out Jenkins. He made a quicker adjustment to the NFL last season and he's shown absolutely no fear. You could also see Martellus Bennett starting when the Cowboys open with two tight ends. He'll play enough to be considered a "starter."
On the hot seat: Jenkins is definitely the guy on the hot seat. He's remembered mostly for running away from Giants running back Derrick Ward last season. Jenkins has the elite speed and athleticism, but he had to take the next step in terms of grasping the defense. I think Scandrick's the better player right now.
No longer with the team: Linebacker Erik Walden of Middle Tennessee State joined the Cowboys' South Florida affiliate -- otherwise known as the Dolphins. He played in 15 games and did a nice job on special teams.
Keep an eye out for: The steal of this draft was running back Tashard Choice in the fourth round. He kept the Cowboys afloat last season when Barber and Jones were hurt. He could become a very valuable complementary back. And he can be more than that if anyone gets banged up. It's a tremendous luxury to have a player like Choice as a reserve.
2008 picks: 7

Projected 2009 starters: (1) First-round pick S Kenny Phillips out of Miami.
Potential starters: (1) Bryan Kehl out of BYU was a fourth-round pick who made a couple of spot starts last season at weakside linebacker. He had an interception in the win over the Steelers. Depending on what happens with Michael Boley's hip injury, Kehl definitely could be in the mix. I don't see him as a starter long term, but he's not someone who will hurt you.
On the hot seat: Wide receiver Mario Manningham is a player GM Jerry Reese was really excited about. He's going to have a huge opportunity to shine in camp while rookies Hakeem Nicks and Ramses Barden try to figure out the offense.
No longer with the team: You might not have realized it, but former Southern Miss defensive end Robert Henderson is still on the roster. An ankle injury in the preseason knocked him out for the '08 season. I think it's obvious that quarterback Andre Woodson's days with this team are numbered. He spent last season on the practice squad -- except for one week. He's a project player who hasn't really shown a ton of improvement.
Keep an eye out for: As I've said several times this offseason, Phillips is poised to have a breakout season. I think he's a playmaker who could end up in the Pro Bowl this season. And cornerback Terrell Thomas came on strong after he was slowed by injury at the start of the '08 season. He's a playmaker who will make a valuable contribution in the nickel.
2008 picks: 10

Projected 2009 starters: (2) Second-round pick WR DeSean Jackson out of Cal and fourth-round pick S Quintin Demps out of UTEP.
Potential starters: Already named
On the hot seat: I don't think he's really on the hot seat, but defensive tackle Trevor Laws needs to be more productive this season. The former Notre Dame star was their top overall pick in the '08 draft. He had a fumble recovery late in the season against Dallas, but the Eagles need him to become a key part of the rotation. He's not there yet.
No longer with the team: Andy Studebaker, a defensive end out of Wheaton College is now with the Chiefs.
Keep an eye out for: I'm interested to see how former fourth-round pick Mike McGlynn, an offensive lineman, responds to a torn hamstring that he suffered in the playoffs against the Vikings. I think another former fourth-round pick, Jack Ikegwuonu, will be an interesting player to
watch in camp. The defensive back hurt his knee leading up to the '08 campaign, but the Eagles liked his potential. He could be a camp surprise.
2008 picks: 10

Projected 2009 starters: (1) Safety Chris Horton should once again be starting opposite LaRon Landry.
Potential starters: (1) If Devin Thomas has a breakout training camp and preseason, there's always a chance he could challenge Antwaan Randle El for that No. 2 receiver role. I think Thomas will be vastly improved, but I don't see him as the starter.
On the hot seat: Well, you could start with the guy we just discussed. Thomas has all the tools you want from a receiver, but we'll have to see if he can take it to the field. Second-round pick Fred Davis showed some immaturity last season. He needs to grow up and become a complementary player to fellow tight end Chris Cooley. And who knows what to expect from wide receiver Malcolm Kelly? I'm not holding my breath on him.
No longer with the team: The punter from the sixth round, Durant Brooks, is long gone. The Skins gave him every opportunity to stick, but he wasn't ready for prime time.
Keep an eye out for: I'm very interested in seeing how offensive lineman Chad Rinehart (third round) and cornerback J.T. Tryon (fourth) look in this training camp. Longtime offensive line coach Joe Bugel didn't think much of Rinehart after the season, but he's since said that the player's shown a lot of improvement in the offseason. Tryon wasn't close to contributing in '08, but secondary coach Jerry Gray says he's getting there. Those are two players who everyone will be watching closely. Right now, it seems like Dan Snyder and Vinny Cerrato hit on one player in the seventh round. But that can change this season.
June, 8, 2009
6/08/09
3:06
PM ET
By
Matt Mosley
| ESPN.com
Posted by ESPN.com's Matt Mosley
After being selected in the fourth round of the '08 draft, Redskins cornerback Justin Tryon didn't do much to distinguish himself. But according to this interview with Skins secondary coach Jerry Gray, Tryon could be a pleasant surprise in '09.
Here's what Gray, a former University of Texas and Rams star, told the intrepid Redskins blogger, Matt Terl, about Tryon:
"I'm gonna tell you, he is going to be really, really good in this league. And I think he is going to be good for a long time.

"I tell him to not lose hope because when you look at the depth chart and see yourself at 3 or 4, he doesn't need to worry about that. Trust me, there are things you can't control and if you control what you can control, you'll eventually get to where you want to go. That's where I think a lot of guys, looking at the depth chart, get uneasy and then they stop working, but you can't stop working. You always have to be working on just you."
That has to be encouraging for Skins fans to read. So far, seventh-round pick Chris Horton is the only major contributor from the class of '08. The Redskins are hoping that guys such as Devin Thomas, Fred Davis, Malcolm Kelly and Tryon can catch up with Horton this season. Terl asked Gray what exactly he'd seen from Tryon that impressed him so much.
"I think when a rookie comes into the NFL as a defensive back, the biggest thing they struggle with is the speed of the game -- and how guys can actually beat you. When you come in as a rookie, you think, 'I can go around and cover everyone.' Next thing you know, you don't know why you are doing what you're doing. You try to cover every route. You don't understand that they can only run so many routes from this position, so many routes from this other position.

"When you understand that, you slow the game way down. Now you don't cover the go when they can't run the go. To me that is where a lot of guys struggle in this league. They come in and they run 4.4, and they may be 5-[foot-]9, they may be 6-3, but they don't understand the middle part of the game.

"That's where it gets rookies. Rookies think, 'I'm big and fast and have all these times,' but they don't realize that if you can keep your physical part and catch up mentally, you are going to be really good. Tryon this offseason is catching up mentally. I've seen it in the first OTAs, I saw it in the first minicamp. You can tell by the way he is backpedaling, he is breaking, he is always close to receivers, and he is not out of position a lot. When you get it, all I need is time coach. To me that is what I've seen from him the first six days."
Pretty heady stuff from a guy who's been around the block as a player and a coach. And Gray's another guy who made the transition from Hashmarks to the Beast with us. He's a huge fan of the college game (especially Art Briles), which is the main reason I love talking to him. I think someone at the collegiate level would be wise to come after Gray the next time there's an opening.
January, 23, 2009
1/23/09
9:59
AM ET
By
Matt Mosley
| ESPN.com
Posted by ESPN.com's Matt Mosley
As a fan of the old SWC growing up, I remember watching Jerry Gray shut down receivers as a safety at Texas. On Wednesday, I had a chance to catch up with Gray, who is now the secondary coach for the Washington Redskins.
He'll show up in my column Saturday because he had to coach against both the Cardinals and Steelers this season. But I thought I'd pass along how much Gray's pulling for cornerback DeAngelo Hall to re-sign with the Redskins.
"I liked him when he was at Virginia Tech," Gray said. "He was one of the best in the league then and I think he's one of the best in this league now. I thought the guy did a great job for us."
The Redskins were able to get Hall on the cheap after his falling out in Oakland. And for half a season he was the model teammate. Since he grew up in the area, Hall might give the Redskins a hometown discount. But either way, they're going to try to keep him.
December, 30, 2008
12/30/08
7:26
PM ET
By
Matt Mosley
| ESPN.com
Posted by ESPN.com's Matt Mosley
Washington Redskins secondary coach Jerry Gray has been given permission to talk to the Detroit Lions about their head-coaching vacancy, according to the Washington Post. Gray was defensive coordinator in Buffalo for five years before joining Washington in 2006. I used to watch him play at the University of Texas before he went onto a nine-year playing career with the Rams, Oilers and Bucs.
He was a shining star in the coaching community when he took over the Bills defense and he actually had some solid seasons before the Mike Mularkey-led team went 5-11 in 2005 while Kelly Holcomb and J.P. Losman were splitting time at quarterback. Gray had linebackers Takeo Spikes and London Fletcher on that team. And Nate Clements was the star cornerback. He's coached the Redskins' excellent safeties the past three seasons and I thought he did a really nice job of integrating DeAngelo Hall into the secondary midway through the 2008 season.
Gray's interview will allow the Lions to satisfy the Rooney Rule, but hopefully it will be about more than that. Gray's succeeded in some tough situations, and the way he held the secondary together in the aftermath of Sean Taylor's death in 2007 was pretty remarkable. For a while, he could barely speak when he'd show game film that included Taylor. A really, really solid guy and coach.
November, 15, 2008
11/15/08
11:59
PM ET
By
Matt Mosley
| ESPN.com
Posted by ESPN.com's Matt Mosley
As the NFC Beast was first to report, the Redskins talked to defensive captains London Fletcher and Cornelius Griffin before signing cornerback DeAngelo Hall. On Saturday, Washington Post Redskins beat writer Jason La Canfora provided a blow-by-blow account of how this deal went down.
Coach Jim Zorn was quick to point out that Hall wouldn't have been signed had he not been on board with the deal. Zorn also called defensive coordinator Greg Blache and secondary coach Jerry Gray to let them know what was going on.
"If I was dead against it, there was no way it could have happened," Zorn said. "Vinny wouldn't put that on me, 'You have to take him.' And I wouldn't do that to Greg [Blache]: 'You have to take him.'
"There is definitely a working relationship with everybody. That makes it good, and it should be that way in a midseason [acquisition], and probably even that way in every situation, even in the draft."
From reading La Canfora's story, it looks like special teams coach Danny Smith was the only assistant who was completely opposed to the signing. And for good reason. The Redskins had to release special teams ace Leigh Torrence to make room for Hall. The Redskins have Hall working as the jammer on the punt unit. You know he's thrilled about that.
I spent some time visiting with Cowboys assistant secondary coach Brett Maxie this past week. Maxie coached Hall for three years in Atlanta and he couldn't say enough nice things about him. He said Hall had "great ball skills" and that his reputation for being bad in the locker room was completely fabricated.