January, 30, 2014
1/30/14
2:30
PM ET
As former Redskins kicker Mark Moseley drove to New York for a big day on Radio Row, the former NFL MVP discussed his role with Five Guys, the Redskins' special teams (embarrassing) and the potential elimination of the extra point (bad idea). I'll have more from our chat (about the Hall of Fame) Saturday morning.
Moseley was going to New York to promote the Optimal Wellness Challenge; he's hoping that by participating in this challenge he'll eliminate his Type 2 diabetes. Among the other NFL alumni participating: former
New York Giants
offensive linemen Bart Oates and Jim Burt and former running back Ottis Anderson.
Here's Moseley on:
His role with Five Guys:
"I'm the director of franchise development; have been since day one. I was the one who convinced them they could franchise when they only had five stores. It's been a great opportunity for me and my family. Now they have almost 1,200 stores open and I think over 30,000 employees around the country. We've grown from being a little mom-and-pop to a major player in the market."
Football preparing him for business:
"The competitive part of what I do did help, but also in learning how to handle myself and how to take defeat as well as success all came from my being an athlete all those years. And how to be around people. I'm the one who sold all the franchises. I sold all of them. It helped me to communicate and how to understand what I needed to do to get them to understand our concept and when to back off and when to push. All that comes from athletics. It really helped me be a salesperson and the drive of wanting to be successful came from being an athlete. I created my second Super Bowl here with Five Guys."
[+] Enlarge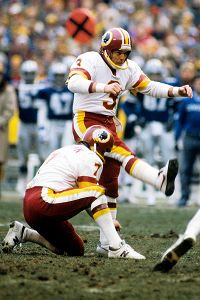 Manny Rubio/USA TODAY SportsMark Moseley won the MVP award for the 1982 season -- the only kicker to ever be nominated.
Transitioning from being a former Redskin to being a businessman:
"When I was in the travel business (17 years) I made that transition and built a successful business. When I really got into Five Guys, that's when I realized I had something to offer there, too. My first five years out of football I made more business mistakes than I made the rest of my life. I thought I could do the same thing you did in football, which was lower your head and go forward. In business there's a lot of luck and being in the right place and a lot of learning. You have to know how to accomplish those things and be patient with it. I failed at a lot of things. With Five Guys it clicked for all of us and they put together a great team."
Winning the NFL MVP 31 years ago:
"I realize now how fortunate I was. People keep asking to see the trophy but I don't have anything. They gave you nothing back then. All I got was the front page of the Washington Post -- I have it on a wall and I framed it. That's all I have. I look back now and I realize how fortunate I was because I'm the only kicker to be nominated much less to have won. There have been a lot of great kickers in the NFL. I was very fortunate. Like in business I was in the right place at the right time with a team that needed someone to help them because the offense was not jelling yet. Had I missed any one of those field goals in that stretch [two were game-winners; four other games were impacted by his success as he made 20 of 21 kicks that season) we wouldn't have been in the playoffs. That's how close it was."
The accuracy of today's kickers:
They don't kick in the elements as much, off the grass and mud. Remember how ridiculous RFK's field was? It was that way all year long …. I'll tell you what the difference is. The soccer style guys kick line drives. When I was playing, guys used to kick so high. Today they're right at it so the ball doesn't have time to move around. When I was kicking, the straight-on guys got the ball up so fast that the elements had more time to play with the ball so it affected a lot of kicks. Soccer guys hit it with so much power it doesn't move until toward the end when it loses some momentum. Ours would start moving immediately so you really had to play the elements. Today they kick right through everything.
Straight-ahead kickers:
I would like to see how they would match up. I matched up well with the soccer guys the last five years of my career. I took a lot of pride in staying in the game even though I was the only straight-on kicker. That's why my shoe and my helmet are in the Hall of Fame.
Eliminating extra points:
Anything you change as far as special teams, you change the dynamic of the game. Even though that extra point is made 99 percent of the time. If you go back and look where that point is missed, it usually haunts that team. There are several of them every year and it has an effect. Football is a lot like chess and if you take something out of the chess game it changes the whole way to play the game. It's the same thing as starting on the [25] and not having kickoffs. They did that in the Pro Bowl and I thought it was weird. You didn't have that little hope that the kickoff might get returned and it eliminates a scoring opportunity for a team.
The Redskins' special teams:
It was embarrassing to us. The Redskins always had great special teams and to drop off like they did this year was pathetic and embarrassing. Every guy that ever played special teams for the
Washington Redskins
was embarrassed. I've had several conversations with Doc Walker and Otis Wonsley and guys I played with and they just cringed when they saw the punt team cover because they did stuff you learn not to do when you're in high school, how to cover and stay in your lane on kickoffs and how to recognize pressure so you know when to block. These guys were oblivious to those things. It was terrible.
June, 22, 2010
6/22/10
11:15
AM ET
By
Matt Mosley
| ESPN.com
Notable players
: RB Joe Morris, LB
Lawrence Taylor
, TE
Mark Bavaro
, T Brad Benson, DE
Leonard Marshall
, NT Jim Burt, LB Harry Carson, QB
Phil Simms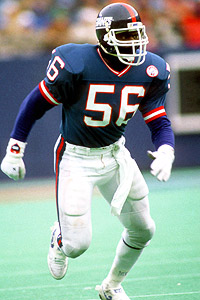 Malcolm Emmons/US PresswireLawrence Taylor was the leader of a dominant Giants defense.
Analysis
: Some longtime members of the organization tried to talk me into the '90 team based on the
Jeff Hostetler
theory, but I held strong. The Giants had the most dominant defensive player in the game with Taylor and Morris still had his legs at that point. Simms was the Super Bowl MVP after he completed a ridiculous 22 of 25 passes.
The '86 team was dominant enough to destroy teams in the playoffs. In the divisional game and the NFC title game, the Giants' defense gave up a combined three points. The '90 and '07 Super Bowl teams were special in their own rights, but I believe the '86 team was among the best in league history.
It was during the '86 season that the world took notice of Bill Parcells' Gatorade baths, which were started as a prank by Jim Burt. And after overhearing some of Burt's stories during a Cowboys training camp a few years ago, that's probably not the only prank he pulled.
I would've really enjoyed watching the Jimmy Johnson Cowboys teams of the '90s play against Parcells' Giants teams. They both had the same foundation: A group of relentless pass-rushers who made it almost impossible for opposing quarterbacks to find any rhythm. A lot of folks in the Giants' organization think the fact that Parcells won a Super Bowl with Hostetler playing a large role suggests how strong his supporting cast was. And while I appreciate that argument, I'd still take the '86 Giants.
Most impressive win:
This Giants team reeled off 12 consecutive wins, but the most impressive was against the Redskins in the playoffs. Joe Gibbs had an excellent team, but the Giants beat the Skins twice in the regular season and then shut them out 17 -0 in the playoffs. I loved watching Morris in the playoffs. He didn't have a lot of size, but he kept his legs churning at all times and was a vital part of the '86 Super Bowl team. I think Parcells still feels guilty that he later ran Morris into the ground.
Best player
: Lots of great players on this team, but Taylor, the Hall of Fame linebacker, wins in a rout. The MVP and Defensive Player of the Year had 20.5 sacks in 1986, the fifth-highest total of all time.
Honorable mention
1990
: Simms was injured, but the Giants weren't going to be denied in the playoffs. It was a remarkable season and at that point we thought Parcells would have several more Lombardi trophies in him.
2007
: The
David Tyree
catch never gets old. It was a case of a team catching fire at the right time. But unlike some pundits, I've never used that to take away from what that team accomplished. Now we know how special that pass rush was after watching things disintegrate last season.
2000
: Wait, did that team really play in the Super Bowl? Hey, it was an excellent team. But nowhere close to as dominant as the ones I ranked ahead of it.