March, 31, 2014
Mar 31
9:15
AM ET
Nearly a third of the league inquired about receiver
DeSean Jackson
, but not all the teams are known. Two of those teams reportedly have fallen out of the race for Jackson -- and both have coaches who previously worked with him (Andy Reid in Kansas City and Marty Mornhinweg with the
New York Jets
). The assumption is that this sends up red flags about Jackson; that's not necessarily the case.
And it's hard to get a good feel on who is really interested. Oakland and Washington definitely are, though to what extent remains to be seen. Jackson arrives in Washington Monday and will visit Tuesday. Thus far, it's his only reported visit.
San Francisco's name came up when Jackson was on the trade block and the 49ers had expressed interest in free-agent wide receiver
Golden Tate
, among others, before he signed with Detroit. So it would make sense that they'd at least inquire about Jackson. Tampa Bay has said they'd take a look, though it was a
rather tepid endorsement
.
Here's a little handicap of some teams that have expressed interest or reportedly want to get in the race:

Washington Redskins
Cap space:
Approximately $7 million
Why he'd consider:
It's a premier market in a premier conference. Oh, and they get to play the Eagles twice a year. The Redskins would have a lot of speed offensively with Jackson,
Pierre Garcon
,
Andre Roberts
and
Jordan Reed
and would be a major threat down the field. Add to it an athletic quarterback who can extend plays and the off-schedule explosions would increase.
Robert Griffin III
's deep-ball ability will be important -- and his ability to extend plays. Jackson's agent, Joel Segal, has definitely taken quarterback play into consideration in the past with his receivers. If Jackson is forced to take a one-year, prove-it deal, this especially would be a factor.
Why he wouldn't:
Because other teams can offer more. Washington can't compete if Jackson's strong desire is to return to the West Coast and play for the team he grew up rooting for (Oakland). If they want a more proven coach, San Francisco and Tampa Bay have to be a consideration (if the Bucs are strongly interested, which is debatable). And if San Francisco truly is interested, then the 49ers clearly would offer him a better chance for team success. The Redskins still have other needs to address so they can only spend so much, and it's hard to gauge how aggressive they'll be. But the fact that they have the first visit says something.

Buffalo Bills
Cap space:
Approximately $13 million
Why he'd consider:
They have more cap room than most teams, so they could offer the sort of contract that could get it done now -- if they wanted to go that high. They need what Jackson provides (though many teams do).
Why he wouldn't:
The Bills aren't a marquee team and their quarterback situation is questionable.
EJ Manuel
started 10 games as a rookie and showed flashes, but remains unproven. That has to be a strong consideration. None of their receivers had more than 597 yards last season, so how secure could you be? They have a good young talent in
Robert Woods
, a solid receiver in
Stevie Johnson
(nagging injuries, however) and a fast young guy in
Marquise Goodwin
. But that's not exactly a Hall of Fame trio. The draft has to be an attractive option, so that could limit what the Bills would be willing to offer.

Oakland Raiders
Cap space:
Approximately $15 million
Why he'd consider:
Because the Raiders were his favorite team growing up and he played college ball at nearby Cal. Jackson is a West Coast kid, and if his desire to return there is strong, then it will be hard to top. The Raiders need help at receiver so Jackson would fill a big hole. Also, the Raiders have more money than the other teams reportedly interested thus far.
Why he wouldn't:
The Raiders have a wait-and-see approach going on and, while they'd like him, they won't overspend. So if another team is more aggressive, then Jackson could end up elsewhere. Also, other than going back to California, the Raiders aren't exactly an attractive franchise. Their coach, Dennis Allen, will enter the season on the hot seat and their quarterback,
Matt Schaub
, is not known for throwing deep all that often. At this point, it's uncertain if he remains a quality starting quarterback.

Tampa Bay Buccaneers
Cap space:
Approximately $12 million
Why he'd consider:
They have a potentially strong structure with new coach Lovie Smith. He's a proven coach in the first year of his regime so he'll be around several years at least. The Bucs have another explosive receiver to pair with Jackson in
Vincent Jackson
. Both are dangerous down the field. Oh, yeah, and they have the cap room to absorb a bigger contract.
Why he wouldn't:
Smith's history suggests building around the run game and the defense. Also, they have a journeyman starting quarterback in
Josh McCown
and a second-year guy in
Mike Glennon
, whom the new coach did not draft (and replaced right away). So there are questions at this spot. Their interest is said to be lukewarm, so it's hard to imagine them overspending for Jackson.

San Francisco 49ers
Cap space:
Approximately $4 million
Why he'd consider:
It's the best team, it's near where he played college ball and it puts him back on the West Coast. They need a receiver who can stretch the field to pair with
Anquan Boldin
,
Michael Crabtree
and tight end
Vernon Davis
. Jackson would provide that and then some. They also have a big-armed quarterback in
Colin Kaepernick
who can let Jackson run under the ball and remind everyone of his explosiveness. Unlike Washington, the 49ers also have a defense that plays at a championship level, so if Jackson wants to produce and win, this could be the stop.
Why he wouldn't:
The 49ers were reportedly interested in pursuing a trade, according to Pro Football Talk. But their cap number isn't high and they already have talent at receiver. They could opt for the draft, which is deep at this position and has a few players with Jackson-like qualities (though no one can match his acceleration on deep balls). Hard to know what the reported friction with the 49ers between general manager Trent Baalke and coach Jim Harbaugh means for the future of either person and, subsequently, a guy like Jackson.
March, 20, 2014
Mar 20
10:08
AM ET
As mystery and rumor continue to shroud the
DeSean Jackson
situation,
I liked this Wednesday from Sheil Kapadia
on Birds 24/7. Sheil poses the question of why the
Philadelphia Eagles
would want to get rid of Jackson, who was one of their best players in 2013. He dismisses money, scheme fit and receiver depth as possible reasons (though he doesn't address the possibility that the crux of the thing is off-field, away-from-the-facility behavior) and reaches the conclusion that, "The only logical explanation for trading Jackson would be that the head coach doesn't want him around."
[+] Enlarge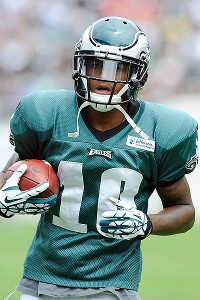 AP Photo/Michael PerezDeSean Jackson had 82 catches for 1,332 yards and 9 TDs in his first season with coach Chip Kelly.
I agree completely with that conclusion and also with the one Sheil articulates near the end of his post:
The best solution for Kelly would be to do what coaches are paid to do: figure it out. Last year, he put together a top-five offense, Jackson had a career year and the team went 10-6. Why not find a way to try and make it work?
Why not, indeed? Getting rid of Jackson would be a huge power play for the Eagles' second-year coach -- the biggest one I can think of since his arrival. It would constitute a territorial assertion and send a clear message to the rest of the roster and the rest of the league that, if you're not a Chip Kelly guy, don't expect to be on Chip Kelly's team. It could conceivably lead to other, similar moves and a slow purge of players who rub Kelly the wrong way.
Which on the one hand is okay, since he's the coach and obviously should have significant say in the matter of roster construction. He (and, heck, others in the organization) might have reasons we don't know about, reasons that making dumping Jackson the right move even though it looks weird from the outside. It's possible there is something behind this that would make the player look bad, and they are being secretive and delicate about it to avoid that.
But on the other hand, if this is the game Kelly's playing, it's a potentially dangerous one. When a coach starts operating as though he's determined to find "his kinds of guys" and plug them into his program, that's a recipe for trouble. The best coaches, the ones who are most successful long-term, are the ones that can win with whatever they have. And in Jackson, Kelly has something quite significant -- an elite talent who performed at an elite level in Kelly's first NFL season. There is no objective measure by which getting rid of Jackson would make the Eagles a better team, and if Kelly does end up doing it, he ought to have a very good reason.
Kelly's obviously very smart, and the division title in his rookie NFL season has earned him some benefit of the doubt. But let's be real here: His debut wasn't Jim Harbaugh. He didn't go 13-3 and get to the NFC Championship Game. I like what Kelly did a great deal and am eager to see what he does for an encore. But as fun and encouraging as the 2013 Eagles were to watch, the fact remains that it was only one season. If you're going to start ditching your best players after one good year, you'd better have big plans for several encores.
So all I'm saying is watch what happens here. We don't know how the Jackson situation will resolve itself. Could be a lot of noise about nothing. But if Kelly ends up getting rid of him, it's a significant moment early in his career that could have a major impact on future moves and the way the franchise is run going forward. Whether that's a good thing, of course, remains to be seen.
November, 24, 2013
11/24/13
7:30
AM ET
ASHBURN, Va. – They don't have a relationship, yet they remain linked – because of their style of play; because of their inconsistencies.
When the
Washington Redskins
play the
San Francisco 49ers
Monday night, the quarterbacks, who say they don't know one another, will command attention. The question is: Which quarterbacks will we see? The dynamic elements of
Robert Griffin
III and
Colin Kaepernick
? Or the passing-game struggles of both?
[+] Enlarge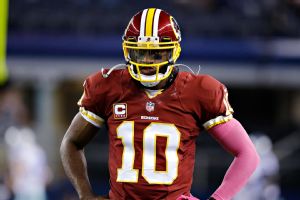 AP Photo/LM OteroRedskins QB Robert Griffin III said he's determined to work to overcome his inconsistent play in 2013.
Not that everyone would call either quarterback a struggling on. And both have some good reasons: Griffin missed the offseason because of knee surgery, setting his development back; Kaepernick lost his best receiver,
Michael Crabtree
, to injury.
"We don't feel Colin Kaepernick is struggling. I think he's playing very good football. And watching RGIII on tape, I feel the same way about him," 49ers coach Jim Harbaugh said. "They've been a very productive offense. They put points on the board. They move the football and score points against everybody that they play. I guess I don't agree with the premise of the question."
Both, however, remain works in progress if nothing else. Both remain capable of games that produce one highlight after another. Both remain capable of head-scratching days as well. Last week, for example, Griffin completed 17 of 35 passes for 264 yards, two touchdowns and a bad decision that resulted in a game-ending interception.
Griffin has had three games where he's completed 50 percent or less of his passes. He's on pace for 22 touchdown passes, only two more than he threw in 15 games as a rookie. This, despite throwing a lot more this season: Griffin has attempted only 21 fewer passes than he made last season. The extra passes have resulted in more bad plays: Griffin has thrown 10 interceptions, five more than 2012.
"Robert has done a lot of good things this year, too," Redskins offensive coordinator Kyle Shanahan said. "We're turning the ball over a lot more, but he has definitely been asked to do a lot more – he's had to do a lot more. He's seen a lot more different looks than he saw last year, and I think that's part of the process."
Griffin still is learning how to read coverages faster and throw with more trust and anticipation. He's done that at times – he made three excellent throws using those qualities versus Minnesota, for example. But at times if he's slower to go through his progressions, it forces him to throw with less-than-ideal mechanics. Other times his protection does not afford him much time – or results in him throwing with hands in his face. On a missed throw to
Santana Moss
in the fourth quarter Sunday, for example, a defender had a hand in his face forcing an adjusted throw.
He also took a sack/fumble at the 5-yard line because he held the ball too long, rather than throwing to tight end
Jordan Reed
in a one-on-one matchup at the goal line.
And Griffin also sometimes hesitates on throws, allowing windows to close. It's all part of what coach Mike Shanahan calls his growing pains.
[+] Enlarge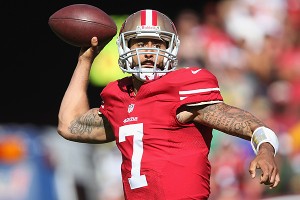 Jeff Gross/Getty ImagesDespite his struggles this season, Washington's coaches are still wary of the ability of 49ers QB Colin Kaepernick.
"If that's what he feels then I'm glad that he feels that way and this offseason we'll get a lot more reps, a lot more time to be with the team, and just get out there and be a cohesive unit," Griffin said. "That's the biggest thing and that might be the growing pains that we're going through. Like I said, the bottom line is you've got to look in the mirror, and for me I just need to be more consistent and play a lot better for us to win football games."
Like Griffin, Kaepernick's numbers are inconsistent. He's had four games of 50 percent completion or less; he has thrown only 11 touchdowns to seven interceptions and his passer rating is 81.8. However, the Redskins coaches – and many others -- say part of the problem has been his receiving corps, which is still missing Crabtree.
But keep in mind: Three of Kaepernick's four worst games occurred against defenses currently ranked in the top four in total yards and top five in passing yards allowed. The Redskins rank 28
th
in total yards and 32
nd
against the pass. Griffin hasn't faced a defense that's currently ranked in the top 16.
"I haven't seen anything that's changed based off what I've seen from last year to this year," Redskins defensive coordinator Jim Haslett said of Kaepernick. "He's a great athlete. He's got great speed. He's got a big-time arm. He does a great job with their zone-read. I think he's running the offense as well as he can. I think he's doing a nice job."
Kaepernick is in his third year, but only second year as a starter (he has 17 career regular-season starts to Griffin's 24). Both came off hot play last season, leading to big hopes for both – even with the receiver injuries for Kaepernick and with Griffin coming off knee surgery.
"With expectations, you want that. You want guys to expect you to succeed – to be great – and for us there was a lot of expectations coming into this season and we just haven't lived up to them and that's unfortunate," Griffin said. "You can either look at adversity and say, 'Look, I'll let you beat me and we'll be down and out and we'll quit on the rest of the season,' or you can buckle up, stare adversity in the face and let it know that you won't be beaten. That's the way I approach it."
September, 5, 2013
9/05/13
6:30
AM ET
PHILADELPHIA – It must be like looking into a mirror for
Michael Vick
and
Robert Griffin III
-- only instead of a reflection, each sees a projection of himself across time.
Vick, 33, sees what was and what might have been if he'd harnessed his full potential when he was the hot young quarterback revolutionizing the game.
"I'm a fan of his just like he's a fan of mine," Vick said Wednesday. "I like the way he plays. I like the desire he brings to the game."
Griffin, 23, sees what might yet be, the good and the bad. Vick is still in the league, still starting at quarterback. But he has never been to a Super Bowl, hasn't won a playoff game since the 2004 season and has missed games due to injury in all but one of his NFL seasons.
That should resonate with Griffin, who is set to start for the
Washington Redskins
against Vick and the
Philadelphia Eagles
on Monday night -- his first game action since blowing out his knee in last season's playoffs. There is an obvious correlation between their style of play and their risk of injury.
"It's not something you want to harp on," Griffin said. "But it has been something I've heard for the past eight months, about sliding and getting out of bounds. So that's something I'm going to do. It's just a part of playing football. You live and you learn."
[+] Enlarge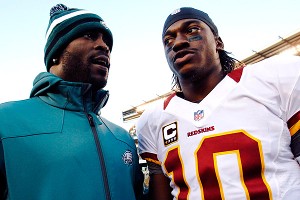 AP Photo/Mel Evans"I'm a fan of his just like he's a fan of mine," Michael Vick said of Redskins counterpart Robert Griffin III.
Vick has lived and learned that, well, sliding just doesn't really work for him. He has talked about it, too, but has shown no real commitment to doing it. Even in the preseason, he dived forward at the end of runs, sometimes as tacklers closed in on him.
Maybe Griffin will have more success learning to avoid contact. It won't be easy. It used to be that mobile quarterbacks were told they needed to remain in the pocket to avoid injury. Both Vick and Griffin will be in offenses that thrive on their ability to run.
The position is in a state of enormous flux. Being called a running quarterback isn't an insult. It's the highest compliment. Vick wasn't the first in the NFL, but he's definitely a major part of the evolution.
"He was a lot of fun to watch," Griffin said, "not just running the ball but throwing the ball. He paved the way for a lot of quarterbacks like myself, and guys before him paved the way for him. You always have a lot of respect for the guy. He's been through a lot in his life and still come out, still a starting quarterback in the NFL."
With the emergence of running quarterbacks and read-option-based offenses has come a backlash. Defensive coaches are advocating hitting the quarterback every chance defenders get. It is a penalty to hit a quarterback late in the pocket, but if the signal-caller hands off and pretends he still has the ball, he's fair game.
So at a time when Vick and Griffin need to prove they can stay healthy, they are at more risk than ever.
"I don't know what to expect from defenses," Griffin said. "They're always going to try to throw something special at you. But you've got to be careful when you talk about targeting quarterbacks because that sounds a whole lot like a bounty to me."
He's not alone in making that comparison. San Francisco head coach Jim Harbaugh watched the Ravens put as many hits as possible on
Colin Kaepernick
in the Super Bowl. Harbaugh was made aware of comments by Green Bay linebacker
Clay Matthews
, who will be chasing Kaepernick around Sunday.
Matthews said, in essence, that hitting quarterbacks after fakes might just discourage coaches from exposing them to such risks. That would be a huge boon to defenses trying to counter the game's latest trend.
Harbaugh told reporters he raised the issue with the league office and that Matthews' talk smacks of "targeting a player."
Eagles head coach Chip Kelly had a more direct solution.
"They've got to catch you first, right?" Kelly said. "So carry out your fake and run really fast. … Any quarterback has to be prepared for hits if they're carrying out fakes. That's just the rule in the game."
Time will tell if Griffin is able to deliver the championship that has eluded Vick. But he'll only get the chance if he's able to remain healthy and on the field. The same things that make Vick and Griffin such threats to defenses also threaten their well-being.
July, 1, 2013
7/01/13
12:23
PM ET
We have this series running this week called "Teams We Can't Wait to See," and it's going to spotlight five teams -- one per day -- that we're especially looking forward to watching in 2013. Two of the five play in the NFC East, and today's is the
Philadelphia Eagles
.
Per Ashley Fox
:
They are the most mysterious team in the National Football League. What are the Philadelphia Eagles going to look like under first-year coach Chip Kelly? Exactly how fast is the offense going to play? What type of defense are the Eagles going to run? And who in the name of Donovan McNabb is going to be the starting quarterback?
Most of Ashley's piece is focused on that last question there, and for good reason. It's impossible to imagine even the smartest, most innovative young coach sauntering into the NFL and installing a complex new offensive system without a good, reliable quarterback to run it. But given the choices on his current roster, Kelly may end up having to do just that. He knows what he wants in a quarterback. ...
"Who can move us the best, and who gets the football team up and down the field," Kelly said. "You know that's the most important thing. It doesn't have to be that he throws a prettier ball or all those things. There [are] a lot of different things. How do you manage a game? How do you secure the football? Are we not turning it over? Are we constantly moving in a positive direction? Are we getting into third-and-short and converting them? Things like that. It really is who moves the team the best is what we are looking for at the quarterbacks."
... He just doesn't necessarily have anyone on the roster right now who neatly fits the description.
Michael Vick
is the veteran and the most-likely candidate, but that entire quote could have been interpreted as For Vick's Ears Only. No one's ever thrown a prettier ball, but managing a game and protecting the football and doing the things that make sure you end up in third-and short ... these are not, historically, Vick strengths.
Nick Foles
could win the job, but he's very unproven, and there's not enough evidence to show whether he's good enough at the things with which Vick struggles to wrest the job away from Vick.
Matt Barkley
could be the long-term answer, but he's likely got a ways to go before he's up to NFL speed.
These are the troubling facts around which all else -- the assignment of running-back carries, the roles of the receivers, the deployment of the many tight ends on the roster -- will work as Kelly develops his offense at the NFL level. And we haven't even discussed the brand-new defense, in which many talented holdovers and some newcomers will work to fit into new roles and new assignments.
I think the 2013 Eagles come with major question marks. My willingness to point this out in my analysis has, I am well aware, marked me among some of my Eagles readers as a "hater" of the team and/or Kelly. That's okay. Part of the job. But the truth is that I have no rooting interest for or against, nor do I have any idea what to expect from the 2013 Eagles. They could bottom out as they all learn all these new things and struggle to settle on a quarterback. Or Kelly could be a Jim Harbaugh-style instant genius (
Alex Smith
didn't look like the answer this time two years ago, right), and the Eagles could click right away and be one of the best teams in the league. Or something in between.
I don't know what the Eagles will do this year. Neither do you. Neither does Kelly, I promise you that. They are, as Ashley points out, the biggest mystery in the league right now. And to those of us who love sports because we can't know what's coming news, that's what makes them one of the most exciting and interesting teams of 2013.
Look for the
Washington Redskins
' entry Wednesday. I'm putting the finishing touches on it as we speak.
May, 6, 2013
5/06/13
10:08
AM ET
Yes, that was an Eagles song, "The Long Run," and yes, it's in my head now that I wrote that headline and probably will be there for a while. I used to hurry a lot, I used to worry a lot, I used to stay out 'til the break of day...
Kelly
But a lot of you who are reading this probably don't know that song and are here instead to read about the
Philadelphia Eagles
, a football team that wears green and plays its home games at the intersection of Broad and Pattison there in the City of Brotherly Love. I was reading
this from Sheil Kapadia
about that particular football team, which has a new head coach and a GM with a new level of power and is working to strike a difficult balance:
They're focused on laying the foundation for a winning program, and they'd like to be competitive in 2013. As we've seen in the past, dramatic turnarounds, even for teams coming off of 4-12 seasons, are possible.

Then again, the Eagles know they're not especially close to fielding a Super Bowl-caliber roster. In the past, they thought they were a player or two away. They went for it, reaching on draft picks and making questionable decisions that ultimately led to last year's disaster.

And so, Chip Kelly and Howie Roseman are fully aware that there are still holes on the roster, even though all of the team's major offseason moves have been made.

"When you look at the draft, it's a long-term investment for your football team," Roseman said. "If you start trying to predict who's going to be on your team a year, two, three years from now, you're going to make mistakes, and we understand that."
Sheil's piece looks specifically at the way the secondary has been addressed this offseason, with the free-agent signings of
Kenny Phillips
,
Patrick Chung
,
Bradley Fletcher
and
Cary Williams
and the late-round drafting of
Earl Wolff
and
Jordan Poyer
. Along with holdovers like
Brandon Boykin
and
Nate Allen
, that's the group from which the Eagles will work to piece together their 2013 secondary, and even Kelly admits that group isn't teeming with sure things.
But this is why it's important for the Eagles and their fans to keep things in perspective in Kelly's first season as coach. Yes, it's possible they field a playoff team, but that would be a bit of a surprise considering where they were last year and the number of changes that have been made. I think Eagles fans can be patient if they see signs of a coherent and directed long-range plan, and the way the Eagles have operated their offseason shows a commitment to down the road. Yes, you could rush out on the free-agent market and "fix" your secondary by signing the top cornerbacks out there. But the Eagles did that, remember? Just two years ago? And it didn't work out too great. Better to assemble a group of guys you like -- draft picks, young free agents, injury bargains -- and coach them so that starters eventually emerge.
That could make for some tough times in the short term. But a lot of great coaches have had poor first seasons while they worked to build their program. Kelly's predecessor was one. Not everybody pulls off what Jim Harbaugh has in San Francisco, and no one deserves to be saddled with such expectations. The Eagles are being careful and responsible in their approach, putting pieces together they believe will ultimately add up to something great, while leaving themselves open to the reality that they'll have to tinker and make more changes along the way before it looks the way they want it to look. They can go the distance, they'll find out, in the long run. (In the looong run.) They can handle some resistance, if their love is a strong one. (Is a strooong one.)
What's that? Now it's in your head, too? Sorry about that.
January, 31, 2013
1/31/13
2:58
PM ET
NEW ORLEANS -- The glitz is still here, but the tone this Super Bowl week just doesn't seem to fit with the celebrations on Bourbon Street or the free and easy nature of the host city.
The issue of player safety has been as topical as
Ray Lewis
' last game or brothers Jim and John Harbaugh coaching against each other.
We've heard predictions that the NFL will be gone in 30 years, or at least reduced to a game of two-hand touch. President Barack Obama hypothetically has wondered whether or not he would let a son play football. Current players have said they "signed up" for a violent game and all that may eventually come with it, even as thousands of former players are pursuing lawsuits claiming the NFL failed to warn them of the long-term effects of concussions.
ESPN.com surveyed a group of current and former players and executives to get their thoughts on the player-safety issues.
The group included current San Francisco linebacker
NaVorro Bowman
, former NFL cornerback Eric Davis, current Baltimore safety
Ed Reed
, retired quarterback Bobby Hebert, former NFL director of officiating Mike Pereira, former linebacker Willie McGinest, current San Francisco linebacker
Aldon Smith
, NFL Players Association president Domonique Foxworth, current Baltimore linebacker
Terrell Suggs
, retired lineman Shaun O'Hara, current San Francisco fullback
Bruce Miller
, longtime
Dallas Cowboys
executive Gil Brandt and current San Francisco guard
Alex Boone
.
[+] Enlarge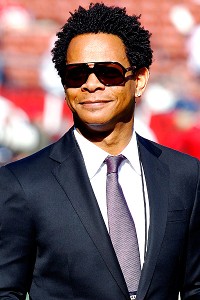 AP Photo/Kevin Terrell"Let's be real honest," former NFL safety Eric Davis said. "It's a gladiator sport. Coliseums were built for it."
Here are the highlights of their answers to the hot-button questions:
Where do you see the NFL in 30 years?
Brandt:
"I don't think we're Montgomery Ward. Montgomery Ward, at one time, was the leading retailer in the world and they made the mistake of saying we're not going to go into the little towns, we're just going to go into these big places, and they stood still. The league may doze, but it will never close. They're always looking for ways to make things better. They've been working on making the game safer and they'll continue to make it safer."
Pereria:
"I see it not a whole lot different than it is. I think the league will go as far as it can and still go further than it is now to try to make the game safer. But I don't think it's going to make the league disappear as some people have said. I think this is still a once-a-week game that people get very passionate about their games."
McGinest:
"I think the NFL definitely is going to be here to stay. I think that this is the best game in the world. I think that they're doing everything in their power to keep it that way and to make it one of the safest games. I don't think it's going to look different. I think they're just changing certain things to make it safer. If you're talking about hit zones, if you're talking about staying away from head shots and stuff like that, that's not something we're not used to hearing. So I don't think we're going to go back to leather helmets with no face masks or no helmets. This game is going to be the way it is. I just think they're doing everything and taking every precaution to make it safer."
O'Hara:
"Football is not going to disappear in 30 years. Will it look different? Of course it'll look different. Look at the game 30 years ago to today -- different game, different rules, different equipment. So 30 years from now, absolutely, it'll be a different game."
Are the safety concerns overblown?
Foxworth:
"My responsibility is just to protect the rights of the players and their health and safety, so I don't think that there can be enough [attention given to safety issues], especially given some of the things that have happened as a result of some of the head injuries. I'm pretty sure that those players and their families would say that there's no such thing as too much attention on the health and safety of the guys. So I come from that standpoint, and, being a former player, it's something I'm keenly aware of from a personal standpoint, and a lot of my friends are in this league and I know a lot of our kids may potentially be in this league. So it's very important that we put as much effort, time and money toward evolving the game and the science of the game as we can."
Smith:
"The game is what we signed up for. We didn't sign up for tennis. We didn't sign up for swimming and didn't realize we were going to go out there and get tackled. We signed up for football, which we knew was a physical sport."
Davis:
"Let's be real honest. It's a gladiator sport. Coliseums were built for it. People like to watch it and we're talking about big, strong, fast men. There are going to be collisions. There are going to be injuries. Do all the things you have to do to make it as safe as possible, but the reality is there's always going to be some danger."
Hebert:
"A little bit. But the NFL is so popular because it's the modern-day gladiator. I mean, I don't know what that says about mankind. But you can also look at boxing and ultimate fighting and how popular they are. Fans don't want to see flag football. I still think football will be here. You can change it, but you can only change it so far."
McGinest:
"I think it's necessary based on some of the studies, some of the former players and what they're going through, some of the players now. It's necessary. And it's also showing that the NFL cares about its players. If they're taking time to put on these full-on studies and they're going through every precaution with the testing of the gear and the helmets and they are willing to change certain things about the game to make sure that it's going to be here and be a safer game, it has all the signs of going in the right direction."
Boone:
"I just never understood how you change the game when you have players who are bigger, stronger and faster every year. It's just football. It's going to be physical. It's a physical sport. There are going to be injuries, but we're doing things to correct it.''
What one change would you make to improve safety?
Pereria:
"The safety issue is really all about the head. That's something the league has been focusing on for a long time and they'll continue to focus on making the rules broader than they are right now. Right now, only nine players are protected in certain situations. Can you go further? Possibly. The whole notion is going to try to be to get the head out of the game and get back to the wrap and tackling as opposed to lowering the head. They're serious about that, and they should be. To me, as I watch so much football on Sundays, it's already made a difference. You see situations where a defender really has a chance to blow up a receiver and he doesn't. To me, that means the rules are taking effect and that the fines have made a difference."
Davis:
"They're making the game safe for quarterbacks and star players. But they're not making it safer for all players. You never hear of a defenseless running back. You never hear of a defenseless linebacker. Defensive players aren't protected. Unless you make it safer for all players, I don't think you're doing as much good as you can. You have to put everyone on equal footing."
Reed:
"Defensive players should be protected, too. Offensive guys, quarterbacks in general, shouldn't be treated better than everybody on the football field.''
McGinest:
"I would take out the chop-block. That's another thing we don't talk about. A lot of emphasis is on the head, guys getting concussions and stuff, but there are also a lot of players getting their ACLs knocked out because now guys are diving. Now that they know they can't go high, guys are starting to attack with chop-blocking. That's also knocking guys' careers either out or messing them up. Not everybody's
Adrian Peterson
coming back from those injuries. A lot of guys, they take the wrong hit on the knee, they're never the same player."
O'Hara:
"I think the only real way to get everybody on the same page is to somehow get all the players in the NFL and all the coaches in the NFL and all the referees, get everybody in the same building and have, 'This is what is acceptable and this is what is not.' No second- and third-person regurgitation of the facts and, 'Here's what we're looking for,' because that needs to be consistent and everybody needs to hear the same message. Centralize the education, basically."
What else can be done to make things safer?
Hebert:
"I think you truly have to take it out of the players' hands as far as whether you're going to go back into the game or not after a head injury. As a player, when it comes to your teammates, you never want to be looked upon as a wuss. You want to be a tough son of a gun. To me, it totally has to be out of the hands of the players."
[+] Enlarge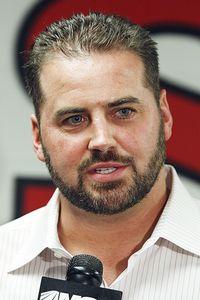 AP Photo/Mel Evans"You wouldn't give your son a circular saw and let him go and start whittling wood," former lineman Shaun O'Hara said. "You would teach him how to use that."
Davis:
"Look, the guys I played with and the guys that are playing now were schooled a certain way. It's too late for us and maybe too late for the guys still playing in the NFL. But the next generation is where a difference can be made. The kids that are coming into Pop Warner now need to be taught how to tackle properly. And maybe, just as importantly, they have to be taught that if you get dinged, if you take a hit to the head and you don't feel right, you go straight to the coach or the doctors and tell them immediately. People do that with ankle injuries. You hurt your ankle, you come out of the game. Head injuries need to be treated the same way."
Foxworth:
"In nine years, you can ask me that question and I'll have a definitive answer. But I don't know. We don't know how much damage repetitive hits do or whether it's the big knockout blows that do the damage. There are just so many questions. We're not sure about the best treatments and the quicker recovery time and if there are any precursors that make someone predisposed to have these kinds of brain injuries. Those are questions that will be answered by this Harvard research, and at that point, I think we can be able to set forth clear protocols of how to treat a player after a practice or how many hits [before] it's time to sit a guy out. Those sorts of things that are changes that can be made easily."
Brandt:
"I think it's like the Internet. People that are older, like myself, are not Internet-savvy. Kids that are 7 or 8 know more about it than I do. I think it's a thing that you build from the bottom up. Where I think we have a problem is that we have a lot of youth football leagues and the guys that are coaching sometimes get overzealous. I think we're gradually educating that element."
Would you let a young son start playing football right now?
Bowman:
"I'm not going to deter my kids from the game. When they see the game, they understand what it's all about. It's a physical game."
Suggs:
I respect [the president's comments] for the simple fact that this is a very physical and dangerous sport, especially considering that with the concussions and the current findings of Junior Seau. A parent would be reluctant [to let] his or her child play football. I think, if you play the game right and you play it appropriately, that injuries are part of the game.''
Pereria:
"Sure, I would. But I'd also be out there with him, coaching and working with the coaches to make sure that the game, at that level, is being coached properly and that kids are keeping their heads up and abiding by the rules that are still in the NFL rule book, which defines tackling as wrapping your arms around the opponent and taking him to the ground."
Miller:
"Everyone has their own opinions, but I would let my kid play football. It's a violent game, but not too violent. At the same time it builds character, hard work, dedication, responsibility. All of those things are important. They are taking caution to be careful and concerned for the players' safety and taking that into account more."
Foxworth:
"My son's so young, I like to think that we would have made advances by the time he's old enough to play to make it safer. Given the current state of the game, I wouldn't stop him from playing it, but I'd be very cautious about the exposure and the frequency with which he may come into contact with those type of dangers."
O'Hara:
"If my son wanted to play football, I would absolutely let him. I would drive him. But I would teach him. You wouldn't give your son a circular saw and let him go and start whittling wood. You would teach him how to use that. There's a proper way to use power tools. So my issue is, when I hear parents say, 'I don't want him to play football,' well, it's because you don't want to take the time to teach him how to do it right. Or you don't know how to teach him right. So that, to me, is a big sticking point. When I see kids that want to play football, I just want them to learn it the right way. We need to make sure our coaches are teaching our kids the right way to do things, because for every one kid that gets hurt, that's something that could affect a whole lifetime."
January, 21, 2013
1/21/13
9:37
AM ET
By
ESPN.com staff
| ESPN.com
Dallas Cowboys
Jean-Jacques Taylor of ESPNDallas.com
weighs in on the process that has made Jim Harbaugh a success with the San Francisco 49ers and the dysfunction that has been the Cowboys of late. Taylor: "In two seasons, [Harbaugh] has made two appearances in the NFC title game. Now, he's headed to the Super Bowl, while Dallas Cowboys coach Jason Garrett is traveling to the Senior Bowl looking for prospects. Sad, ain't it? San Francisco is 24-7-1 with a pair of NFC West titles, while Dallas is 16-16 without a playoff appearance the past two seasons. Jerry Jones must look at San Francisco's success under Harbaugh and shake his head."
New York Giants
Big Blue View continues its position-by-position analysis with a
look at the cornerbacks
-- an area that definitely needs improvement heading into the 2013 season. Writes Ed Valentine: "The New York Giants simply did not defend the pass well in 2012, a bad thing in a pass-oriented league. The Giants gave up 60 plays of 20 yards or more, and only three teams surrendered more."
Philadelphia Eagles
As new coach Chip Kelly continues to settle in, he has tabbed former Cleveland Browns coach
Pat Shurmur to join his staff
. Shurmur will likely be Kelly's offensive coordinator.
Marcus Hayes of the Philadelphia Daily News says the hiring of Kelly is
reason for Eagles fans to be hopeful
.
Washington Redskins
Thanks to the 49ers landing a spot in the Super Bowl, Redskins linebackers London Fletcher and Ryan Kerrigan will be
going to the Pro Bowl
.
October, 12, 2012
10/12/12
5:45
PM ET
So this whole thing started Thursday, when
New York Giants
offensive coordinator Kevin Gilbride casually dropped into his weekly interview session the suggestion that
San Francisco 49ers
star defensive lineman
Justin Smith
"
gets away with murder
" by holding interior offensive linemen as a means of clearing room for the 49ers' pass rush.
Smith
49ers coach Jim Harbaugh responded Friday with
a blistering attack
on Gilbride and Gilbride's insinuation, calling it "outrageous, irrational and incendiary," and saying, "It's obvious that the Giants coaching staff's sole purpose is to use their high visibility to both criticize and influence officiating."
Glad we're not getting too emotional about this, huh? I mean, really? "Sole purpose?"
Especially once I learned that Harbaugh's response came in the form of a statement released by the team hours ahead of his regularly scheduled Friday news conference, my first thought was something along the lines of, "Methinks he doth protest too much." And a few minutes later, with the help of a retweet from USA Today's Mike Garafolo, I saw something that backed me up. It is
this Sept. 6 piece from Football Outsiders
, in which Item No. 3 uses clear film evidence to support FO's own conclusion that Smith is indeed coached to hold the jerseys of opposing guards and tackles:
San Francisco's secret? Holding. They have a pair of top-tier defensive ends in Justin Smith, arguably the best 3-4 lineman in the league right now, and Ray McDonald, one of the game's most underrated players. Those guys are taught to grab the left outside of the offensive guard's jersey or the right inside of the tackle's jersey. The umpire and referee, who are tasked with holding on the interior line, often can't see this -- there is too much congestion in the middle of that action. They are standing in the backfield, and can't see through the offensive linemen to get a look at the defensive end's hands. The grabbing prevents the blockers from getting over quickly enough to pick up the stunting blitzer.
The camera doesn't lie, coach Harbaugh. And it seems as though it might have been wiser for the 49ers' coach to keep his mouth shut rather than inflame a controversy of which the officials scheduled to work Sunday's game at Candlestick might not otherwise have been aware. If it was Gilbride's intention to get the officials to pay closer attention to Smith's extracurricular work on the interior (and I actually think he might just have been offering an honest answer to a question), then Harbaugh's overly emotional response might have helped him accomplish just that.
January, 17, 2012
1/17/12
12:27
PM ET
Mid-January.
New York Giants
vs.
San Francisco 49ers
at Candlestick Park. Time to break out the parachute pants and the Huey Lewis records and party like it's 1985. Yeah, the NFC Championship Game has gone retro. But although this matchup brings up a lot of old, cool memories, this year's 49ers and Giants bring to the party plenty of their own 21st-century storylines.
With only two NFC teams left, we thought it'd be fun for the two division bloggers with teams left standing to break down the matchup for our NFC East (Dan Graziano) and NFC West (Mike Sando) communities. Sando has a hunch he knows whom the conventional wisdom is favoring.
Sando:
You know the league is already printing Brady vs. Manning T-shirts.
Graziano:
No way, man. No way the Pats keep winning playoff games with that defense. I don't know who will win our Giants-49ers game, but I feel pretty sure that whoever does will beat the Ravens in the Super Bowl.
Sando:
I'll agree with you on that Patriots defense, but I'm not sold on the Ravens, either. Perhaps that's because I've seen them fall behind Arizona 24-6 and lose to Seattle. I've also seen a struggling Cardinals team lead the Giants by double digits in the fourth quarter. I've seen
Charlie Whitehurst
beat the Giants at MetLife Stadium, too. But, as the up-and-down Giants know, past performance doesn't necessarily apply to the present.
Graziano:
Ain't that the truth. Just four weeks ago, this team was 7-7 and reeling from its second loss of the year to the Redskins. What's happened since has been utterly amazing. The Giants have dominated the Jets, Cowboys, Falcons and Packers, basically ending all four teams' seasons in the process.
Sando:
The Packers? I remember them. Say, was that Evian water
Eli Manning
was sipping in the pocket at Lambeau? The treatment Green Bay's defense accorded him was truly first class. Loved the palm fronds. Seriously, though, I thought the game clock was going to expire on a couple of those Manning drop-backs. The 49ers' defense will make him work.
[+] Enlarge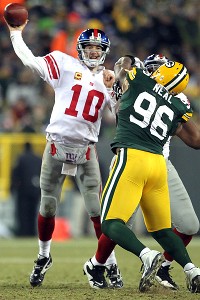 Matthew Emmons/US PresswireEli Manning was given plenty of time to throw in Sunday's win over Green Bay.
Graziano:
There's no question Manning and the Giants will get a tougher test from the 49ers' defense. Even if you ignore the Packers' lack of a pass rush relative to what the Niners bring, how about the coverage and the tackling in the secondary? What the Giants see Sunday will be night and day compared with what they saw against a defense that ranked last in the league even while going 15-1.
Sando:
Justin Smith
and
Aldon Smith
play off each other so well. They combined for nine quarterback hits on
Drew Brees
. The 49ers were built on the philosophy that bigger, stronger athletes hold up better late in the season, when championships are won. They tackle with bad intentions.
Pierre Thomas
was the seventh running back they've knocked from a game this season. Six did not return.
Graziano:
I think one of the more interesting aspects of this game for the Giants is that it's a totally different opponent from the ones they've been facing. They've had to beat Dallas, Atlanta and Green Bay the past few weeks -- all high-powered passing offenses with oodles of downfield weapons at wide receiver and tight end. As great as
Alex Smith
and
Vernon Davis
were against New Orleans, the 49ers just don't fit that same description.
Sando:
The 49ers have followed their cross-bay rivals' old mantra: Just win, baby. They've won so many different ways. They've got six fourth-quarter comeback victories. They've won 48-3. They've won 13-8. They've won 24-23 after trailing by 20. They held the Saints to 17 points through three-plus quarters, then somehow beat them in a shootout. The way everything fits together on offense, defense and special teams validates what left tackle
Joe Staley
said the other day. The 49ers are indeed a much more complete team than a lot of people realize. Their limitations have mostly hurt them on the road, where protecting the passer becomes a bit more challenging.
Graziano:
The Giants' defense always feeds off its pass rush, and surely Smith will see much more pressure than he saw Saturday against the Saints. But I wonder whether the Giants need to dial back the aggressiveness a little bit to account for
Frank Gore
(who basically didn't play in the Week 10 game, collecting zero yards on six carries before leaving with an injury) and the more conservative 49ers' offense. They were so determined to prevent the big play in Green Bay on Sunday, and they managed to stay disciplined, keeping the safeties back and making sure to keep the play in front of them all day. The strategy will have to change against San Francisco, and I'm curious about the ways in which the Giants' defense might look and play different this week.
Sando:
The Giants are so much healthier on defense this time around. They ran out of linebackers against the 49ers last time, and it killed them on
Kendall Hunter
's big TD run. They were also without
Ahmad Bradshaw
, although I don't think the Giants' ground game is all that relevant. Beating the 49ers requires striking through the air. The 49ers were 12-0 when allowing more than 2.6 yards per rush and 11-1 when allowing more than 55 yards rushing. They were even 3-1 when opponents had 25-plus carries. But the 49ers either lost or barely won when opponents averaged 7.0 yards per called pass play and/or completed 65 percent of their throws. Manning hit those marks almost exactly the last time.
Graziano:
Well, as much as the Giants' run game has improved in the past six or seven weeks, they are still a passing team. Manning got more than 4,000 yards for the third year in a row and nearly got to 5,000. He has all of his wide receivers healthy. And, in their past four games, the Giants have had TD passes of 99, 74, 72, 27, 66 and 37 yards. The four big ones on that list were short passes that
Victor Cruz
or
Hakeem Nicks
caught, then took to the house thanks to some poor coverage and/or tackling by the Jets, Cowboys, Falcons and Packers. From what I saw from
Carlos Rogers
and the Niners on Saturday (sorry, can't resist a Rogers reference for my angry Redskins fans), the Giants should have a tougher time finding those kinds of opportunities this time around.
Sando:
That is mostly true. The 49ers have given up big plays on occasion, though. We all saw it Saturday when Brees suddenly struck for 66- and 44-yard touchdowns. The 49ers gave up 12 pass plays covering at least 40 yards this season. Only four teams gave up more (the Giants gave up seven).
Graziano:
I think at this point I'd call the Giants "opportunistic," and what goes along with that is playing smart and disciplined. They stick patiently and confidently to their game plan until an opportunity presents itself, then they pounce. This is a new development in the past few weeks..
Sando:
The 49ers are the most opportunistic team in the league. They led the NFL in turnover differential. Unlike the other teams high on that list -- Green Bay, Detroit and New England come to mind -- the 49ers backed their opportunism with fundamentally sound defensive play. They brought added pressure only about 20 percent of the time. In Justin Smith, they have the best defensive player in the playoffs and possibly the league. They have two All-Pro inside linebackers. They hawk the ball through physical play in the secondary. And with forecasters calling for several days of rain, the Giants' receivers will have to deal with slick conditions compounded by a late kickoff. Crowd noise won't help, either.
[+] Enlarge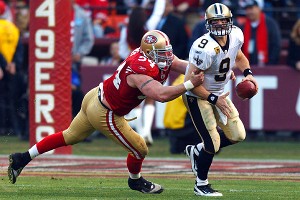 Jason O. Watson/US PresswireJustin Smith recorded one of the three sacks of Drew Brees this past Saturday.
Graziano:
Easy there, big guy. It's like I tell my readers: Just because I say something good about one team doesn't mean I'm saying the inverse about another. You seem fairly confident the Niners will win, whereas I still find myself on the fence. So, if you had to play devil's advocate, what's the home team's biggest concern Sunday? What do the Niners have to make sure doesn't go wrong?
Sando:
That's me, Mr. 49er. I had them winning 6-7 games this season, but I like to tell people I meant six plus seven. I was 50-50 on Saints-49ers and wound up picking San Francisco because of the home field and because, in a blind-squirrel moment, I thought Davis would show up big, especially in the red zone. This one seems like another close call. The 49ers' pass protection is a concern. The team gave up 20 sacks in its three defeats and 28 in its 14 victories. The Giants can win this game if their talented front gets after Alex Smith. They should double-cover Davis and take their chances with the wideouts. The Giants also have the quarterback and wide receivers to score points on anyone.
Graziano:
I feel your pain, dude. In October, when the Giants showed up at No. 10 in the Power Rankings, I wrote, "If the Giants are a top-10 team in the NFL, then I'm a pineapple." This has earned me no small amount of justified grief from my Giants fans. Two weeks ago, I did my predictions video as a pineapple.
I guess if I got a call this week from Jim Harbaugh and he said to me, "Dan, you've seen the Giants a lot. What's the most important thing I need to make sure and tell my team this week?" I'd say the most important thing he can do is make sure no 49ers think they know anything about the Giants based on the Week 10 game. Because this Giants team bears almost no resemblance to that one.
I'd also thank Harbaugh for asking, and make sure he knew how flattered I was that he sought my advice.
Sando:
Thanks, Dan. Hold on a sec. Tom Coughlin's trying to Skype me again.
Graziano:
Ssssh! Don't tell him I talked to Harbaugh! I think the game comes down to turnovers. If Eli reverts to outdated perceptions and throws two or three picks, the Giants likely can't overcome that. But if the Giants play smart and get a few of their own takeaways, as they did Sunday, they're tough to stop right now.
Sando:
I'll buy that. The 49ers have committed only one turnover since Week 12. Some might say that makes them due. I'm more inclined to say it makes them dangerous.
December, 31, 2011
12/31/11
10:48
AM ET
ASHBURN, Va. -- This is the 16th year in a row in which at least five teams will make the NFL playoffs that didn't make it the year before. That's enough of a trend to make you think it'll happen again next year. And head coach Mike Shanahan says he believes his
Washington Redskins
are in a position to be one of next year's five.
"Yeah, I think we are," Shanahan told me in an interview Friday in his office at the Redskins' training facility. "We've got to be a little lucky with injuries, because we don't have depth. But we'll have a lot more depth next year than we did this year. And I think we had a chance this year if we'd stayed healthy."
Shanahan gave me a lot of time Friday and addressed a wide variety of topics. I was able to incorporate into the interview several of the questions you guys sent me in the mailbag, and my hope is to fill you in on the Shanahan interview as completely as possible in several different posts over the coming days. So here are a couple of your questions and what Shanahan had to say in response:
Kent Senter of Falls Church, Va.,
wanted to know why Shanahan has been preaching that the Redskins' rebuilding project must take time while a coach like Jim Harbaugh can come in and turn the
San Francisco 49ers
around in one year.
[+] Enlarge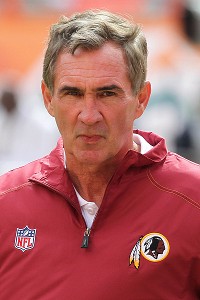 Robert Mayer/US PresswireMike Shanahan intends to stick with the plan of building the Redskins through the draft.
Mike Shanahan:
We had dealt a lot through free agency and not the draft. San Francisco did a great job through the draft, they did a great job with their organization. If you take a look at the players that they have playing for them over the last three or four years, take a look at their draft choices and the free agents that they did acquire, they had some pretty good picks. Here, they'd traded away a lot of the draft choices. I think everybody knows that -- the history of the Redskins and draft choices. But we talked about, when I came here, that with the salary cap you've got to build through the draft. You just can't keep on signing high-priced free agents, because there's no way you can develop the depth. And so we had to change philosophies and we've done that and hopefully it pays dividends.
Greg Martin of Freehold, N.J.,
says he's on board with Shanahan's change of philosophy and believes it has paid dividends. Greg wanted to know if this year's Redskins draft strategy would be similar to last year's, when Washington traded down and amassed more picks, or if they'd consider trading "multiple current or future picks for one player, QB or otherwise."
MS
: You just never know. If anybody says they know the draft ... It takes one person before you, one person after you... You never know what somebody wants to get a deal done. I don't know [if I can trade up] because I really don't know what the value is. I mean, are you looking at three No. 1s? Three No. 2s? And who's the guy? Is it the first pick? Is it the second or third? How bad does that team want to move out of there? You just don't know.
I followed up
with a question about the reports and speculation that it could take three No. 1 picks to trade up to the No. 1 spot and take Stanford quarterback Andrew Luck and asked if he considered that realistic or sensible. He responded with a comparison to the 2002 deal in which the
Oakland Raiders
got two first-round picks, two second-round picks and cash from the
Tampa Bay Buccaneers
in exchange for head coach Jon Gruden.
MS
: I told Jon, 'No offense, but you're not worth that much! And don't go to the place where they're giving up the two No. 1s for you.' I mean, it just handcuffs you.
Finally,
I asked
if he thought his team was close enough to contending that he could afford to give away a big trove of draft picks for one player he really wanted.
MS
: No. In fact that's why, when we went from 10 to 16 [in last year's draft] and we were able to get that extra second-rounder from Jacksonville, we were able to parlay that where we got [Leonard] Hankerson, we got [Roy] Helu and we got [DeJon] Gomes. So by going from 10 to 16, not only did we get
Jarvis Jenkins
, but we were able to get those three players. And those are three starters for us.
Much more to come, as I said, in the coming days. But hopefully this is good stuff for you guys to chew on for a bit. Thanks for your help with the interview.
September, 17, 2008
9/17/08
11:25
AM ET
By
Matt Mosley
| ESPN.com
Posted by ESPN.com's Matt Mosley
If you haven't visited the Web site, ColdHardFootballFacts.com, there's no time like the present. In the wake of Monday's epic Cowboys-Eagles game, the folks at Cold, Hard have come up with several fascinating nuggets.
I couldn't hear the broadcast from my seat at Texas Stadium on Monday, but apparently Mike Tirico mentioned that Donovan McNabb was one of only seven quarterbacks in the history of the league to have thrown for 25,000 yards and run for 2,500. So who are the other six?
John Elway -- 51,475 passing yards and 3,407 rushing yards
Frank Tarkenton -- 47,003 and 3,674
Steve Young -- 33,124 and 4,239
Steve McNair -- 31,304 and 3,590
Randall Cunningham -- 29,979 and 4,928
Jim Harbaugh -- 26,288 and 2,787
Donovan McNabb -- 25,765 and 2,965
And here are some players who barely missed the mark:
Bobby Layne -- 26,768 and 2,451
Rich Gannon -- 28,743 and 2,449
Mark Brunell -- 31,826 and 2,433 (still has a shot)
Terry Bradshaw -- 27,989 and 2,257
Steve Grogan -- 26,886 and 2,176
The other item I found interesting is that Cowboys quarterback Tony Romo is on his way to having the highest passer rating in the history of the league. Through 28 starts and 919 attempts, Romo now has a 97.6 rating. Steve Young has the highest with 96.8. Romo needs 581 attempts to reach the league minimum for ending up in the record books.