October, 17, 2013
10/17/13
8:00
AM ET
Your daily morning check-in on news and notes about and of interest to the New York Giants.
The news of the day:
The Giants return to practice Thursday after a couple of days off and begin preparations for their "Monday Night Football" game against the Minnesota Vikings. All eyes will once again be on the running backs, with Peyton Hillis newly
signed for depth
and Brandon Jacobs having missed Monday's practice with a hamstring injury. All of the focus on the run game distracts from the major issues that are killing the Giants right now, which are the erratic play of quarterback Eli Manning and the complete lack of a pass rush, but maybe the Giants don't mind if we're all distracted from those things. We will of course have updates for you throughout the day.
Behind enemy lines:
The Vikings announced Wednesday that they will use their third different starting quarterback of the season, as newly signed former Buccaneer Josh Freeman gets the nod Monday night. If there's a surprise in all of this, it's that the team decided Freeman was ready to run its offense already after being run out of Tampa Bay by his coach just a couple of weeks ago. But based on what they got from Christian Ponder and Matt Cassel this season, why not? Ben Goessling things the Vikings' receivers
could benefit
from the switch.
Around the division:
The Cowboys have released Jay Ratliff in a move that was long overdue. Tim MacMahon writes that Ratliff's deal, and sticking with him as long as they did in spite of his injuries and other issues, ranks among Jerry Jones'
worst mistakes
as Cowboys owner and GM. I have to agree. Ratliff was a special player for a time, but it's been a while since he was reliable and he's created more headaches the past couple of years than he was worth.
Around the league:
Nobody should know better than Jim Irsay not to give Peyton Manning bulletin-board material before he comes to town to play his team. Which makes it really weird that that's
exactly what Irsay did
! Manning's going to throw for 800 yards and nine touchdowns, and the Colts players aren't going to be able to complain because the guy who fired him up is the one signing their checks.
March, 18, 2013
3/18/13
8:00
AM ET
PHOENIX -- Yeah, I mean, sorry. Just not a lot going on in our division last night when I got here. Saw the New York Giants' owners and coach, the Philadelphia Eagles' owner and general manager, and the Washington Redskins coach, but not to do anything but exchange pleasantries and try to make plans to talk more over the next couple of days. I will of course keep you posted. Meantime, here are some links while I wait for the sun to rise here in the desert.
Washington Redskins
Rich Campbell wonders if the Redskins' resentment over the salary cap penalties that are still affecting them will
affect the atmosphere
of this year's meetings. That link also has a primer on the Redskins' remaining business, which is to say almost all of their business.
Penalty or no penalty, the Redskins still need to find a starting free safety on a dwindling market. Tarik El-Bashir has some of the remaining available names
here
.
New York Giants
Giants co-owner Steve Tisch said in the lobby Sunday afternoon that he expected Victor Cruz to get more money than the $6 million per year veteran slot receiver Wes Welker got from the Broncos. Tisch also said he's concerned about the possibility of a team signing Cruz to an offer sheet and stealing him away.
Ralph Vacchiano writes
that the Giants were right to take that risk with Cruz, since that possibility is extremely unlikely and it sounds as though the Giants might match anyway.
Also, after tweeting excitedly about his team's impending plans to sign a wide receiver, Colts owner Jim Irsay told anyone who'd listen that the receiver in question was
not Cruz
. So you can exhale on that if you like.
Dallas Cowboys
Calvin Watkins has your Cowboys-themed owners meetings
primer
, and it does continue to seem as though the extent to which the Cowboys can operate in the coming weeks and months is tied directly to their ability to work out this contract extension with quarterback Tony Romo.
Randy Galloway takes the position that a lack of cap space might actually be
a good thing
for Jerry Jones and the Cowboys at this dangerous time of year.
Philadelphia Eagles
Tim McManus did a reset on the Eagles' defense and
how all of the pieces fit
now that they've signed so many... well, new pieces.
This storyline isn't going anywhere anytime soon: As they continue to fill needs via free agency, might the Eagles be setting themselves up to take West Virginia quarterback
Geno Smith with the No. 4 pick
in next month's draft? It's not a terrible idea, if they think Smith has the tools to be their quarterback of the future.
April, 4, 2012
4/04/12
8:00
AM ET
You guys see this on Twitter this morning? Jim Irsay says he passed Robert Griffin III going the other way during his morning run and waved hello, but Griffin didn't wave back. Acted like he didn't even see him. Later, he saw him in Starbucks, but Griffin pretended to be texting the whole time Irsay tried to get his attention even though it looked to Irsay like the phone wasn't even on.
Weird. I think we should spend the day pondering what this means about the first two picks in the draft. Gonna need sustenance. How about some links?
Dallas Cowboys

Jason Garrett went to Alabama's pro day last week, and now
three Alabama defensive players
are among the 30 players scheduled for pre-draft visits with the Cowboys. Man, if I believed anything that happened three weeks before the draft offered legitimate clues about what teams were going to do, I'd consider this a sign that the Cowboys like those Alabama guys.
Brandon Carr was a right cornerback in Kansas City but
expects to play on the left side
in Dallas. Not sure how much this matters. Kind of depends on which side of the field the other team assigns to its best receiver, right?
New York Giants

Speaking of Carr, Victor Cruz said he
doesn't care
about what Carr said the other day about keeping Cruz from salsa dancing in 2012. Cruz also says he has
no plans to hold out
, in spite of a comment he made earlier in the offseason about thinking he deserved more money. Cruz is one cool cat.
The Giants like Dave Tollefson and have made an effort to re-sign him. But as the interest from other teams piles up, it looks
less and less likely
that they'll be able to bring him back. If he leaves, that probably makes it even less likely that they trade Osi Umenyiora.
Philadelphia Eagles

I don't put any stock into the Eagles' reported interest in Ryan Tannehill, since I don't think they will draft him.
I am intrigued
, however, by this idea of Michael Floyd. Most projections have the Eagles going defense in the first round, but another fun passing-game weapon for Michael Vick wouldn't be a terrible idea.
Jason Peters' ankle
surgery was successful
, as all professional sports surgeries seem to be, but his replacement is still a mystery, as the Eagles continue efforts to plug a big new hole that opened up unexpectedly last week.
Washington Redskins

The Redskins' free-agent signing pace has slowed down since the opening week, but that has nothing to do with a lack of salary cap space. Washington
still has plenty
of it, in spite of their early signings and the $18 million penalty imposed by the league.
Eddie Royal says his decision to choose the Chargers over the Redskins was based in large part on the fact that the Chargers' quarterback is already an
established star
while the Redskins' next quarterback, whatever he becomes down the road, will of course be a rookie in 2012.
April, 3, 2012
4/03/12
12:09
PM ET
So
Indianapolis Colts
owner Jim Irsay tweeted that the team was having a private workout today with Stanford quarterback
Andrew Luck
and that they wanted to have one as well with
Robert Griffin III
but that Griffin's agent
turned them down
. This has, as everything that has anything to do with the NFL does in the age of Twitter, become a huge deal.
Luck

Griffin
Knowing that it's certain to fall on deaf ears, I hereby offer a plea for everyone to relax. We'll never make it through the next 23 days if we keep up like this. Do you want to know what it means that Griffin turned down the Colts' invitation for a private workout? Nothing. Ab. So. Lutel. Ly. Nothing.
There is no event in sports (other, apparently, than uniform unveiling) for which the hype and anticipation exceeds the quality and importance of the thing itself than the NFL draft. And part of the outsized hype is this desperate need to find clues in every little thing everyone says and does. Here are some key things to remember, on this Griffin issue and in general:
Almost everything that any team official or agent says publicly about the draft at this time of year is somewhere on the spectrum between misleading and outright false. Posturing, smokescreening and negotiating are the order of the day, and teams love to play games and drop clues that lead people in the wrong direction.
Irsay and the Colts are almost certainly taking Luck, leaving Griffin for the Washington Redskins, but there's absolutely no reason for them to make their decision on April 3. And even if they did, there's absolutely no reason for them to tell anyone what it is. There are 23 days left before the draft, and no one knows what might happen to or with Luck or Griffin in that time. The Colts have every right to wait right up until the night of April 26 to decide, and they owe it to no one to let us know what they're thinking.
The Colts weren't the only team to ask Griffin to do a private workout, and he declined all such invitations. Griffin wanted teams to come to Baylor's pro day instead, in part because he wanted to share some of his spotlight with his college teammates. As I understand it, he didn't work out for the Redskins either.
These private workouts are, like almost everything else this month, overblown. Teams decide which players to draft based mainly on the players' college tape. And they can meet with these guys in private at the scouting combine. Just because a guy is having a private workout for a team doesn't mean that team is drafting him. And just because he isn't having a private workout for a team doesn't mean that team isn't drafting him. The Eagles are working out Ryan Tannehill even though there's no way they're drafting him. Some teams just like to take an opportunity to meet a guy and get to know a little bit about him. You never know when that might come in handy down the road -- whether you're playing against him, considering acquiring him, whatever.
The overwhelming likelihood is that the Colts are taking Luck and have known it for some time, and that the Redskins will get Griffin. But nothing that's happening today offers any viable clues about this. And if you're the Redskins -- and this really is the most important point I can make here --
it doesn't matter
. Andrew Luck is your worst-case scenario? Plenty of teams would trade places with you.
March, 28, 2012
3/28/12
9:50
AM ET
PALM BEACH, Fla. -- As you may have heard,
Indianapolis Colts
owner Jim Irsay has been wandering around the NFL owners meetings saying his team is undecided on whether it will take
Andrew Luck
or
Robert Griffin III
with the No. 1 pick in the draft. Irsay could be telling the truth, or he could be putting up a smokescreen, as everyone does about the draft this time of year.
One thing is certain, though. The
Washington Redskins
, who traded three first-round picks and a second-round pick to the Rams earlier this month to move up to the No. 2 pick, don't care. They know they're getting one of those premium quarterbacks, and that's all that matters.
[+] Enlarge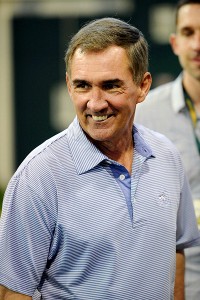 Jerome Miron/US PresswireMike Shanahan feels both of the top quarterbacks available in the NFL draft are athletic enough to thrive in his offense.
"That's a decision, when you get to the second pick, you've got to feel great about both guys," Redskins coach Mike Shanahan said Wednesday morning. "There can't be any, 'Oh, I hope I get this guy, I hope I get that guy,' because you don't know what's going to happen. You know what's reported, but you just don't know, especially with this process. But when we did move up to that position, we had to feel great about both of them before we gave up what we gave up."
It's widely believed the Colts have been set on taking Luck for some time, and the likelihood is that the Redskins will end up with Griffin. And because of Griffin's exceptional speed and mobility, conventional wisdom has begun to coalesce that says Griffin "fits Shanahan's system" better than Luck would. But Shanahan disputes that notion, indicating that he believes it underrates Luck's athleticism.
"I say both of these guys, because they've both very athletic," Shanahan said. "When you take a guy (Luck), who's 6-4, that's 240 (pounds) and can run a 4.6 forty, that guy can move pretty good. And obviously with Robert, running a 4.4 or under, usually guys that are that fast can't throw. And he can do both."
The Redskins have not worried, since making the trade, that they paid too much. The franchise has been in need of a franchise quarterback for years -- decades, really. And Shanahan believes that it's an essential ingredient to a championship team.
"The Super Bowls that I've been involved with, with Steve Young, with John Elway, both were franchise quarterbacks," Shanahan said. "They can make plays when everything breaks down. And if somebody can do that, then you've got an opportunity, once you get to the playoffs, to do something special. Now, can you still win without one? Sure you can. But you'd better be pretty special."
Shanahan said he and his staff are spending 11 hours a day preparing for the rest of the draft, going over every possible player and trying to identify potential future stars they can find in the later rounds. But what the Redskins did when they made the deal with the Rams was buy themselves their biggest present a month before Christmas. And every day, they walk past it, wrapped and sitting under the tree. And as excited as they are, they're happy to wait to unwrap it, because they know it's going to be awesome.
March, 26, 2012
3/26/12
1:35
PM ET
PALM BEACH, Fla. --
Indianapolis Colts
owner Jim Irsay says his team likes
Andrew Luck
and
Robert Griffin III
and hasn't decided which of the two star quarterbacks it will take with the No. 1 pick in next month's draft.
"I think they're both outstanding young men," Irsay said during a break in the owners meetings here Monday. "I don't think it's either-or, where only one of them is going to succeed. I think they're both going to be great."
Luck

Griffin
It's long been assumed the Colts would take Luck with the first pick, and after the
Washington Redskins
traded up to get the No. 2 pick in the draft, it's been assumed that they'd take Griffin. In truth, the Redskins are expecting the Colts to take Luck and excited to have Griffin. But if the Colts did take Griffin instead, the Redskins would be thrilled to have Luck fall to their spot.
Since they have the No. 1 pick, the Colts could, if they so choose, do a contract with Luck (or Griffin, or any player they want, actually) in advance of the draft.
"If we decided to do a deal early with one of them, that's something we could definitely look into," Irsay said. "But we're still in the evaluation process right now."
It's possible the Colts have always been and remain set on taking Luck, and that the public interest in Griffin is a negotiating tactic Irsay is attempting to use with Luck. The Colts have been enamored with Luck for a long time. ESPN analyst Bill Polian, who was the Colts' GM until a couple of months ago, has said last week on NFL Live that he believes Irsay is set on Luck as
Peyton Manning
's successor in Indianapolis.
The key thing to remember, though, if you're a Redskins fan, is the team believes (as Irsay says his team does) that there are two can't-miss quarterback prospects in this year's draft, and the trade the Redskins made with St. Louis ensured they will get one of them. Which one it is doesn't matter as much as the fact that the Redskins believe that No. 2 pick sets them up at quarterback for years to come.