December, 16, 2011
12/16/11
1:30
PM ET
»
NFC Final Word
:
East
|
West
|
North
|
South
»
AFC
:
East
|
West
|
North
|
South
Five nuggets of knowledge about Week 15:
[+] Enlarge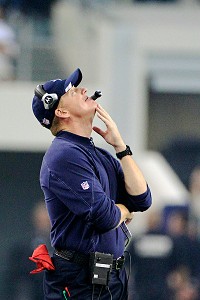 AP Photo/Tony GutierrezFourth-quarter collapses have become common for Jason Garrett's Cowboys this season.
Pleading the fourth:
How bad has the
Dallas Cowboys
' defense been in the fourth quarter this season? Maybe worse than you even thought. According to ESPN Stats & Information, the Cowboys, who play the Bucs in Tampa on Saturday night, have allowed the third-most yards (1,516), the seventh-most points (96), the eighth-most touchdowns (11) and the sixth-highest opponent's pass completion percentage (62.0). An inability to finish out games is quickly becoming an ugly hallmark of Jason Garrett's coaching tenure. He has nine losses as the Cowboys' head coach. One came to the Eagles earlier this season by 27 points. The other eight have come by
a combined total
of 27 points.
The opposite:
New York Giants
quarterback
Eli Manning
has thrown 14 fourth-quarter touchdown passes this season. That's the most in the NFL by four and, according to the Elias Sports Bureau, tied for the most fourth-quarter touchdown passes ever in one NFL season. Manning's brother,
Peyton Manning
, threw 14 fourth-quarter touchdown passes in 2002, and Johnny Unitas did it in 1959. Of course, Unitas did it in only 12 games. Manning has played 13 and has three left.
Skins want to win out:
The
Washington Redskins
go into Sunday's game against the Giants with a 4-9 record, assuring them of their third consecutive losing season. But if they lose one more, it would also be their third straight season with at least 10 losses. The last time that happened was 1993-95. It's going to be tough, if history has anything to say about it. The Redskins' Week 1 victory over the Giants snapped a six-game Washington losing streak against New York, and the Redskins have lost three straight road games to the Giants. On the flip side, though, the Giants have lost their last two games at home (to the Eagles and Packers). A loss Sunday would give the Giants their longest home losing streak since their Super Bowl season of 2007, when they somehow lost their last four home games.
A potential opening?:
The
Philadelphia Eagles
get a visit from the
New York Jets
, who have been known over the past three years for their great defense. But the Jets suffered a key loss this week when safety
Jim Leonhard
injured his knee and was placed on injured reserve. Leonhard got injured with five games left in the 2010 season, and a Jets defense that was allowing 17 points per game and 6.4 yards per pass attempt with him in the lineup saw those numbers go up to 23.4 and 6.9, respectively, with Leonhard on the sideline. Just a little potentially encouraging news for
Michael Vick
and an Eagles offense that needs all the help it can get.
Be on the Mark:
The Eagles' defense had nine sacks against the Dolphins in Week 14 and will need to pressure Jets quarterback
Mark Sanchez
if they are to limit a Jets offense that has scored 99 points in its last three games. With Vick and top receiver
Jeremy Maclin
banged up, it's possible the Eagles will have to win a low-scoring game, and to do that they'll need their defense to step up the pressure. The best way to do that is get after Sanchez, who doesn't perform as well against the blitz.
August, 16, 2010
8/16/10
11:02
PM ET
By
Matt Mosley
| ESPN.com
All the ridiculous trash talk for a preseason game was forgotten as blood poured from
Eli Manning
's head in the second quarter.
Brandon Jacobs
thought he was accepting a handoff and Manning appeared to be thinking pass. The result was a bloody mess as the ball popped out and Manning was destroyed by
Calvin Pace
before bumping into safety
Jim Leonhard
with his helmetless head.
[+] Enlarge

Tim Farrell/US PRESSWIREA broken play in the second quarter resulted in a 3-inch gash just below the hairline of Eli Manning.
The Giants said Manning received stitches for a 3-inch gash that appeared to be just below his hairline. If you don't like the sight of blood, don't look too closely at the photos. Manning should be fine after getting 12 stitches, but it was certainly the story of the game. Now, it's time for the Beast to make seven quick observations on tonight's epic battle at New Meadowlands Stadium, which looked nice on TV:
1. Good thing rookie wide receiver Victor Cruz took the field late in the third quarter.
For the most part, the Giants' offense had been awful, but Cruz pushed off with his right arm and then made a remarkable one-handed grab with his left. Maybe it was offensive pass interference, but it was still a thing of beauty. The Giants have no hope of getting this guy to the practice squad now, and they probably don't want to anyway. I'd just written that last sentence when Cruz made another gorgeous adjustment on the ball in the fourth quarter. OK, there's another touchdown. Cruz finished with six catches for 145 yards and three touchdowns. This is getting ridiculous.
Steve Smith
's looking for a helmet.
2. Decent debut for Perry Fewell as the new defensive coordinator, but there were some shaky moments.
The Jets' touchdown in the first half came on a play when the Giants didn't have a clue who was supposed to be on the field.
Mark Sanchez
just lobbed a pass to an uncovered
Brad Smith
for an easy touchdown. Tom Coughlin has to be seething about that play. Otherwise, the Giants did a nice job getting off the field in the red zone. The Jets were forced to settle for three short field goals and a missed attempt by former Cowboys kicker
Nick Folk
. But there's no reason the goal-line defense should have that tough of a time getting on the field. Fewell had to be furious with that result.
3. The Giants need to start looking for a veteran punter.
I know
Matt Dodge
has a big leg, but he was scary bad against the Jets. He didn't get any hangtime and he also had a punt blocked. Now I'd blame that more on the blocking than Dodge, but it still looked like he could've been a bit quicker on his approach. At this rate, Coughlin will have to talk
Jeff Feagles
out of retirement. I'm halfway serious, by the way.
4. A healthy Chris Canty will make a big difference on defense.
Canty is once again playing with confidence from his defensive tackle spot. He was never right physically last season, but he's now disrupting plays at the line of scrimmage. One touchdown run was called back because Canty drew a holding penalty. He'd already drawn another one in the first quarter. He's an enormous presence in the middle of that defense.
5. I know Terrell Thomas has had a nice camp, but he took a poor angle on a short pass to LaDainian Tomlinson on third-and-13.
You have to know what the down-and-distance is and Thomas really looked bad on the play. Perhaps he'd been reading all the stories about how Tomlinson's lost a step. But when you're in that situation, you have to do a better job.
6. Ahmad Bradshaw is the feature running back for the Giants.
He was on the field first Monday, but that doesn't mean a whole lot. The important thing is that he's obviously the team's best back at this point. You saw what he did on that short pass from Manning in the second quarter. He raced for 51 yards and he showed some great balance to avoid tackles and stay in bounds. He's a home-run back who finally seems to be completely healthy. Could be a special season for the former seventh-round pick. I smell 1,100 yards and 8 touchdowns.
7. First-round pick Jason Pierre-Paul will have highs and lows.
In the second quarter, Pierre-Paul was just engulfed by the Jets' offensive line on a few plays. He spent more time on his knees than anything else. But then he raced past veteran
Damien Woody
for a sack on a speed rush. It was impressive to see him lower his right shoulder and turn the corner in a hurry. I was also impressed to see second-round pick
Linval Joseph
come knifing through to make a play in the backfield. There will be growing pains, but both players will be in the rotation from Day 1. One more note:
Santonio Holmes
made former Jackson State standout
DJ Johnson
look really bad at cornerback. Johnson just didn't have a chance against the former Steelers Super Bowl hero. But Johnson kept playing hard and ended up with an interception in the fourth quarter. If anyone's interested,
the Giants won the game, 31-16
.
August, 16, 2010
8/16/10
9:34
PM ET
By
Matt Mosley
| ESPN.com
Giants fans held their breath Monday evening as blood gushed from quarterback
Eli Manning
's head following a botched play in the second quarter of a preseason game against the Jets. The Giants said that Manning
is receiving stitches for a 3-inch gash
.

Manning
The Giants are fortunate the injury wasn't worse. It appeared that
Brandon Jacobs
thought he was taking a handoff from Manning, but the quarterback had something else in mind. The two collided and the ball came loose before Manning was hit from behind by
Calvin Pace
. His helmetless head then made contact with safety
Jim Leonhard
who mercifully held up on the play.
The preseason game had a regular-season feel with both coaches leaving their starters on the field into the second quarter. As Manning held a towel to his head to stop the bleeding, he was led to the locker room by athletic trainers. Something tells me he won't return in the second half. Just call it a hunch.
March, 2, 2009
3/02/09
3:00
PM ET
By
Matt Mosley
| ESPN.com
Posted by ESPN.com's Matt Mosley
OK, let's come up for air for a moment and see who else is on the free-agent market. The Redskins obviously made the biggest splash, signing defensive tackle Albert Haynesworth, cornerback DeAngelo Hall and guard Derrick Dockery. The New York Giants didn't go the high-profile route, but they did a nice job landing linebacker Michael Boley and defensive tackles Rocky Bernard and Chris Canty (he's being projected as a DT).
The Eagles and Cowboys weren't quite as active. The Eagles brought in Shawn Andrews' older brother Stacy to start on the offensive line. But they lost a local icon in safety Brian Dawkins. The Cowboys will replace aging veteran Zach Thomas with aging veteran Keith Brooking, although I do think it's an upgrade. They also traded for backup quarterback Jon Kitna, who is a significant upgrade over Brad Johnson. OK, let's see who else is out there:
This team could use another safety and a cornerback to help replace Anthony Henry, who was traded to the Lions. Henry wasn't going to start in '09, but his departure means the Cowboys need more depth. Former Redskins cornerback Shawn Springs appears to be a nice match -- even though he's battled injury problems. He grew up watching his father, Ron, play for the Cowboys and would love nothing more than to finish his career in Dallas. Safety Josh Bullocks is a player the Cowboys liked in the draft four years ago. Last time I looked, he's still on the market. The Cowboys won't spend any significant money, though, because they're focused on signing linebacker DeMarcus Ware to a long-term extension.
With the departure of Dawkins, the Eagles need reinforcements. Giants unrestricted free agent James Butler is still out there, but he was headed to Cleveland to visit with the Browns last time I checked. Philadelphia needs to continue to fortify its offensive line, so it would make sense to re-sign left tackle Tra Thomas. Even though they have the money to do it, don't look for the Eagles to make a play for T.J. Houshmandzadeh. The other safety that the Eagles could be interested in is Ravens unrestricted free agent Jim Leonhard.
The Giants struck quickly and it appears they'll sit back and cherry pick at this point. They made significant upgrades at linebacker and defensive line. They still need a receiver, but they won't break the bank for Houshmandzadeh. Steelers unrestricted free-agent wide receiver Nate Washington is a possibility. At this point, though, I think the Giants are content to sit back and see if any players slip through the cracks.
The Redskins tried ignoring free agency and investing in the draft last year. They apparently didn't have any fun. Dan Snyder and his right-hand man, Vinny Cerrato, were back to their wild-spending ways Friday, guaranteeing Haynesworth $41 million and Hall a paltry $22.5 million. I think the Redskins would be wise to bring linebacker Khary Campbell back. He's an excellent special teams player and can start in a pinch.
December, 20, 2008
12/20/08
9:04
PM ET
By
Matt Mosley
| ESPN.com
Posted by ESPN.com's Matt Mosley
IRVING, Texas -- The Cowboys finally used Marion Barber late in the first quarter, but he was stuffed on two consecutive runs. After watching Tashard Choice dice up the Ravens on the first drive, Barber looked pretty slow as he attempted to turn the corner. I'm about to walk to where the Ravens' scouts are sitting and ask about Jim Leonhard.
I don't watch a ton of AFC North football, but it's pretty obvious that Leonhard's a dynamic player. He looks great on punt returns and he's the one who ran Choice down from behind on a long run in the first quarter.