February, 24, 2012
2/24/12
8:00
AM ET
Friday links. You know what to do.
New York Giants
Still even after a full day at the combine, there are almost no Giants links. The newspapers that cover the team regularly seem only to care that the Knicks lost to some Florida team. I have Alex Marvez writing about
Brandon Jacobs
' potential
future in wrestling
-- a story that includes quotes from TNA Wrestling president Dixie Carter, which made me wonder if it was the same Dixie Carter who used to be on "Designing Women." But I looked it up and that Dixie Carter died in 2010. This is a different Dixie Carter, and as we've established over and over again, there's a lot of stuff about which I know pretty much nothing. Like why
LaRon Landry
would take a photo of himself in a mirror with his iPhone when the iPhone camera is reversible. But that's a different story, from a different day.
And Ohm Youngmisuk's got something on the
Giants flavor
of the coaching staff former Rutgers coach Greg Schiano is building in Tampa Bay, including Thursday's news that Schiano was denied permission to talk to Kevin Gilbride Jr., who may be in line for a promotion on the Giants' staff.
Philadelphia Eagles
Eagles GM Howie Roseman continues to say
upbeat, positive things
about
DeSean Jackson
's future with the team. This either because he believes it or because he doesn't want to tip his hand to potential trade partners or because you're only supposed to use the franchise player designation as a step toward a long-term deal and he wants some quotes in the paper that make it look as though that's his intention. Could be any one of those things, or both of the last two. We'll know somewhat soon, I guess.
Roseman also spoke of the Eagles' need to start getting
bigger contributions
from some of the defensive players they've drafted in early rounds in recent years. Certainly, if
Brandon Graham
,
Jaiquawn Jarrett
and
Nate Allen
could make significant leaps in production in 2012, the Eagles would benefit a great deal.
Dallas Cowboys
The Cowboys have
begun speaking
with the agent for linebacker
Anthony Spencer
. The Cowboys' decision on Spencer -- i.e. whether to franchise him, re-sign him or let him walk as a free agent -- is one of the most important they face in the early part of this offseason, and they need to get that decision made sooner rather than later so they can operate the rest of their plan.
Cowboys coach Jason Garrett outlined the way the duties of the
team's new secondary coaches
will be split up, which is nice, but I think probably not as important as the decisions yet to come on who will be playing defensive back in that secondary.
Washington Redskins
The
Minnesota Vikings
are making no secret of their desire to
trade down
from the No. 3 pick in the draft, and if there were three stud quarterbacks available in this year's draft, I'm sure the Redskins would be happy to do it. But you have to get up to No. 2 to make sure you get Robert Griffin III, and the Rams are likely to drive a hard bargain for that pick. The Redskins could find themselves dealing with Minnesota at some point, but only if the Rams keep the pick and draft a player at No. 2 on draft night.
The Redskins aren't likely to be in the market for a tight end early in the draft, but Skins fans may get a kick out of knowing that Stanford tight end Coby Fleener's name was
inspired
by that of former Redskins lineman
Joe Jacoby
.
August, 6, 2010
8/06/10
11:14
AM ET
By
Matt Mosley
| ESPN.com
ASHBURN, Va. -- As I walked around Redskins Park on Thursday, I kept bumping into folks who were headed to Canton, Ohio to attend Russ Grimm's induction to the Hall of Fame. For a team that leaned so heavily on its running game in the '80s and early '90s, it's amazing that it took so long for a member of those offensive lines to get elected.
[+] Enlarge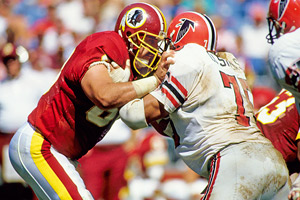 Manny Rubio/US PresswireRuss Grimm is the first member of the famed "Hogs" to be inducted into the Hall of Fame.
But Grimm was the correct choice to represent the beloved Hogs. He was one of the more colorful players in Redskins history and a dominant offensive lineman. I've had a lot of talks with Cowboys Hall of Fame defensive tackle Randy White over the years, and invariably a lot of those discussions involve the great rivalry with the Redskins. Most teams were forced to double-team White, and the Skins were no exception. But Grimm was one of the few players in the league who could neutralize White (at times) on his own.
There's a great story about how offensive tackle Mark May used to taunt White. It apparently frustrated Grimm to no end because he was primarily responsible for blocking White. According to fellow Hog Joe Jacoby, Grimm had finally heard enough and he lit into May in the huddle.
"I know you've got a stiff over there, but you keep it up, and I'm coming after
your
ass," Jacoby recalled Grimm saying.
Grimm was apparently referencing Cowboys defensive end John Dutton as the "stiff." But Grimm had immense respect for White, and he didn't want May to give him any added incentive.
Washington went to four Super Bowls in an 11-year span with coach Joe Gibbs, and the Hogs played an enormous role in that run. Gibbs wasn't the most colorful quote in the game, but he truly appreciated having memorable characters on his team. Some of the stories about the Hogs would have made coaches cringe in this era, but Gibbs knew better than to try to curb their appetite for fun.
Here's a story that Gibbs recently told
former running back John Riggins:
"The one thing I'll always remember about Russ and Joe and that crew, they would always get away from us a little bit in those afternoons when we had those Wednesday scrimmages in Carlisle [Pennsylvania]," said Gibbs. "And I got in the huddle one night, and I mean, the smell of beer was so strong that I backed out of there after calling the play.

"And in between plays, I turned to [offensive line coach Joe] Bugel and I said I've got to tell you something right now, somebody in there has had some beers, OK? And Bugel went and got those guys. I don't know if you remember this, I kind of turned my back and walked off for a few minutes, he got everybody in the huddle and said this better be the best practice of your life or you guys are gonna be running wind sprints for the rest of your life. So Russ goes: 'I plead guilty.'"
Those linemen embraced the "Hogs" nickname because it suited their reputation for not taking themselves too seriously. But when they stepped on the field, there wasn't a more dominant group in the NFL. It took too long for a representative to be voted into the Hall, but now that it has happened, Grimm's the perfect choice. And in a lot of ways, all of the Hogs will be enshrined during Saturday's ceremony.
And if you see White cringe when Grimm's delivering his speech, you'll know he's thinking about that "50 Gut" play from the NFC title game in 1983.
July, 8, 2010
7/08/10
12:00
PM ET
By
Matt Mosley
| ESPN.com
A weeklong look at current or former players or coaches with Hall of Fame potential in the division.
Cowboys
: Cliff Harris, free safety
[+] Enlarge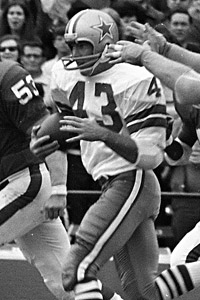 AP PhotoCliff Harris was the safety by which others were measured for years after he retired.
Claim to fame
: Member of the 1970s all-decade team. Wasn't drafted out of Ouachita Baptist University in Arkansas, but immediately won the free safety role. Nicknamed "Captain Crash," he was one of the most feared defenders in the game.
Case for enshrinement
: He was a finalist in 2004 and certainly deserves to be in the Hall. For years, safeties entering the league were compared to Cliff Harris. He was the rare player who was excellent against the pass but could also blow up running plays. He took Tom Landry's complicated flex defense and added his own spin. Harris, a highly intelligent player, finally made it into the club's hallowed Ring of Honor in 2004.
Harris studied opponents for hours at a time and he punished wide receivers who ventured over the middle. Cardinals great Larry Wilson, who's in the Hall of Fame, has said that Harris was the best safety he'd ever watched. Harris went to six Pro Bowls and he and Ken Houston were considered the best safeties from the '70s.
Case against enshrinement
: It's tough to build a case against Harris. But the fact that he had only 29 career interceptions probably works against him. Wilson had 52 and Houston finished with 49. Harris walked away from the game after the '79 season when he was still going to Pro Bowls (age 31). I'm sure he could have collected 10 to 15 more interceptions.
And those Super Bowl losses to the Steelers in the '70s didn't help matters. If the Cowboys win one of those games, they probably would have two or three more players in the Hall than they have. I think Harris would've been one of those players.
Bottom line:
In a lot of ways, Harris redefined how the safety position was played, and that should be rewarded by the selection committee.
Best player who will never make it:
For my money, it's Drew Pearson. His stats don't hold up in this era, but he played a huge role in Roger Staubach's success. And though he had only a couple of 1,000-yard seasons, he made clutch catches seemingly all the time. Ask Redskins fans from the '70s if they think Pearson belongs in the Hall of Fame.
Eagles:
Donovan McNabb
, quarterback
Claim to fame:
Took over as the full-time starter in 2000 and took the Eagles to five NFC title games and one Super Bowl in that decade. Has been selected to six Pro Bowls and has the fourth lowest interception percentage of all time. Became the first NFL quarterback to throw 30 touchdowns and fewer than 10 interceptions in 2004. The best quarterback in the history of the Eagles.
Case for enshrinement:
His numbers compare favorably to Hall of Famer
Jim Kelly
, who never won a Super Bowl. And McNabb put up monster numbers with average to subpar wide receivers (except for
Terrell Owens
).
DeSean Jackson
was a rookie when McNabb led the Eagles to the NFC title game in '08. Other than the Patriots, the Eagles were the most dominant team of the past decade and McNabb played a huge role in their success. McNabb also compares favorably to Hall of Famer
Steve Young
, although he's missing one very important piece of jewelry. McNabb's one of only six quarterbacks to pass for 25,000 yards and rush for 3,000. And his lower-body strength still makes him one of the most difficult quarterbacks in the league to sack. McNabb's lost some of his athleticism, but he still has a cannon for an arm.
Case against enshrinement:
Those five NFC title games we discussed? Well, the Eagles lost four of them. And it's not as if McNabb strung together excellent performances in those games. He'll also be remembered for throwing three interceptions against the Patriots in the Super Bowl following the '04 season. It was the beginning of the end of the McNabb-T.O. relationship.
I think McNabb will always be appreciated more by the national media more than the folks in Philly. Every game has been dissected, so Eagles fans simply got to know him a little too well. His career has honestly been more consistent than
Kurt Warner
's. But Warner has the ring and he finished strong with the Cardinals.
Bottom line:
Another trip to the Super Bowl would help his cause immensely, but he's already in the Canton conversation.
Best player who will never make it:
Wide receiver Harold Carmichael's numbers might not look special compared to
Randy Moss
and Owens, but he was an elite receiver from his era. His numbers completely trump Hall of Famer Lynn Swann's. Carmichael finished with 254 more receptions and 28 more touchdowns than Swann. Of course, Swann has the four rings and that's the biggest reason he's in Canton.
Giants:
Tiki Barber
, running back
[+] Enlarge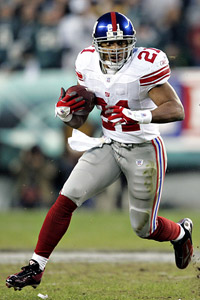 James Lang/US PresswireTiki Barber finished his career with five consecutive seasons of at least 1,200 yards rushing.
Claim to fame:
For the record, I'd originally chosen former defensive end
Michael Strahan
, but his "no-brainer" status for the Hall doesn't lend itself to a good argument. Barber may have left a sour taste with his early retirement, but he put up some impressive numbers. As Daily News columnist Gary Myers once pointed out, Barber may have left 3,000 yards on the table. He's the greatest running back for one of the most storied franchises in the league. Doesn't that count for something?
Case for enshrinement:
He finished strong with five consecutive seasons of at least 1,200 yards rushing. And his 15,632 yards from scrimmage (rushing and receiving) ranked him 10th on the league's all-time list upon his retirement following the '06 season. In 154 regular-season games, Barber averaged 101.5 yards from scrimmage per game. That puts him in an elite group with the likes of Walter Payton and
Barry Sanders
.
Barber led the franchise in all-time receptions with 586 at the time of his retirement. And he was still on top of his game when he walked away after '06 -- as evidenced by a 200-yard performance against the Redskins. He was the Giants' leading rusher in 80 consecutive games from 2002 until 2006, which speaks to his consistency.
Case against enshrinement:
Super Bowl rings talk, and Barber retired a season before the Giants broke through in '07. And he certainly left a lot of yards on the table when he walked away at age 31. There's a chance that he could've had at least two more highly productive seasons. Like
Emmitt Smith
, he had the ability to avoid the big hits that knock running backs out of games. Barber was one of the best backs in the league over his final five seasons, but I suspect that won't be enough. And it doesn't help that
Ricky Watters
is ahead of him on the all-time rushing list. Watters isn't getting in the Hall -- and Barber probably will meet the same fate. By the way, can any of you make a case against Strahan? I'd be interested to see what that looks like. I guess you could point out the fact that
Kevin Greene
has nearly 20 more career sacks. But that's about as far as I got.
Bottom line:
Barber's early retirement probably cost him a shot at the Hall.
Best player who will never make it:
I realize that
Phil Simms
has said he wouldn't elect himself, but I think he deserves honorable mention. He took a beating his first few years in the league and then had to deal with Bill Parcells, a man who chews up quarterbacks. What Simms did in Super Bowl XXI was remarkable. His 22-of-25 performance earned him the Super Bowl MVP. Simms was a huge part of Parcells' success with the Giants, so I'd have no problem with him being in the Hall of Fame.
Redskins:
Gary Clark
, wide receiver
[+] Enlarge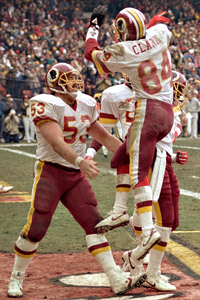 AP Photo/Scott StewartGary Clark caught 65 touchdowns during 11 NFL seasons.
Claim to fame:
He didn't have the longevity of
Art Monk
, but he was brilliant during his eight seasons with the Redskins. In the late '80s and early '90s, I thought he overtook Monk as the best receiver on the team. He could stretch the field with his speed, but he was also willing to go across the middle -- as evidenced by his annual appearances on the All-Madden team.
Case for enshrinement:
The thing that always jumps out at me is that Clark had 65 touchdowns in only 167 games. Art Monk's in the Hall of Fame with 68 touchdowns in 224 games. But I don't want to turn this into an anti-Monk argument. I think they probably both deserve to be in the Hall.
The fact that Clark was the top receiver on what I thought was the best Redskins team ever ('91) holds a lot of weight with me. He caught 70 passes for 1,340 yards and 10 touchdowns that season. Clark also had seven catches for 114 yards and a touchdown in the Super Bowl win over the Bills.
Clark was a player who inspired all of his teammates. And as of a couple of years ago, he was still inspiring the Redskins.
Santana Moss
told me about a time when Clark showed up to practice and told him to kick it into gear. Moss went on to finish the season strong after that talk in '07. Of all those great players from the Gibbs I era, Clark's the guy who always stands out to me. Perhaps he's hurt by the fact that Monk and
Ricky Sanders
were both so good.
Case against enshrinement:
He simply didn't do it for long enough. And one of his Super Bowl rings came in a strike-shortened season. If he'd played 16 games in the strike-shortened '87 season, I believe Clark would have had another 1,300-yard season. Those were pretty rare in those days, but he made it look easy.
Clark got a late start because he spent a couple of seasons in the USFL. Those are two years he could've put up big numbers for the Redskins in the mid-'80s. But to nearly reach 11,000 yards in a relatively short career (compared to Monk's) is pretty remarkable.
Bottom line:
Despite his brilliance, he just doesn't have the numbers to get in.
Best player who will never make it:
I hope I'm wrong about this one, but it's unlikely left tackle
Joe Jacoby
will enter the Hall. The Hogs finally have a representative with Russ Grimm. I think those dominant teams of the '80s that blew open holes for John Riggins deserve more, but it probably won't happen. Jacoby was a trailblazer of sorts because he didn't get in a three-point stance on obvious passing situations. He was one of the first players to do that, and it soon caught on around the league. I think it's pretty much a wash when you put Grimm and Jacoby next to each other, but that's just me. I'm also a big fan of defensive end
Charles Mann
's work in the '80s and early '90s.
Now, let's hear some of your arguments.