July, 28, 2014
Jul 28
1:55
PM ET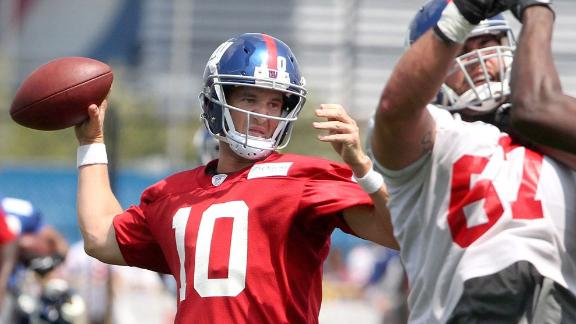 EAST RUTHERFORD, N.J. -- Look, I'm not saying he can and I'm not saying he can't. I have nothing but respect for
Eli Manning
's abilities and the things he can do. He can beat
Tom Brady
in the Super Bowl, and if you didn't believe that after the first time, he did it again for good measure. The
New York Giants
' quarterback is largely underrated and underappreciated, and he's perfectly capable of having a great season even though he's coming off his worst season.
However.
If Manning completes 70 percent of his passes this year in Ben McAdoo's new offense, as quarterbacks coach Danny Langsdorf said Monday
he'd challenged Manning to do
, then McAdoo, Langsdorf and anyone else who had a hand in it should have their choice of NFL head-coaching jobs next January. And they can ride unicorns with Santa Claus and the Easter Bunny to the interviews.
Start with the very short list of quarterbacks who've ever hit that number in a full NFL season. It's basically
Drew Brees
(twice, in 2009 and 2011), Joe Montana (1989) and Steve Young (1994). Langsdorf said the list he gave Manning also included Sammy Baugh, Ken Anderson and
Alex Smith
. But Baugh played only eight games in the 1945 season in which he hit the mark (the league played a 10-game season that year). Anderson's 1982 season was only nine games long due to a players strike. And Smith put up his 70.2 mark in 10 games in 2012 before losing his job to
Colin Kaepernick
.
So if Manning is to hit this goal over a full season, he'll be doing something only three other players -- two of whom are in the Hall of Fame, and one of whom surely will be -- have done. The fact that it's a nearly impossible achievement is the first and best reason to doubt it. Manning's career completion percentage is 58.5, and his career high for a single season is 62.9, set in 2010. He would have had to complete an additional 69 passes in 2013 to get to 70 percent from the dismal 57.5 at which he finished. That's 4.3 more completions per game. Even in 2010, he would have needed 39 more completions, or 2.4 per game. May not sound like a lot, but it is when you think about what it means.
Secondly, as much as we've written about the Giants' new offensive scheme, there are still legitimate concerns about whether they have the personnel to run it effectively. The offensive line isn't set yet. Their wide receiver group is littered with question marks after
Victor Cruz
. They do not have a reliable pass-catching tight end on the roster. And as much as they want to stress high-percentage plays and completion percentage, it's tough to imagine they'll throw to the running backs all season.
Which kind of leads me to my final point: Eli Manning, risk-taker. Manning's calling card as a quarterback has always been, to me, his fearlessness. He has the confidence to try any throw, no matter how risky, because (a) he believes he can make it, and (b) he has an uncommon ability to put mistakes behind him and not let them affect his performance as the game goes along.
It's inconceivable to think that McAdoo and Langsdorf could change this about Manning even if they wanted to, and it's inconceivable to believe they would want to. Manning's ability to deliver an uncanny throw in a huge spot is one of the few things you can point to right now in this Giants offense that might have a chance to set it apart from others in the league. Their challenge is to install an offense that's more efficient and less turnover-prone while still making use of what Manning does best. So there's still going to be plenty of downfield stuff, and that stuff will come with more risk.
Now, OK. I understand about coaching and motivation. If Langsdorf sets a goal of 70 percent and Manning aims for it but falls 5 percent short, he'd still obliterate his career high and improve on last year by 7.5 percent. The Giants would surely take that. But hearing Langsdorf say this Monday brought home the ideas of (a) how much different this offense is going to be than it has been for the past decade, and (b) how hard it's going to be for the Giants to be proficient in their new offense in its first season.
October, 19, 2012
10/19/12
1:30
PM ET
»
NFC Final Word
:
East
|
West
|
North
|
South
»
AFC
:
East
|
West
|
North
|
South
Five nuggets of knowledge about Week 7:
Blasts from the past:
Yes, it's a passing league, as you hear all the time. But the
Washington Redskins
haven't got the memo. Rookie quarterback
Robert Griffin III
(379) and rookie running back
Alfred Morris
(538) have combined for 917 rushing yards in Washington's first six games. That's the highest combined rushing yardage total by two rookie teammates through six games in the Super Bowl era, according to ESPN Stats & Information. And it goes back further than this for the Redskins. Washington as a team has rushed for at least 100 yards in each of its last 12 games. The second-longest such streak in the league is two games, by the
New York Giants
and the
St. Louis Rams
. In conclusion, the Redskins like to run the ball, and for many reasons pose a different game-planning challenge than any other team the Giants have faced or will face this season.
[+] Enlarge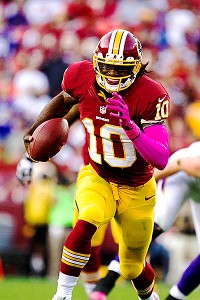 Paul Frederiksen/US PresswireWashington QB Robert Griffin III has a chance to earn a rare achievement with a win over the Giants on Sunday.
Upstart vs. champ:
If the Redskins win, Griffin would be the fourth rookie quarterback to defeat a defending Super Bowl MVP quarterback head-to-head. Really interesting list.
Colt McCoy
of the Browns beat
Drew Brees
and the Saints in 2010. Dieter Brock of the Rams beat Joe Montana and the 49ers in 1985. And of course, Kent Nix of the Steelers beat Bart Starr and the Packers in 1967. But seriously, no way you clicked on this blog today expecting a Dieter Brock note. Guy was 34 in 1985, but it was his only year in the league.
Burgundy kryptonite:
In two games against the Redskins last year (both losses), Giants quarterback
Eli Manning
threw four interceptions and no touchdowns. ESPN Stats & Information tells us that Washington is one of six teams against which Manning has thrown more interceptions than touchdowns in his career. The others are Tennessee, Minnesota, Chicago, Baltimore and Buffalo.
Giants can run, too:
Giants running back
Ahmad Bradshaw
is the only player in the league who has rushed for at least 100 yards in each of his last two games. The last Giant to rush for 100 or more in at least three games in a row was
Tiki Barber
in 2006. Bradshaw has 16 rushes of at least 10 yards so far this year, in 92 attempts. Last year, he had 16 such rushes in 171 attempts. The Giants' offensive line is a much better run-blocking unit than it was a year ago. Their average yards per rush before first contact is 2.75, which is the fifth-best figure in the league. Last year, the Giants' average yards per rush before first contact was 1.89, which was second-worst in the league.
Got to go deep:
Last year, on throws that traveled 20 or more yards downfield,
Dallas Cowboys
quarterback
Tony Romo
posted a 53.2 completion percentage, 21.6 yards per attempt, 10 touchdowns and only one interception. This year on such deep throws, Romo is 4-for-18 (22.2 percent) for 8.5 yards per attempt, one touchdown and one interception. The two bits of good news on this are that the Cowboys' offensive line looked much better last week in Baltimore and could start to give Romo more time to throw, and that Carolina's pass defense is allowing a 54.5 completion percentage on throws 20 or more yards downfield -- the second-worst such mark in the NFL.
May, 7, 2012
5/07/12
10:16
AM ET
Your first reaction is "non-story."
Washington Redskins
coach Mike Shanahan came out Sunday and said top draft pick
Robert Griffin III
was his
starting quarterback
, and yeah, sure, we all already knew that. They traded three first-round picks and a second-round pick for him, and it's not as though they already had Dan Marino and Joe Montana on the roster if you know what I'm saying. So of course Griffin's the starter. They'd burn the place down if he started
Rex Grossman
in the opener, and Shanahan knows that.
So why is it a story? I mean, other than the fact that it's May 7? Here are three reasons I think there's value in Shanahan saying what he said Sunday:
[+] Enlarge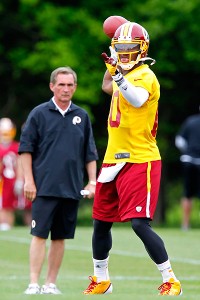 Geoff Burke/US PresswireMike Shanahan got to see his prize quarterback, Robert Griffin III, on the practice field for the first time last weekend.
1. The perpetual hunt for new customers.
I know it's tough to imagine, but not everyone is as obsessed with sports as those of us who write about it for a living or spend huge chunks of our workdays reading NFL blogs on ESPN.com. There are people who haven't been living and dying with every RG3-related move over the past few weeks, and for whom the idea that the rookie is going to be the Redskins' starting quarterback wasn't obvious. Part of what Shanahan and the Redskins are trying to do right now, in addition to win more games and get back to the playoffs, is repair and rebuild a relationship with a fan base. There's a great deal of excitement right now in Washington about Griffin, and it makes sense to try to capitalize on that by finding ways to get the word out to potential buyers of tickets and jerseys who may have been busy paying attention to other things during the NFL offseason. Four months before the start of the season and six months before the presidential election, Shanahan grabbed himself part of a Washington, D.C., Monday morning news cycle. How many tickets will that sell? Well, it didn't cost him anything to say it, so if the answer is "one," then why not?
2. This Kirk Cousins "controversy" foolishness.
Again, everyone who's been paying attention to the Redskins knows that Shanahan didn't draft Kirk Cousins in the fourth round to compete with Griffin for the starter's job. But a large part of the discussion about the Redskins last week was devoted to the idea of a potential controversy or competition involving those two players, and this was a chance for Shanahan to turn the conversation back in his preferred direction. Maybe somebody (heck, maybe Griffin!) heard all of the silly debate that went on last week about the Cousins pick and took it the wrong way. This was a chance to leave no doubt.
3. He's genuinely excited.
Shanahan's famous for not revealing much, especially emotionally. But he's very much in love with his new young quarterback. And while I've preached on here many times that we're not supposed to take what these coaches and GMs say publicly at face value without asking serious questions about why they're saying it, I can promise you that Shanahan's excitement over Griffin is sincere. I believe he very much enjoyed having him on the practice field for the first time and imagining the impact Griffin's abilities can have on what he's hoping the Redskins are about to become. He was asked a question and he answered it, which is the simplest explanation for why he said what he said. But I think part of the deal is how fired up this coach is about this player.
April, 4, 2012
4/04/12
10:12
AM ET
Continuing our team-by-team series on the history of the specific draft picks each NFC East team has this year, we take a look today at the
Dallas Cowboys
, who have eight picks in this year's draft.
Turning up some interesting trivia in these. For instance, the Cowboys have the 186th pick, which produced Deacon Jones, and the 152nd pick, with which the
Houston Texans
last year took a quarterback who a few months later started their first two playoff games in franchise history.
PICK 14
(14th pick, first round)
Last five players taken
2011 --
Robert Quinn
, DE, Rams
2010 --
Earl Thomas
, S, Seahawks
2009 --
Malcolm Jenkins
, DB, Saints
2008 --
Chris Williams
, T, Bears
2007 --
Darrelle Revis
, CB, Jets
Cowboys' history of No. 14 picks
The Cowboys have never had the No. 14 pick.
Hall of Famers picked No. 14
Jim Kelly (1983), Gino Marchetti (1952), Len Ford (1948, AAFC)
Other notables
Jeremy Shockey
(2002), Eddie George (1996), Dick Stanfel (1951)
PICK 45
(13th pick, round 2)
Last five players taken
2011 --
Rahim Moore
, DB, Broncos
2010 --
Zane Beadles
, G, Broncos
2009 --
Clint Sintim
, LB, Giants
2008 --
Jordon Dizon
, LB, Lions
2007 --
Dwayne Jarrett
, WR, Panthers
Cowboys' history of No. 45 picks
1968 -- Dave McDaniels
Hall of Famers picked No. 45
Dave Casper (1974)
PICK 81
(19th pick, third round)
Last five players taken
2011 --
DeMarcus Van Dyke
, DB, Raiders
2010 --
Earl Mitchell
, DT, Texans
2009 --
Roy Miller
, DT, Buccaneers
2008 --
Early Doucet
, WR, Cardinals
2007 --
Jay Alford
, DT, Giants
Cowboys' history of No. 81 picks
1984 -- Fred Cornwell
1982 -- Jim Eliopulos
1981 -- Glenn Titensor
1977 -- Val Belcher
Hall of Famers picked No. 81
None, though Art Shell was the 80th pick in 1968 and Joe Montana was the 82nd in 1979.
PICK 113
(18th pick, round four)
Last five players picked
2011 --
Chimdi Chekwa
, DB, Raiders
2010 --
Aaron Hernandez
, TE, Patriots
2009 --
Vaughn Martin
, DT, Chargers
2008 --
Dwight Lowery
, CB, Jets
2007 --
Brian Smith
, DE, Jaguars
Cowboys' history of No. 113 picks
1989 -- Keith Jennings
1984 -- Steve Pelluer
1975 -- Kyle Davis
Hall of Famers picked No. 113
None. But Steve Largent was picked 117th in 1976 and George Blanda was picked 119th in 1949.
PICK 135
(40th pick, fourth round)
Last five players picked
2011 --
Ricky Stanzi
, QB, Chiefs
2010 --
Dominique Franks
, DB, Falcons
2009 --
Troy Kropog
, T, Titans
2008 --
Josh Sitton
, G, Packers
2007 --
Joe Cohen
, DT, 49ers
Cowboys' history of No. 135 picks
1983 -- Chuck McSwain
Hall of Famers picked No. 135
None. Closest were Jackie Smith and Roger Staubach, who were picked No. 129 in 1963 and 1964, respectively.
PICK 152
(17th pick, round 5)
Last five players picked
2011 --
T.J. Yates
, QB, Texans
2010 --
Otis Hudson
, G, Bengals
2009 --
James Casey
, TE, Texans
2008 --
Letroy Guion
, DT, Vikings
2007 --
Antonio Johnson
, DT, Titans
Cowboys' history of No. 152 picks
1984 -- Eugene Lockhart
1969 -- Rick Shaw
Hall of Famers taken No. 152
None. Closest I found was Arnie Weinmeister, No. 166 in 1945.
PICK 186
(16th pick, round 6)
Last five players taken
2011 --
D.J. Smith
, LB, Packers
2010 --
Clifton Geathers
, DE, Browns
2009 --
Robert Henson
, LB, Redskins
2008 -- Colt Brennan, QB, Redskins
2007 --
Thomas Clayton
, RB, 49ers
Cowboys' history of No. 186 pick
2003 -- Zuriel Smith
1976 -- Greg Schaum
Hall of Famers picked No. 186
Deacon Jones (1961)
PICK 222
(15th pick, round 7)
Last five players taken
2011 --
Anthony Gaitor
, DB, Buccaneers
2010 --
Marc Mariani
, WR, Titans
2009 --
Pat McAfee
, P, Colts
2008 -- Chester Adams, G, Bears
2007 -- Derek Schouman, FB, Bills
Cowboys' history of No. 222 picks
1984 -- Mike Revell
1978 -- Homer Butler
Hall of Famers picked No. 222
None. Closest was Andy Robustelli, picked 228th in 1951
February, 4, 2012
2/04/12
2:00
PM ET
»
Super Bowl XLVI Final Word
:
Patriots
|
Giants
Five nuggets of knowledge about Super Bowl XLVI:
Home sweet road:
The
New York Giants
have won six straight playoff games on the road or at neutral sites dating to 2007, according to ESPN Stats & Information.
Eli Manning
has been the quarterback for all six of them, and his six career postseason wins away from home tie him for the record with four other quarterbacks, including the
New England Patriots
'
Tom Brady
. (The others are Terry Bradshaw, Roger Staubach and Joe Montana, so not a bad list.) Manning's ability to remain cool under all kinds of pressure has been well-documented, and his record in hostile or neutral environments in postseason games offers yet another example.
[+] Enlarge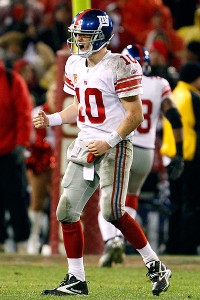 William Perlman/The Star-Ledger via US PresswireEli Manning has a 7-3 record in the postseason.
You again?
Manning and Brady are the third pair of quarterbacks to face off in multiple Super Bowls. The Cowboys'
Troy Aikman
and the Bills'
Jim Kelly
met in Super Bowls XXVII and XXVIII. Aikman won both. The Steelers' Bradshaw faced the Cowboys' Staubach in Super Bowls X and XIII. Bradshaw won both. Brady is hoping to buck history and pull off a split with Manning, who beat him in Super Bowl XLII.
Hot at the right time:
The Giants are the third team in history to reach the Super Bowl after failing to win at least 10 games in the regular season (not counting strike-shortened seasons). The previous two were the 2008
Arizona Cardinals
and the 1979 Rams. Each of those teams lost its Super Bowl, so a Giants win would make them the first Super Bowl champion to enter the playoffs with fewer than 10 wins. The Giants are already the first team to reach the Super Bowl after being outscored by their opponents in the regular season. They scored 394 points and allowed 400 on their way to a 9-7 regular-season record. Those 2008 Cardinals (plus-1) and 1979 Rams (plus-14) were the teams with the worst point differential in Super Bowl history until this year.
Peyton's place:
Eli Manning is playing the Super Bowl at Lucas Oil Stadium in Indianapolis, where his brother
Peyton Manning
has established himself as an all-time great quarterback with the Colts. Peyton had a head start on Eli and has fashioned a brilliant Hall of Fame career, but little brother's playoff numbers stack up with big brother's. Peyton Manning is 9-10 all time in postseason games with a 63.1 completion percentage and a 29-19 touchdown-to-interception ratio. Eli Manning is 7-3 in the postseason with a completion percentage of 59.8 and a TD-INT ratio of 16-8. If Eli throws three touchdowns on Sunday, it would give him 11 touchdown passes this postseason, which would tie the record for a single postseason set by Montana in 1989 and equaled by
Kurt Warner
in 2008.
Tough guys:
According to ESPN Stats & Information's "Next Level" stats, the pass-catchers in this game are very difficult to tackle after they catch the ball. The stat they use is "yards after contact," which differs from "yards after catch." Patriots tight end
Rob Gronkowski
, who's been struggling with an ankle injury since the AFC Championship Game, led the league with 290 yards after first post-catch contact. Giants wide receiver
Victor Cruz
was second with 245. Patriots wide receiver
Wes Welker
was third with 242 yards, and Patriots tight end
Aaron Hernandez
was fourth with 231.
January, 3, 2012
1/03/12
9:51
AM ET
ASHBURN, Va. -- One of the most common criticisms of
Washington Redskins
head coach Mike Shanahan is that he's a slave to his own offensive "system," and more interested in finding players who fit that system than in finding the best possible players and constructing a system around them. Shanahan has heard this criticism, and when I brought it up in my interview with him last week, this is what he had to say about it:
"It's kind of funny, because when I had
Steve Young
and we had to run a West Coast offense [in San Francisco], and Steve was so much different than
Joe Montana
, you know, it was different. And then [John] Elway -- Elway didn't want to run the five-step drop. We were in a shotgun formation all the time. He hated the West Coast offense of three- and five-step drops, so with John it was a seven-step drop and a lot of shotgun. And then we wind up getting a guy like
Jake Plummer
, and of course Jake... totally different. He had to be outside the pocket, all those quarterback keeps, boots, none of the drop-back, none of the seven-step drop. He was good on the run, good on the play action, but the drop-back wasn't his game.
"So what you've always got to do is, whatever quarterback you have, you adjust your system to your players. The one thing I think I
have
been categorized with is the zone blocking scheme. People say, 'Oh, he loves the zone blocking scheme.' So I think I've been stereotyped there, relative to the running game. But in the passing game, if people look at what we've done in different places, they're gong to say, 'Oh, he adjusts the passing game to the quarterback.' Like with Rex [Grossman]. You can't run quarterback keeps with Rex, but you can do it with John [Beck]. So whatever somebody can do, you try to adjust accordingly."
Omar from Washington, D.C.,
sent in several questions for Shanahan last week, and one of the ones I used was about his relationship with his son, Kyle, who is his offensive coordinator. Omar wanted to know what Mike Shanahan thought of the criticism Kyle receives and how he feels his son has progressed in the role.
Mike Shanahan:
"The important thing is that your coordinator knows what he's doing. Until you see a coordinator in meetings, or how he runs the meeting ... you're not really sure until you see him under the gun -- running game, passing game, installation of the run, installation of the pass, how he shows film, how he relates to the team. So that's where it's been very ... I shouldn't say a surprise, but it's natural for him, and it's easy to see that he understands the game. He can handle himself in any meeting, and until you see that as a coach, you just don't know, especially when it's your son. But he was very natural at that right away, so I became very comfortable with him, because I knew he knew what he was doing."
---
I told Shanahan
that I often get questions from fans about whether Kyle will be fired, and that I generally respond to them by pointing out that Kyle's father is his boss and that a firing is therefore unlikely. He seemed to agree with my assessment, but here's what he had to say about the criticisms and the coaching staff in general:
MS
: "I think what I've always been able to do is look at things very objectively in terms of where we're at. So when somebody says, 'Hey, your offense sucks,' I go, 'Hey, wait a minute. You look at my body of work over the last 27 years, we're No. 1.' And we're going to continue to be up there. And I also know what it takes to have a good offense, in terms of coaches and personnel, and we're gong to get there, on both sides of it. And if I have a bad coach, I'm going to make changes, and if I don't have the right personnel, I'm going to make changes. And we're going to get that thing fixed the right way."
---
Wendell Washington from Landover, Md.,
wanted me to ask the elder Shanahan about Redskins owner Dan Snyder -- specifically, whether Snyder has bought into Shanahan's belief that the way to build a long-term winner is through the draft rather than free agency and is sticking to his promise to let Shanahan do it his way.
MS
: "Oh yeah, he's been very good. He's been very good letting me do it the way you want to do it. Been very supportive. I said to him, 'If you don't count on me being here five years, you shouldn't sign me. Because this isn't going to happen overnight. We've got a lot of work to do. This is an older football team.' But he's been good."
---
Later on, though, I asked
what impact the fact of his 11-21 record in his first two seasons as Redskins coach has on his faith that he's building the team the right way.
MS
: "You just know that you've got two more years to get the job done, because they never let you go through the five years. You get it done in four years or you're gone. But that's what I love about this profession -- the pressure of it, what goes with it. The thing that I enjoy is that I've got an owner that's going to give me a chance to be successful. And if I can't get it done in four years, even though I've got a five-year contract, then I shouldn't be here."
We're going to do this every day until I run out of stuff. Thanks again for your help with the interview, and I hope you're enjoying what we've got out of it so far.
September, 29, 2010
9/29/10
7:42
PM ET
By
Matt Mosley
| ESPN.com
Washington Redskins
coach Mike Shanahan was in San Francisco when both Joe Montana and Steve Young were on the roster. And without prompting, he brought up Young's name when he was asked Wednesday about
Michael Vick
now being a throw-first quarterback.
"When you can do both, you really present some problems," Shanahan said. "When I was in San Francisco and had Steve Young, Steve Young could do it all. He could sit back there and read. When he had to make a play when things would break down, he could make plays on his feet. That's what it looks like Michael [Vick] is doing right now. He can sit back there pretty poised and obviously is very fast and elusive."
Something tells me Jim Haslett is going to throw everything at Vick on Sunday. You'll see him bring the pressure up the middle in and effort to try and throw Vick out of rhythm. I would expect for Haslett to assign a spy to Vick at all times. It will either be
London Fletcher
or
LaRon Landry
.
May, 20, 2010
5/20/10
12:18
PM ET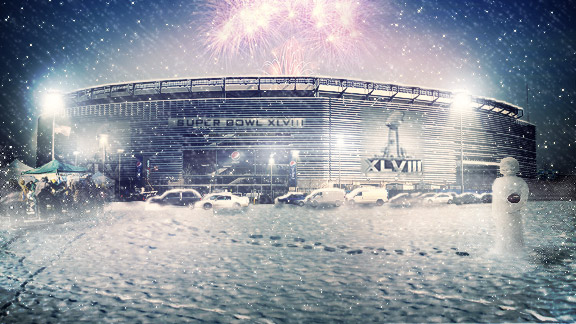 ESPN.com IllustrationThe idea of a Super Bowl in the Meadowlands will be a hot topic of discussion next week.
Next Tuesday in Dallas, NFL owners will assemble for their annual spring meeting and consider having the 2014 Super Bowl in the open air and freezing cold of New York/New Jersey.
Although Tampa and South Florida are competing against New York, offering warmer climates and positive experiences from past Super Bowls, the New York bid is the favorite. A Super Bowl in the new Meadowlands stadium that opens for the
New York Giants
and
New York Jets
this fall could help market unsold premium seats. Former NFL commissioner Pete Rozelle preferred warm-weather, neutral sites for the league's showcase event, but usually once a decade the league would steer a Super Bowl to a northern, cold-weather city with a domed stadium.
The thought of an open-air Super Bowl in February near Manhattan will be a hot topic next week. But should this bid receive such a warm reception? ESPN.com's John Clayton and Tim Graham debate the notion.
John Clayton
: While we can get into the football problems of this bid in a bit, let's be blunt about two things. First, it's a bad idea.
Second, it's going to happen because a Super Bowl in New York would help with the economics of this new stadium. It's big business. When the choice is between cold, hard cash and being out in the cold, the cold-hard-cash side wins.
Where this idea leaves me chilled is how it affects the fans. I remember being at the NFC Championship Game at Lambeau Field a couple years ago, when the temperatures were below zero and the wind chill at times got to 30-below. I did a stand-up for television and almost got frostbite. The conditions were so cold that fans who bought two beers at a time and brought them to their seats had one beer frozen before they could take the first two sips of the beer in hand. I still remember how red Tom Coughlin's face was from being out in the freezing cold for three hours. And that was in January.
A conference championship game in the cold is acceptable because the home fans are used to the conditions. Imagine some San Diego fan flying east to see a Chargers Super Bowl in 2014, paying more than $1,000 a ticket and needing to spend more on warm clothing? That brings chills down my spine.
Tim Graham
: Without a doubt, John, this is about rewarding teams that are able to get stunning new arenas built. Some $1.6 billion was spent to erect the new Meadowlands stadium, and the NFL knows the only way to encourage all of its franchises to pursue new stadiums or significant upgrades is to ramp up competition for Super Bowl bids.
You may view that as a carrot that should be jammed in the middle of Frosty's white, powdery face, but the game isn't about the 82,500 people who will be sitting in the elements. More than 106 million people watched the last Super Bowl and would have whether it was played in a dome, in the desert or on the International Space Station.
Even so, one of the competing bidders for the 2014 Super Bowl is South Florida.
Miami Dolphins
CEO Mike Dee admitted to me at the NFL owners meetings a couple of months back that the new Meadowlands stadium "is a state-of-the-art, beautiful, world-class facility. While it's an outdoor facility, it has a lot of interior club spaces and entertainment spaces for people to mill around. So it's not your conventional outdoor, northern facility." There are plans to heat the concourses and -- just in case -- to provide seat and hand warmers to everyone.
But I'm not too concerned with the fans who would attend the game.
Scant few of those lucky enough to afford the tickets or merely have access to them will care. Most go to the Super Bowl to witness an event. A Super Bowl in the New York area would qualify as a blockbuster.
JC
: I'd rather refer to it as an "ice-blockbuster.'' But is a Super Bowl a three-hour event or a two-week celebration? One of the things Rozelle mandated in coming up with the Super Bowl was a level playing field for both teams. By level playing field, he meant having a warm-weather site that gave both teams a chance to succeed. For the fans, he wanted a quality event.
I'm sure he never fully envisioned how successful it would be as a corporate entity. The reason the Super Bowl isn't played a week after the championship game is because the league wants to give fans a full chance to get to the Super Bowl city, enjoy the festivities and have a memorable experience. If the Super Bowl is given to New York, I contend a lot of the high rollers will be in Tampa or South Florida, holding golf events during Super Bowl week and watching the game on television. We saw that at the Minnesota Super Bowl and the two in Detroit.
What if there is a big snowfall in the 2014 Super Bowl? To have this game qualify as a blockbuster, you might have to hire the "Ice Road Trucker" guys to get fans to the stadium.
TG
: Now hold on a moment. Before you start breaking out Sir Ernest Shackleton references, the weather hasn't been that bad in New York.
The 2014 Super Bowl likely will be played Feb. 2. The Newark Star-Ledger listed the high and low temperatures for the past five years, and it has gotten above 45 three times and has gotten more than 1 degree below freezing once. So we're not talking arctic conditions here.
A level playing field is relative. Back in Rozelle's day, we didn't have a fraction of the technology that's used to maintain these amazing synthetic fields. We're not going to have a reprise of the 1975 Raiders-Steelers AFC Championship Game, where the field was a sheet of ice. And warmer locales aren't immune to weather problems. There was a downpour in South Florida three years ago.
As for the idea there won't be as much to do as in South Florida, Arizona or another warm destination, are you telling me there's no activity in New York? In addition to the usual array of diversions in the Big Apple, organizers plan to hold events at places such as Ellis Island, Liberty State Park and the Museum of Natural History.
Here's what
Atlanta Falcons
owner Arthur Blank said about the possibility of a Super Bowl in the Big Apple:
"You have to ask yourself, are people going to come for three or four or five days and deal with the elements? Are people prepared to come to New York and deal with cold weather? Without a Super Bowl, they do it now."
JC
: Let's put things in perspective here. You made the decision to leave the warmth of South Florida in the past year to be embraced by the chill of Buffalo. You wanted to wear the heavy coat, gloves and snow boots. As you know, I'm a Pittsburgh guy who lives in Seattle, but I don't miss the snow. But let's move from the Weather Channel debate to the football field.
You would have to concede the on-field product for this game will be different in an outdoor venue in the East in February. More and more, the NFL is becoming a quarterback-driven league that excites its fans with passing offenses more than running offenses. You cover an AFC East that has two pure running teams -- the Jets and Dolphins -- who combined for 16 wins last season. I know the Jets made the AFC Championship Game, but the league is set up to reward passers, not runners.
Peyton Manning
beat the run-driven Dolphins even though he had the ball for only 15 minutes last season.
A Super Bowl in the cold would neutralize the passers, which would go against the trends in this league. About the only thing you can say definitively about having a cold-weather Super Bowl in New York is that
Brett Favre
won't have any part of it. He may decide to retire and unretire for a few more years, but he would never sign on for a season that ends in a New York open-air Super Bowl.
TG
: I won't dispute the NFL is a quarterback-driven league and cold weather has a tendency to neutralize a pass attack. But if sterile conditions are so important to deciding a champion, then why aren't the games that determine who reaches the Super Bowl controlled?
If the 2007 NFC Championship Game isn't played in a minus-23 wind chill, maybe the Giants don't win in overtime and then ruin the
New England Patriots
' perfect season. The road to the Super Bowl has gone through Gillette Stadium and Heinz Field a few times over the past decade. Unless every playoff game is moved to a dome, weather can impact the tournament and, therefore, who wins it.
And let's not forget
wintry elements have created some of the greatest memories in NFL history
. The Ice Bowl in Green Bay, the Tuck Rule at Gillette, the Freezer Bowl in Cincinnati, the 1948 title game in a Philadelphia blizzard, the Sneaker Game at a frozen Polo Grounds. In baseball, the players skedaddle when it rains. But football players are supposed to slog through any conditions shy of lightning strikes.
The game is supposed to be played outside and in the elements. The Super Bowl can handle it.
JC
: Now you are using the
Brian Cushing
defense by questioning every thing and every rule. Sure, the Super Bowl can handle a cold-weather game, but why should it? Obviously, it's the money, and that's why this vote is going to pass in favor of New York.
When it comes to Super Bowls, the games should be the memories, not the weather conditions. The best memories are the fourth-quarter comebacks. It's Joe Montana getting that last drive against Cincinnati. It's
Tom Brady
coming back and getting the game-winning, field goal drive against St. Louis. It's
Eli Manning
beating Brady with a late drive.
It's not Tim Graham jumping on a snow-blowing machine and doing spins. I give you your New York Super Bowl next Tuesday. Bundle up, big guy.
TG
: I can guarantee the public overwhelmingly would prefer to watch me drive figure eights on a Zamboni than see you strolling South Beach in your shorts.
Sorry to bring up that mental picture when you conjured some dramatic Super Bowl imagery. Those sure were some fine moments, but you also have 44 years' worth of climate-controlled Super Bowls to draw on.
Who's to say similarly phenomenal memories wouldn't have taken place in the open air of a Northeast winter?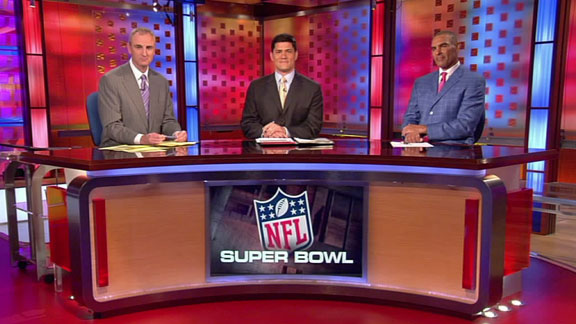 February, 26, 2010
2/26/10
4:15
PM ET
By
Matt Mosley
| ESPN.com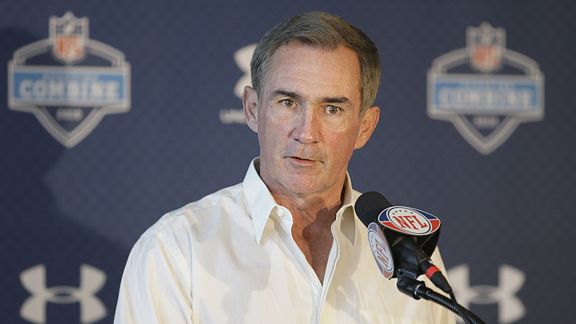 AP Photo/Darron CummingsNew Redskins coach Mike Shanahan held court with the media at Lucas Oil Stadium on Friday.
INDIANAPOLIS -- For years, Mike Shanahan hasn't had a presence at the NFL combine. Even with Broncos beat writers staking out every exit of his hotel, Shanahan's stealth-like approach allowed him to get in and out of Indy without being noticed.
That's what made his appearance Friday at Lucas Oil Stadium so unusual. He arrived at 10:45 a.m. ET and spent more than an hour visiting with reporters and other bystanders. At one point, Shanahan said, "Two more questions, guys." Then he stayed and did one-on-ones for the next 30 minutes. I'm not saying Shanahan's going to turn into an open book, but it's obvious that he's now the face of the
Washington Redskins
.
Now, if he'd just come out and tell us who he's going to take with the No. 4 pick in April's draft. Shanahan was predictably coy with most of his answers, although he didn't hide his passion for free-agent running back
LaDainian Tomlinson
when I broached the topic.
But the main thing on everyone's mind is the quarterback situation in Washington. Shanahan didn't exactly give incumbent starter
Jason Campbell
a ringing endorsement Friday, although he expressed his "admiration" for the way Campbell overcame so much adversity in '09 -- namely preserving most of his body parts while playing behind an injury-ravaged offensive line. Shanahan confirmed that the Skins will offer Campbell, a restricted free agent, a tender that probably will have first- and third-round compensation attached. If he signs the tender, Campbell would make $3.268 million in 2010 -- otherwise known as
Sage Rosenfels
money.
[+] Enlarge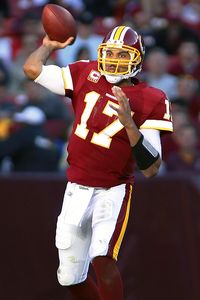 Geoff Burke/US PresswireThe Redskins will offer Jason Campbell a tender for 2010, which is not exactly a ringing endorsement.
Campbell is well within his rights to wonder why the Redskins would ask him to potentially start at quarterback while paying him second-string money. And while he's the ultimate team player -- as evidenced by his behavior last offseason while owner Dan Snyder fawned over other quarterbacks -- there's a chance Campbell could decide not to sign the tender and skip Shanahan's offseason workouts. General manager Bruce Allen is scheduled to meet with Campbell's agent Joel Segal during the combine, according to a league source. Maybe they'll flesh out some of the details. For now, though, Campbell's focused on remaining the starter in 2010.
"No matter who they take, I plan on winning the starting job," Campbell told me Friday. "My plan is to come out and have a great year."
Shanahan has had the good fortune of working with Hall of Famers
Joe Montana
,
Steve Young
and
John Elway
in the past. He knows better than anyone that this is a quarterback's league and that's what led him to trade the 15th and 68th overall picks in the '06 draft to move up and select
Jay Cutler
at No. 11. He made this move despite the fact that
Jake Plummer
had led the Broncos to the '05 AFC Championship Game. And by November of the '06 season, Shanahan had made Cutler the full-time starter.
I'm told that Shanahan became obsessed with getting a new quarterback after spending a lot of time with
Peyton Manning
during Pro Bowl week five years ago. He couldn't believe that Manning was actually studying for the Pro Bowl, something that a free spirit such as Plummer might avoid.
Obviously Shanahan's not going to tip his hand at this point, but you can guarantee that he already has a strong opinion on the top quarterbacks in this draft. I asked him how much college football he watched during his season away from the game and he admitted that it was more than usual. And you can bet that he was paying particular attention to Notre Dame's Jimmy Clausen and Oklahoma's Sam Bradford before he suffered a season-ending shoulder injury. Shanahan said he plans on going to the pro days for both of those quarterbacks.
"You just look at the film," said Shanahan, referring to Bradford. "He's played enough that people should have a strong opinion."
Of course, there's a decent chance Bradford will be off the board when the Redskins pick at No. 4. The
St. Louis Rams
could use a franchise quarterback about now. That leaves Clausen in the mix and perhaps Texas' Colt McCoy in the second round.
I think Shanahan definitely respects what Campbell has done with the Redskins, but the coach's track record suggests he's going to try to make a splash in this draft. And no matter how much you like offensive tackles Russell Okung or Bryan Bulaga, the game's not about the left tackle.
On Friday, Shanahan didn't say anything particularly revealing, but in a lot of ways, his past speaks for itself.
September, 10, 2008
9/10/08
5:12
PM ET
By
Matt Mosley
| ESPN.com
Posted by ESPN.com's Matt Mosley
IRVING, Texas -- Cowboys quarterback Tony Romo is waiting until Thursday to do his weekly news conference, but he stopped by his locker Wednesday and talked to reporters for a few minutes. He said he's feeling fine after taking a hit during Sunday's game that resulted in 13 stitches on his chin. He's also wearing a bandage on his left middle finger, but he says it's not bothering him.

Romo
Romo talked about how he worked hard in the offseason to have "calmer feet" in the pocket. He said it helps him stay patient against blitzes and some of the three-man rushes he faced Sunday against the Browns. In the past, Romo would drift toward the rush as he went through his reads. Now, he's doing a better job of staying in the pocket and buying himself more time. You might not see him take off running as much, but that's not necessarily a bad thing.
Something tells me Eagles defensive coordinator Jim Johnson didn't spend a whole lot of time focusing on the defensive game plan for the Browns. He'll be sending a variety of blitzes throughout the game, and won't rely on his front four to generate all the pressure. (By the way, I'm supposed to visit with Eagles linebacker Omar Gaither tomorrow. If you have a question for Gaither, leave them for me in the mailbag).
I also visited with Romo about what it means to play on "Monday Night Football." He said a Chiefs-Broncos game in which Joe Montana led a comeback over the John Elway-led Broncos was his favorite MNF moment. Most people assume that Romo idolized Brett Favre growing up, but he insists that Elway was his favorite player.
He did joke that he preferred the "dramatic music" on NBC to the music on ESPN's "Monday Night Football."
"Maybe ESPN will come up with something soon," he said.
Much more to come.