January, 7, 2014
Jan 7
1:15
PM ET
It's not the sort of award anyone wants to win -- and it's certainly not one they want to repeat. But it does serve as recognition for how a player responds to adversity. And that's why
Robert Griffin III
was named the
Washington Redskins
' Ed Block Courage Award winner.
Griffin
The award honors how RG III overcame his knee injury, returning to start the season opener eight months after surgery to reconstruct the ACL and LCL in his right knee. Griffin completed 60.1 percent of his passes for 3,203 yards, 16 touchdowns and 12 interceptions in 13 games. He was inconsistent all season, but did not miss any time until being benched for the final three games. He's one of only five Redskins quarterbacks to throw for more than 3,000 yards in consecutive seasons, joining Sonny Jurgensen, Joe Theismann,
Mark Rypien
and
Jason Campbell
.
"Robert's commitment this offseason helped him fully recover from a major knee surgery," Redskins head athletic trainer Larry Hess said in a release. "His passion and dedication toward his profession motivated him throughout this process and made working with him enjoyable. He is well deserving of this award."
Griffin said in a release: "It's an honor to be selected by my teammates to receive this award. I received a tremendous amount of support throughout the rehab process from my teammates, the doctors, the trainers and everyone involved in the organization. This award is not only a testament to how hard I worked to return, but also a testament to the support system I've had around me for the last 12 months. I'm grateful for their hard work and support and look forward to preparing for the 2014 season."
Guard
Kory Lichtensteiger
won the award last season and
Stephen Bowen
won it in 2011. It's named for the former longtime trainer of the Baltimore Colts.
September, 30, 2013
9/30/13
6:50
PM ET
By
ESPNNewYork.com staff
| ESPN.com
Former Super Bowl-winning quarterback Joe Theismann is not that surprised that the Giants are 0-4.
Appearing on "The Mike Lupica Show" on ESPN NY 98.7 FM on Monday, Theismann said the team hasn't been that good in recent years, despite winning two Super Bowls.
"To be honest with you Mike, if you look at this football team over the three years you're talking about, really the three years, even though they've won championships, they're not that good a football team," Theismann said. "They've been inconsistent at the wide receiver position, whether it be by play or injury. The running back position has been suspect for quite a while, now you got guys putting the ball on the ground. Their defensive line has been hurt at times, and there's been a great change there. And we know that their linebacking corps has been in flux, and their secondary has been average."
"Truthfully,
Eli Manning
has basically taken this football team on his shoulders over the last couple of years, and the success that they've been able to enjoy is because of the incredible way that he has played," Theismann added. "All of a sudden we see Eli struggling -- now you have to ask yourself if you're a Giants fan, is this the real Giants football team, and I think the answer to that question is probably yes. Unless Eli plays at an incredible level, and protects the ball, then I think you're basically stuck with what you see."
December, 28, 2012
12/28/12
3:15
PM ET
An open letter to the fans of the Dallas Cowboys and the Washington Redskins:
Get excited.
You might not need my permission, or my urging. You might already be there -- as excited as you've been about a professional football game in a very long time. And if that's the case, good. You should be. Sunday night's game at FedEx Field for the NFC East title has everything any of you could possibly want. And while some of you will end your night deeply disappointed in the result while others celebrate a playoff appearance you couldn't possibly have imagined two months ago, these next 53 hours are your time to feel like kids on Christmas Eve. Get excited.
[+] Enlarge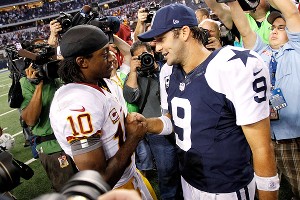 Rodger Mallison/Getty ImagesRobert Griffin III and Tony Romo lead their respective teams in the most important game in the Redskins-Cowboys rivalry in years.
Regardless of which team you root for, think about how far you've come to get to this point. It started on the day before free agency, when the NFL took a huge chunk of salary-cap money away from each of these two teams and redistributed it among the others for what to this day continues to look like no good reason. The owner who most vocally championed and reveled in that punishment for your teams' spending during a season that featured no official spending rules was John Mara, the owner of the division-rival and Super Bowl champion
New York Giants
. His team can't win the NFC East. Yours can. His team needs a minor miracle Sunday just to get into the playoffs. Your team has control of its own destiny. If you want to cackle in glee about that particular irony, that's your right. Get satisfaction.
If the Cowboys are your team, you were 3-5 on Election Day, losers of two straight heartbreakers to the Giants and Falcons and wondering when anything was ever going to change. Defensive starters were dropping like flies,
DeMarco Murray
was out with a foot injury that refused to heal and
Tony Romo
was throwing interceptions around as though they were "I Voted" stickers. You were two-and-a-half games out of first place behind the team that took the division from you last December, and you wanted everybody gone. If you want to look back over the last seven games and wonder what made Romo stop throwing picks or marvel at the way Jason Garrett has managed the second half or tell everyone it's about time
Dez Bryant
turned into one of the best receivers in the league, go ahead. Get amazed.
If you are a Redskins fan, you were 3-6 heading into the bye week. Your coach, Mike Shanahan, was defending comments he made after a miserable loss to Carolina about using the rest of this season for evaluations. You were pleased, obviously, with the brilliance of rookie quarterback
Robert Griffin III
, and of the belief that the future looked bright. But you were still staring at a second half of the season that was going to feel too sadly familiar -- watching from the sideline while the teams you hate fought it out for the division title. If you want to slap your friends on the back and shout, "Did you ever think we'd win six in a row after the bye and be in first place in Week 17?", be my guest. Get proud.
Whichever of these teams is your favorite, you have to be happy that this rivalry means something again. Cowboys-Redskins is one of the most historically intense rivalries the NFL has. Popular wisdom holds that the reason the Cowboys were kept in the NFC East when the divisions realigned, in spite of good geographic reasons to move them elsewhere, was to preserve the Cowboys-Redskins rivalry by allowing them to continue playing each other twice a year. So if this week gives you reason to think about Tom Landry and Joe Gibbs and Jimmy Johnson and John Riggins and
Michael Irvin
and
Darrell Green
and
Troy Aikman
and Joe Theismann ... good. It's time to hate again -- time to remember why that star bugs you so much, time to get outwardly indignant about a politically incorrect team nickname that wouldn't bother you otherwise. Get trash-talking.
Get jacked. Get geeked. Get fired up. This is a big, big game, folks -- the kind of game that justifies every kind of the silly, overblown enthusiasm sports fans can muster. If you're a Redskins fan or a Cowboys fan, Sunday is your night. And the days leading up to it are for getting excited.
July, 7, 2011
7/07/11
8:00
AM ET
My wife and I were living together when it came time to propose, so I was able to hand her the ring instead of having to mail it to her. As we discussed Wednesday,
not everyone is so fortunate
.
We do all, however, have the links. They're going to go in backwards alphabetical order today because that's just the way I feel.
Washington Redskins
Mike Jones of The Washington Post says there's "
mutual interest
" between the Redskins and free-agent defensive lineman Cullen Jenkins. This would be a nice pickup for Washington. Jenkins' versatility would be an asset in Jim Haslett's complex 3-4, where roles can change from play to play. And playing Jenkins at one of the defensive end spots would augment the pass rush from that side and potentially allow them to bring in a nose tackle whose job is to eat up blockers rather than penetrate.
And Rick Maese somehow managed to get Joe Theismann talking. (I kid, I kid.) Theismann says the Redskins are "
pretty much set at the quarterback position
," which is good enough for me.
Philadelphia Eagles
Len Pasquarelli thinks
a first-round draft pick is too steep a price
for Kevin Kolb. He's almost certainly right, unless Kolb is going to step in and be a reliable starting NFL quarterback for the next half-decade. If you're sure he's that, then it's not a bad price. The issue, of course, is that there's no way any team can be sure of that.
Sheil Kapadia
broke it down
and came to the conclusion that the Eagles have more defensive needs than just cornerback. I'm not sure who said they didn't, but what jumps out here is the 11 touchdowns allowed to tight ends. Sheil concludes that that number means linebacker needs to be a priority.
We spoke about this Wednesday a bit
.
New York Giants
Giants 101 thinks
too many Giants were left off the NFL Network's top 100 list
, and wonders if Tom Coughlin might be able to use that as motivation in the locker room this year. I'm not sure that's the kind of thing that plays in the Giants' locker room, but it's worth a shot. It's a player-voted list. If you think you should have been on it and you want to take it out on the guys who did the voting, maybe that works. Hard to imagine that's the kind of thing that drives Eli Manning, though.
Receiver Michael Clayton
hopes to be in the Giants' plans
this year once the lockout ends. I think he's going to need an injury to someone else to get his wish, but you never know.
Dallas Cowboys
The Cowboys used their second-round pick on a guy with a torn ACL, but they knew that, and Bruce Carter now says
his knee is at 85 percent
and that he'd be "a game-time decision" if there were a game this week. As you may have heard, there is not.
And finally, because there's no good reason to let this go, Jean-Jacques Taylor makes a good point about the Roy Williams engagement-ring fiasco.
Whatever happened to the two months' salary rule
? Williams makes $9 million and he spent $76K on the ring? Child, please.
Enjoy your Thursday. I'll do my best to help.
August, 16, 2010
8/16/10
12:15
PM ET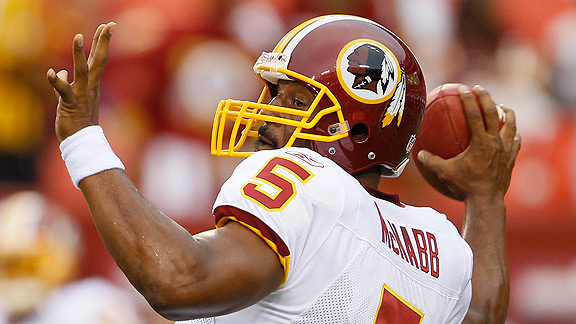 AP Photo/Alex BrandonWashington Redskins quarterback Donovan McNabb is still learning how to navigate the offense.
LANDOVER, Md. -- From the little things to the big moments, the soft opening of Mike Shanahan's extreme makeover of the
Washington Redskins
at FedEx Field on Friday night had a whole new vibe.
In its preseason debut the new-look offense drubbed the
Buffalo Bills
, scoring 42 points -- this from a Redskins team that averaged only 16.6 points a game the past two years. During that span, only five teams in the league have been worse.
Pro Bowl tight end
Chris Cooley
-- who missed nine games last year with a broken ankle -- was back prowling the soft underbelly of the shallow secondary. And before the game, ageless middle linebacker
London Fletcher
gathered the whole team -- even the cantankerous
Albert Haynesworth
-- at midfield. No coaches, no cameras. Just a few words of encouragement, delivered with purpose: This year, let's be a team.
And there in the middle of it all, anchoring the revitalized offense and attitude was No. 5,
Donovan McNabb
.
Let's call it the "Five Vibe."
"We haven't had this kind of leadership from the quarterback position around here for a long time," said special teams coach Danny Smith, who is in his seventh season with the Redskins. "Now, if he can still play, we'll be in great shape."
On Friday night, McNabb showed he can still play. For the first time in 12 years, he stepped onto a football field not wearing an Eagles uniform. As he walked up to the line of scrimmage for the first snap, McNabb hesitated for a moment and took in the whole surreal scene -- a career's worth of old memories swimming around in his head.
"I thought to myself, 'OK, this is it, this is real,'" said McNabb, whose first drive featured two passes that landed well off the mark. But he quickly shook off the early anxiousness.
The second possession resulted in a tidy 80-yard touchdown drive, including a 4-yard pass that young wide receiver
Anthony Armstrong
stretched across the goal line, giving the veteran quarterback his first taste of love from the burgundy and gold crowd -- and from the owner.
"He is special -- his form, his leadership," said Daniel Snyder, who popped up on the local broadcast of the game in the first quarter to add his stamp of approval. "He is the total package."
After a spotty summer performance in training camp by McNabb, perhaps Snyder felt the need to reassure the fan base. McNabb's adjustment period has lingered longer than many in the Redskins' organization had anticipated.
In fact, a week before the preseason game, McNabb was quoted as saying: "I would love to say I'm past it," suggesting that he's not over the fact the Eagles traded him. "These guys have welcomed me as if I've been with the team for last couple of years and that's what made this easier."
But Shanahan, for one, is not babying McNabb. He wants the learning curve to be quick. In the NFL, this whole rebuilding thing used to have a three-year shelf life. Not anymore. You get a year, maybe.
When asked before the game what he told McNabb about how to handle his debut in a Redskins uniform, Shanahan quickly shot back: "I don't have to tell Donovan McNabb anything. He's a veteran quarterback. He knows what to do."
Still, McNabb has needed an extensive instruction manual. After 11 years in Andy Reid's offense, McNabb is trying to learn a new language -- and, early on, it showed. He frequently misfired during the spring and early summer in 11-on-11 drills, but has since become more comfortable.
"You've got remember," said former Redskins quarterback Joe Theismann, "that all the jargon is different, all the protection calls have new verbiage. He's got all that swirling around in his head. He's got to forget and remember at the same time. Not easy to do after you've been doing the same thing at this level for nearly a dozen years."
And the rest of the Redskins' offense is adjusting to a remake of the offensive line, which includes a rookie left tackle -- first-round pick
Trent Williams
-- and a right tackle --
Jammal Brown
-- who has not seen much of the field while he nurses a lingering hip injury.
Add the fact that offensive coordinator Kyle Shanahan (Mike's son) will be serving two masters. In Houston last year, Shanahan's offense led the NFL with 4,654 passing yards. "Kyle's system is different from the conventional West Coast offense," Theismann said. "He's got the normal three- and five-step drop with that extra wrinkle to go deep."
But in Houston, Shanahan could call the deep ball and attack consistently because he had all-world wide receiver
Andre Johnson
. The Redskins will have to rely on veterans
Joey Galloway
and
Santana Moss
to stretch the field.
McNabb can deliver: 18 of the Eagles' 41 touchdown drives came in four plays or fewer.
But while the offensive coordinator will want to stretch the field, his father is rooted in the running game. Last year, the Redskins ran the ball only 40.3 percent of the time, the lowest in the last 11 years for this franchise. That kind of imbalance is not in Mike Shanahan's DNA.
In fact, while the first-team offense was on the field Friday night, there were 10 called running plays and nine called passing plays. And McNabb's favorite target was the tight end Cooley, who caught all three balls thrown his way.
An assistant coach said the last thing Shanahan wants is to put this whole season on the 33-year-old McNabb, who seems to be -- right now, at least -- auditioning for the long-term lead role here in Washington. Despite public pronouncements to the contrary, the Redskins and McNabb's agent have not worked out a contract extension. So, McNabb is playing on a one-year deal.
"Both sides want to get a deal done," one of McNabb's representatives said Friday.
But the McNabb camp is keeping an eye on the situation in Minnesota, where
Brett Favre
has one year left on his contract and where McNabb would no doubt love to be reunited with Brad Childress, who served as offensive coordinator in Philadelphia when McNabb had his breakout years with the Eagles. Favre's departure, whenever that happens, also will drive up McNabb's price. Why you would want to leave a two-time Super Bowl champion head coach, however, is anybody's guess.
For now McNabb is healthy and seems very content. He doesn't have to carry too heavy of a load and doesn't have to think too far in advance. Just provide the vibe. Set the tone. Navigate the offense. Fletcher will handle the defense. And Shanahan will keep everybody in line (see: Haynesworth, Albert).
"I don't have to do anything special," said McNabb. "I just have to be me."
For the Redskins in this rebuilding year, that should be enough. After that, who knows?
Sal Paolantonio covers the NFL for ESPN. His latest book is "How Football Explains America" (Chicago: Triumph).
December, 15, 2009
12/15/09
8:00
PM ET
By
Matt Mosley
| ESPN.com
For some reason, Redskins coach Jim Zorn has been stuck on
Antwaan Randle El
as a punt returner. The Washington Post's Dan Steinberg
has compelling evidence
that Randle El might be the least effective punt return man in the league. Steinberg listened to both
Brian Mitchell
and Joe Theismann go off on Randle El on Monday:
Brian Mitchell:
"See, I have to go to Jim Zorn," Mitchell said on Comcast SportsNet's Postgame Live. "Because Jim Zorn has stated many times, Randle El is back there because of his sure hands. We've watched him drop one off the face mask, one off the chest, and he let numerous balls hit the ground. The first sin as a punt returner is to let the ball hit the ground. Pete Rodriguez -- one of the greatest [coaches] I've ever had, Wayne Sevier, all those guys would lose their minds."
Joe Theismann:
"In every sunny day there's usually one little cloud that sits out there, and for us, it's Antwaan Randle El returning punts," Theismann said on ESPN 980 show. "He averages 3.9 yards a punt return. I will say this in all humility: I could do that. OK? As a matter of fact, I have done it. And I've done it better. I catch the football. This isn't an "I" thing, this is an I don't know what's going on in management, when it comes to putting Antwaan Randle El back returning punts. He dropped a second-down pass, hit him right in the hands. Muffed a punt again. You know, in a game that was close, we would all be clamoring about what Antwaan did. Now it just sort of gets overlooked....It's amazing to me, you cut
Shaun Suisham
because he misses two field goals, and yet you insist on allowing someone that has no production whatsoever to do a job returning punts."
Here's more from Theismann
: "My God, how bad is Antwaan Randle El returning punts," he said. "Just FYI, in 1974 I returned punts and averaged 10.4 yards. Here's Antwaan Randle El the last two years: 6.5 in '08, 3.9 in 09. He's at 10.4 [combined]. I would never say that I could do something better than someone, but I can. Or I could, let's put it that way. And again, that to me is the biggest mystery that the Redskins have, that they're faced with. Why do you continue to make this decision? As a coaching staff, when you make this decision, what you're doing is you are sending a message to the other players that you are not putting the best people out there to do their job. And that is not the job of a coaching staff. And again, this is not personal. This has nothing to do with him. Terrific player, hard-working guy, great team guy. It's just that as a punt returner, Antwaan Randle El is not getting the job done. My golly, you cut Shaun Suisham for not getting the job done, the least you can do is find somebody back there who can make an impact on special teams."
By the way, Zorn indicated
on his radio show
today that
Devin Thomas
will be in the mix on punt returns the rest of the season. And if anyone can scrounge up some footage of Theismann, returning punts, I'd love to see it.
October, 5, 2008
10/05/08
2:46
PM ET
By
Matt Mosley
| ESPN.com
Posted by ESPN.com's Matt Mosley
PHILADELPHIA, Pa. -- In the first half, quarterback Jason Campbell broke the Redskins' all-time record for most consecutive passes without an interception. Joe Theismann previously held the record with 161 passes in 1983.
Dating back to last season, Campbell has now gone 166 passes without an interception. The Redskins have weathered a slow start and are now driving on the Eagles at the start of the second half.
August, 6, 2008
8/06/08
12:46
PM ET
By
Matt Mosley
| ESPN.com
Posted by ESPN.com's Matt Mosley
ASHBURN, Va. -- I was walking toward the media room at Redskins Park a few minutes ago when I bumped into Joe Theismann. Toting a notepad and looking about 10 years younger than his actual age, Theismann was headed toward the coaches offices to prepare for his gig as a TV analyst for the club's preseason games.
About that time, defensive coordinator Greg Blache walked between us. He and Theismann started out together at Notre Dame in the late 1960s. Blache played quarterback for about "three minutes" before moving to the secondary.
Anyway, without much prompting, Theismann fired off some strong opinions on the Brett Favre situation. He thinks Favre would've come off looking a lot better had he filed for reinstatement at least a month earlier. But he doesn't blame him one bit for getting the itch again.
Theismann said that he had escape clauses in his contracts with CBS and ESPN in case a team asked him to make a comeback.
"I could throw the ball until I was 50," said the humble legend. "I just didn't have any power left in my leg."
He also offered to take over PR duties for the Packers, saying the organization had butchered the Favre situation on several levels. He thought it was laughable that the club had hired former White House press secretary Ari Fleischer as a consultant.
"First, they insulted him by telling him he would have to return as a backup," Theismann said. "Then they said he could compete with Aaron [Rodgers]. If that's the case, he would've been playing with the second-string offense while trying to win a quarterback competition. You're putting a $12 million quarterback behind a $12 line."
Theismann boasted that he'd predicted the Favre-to-Tampa Bay scenario six weeks ago.
"That's the best fit for him if he's not going to play for the Packers," Theismann said. "[Jon] Gruden will know exactly what to do with him in that offense."
Jason Taylor also had an interesting take on the Favre story.
"Why couldn't this have happened three months earlier?" said the man who dealt with his own offseason soap opera.