December, 13, 2013
12/13/13
8:00
AM ET
PHILADELPHIA -- Those who think there is no risk of the Eagles falling into a trap game against the Vikings in December should go back to 2010, when the Eagles fell into a trap game against the Vikings in December.
The Eagles were 10-4.
Michael Vick
was six weeks removed from his epic Monday night performance at Washington.
DeSean Jackson
was six days removed from his final-second, game-winning punt return against the Giants at the Meadowlands. It looked and felt as if Andy Reid had regained the touch that got the Eagles to five conference championship games.
[+] Enlarge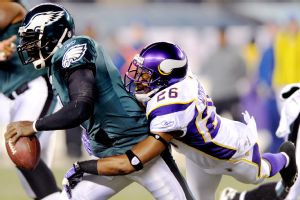 AP Photo/Michael PerezMichael Vick was sacked six times during a December 2010 game against the Vikings.
And then an impending blizzard prompted the NFL to postpone the game from the day after Christmas until Tuesday, Dec. 28. And then the Vikings, with wide receiver
Joe Webb
playing quarterback, came to Lincoln Financial Field. They blitzed Vick relentlessly, sacking him six times and forcing him to fumble the ball away once and throw an interception.
The Vikings won 24-14. The Eagles lost in Dallas the next week and then lost a home playoff game against Green Bay. In many ways, that game against the Vikings marked the beginning of the end of Reid's tenure in Philadelphia.
The current Eagles are near the beginning of an era, not the end. First-year coach Chip Kelly said he hadn't experienced a team of his overlooking a lesser opponent.
"I think it happens," Kelly said. "But I've only been a head coach for a short time too. I was four years at Oregon. This is my first season here."
Kelly believes his "one-week season" approach should keep his players focused on the Vikings and not the chance to clinch the NFC East title against Chicago or Dallas over the following two weeks.
But the truth is, Reid was every bit as committed to the one-week-at-a-time approach. There isn't a coach anywhere who preaches taking them two at a time.
December, 27, 2011
12/27/11
1:00
PM ET
»
NFC Stock Watch
:
East
|
West
|
North
|
South
»
AFC
:
East
|
West
|
North
|
South
FALLING
1. Cowboys' offensive line
. With the exception of brilliant rookie right tackle
Tyron Smith
, who handled the red-hot
Jason Babin
well most of the night, the
Dallas Cowboys
' line was dominated physically by the Eagles' defensive front. And now, with left guard
Montrae Holland
out with a torn biceps, they're shorthanded for their big division title game against the
New York Giants
and their fearsome D-linemen. Someone on the Cowboys' line is going to have to step up and play better than they've been playing. And no matter what happens Sunday night, interior offensive line is going to be a need position this offseason.
2. The Philadelphia Eagles' draft position.
One more win gets the Eagles to .500 for the season and could slide them further back into the middle of the draft's first round than they already are. (Currently, they'd hold the No. 13 pick). That lessens their chances at an impact player that would hasten their planned 2012 turnaround, but the Eagles have several needs they can address on defense at that point in the draft. They might even be able to get a wide receiver there if they cut ties with
DeSean Jackson
.
3. Washington Redskins' self-confidence:
Flying high two weeks ago after a big victory over the Giants, the Redskins' defense melted down Saturday against
Joe Webb
,
Toby Gerhart
and the
Minnesota Vikings
' bench. The loss deprived the Redskins of a chance to improve on their 2010 record and, as their worst defensive performance of the season, left them scratching their heads a bit as they ponder the future. The thought around Washington has been that this offseason's focus would be on offense. But there may be some tinkering left to do on defense, particularly on the back end.
RISING
[+] Enlarge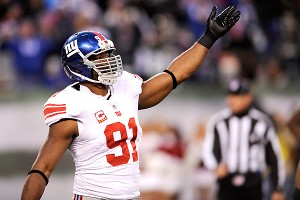 AP Photo/Bill KostrounWith Justin Tuck healthy and on his game, the New York Giants can be a force on defense.
1. Justin Tuck, Giants defensive end.
And, with him, the Giants' defensive line. After last week's pep talks by coach Tom Coughlin and GM Jerry Reese, Tuck was able to exert a little bit of mind over matter for the first time this season, sweep aside the aches and pains that have been bugging him and play his best game so far this year. Tuck admitted after the game he hasn't been mentally right this year, and he has let his injury problems bother him more than they should have. If he's back in the right frame of mind to stay, and the Giants can come after
Tony Romo
from his side and
Jason Pierre-Paul
's on Sunday night, you have to like their chances.
2. Cowboys fans' blood pressure.
Because this should have been taken care of weeks ago. If the Cowboys lose to the Giants and miss the playoffs, the laments will be numerous and woeful. They should have held their late leads against the Jets, Lions, Patriots, Cardinals and Giants. Win two of those five games -- all of which they surely could have won — and they'd have rendered the season finale meaningless. But their inability to finish games has put them in a position to have to finish the season with a tough win on the road. And their fans will spend this entire week fretting over whether Romo, Jason Garrett and the crew have what it takes to do that.
3. Victor Cruz, Giants wide receiver.
His 99-yard touchdown catch flipped the game in favor of the Giants right before halftime and may have been the play of the Giants' season. Cruz also set a new Giants team record for receiving yards in a single season, running his 2011 total to 1,358 and breaking
Amani Toomer
's team record. He's not likely to be announced as a Pro Bowler tonight, because he wasn't on the fan ballot and the fan vote counts for one-third of the total. But his breakout season is a big reason the Giants have a chance to make the playoffs.
December, 24, 2011
12/24/11
4:06
PM ET
A few thoughts on the
Washington Redskins
' disappointing
33-26 loss
to the
Minnesota Vikings
in their final home game of the season:


What it means:
The Redskins have lost at least 10 games for the third season in a row, and much of the good feeling that accompanied last week's victory over the
New York Giants
has to have ebbed a bit. This was a Vikings team whose star running back and rookie quarterback left the game with injuries, and the Redskins' defense was nonetheless powerless to stop backups
Toby Gerhart
and
Joe Webb
.
Credit where due:
Jabar Gaffney
had six catches for 77 yards and a touchdown to continue a very strong season that hasn't received much attention because of the circumstances in which he plays. If he's a Redskin next year, he'll be an asset to whoever they use at quarterback. He's up to 919 receiving yards for the season.
Another rookie runner:
With
Roy Helu
hurting, Mike Shanahan gave the start at running back to Helu's fellow rookie,
Evan Royster
. And Royster did a lot to back up the notion that running backs are interchangeable in the Shanahan offense. He had 132 yards on 19 carries and gives the Redskins and their fans another thing to feel good about as they look ahead to what they might be able to piece together on offense next year if they can get a quarterback.
Something had to give:
The battle of the interception streaks went to the Vikings, who picked off a
Rex Grossman
pass in the fourth quarter. That broke a streak of nine consecutive games in which the Vikings' defense had not intercepted a pass. And it extended Grossman's personal streak to 11 straight games with at least one interception. Grossman had a fine statistical game otherwise, completing 26-of-40 passes for 284 yards and two touchdowns.
What's next:
The Redskins will try to match last season's win total when they finish their season next Sunday afternoon against the Eagles in Philadelphia.
January, 5, 2011
1/05/11
1:00
PM ET
By
Matt Mosley
| ESPN.com
»
NFC Wrap-ups
:
East
|
West
|
North
|
South
»
AFC
:
East
|
West
|
North
|
South
Arrow indicates direction team is trending.

Final Power Ranking
: 7
Preseason Power Ranking
: 15
[+] Enlarge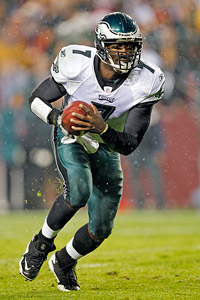 AP Photo/Brian GarfinkelMichael Vick revived his career in leading the Eagles to the playoffs.
Biggest surprise:
Perhaps the biggest surprise in the league was the breakout season for quarterback
Michael Vick
. The Eagles traded
Donovan McNabb
because they were convinced
Kevin Kolb
was ready to be the franchise quarterback. But when Kolb suffered a concussion in the first game of the season, Vick came in and performed brilliantly. By the time Kolb was healthy enough to return, Eagles coach Andy Reid had named Vick the starter. I don't think anyone saw this coming. The Eagles went from what looked like a transition season to becoming Super Bowl contenders. In fact, their entire season now hinges on Vick's health heading into Sunday's game against Green Bay.
Biggest disappointment:
The secondary allowed 31 passing touchdowns. I realize that the pass rush has a lot to do with giving up passing yards, but the Eagles' group of nondescript cornerbacks (outside of
Asante Samuel
) didn't do its part.
Aaron Rodgers
could torch this group if the Eagles can't figure out a way to apply some pressure. It was also disappointing that
Brent Celek
went from being one of the best tight ends in the league in 2009 to an afterthought in this season's offense. Vick has looked for Celek more in recent weeks, so perhaps the tight end will get hot in the playoffs, as he did in 2008.
Biggest need:
The Eagles need to bring in reinforcements at cornerback. I always felt like trusting
Ellis Hobbs
to start at cornerback was a mistake. He had an awful game against the
Tennessee Titans
and then he had to be placed on injured reserve. Now the Eagles have had to bench corner
Dimitri Patterson
for poor play. I said before the season the Eagles needed more depth at cornerback, but they didn't do enough to address that issue. GM Howie Roseman has done a really nice job in other areas, but it always seemed like the Eagles were going to be exposed in the secondary. The good news is that rookie safety
Nate Allen
played really well before suffering a season-ending injury.
Team MVP:
Do I really have to say it? It's none other than Vick, who should finish No. 2 behind
Tom Brady
in the league MVP voting.
Worst moment:
I'd have to say that "effort" against the
Minnesota Vikings
in Week 16 ranks near the top. The Eagles were still playing for a shot at a first-round bye, but they didn't act interested in playing that game, which was postponed until Tuesday night because of a snowstorm. When the game started, it was obvious that Vikings coach Leslie Frazier had prepared his team for battering Vick. I thought the overall lack of effort against the Vikings in a meaningful game really stood out this season. And the defense made
Joe Webb
of the Vikings a household name around the league.
December, 29, 2010
12/29/10
12:03
AM ET
By
Matt Mosley
| ESPN.com
Well, at least
Michael Vick
doesn't have to worry about any Vikings asking for his autograph after this game. Here are some thoughts following a
24-14 loss
and a lackluster performance by the
Philadelphia Eagles
:


What it means:
The Eagles didn't look all that interested in playing this game. After a 48-hour delay because of a snowstorm, it was the Vikings who acted as if they had something meaningful on the line. A rookie quarterback named
Joe Webb
came out and showed a great deal of poise and ability in sticking it to the Eagles' defense. Philadelphia (10-5) had an opportunity to stay in contention for a No. 2 seed in the playoffs, but now they won't have a playoff bye. There were conspiracy theories that the Eagles wanted to wait for the snow to clear because they thought a slow field would help the Vikings. But in a rare Tuesday night game, the Vikings ran circles around Vick and his dynamic wide receiver
DeSean Jackson
. It was remarkable to watch the Vikings cornerbacks simply bully Jackson (two catches, 32 yards) at the line of scrimmage and then lock him down when he tried to go deep. The Eagles are still a dangerous team, but Vikings interim coach Leslie Frazier showed just how vulnerable this team is to the blitz.
What happened to Vick?
I think it's safe to say that
Tom Brady
now has the MVP in hand. Coming off a brilliant comeback against the Giants, Vick was running for his life against the Vikings. They came at him in waves, and when he escaped the first blitzer, he usually encountered a huge defensive tackle. I zeroed in on Eagles Pro Bowl left tackle
Jason Peters
in the second half. He didn't have a chance against defensive end
Jared Allen
and he could've been called for holding several times. But it was Vick who made the key mistake in the game. With the Eagles attempting to add to a 7-0 lead just before the half, Vikings cornerback
Antoine Winfield
blitzed off the corner and poked the ball away from Vick. He scooped it up and returned it for a touchdown to tie the score. Vick was 25-of-43 for 263 yards and one touchdown, an interception and two fumbles lost. The Vikings did a brilliant job of surrounding him throughout the game. Vick ran for 63 yards and a touchdown, but he was limping around the field in the fourth quarter. Frazier knows Andy Reid as well as anyone because he coached for the Eagles. You could see the influence of the late Jim Johnson with several of those blitz calls. And Frazier may have earned himself the full-time gig in Minnesota with the way his team performed.
Broken record alert:
Reid and offensive coordinator Marty Mornhinweg are so enamored with the passing game that they go long stretches without feeding the ball to running back
LeSean McCoy
. The Vikings didn't have to respect the play-action game when they know McCoy is rarely going to touch the ball in the running game. He was probably the Eagles' best option in this game, but he only touched the ball 17 times.
Gashed by the run:
The Eagles had held teams to an average of 89.1 rushing yards per game, but the great
Adrian Peterson
had 22 carries for 118 yards and a touchdown. And on the game-clinching drive, Peterson toyed with the Eagles' defense. When rookie safety
Kurt Coleman
took the wrong angle toward Peterson on a counter play, the running back exploded outside for a big gain. Then he bulled his way into the end zone.
What a tangled Webb:
You'd think the Eagles would be used to mobile quarterbacks after seeing Vick in practice, but Webb baffled defenders with his legs. On a touchdown run in the second half, he froze defensive end
Juqua Parker
with a nice move and then he made linebacker
Moise Fokou
look silly before waltzing into the end zone.
What's next?
Andy Reid will have the opportunity to rest Vick and some of his other starters against the
Dallas Cowboys
, but I think he'll try to play them for at least a half. I heard one broadcaster suggest late in this game that the loss to the Vikings could be a good thing for the Eagles because it would open the door to Reid resting some of his players. But I assure you Reid would rather not have that "luxury." The Giants were actually rooting for the Eagles to win this game because it meant the Bears might try harder to beat the Packers next Sunday. I received the following text from Giants defensive tackle
Barry Cofield
in the fourth quarter: "It looks like Philly is gonna [hurt us] even when we aren't playing them."
Maybe Eagles fans can find something positive out of Tuesday's game, but I'm at a loss right now.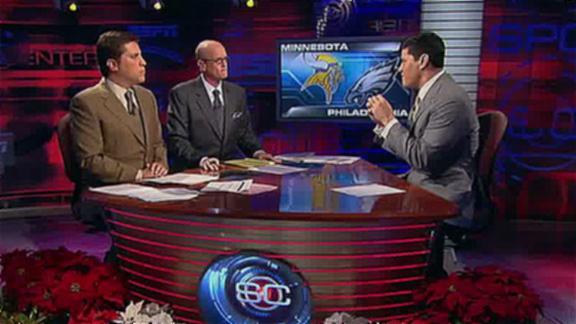 December, 28, 2010
12/28/10
1:29
PM ET
By
Matt Mosley
| ESPN.com
Are you ready for some Tuesday night football? For the first time in 64 years, the NFL will hold a game on a Tuesday. The
Minnesota Vikings
have been hanging out in Philadelphia since Saturday, and they'll likely be starting rookie quarterback
Joe Webb
unless
Brett Favre
has a little more drama up his sleeve. Here are five thoughts on tonight's battle between the
Philadelphia Eagles
and Vikings:


1. Which team does the 48-hour delay help more?
I've enjoyed all
the rhetoric coming out of the Pennsylvania governor's office
. Gov. Ed Rendell, an unabashed Eagles fan who appears on Eagles postgame shows, thinks the postponement was un-American and that China wouldn't have considered delaying a game because of a little blizzard. But Rendell should actually be pleased that the Eagles will play on a relatively dry field tonight. The Eagles may have the fastest offense in the league, so the snow could have neutralized that advantage over the Vikings. I know Philadelphia will have to play the
Dallas Cowboys
on short rest on Sunday, but I don't think it'll be intimidated by the prospect of facing young
Stephen McGee
at the Linc. In the big picture, perhaps it will hurt the Eagles that they could end up playing three games in a 12-day span, but it won't be an issue against a Vikings team led by a rookie quarterback. Even the great
Adrian Peterson
can't bail this team out at this point.
2. The Eagles must shut down the Vikings' running game early.
The delay may have allowed Peterson (knee, ankle) to be able to play. His backup is
Toby Gerhart
, a powerful inside runner who's not really a home-run threat. The Eagles have been excellent against the run since defensive tackle
Antonio Dixon
took over as the starter in Week 5. The Eagles allow only 89.1 rushing yards per game. If Philadelphia can keep Peterson and Gerhart down early, it will put a lot of pressure on Webb. Peterson has had only one 100-yard rushing day in his past seven outings, so it's hard to imagine him going off Tuesday night.
3. Andy Reid may want to consider a few handoffs early in the game.
The Eagles will invariably try to go up top with a deep ball to
DeSean Jackson
or
Jeremy Maclin
early in this game. Every team in the league should know what's coming on that first possession, but most of them can't do anything about it. Vikings interim coach Leslie Frazier has a ton of respect for Reid and offensive coordinator Marty Mornhinweg. He'll try to emulate
what the Bears did
against the Vikings, but I don't think he has the personnel to get it done. The Vikings have an All-Pro defensive end in
Jared Allen
, but I think the Eagles could actually run the ball at him. If
LeSean McCoy
can rip off a couple of nice runs early in this game, it will make
Michael Vick
even more effective in the play-action game. The Vikings will do everything they can to make him roll right, but that's easier said than done.
4. The Eagles will be vulnerable to big plays by the Vikings' tight ends.
The Vikings have an excellent tight end in
Visanthe Shiancoe
. I believe Minnesota will try to get Shiancoe matched up on Eagles rookie middle linebacker
Jamar Chaney
. The rookie played really well against the Giants last week (16 tackles), but Shiancoe is a tough cover down the seam. The Vikings are at their best when they can get their big targets (Shiancoe and
Sidney Rice
) the ball in the middle of the field. The Eagles must make sure they tackle in the secondary in this game. Cornerback
Dimitri Patterson
had an awful game against the Giants, so look for the Vikings to take some shots to his side.
5. The Eagles must win this game in the first 10 minutes.
Philadelphia has been prolific in the first quarter this season. Reid and Mornhinweg do a tremendous job scripting those first 15 plays, and we've seen teams (Redskins, Cowboys) get overwhelmed against them from the opening snap. If the Eagles can grab a comfortable lead in the first quarter, it will put the Vikings in a really bad spot. The best-case scenario for Reid is if Vick and several other starters are hanging out on the sideline midway through the third quarter. The Eagles have the firepower to cause that scenario. If that happens, this whole 48-hour delay can sort of be mitigated.
And for those of us who watched that Yanks-Giants game 64 years ago, we know how exciting Tuesday night football can be. Enjoy the show. And the Beast will be available for postgame comments.
NFC EAST SCOREBOARD
Saturday, 12/20
Sunday, 12/21