April, 1, 2014
Apr 1
7:15
PM ET
Free agent receiver
DeSean Jackson
left Redskins Park without a contract. But the key is whether he leaves the area without one.

Jackson
Jackson left the facility about 3 p.m. ET Tuesday, but he remained in town until at least early evening. His agent, Joel Segal, was in the Washington area Tuesday and was supposed to at least be talking to Redskins officials.
One Redskins source said coach Jay Gruden really wants to land Jackson, and that the former Eagles wideout wants to be in Washington. However, the money clearly was not yet right as of early evening. One Redskins source, who spoke with Jackson this week and knew his desire to come here, said he was optimistic, "but the money has to be right."
The team is optimistic a deal can get done, but according to a source there is a fear that if he leaves they could lose him.
ESPN's Adam Schefter reported that San Francisco was interested in Jackson, though guarded in that desire. But the 49ers only have about $4 million left in salary-cap space -- about $2 million less than Washington. Oakland reportedly is interested, though not willing to spend big money; they are about $15 million under the cap. If Al Davis were still in charge, Jackson, who played at Cal, might be back in the Bay Area by now.
There is a perception that Jackson wants a big deal, but the question will be: Can he get it? If teams want him, but only at their price, then that could cause Jackson to take a lesser deal than originally desired. That might mean even if he leaves Washington without a deal, it could still end up being the best one. This is a fluid situation that requires patience.
March, 31, 2014
Mar 31
9:15
AM ET
Nearly a third of the league inquired about receiver
DeSean Jackson
, but not all the teams are known. Two of those teams reportedly have fallen out of the race for Jackson -- and both have coaches who previously worked with him (Andy Reid in Kansas City and Marty Mornhinweg with the
New York Jets
). The assumption is that this sends up red flags about Jackson; that's not necessarily the case.
And it's hard to get a good feel on who is really interested. Oakland and Washington definitely are, though to what extent remains to be seen. Jackson arrives in Washington Monday and will visit Tuesday. Thus far, it's his only reported visit.
San Francisco's name came up when Jackson was on the trade block and the 49ers had expressed interest in free-agent wide receiver
Golden Tate
, among others, before he signed with Detroit. So it would make sense that they'd at least inquire about Jackson. Tampa Bay has said they'd take a look, though it was a
rather tepid endorsement
.
Here's a little handicap of some teams that have expressed interest or reportedly want to get in the race:

Washington Redskins
Cap space:
Approximately $7 million
Why he'd consider:
It's a premier market in a premier conference. Oh, and they get to play the Eagles twice a year. The Redskins would have a lot of speed offensively with Jackson,
Pierre Garcon
,
Andre Roberts
and
Jordan Reed
and would be a major threat down the field. Add to it an athletic quarterback who can extend plays and the off-schedule explosions would increase.
Robert Griffin III
's deep-ball ability will be important -- and his ability to extend plays. Jackson's agent, Joel Segal, has definitely taken quarterback play into consideration in the past with his receivers. If Jackson is forced to take a one-year, prove-it deal, this especially would be a factor.
Why he wouldn't:
Because other teams can offer more. Washington can't compete if Jackson's strong desire is to return to the West Coast and play for the team he grew up rooting for (Oakland). If they want a more proven coach, San Francisco and Tampa Bay have to be a consideration (if the Bucs are strongly interested, which is debatable). And if San Francisco truly is interested, then the 49ers clearly would offer him a better chance for team success. The Redskins still have other needs to address so they can only spend so much, and it's hard to gauge how aggressive they'll be. But the fact that they have the first visit says something.

Buffalo Bills
Cap space:
Approximately $13 million
Why he'd consider:
They have more cap room than most teams, so they could offer the sort of contract that could get it done now -- if they wanted to go that high. They need what Jackson provides (though many teams do).
Why he wouldn't:
The Bills aren't a marquee team and their quarterback situation is questionable.
EJ Manuel
started 10 games as a rookie and showed flashes, but remains unproven. That has to be a strong consideration. None of their receivers had more than 597 yards last season, so how secure could you be? They have a good young talent in
Robert Woods
, a solid receiver in
Stevie Johnson
(nagging injuries, however) and a fast young guy in
Marquise Goodwin
. But that's not exactly a Hall of Fame trio. The draft has to be an attractive option, so that could limit what the Bills would be willing to offer.

Oakland Raiders
Cap space:
Approximately $15 million
Why he'd consider:
Because the Raiders were his favorite team growing up and he played college ball at nearby Cal. Jackson is a West Coast kid, and if his desire to return there is strong, then it will be hard to top. The Raiders need help at receiver so Jackson would fill a big hole. Also, the Raiders have more money than the other teams reportedly interested thus far.
Why he wouldn't:
The Raiders have a wait-and-see approach going on and, while they'd like him, they won't overspend. So if another team is more aggressive, then Jackson could end up elsewhere. Also, other than going back to California, the Raiders aren't exactly an attractive franchise. Their coach, Dennis Allen, will enter the season on the hot seat and their quarterback,
Matt Schaub
, is not known for throwing deep all that often. At this point, it's uncertain if he remains a quality starting quarterback.

Tampa Bay Buccaneers
Cap space:
Approximately $12 million
Why he'd consider:
They have a potentially strong structure with new coach Lovie Smith. He's a proven coach in the first year of his regime so he'll be around several years at least. The Bucs have another explosive receiver to pair with Jackson in
Vincent Jackson
. Both are dangerous down the field. Oh, yeah, and they have the cap room to absorb a bigger contract.
Why he wouldn't:
Smith's history suggests building around the run game and the defense. Also, they have a journeyman starting quarterback in
Josh McCown
and a second-year guy in
Mike Glennon
, whom the new coach did not draft (and replaced right away). So there are questions at this spot. Their interest is said to be lukewarm, so it's hard to imagine them overspending for Jackson.

San Francisco 49ers
Cap space:
Approximately $4 million
Why he'd consider:
It's the best team, it's near where he played college ball and it puts him back on the West Coast. They need a receiver who can stretch the field to pair with
Anquan Boldin
,
Michael Crabtree
and tight end
Vernon Davis
. Jackson would provide that and then some. They also have a big-armed quarterback in
Colin Kaepernick
who can let Jackson run under the ball and remind everyone of his explosiveness. Unlike Washington, the 49ers also have a defense that plays at a championship level, so if Jackson wants to produce and win, this could be the stop.
Why he wouldn't:
The 49ers were reportedly interested in pursuing a trade, according to Pro Football Talk. But their cap number isn't high and they already have talent at receiver. They could opt for the draft, which is deep at this position and has a few players with Jackson-like qualities (though no one can match his acceleration on deep balls). Hard to know what the reported friction with the 49ers between general manager Trent Baalke and coach Jim Harbaugh means for the future of either person and, subsequently, a guy like Jackson.
August, 18, 2011
8/18/11
10:02
AM ET
In this
very good GQ story
on
Michael Vick
by Will Leitch, one paragraph in particular is raising NFL eyebrows this morning, and it is this one:
"I think I can say this now, because it's not going to hurt anybody's feelings, and it's the truth," Vick tells me a few weeks after the commencement ceremony. "I didn't want to come to Philadelphia. Being the third-team quarterback is nothing to smile about. Cincinnati and Buffalo were better options." Those two teams wanted him and would've allowed him to start, but after meeting with commissioner Roger Goodell and other reps from the NFL, Vick was convinced -- and granted league approval -- to sign with Philly. "And I commend and thank them, because they put me in the right situation."
The immediate question is whether Goodell had any business influencing where Vick signed once he got out of prison, and some have raised the issue of whether the Bengals or Bills will or should be upset about this. I see the point but have some issues with that interpretation.
First, I don't buy that the Bengals would have started Vick ahead of
Carson Palmer
in 2009, fresh out of prison. I may buy that the Bills would have done it, since they were going with
Trent Edwards
and eventually
Ryan Fitzpatrick
, but to say he was a starting option even for a team as quarterback-desperate as Buffalo is revisionist history.
Vick had just gone two full seasons without playing football. No one knew what kind of shape he was in, physically or mentally. If a team -- even the Bills -- was going to sign him, it's impossible to believe they were going to anoint him their starting quarterback right out of the gate. It's easy to look back over the way Vick played last year and say sure, of course he'd have been worlds better than those other options. But in August 2009, nobody knew he'd come back and be what he's become. Not the Bengals, not the Bills, not the Eagles, not Vick and not Goodell.
Goodell's mission at that time was not to return Vick to on-field football glory but simply to return him to NFL society and allow him to resume his career in the situation that would best enable him to be a productive member of that society on and off the field. Goodell had a lot of help in this effort, from agent Joel Segal to NFLPA chief DeMaurice Smith to former Colts coach Tony Dungy, who served as a mentor to Vick during and after Vick's prison stay.
Now, to Goodell and all of those other people, the Eagles looked like the best spot for a number of reasons. They all believed coach Andy Reid, in part because of his own personal experience with his sons and their legal trouble, would be a compassionate mentor. They believed that Reid and his coaches could nurture and coach Vick while Vick served as backup to
Donovan McNabb
. They believed McNabb would be a good mentor for Vick.
Goodell said more than once, at that time, that he was looking for "a success story." And he didn't mean success in terms of yards or touchdown passes. And he certainly didn't mean success for any one particular NFL team. He meant success for Michael Vick -- and that meant putting Vick in the most beneficial situation for Michael Vick. The idea that the commissioner might have been playing favorites, or that other teams should be upset that he may have steered this remarkable athletic talent to a training camp other than theirs, is fueled by nothing other than hindsight. At the time, no one knew if Vick had it in him to ever complete another NFL pass. Even the Eagles didn't know. They just took a chance -- a chance for which they were ridiculed and criticized by many at the time -- and coached him into a better quarterback than he'd ever been before without ever thinking he'd start for them. Remember, a year ago, Vick was
Kevin Kolb
's backup.
To think that Vick would have become what he's become while riding the bench behind Palmer or even while starting games for Buffalo is to underestimate the work the Eagles did with him once they got their hands on him. If this is going to be a controversy, people had better come at it with all of the facts. Sure, it's possible Goodell wanted Vick in Philadelphia. But if he did, it had nothing to do with wanting to help the Eagles. They did that on their own.
July, 25, 2011
7/25/11
1:01
PM ET
The Eagles designated Michael Vick their franchise player before the lockout happened, and they know he'll be under contract through 2011. Beyond that? Well, no one knows for sure. But Vick's agent, Joel Segal, said in an interview with the NFL Network this morning that Vick would be open to the idea of a long-term contract with Philadelphia. Per the
Eagles' web site
:
[+] Enlarge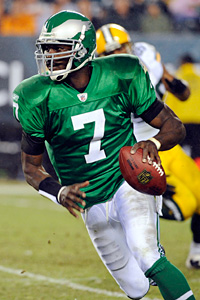 Barbara Johnston/US PresswireThe Eagles used their franchise tag on Michael Vick in the offseason.
"I think a long-term deal is something both sides would covet. I will talk to Joe Banner and explore that," Segal said via telephone. "I think Mike is amenable to it. He'd look forward to it. (He) loves Philly, loves the fans. He's a big Marty (Mornhinweg) fan, Andy Reid fan. If the Eagles are interested, we're definitely interested."
The last part there is key, and it's probably still an "if," as I believe it should be. What Vick did last year for the Eagles was completely incredible. There is simply no other quarterback in the league capable of doing all that he is capable of doing on the field. If they're certain he can repeat his 2010 performance in 2011, the Eagles should lock him up now, because the price is going to go through the roof.
But that's the "if" part, isn't it? Nobody knows if Vick can do that again in 2011. Sure, he still has that brilliant young core of offensive talent around him. Sure, they've done a little bit of work on upgrading the offensive line in front of him. But it was only one year, and there's a lot of film out there for people to study. There was no rule, during the lockout, against coaches reviewing game tape from last year. There's a decent chance that's all they did. Defensive coordinators are going to have new ways of coming at Vick in 2011, and until we see how he adjusts to their adjustments, there's just no way to make a long-term bet here. Add in that Vick, due to his history and the way he plays the game, is no sure bet to stay healthy, and you have a big enough question mark to justify letting him play out the year for his franchise tender and dealing with this next spring.
What will be interesting is to see what the Eagles do behind Vick. We know they like Mike Kafka for the long-term, but if they deal away Kevin Kolb as expected, they'll be bringing in a more game-ready veteran to be Vick's backup. The identity of that player, and the way he and Kafka perform and develop in their backup roles in 2011, could have a lot to do with the Eagles' ultimate decision on Vick. If Vick is ordinary in 2011, the Eagles could feel a lot differently than they do now about whether he's their future.
They do know that he's their present, and that's what matters to the Eagles right now. They're also pretty sure Vick isn't going to make trouble about his contract. He'd be crazy to do so, considering the chance Reid and the Eagles took on him and the way it's paid off for him as well as them. He'd have no support publicly if he started crying about his contract, and Segal's comments indicate that he has no plans to do so. If the Eagles are interested, Segal said, so is Vick. For now, that remains an "if," and the Eagles are right to wait and see Vick do it again before they make a decision on his future in Philadelphia.
November, 17, 2010
11/17/10
10:52
AM ET
By
Matt Mosley
| ESPN.com
Philadelphia Eagles
quarterback
Michael Vick
has only started and completed four games this season, but he should still be in the conversation for the league's MVP award. Even the prolific Patriots quarterback
Tom Brady
marveled at Vick's performance against the
Washington Redskins
on Monday. And I think Vick could show up in the top five of Mike Sando's weekly MVP Watch on ESPN.com.
Ashley Fox, who loves a good nine-part newspaper series,
wonders what Vick's demands will be for a contract
in light of
Donovan McNabb
's new deal:
Vick
"He was the best anyone has seen this season and continued to build his case that not only is he the NFL's most valuable player -- but he is deserving of a big contract extension from the Eagles," writes Fox. "If Donovan McNabb is worthy of a five-year, $78 million deal that reportedly included significant guaranteed money, what is Vick, who is three years younger, worth? Ninety million? A hundred million? More?"
Here's the part where I have to remind folks that Vick has a lot more baggage than other star quarterbacks around the league. And he's admitted his willingness to give the Eagles a "hometown" discount since they were the ones who took a chance on him. Here's what Vick himself said during his weekly appearance on ESPN 94.1 in Virginia Beach, Va., when asked if he was talking to the Eagles about a contract extension:
"Not yet," he said
per Les Bowen of the Daily News
. "We haven't started any negotiations. We are just taking it one week at a time. If it's going to happen, it will happen. I don't think it will take long when negotiations do start, if they ever start. I know the most important thing is to go out and win the next football game. Keep piling up wins and keep doing what's best for this football team.
"I'm happy here. After playing with the type of talent I play with, having the coaches that I have now, and being here for two years, of course, you get comfortable, and after having success, you look down the road for the long haul and see what we can accomplish. I think the future is definitely bright for this team, and I wouldn't mind being a part of it."
Vick's playing like a quarterback who deserves an enormous contract, but he also exposes himself to more injuries than most players at his position. The Eagles, though, are very proactive when it comes to contract negotiations. It wouldn't surprise me if general manager Howie Roseman and Vick's agent, Joel Segal, were already having some informal discussions.
I think Vick wants to remain with the Eagles, and I think Andy Reid wants the same thing. But what will the Eagles do about homegrown quarterback
Kevin Kolb
, another Reid favorite? For now, he's simply a nice insurance policy. And if Vick continues to flourish, the Eagles will look to trade Kolb.
The Eagles will sit back and enjoy the Michael Vick Experience for now. But at some point, they'll have to write the man a pretty large check. I'd say $30-40 million in guaranteed money is a good place to start for a legitimate MVP candidate who appears to be in the prime of his career.
February, 26, 2010
2/26/10
4:15
PM ET
By
Matt Mosley
| ESPN.com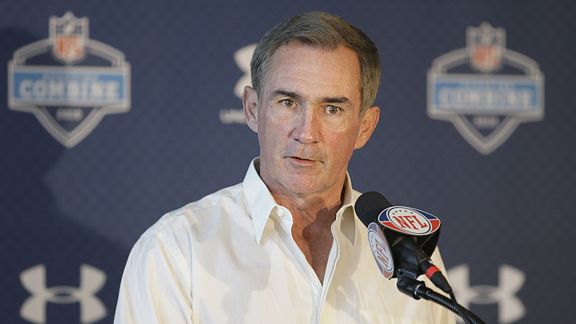 AP Photo/Darron CummingsNew Redskins coach Mike Shanahan held court with the media at Lucas Oil Stadium on Friday.
INDIANAPOLIS -- For years, Mike Shanahan hasn't had a presence at the NFL combine. Even with Broncos beat writers staking out every exit of his hotel, Shanahan's stealth-like approach allowed him to get in and out of Indy without being noticed.
That's what made his appearance Friday at Lucas Oil Stadium so unusual. He arrived at 10:45 a.m. ET and spent more than an hour visiting with reporters and other bystanders. At one point, Shanahan said, "Two more questions, guys." Then he stayed and did one-on-ones for the next 30 minutes. I'm not saying Shanahan's going to turn into an open book, but it's obvious that he's now the face of the
Washington Redskins
.
Now, if he'd just come out and tell us who he's going to take with the No. 4 pick in April's draft. Shanahan was predictably coy with most of his answers, although he didn't hide his passion for free-agent running back
LaDainian Tomlinson
when I broached the topic.
But the main thing on everyone's mind is the quarterback situation in Washington. Shanahan didn't exactly give incumbent starter
Jason Campbell
a ringing endorsement Friday, although he expressed his "admiration" for the way Campbell overcame so much adversity in '09 -- namely preserving most of his body parts while playing behind an injury-ravaged offensive line. Shanahan confirmed that the Skins will offer Campbell, a restricted free agent, a tender that probably will have first- and third-round compensation attached. If he signs the tender, Campbell would make $3.268 million in 2010 -- otherwise known as
Sage Rosenfels
money.
[+] Enlarge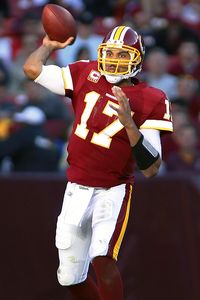 Geoff Burke/US PresswireThe Redskins will offer Jason Campbell a tender for 2010, which is not exactly a ringing endorsement.
Campbell is well within his rights to wonder why the Redskins would ask him to potentially start at quarterback while paying him second-string money. And while he's the ultimate team player -- as evidenced by his behavior last offseason while owner Dan Snyder fawned over other quarterbacks -- there's a chance Campbell could decide not to sign the tender and skip Shanahan's offseason workouts. General manager Bruce Allen is scheduled to meet with Campbell's agent Joel Segal during the combine, according to a league source. Maybe they'll flesh out some of the details. For now, though, Campbell's focused on remaining the starter in 2010.
"No matter who they take, I plan on winning the starting job," Campbell told me Friday. "My plan is to come out and have a great year."
Shanahan has had the good fortune of working with Hall of Famers
Joe Montana
,
Steve Young
and
John Elway
in the past. He knows better than anyone that this is a quarterback's league and that's what led him to trade the 15th and 68th overall picks in the '06 draft to move up and select
Jay Cutler
at No. 11. He made this move despite the fact that
Jake Plummer
had led the Broncos to the '05 AFC Championship Game. And by November of the '06 season, Shanahan had made Cutler the full-time starter.
I'm told that Shanahan became obsessed with getting a new quarterback after spending a lot of time with
Peyton Manning
during Pro Bowl week five years ago. He couldn't believe that Manning was actually studying for the Pro Bowl, something that a free spirit such as Plummer might avoid.
Obviously Shanahan's not going to tip his hand at this point, but you can guarantee that he already has a strong opinion on the top quarterbacks in this draft. I asked him how much college football he watched during his season away from the game and he admitted that it was more than usual. And you can bet that he was paying particular attention to Notre Dame's Jimmy Clausen and Oklahoma's Sam Bradford before he suffered a season-ending shoulder injury. Shanahan said he plans on going to the pro days for both of those quarterbacks.
"You just look at the film," said Shanahan, referring to Bradford. "He's played enough that people should have a strong opinion."
Of course, there's a decent chance Bradford will be off the board when the Redskins pick at No. 4. The
St. Louis Rams
could use a franchise quarterback about now. That leaves Clausen in the mix and perhaps Texas' Colt McCoy in the second round.
I think Shanahan definitely respects what Campbell has done with the Redskins, but the coach's track record suggests he's going to try to make a splash in this draft. And no matter how much you like offensive tackles Russell Okung or Bryan Bulaga, the game's not about the left tackle.
On Friday, Shanahan didn't say anything particularly revealing, but in a lot of ways, his past speaks for itself.
February, 25, 2010
2/25/10
7:43
PM ET
By
Matt Mosley
| ESPN.com
INDIANAPOLIS -- When you get hundreds of coaches, scouts, reporters and agents in one place, there are bound to be some rumors floating around.
One such rumor
involved the Redskins supposedly sending quarterback
Jason Campbell
to Buffalo in exchange for safety
Donte Whitner
.
The Redskins have informed Campbell that there's nothing to the rumor, according to a league source. At this point, the club is planning for Campbell, a restricted free agent, to be on the 2010 roster -- and perhaps beyond. Campbell's agent, Joel Segal, is expected to meet with Allen during the combine to discuss the quarterback's future. As I reported last week, Shanahan has told Campbell that he's planning to bring him back next season.
The Skins could pay the highest tender to Campbell ($3.268 million) in 2010 and see how he performs or they could offer him a new two-year contract with some guaranteed money. Unless another team blows the Skins away with a trade offer, I think Campbell will be back in 2010. After that, all bets are off. The Redskins will likely take a long look at quarterbacks Sam Bradford and Jimmy Clausen and try to determine if either player is a franchise quarterback.
If they don't feel strongly about either player, then it would make sense to select Oklahoma State left tackle Russell Okung at No. 4 and retain Campbell as the starter. Campbell put up very respectable numbers playing behind arguably the worst offensive line in the league in '09. I'm sure some of that's showing up as Shanahan and his staff continue to watch every snap from last season.
And can you imagine having to watch every snap of the Skins' '09 season? It's not a healthy situation. By the way, I actually joined Shanahan on a crowded elevator earlier this evening but it didn't seem like the appropriate time to ask about Campbell's future.
NFC EAST SCOREBOARD
Saturday, 12/20
Sunday, 12/21