March, 17, 2014
Mar 17
11:30
AM ET
IRVING, Texas -- So far in their chase for veteran pass rushers, we know what the
Dallas Cowboys
wouldn't do.
Allen
They were not going to re-do DeMarcus Ware's contract to the point where he would actually make more money in 2014 than he was scheduled to, which is what the
Denver Broncos
did in signing the Cowboys' all-time sack leader to a three-year, $30 million deal. Ware will make $13 million this season and is guaranteed $20 million.
They were not going to give
Julius Peppers
a contract worth a maximum of $30 million over three years and guaranteed him $7.5 million, which is what the
Green Bay Packers
have reportedly done. Peppers was looking at the Cowboys in part so he could be reunited with Rod Marinelli, but the Packers came in with a solid offer.
So now the Cowboys will look at Allen, who has 128.5 sacks in his career.
Two questions: How far will they go in trying to sign him? How far should they go in trying to sign him?
In Ware and Peppers, the Cowboys had players they knew. Ware was a Cowboy for nine years. Peppers played for Marinelli with the
Chicago Bears
. The Cowboys only know Allen from afar.
Desperation can do funny things to teams. Are the Cowboys desperate for a pass rusher now? Would they pay him the Peppers' deal or something close to it?
The model I had been working off on what the Cowboys would do with a veteran pass rusher was based off what
Osi Umenyiora
,
Dwight Freeney
and
John Abraham
got from the
Atlanta Falcons
,
San Diego Chargers
and
Arizona Cardinals
.
Freeney got a two-year deal worth $8.75 million. Umenyiora got two years and $8.5 million. Abraham got two years at a max value of $6 million. Abraham had 11.5 sacks last year. Umenyiora had 7.5. Freeney had a half sack but played in only four games.
If the Cowboys can get Allen, who turns 32 in April, at their price, that would be a good move. He has had at least 11 sacks in seven straight seasons, but he was fairly pedestrian against the Cowboys last season.
If the Cowboys are forced to sign Allen at a big price, then they should have kept Ware or made a larger play for Peppers. It is always better to sign a player you know than a player you don't.
The Cowboys did not let Ware go and not make a harder for Peppers because of a lack of cap space. They can sign anybody they want and make it work against the cap. They let Ware go and did not make a play for Peppers because they weren't willing to exceed the price they set.
Can they maintain their discipline?
February, 17, 2014
Feb 17
3:45
PM ET
This was not supposed to be
Brian Orakpo
Day on the blog, but that's what it turned into. Not only is there discussion about whether or not he should receive the franchise tag, but now you have to wonder about the impact of Terrell Suggs' deal on Orakpo's next contract.
Orakpo
Suggs has the impressive career numbers and was the AFC Defensive Player of the Year in 2011. Orakpo has not come close to that sort of honor (it took Suggs nine years to reach that point). Suggs has played on defenses that are much better than any Orakpo has been on, which perhaps has given him more chances to rush the passer.
But there's a difference between the two and it's why Orakpo likely won't have to settle for a similar deal.
Suggs will turn 32 during the season and exiting his prime; Orakpo will be 28 next season, still in his prime (though it's always better to catch players at the beginning of their prime, not midway through it).
That's why the Ravens could reduce his salary Monday, taking him from a contract that would have resulted in a $12.4 million cap hit to $7.4 million. But he was able to receive an extension plus $16 million in guaranteed cash; that's not bad. So, in essence, he's getting $8 million per year the next two seasons. It's better than the deals received by 30-something pass-rushers
Dwight Freeney
and
John Abraham
a year ago, giving Suggs a good reason to take this deal. I'm guessing Orakpo will probably get a deal that averages around $10 million a year, just because he has a couple more years left in his prime.
And here's what ESPN.com's Ravens reporter Jamison Hensley, who has covered the team a long time,
wrote about the deal
: "There is some risk involved in extending Suggs. His game has been in decline the past two seasons. He missed half of the 2012 season after tearing his Achilles tendon and he picked up weight in the second half of the 2013 season, which led to one sack in his final eight games and a reduced number of snaps. But, considering what the Ravens have to address in the draft and free agency, they didn't have the luxury to spend money in free agency or use a draft pick on a pass-rusher this offseason."
The
linebacker it probably impacts more is Dallas'
DeMarcus Ware
, who is at a similar age and, like Suggs, was under contract.
Orakpo is coming off a strong finish -- seven sacks in his last seven games -- and had no issues with the torn pectoral muscle that sidelined him for 14 regular-season games in 2012. He's the best available pass rushing outside linebacker scheduled to hit the open market -- how good remains up for debate. I don't view him as elite, but rather as an above average player. Last offseason
Paul Kruger
received a deal that averaged $8 million per year in Cleveland with $20 million guaranteed (the number that matters most). Orakpo is better.
The demand for pass rushers hasn't lessened. In fact, while Seattle's secondary received a ton of attention (by myself included), it's the Seahawks' pass rush that allowed them to play a certain way.
It's hard to imagine that Orakpo won't benefit from his first foray into free agency, even after Suggs' deal. Their situations are different.
January, 21, 2014
Jan 21
11:30
AM ET
IRVING, Texas -- Free
DeMarcus Ware
?
Sounds strange, doesn't it? For all of the Pro Bowls, for all of the sacks, for all of the goodwill he earned in his first eight seasons, one poor season has Ware in the cross hairs.
He is on the wrong side of 30. He missed the first three games of his career. He had a career-low 40 tackles. More importantly he had a career-low six sacks.
[+] Enlarge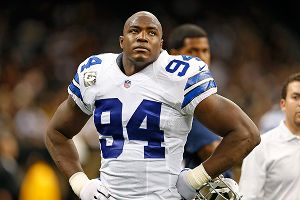 AP Photo/James D. SmithThe Cowboys' DeMarcus Ware had just six sacks in 2013 and turns 32 in July.
With the Cowboys needing to clear salary-cap space, Ware, who is set to count $16.003 million against the 2014 cap, is one of the obvious targets for creating that room. The question is how they do it. The Cowboys can simply cut him and save $7.4 million in space. They can have him take a pay cut but offer a way to earn back some of that money through incentives. They can restructure his contract like they have the last few years.
Cutting him sounds the easiest but then you have to ask who would replace him? If you think he's done, then that's an easy question. But Ware dominated
Tyron Smith
every day in Oxnard, Calif. He had four sacks in his first three games before stinger, back and quadriceps injuries took their toll. The Cowboys do not have somebody who can roll out of bed and get six sacks let alone the nearly 14 a year he put up on average in his first eight seasons.
Ware already said he would not take a pay cut, amending his feelings a day after the season-ending loss to the
Philadelphia Eagles
. Offering incentives could be a last resort type of move. Ware and his agent would have to see what kind of market would be out there for a defensive end coming off a down season and turns 32 in July.
Osi Umenyiora
signed a two-year, $8.5 million deal with the
Atlanta Falcons
last year with $5 million guaranteed. He had 7.5 sacks in 2013.
John Abraham
signed a two-year, $4.6 million deal with the
Arizona Cardinals
that included a $1 million signing bonus. He had 11.5 sacks.
Restructuring Ware's contract again would add to his already large cap figures in 2015-17. The last two years of the deal will void if he is on the roster 23 days before the 2016 league year begins. If the Cowboys restructure Ware's deal, then they could save close to $9 million against the cap but add $2.82 million to his cap number in the final three years.
Is it worth it? It might be. For the sake of this argument, let's say the Cowboys choose this route again. They can cut him after the 2014 season and save roughly $6.5 million against the cap. If they would rather make him a June 1, 2015 cut, then they could save about $14 million against the cap with $7.7 million in dead money carrying over to the 2016 cap.
Finding pass-rushers is difficult. The Cowboys have not exactly been adept at finding anybody but Ware.
Anthony Spencer
was a first-round pick in 2007 and had one double-digit sack season.
Greg Ellis
was a first-rounder in 1998 and he did not max out until Ware arrived.
Bobby Carpenter
, drafted in the first round in 2006 to play outside linebacker opposite Ware, did not pan out.
The chances of
Jason Hatcher
, who led the Cowboys with 11 sacks in 2013, re-signing are slim. Spencer's price tag will be low because of a knee injury that cost him all but one game last season but is he damaged goods? Can you bank on another seven sack season from
George Selvie
? Can
Tyrone Crawford
come back from his Achilles tear?
There is no doubt that the Cowboys would be taking a gamble by restructuring Ware's contract and pushing more money into the future.
It would be more of a gamble to not have Ware at all.
November, 29, 2013
11/29/13
12:00
PM ET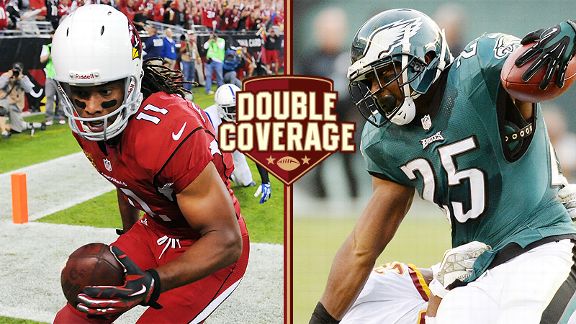 Getty ImagesLarry Fitzgerald and LeSean McCoy will look to keep their teams streaking on Sunday.
Bruce Arians and Chip Kelly come at their news jobs from very different places.
Kelly was the hot college head coach of the moment, hired by Eagles owner Jeffrey Lurie to replace the institution that was Andy Reid. Arians was a college head coach, too, at Temple back in the 1980s. He got his job with the
Arizona Cardinals
, though, based upon years as an often-overlooked NFL assistant.
And now here they are. Arians' Cardinals are 7-4 with a four-game winning streak, while Kelly's Eagles are 6-5 after a three-game winning streak. Their teams meet at Lincoln Financial Field Sunday in a game with major NFC playoff implications.
ESPN.com reporters Josh Weinfuss, who covers the Cardinals, and Phil Sheridan, who covers the Eagles, take a closer look at the matchup.
Phil Sheridan:
Bruce Arians is best known in Philadelphia as one of the rare coaches to survive a stint at Temple University. Nationally, he's known for winning the Coach of the Year Award after filling in for Chuck Pagano last year in Indianapolis. How has he conducted business and how much of this four-game winning streak results from that?
Josh Weinfuss:
I think all of it. Arians is the ultimate players coach and from everything I've heard about him from former players and current Cardinals who were with him in other places, he hasn't changed a bit. He'll tell the players like it is and if they can't handle it, they have to figure out a way to deal with it. He's not big on the sugarcoating, and the players appreciate it. As a head coach, he's taken a little bit from each of the coaches he worked for and put it into play in Arizona. He's learned how to delegate and put together a staff that complements him very well. On top of it all, he's an offensive genius who stayed patient with this team while they learned his scheme, and it's paying off.
On the topic of schemes, is Kelly's high-octane offense here to stay or will he need to adapt as the season progresses?
Sheridan:
Probably a little of both. Kelly already has adjusted to some degree. The foundation of his approach seems to be figuring out how a defense is designed to stop his offense and then exploiting whatever weaknesses and mismatches created by that design. When teams played man coverage and pressed to eliminate his bubble screens, Kelly shrugged and started throwing deep. When the Giants and Cowboys found a weakness in his run-blocking scheme, Kelly adjusted and got
LeSean McCoy
back on track. Kelly seems to enjoy the cat-and-mouse game with opposing coaches. That said, the foundations of what he does -- creating mismatches and exploiting weaknesses -- are as old as football. He just has some intriguing ways of getting there.
While we're on that side of the ball, how has Todd Bowles been able to win the hearts and minds of a defense that thrived under former coordinator Ray Horton? And how important is having
Karlos Dansby
back in the fold?
Weinfuss:
Bowles made one minor change up front and he's been the glimmer in the defensive line's eyes ever since. He went from a multi-gap system to a one-gap scheme, which has taken out the thinking from football. Now, the Cardinals front line can just rear back and go, and the changes are obvious.
Darnell Dockett
is having his best season in a while,
Calais Campbell
has emerged as one of the toughest defensive ends in the league and nose tackle
Dan Williams
has plugged the holes in the middle, forcing plays out to the edges -- and right into the hands of guys like
John Abraham
,
Matt Shaughnessy
,
Daryl Washington
and, of course, Dansby. He's playing at the lowest weight of his career and he's been able to fly around, going from sideline to sideline with relative ease for a guy who's been in this league for 10 years. While everything for the Cardinals' defense starts up front, each level has been benefiting from the line's presence.
Let's stay on defense. The Eagles have the worst pass defense in the league. How can they muster enough plays to slow the Cardinals' recently high-flying passing game under
Carson Palmer
?
Sheridan:
Josh, that could be the question that determines the outcome of this game. The only answer I have is that, somehow, that's just what the Eagles' defense has been doing in the seven games since
Peyton Manning
hung 52 points on them. They give up a lot of yards, but they haven't given up more than 21 points in a game since then. They've been good in the red zone and have started generating pressure and, in turn, turnovers. Palmer provides a very good measuring stick. The Eagles have thrived against the
Mike Glennon
s and
Scott Tolzien
s of the world, although in fairness they played well against
Eli Manning
and
Tony Romo
, too. But Palmer and that
Larry Fitzgerald
fellow definitely represent the kind of test the Eagles must pass before being considered a good defense.
Speaking of Palmer, the NFC Offensive Player of the Week, there seems to be a Kurt Warner vibe at work here -- veteran guy getting one more shot to prove he still has it. Warner did -- does Palmer? What's the ceiling on the offense with him at the helm?
Weinfuss:
All the evidence from the past four games points to yes -- Palmer does have a Warner-esque resurgence in him, but that's only because the Cardinals' offense is finally working. If it was still struggling, we'd be talking about Palmer being replaced either now or after the season. Crazy how that works. Palmer is the perfect quarterback for a Bruce Arians scheme. He has a big arm and can make throws on a dime. And those two things will carry this offense as far as it can until Palmer makes bad decisions. Even though the bad decisions have been cut down during the Cards' four-game winning streak, it would be na´ve of anybody to think they're totally done with. Arizona is just getting lucky. Twice against the Colts, Palmer had probable interceptions dropped, and against Jacksonville two weeks ago, a well-timed timeout by Arians saved Palmer from a potentially costly interception. If Palmer can take chances without making ill-advised throws, the ceiling is quite high, especially with the depth at receiver, tight end and running back.
A lot of University of Arizona fans out this way are loving the fact that
Nick Foles
is starting and playing well. Is he Mr. Right for the Eagles in Kelly's offense or Mr. Right Now?
Sheridan:
That's the question that will haunt the Eagles through the offseason. Foles has had some of the luck you described Palmer having. That seven-touchdown game against Oakland was partly the product of some of the worst defensive football I've ever seen (and I watched
Nnamdi Asomugha
jog through two years here). But Foles is smart, he's accurate and you can see him gaining confidence and comfort with every game. Clearly, he is not the quarterback Chip Kelly would order from the factory. But as he continues having success and winning games, you have to wonder how far Kelly is willing to tailor his offense to Foles for the long haul. It's the decision that will define the Kelly era, at least for the next few years. My gut says Foles is a good NFL quarterback, but Kelly will make a move to find his guy at the earliest possible convenience. If Foles keeps this up, though, my gut might be proven wrong.
June, 6, 2013
6/06/13
8:00
AM ET
Good morning. I'm gonna head on back down the highway today to the final day of Eagles minicamp, listen to some loud music, watch some quarterbacks throw some three-yard dump passes, maybe grab a cheesesteak. I'll keep you posted on how it goes. Meantime, enjoy these links.
Washington Redskins
Just because the Redskins went out and added to their cornerback depth in free agency and the draft doesn't mean 2012 seventh-round pick
Richard Crawford
can't make a contribution to the secondary. Crawford is happy the team wanted to get better at the position, but he still believes he can be
part of the solution
.
And yes,
this is really a story
about Redskins running back
Alfred Morris
coming upon some fans who were playing paintball and joining in. And yes, if you've ever met Alfred Morris, this story is completely believable. They don't come a lot more down-to-earth than this guy.
Dallas Cowboys
Sean Lee
may or may not get a contract extension some time before the start of the regular season. But regardless, Lee says
he'd love to stay in Dallas
long-term and isn't worrying too much about the timing of a new deal. I would think Lee would want to show his stuff for a full 16 games before negotiating.
The Landry Hat offers a
detailed look
at the Cowboys' new defense, discussing the single high safety and the LEO position and how the Dallas defense this year might look at lot like what they run in Seattle.
New York Giants
Antrel Rolle
says he's not eager to see a fully healthy
Robert Griffin III
back on the field. He also said some
odd-sounding things
about the Cowboys that people ran with, since it's the Cowboys and everything is drama, and Rolle found himself having to try to explain what he meant on Twitter.
Here's one vote
for the Giants to sign pass-rusher
John Abraham
in the wake of the news of
Jason Pierre-Paul
's back surgery. I don't know. If Pierre-Paul were certain to miss a couple of months, I could see it. But if they really think he can be back by Week 1 or soon thereafter, then I don't see why they'd be more interested in Abraham now than they were three days ago. Feels more like a Yankees move than a Giants one, to tell you the truth.
Philadelphia Eagles
Jason Peters
is sick of talking about his recovery from last year's Achilles injuries because, he says, he's practicing every day and that's the answer to all of the questions. He still considers himself the league's best offensive lineman and says that if he can't return to that level,
he'll just retire
. The man likes to be definitive.
Paul Domowitch
looks at the economics
of the Eagles' starting quarterback competition and thinks the Eagles might be rooting for
Nick Foles
or
Matt Barkley
to win it because of the money they could then save on
Michael Vick
this year and next.
May, 29, 2013
5/29/13
8:00
AM ET
Three and a half hours to drive 110 miles home from Philadelphia last night in the rain.
Three and a half!!!
And you guys wonder why I prefer to work from home? Links.
New York Giants
Could the Giants make a run at unsigned veteran pass-rusher John Abraham?
Ed Valentine doesn't see it.
The money line: "If the Giants wanted to overpay for a one-dimensional pass-rush specialist they would have simply caved in to the big-money demands of Osi Umenyiora and kept him." Yup. At this point, if there's a leftover free agent hanging around and the Giants haven't signed him, you're safe to assume they're not interested.
Asked about the crowd the Giants have at defensive tackle, Mike Eisen correctly answers that there's
no such thing as too much
at a position where the Giants (and most teams) understand the need to rotate players often.
Philadelphia Eagles
Cornerback Cary Williams missed a month of the Eagles' offseason program for a variety of reasons but is
not concerned about being behind
. I'm sure there's plenty of the new stuff on which it's important for the defensive backs to get up to speed, but my sense is there's not as much change for them as there is for the front seven guys or anyone on offense.
Kenny Phillips said the reason he missed practice wasn't a setback with his knee but rather
caution
because Tuesday's practice was on a wet field and he didn't want to risk the work he's doing to get the knee stronger. Phillips' knee is obviously an issue, and the main reason he's no longer on the Giants.
Washington Redskins
It's possible that one of two newly signed veterans, Tony Pashos or Jeremy Trueblood, could overtake returning starting Tyler Polumbus for the Redskins' starting right tackle job. But the pair has
a lot of catching up to do
.
So far, Rich Tandler says, Brian Orakpo would appear to rank
low on the list
of Redskins injury concerns. Sounds as though Orakpo has looked pretty good.
Dallas Cowboys
The other day, Jerry Jones said Jason Garrett was not coaching for his job this year, which is what owners always say about coaches. Tuesday,
Garrett said
everyone is always coaching for (or playing for) his job, which is what coaches always say. The good news is that May is almost over. The bad news is that the season doesn't start until September.
DeMarco Murray says he
plans to play all 16 games
in 2013. I'll say this: If he does play all 16 regular-season games, I like the Cowboys' chances of playing at least 17 games.
March, 21, 2013
3/21/13
8:00
AM ET
Back home in chilly New Jersey after a fine few days in the warm Arizona sunshine. And yes, the links are in a different order. As someone pointed out in the chat the other day, we were only planning to do 2012 standings order until the start of the new league year. So from now until we've had at least one 2013 regular-season game played in the division, we'll rotate the order. Like this.
New York Giants
Eli Manning
says he'd be
willing to restructure
his contract if it helped the team work out a long-term deal with
Victor Cruz
. It's a nice sentiment, since Manning's cap number this year is $20.85 million. The problem is that his cap number is right around $20 million in each of the next two years, too, and it's hard to see the Giants wanting to add to that.
Free-agent defensive end
Osi Umenyiora
is
drawing interest
from the
Atlanta Falcons
, who could use them as their
John Abraham
replacement.
Philadelphia Eagles
Chip Kelly says he
doesn't think it's impossible
for an NFL team to succeed without a franchise quarterback. This is what NFL coaches say when they do not have a franchise quarterback. Someday, perhaps, Kelly will have one, and he will likely speak of this time as difficult for that lack.
Kelly also said he believes he'll have left tackle
Jason Peters
healthy for the
start of the team's offseason program
in April. Peters missed the 2012 season after rupturing his Achilles tendon twice last summer.
Washington Redskins
It looks as though Redskins linebacker
Rob Jackson
is going to
miss the first four games
of the 2013 season on a drug suspension. Disappointing news for a linebacking corps that has already lost reserve
Lorenzo Alexander
to free agency.
With the team struggling to maneuver around a tight salary cap, it was somewhat surprising that veteran wide receiver
Santana Moss
was not among the cuts. Mike Shanahan explained Wednesday
what went into the decision
to bring Moss back for another year instead of pocket the savings.
Dallas Cowboys
People make all kinds of cracks when we write about the contract extension
Tony Romo
is about to get from the Cowboys. But
Jean-Jacques Taylor writes
that having to replace Romo wouldn't be as enjoyable an experience as some Cowboys fans sometimes seem to think.
As he enters his third full season as their head coach, Jason Garrett says it finally feels as though the Cowboys have his stamp on them
from top to bottom.
March, 22, 2011
3/22/11
6:12
PM ET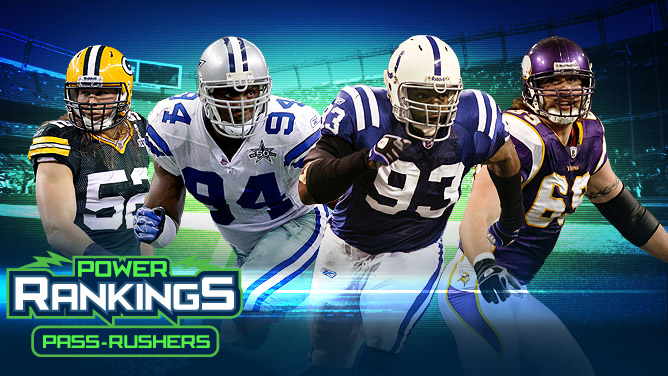 ESPN.com IllustrationDeMarcus Ware (94) was the clear choice for the top spot when our writers ranked the best pass-rushers in the game.
ESPN.com's NFL writers rank the top 10 pass-rushers in the league today. Next week: Top 10 tight ends.
ESPN.com's panel of power rankers had no trouble identifying the best pass-rusher in football. The rest of our Top 10 list? It was easily the most difficult to compile so far in what will be a 10-week project.
Dallas Cowboys
linebacker
DeMarcus Ware
received seven of eight first-place votes. AFC South blogger Paul Kuharsky ranked him No. 2, putting
Indianapolis Colts
defensive end
Dwight Freeney
at the top of his ballot. Overall, a total of 17 players received votes, and the crowd was dense enough to exclude established veterans such as
Houston Texans
defensive end
Mario Williams
,
New York Giants
defensive end
Justin Tuck
,
Baltimore Ravens
linebacker
Terrell Suggs
and Colts defensive end
Robert Mathis
.
The category was tough, explained NFC West blogger Mike Sando, because "sack numbers tend to fluctuate from year to year and it's tougher to know which pass-rushers are truly the best. I think the proliferation of 3-4 defenses also made this a tougher call. We weren't evaluating defensive ends exclusively. We were also looking at 3-4 outside linebackers. That deepened the pool while forcing us to compare players at more than one position."
Ware, for one, wasn't a difficult choice -- as long as sacks are the primary statistical representation of pass rushing. Ware led the NFL in sacks last season with 15.5, and he has also had more combined sacks over the past two, three and five seasons combined than any other NFL player. At 28, he would seem to have several ultra-productive seasons remaining in his career.
Beyond Ware, however, the debate was fierce. The
Green Bay Packers
'
Clay Matthews
received the second-most votes (61), but there wasn't much separating him from Freeney (58) or
Minnesota Vikings
defensive end
Jared Allen
(52).
[+] Enlarge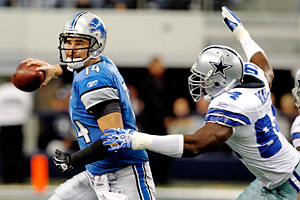 Tom Pennington/Getty ImagesDeMarcus Ware had 15.5 sacks last season and has 80 sacks in six seasons in the NFL.
Kuharsky's familiarity with Freeney gave him a unique perspective.
"I've had coaches and scouts I trust tell me, repeatedly, that Freeney is the best pure pass-rusher in the league," Kuharsky said. "They say he's the guy they'd want if they could have anyone and the most difficult guy to stop because of the way he plots out his game. That's stuck with me and was a big factor for me as I put together my ballot."
From an NFC North perspective, I think it's interesting that Ware is the only NFL player who has recorded more sacks than Allen over the past five seasons. Allen's total of 11.0 last season was his low-water mark over the last four seasons, however, and the explicit instructions for voters were to base judgments on what we can expect for the 2011 season.
Given a choice between Allen, Matthews or Freeney in building a Super Bowl team for 2011, whom would you choose? With all due respect for Freeney (and Kuharsky, such that he deserves it) Matthews, 24, seems the right answer to me.
Matthews, Allen and
Chicago Bears
defensive end
Julius Peppers
gave the NFC North a league-high three members of this exclusive group. Peppers' all-around contributions last season earned him a spot on The Associated Press' All-Pro team, but his total of eight sacks left him ranked eighth on our list.
Illustrating the difficulty of this exercise, two voters left Peppers off their ballots entirely and a third -- AFC North blogger James Walker -- ranked him No. 10. The
Atlanta Falcons
'
John Abraham
, The Associated Press' other first-team All-Pro defensive end, ranked a composite No. 7.
NFC South blogger Pat Yasinskas, who covers Abraham and until 2010 covered Peppers as well, ranked Peppers No. 5 and said: "I know the sack numbers can rise and fall, but he has the ability to completely take over a game at any time." Meanwhile, a younger Abraham would have ranked higher.
"He had 11 sacks last year but 5.5 the year before," Yasinskas said. "At 32, you have to at least question whether he would sustain 2010 numbers in 2011."
Finally, if you're outraged about the absence of Williams, Tuck, Suggs, Mathis, the
Philadelphia Eagles
'
Trent Cole
or even the
Denver Broncos
'
Elvis Dumervil
, you probably need to focus your ire at the inclusion of
Miami Dolphins
defensive end
Cameron Wake
. In his second NFL season, Wake exploded for 14 sacks.
Does one elite season merit inclusion on this list? Opinions varied widely among our voters. Wake was left off three ballots and voted No. 10 on three others. AFC East blogger Tim Graham, who saw more of Wake last season than any other voter, placed him No. 4.
"If we're ranking the best overall defensive ends or outside linebackers, then maybe Cameron Wake doesn't make my list," Graham said. "He's not a run-stuffer and is lacking when it comes to pass coverage. But we're rating pure pass-rushers, and that's the one thing Wake does on an elite level. He's a freakishly gifted athlete who creates havoc in the backfield.
"I also don't view Wake as a one-year wonder because he had a strong season in 2009 despite playing behind
Joey Porter
and
Jason Taylor
in most situations and under a different defensive coordinator. He should continue to thrive under Mike Nolan's guidance. I view Wake as a legitimate star who was overlooked on a mediocre team."
Your thoughts? I'm expecting them.