November, 20, 2013
11/20/13
1:10
PM ET
EAST RUTHERFORD, N.J. -- He was not listed on the pre-practice injury report, nor was he mentioned when coach Tom Coughlin ran down the list of players not practicing Wednesday due to injury. But during the portion of
New York Giants
practice that was open to the media Wednesday, wide receiver
Hakeem Nicks
was not participating. He was off to the side, riding the exercise bikes with the injured players.
It's unclear what, if anything, would keep Nicks from practicing this week, though he did say he banged knees with Green Bay cornerback
Tramon Williams
during Sunday's game. Williams was called for pass interference on that play, and Nicks sat out a few plays afterward, including the one on which his replacement,
Louis Murphy
, ran the wrong route on an interception. But Nicks returned to the game and said after that nothing was wrong.
A fresh injury mystery would be another unwelcome twist in a very disappointing season for Nicks, who's eligible for unrestricted free agency after this season. He has not caught a touchdown pass all year and has seen his productivity decline and stagnate since a promising season opener in Dallas. After the play in question Sunday, he appeared to sit and sulk on the sideline until teammates
Brandon Jacobs
and
Andre Brown
went over to pick up his spirits. He, other Giants players and Coughlin have declined to explain what that was about. But obviously, if he's going to start missing practice time now, the questions aren't going to stop.
Also missing practice Wednesday were fullback
John Conner
and cornerback
Trumaine McBride
with hip flexors, Jacobs with a knee injury, defensive end
Jason Pierre-Paul
with the same shoulder injury that caused him to miss two practices last week, and cornerback
Terrell Thomas
, who gets a day every week to rest his surgically repaired knee. Coughlin said cornerback
Corey Webster
, who has missed almost this whole season so far with groin and ankle problems, might do some individual work Wednesday.
October, 22, 2013
10/22/13
10:00
AM ET
Little bit of slim pickings here on this. Monday night's game was horribly played by both teams, as you've no doubt heard. The "drive" on which the
New York Giants
took control was a two-play, three-yard job in the third quarter after the Vikings fumbled a punt. So for the Drive of the Game, we go back to the second quarter, with the Giants trailing 7-3 having given up their third punt-return touchdown of the year and still wondering if they'd ever get to win and feel good about themselves again.
With 13:07 left in the first half, the Giants got the ball at their own 18-yard line.
Eli Manning
hit fullback
John Conner
for a seven-yard pass to start it. Two plays later, a 12-yarder to
Victor Cruz
converted a third down (something the Giants hadn't done at all in their first five games but have done better in the last two). Manning hit Cruz again on the next play for 11 to get them near midfield, and a couple of so-so run plays set up a third-and five from the Vikings' 47.
Manning then aired one out to struggling wide receiver
Hakeem Nicks
, who could not come down with the ball but did draw a pass interference penalty against Vikings safety
Xavier Rhodes
. That moved the ball to the 24-yard line, and on the next play Manning threw it toward
Rueben Randle
in the corner of the end zone.
Now, Randle was "covered" on the play by Vikings cornerback
Chris Cook
. And the ball was underthrown, to an extent that would have allowed Cook to intercept it or knock it down if he'd seen it. But Randle saw it first, leaped in the air behind Cook and reached down to pluck the ball out from in front of Cook's face. Great play by Randle, saving Manning from an interception and giving the Giants a 10-7 lead they would never relinquish.
October, 21, 2013
10/21/13
7:30
PM ET
EAST RUTHERFORD, N.J. -- Eleven days after rushing for 106 yards in a loss to the Bears,
New York Giants
running back
Brandon Jacobs
is inactive for Monday night's game against the Vikings due to a hamstring injury. That means rookie
Michael Cox
, who was the second-to-last pick in this year's draft and has not had a carry yet this season, will be the starting running back for the Giants on Monday. Newly signed veteran
Peyton Hillis
and fullback
John Conner
are the only other two active running backs for the Giants, who have lost
David Wilson
,
Andre Brown
and
Da'Rel Scott
to injury so far this season and are 31st in the NFL in rushing yards per game.
In other player-eligibility news, cornerback
Corey Webster
is active for the first time since Week 2. He's been out with a groin injury, and he may not be all the way healthy yet, as the team lists
Trumaine McBride
as a starting cornerback and Webster as a reserve for this game. Center
David Baas
is active for the first time since he injured his neck in a Week 3 loss in Carolina, and he is starting at center.
Jacobs missed practice Saturday with the hamstring injury and couldn't recover in time for the game. Cox, who has contributed on special teams but hasn't yet contributed as a running back, was coming along in practice and apparently has shown enough to earn the coaches' trust as the Giants continue to look for their first victory of the season. It remains to be seen how the carries will break down between him and Hillis, and what the Giants will do with their running backs on third downs and in pass-protection situations. But when they list a guy as the starter, he tends to be the one who gets the most work. (Unless he does something crazy like fumble twice in the season opener against the Cowboys.)
Defensive tackle
Johnathan Hankins
, who was active for the last two games, is inactive as he was for the first four games of the season. The Giants are deep with veterans at defensive tackle, and when all of the defensive linemen have been fully healthy this year, Hankins has been the odd man out. He played very well against the Eagles in Week 5, a little bit less well against the Bears in Week 6, and while the Giants like him and wouldn't hesitate to use him, they believe guys like
Mike Patterson
and
Shaun Rogers
are better bench options for them at that position at this time.
Also inactive for the Giants besides Jacobs, Wilson and Hankins are quarterback
Ryan Nassib
, tight end
Adrien Robinson
, safety
Cooper Taylor
and cornerback
Jayron Hosley
. Of those, Nassib (who is the third quarterback and has been inactive for every game) is the only one who has not been dealing with an injury of some sort.
October, 20, 2013
10/20/13
10:18
AM ET
The
New York Giants
signed veteran running back
Peyton Hillis
last week for depth. But the way they've been losing running backs this season, it's no surprise that Hillis might find himself in position to play a more significant role in Monday night's game against the Minnesota Vikings than initially thought.
Brandon Jacobs
, who ran for 106 yards on 22 carries in the 0-6 Giants' most recent loss nine days ago in Chicago, missed practice Saturday with a hamstring injury and is listed as questionable for the game. The "questionable" designation technically means a 50-50 chance to play, but the fact that Jacobs didn't practice represents a setback. When the Giants held him out of practice on Monday, they said it was a precaution, and their plan was to have him practice for the rest of the week. That plan changed, and now we're left to wonder whether Jacobs will play at all and, if so, how much they can expect from him.

Jacobs
Hillis
With starter
David Wilson
out with a neck injury,
Andre Brown
ineligible to return from his leg injury until Week 10,
Da'Rel Scott
released thanks to his own hamstring injury and rookie seventh-round pick
Michael Cox
likely still not ready to contribute much on offense, it's the new guy, Hillis, who could get the ball on early downs if they don't have Jacobs or if they have to limit him.
The Giants would feel at least some level of comfort with Hillis, even though his first practice with them was a mere three days ago. He is a veteran who's had success in the league, rushing for 1,177 yards and 11 touchdowns as Cleveland's starter just three years ago. He spent time earlier this season in Tampa Bay, where former Giants assistant Mike Sullivan is the offensive coordinator, so they believe he knows their offense and its terminology. He has the size (6-foot-2, 250 pounds) they look for in their running backs, and he's known to have great hands as a receiver out of the backfield. Tom Coughlin specifically mentioned that he caught the ball well in Tuesday's workout for the team.
Add in
John Conner
, who looked in Chicago like the kind of blocking fullback the Giants need to run their power running game with regular fullback
Henry Hynoski
also out for the season (man, they've lost a lot of backs!), and the Giants feel they have a recipe to run the ball effectively with Jacobs, Hillis or some combination of the two. The big questions about Hillis over the past couple of years have been about durability, but when we spoke with him last week, he seemed eager for the opportunity. I imagine he'd be able to tough out at least this first game.
The most important part of a Giants running back's job is pass protection, and the extent to which Hillis showed in practice Thursday, Friday and Saturday that he could handle the protection schemes could determine how many carries he gets. If Jacobs is hurt and they don't trust Hillis to pick up blitzes, they have an issue. Conner could be used in blitz pickup in a case like that, but that's an imperfect solution that would lead to an unbalanced, pass-heavy game plan. I don't think that's a bad way to go against the Minnesota secondary. The Vikings have seven interceptions this year, and only two are by a defensive back. And that defensive back,
Harrison Smith
, was placed on injured reserve last week. The Giants should be able to throw on the Vikings and would be wise to try it -- assuming, of course, that their protection can hold up.
With Jacobs banged up, newcomer Hillis on Monday night could find himself a bigger part of that -- and of the running game itself -- than anyone could have imagined a week ago.
October, 17, 2013
10/17/13
4:30
PM ET
EAST RUTHERFORD, N.J. -- It's hard to believe
Peyton Hillis
expected the
New York Giants
to call. When he was sitting around earlier this year wondering who'd give him his next shot, the veteran running back wasn't thinking about a team that had a 2012 first-round pick,
David Wilson
, as its starter and a guy it liked in
Andre Brown
listed as Wilson's co-starter. But Hillis says he makes it a point not to be surprised.
"In my career, I've found that anything can happen," Hillis said. "I'm assuming that here they didn't expect to be 0-6 either."
Hillis
They are, of course, and running-back injuries have been one of the major storylines in the Giants' lost season. So they signed Hillis on Wednesday to see if he can help.
Brandon Jacobs
rushed for 106 yards on 22 carries in last week's loss to Chicago, but they're thin at the position and think Hillis can add depth and maybe even contribute as a starter at some point if not right away.
"He's a bigger back. He caught the ball very well in the workout. He's a veteran football player," Giants coach Tom Coughlin said. "We know he can handle the first-down and second-down stuff, and hopefully he won't be too hard-pressed to pick up the third-down stuff as well."
Coughlin mentioned that Hillis knew the Giants' offense and its terminology because earlier this year he was in Tampa Bay, where former Giants assistant coach Mike Sullivan is the offensive coordinator. But what he said about the "third-down stuff" is likely code for pass protection, an area in which Giants running backs have struggled significantly this season.
Hillis rushed for 1,177 yards and 11 touchdowns in 2010 as the lead back for the
Cleveland Browns
. Injuries hampered him the following year, and he signed with the Chiefs for the 2012 season. He said he believes the Chiefs signed him as insurance for a
Jamaal Charles
injury that never happened, and that being stuck behind Charles last year and the Buccaneers'
Doug Martin
earlier this season deprived him of an opportunity to show that he can still play. At age 27, he believes he has that opportunity now with the Giants.
"I think that, as soon as I get the playbook down, they'll let me play," Hillis said. "And I'm really looking forward to it, because I think I can help this team."
In the Week 6 loss to the Bears, the Giants got positive contributions from Jacobs, linebacker
Jon Beason
and fullback
John Conner
, each of whom is an in-season addition. Conner's presence as a blocking fullback in place of the injured
Henry Hynoski
should be a benefit to Hillis, Jacobs or whichever back carries the ball for the Giants on Monday.
October, 11, 2013
10/11/13
12:00
PM ET
CHICAGO -- An examination of four hot issues from the
New York Giants
'
27-21 loss
to the
Chicago Bears
:
Eli Manning and Rueben Randle:
The thing with Randle is weird. Of Manning's 15 interceptions this year, six have come on throws targeted for Randle. Their inability to get in sync was part of the problem on each of the first two interceptions Thursday night. On the second, Randle said he thought Bears cornerback
Tim Jennings
jumped the route, so he kept running. Manning didn't see that, however, and threw short, where he expected Randle to be. Later in the game, Randle could easily have been called for a fumble after he slammed the ball on the ground after falling down and costing himself a touchdown, but the officials ruled that he'd given himself up. He said he believed he'd been touched down. Randle's still a work in progress in his second year, but there's something about him Manning likes. Only
Hakeem Nicks
(eight ) saw more targets Thursday than Randle, whose five targets tied him with
Victor Cruz
for second.
[+] Enlarge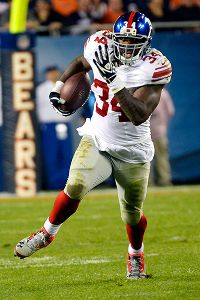 Mike DiNovo/USA TODAY SportsBrandon Jacobs was running like it was 2008, rushing for 106 yards and two scores.
Have they a run game?
With leading rusher
David Wilson
out with a neck injury, little was expected of a Giants rushing attack that came in ranked dead last in the league in yards per game. But
Brandon Jacobs
delivered his first 100-yard game since Dec. 11, 2011, plowing for big chunks of yardage behind blocking fullback
John Conner
. Some of the success can be attributed to a Chicago defensive line that's missing several starters. And if Wilson continues to miss time, it's tough to imagine Jacobs repeating or sustaining that level of success at this stage of his career. But at least the Giants have some tape now of themselves running the ball effectively. That's got to help somehow.
Uneasy Eli:
Manning's problems look pretty extensive to me. Even on some of his more successful throws, his feet are moving and he's staring down receivers, which he never used to do. It's possible the protection issues have resulted in a really uncomfortable quarterback who's off his game. But he's playing like a guy with whom something is seriously wrong. The interceptions are one thing, but where are those deep, pinpoint sideline bullets he used to throw in big spots? Right now, with Manning, you're just hoping he doesn't do something to cost the team the game.
Sack watch:
No sacks.
Mathias Kiwanuka
was credited with two hits on
Jay Cutler
, and no one else on the Giants defense was credited with even one. The Giants defense has five sacks this year. Only the Steelers, who have played two fewer games, have fewer sacks (four). The Giants have eight sacks in their past 11 games dating back to last November.
Jason Pierre-Paul
has one sack in his past 13 games. When the Giants don't get sacks, they do not have a good defense.
October, 11, 2013
10/11/13
1:45
AM ET
CHICAGO -- Dormant all year, the
New York Giants
' running game sprang surprisingly to life in Thursday night's
27-21 loss
to the Bears. Veteran running back
Brandon Jacobs
, filling in as the starter for the injured
David Wilson
, rushed for 106 yards and two touchdowns on 22 carries. As a team, the Giants had 123 rushing yards in the game, which is 43.3 percent of their league-worst total (284) from their first five games.

Jacobs
With fullback
John Conner
heavily involved for the first time as a lead blocker, and with the Bears playing with backups in place of injured starters at defensive tackle, Jacobs found room to run the middle of the Chicago defense and took advantage of it.
"I just did what was asked of me," Jacobs said. "I did what they brought me here to do -- go out and play running back for the New York Giants. I felt good out there, even though without a win it doesn't mean anything. But I told the guys before the game started I was going to give them everything I've got on every snap."
Whether or not the performance is repeatable is a complete mystery, of course. The Giants have 10 days off before their next game, a "Monday Night Football" matchup against the Vikings on Oct. 21. Wilson could theoretically be back for that, though it seems unlikely as he's getting his neck looked at by a specialist next week and could have a serious injury that keeps him out for many weeks or even the rest of the season. Running back
Da'Rel Scott
injured his hamstring late in the game and could be out several weeks as well. So it's likely the Giants will be in the market for a running back of some sort in the coming days. But what Jacobs showed them Thursday, with Conner's help, is that they do have the ability to run the ball -- something the first five games of the season definitely did not reveal.
October, 10, 2013
10/10/13
11:20
PM ET
CHICAGO -- A few thoughts on the
New York Giants
' 27-21
loss
to the
Chicago Bears
:
What it means
: The Giants are 0-6 for the first time since 1976, when they started 0-9. They did, however, do a bunch of things in this game they hadn't yet done in this lost season. They ran the ball well, racking up 123 yards on 26 carries. They converted 7 of 11 third downs, after converting only 16 of 61 in their first five games. They got defensive stops when they needed them. They kept penalties to a minimum. They avoided becoming the first team in league history to allow 30 or more points in their first six games. It was the best the Giants have looked this season by far, and they still couldn't come up with their first win.

Stock Watch
:
Brandon Jacobs
and
John Conner
,
UP
. The Giants were averaging a league-worst 56.8 rushing yards per game through their first five games, but they rushed for 56 on Thursday night in the first quarter alone. With
David Wilson
out with a neck injury, Jacobs was named the starter and had a great deal of success all night running behind the blocking of fullback Conner, who saw his first significant action since signing with the team, and against the backups the Bears were using at defensive tackle.
Playing from behind
: This was obviously far from the Giants' worst game of this miserable season, but turnovers did hurt them again as they have all year.
Eli Manning
threw interceptions on each of the Giants' first two possessions. The first didn't end up costing them, since the Bears inexplicably went for it on fourth-and-2 instead of kicking a short field goal, but the second was returned for a touchdown that put the Giants in a 7-0 hole. And the third, which came with two minutes left in the game and the Giants driving in Chicago territory down just six points, iced it for the Bears. The interceptions raised Manning's league-leading total to 15 and the Giants' league-leading turnover total to 23. No other team in the league has more than 12.
What's next
: The Giants get 10 days off before their next game, which is Oct. 21 on "Monday Night Football" against the
Minnesota Vikings
at MetLife Stadium. Because they played the early game in Week 6 and their bye is in Week 9, the Giants will play only two games in the next 30 days.
October, 10, 2013
10/10/13
10:02
PM ET
CHICAGO -- Things started about as poorly as they could have started for the
New York Giants
against the
Chicago Bears
here at Soldier Field.
Eli Manning
threw interceptions on each of the Giants' first two possessions, raising his league-leading total to 14, and the second was run back for a touchdown by Bears cornerback
Tim Jennings
. That got the Bears out to an early 7-0 lead that could have been worse if Chicago had elected to kick an easy field goal after the first interception instead of going for it on fourth-and-2.
And yes, the Giants trail 24-14 at the half, the Bears get the ball back to start the second half and the strong likelihood is that the Giants leave here with an 0-6 record after becoming the first team in NFL history to allow 30 or more points in each of its first six games.

But.
There have been some encouraging signs. For example, with fullback
John Conner
paving the way,
Brandon Jacobs
rushed for 53 yards and a touchdown on eight carries in the first quarter alone. The Giants' first-quarter total of 56 rushing yards nearly equaled the league-worst average of 56.8 they brought into the game. The Bears are banged up at defensive tackle and seemed to be daring the Giants to run the ball, and the Giants have been able to do it. The threat of a running game has also helped Manning and the passing game, as the touchdown pass to
Rueben Randle
that tied the game at 14-14 came on play-action.
The Giants also are 4-for-6 on third downs, which is significant since the were 16-for-61 on third down for a league-worst percentage of 26.2 through the first five games.
Jon Beason
, who got the start at middle linebacker in his second game since coming over from Carolina in a trade, also showed a lot in the early going. He's the kind of physical, athletic presence the Giants' linebacking corps has lacked, and you can see why they wanted to work him in so quickly. He did get caught up on the first of
Jay Cutler
's touchdown passes to
Brandon Marshall
, following
Alshon Jeffery
and leaving Marshall open in the end zone, but that had a lot to do with a well-designed play by the Bears. Beason has looked good overall.
Still, the Giants trail by 10 on the road and have already turned the ball over twice. All is most definitely not well. As much as Manning seems to want to keep throwing to Randle, he appeared to be part of the problem on both of the interceptions.
Hakeem Nicks
still isn't separating from receivers. And of course, the dormant Giants pass rush is getting nowhere near Cutler. The Giants remain a very bad team with a ton of problems, but they have at least shown some signs of competence in the first half of this game.
March, 19, 2010
3/19/10
11:51
AM ET
By
ESPN.com staff
| ESPN.com