May, 9, 2014
May 9
12:31
AM ET
IRVING, Texas -- Forget everything you think you know about Jerry Jones.
When faced with the chance to take
Johnny Manziel
and all that the Texas A&M quarterback would have brought to the
Dallas Cowboys
, Jones opted for offensive lineman
Zack Martin
.
And to hear Jones tell it, it was not a hard decision. Till death do him part, Jones is married to
Tony Romo
.
[+] Enlarge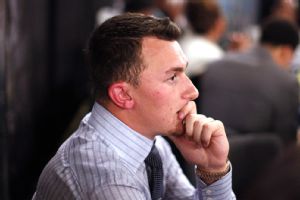 AP Photo/Jason DeCrowJohnny Manziel would have brought a bright spotlight to Dallas, but the Cowboys opted for an offensive lineman instead.
Jones said he was surprised Manziel was still available when the Cowboys picked at No. 16. He was more surprised that having Manziel available did not bring about a "bonanza" of offers to make a trade.
"Romo, by contract as well as by commitment, is going to be certainly the quarterback for several years to come," Jones said. "Don't care who we drafted, that's the way it was going to be. So that's what was going through our minds. That's why we didn't spend a lot of time considering Manziel."
It might be surprising to many. Jones has long been known for wanting a buzz around his team. Manziel would have offered more buzz than any player the Cowboys could have drafted. The marriage of Jones, the NFL's king of marketing, and Manziel, the Heisman Trophy-winning quarterback from Texas A&M, would have kept the Cowboys in the news from May through whenever Manziel took over for Romo.
"John Madden once told me when I was telling him about this idea of personalities and being involved with the
Dallas Cowboys
," Jones said. "He said, 'Jerry, the Cowboys have all the flash, have all the visibility that you could ever conjure up. Make your decisions, get the best players and coaches that win the games. You got all the rest you'd want. You don't need to have big-time flash to be involved in the NFL and be successful in the league.' I've always remembered that. No, frankly that [picking Manziel] wasn't even a thought. This was such an obvious football … decision."
Jones might not have always remembered Madden's words during his time as the Cowboys' owner, but they came to his mind on Thursday when nobody really thought they would.
In 1998, Jones passed on
Randy Moss
and took
Greg Ellis
instead. Moss tormented the Cowboys for years. Every time the Cowboys played the
Minnesota Vikings
, Ellis had to answer questions about Moss.
Coach Jason Garrett, who gets to avoid the circus that would have followed had Manziel become a Cowboy, described Martin as the right kind of guy. Martin was a four-year starter at Notre Dame. He was a two-year captain. He epitomizes Garrett's "right kind of guy" ethos.
"He's everything you want," Garrett said. "Someone referenced him as one of the safest picks in the draft. And that's a compliment, but we don't see him as safe. We see him as a damn good football player."
Manziel wasn't safe. He would have come with risk. Good and bad. Maybe he develops into a franchise quarterback, using the disappointment of slipping so far in the first round as fire the way Moss did when he fell to the Vikings.
Sixteen years after Ellis had to do it with Moss, Martin now steps into that shadow of being the guy the Cowboys took instead of Manziel.
"That's fine by me," Martin said. "I can live up to that."
December, 13, 2013
12/13/13
12:00
PM ET
ASHBURN, Va. -- John Madden called it a baloney move, that it hurts the integrity of the game and that it looks like the
Washington Redskins
have quit. All because Mike Shanahan benched
Robert Griffin
III for the final three games in favor of
Kirk Cousins
.
The Hall of Fame coach had plenty to say on Sirius XM NFL radio earlier this week. I'll repeat what he said in a minute, but Shanahan responded to the comments Thursday.
"First of all, I respect the heck out of John. I've known John for a long time and he does an unbelievable job," Shanahan said. "But unless you're really in the situation – you're in our situation – it's really hard to jump into somebody's shoes. And everybody has opinions on everything, especially when you get paid to give your opinions. But when you're here and you're the coach, you're going to do the best thing that you believe – with all the facts involved – that is the best thing for the organization. And sometimes you don't know all the things that we're evaluating."
OK, my two cents first: I don't know that it impacts the integrity of the game like Madden says, mainly because it's not as if the Redskins' offense was functioning at a high level in recent weeks. That's not to blame it all on Griffin, but he has been the quarterback during this period and he has not played well. The offense has not scored more than 17 points in their past four games. Yes, there are many reasons why. Does that mean Kirk Cousins is the answer? Maybe not. But I'd buy the integrity part more if the Redskins had been scoring a lot of points and looking sharp offensively (of course, if that were the case then I doubt we'd be having this discussion anyway).
To me the integrity part comes in any ulterior motives for this decision. If you're doing it for any reason other than you say – and we've all heard the speculation and I don't think many buy the health reason as a sole motivator because of it – then that's where you look at the integrity.
Anyway, here's Madden:
"I do know this: when the going goes tough, you don't quit. And you don't fold up. And you don't go in the other direction. I think you stay with what you believe you stay with who you are, you stay with what you are."
"We have an integrity piece here, too. You can say, 'Well they're 3-10, they're out of it, so now they can do these things.' No you can't. This is still regular-season football. Draft order, that's one small thing, but you still owe it to the people that are playing, that are still in the playoff picture. And when you can affect that and you don't affect it with an all-out performance, then I think that affects the integrity of the game."
"I mean, you know it's baloney. I like Mike Shanahan, and I'm not talking behind his back, but when you say something like that, you know that's not right –you're not going to sacrifice regular-season games. There's only 16 of them a year. You're not going to sacrifice regular-season games for an offseason program."
August, 2, 2013
8/02/13
2:00
PM ET
OXNARD, Calif. – As he sat with opposing players before they had to play against
Larry Allen
, John Madden could notice the dread.
"You didn't sleep easy the night before, hoping you get to play against Larry Allen," Madden said. "They knew it. There's no pro football player that has a fear of another guy that plays on that level, but he was so doggone strong and there wasn't much you could do against him."
Allen will be the 14th Cowboy inducted into the Pro Football Hall of Fame on Saturday, and Madden, a Hall of Famer himself, can't wait to see him in Canton, Ohio. He shares northern California ties with Allen and got to know him over the years.
Madden remembers Joe Greene praising Allen, even if Greene never played against him. He recalls the respect
Reggie White
had for Allen. And he remembers the words coaches like Mike Holmgren and George Seifert had for Allen.
Even Allen's teammates were amazed at what he could do.
"When
Nate Newton
played he came in at 300 pounds, and that was a number that you didn't want to exceed," Madden said. "I remember those days because I coached and those 300-pound guys would be 299, and Nate always fought his weight. He said he always had to be under 300 pounds and he said, 'Then this Larry Allen comes in and he weighs 330 pounds and they're all bragging about it. They never let me weigh 330 pounds, and then we got this guy and I saw him and he was a different 330 pounds than I (had) ever seen.'"
What made Allen so great?
"He had everything," Madden said. "That was the thing he had. He had strength and knew how to use it. There are a lot of guys that have strength and power and don't use it. There are other guys that don't have it and go and get beat. He was the type of guy that could use it at the line of scrimmage and use that in space. He could pull and get at defensive back downfield and he could block at the point of attack and pass protect. That's what makes a great player. You don't say he had one thing. He had everything."
Allen made offensive line play cool, and few were cooler or better than Allen, according to Madden.
"He has to rank right up there at the top," Madden said. "I think you have to go by the ones you've seen, and I've always put John Hanna up there as that guy. I had Gene Upshaw and he's a Hall of Fame guard, and I put Larry Allen right there with that group. There was never a question with me whether or not he was a Hall of Famer. He's one of the all-time great NFL players at his position, and you could make an argument that he's the best, but you'd have to wrestle some other guys for it."
April, 16, 2013
4/16/13
6:30
PM ET
Pat Summerall was famous before the whole world knew what his voice sounded like. As the kicker for the 1958
New York Giants
, he delivered a game-winning 49-yard field goal in the final two minutes of the last game of the regular season to beat the
Cleveland Browns
, 13-10. The win brought the Giants a division playoff game with the Browns a week later, which they would win to advance to the championship game that would come to be known as "The Greatest Game Ever Played." (Which they would lose, to the Baltimore Colts.)
[+] Enlarge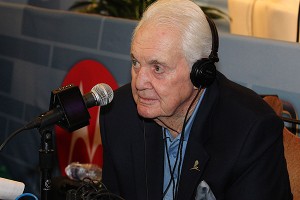 Matthew Emmons/USA TODAY SportsPat Summerall's broadcasting career spanned six decades and included a record 16 televised Super Bowl broadcasts.
Summerall was the Giants' kicker for the final four of his 10 professional seasons. But what ended up making him truly famous was that voice, which would become one of the iconic voices in sports history during a broadcasting career that spanned six decades and included a record 16 televised Super Bowl broadcasts. He lived in Dallas, which meant he called a lot of
Dallas Cowboys
(and, therefore, NFC East) games during his career with CBS and Fox. But he rose to the very top of the football broadcasting industry and became the play-by-play voice for his networks' biggest games.
He was the on-air broadcast partner of John Madden for 22 years, and it's possible that team stands as the most well-known pairing in NFL broadcast history. A generation has come to know Madden as the name of a popular football video game, but those of us who grew up watching games on Sunday afternoons in the 1980s and '90s knew Summerall's smooth baritone and Madden's gravelly exclamations as the soundtrack of the biggest game of the week, no matter which week it was.
Summerall also broadcast golf and tennis and college football along the way, because he had a voice that worked for anything and a brilliantly subtle touch for narrating the action without making himself a part of it. He was the kind of guy who could say more than almost anyone in his profession while saying as few words as possible. If you were a fan of the NFC East (or of any team in the NFL, really) during the 1980s and '90s, his was the play-by-play voice you thought of when you remembered watching the great moments of the great games in your living room on Sunday afternoons.
The Dallas Morning News reported Tuesday that
Summerall has died
at the age of 82. He had the kind of career those of us who cover sports dream of having -- omnipresent at the biggest moments and asked to deliver them to the masses as best he could. He always managed to do it as coolly and naturally as possible. Today his voice is gone, but not forgotten. For countless sports fans who recall it along with some of the great games and plays they've ever seen, that voice is not forgettable.
February, 9, 2010
2/09/10
11:21
AM ET
By
Matt Mosley
| ESPN.com
Friends and family members gathered Monday in Philadelphia to remember the great Tom Brookshier. He wasn't a native Philadelphian but he was adopted by the community during his playing days with the Eagles and subsequent broadcasting career.
Bob Ford of the Inquirer has
a moving account of Monday's memorial service
. You get the feeling that folks will be celebrating Brookshier's life for years to come.
"Two portraits flanked the altar yesterday, one of Brookshier in his No. 40 Eagles uniform, and the other, from later in life, in the business suit of a professional sportscaster," writes Ford. "He had those two lives here, but unlike some other local celebrities, whose offstage personalities doesn't match their onstage personas, there weren't two Brookshiers. Only one. Only Brookie."
Here's how former Eagles coach Dick Vermeil described Brookshier during the memorial service at Ardmore Presbyterian Church:
"A very unique piece of work," said Vermeil. "Bright, compassionate, empathetic, enthusiastic, humorous, impulsive, spontaneous, intense, tough, a never-ending source of encouragement, and a man of great integrity."
Most football fans under the age of 35 sort of assume that Pat Summerall and John Madden were always together in the broadcast booth. But those of us who started watching the NFL during the 70s know better. You never knew what might come out of Brookshier's mouth, but Summerall was there to gently rein his pal in if necessary. They were a great team -- and that's why Summerall was at the microphone again Monday.
September, 19, 2009
9/19/09
9:58
AM ET
By
Matt Mosley
| ESPN.com

Posted by ESPN.com's Matt Mosley
A lot of us expected owner Jerry Jones to close the roof at Cowboys Stadium on Sunday night in order to create more crowd noise, but he has elected to keep it open. I think one of the main reasons is that Jones wants the blimp to be able to provide shots for NBC looking down through the roof. Jones has an enormous blue star positioned on top of his scoreboard.
And for those of you who've been asking, Jones has confirmed that the Cowboys' star will be painted at midfield in time for kickoff. It was not in place for the preseason game against the Titans. We had a chance to visit with the great Al Michaels on ESPN 103.3 FM on Friday and he said the NBC cameras would be taking a little different approach on punts. Michaels said that cameras would follow the ball the entire time it's in the air in case it hits the scoreboard. On most broadcasts, you see the punter kick the ball and then the cameras pan downfield to focus on the return.
Michaels also talked about the time that Tony Romo opened up to him and John Madden about being dumped by his girlfriend in the fall of 2006. Pretty good stuff.
Here's the audio
of our interview with Michaels.
August, 22, 2009
8/22/09
1:48
AM ET
By
Matt Mosley
| ESPN.com
Posted by ESPN.com's Matt Mosley
ARLINGTON, Texas -- Cowboys owner Jerry Jones stood in the middle of a brand-new locker room late Friday evening looking like a proud parent. Jones said he woke up at 2 a.m. the morning of the first preseason game inside new Cowboys Stadium and "wasn't a bit tired."
The Cowboys beat the Titans 30-10, but the star of the game was the stadium. There was an announced crowd of 75,720, and the number appeared to be pretty accurate. Just as Jones planned about four years ago, his players entered the field by walking through a luxury suite filled with fans. The only glitch was that wide receiver Roy Williams was about 10 seconds late for his introduction.
About an hour earlier, starting inside linebacker Bradie James delivered what appeared to be the most inspiring preseason game speech in recent memory. It was obvious from the start the Cowboys had more energy than the Titans. Jones had hoped his players would be inspired by the $1.2 billion stadium, and for at least one night, that appeared to happen.
"I thought maybe this stadium would create a certain expectation and responsibility for our players," Jones said. "And if tonight's performance is any indication, that's going to happen."
The parking lots opened two hours before Friday's 7 p.m. CT kickoff. And despite heavy construction on a major highway near the new stadium, the traffic seemed bearable. The Cowboys played their first game with the roof closed, but the huge windows high above each end zone allowed natural light to pour in. Before the game, I bumped into the stadium's principal architect, Bryan Trubey, and he marveled at what Jones had accomplished.
"I've never worked with an owner who basically wanted to learn everything about what we were doing so that he could talk about it with authority," Trubey said. "It was like Jerry was going back to school."
| | |
| --- | --- |
| | |
| | Tim Heitman/US PRESSWIRE |
| | An A.J. Trapasso punt hit the bottom of the stadium's 90-foot-high video board. |
When the sun went down, the fritted glass on the outside of the stadium shimmered under 8,000-watt lighting. Inside, Marion Barber had the first carry in the stadium's history and Williams caught the first pass.
Jones seemed to enjoy the controversy surrounding a Titans punt that hit the bottom of the stadium's 90-foot high video board. A free-agent rookie out of Ohio State named A.J. Trapasso booted the ball into the board and then later criticized the Cowboys for not anticipating that scenario.
Meanwhile, Jones had a twinkle in his eye as he talked about the video board's "entertainment value." He didn't come right out and say it, but I think he'd hoped opposing punters would have to kick around the enormous board. He also seemed to imply that Trapasso was aiming for the board.
"The board is not intrusive," Jones said. "You shouldn't have any issues with this board."
And speaking of intrusive, Jones is pulling back the curtain on the media. He's set it up where fans in field-level suites can stare at reporters as they lob questions at Wade Phillips and Tony Romo.
"What y'all do is very entertaining," Jones said to a surprised group of reporters. "I want to let people be in there looking at you."
When I finally left him, Jones was talking about how he wanted to hire the "best illustrator in the nation" to break down plays on his huge video board. He compared it to how John Madden diagrammed plays on the telestrator -- but indicated that his guy would have better penmanship. Here's the last thing I heard Jones saying as I departed the locker room:
"If you can't get excited about a day like this, they need to put you in a pine box. I can use this day as a solid week."
I didn't have the heart to tell him it was just a preseason game.
February, 9, 2009
2/09/09
10:59
AM ET
By
Matt Mosley
| ESPN.com
Posted by ESPN.com's Matt Mosley
In case you missed it, the Pro Bowl was Sunday. We've taken a look at all the angles, and here's what you need to know:
November, 14, 2008
11/14/08
1:02
PM ET
By
Matt Mosley
| ESPN.com
We read all the NFC East stories to save you time while you're blowing off work. Also remember to check back at 4 p.m. ET for our award-winning Audibles. The name certainly doesn't make any sense, but we think you'll appreciate the information:
Cowboys
Eagles
Giants
Redskins
October, 21, 2008
10/21/08
5:02
PM ET
By
Matt Mosley
| ESPN.com
Posted by ESPN.com's Matt Mosley
Former Raiders and Browns personnel executive Mike Lombardi now writes for SI.com and he apparently blogs for The National Football Post. Lombardi does a nice job pulling back the curtain on the scouting industry. In this post , he explains how he graded his staff in Oakland and how the Eagles have whiffed completely on seven of their 24 second- and third-round picks.
"When you look at the names, what is most alarming is for all the talk about being cap sound and adding youth to the team, the names are not impressive, even if they do start," writes Lombardi. "The Eagles are not a talent rich team -- maybe that is why I defend McNabb so strongly. As John Madden used to say, 'having a great quarterback is a great deodorant.'"
"Finding talent is a talent -- and the Eagles have the right plan in theory, but not in practice."
Lombardi won't make many friends with the Eagles saying things like this, but you have to admit that the numbers are pretty interesting.
August, 3, 2008
8/03/08
8:56
PM ET
By
Matt Mosley
| ESPN.com
Posted by ESPN.com's Matt Mosley
What a nut that Tony Dungy is with an onside kick on the first play of the Hall of Fame game.
Colts quarterback Jim Sorgi has been given the hook after one series. Sorgi was 7-of-10 for 66 yards before turning things over to former Jaguars quarterback Quinn Gray.
Redskins have to be pleased with what they saw from seventh-round defensive end Rob Jackson, who sacked Sorgi in the first quarter. I watched Jackson in person at least twice when he was at Kansas State, and he's one of those high-motor guys that could give the Redskins some much-needed depth behind Jason Taylor and Andre Carter.
By the way, Taylor has turned his new jersey into a muscle shirt. Sort of an odd look. When the Hall of Fame class was introduced before the game, Taylor set up shop just a couple of feet behind them.
Jim Zorn has been working with Campbell on taking bigger strides and then getting lower in the pocket. So far he looks a lot less stiff than I've seen in the past.

I love seeing guys like Art Monk and Darrell Green talk about what the Hall of Fame means to them. Remind me to tell you a great Green story that Michael Irvin told me last week.

NFC EAST SCOREBOARD
Thursday, 8/21
Friday, 8/22
Saturday, 8/23