June, 6, 2010
6/06/10
6:13
PM ET
By
Matt Mosley
| ESPN.com
After hearing of the great John Wooden's death at the age of 99 Friday, I listened to all the testimonials from the folks who'd had the good fortune to know him. One of Coach Wooden's greatest admirers (from afar) was New York Giants coach Tom Coughlin, and two years ago, they spent three hours together in Los Angeles. I talked to Coughlin soon after that meeting and he sounded like a kid who'd just met one of his heroes.
I asked the Giants on Saturday if Coughlin might want to share his thoughts on Wooden's passing. Here's the e-mail I quickly received:
"There is a great sense of emptiness today," wrote Coughlin. "We all knew this day was coming, and there was nobody more prepared for it than Coach Wooden because of his devout faith in God and his love for his late wife Nell and the knowledge that he would one day be together with her again. He was a man at peace.

"Still, that sense of emptiness comes from knowing we have lost a national treasure. I was very blessed and fortunate to have had a chance to visit with Coach Wooden a couple years ago just after the league meetings in California. My wife Judy had been encouraging me for years to make a point of going to see Coach Wooden, and with the help of mutual friends, I was able to.

"I spent three hours talking, but mostly listening, to Coach Wooden. It seemed like five minutes. What I have always appreciated about his philosophy is its simplicity and that it transcended sports. He wasn't just a basketball coach, he was and is a life coach, and for that, we can all be thankful. He was the best living example of his teachings about teamwork, preparedness and humility."

Tara Sullivan of the Bergen County Record also
weighed in on Coughlin's admiration of Wooden today
. I'm not really in position to say whether Wooden was the greatest coach who ever lived, but his legacy will likely be measured in how many lives he affected.
December, 3, 2009
12/03/09
1:55
PM ET
By
Matt Mosley
| ESPN.com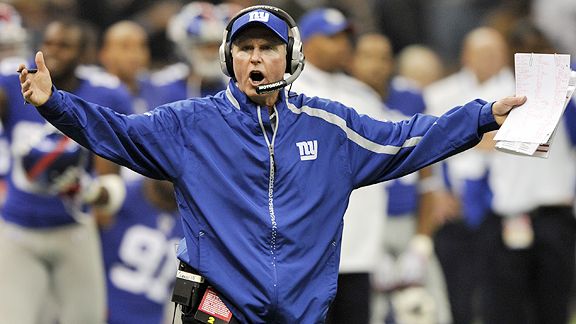 AP Photo/Bill FeigAfter a hot 5-0 start, coach Tom Coughlin's Giants have lost five of their last six games.
I never thought I'd say this, but it seems like coach Tom Coughlin has run out of motivational tools. This is a man who wakes up thinking about T-shirt slogans and his favorite John Wooden quotes, but at some point words can only take you so far.
Anyone who had a front-row seat to the Giants' Super Bowl run in '07 has a hard time completely dismissing the Giants. We tried to bury them before the '08 season based on the retirement of
Michael Strahan
, the trade of enigmatic tight end
Jeremy Shockey
and the season-ending knee injury to
Osi Umenyiora
. The Giants responded by roaring out of the gates and seemed headed for another Super Bowl before the shot heard 'round the Latin Quarter occurred.
The loss of
Plaxico Burress
and injuries along the defensive line short-circuited the season, but even the most cynical Giants fans believed that quarterback
Eli Manning
and Coughlin would right the ship in '09. And just like clockwork, a 33-31 win over the Cowboys on opening night at Jerry Jones' $1.1 billion football palace served notice that the Giants had taken their rightful spot among the league's elite.
Sure, the loss of brilliant young safety
Kenny Phillips
to a knee injury was a setback, but this is an organization that almost seemed to welcome adversity. The Giants jumped out to a 5-0 start after lopsided wins over the Bucs, Chiefs and Raiders. I think players may have been lulled into a false sense of security during those games, and of course, Manning suffered a right foot injury that may or may not have contributed to the Giants losing five of six games.
Now the Giants find themselves in an unfamiliar situation. They had already wrapped up the NFC title when they lost to a desperate Cowboys team at Texas Stadium last December. Running back
Brandon Jacobs
, who used to be the heart and soul of the offense, missed that game with an injury.
On Sunday, the Giants will be the desperate team. A loss would put them in the unenviable position of needing to run the table to even have a shot at a wild-card spot. A win over the Cowboys would put the Giants back in a position of strength. They'd have a 7-5 record with the Eagles coming to town -- and they'd also own the division tiebreaker over the Cowboys by virtue of a sweep.
But after watching this Giants team play the past six weeks, a win over the Cowboys seems like a pipe dream. Even if you dismiss the disgraceful performance on Thanksgiving to a tough turnaround, it doesn't change the fact that the Giants haven't established any traceable identity. The running game that once allowed them to dominate opponents has all but disappeared. Earth, Wind and Fire is a distant memory as Jacobs continues to struggle and
Ahmad Bradshaw
and
DJ Ware
are battling injuries.
In the '07 playoffs, a deep rotation of defensive linemen overwhelmed opponents and took down
Tom Brady
in the Super Bowl. But for whatever reason, the pass rush hasn't been there this season, allowing quarterbacks such as
Drew Brees
and
Donovan McNabb
to expose an injury-ravaged secondary.
Though he claims that his message was misinterpreted by the dastardly New York tabloids, Coughlin erred when he billed a Nov. 8 game against the Chargers as the Giants' Super Bowl. In the midst of a three-game losing streak, Coughlin issued the dreaded must-win -- and the Giants lost. It's a tactic that backfired, and that's why you don't hear Coughlin embracing the must-win questions that are coming his way this week.
"We challenge ourselves every week, and that's not lacking," Coughlin told reporters Wednesday. "I think that the players know. We point-blank spell out every circumstance for them. I think they know exactly what the circumstances are and who the divisional teams are playing. They're very well informed and they know what is at stake. We try and make sure that it is very clear to them what has to be done in order for them to win and where the circumstances lie. I expect that we will certainly understand that this week."
Coughlin would agree that at some point players have to grasp the gravity of the situation on their own. You can talk all day about losing an emotional leader such as
Antonio Pierce
or Manning's nagging foot injury, but come Sunday, the Cowboys aren't going to care about those issues.
At this point, Coughlin's tried just about everything to get his team's attention. Perhaps the prospect of having their playoff hopes buried by their hated rivals will finally do the trick.
April, 8, 2009
4/08/09
1:17
PM ET
By
Matt Mosley
| ESPN.com
Posted by ESPN.com's Matt Mosley
During the NFC coaches' breakfast at the recent owners' meeting, Giants head coach Tom Coughlin was as relaxed as I've ever seen him. Even as he was being grilled about Plaxico Burress' status, his expression never changed.
Perhaps he was looking forward to finally meeting his biggest sports hero in person the next day. Ernie Palladino of The Journal News has a fascinating blog entry about Coughlin's trip to see legendary UCLA coach John Wooden, who lives in Encino, Calif.
Coughlin was a senior at Syracuse in 1967 when Wooden began his remarkable streak of seven consecutive national championships. And since the mid '90s, Coughlin has called Wooden two or three times a year out of his admiration for the man. His office at Giants Stadium is filled with pictures and words from coach Wooden. And that's why his wife finally convinced him to go visit the 98-year-old man in person two weeks ago.
"She said, 'You've got to go see him, sit with him, talk to him, because if you don't you'll regret it for the rest of your life,'" Coughlin told Palladino.

Wooden had just returned home following a 30-day stay in the hospital for pneumonia. But that didn't prevent him from hosting Coughlin for three hours.

"He is gracious, extremely polite, sincere," Coughlin said. "He never interrupts. And he's an intent listener. You know how some people, when you're talking, they're getting their next thought ready? He's not like that. He listens to every word you say. He has a tremendous memory. He's a great story-teller.

"He has a tremendous sense of humor. He makes fun of himself. I asked him about his medication and he said, "I have no idea what's for what, nor do I know if they counteract each other.'"
Hat tip to the NYT's Fifth Down Blog for linking to this story.