April, 3, 2012
4/03/12
4:25
PM ET
So I have this idea, since everybody loves draft talk and speculation so much, to go through each team's picks and the history of players taken at those spots. It doesn't mean much, since there's no way to know if the guy your team takes in the sixth round is going to become anything or not, but I thought it'd be fun, so I'm going to do it for each of our division's four teams. We'll go in first-round order, so we'll start with the Redskins, who have seven picks.
The Redskins have the No. 2 pick in the draft, which as you might expect has produced a number of great players, including 13 Hall of Famers. But in doing this exercise, I learned that the Redskins this year also have the pick (No. 102) that produced both Johnny Unitas and Nick Buoniconti. The Redskins' second pick in this year's draft is No. 69, which is noteworthy because the Redskins likely made the best No. 69 pick of all time when they drafted Hall of Famer Russ Grimm in 1981. Enjoy.
PICK 2
(second pick of first round)
Last five players taken
2011 --
Von Miller
, LB, Broncos
2010 --
Ndamukong Suh
, DT, Lions
2009 --
Jason Smith
, T, Rams
2008 --
Chris Long
, DE, Rams
2007 --
Calvin Johnson
, WR, Lions
Redskins' history of No. 2 picks

2000 --
LaVar Arrington
1962 -- Norm Snead
1953 -- Jack Scarbath
Hall of Famers picked No. 2
Marshall Faulk
(1994),
Eric Dickerson
(1983),
Lawrence Taylor
(1981), Tony Dorsett (1977), Randy White (1975), Tom Mack (1966), Joe Namath (1965, AFL), Bob Brown (1964), Merlin Olsen (1962), Les Richter (1952), Y.A. Tittle (1951), George McAfee (1940), Sid Luckman (1939)
Other notables
Reggie Bush
(2006),
Julius Peppers
(2002),
Ryan Leaf
(1998),
Tony Mandarich
(1989),
Cornelius Bennett
(1987), Archie Manning (1971)
Last quarterback taken No. 2

1999 --
Donovan McNabb
, Eagles
PICK 69
(sixth pick, third round)
Last five players taken
2011 --
Rob Housler
, TE, Cardinals
2010 --
Jared Veldheer
, T, Raiders
2009 --
Jason Williams
, LB, Cowboys
2008 --
Jacob Hester
, FB, Chargers
2007 --
Buster Davis
, LB, Cardinals
Redskins' history of No. 69 pick
1998 --
Skip Hicks
1981 -- Russ Grimm
Hall of Famers picked No. 69
Russ Grimm (1981), Jack Christiansen (1951)
PICK 102
(seventh pick, fourth round)
Last five players taken
2011 --
Jordan Cameron
, TE, Browns
2010 --
Darryl Sharpton
, LB, Texans
2009 --
Donald Washington
, DB, Chiefs
2008 --
Jeremy Thompson
, DE, Packers
2007 --
Brian Robison
, DE, Vikings
Redskins history of No. 102 pick
1996 --
Stephen Davis
1984 -- Jimmy Smith
Hall of Famers taken N0. 102
Nick Buoniconti (1962), Johnny Unitas (1955)
PICK 109
(14th pick, fourth round)
Last five players taken
2011 --
Colin McCarthy
, LB, Titans
2010 --
Corey Wootton
, DE, Bears
2009 --
T.J. Lang
, T, Packers
2008 --
Mike McGlynn
, G, Eagles
2007 --
Stephen Nicholas
, LB, Falcons
Redskins history of No. 109 pick

2001 --
Sage Rosenfels
1990 -- Rico Labbe
1988 -- Jamie Morris
Hall of Famers taken No. 109
Don Maynard (1957)
PICK 141
(sixth pick, fifth round)
Last five players taken
2011 --
D.J. Williams
, TE, Packers
2010 --
Joshua Moore
, DB, Bears
2009 --
Kenny McKinley
, WR, Broncos
2008 --
Gary Barnidge
, TE, Panthers
2007 --
Greg Peterson
, DT, Buccaneers
Redskins history of No. 141 pick
1971 -- Conway Hayman
Hall of Famers taken No. 141
None
PICK 173
(third pick, sixth round)
Last five players taken
2011 --
Byron Maxwell
, DB, Seahawks
2010 --
Anthony Dixon
, RB, 49ers
2009 --
Javon Ringer
, RB, Titans
2008 --
Dominique Barber
, S, Texans
2007 --
Michael Coe
, CB, Colts
Redskins history of No. 173 pick
2006 --
Reed Doughty
1970 -- Roland Merritt
1969 -- John Didion
Hall of Famers picked No. 173
None
PICK 213
(sixth pick, seventh round)
Last five players taken
2011 --
Brandyn Thompson
, DB, Redskins
2010 --
Willie Young
, DE, Lions
2009 --
Paul Fanaika
, G, Eagles
2008 --
Chauncey Washington
, RB Jaguars
2007 -- Chase Pittman, DE, Browns
Redskins history of No. 213 pick
2011 -- Brandyn Thompson
1986 --
Kurt Gouveia
Hall of Famers picked No. 213
None
December, 16, 2011
12/16/11
1:30
PM ET
»
NFC Final Word
:
East
|
West
|
North
|
South
»
AFC
:
East
|
West
|
North
|
South
Five nuggets of knowledge about Week 15:
[+] Enlarge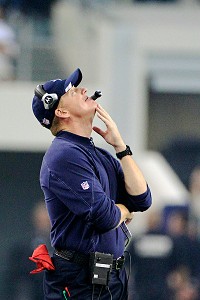 AP Photo/Tony GutierrezFourth-quarter collapses have become common for Jason Garrett's Cowboys this season.
Pleading the fourth:
How bad has the
Dallas Cowboys
' defense been in the fourth quarter this season? Maybe worse than you even thought. According to ESPN Stats & Information, the Cowboys, who play the Bucs in Tampa on Saturday night, have allowed the third-most yards (1,516), the seventh-most points (96), the eighth-most touchdowns (11) and the sixth-highest opponent's pass completion percentage (62.0). An inability to finish out games is quickly becoming an ugly hallmark of Jason Garrett's coaching tenure. He has nine losses as the Cowboys' head coach. One came to the Eagles earlier this season by 27 points. The other eight have come by
a combined total
of 27 points.
The opposite:
New York Giants
quarterback
Eli Manning
has thrown 14 fourth-quarter touchdown passes this season. That's the most in the NFL by four and, according to the Elias Sports Bureau, tied for the most fourth-quarter touchdown passes ever in one NFL season. Manning's brother,
Peyton Manning
, threw 14 fourth-quarter touchdown passes in 2002, and Johnny Unitas did it in 1959. Of course, Unitas did it in only 12 games. Manning has played 13 and has three left.
Skins want to win out:
The
Washington Redskins
go into Sunday's game against the Giants with a 4-9 record, assuring them of their third consecutive losing season. But if they lose one more, it would also be their third straight season with at least 10 losses. The last time that happened was 1993-95. It's going to be tough, if history has anything to say about it. The Redskins' Week 1 victory over the Giants snapped a six-game Washington losing streak against New York, and the Redskins have lost three straight road games to the Giants. On the flip side, though, the Giants have lost their last two games at home (to the Eagles and Packers). A loss Sunday would give the Giants their longest home losing streak since their Super Bowl season of 2007, when they somehow lost their last four home games.
A potential opening?:
The
Philadelphia Eagles
get a visit from the
New York Jets
, who have been known over the past three years for their great defense. But the Jets suffered a key loss this week when safety
Jim Leonhard
injured his knee and was placed on injured reserve. Leonhard got injured with five games left in the 2010 season, and a Jets defense that was allowing 17 points per game and 6.4 yards per pass attempt with him in the lineup saw those numbers go up to 23.4 and 6.9, respectively, with Leonhard on the sideline. Just a little potentially encouraging news for
Michael Vick
and an Eagles offense that needs all the help it can get.
Be on the Mark:
The Eagles' defense had nine sacks against the Dolphins in Week 14 and will need to pressure Jets quarterback
Mark Sanchez
if they are to limit a Jets offense that has scored 99 points in its last three games. With Vick and top receiver
Jeremy Maclin
banged up, it's possible the Eagles will have to win a low-scoring game, and to do that they'll need their defense to step up the pressure. The best way to do that is get after Sanchez, who doesn't perform as well against the blitz.
March, 27, 2009
3/27/09
10:59
AM ET
By
Matt Mosley
| ESPN.com
Posted by ESPN.com's Matt Mosley
Terrell Owens has sent his new teammates in Buffalo a message this offseason: "I'll see you when I see you."
In some circles, there's some hand-wringing over T.O.'s decision to skip the Bills' voluntary workout program. Seems that he'd rather spend March and April on South Beach than in Orchard Park, which seems so shortsighted. Coach Dick Jauron was hopeful two weeks ago that T.O. would use this opportunity to bond with teammates and establish a rapport with quarterback Trent Edwards.
Jauron, a man who always seems to be on the verge of passing a kidney stone, changed his tune during Tuesday's AFC coaches' breakfast and expressed support for T.O.'s alternate workout program. I started to tell him about the wide receiver's live-in personal trainer, Buddy Primm, but Jauron already looked miserable enough.
If the Bills simply thought T.O. would show up at the practice facility out of the goodness of his heart, they're more naive than many of us had imagined. If you think it's important for T.O. to be at the workouts, put it in his contract. That's what Dan Snyder did with defensive tackle Albert Haynesworth and cornerback DeAngelo Hall.
The good news is that T.O. and Edwards have begun a texting relationship. It's a luxury Johnny Unitas and Raymond Berry never had, so they were forced to throw to each other in the offseason.
"We talked shortly after I signed and we exchanged text messages," Owens said when asked about Edwards on Wednesday. "We're looking forward to the upcoming season."
Come back home, T.O. Dallas misses you.