January, 31, 2014
1/31/14
8:00
AM ET
IRVING, Texas – From 2009-13, Scott Linehan was the offensive coordinator for the
Detroit Lions
and helped quarterback
Matthew Stafford
and
Calvin Johnson
put up some staggering numbers.

Linehan was hired this week as the Dallas Cowboys' passing game coordinator and will call the plays in 2014. With the Cowboys, he will get to work with
Tony Romo
,
Jason Witten
,
Dez Bryant
and
DeMarco Murray
.
ESPN Cowboys reporter Todd Archer asked ESPN Lions reporter Michael Rothstein for a little insight on Linehan.
Todd Archer:
What type of playcaller are the Cowboys getting in Linehan?
Michael Rothstein:
Linehan has some creativity to what he is able to do. He was really able to get both
Reggie Bush
and
Joique Bell
in open spaces using a variety of screens and dumpoffs throughout the season.
Evidence of this is a middle screen the Lions scored
on multiple times last season. He was criticized most often for either going empty or throwing in third-and-short situations despite having Reggie Bush and Joique Bell at his disposal. Sometimes the routes he devised with some of his playcalls led to receivers being too bunched up at points. But he has the ability to really draw up some good plays and he has experience with a quarterback-receiver combination like Tony Romo and Dez Bryant in Matthew Stafford and Calvin Johnson.
Archer:
Cowboys fans have screamed at Garrett for not running the ball enough and now he has a guy who ran it less in Linehan. Did he not run the ball much because of who he had before Reggie Bush showed up?
Rothstein:
I wasn't around before Bush, either, but he often said having Bush legitimized and gave credibility to their running game. There is truth to that, because Bush had a 1,000-yard season -- the first for a Detroit running back since 2004. If I had to guess, you'll still see an offense predicated on passing since the Romo-to-Bryant combination is a strong one, but as long as Linehan believes he has the line and running backs to be successful, he'll run it. But he'll definitely be a passing guy first.
Archer:
How would you describe his relationship with Matthew Stafford? Obviously Tony Romo will have a lot of say here and I'm curious how he and Stafford worked.
Rothstein:
Stafford really liked him and appeared to be disappointed in Linehan's firing when it happened last month. One of the bigger criticisms of the Jim Schwartz and Linehan tenure was that they were not critical enough with Stafford and didn't push him enough. Of course, he was a younger quarterback where Romo is a veteran, so he might not need that. I'd say Romo will be in a position where he will definitely have a lot of say and there will be an absolute comfort level needed there. My guess is the relationship will be similar for Linehan and Romo in Dallas.
January, 28, 2014
1/28/14
9:00
AM ET
IRVING, Texas -- With
sources saying
Scott Linehan will take over as the
Dallas Cowboys
' playcaller, his track record suggests the offense will be
Tony Romo
friendly.
[+] Enlarge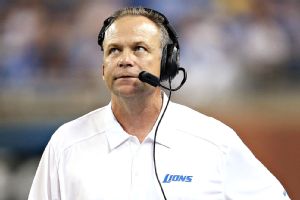 Leon Halip/Getty ImagesScott Linehan has been the Lions' offensive coordinator for the past five years, but can he get the Dallas run game going?
For the past five years Linehan was the
Detroit Lions
offensive coordinator. In the last three seasons, Lions quarterback
Matthew Stafford
has thrown for 14,655 yards and 90 touchdowns with 52 interceptions.
From 2011-13,
Calvin Johnson
caught 302 passes for 5,137 yards and 33 touchdowns. So that would appear to be good news for
Dez Bryant
.
But what about the running game?
Linehan has been an offensive coordinator/head coach from 2002-2013, except for the final 12 games of the 2008 season when he was fired as head coach of the
St. Louis Rams
.
Using the 11 seasons as a backdrop, Linehan has had a top-10 ranked rush offense just twice and those were in his first two years with the
Minnesota Vikings
in 2002 and 2003. A Linehan-led running game has not finished better than 12th in the NFL since. With the Lions he had running games ranked Nos. 24, 23, 29, 23 and 17.
The Cowboys have been at their best offensively when
DeMarco Murray
has been involved.
Linehan is not averse to the run.
In 2002,
Michael Bennett
ran for 1,296 yards for the Vikings. A year later Minnesota had four different players with at least 400 yards rushing. In 2005 with the
Miami Dolphins
, where he worked with Jason Garrett for the first time,
Ronnie Brown
ran for 907 yards and
Ricky Williams
had 743 yards.
In his first year with the Rams,
Steven Jackson
, the runner so many Cowboys fans wanted them to take in 2004, ran for 1,528 yards. He had 1,002 yards in 2007.
With the Lions, he had to make due with
Kevin Smith
,
Jahvid Best
, whose career was cut short by injuries and
Mikel Leshoure
. Last season,
Reggie Bush
ran for 1,006 yards.
Joique Bell
ran for 650 yards.
In Murray, Linehan will inherit a back coming off the best year of his career and an offensive line that finished the year on a high note.
It's up to him to use the running game.
December, 21, 2013
12/21/13
2:00
PM ET
Because the schedule says so, the 5-9
New York Giants
travel this weekend to Detroit to play the 7-7 Lions in a 4:05 pm ET game Sunday. Here are a couple of things to watch for in the game:


Restricting Reggie
. There's been so much talk this week about how the Giants plan to cover wide receiver
Calvin Johnson
and very little about their plan of attack versus dynamic Detroit running backs
Reggie Bush
and
Joique Bell
. The Giants have been fairly stout against the run this year. They've only allowed two running backs to reach 100 rush yards in a game against them -- Carolina's
DeAngelo Williams
in Week 3 and San Diego's
Ryan Mathews
in Week 14. But both Bush and Bell are factors in the passing game, too, and the Giants have been susceptible to that all year. Last week, for instance, Seattle's
Marshawn Lynch
rushed for just 47 yards but caught six passes for 73 more.
Jamaal Charles
,
LeSean McCoy
and
Matt Forte
are among the other top running backs who succeeded as receivers against the Giants in spite of struggling against them as runners. So the Giants must be on the lookout for Bush and Bell when they escape the backfield on
Matthew Stafford
dropbacks.
Containing Calvin:
That said, the big-play threat remains the 6-foot-5 Johnson, who is coming off two straight disappointing games and is liable to post huge numbers at any time. The Giants say they're not planning to put 6-foot cornerback
Prince Amukamara
on Johnson exclusively, instead splitting the field with their corners as they prefer to do. That means 5-foot-8
Trumaine McBride
will see Johnson some of the time, and that's a matchup on which Stafford is likely to pick liberally.
Stopping Suh:
Defensive tackles
Ndamukong Suh
and
Nick Fairley
headline a fearsome Detroit defensive line that has to be licking its chops knowing that Giants quarterback
Eli Manning
already has absorbed 36 sacks this season. The Giants could be without guard
David Diehl
, who is listed as doubtful for the game due to a knee injury. That would mean backups
James Brewer
and
Brandon Mosley
at the guard spots against one of the best interior pass rushes in the league. Gadzooks.
Jernigan's chance:
With slot receiver
Victor Cruz
out for the rest of the season following knee surgery and fellow wideout
Hakeem Nicks
appearing to play at half-speed all season,
Jerrel Jernigan
could play a significant role in the passing game Sunday. He replaces Cruz in the slot, and he showed the coaching staff something Sunday when he had to go in after Cruz got hurt. Head coach Tom Coughlin and offensive coordinator Kevin Gilbride both lauded Jernigan's toughness against Seattle's physical secondary, and he's likely to find the matchups more favorable this week in Detroit. If Manning has to unload the ball quickly, as it appears he will due to the protection issues, Jernigan could see a lot of targets and has a chance to make his case to be on next year's team with a big performance.
September, 22, 2013
9/22/13
8:00
AM ET
1. It does sound as if the Redskins will have
Robert Griffin
III run this week. The coaches keep saying they had some runs called in the first two games, but did not get to them. I've heard differently from others in the building. Regardless, there's a better chance of it happening Sunday. From what I've heard, there's a sense in Detroit that the Redskins are dangerous offensively because, at some point, they will get it going. Oh, the Lions absolutely expect Griffin to run more.
[+] Enlarge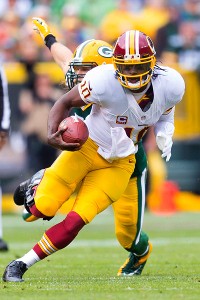 Jeff Hanisch/USA TODAY SportsWill Redskins QB Robert Griffin III be a factor running the football against the Lions?
2. The Redskins anticipate a lot of screens Sunday, regardless if
Reggie Bush
plays or not. The Lions love running screens and run a greater variety than most teams do. They'll also throw some designed routes for Bush, who was used as a decoy on one screen to fellow back
Joique Bell
last week. In fact, no quarterback has more yards passing to a running back than Detroit's
Matthew Stafford
with 253.
3. Also, according to ESPN Stats & Information, Stafford's average pass has traveled only 5.1 yards downfield, the shortest of any quarterback. A year ago, his average pass traveled 8.5 yards downfield -- the league average was 8.4 yards. This doesn't mean the Lions won't throw downfield, not with
Calvin Johnson
on their team. But they do throw a lot of short passes, particularly slants. The Redskins had better tackle well. This is not an impossible offense to shut down, but it can be dangerous. Hustling to the ball is a must.
4. One byproduct of the Redskins' early lopsided scores is the inability to use a lot of play-action passes, an area where they excelled last season. Through two games, Griffin has completed just 6-of-16 passes that travel at least 15 yards downfield -- that's 37.5 percent, which pales to last year's league-best 55.7 percent. But 73 percent of those passes last year were off play-action compared to just 25 percent in two games.
5. The Redskins have an ordinary passing game without play-action, but it's lethal when they can use it because of the chaos they create. The zone-read play-action pass gets linebackers completely out of their lanes and creates excellent opportunities for yards after the catch. The Redskins also can generate those types of situations off stretch zone play-action. The difference in play fakes out of the stretch zone or zone read can be worth as much as half a second over basic play-action. More play-action would enable a quarterback still working on his timing and rhythm to have more early success.
6. The importance of Sunday's game, based on history: Only three of the 115 teams that started 0-3 since 1990 have reached the postseason, according to ESPN Stats & Information. A win? Suddenly it's not so bad as 24 percent of 1-2 teams have gone on to reach the playoffs.
7. ESPN NFL Insider
Louis Riddick
is not high, at all, on rookie defensive backs
David Amerson
and
Bacarri Rambo
. One of his complaints about Amerson (both players actually) was that he didn't compete enough (a complaint other NFL coaches had about him before the draft). And one of Riddick's examples was the block Amerson could not shed on a
James Starks
run outside. It wasn't Riddick's only issue. But Redskins defensive backs coach Raheem Morris said competing was not the problem.
"No, he actually chose the wrong way to go," Morris said. "You have to be smart enough to use your help and go outside. He started to shed to the inside of that block. You can't shed inside unless you can make [the play]. He made a bad decision and it had nothing to do with his competitive edge. He's great at that."
8. Teams have hurt the Redskins by blitzing Griffin at a 42 percent rate this season (compared to 21 percent last season). The Lions will blitz, but it's not a huge part of their defense. Against Arizona, when they did send an extra rusher more often than not it came off the edge. They play a lot of wide-9 technique -- and will use stunt and games up front. The Redskins' interior linemen have struggled against big, physical defensive tackles. They have to stop quick penetration -- another reason play-action becomes a must.
9. Morris on playing two rookies in the secondary: "There's always growing pains with those guys, you know that." The coaches have them, too, when it comes to asking the rookies to perform certain coverages. Like on the 15-yard touchdown to
Jordy Nelson
last week in which Rambo had to rotate over from a single-high look. He hesitated for a split second and could not get there in time. But as Morris said they put him in a tough position (they were trying to trap quarterback
Aaron Rodgers
into a different throw; they failed). Eventually, Rambo will learn to cheat more on the coverage. "If he makes that one, he would have
Ed Reed
tendencies," Morris said. Rambo still has a long way to go.
10. Corner
E.J. Biggers
said he's continued to learn every position in the secondary. Will he go back to playing some safety? He wouldn't say. But given the struggles in the secondary, would it be surprising to see the Redskins do what they did at the end of last season and rotate based on situations?
November, 7, 2010
11/07/10
4:02
PM ET
By
Matt Mosley
| ESPN.com
PHILADELPHIA -- Eagles running back
Jerome Harrison
is active for the first time since being acquired by the club Oct. 13. The man who once ran for 286 yards in a game for the
Cleveland Browns
had trouble picking up the Eagles' offense, but now he's apparently good to go.
He'll be primarily used in the passing game, but I wouldn't expect him to receive more than four or five touches in his first game with the Eagles. Rookie linebacker
Keenan Clayton
will also be making his debut for the Eagles, and I'm sure he'll have a large role on special teams.
I'm joined at the Linc today by AFC South blogger Paul Kuharsky, who will provide expert analysis on the Colts. He just explained to me why they're wearing 1955 Colts throwback unis today. From my seat, they look more like Michigan State than the Colts. Now, here's a look at the other inactives for the Eagles:
QB
Mike Kafka
, WR
Chad Hall
, RB
Joique Bell
, CB
Ellis Hobbs
, DE
Daniel Te'o-Nesheim
, T
King Dunlap
, G
Reggie Wells
, TE
Clay Harbor
October, 3, 2010
10/03/10
3:05
PM ET
By
Matt Mosley
| ESPN.com
PHILADELPHIA -- Not that this should catch any of you by surprise, but
Washington Redskins
rookie left tackle
Trent Williams
is inactive for today's game against the Eagles because of knee and toe injuries. Williams will be replaced by
Stephon Heyer
, who will likely need some help against defensive end
Trent Cole
.
Kory Lichtensteiger
will start in place of
Derrick Dockery
at left guard for the Redskins. Here's a full list of inactives:
Eagles
: QB
Mike Kafka
, RB
Joique Bell
, CB
Trevard Lindley
, DE
Antwan Barnes
, DE
Daniel Te'o-Nesheim
, LB
Keenan Clayton
, OT
Austin Howard
, TE
Clay Harbor
Redskins
: QB
John Beck
, CB
Kevin Barnes
, LB
Perry Riley
, OT Trent Williams, DT
Anthony Bryant
, TE
Logan Paulsen
, DE
Jeremy Jarmon
, DT
Vonnie Holliday
September, 21, 2010
9/21/10
3:39
PM ET
By
Matt Mosley
| ESPN.com
The
Philadelphia Eagles
have released veteran wide receiver
Hank Baskett
in order to make room for running back
Joique Bell
, who was signed off the
Buffalo Bills
' practice squad.
Bell, an undrafted rookie, led the Bills with 152 yards rushing and two touchdowns on 27 carries in the preseason, but he was released Sept. 4 and then signed to the practice squad a day later.
The 24-year-old Bell posted remarkable numbers at Division II Wayne State and was named player of the year after rushing for more than 2,000 yards and collecting 29 touchdowns.
Baskett played in the Super Bowl for the Colts last season before returning to the Eagles this past offseason. He became expendable in large part because rookie wide receiver
Riley Cooper
emerged as a capable threat in training camp.