NFC East:

jonathan cooper
September, 2, 2014
Sep 2
7:59
AM ET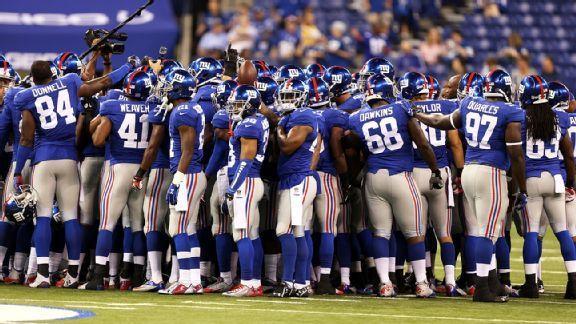 ESPN.com
New York Giants
reporter Dan Graziano makes his game-by-game picks for the 2014 season.
Week 1: at Detroit Lions
The Giants are coming off a mess of a preseason, undermanned and overwhelmed, with the offensive line still a mess and the new offense not clicking at all. No one will pick them to win this game. Except me. Prediction: Win
---
Week 2: Arizona Cardinals
This one's a comedown off the Week 1 surprise, as Arizona's banged-up defense still manages to flummox Eli Manning and collect a few interceptions. It's a bummer of a home opener as reality begins to set in. Prediction: Loss
---
Week 3: Houston Texans
Houston's defense is as liable as Arizona's to make life miserable for Manning and the offensive line. But Houston has bigger questions on offense than even the Giants, and this is a win for the New York defense against Ryan Fitzpatrick. Prediction: Win
---
Week 4: at Washington Redskins
The short week and Washington's stellar crew of offensive weapons prove too much for the Giants to overcome. Will Beatty still sees Brian Orakpo in his nightmares. Prediction: Loss
---
Week 5: Atlanta Falcons
The pattern continues, and the Giants overcome two Osi Umenyiora sacks to outscore the Falcons with a furious Manning comeback in the final minutes. The Giants poke their heads over the .500 mark as they make the turn into the most brutal stretch of their schedule. Prediction: Win
---
Week 6: at Philadelphia Eagles
The Giants don't have Matt Barkley to kick around this time when they visit the City of Brotherly Love. Chip Kelly and the Eagles show them what a truly innovative offense looks like. Prediction: Loss
---
Week 7: at Dallas Cowboys
The season-long debate about what gives when an anemic Giants offense meets a pathetic Cowboys defense tilts in Dallas' favor in the first meeting. Tony Romo & Co. have more than enough weapons to outscore Manning and his bunch, and the Giants hit the bye with a 3-4 record. Prediction: Loss
---
Week 9: Indianapolis Colts
After a long break before the Monday night home game, the Giants get taken apart by Andrew Luck, Hakeem Nicks & Co. at MetLife Stadium for a third straight loss. The offense is starting to run more smoothly, but it still doesn't have enough playmakers to outscore one of the league's better offenses. Prediction: Loss
---
Week 10: at Seattle Seahawks
You're kidding, right? Prediction: Loss
---
Week 11: San Francisco 49ers
The Giants have obviously handled the Niners in recent years and in some high-profile situations. But by this point in the season, San Francisco's defense is back to full strength, and the 49ers can't afford to lose ground to the Seahawks by failing to beat the team Seattle just beat the week before. Prediction: Loss
---
Week 12: Dallas Cowboys
A sixth straight loss is by no means out of the question here, as Romo and his crew still have the potential to outscore anyone in a given week. But from this far out, I'll forecast that something goes wrong for Romo late in this game, and the Giants get a gift. Prediction: Win
---
Week 13: at Jacksonville Jaguars
This is where the schedule starts to soften up, when the Giants start playing teams that insist on not starting their best quarterback. It's unfortunate they're 4-7 at this point and just about out of the playoff hunt, but they will get it going against the bottom-feeders. Prediction: Win
---
Week 14: at Tennessee Titans
I think the Titans are going to be dreadful this year, and by December they won't be very difficult for anyone to beat, even at home. A third straight victory keeps the Giants' hopes alive. Prediction: Win
---
Week 15: Washington Redskins
Have to be honest: The NFC East is so unpredictable that, when doing these predictions, I just decided to give the Giants a 3-3 division record with victories in all three home games and losses in all three road games. It's as fair a way as any to do it, I believe. Prediction: Win
---
Week 16: at St. Louis Rams
After moving back to .500 with four straight wins, the season falls apart at the hands of the St. Louis pass rush. An offensive line that has once again been the Giants' biggest problem all year can't protect Manning in a must-win game. Prediction: Loss
---
Week 17: Philadelphia Eagles
Tom Coughlin's teams can always find a way to play for pride. The Giants' playoff hopes are extinguished, but they still manage to end the season on a high note and with a .500 record. Prediction: Win
---
Predicted Record: 8-8
April, 25, 2013
4/25/13
12:36
PM ET
Where they're picking:
No. 18

Conventional wisdom tells us
the top six offensive linemen will be gone by 18, depriving the Cowboys of the chance to address their most significant short-term and long-term need. The mock drafts in which this happens have the Cowboys taking a defensive tackle such as
Sheldon Richardson
or
Sylvester Williams
at No. 18, and some are still connecting the Cowboys with Texas safety
Kenny Vaccaro
, since safety is a need as well. Everybody seems to agree that the Cowboys' dream scenario is that they get one of the draft's top two guards, either
Chance Warmack
or
Jonathan Cooper
, but no one seems to think either will fall to 18.
History tells us
that the conventional wisdom is wrong. The last time six offensive linemen went in the top 17 picks was 1966, when the league only had 15 teams in it. Guards don't tend to go early, since most teams don't assign top-half-of-first-round value to that position. History tells us the Cowboys will be able to get offensive line help if they want it in the first round. But history also tells us that the Cowboys tend to pick out a guy they really like in the first round (
Dez Bryant
,
Tyron Smith
and
Morris Claiborne
are the recent examples) and do what they can to get him.
They probably won't
end up with Vaccaro. First of all, it's possible he goes earlier than 18 (say, to St. Louis at 16). Second of all, their needs on the lines and the comparative value at those positions likely will push them to take a linemen of one sort or the other in a draft whose second round is packed with starting-caliber safeties. Sure, it's possible Vaccaro is this year's Jerry Jones crush and there's nothing anyone else in the braintrust can do to talk him out of it. But I'd be surprised if they end up with the Texas safety.
They could shock us by
taking a tight end. The Blogfather, Matt Mosley, says
he's been hearing
the Cowboys love Notre Dame tight end
Tyler Eifert
, and if that's the case they could be making plans to move up to get him. While that would seem silly with
Jason Witten
still in place and at the top of his game, it's not completely crazy to find another weapon for
Tony Romo
in the passing game. If Eifert is the Cowboys' best player available, they could go for it. It would be foolish, and would leave them too short in too many other areas, but I'm not sure that would stop them.
My prediction:
I'm leaning on history here and saying the mocks are all wrong and the Cowboys are going to be able to get one of those guards. Since we're making a pick, I'll say it's
Chance Warmack
who falls either all the way to 18 or at least into the 14-15 range that would allow them to make a sensible, cost-effective trade-up to get him. Not like last year's trade for Claiborne, which cost them their second-round pick, but maybe for a later-round pick or even a 2014 one.
April, 25, 2013
4/25/13
8:00
AM ET
Draft day, people. The day on which you'll finally get to start finding out which members of the least exciting NFL draft class in recent memory will be disappointing you and your team come September. Can you feel the excitement?
Well, can you at least click the links? There you go. Click the links. It'll make you feel better.
Washington Redskins
A few people have asked what the chances are that the Redskins find a way to trade up into the first round of this year's draft. They'd have to move up 19 picks. That's a pretty tough trick, and Mike Shanahan certainly doesn't sound as though he plans to be picking anyone until Friday night. He does, however,
sound like a man at peace
, and that's because he got his quarterback last year.
The Redskins could look to add pieces to their offensive line in the middle or late rounds, but they don't feel pressed to find starters, since they're bringing back their starting five offensive linemen from last year.
Robert Griffin
III, the aforementioned quarterback,
is happy about that
.
Dallas Cowboys
Like every other team in the first round, the Cowboys have made noise in recent days about trading down.
Tim MacMahon has a look
at Jerry Jones' history of doing so. Some good, some bad.
If the Cowboys were to trade up tonight, it likely would be for someone like North Carolina guard
Jonathan Cooper
, who
hopes he's long gone
by the time the Cowboys' pick rolls around at No. 18. Not because he doesn't like the Cowboys, mind you, but because he wants to get picked earlier than that.
New York Giants
If you know what the Giants are going to do at No. 19 tonight, please call me. Because I can't even make a good guess.
Ralph Vacchiano wonders
if they might take controversial Notre Dame linebacker
Manti Te'o
. Tough for me to imagine, but in this draft anything's possible I guess.
The Giants haven't drafted a linebacker in the first round since 1984. By comparison, the stretch since they last drafted a first-round offensive lineman (1999) is relatively short. Could Alabama's
D.J. Fluker
be
their man
? If I had to put money on it, I'd still say defensive back or defensive lineman. But I'm real glad I don't have to put money on it.
Philadelphia Eagles
Sharrif Floyd
seems to have obtained a sense of what the Eagles plan to do on defense under Chip Kelly. And while he's been dismissed in some circles as a poor fit because he's more of a 4-3 guy and everybody thinks the Eagles are going to run a 3-4, Floyd says
it's not that simple
and that he'd be able to do what the Eagles need him to do should they make him the No. 4 pick tonight.
We do not know what the Eagles will do in the draft either, but Jeff McLane thinks he knows a few things
they won't do
, including take an Oregon pass-rusher just because that's the school at which Kelly used to coach.
April, 23, 2013
4/23/13
4:23
PM ET
There was concern, I won't lie, as I sat there with the No. 18 pick for the
Dallas Cowboys
in the ESPN.com
blogger mock draft
. Dallas absolutely needs to come out of the first round with a new starting offensive lineman, and they were going off the board quickly. The top three tackles went in the top five picks, and when guard
Chance Warmack
went to Arizona at No. 7, I got worried.
Eyeing North Carolina's
Jonathan Cooper
, who was still on the board at No. 10, I reached out to Paul Kuharsky to ask if the Titans wanted to trade down. He said they did. I offered Dallas' first-round pick and third-round pick (Picks 18 and 80) for the No. 10. Paul countered by offering Picks 10 and 142 (fifth round) for Picks 18 and 47 (second round). I said I couldn't do that, after ripping the Cowboys for giving up their second-round pick last year to move up for
Morris Claiborne
. Don't want to be hypocritical, right?

Fluker
So Paul and I talked about some possibilities involving 2014 compensation, but we couldn't agree on it, and he ended up taking
Sharrif Floyd
for the Titans at No. 10. My next move was to reach out to Bill Williamson, who was picking for the Chargers at No. 11. I made the same offer to him -- the 18 and the 80 -- but he said he was going to stay put and make a pick. He picked Cooper, which obviously disappointed me-as-Cowboys.
Now I had my eye on
D.J. Fluker
, the Alabama tackle who would allow the Cowboys to bid goodbye to
Doug Free
and help solidify the run game. I think he's the absolute perfect guy for the Cowboys at 18 if the guards are gone by then, and the only team I was still afraid might snatch him away was Carolina at 14. Fluker didn't feel worthy of trading up for, so I decided I'd stay put and hope he fell to 18, and if he didn't, I'd look into trading down and going after someone like Syracuse's
Justin Pugh
.
But Pat Yasinskas took
Sheldon Richardson
for Carolina at 14. And (because I know you guys want to know) Mike Sando took safety
Kenny Vaccaro
for the Rams at 16. And lo and behold, there was Fluker still sitting there at 18 for the Cowboys. I ran to the podium.
Will the Cowboys do the same if the same situation plays out Thursday night? It doesn't sound like them. But I think they'd be wise to take Fluker. And I don't even think they'd be nuts to take an offensive lineman in the second round as well. The need -- short term and long term -- is that significant.
April, 19, 2013
4/19/13
12:00
PM ET
»
NFC Eight in the Box
:
East
|
West
|
North
|
South
»
AFC
:
East
|
West
|
North
|
South
What would be the ideal first-round scenario for each NFC East team in next week's NFL draft?

Dallas Cowboys
Because of the perceived lack of top-level skill-position talent in this year's draft, a lot of the mock drafts and projections have the top offensive linemen going off the board early.
Mel Kiper Jr.'s latest mock

, for example, has six offensive linemen going in the top 12 picks, which means well before the Cowboys pick at 18 and probably too early for them to make a sensible trade-up to grab someone like Alabama guard
Chance Warmack
or North Carolina guard
Jonathan Cooper
. This would be unfortunate and far from ideal for the Cowboys, but history offers hope. The last time six of the first 17 picks in the draft were offensive linemen was 1966, when there were only 15 teams in the league. Only three times since then -- 1977, 1985 and 2008 -- have as many as five offensive linemen been picked in the top 17. The Cowboys probably can't expect any of the top three tackles to fall to them, but their ideal first-round situation would be for Warmack, Cooper or even Alabama tackle
D.J. Fluker
to fall to 18 and allow them to shore up their most significant area of short-term and long-term need. If only one of those guys is still available by 14, the Cowboys should look into trading up to get him.

New York Giants
The Giants live for value in the first round, so their ideal scenario is that someone who's very high (say, top-10) on their draft board falls to them at No. 19. It happened two years ago, when they were picking in the exact same spot and were stunned to find cornerback
Prince Amukamara
still there. It could happen again, especially if the Cowboys get their aforementioned wish and those offensive linemen drop into the second half of the first round. Although the Giants haven't picked an offensive lineman in the first round since 1999, the value on someone like Warmack or Fluker, if either is still there at 19, might be too good to pass up. It's easy to look at linebacker as a glaring need and project someone like
Alec Ogletree
here, but the Giants haven't taken a first-round linebacker since 1984, and it's unlikely they have a first-round grade assigned to any linebacker in the draft. The Giants' ideal scenario is not to draft for need but to wait and hope some highly talented prospect at one of their premium positions (
Tavon Austin
?
Kenny Vaccaro
?
Dee Milliner
?) drops into their laps.

Philadelphia Eagles
Sitting at No. 4 in the first round, the Eagles probably would be excited to see one of the draft's top two tackles --
Eric Fisher
or
Luke Joeckel
-- available to them at that spot. Drafting one of those players would allow the Eagles to move
Todd Herremans
inside from right tackle to right guard, play the rookie at right tackle and groom him to replace
Jason Peters
eventually at left tackle. It's an immediate-need pick and a future building-block pick all wrapped up in one package. The Eagles also probably would be happy to take a defensive lineman like
Star Lotulelei
or a pass-rusher like
Dion Jordan
here, but in my opinion the tackle scenario is more ideal given their situation. I also think part of their ideal situation would include a drop for West Virginia quarterback
Geno Smith
, which would allow them to trade back into the first round to take him somewhere in the 20s, as Kiper suggested in
his recent "Grade A" draft post

.

Washington Redskins
As a result of last year's trade for quarterback
Robert Griffin III
, the Redskins don't have a first-round draft pick and don't pick until 19th in the second round, so a trade-up into the first is unlikely. Their ideal first-round scenario is that the teams picking in the first round believe they can wait on safety and cornerback, and that some of the top players at those positions of significant need are still there by the time Washington starts picking at 51.
March, 27, 2013
3/27/13
4:13
PM ET
The most recent edition of the Todd McShay/Mel Kiper Jr. "
First Draft

" podcast discusses picks 16 through 20 in the first round of next month's NFL draft. And you devoted readers of the NFC East blog know that the
Dallas Cowboys
and the
New York Giants
are picking 18th and 19th, respectively. If you'd like, you can skip to the 11:28 mark to hear them discuss the Cowboys' pick and to the 12:58 mark to hear them discuss the Giants' pick.

I found the Giants discussion interesting, because Mel cites a long-held organizational philosophy established by former GM Ernie Accorsi to support his belief that the Giants will not draft an offensive lineman in the first round. They don't believe in it, he says, unless it's for a "super-elite left tackle." They believe they can develop offensive line talent. Their recent long-term signing of former second-round pick
Will Beatty
as their left tackle supports this, as does the fact that they haven't drafted an offensive lineman in the first round since 1999.
But this leaves Mel and Todd (who says, "I think offensive line makes a lot of sense," which it does for the Giants) to speculate about the Giants taking an inside linebacker with this pick, and they haven't drafted a linebacker in the first round since 1984. So if passing on offensive lineman in the first round is an organizational philosophy, passing on linebackers in the first round feels more like a religious belief. Todd mentions that they could still use cornerback depth even after using high picks on corners in recent drafts, and their history shows that to be a far greater likelihood than either offensive line or linebacker.
If linebacker
Alec Ogletree
is on the board at 19, Todd says the Giants should "run up to the podium." We will see whether that happens. Color me skeptical.
As for the Cowboys, Mel and Todd seem to think one of the top guards,
Chance Warmack
or
Jonathan Cooper
, will be available at 18 and would make way too much sense for the Cowboys to pass up there. I agree on both counts. Talking about safety, Mel thinks "there are going to be safeties as good as
Kenny Vaccaro
that go in the second round," so the Cowboys should wait on that position and running back, which are both needs, while using the first round to address the offensive line. Smart guy, that Kiper. Smart, smart guy.
March, 14, 2013
3/14/13
2:00
PM ET
Paralyzed in free agency, unable to get
Tony Romo
extended, and the hits just keep on coming for
Dallas Cowboys
fans, who are going to absolutely hate
this story from Calvin Watkins
about right tackle
Doug Free
. Calvin reports that, according to a source, Free's future with the Cowboys is "secure for now."
Earlier this offseason, executive vice president Stephen Jones said of Free's possible return: "I wouldn't rule Doug out."



[+] Enlarge

Tim Heitman/USA TODAY Sports Tackle Doug Free is scheduled to count $10.02 million against the Cowboys' salary cap.

Free's status could again become tenuous if the Cowboys believe there's a tackle worthy of selecting in the first two rounds of the draft. If that's the case, Free could be sent packing, and Jermey Parnell or the draft pick would become the starter at right tackle.
Yeah, see, that's the whole thing. The phrase "secure for now" doesn't really mean much, right? You're either secure or you're not. If the status of your security can change, you're not secure. So I wouldn't worry too much. I still think there's a really good chance they designate Free a June 1 cut and save $7 million against the cap during the summer.
But the fact that they haven't done that yet speaks to their situation, and their lack of ability to find a replacement for Free. They literally can't sign a free-agent tackle (unless they get that Tony Romo deal done and reduce their quarterback's 2013 cap cost in the process), and picking 18th in the draft they can't be certain they'll find their answer at right tackle in the draft. They could find a very good guard at that spot, such as
Chance Warmack
or
Jonathan Cooper
, which might help convince them they can afford to give Parnell a shot. But six weeks away from the draft they can't possibly know.
So they will wait on Free. They cut defensive lineman
Marcus Spears
and designated him a June 1 release because they felt like they had enough depth on the defensive line to do that now. But obviously, and justifiably, they don't feel the same about their offensive line. And as bad as Free was last year, they don't feel as though they can let him go without knowing who's going to replace him. Add all of that to the Cowboys' famous tendency to hang onto their own players too long and refuse to admit mistakes, and you find yourself unable to say with complete certainty that they will part ways with Free. Even if it seems obvious to all of us on the outside that they need to do so.
This Cowboys' offseason is going to be like this -- slow and frustrating -- and they're going to need to have a very good, 2013-focused draft if they're to make the playoffs this year. Cowboys fans aren't used to Marches like this one, but they don't have much choice right now other than to deal with it.
February, 25, 2013
2/25/13
12:38
PM ET
Dallas Cowboys
owner and general manager Jerry Jones spoke to reporters over the weekend at the scouting combine in Indianapolis, and obviously one of the topics of interest was
the team's offensive line
. The line was horrible in 2012, as has been thoroughly chronicled here, and though I agree with Jones' opinion that it showed improvement as the year went on, I submit that it had no other direction in which to go.
The question is what to do now. Jones mentioned that quarterback
Tony Romo
's ability to move around and make plays on the run helps, as he doesn't require a top-flight offensive line to be productive. But I'm certain that Romo would enjoy it if he were better protected, and obviously the Cowboys should not be making their offensive line plans based on the idea that their quarterback can succeed behind a substandard one. They need to get better. Jones suggests that they can get better with continued development from the guys they have:
Left tackle Tyron Smith is Jones' only sure bet, but he liked what he saw at the end of the year from Doug Free and Jermey Parnell. Jones acknowledged the Cowboys "need more," from free-agent pickups Nate Livings and Mackenzy Bernadeau in 2013, and he could see center Phil Costa as the starter "for several years." He also touted the futures of Kevin Kowalski and Ronald Leary.

"Now does that make you sleep at night because you know you need depth? We might be talking about your depth there when I'm really alluding two five or six guys, which could be your starters," Jones said. "I think we've got a chance to have a plus from a couple of these young guys, and we're very likely, through a combination of free agency or this draft to get serious about another guard-center type there."
Well, I think that last thing he said is the most encouraging if you're a Cowboys fan, because what the Cowboys really need is more elite-level talent on the line. Smith is the only current member of the Dallas line who appears to have elite-level talent, and part of the problem in 2012 was that he needed time to transition from right tackle to left tackle. I think he's a franchise-caliber player on the left side and will be more than fine there for years to come.
But while it's foolish to think the Cowboys could assemble a line on which all five positions had that kind of talent (Smith was, after all, a top-10 draft pick), they need at least one more. If they could draft or sign a top-shelf "guard-center type," of which there are a few in this year's draft, the whole thing would start to look at lot better. Then they'd be trying to fill three spots with the guys they already have on the roster instead of four, and that's feels a lot more manageable. I don't know if they'll be in position to pick someone like Chance Warmack or Jonathan Cooper in the first round, but if they're thinking along those lines I think they're doing themselves a favor. Finding someone besides Smith they can plug into their line and not have to worry about him for the next decade would be a fine use of that first-round pick.