NFC East:

jonathan martin
March, 25, 2014
3/25/14
9:45
AM ET
So last week, the
New York Giants
signed offensive lineman
John Jerry
, who was one of the three
Miami Dolphins
players implicated by name in the Ted Wells investigation into the
Richie Incognito
/
Jonathan Martin
bullying scandal. Jerry, Incognito and
Mike Pouncey
were found to have "engaged in a pattern of harassment" toward Martin and others in the organization. Sexually explicit taunts about one guy's sister, racial taunts toward a team trainer of Asian heritage ... real charming stuff. Guy seems like a real winner.
Jerry
This is the kind of signing that, if the Jets or the Raiders or the Bengals or the Cowboys made it, would be panned and ridiculed and back-paged all over town. But because everybody connected with the NFL thinks the sun shines out of the Giants' rear ends, the focus in this case is on whether Jerry will be eligible to play when the 2014 season starts.
So, on that: Maybe. Commissioner Roger Goodell was asked Monday at the owners meetings whether Jerry, Incognito and Pouncey would face league discipline for their roles in the Miami fiasco, and he didn't say yes or no. But his answer did indicate the possibility that Jerry might have to miss time while he undergoes a medical evaluation stemming from his apparent struggles to treat people like human beings.
Per Jordan Raanan
:
"Our focus right now, at least in the case of the three players, is that they would be evaluated," commissioner Roger Goodell said. "We talked with the union several times about that. We agreed that was the right first step."

The next step would be to determine if the players needed treatment of any kind. That could keep Jerry away from his new team for an unknown period of time, depending on the results of the tests.

Jerry is expected to be a reserve lineman at this point. The Giants, however, have several huge question marks on their line.

"The first thing is to get the evaluation to determine what the treatment is," Goodell said. "Depending on what the doctors prescribe there, that could prevent them from being part of football for some period of time. But that is a medical decision."
So, no way to know. All I can say is that the Giants must really like this guy if they're willing to take on this kind of baggage and the possibility that he might not even be medically cleared to participate in their training camp right away. When you have an offensive line play the way theirs did in 2013, I guess you're willing to overlook a lot in an effort to get better.
March, 21, 2014
3/21/14
6:15
PM ET
The
New York Giants
don't like to build their team through free agency, so the fact that they have signed 19 free agents in the past two weeks indicates they have felt they had little choice. Theirs was a roster in such an extensive state of disrepair that they had to go out and apply as many free-agent band-aids as possible. No way the draft was going to fix all of their immediate needs. No one has enough picks for that.
The signing Friday of
John Jerry
, one of the former Dolphins offensive linemen who was implicated in the
Richie Incognito
-
Jonathan Martin
bullying scandal last month, is an indication of just how difficult things get when you have to be as active in free agency as the Giants have.
Jerry
Time was, the Giants would have steered way clear of anyone involved in what happened in Miami because they don't need the issues that could arise from inviting potential discord into their locker room, and they had other options for filling whatever hole they were trying to fill. But right now, with cap space dwindling and significant needs still looming with the pass rush and passing offense, the Giants are on the lookout for bargains. And in large part because of what happened last year in Miami, Jerry comes at a bargain price.
Our man Adam Caplan reports that Jerry's deal is for one year and $770,000, with only $25,000 guaranteed. That makes this a no-risk signing for the Giants from a financial standpoint. He'll come in and compete for a roster spot with guys like
James Brewer
and
Brandon Mosley
, and if he makes it he could be a useful backup at several positions or even a potential starter if
Chris Snee
can't answer the bell. Jerry is 27, turning 28 this summer like almost every other free agent they've signed, so he fits the age profile to which they have tried very hard to adhere. (The only player they've signed who is over 30 is kicker
Josh Brown
.) There are reasons the Giants can convince themselves Jerry makes sense for them, but if he had cost any more to sign than he did, they likely couldn't have brought him in.
This is a tough game the Giants are playing, and it's one in which they are justifiably uncomfortable. There is no way to sign 19 or more free agents and expect them to all work out for you. At best, they are going to end up hitting on maybe half of these signings and have to address the holes left over from the misses again a year from now. Free agency is an imperfect science, fraught with imperfect solutions to larger problems. That is the state of the Giants right now, and the fact that they had to go out and sign someone like Jerry from the pool of backup guards because the Raiders signed
Kevin Boothe
illustrates it as well as anything yet has.
February, 14, 2014
2/14/14
7:15
PM ET
I'm not going to waste time trying to provide any sort of insight into the
Richie Incognito
-
Jonathan Martin
saga, now that the Ted Wells report has been released.
My only concern: Would either player be a good fit with the Redskins?
The short answer: No.
Martin
Incognito
I'll get to Incognito's play in a minute, but I'll start with the obvious angle about why you wouldn't want him. He's just not the sort of guy you'd want in your locker room. Say what you want about the Redskins' offensive line, but in general it's a pretty cohesive group on and off the field. Guard
Chris Chester
likes talking politics and the others will chime in as well. I don't see them wanting to be around a guy like Incognito.
Also, the Dolphins reportedly considered cutting him last offseason, despite him making a Pro Bowl. He was not a good fit in their zone blocking scheme and is best described as a mauler in a man-blocking scheme. The Redskins will continue to run a zone blocking system under new coach Jay Gruden.
Then there's this comment from former coach Rick Venturi, who was on St. Louis' staff when Incognito played there -- as was Redskins defensive coordinator Jim Haslett.
Venturi told ESPN.com of Incognito:
"He's a runaway train. When we had him, and I think actually for a while in terms of his actual on-the-field stuff, I actually think he improved in Miami. But for us, he was selfish, he was loud, tried to intimidate. It was just his style. I say selfish, from the standpoint that he was highly penalized. He cost us games, cost us yardage. I was never a fan of his."
By the way, when I used to do some part-time work for the Sporting News, one of my tasks was a midseason survey of four or five players. Every year, Incognito was the runaway winner of players I spoke to as the NFL's most dirtiest.
As for Martin, he's an excellent fit in a zone scheme because of his footwork, which is why Miami drafted him 42nd overall in 2012. But he was a two-time All American in college who was not highly thought of by all. Pro Football Weekly, for example, wrote that Martin was an "overhyped developmental project who needs to get stronger."
That assessment looked accurate during Martin's time playing in Miami, whether he was on the right or left side. He did not distinguish himself at all. Perhaps he'd be better off at, say, right guard. But strength will be an issue no matter what spot he plays.
Had Martin come to Washington in the first place, which wasn't going to happen obviously, then perhaps he would have avoided certain issues now so well exposed. But he would not have avoided speculation about whether he could play. The Redskins could use more help along the line. The last thing they need is a player who needs a lot of work to develop -- they already have guys like that -- not to mention the circus atmosphere that his presence would create for a first-time head coach.
November, 6, 2013
11/06/13
8:00
AM ET
Your daily morning check-in on news and notes about and of interest to the New York Giants.
The news of the day:
Antrel Rolle went on his weekly radio show and said he thought Jonathan Martin was
just as much to blame
as Richie Incognito for the Dolphins' harassment case. And while I guess you can admire Rolle for confidently expressing and sticking to his opinion, I go the other way. Part of the problem that created the mess in Miami is an NFL locker room culture of player groupthink that condones hazing and allows this kind of behavior to go on at all. Part of Rolle's issue with Martin is that he's a "grown man" and should at some point have stood up for himself. I just think this discussion is off the rails of reality if Rolle is really telling someone to act like a grown man in defense of behavior that's completely childish. Additionally, Martin is a clear victim in this case, and blaming the victim is cowardly... Your time is better spent listening to Tom Coughlin's very good
interview on ESPN Radio

in New York, in which he discusses how he's managed the team through its tough start and what he's doing to try to convince them they're still in the hunt.
Behind enemy lines:
If there's to be a landing spot for Nnamdi Asomugha, who was cut by the 49ers this week, the one that makes the most sense is
likely the Raiders
. Asomugha's former team, with which he rose to stardom and free-agent riches, is in need of some help with rookie D.J. Hayden struggling at cornerback. Worth watching, at least. Not likely to matter to the Giants this week, but interesting nonetheless.
Around the division:
The Redskins, as many of you appear to be well aware, were 3-6 last season and won their last seven to come back and claim the NFC East title. They are 3-5 heading into a
short-week Thursday game
and hoping to position themselves better this year for a second-half run that would come with greater margin for error. It's nice to know you can run the table, but it's also nice to know you don't have to.
Around the league:
When the Power Rankings come out every week, Mike Sando, Jamison Hensley and I host a live video chat where we take viewer questions and debate some things about the Power Rankings.
This is a link to the replay of this week's chat
. I hope you enjoy it. Mike's the only one who didn't put the unbeaten Chiefs No. 1, and he has a detailed explanation.
November, 5, 2013
11/05/13
4:45
PM ET
ASHBURN, Va. --
London Fletcher
said he's never been in a situation where he needed to stop rookie hazing, or even any form of bullying. That doesn't mean he wouldn't if he had to. And that's why he's disappointed in the Miami Dolphins' leadership.
Fletcher said the team's leadership should have put an end to the situation involving offensive linemen
Jonathan Martin
and
Richie Incognito
.
"I'm real disappointed in the leadership in the locker room in Miami," Fletcher said. "Who were the leaders on the team? I know Martin didn't feel comfortable enough to go to any of the guys. Either you're encouraging it or you're turning a blind eye and allowing the guy to get treated like he was getting treated. That's the biggest thing that disappointed me. There was not a veteran guy strong enough to stop what was happening to that young man."
Fletcher said aside from a couple rookies getting upset with a gag pulled against them, he hasn't seen anything this bad.
"They might get offended so you got to calm that situation," he said. "This was something beyond that."
And he said the language Incognito
used in his texts
went way beyond what's acceptable. When asked if that's the sort of language that goes on in the locker room, Fletcher said, "Not from a white teammate. I think you have to be conscious of that. What he said, shows racism and bigotry. To leave a voice mail like that, he probably said that to the guy's face. He was very bold. I don't know if he said it around other guys or was just something he said to Jonathan in privacy. You can't allow someone to be that comfortable around you to use that type of language at all."
Linebacker
Brian Orakpo
went even stronger during an appearance on NFL AM on Tuesday.
"I wish it was me. I would have busted him in his mouth, to be honest with you," Orakpo said. "But at the end of the day, those guy have to be smart. You really don't know who you're messing with. I don't know. I feel like we don't have characters like that in our locker room, man, and I think it's kinda ridiculous. I'm kinda getting upset thinking about it."
November, 5, 2013
11/05/13
10:00
AM ET
IRVING, Texas -- Like a lot of teams, the
Dallas Cowboys
have their rookies sing during training camp. During the season, the rookies are responsible for picking up food before the team's charter flights. And there are also offensive and defensive meals that are split between all the rookies.
When apprised of alleged events with the
Miami Dolphins
,
Richie Incognito
and
Jonathan Martin
, Cowboys rookie running back
Joseph Randle
was somewhat taken back.
"I can imagine things like that happen," Randle said, "but we don't really have that problem here."
Coach Jason Garrett did not know the specifics of what happened between Incognito and Martin, but said the Cowboys have resources in place that players can use for any situation that arises.
"There's some things that have happened in football for a long, long time," Garrett said. "Rookies singing at dinner, rookies carrying shoulder pads, rookies buying fried chicken as you go to the airplane, all that stuff. That's been around forever and that's part of the process and part of what this league has been about for a long, long time. Hopefully it's always done in a way where it's developing team camaraderie and team chemistry and it's good for your team. If it comes close to crossing the line, it certainly has to be addressed. I haven't seen it like that in my career as a player, as a coach. You try to keep your eye on any of those kinds of things but I haven't really seen it being an issue in the past."
Brandon Carr
has not seen an issue with bullying or hazing in his time with the Cowboys or
Kansas City Chiefs
.
"I just know in locker rooms I've been in it's been in good fashion, just simple things just a do-boy, go do this, go do that, jokes and things like that," Carr said. "Nothing serious or personal or attacking anything outside of football. Just a rites of passage what you go through … But I just know you don't want that type of drama in your locker room between any players or one player being an outcast because that can spread to on the field and he probably has people supporting him in his corner that's in the locker room and you don't want that type of commotion in the locker room."
November, 4, 2013
11/04/13
3:00
PM ET
EAST RUTHERFORD, N.J. --
New York Giants
defensive back
Prince Amukamara
has been following
the news out of Miami
, where
Jonathan Martin
felt he had to leave the team and
Richie Incognito
has been suspended for his role in the apparent bullying and hazing of Martin.
Amukamara said Monday that, when he first heard the news, he immediately wondered how similar the case was to the hazing he famously endured last year when a video surfaced of him being dunked in a cold tub by teammate
Jason Pierre-Paul
.
"I was definitely trying to put myself in Jonathan's shoes and see if it was identical to my situation," Amukamara said.
[+] Enlarge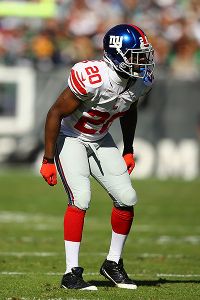 Al Bello/Getty Images"As a rookie ... you know you're going to be given a hard time, but you know it's out of love. Everyone wants great chemistry on the team," Prince Amukamara said.
The answer he came up with was, "No."
"Last year, with what I went through, I'm still sticking to my story. That wasn't bullying at all," Amukamara said. "That was just fun in the locker room. I definitely do feel safe in my workplace. And if I didn't feel safe in my workplace, I would have definitely said something to other players or to my coaches."
The incident with Amukamara got attention last year because Giants punter
Steve Weatherford
posted it on the Internet. But while Amukamara admitted he didn't like being dunked in the cold tub, he said everything was fine between him and his teammates immediately afterward and that he never felt threatened or bullied.
He said rookies who are first-round picks are generally hazed by being asked to pick up large dinner checks. ("You know they're definitely going to hit you in your pocket," he said.) And 2013 first-round pick
Justin Pugh
said Monday that he'd been the victim of a hazing prank in which he was presented with a $10,000 dinner tab only to find out later that the real cost was $1,200, which he of course was expected to pay.
The cold-tub treatment, it turns out, is punishment for reacting the wrong way to the standard rookie treatment that young players are supposed to accept.
"In our locker room, it's simple -- do what we say and you won't get hazed," cornerback
Terrell Thomas
said. "If you don't, you'll get thrown in the cold tub or your shirt will get cut up. But that's about it. Prince was talking back that day, so he got thrown in the cold tub. If you don't listen as a rookie, your choices are very limited."
Amukamara, of course, wasn't a rookie last year. It has been suggested that, due to his injuries and his limited playing time as a rookie in 2011, he continued to get rookie treatment in 2012. But Amukamara is also a different sort of guy -- quiet and introspective amid a traditionally loud and boisterous NFL establishment. It's possible he's the kind of guy who tends to get teased more than others, and he thinks that could be the case.
"I would say it's probably lightened up a little bit, but they're still giving me crap," Amukamara said. "The only thing is, I definitely give it back. And because I know it's not one-sided and I know I can walk away at any time, I think that helps. That actually frustrates them a little bit more sometimes, I think. As long as they don't physically harm me, that's all right.
"As a rookie, you know all the stories, and you know you're going to be given a hard time, but you know it's out of love. Everyone wants great chemistry on the team, and that was my mindset."
Amukamara said he has an understanding of what constitutes bullying and that he would have made a complaint if he felt teammates' behavior had risen to that level. Following the Miami situation from afar, he sees things that go way beyond anything he endured.
"Anything that's racial or threats, that's the definition of bullying or harassment," he said.
Pugh said his own rookie experience has been pleasant, and that teammates such as
Chris Snee
and
David Diehl
have even helped him with some of the more exorbitant dinner checks. Thomas recalled missions he had to go on as a rookie.
"They had me bring hard brushes, soft brushes, medium brushes, all kinds of stuff, picking up dinners," Thomas said. "I think me and Kenny [Phillips], we split a $3,000 tab. But I remember going in a snowstorm to get breakfast sandwiches and then getting in trouble for not putting them in front of the lockers. But at the end of the day, you're a grown man. You've got to, at some point, say, 'That's enough.'"
Knowing where that line is would seem to be the tricky issue, though it seems extremely clear based on the reports of the voicemails he left Martin that Incognito crossed all kind of lines by quite a bit. Compared to that, anything that's gone on with the Giants feels like little more than fun and games.
"There is a lot of peer pressure involved, and there is a lot of competitiveness involved, and if it does go over the line here, we get involved," Giants coach Tom Coughlin said. "We're all policing it. We have assistant coaches, players in leadership roles, and if for whatever reason I have to get involved and talk to someone about their behavior, yay or nay, that's what happens."
That did happen last year with the Amukamara incident, though the feeling around the Giants seems to be that it only did because the video was made public.
"If I had made a public outcry or something, that would have made it bullying," Amukamara said. "But right after I was in the tub, everything was OK. I think if it affected the way I was at work, or the way I interacted with the other players, that would have been different. But I never felt that way."
April, 23, 2012
4/23/12
4:40
PM ET
My
New York Giants
fans who sat through the whole ESPN blogger mock draft on Monday weren't thrilled when I traded away the No. 32 pick instead of selecting a player with it. But I maintain that, given the way the draft had unfolded to that point and what the offer was, it was a no-brainer decision that the Giants themselves would have made in the same exact spot. I'll take you through my reasoning.
I wasn't going to trade up with the Giants. It didn't seem like a very Giants thing to do, and after they've already traded away their fifth-round pick for
Keith Rivers
, I don't believe Jerry Reese is going to be keen on the idea of giving up more picks to move up. So I sat at 32 and had a short list of players in mind that made sense for the Giants at that spot. One was Stanford tackle
Jonathan Martin
-- a player who's dropped a bit and who I believe could fall to the Giants at 32 in real life. But Jamison Hensley took Martin for the Browns at No. 22.
Another one of those players -- Syracuse defensive end
Chandler Jones
-- was picked by Mike Sando for the Seahawks at No. 27. I like Jones for the Giants if he gets to 32 because he's a pass-rusher who went to the same school Tom Coughlin went to. Feels like a Giant to me, but he was gone.
Another player on whom I had my eye was Stanford tight end
Coby Fleener
. I have my doubts as to whether the Giants would really pick him at 32, but I'm sure they'd consider it, given his abilities and their need at the position. Anyway, Sando took him, too, to the Seahawks at pick No. 31.
After that happened, I decided I'd take Ohio State tackle
Mike Adams
. I also think this is a realistic pick for the Giants, even though they haven't taken an offensive lineman in the first round since 1999. Adams is another upside guy who's likely higher than 32 on the Giants' board and happens to fit a need. He would be in a competition for the starting right tackle job right away, with a good chance to win it, and could develop into a left tackle down the road if things don't work out with
Will Beatty
.
So I was typing away on the pick of Adams to the Giants at 32 when James Walker (on behalf of the
Buffalo Bills
) offered a second-round pick (No. 41 overall) and two fourth-round picks. This was too much value to pass up. The Giants move down only nine spots -- to a spot where Adams might still be there and, if he's not, they could still have interesting options at linebacker (
Lavonte David
) pass-rusher (
Andre Branch
), running back (
Lamar Miller
,
Doug Martin
), safety (
Harrison Smith
) or even wide receiver (
Kendall Wright
). Good value awaits at 41 and they now have four fourth-round picks with which to add depth or move up and do some interesting things in the second or third rounds. Simply too good an offer to pass up, especially with no one there screaming to be picked.
So what do you think, Giants fans? How'd your favorite pineapple do? Do you like the deal or no? And if not, who would you have picked?