May, 31, 2014
May 31
12:00
PM ET
IRVING, Texas -- Part 2 of the
Dallas Cowboys
' Twitter mailbag is ready.
In it we discuss:
If you want to read Part 1 of the mailbag,
click here.
Away we go:
May, 29, 2014
May 29
9:00
AM ET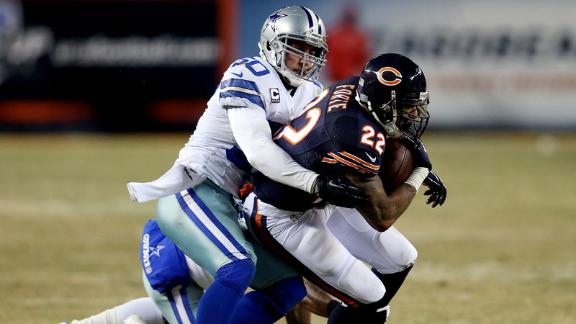 IRVING, Texas -- While the
Dallas Cowboys
have not officially said so,
Sean Lee
tore the anterior cruciate ligament in his left knee on Tuesday, according to sources, and the defense will be without its best player.
The Cowboys have yet to use the bat signal to call all unemployed middle linebackers.
The current plan is to go with what is on the roster.
They have
DeVonte Holloman
, who started the final two games of last season at middle linebacker after Lee suffered a neck injury. They have
Justin Durant
, who started one game in Lee's absence last season. They have rookie
Anthony Hitchens
, their fourth-round pick.
With eight more organized team activities, followed by six practices during a three-day minicamp next month, the Cowboys will soon have a better idea about where they stand regarding a replacement for Lee.
After that, perhaps they will look off campus for help.
Veterans like
Jonathan Vilma
,
Erin Henderson
and
Pat Angerer
have been mentioned. Even Brian Urlacher's name has come up.
Urlacher's connection to Cowboys defensive coordinator Rod Marinelli makes it interesting, but would it be appetizing? Urlacher did not play last year. He turned 36 this week. His knee gave him issues in his final seasons with the Bears.
Last year the Cowboys signed guard
Brian Waters
before the season started. He did not play in 2012 but managed to play in seven games and start five before a torn biceps ended his season. He was 36 then.
Often, past success outweighs present ability when fans yearn for a player to be signed. Urlacher is not the same player who dominated the NFL for years, just as Waters was not the same player last year that he was earlier in his career. He was solid and he helped Dallas, but he was not the same Pro Bowl player.
Vilma and Angerer have health issues. The
Minnesota Vikings
released Henderson in January after a DUI arrest.
At the end of May, there are no magic solutions to replace Lee.
The Cowboys will see if they can get by with Holloman, Hitchens or Durant, who did not take part in Tuesday's practice because of an undisclosed injury. They will study the rosters of the other teams hard over the course of the summer to see if they can find (or need) an upgrade.
The players mentioned today -- Urlacher, Angerer, Henderson and Vilma -- are likely to be available when training camp begins or even later.
If the Cowboys need them in July or August or September, they can make the call.
May, 2, 2012
5/02/12
12:22
PM ET
The big news today in the NFL is, once again, out of New Orleans, where two current Saints defensive players and two former ones have been suspended for their alleged role in the Saints' bounty programs. Saints linebacker
Jonathan Vilma
has been suspended for the entire season and defensive lineman
Will Smith
has been suspended for the first four games. Former Saints defensive lineman
Anthony Hargrove
, who was in camp with the
Philadelphia Eagles
last year and is now with the Packers, is suspended for eight games, and former Saints linebacker
Scott Fujita
(now with the Browns) is suspended for three.
This all assumes that these suspensions hold up, and we have yet to hear from the NFLPA, which has been arguing for weeks that the league had insufficient evidence to support claims that the players were complicit in administering the bounty programs or that they acted on bounty offers during the games in question. But assuming Vilma and Smith are suspended at all, that's a nice little break for the
Washington Redskins
and rookie quarterback
Robert Griffin III
, who are scheduled to open the 2012 regular season against the Saints in New Orleans on Sept. 9. While a road game in New Orleans remains a difficult challenge for anyone, especially a rookie quarterback, the Saints' defense obviously becomes somewhat less fearsome if Vilma and Smith aren't on the field.
The other three teams in the NFC East also play the Saints this year, though all are scheduled to do so after Smith's suspension expires. The Eagles open their season Sept. 9 in Cleveland against the Browns, who will be without Fujita if his suspension is upheld.
January, 29, 2010
1/29/10
1:00
PM ET
By
Matt Mosley
| ESPN.com
Pro Bowl Watch
:
AFC
»
East
|
West
|
North
|
South
NFC
»
East
|
West
|
North
|
South
In case you missed it, the NFC East (namely the Cowboys and Eagles) has taken over the NFC Pro Bowl roster. We've mentioned several times the fact that more players than ever seem to be dropping out of Sunday's game in South Florida, but let's take a moment to focus on a player who truly appreciates his spot on the roster.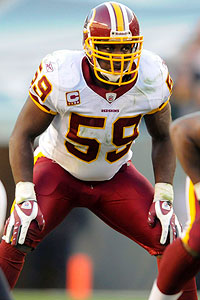 Howard Smith/US PresswireAfter being overlooked for years, London Fletcher is finally going to the Pro Bowl.
The fact that Redskins middle linebacker
London Fletcher
needed the Saints'
Jonathan Vilma
to miss the Pro Bowl isn't significant in the whole scheme of things. At age 34, Fletcher probably should have played in five or six Pro Bowls by now but for whatever reason he's come up short in the voting process.
In '09, Fletcher was credited for 142 tackles (the Redskins say he had 172), which ranked second in the league behind the 49ers'
Patrick Willis
. It didn't help Fletcher's cause that he played on one of the worst teams in the league, but you never saw him back down. His streak of playing in 192 consecutive games is second only to
Brett Favre
. The 5-foot-10, 245-pound linebacker from Division III John Carroll has always been an underdog, but that hasn't kept him from being one of the most productive players in the league.
He admitted to being incredibly nervous in the final moments of the NFC Championship Game because his Pro Bowl ticket was hanging in the balance. Now, he's in the process of trying to secure tickets for family and friends who never gave up on him making it to the NFL's all-star game.
"I'm thinking, 'Man, here I am in my 12th year. Is it ever going to happen for me?' When it finally became a reality, yeah, it was a big relief. I didn't sleep much at all last night," Fletcher told reporters via conference call this week. "The Pro Bowl is something they have all been waiting for. They've gone to two Super Bowls with me. But now, finally getting the Pro Bowl is something that they've also been looking forward to."
Eagles quarterback
Donovan McNabb
told reporters in South Florida that he was thrilled for Fletcher, but he's not cutting him any slack when it comes to "rookie" hazing. He indicated that Fletcher would soon have some large tabs at the team hotel's pool bar.
And something tells me that Fletcher won't hesitate in picking up the check. He's long overdue.
December, 6, 2009
12/06/09
4:34
PM ET
By
Matt Mosley
| ESPN.com
The Redskins' defense bailed out quarterback
Jason Campbell
after he had an awful interception with just over a minute left in regulation.
Jonathan Vilma
made the interception, but the best the Saints could do was a 58-yard field goal attempt from
Garrett Hartley
.
But the only reason the Saints are tied is because Redskins kicker
Shaun Suisham
missed a 23-yard field goal late in the fourth quarter that would've given the Skins a 10-point lead. If the Redskins lose this game, it's hard to imagine Suisham having a job tomorrow.
We'll keep you updated.