December, 9, 2013
12/09/13
8:00
AM ET
LANDOVER, Md. -- A review of four hot topics following the
Washington Redskins
'
45-10 loss
to the
Kansas City Chiefs
:
Shanahan's status:
As Monday began, Redskins coach Mike Shanahan remained employed. He looked exhausted or perhaps resigned to his fate Sunday night when he left FedEx Field nearly 90 minutes after an embarrassing 45-10 loss to the Chiefs. There have been too many recent stories detailing relationships -- Shanahan and
Robert Griffin III
; Shanahan and Griffin/Dan Snyder and Kyle Shanahan and Griffin -- and too many losses on the field to think this situation can be salvaged. Four years into the regime, the roster still needs a lot of work. The salary-cap penalty didn't help, but free agency has been mixed for Redskins anyway, so to think it would have solved everything is incorrect. There are reasons to change regimes other than failed relationships. Aside from Griffin, the team leaders have publicly endorsed Shanahan's return, and privately, players support him as well. But with a 24-37 record, they haven't backed their support up with the sort of success the organization wanted.
Garcon
Morris
Griffin's status:
On any other Sunday, the fact that Shanahan did not commit to Griffin to start the following week would make huge news. But it got lost in the drama of Shanahan's job and the dynamics of various relationships. Shanahan would only say they'll "talk about it later." If there was no doubt, Shanahan would say so. It could be a moot point, as Shanahan might not even be the one making that decision. And it's becoming clear he won't be the one making these decisions in 2014. Still, for now, Shanahan isn't sure whether he wants Griffin or
Kirk Cousins
to start against Atlanta. Shanahan is a strong believer in Cousins, and Griffin has been inconsistent at best. It also makes you wonder whether owner Dan Snyder would stand for something like this, knowing the future implications. Playing Cousins to "see what you have" doesn't make much sense because Griffin remains the future. Just like it doesn't make sense to bench Griffin just to keep him healthy. If he is the future, he needs to play and play a lot. If you're not sold on that, then that's a reason to play Cousins, or maybe also if you want to send a parting shot to the current starter. Regardless, it's just more drama in Washington -- because there wasn't enough already.
Special-teams mishaps:
Niles Paul
was as upset as anyone after Sunday's game because of the special teams' performance. He blamed it in part on players' mindsets, saying that some guys project themselves as future starters, so they don't prepare right for special teams. The thing is, on punt and kickoff coverage, there aren't a lot of young players who are even guaranteed of a roster spot next season, let alone a starting job. On kick return Sunday, there were four players who are in their first or second years --
Bacarri Rambo
,
Jose Gumbs
,
Josh Bellamy
and
Trenton Robinson
. Rambo already is starting (he was knocked for his special-teams play earlier this season). On punt coverage, 10 of the 11 players have been in the NFL for at least three years. The exception: Robinson. No, it's not about young guys who don't get it. Rather, it's about veterans who don't do it well. This unit was put together poorly.
Milestone marker:
In a bad season, two Redskins offensive players have been consistent producers -- receiver
Pierre Garcon
and running back
Alfred Morris
. Both surpassed the 1,000-yard mark Sunday; Morris has now rushed for 1,027 yards, while Garcon has a career-best 1,017 yards receiving. Morris' overall yardage total won't match his 2012 number of 1,613 yards, but that's not his fault. Morris is averaging 4.7 yards per carry and has run the ball only 37 times combined in the past three games, two of which were blowouts. He's also averaged 3.7 yards or fewer in those games as teams focused hard on stopping the Redskins' run game. Still, Morris has had a strong year running the ball in an offense with so much inconsistency. Garcon has posted big numbers, though he doesn't have many big plays and has caught just three touchdown passes among his 89 catches. His longest catch is 44 yards, a function of a passing game that is either inaccurate downfield or doesn't get enough time to throw certain passes. Garcon is averaging 11.4 yards per catch, his lowest figure in his five seasons as a full-time starter. But he's done a good job being able to catch and run, especially on screens, and is the lone receiver who worries a defense.
December, 4, 2013
12/04/13
8:00
AM ET
The
Washington Redskins
should not start playing young guys just because they're out of playoff contention. I'm with coach Mike Shanahan on this one: You can do more harm than good by taking that philosophy.
This isn't baseball where you have September call-ups that you can give at-bats. If you play a guy, say, along the offensive line who isn't ready, then your quarterback could be in jeopardy. It makes no sense. Not every young guy projects to being part of the roster in the future, either.
Some young guys are just on the roster because of injuries to others. And just because fans or media want to see a guy doesn't matter; the coaches analyze every practice tape and have a good sense of what players can do or what they know. Others can see athleticism or talent, but it's often what you know and are capable of learning that makes the difference.
Some young players -- I'm looking at guys who are rookies, first- or second-year players -- already are getting time:
Robert Griffin
III,
Alfred Morris
,
Jordan Reed
,
Chris Baker
,
Aldrick Robinson
(technically his second year because he spent almost all of his rookie year on the practice squad),
Bacarri Rambo
and
David Amerson
.
Here's a look at the young guys who aren't getting a lot of time right now and whether or not they should:
[+] Enlarge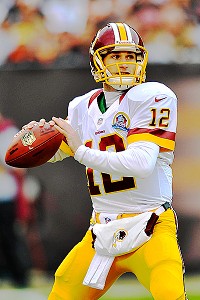 David Richard/USA TODAY SportsKirk Cousins has attempted only nine passes this season.
Quarterback Kirk Cousins
: The coaches like him a lot, but he should only play if Griffin gets hurt. That is, unless you don't think Griffin is the future. I don't think that's the case. If they do play Cousins, then you'll get to enjoy an entire offseason of you know what. What about drumming up trade value? Personally, I'd hang onto him another year; keep him as long as possible for insurance purposes. If you like him, why rush a trade? I have a hard time seeing anyone trade a high pick for Cousins based on his first two years, but as they say, it only takes one.
Wide receiver Lance Lewis
: He shouldn't play more than he is; he's still relatively raw and needs more time to develop in practice and in the offseason.
Wide receiver Josh Bellamy
: Recently signed off the practice squad. Not ready.
Wide receiver Nick Williams
: I could see him being a factor in the future, depending on who's coaching. With
Santana Moss
likely in his final four games in Washington, I'd continue to work Williams into the lineup as the Redskins have been doing.
Left guard Josh LeRibeus
: He's a young lineman and former third-round draft pick. That should add up to playing time in a lost season. But after a disastrous offseason and poor showing in the preseason, there's nothing to suggest he should be playing. Which is not a good sign. He needs a strong offseason.
Right guard Adam Gettis
: I'd love to see him get some snaps. At 292 pounds, the undersized Gettis has excellent lower body strength, which somehow allows him to anchor despite getting moved back in protection. He was an improved run-blocker this summer.
Chris Chester
has not played as well as last season. Still, I'd be careful here. If there's a coaching change, I'm not sure either player would return: Chester because he'll turn 31 in January and Gettis because he's smaller and would not fit every system.
Offensive tackle Tom Compton
: Another guy I'd like to see get some snaps.
Tyler Polumbus
has been better than last year but has had issues recently and certainly shouldn't have a stronghold on the position. Compton looked better this summer than as a rookie and, ideally, in Year 3 he'd be ready to become a contributor. Regardless, the Redskins need to upgrade the line.
Linebacker Brandon Jenkins
: For now he's just a pass-rusher and there are others clearly better than him. He has work to do in the offseason.
Safety Jose Gumbs
: Future special-teamer. I don't see any reason he should be playing right now.
Corner Chase Minnifield
: He shouldn't be playing ahead of the other corners and really needs to be better on special teams. Even if they clean house at this position, I wouldn't see him as anything more than a guy fighting for a roster spot in 2014. I love his attitude and physical style, but he needs to show he can play a variety of coverages. He's a smaller press corner. Another offseason of work with no knee issues should help him.
Safety Trenton Robinson
: Special-teamer. He's gotten some snaps, but there's nothing to suggest he should be muscling his way into more time.
NFC EAST SCOREBOARD
Thursday, 11/27
Sunday, 11/30