December, 5, 2013
Dec 5
4:35
PM ET
IRVING, Texas – The time off after the
Dallas Cowboys
' win over Oakland on Thanksgiving Day did defensive end
DeMarcus Ware
good. He could tell at Thursday's practice.
Ware
"I was doing a lot of moves I usually don't do," Ware said. "I was doing them in practice, feeling really confident in it. I've got my strength back, so I'm happy about that."
Ware missed three games earlier this season because of a quadriceps strain, but he has played in each of the last three games. In his first game back, against the
New Orleans Saints
, he was limited to 51 of 83 snaps after he aggravated his quadriceps on a sack of
Drew Brees
. He played on 96 of the last 123 defensive snaps in the Cowboys' wins against the
New York Giants
and the Raiders. It is the highest percentage of plays Ware has played since the first two games of the season.
Now he knows he has to get his sack totals up. He has only five this season, his fewest this late in a season since his rookie year. And he knows it will be
Josh McCown
he must track down, now that the Bears have ruled out
Jay Cutler
.
McCown has been sacked 10 times in his six games (four starts). Cutler was sacked 11 times in his eight starts.
"I've got to get back on track," Ware said.
December, 3, 2013
Dec 3
9:00
AM ET
IRVING, Texas -- The Cowboys have had some time to wonder some things after their win on Thanksgiving against the
Oakland Raiders
.
Every Tuesday as always wonder about some things. Five Wonders is back and off we go:
November, 21, 2013
Nov 21
4:00
PM ET
PHILADELPHIA -- Quarterbacks
Tony Romo
and
Nick Foles
will have a lot to say about whether Romo's
Dallas Cowboys
or Foles'
Philadelphia Eagles
wind up going to the playoffs as NFC East champions.
The two could even face off in a winner-take-all season finale at Dallas on Dec. 29.
Two other quarterbacks, however, could have almost as much impact on the NFC East race: the
Chicago Bears
'
Jay Cutler
and the
Green Bay Packers
'
Aaron Rodgers
.
The Eagles (6-5) already banked a win at Lambeau Field thanks in large measure to the absence of Rodgers, who broke his collarbone six days earlier during a Monday night game. The Cowboys (5-5) host the Packers on Dec. 15.
The availability and effectiveness of Rodgers, who has thrown on the side without a helmet or pads, will have a huge impact on that game, obviously. The Packers are 0-3 without him, including the game in which Rodgers was injured. They were 5-2 with him.
As for Cutler, he had the hard cast removed on the sprained ankle that has kept him out since Nov. 10. He is listed as week to week and, while
Josh McCown
has played well in his absence, Cutler is a difference-maker when healthy.
The Cowboys play the Bears at Soldier Field on Dec. 8. The Eagles host Chicago two weeks later. Cutler's status could have a huge impact on both games.
So Cutler and Rodgers could profoundly influence three of the 11 remaining games that will determine the NFC East champion. Here's how the path to Dec. 29 looks (if you want to use ESPN's Playoff Machine to work your own scenarios, it's
here
):

Sunday:
The Eagles, in their bye week, can watch Dallas play the
New York Giants
at the Meadowlands. That's a tough game for the Cowboys, who are coming off their own bye and, before that, a brutal beating at the hands of the
New Orleans Saints
.
A win would tie the Giants with the Cowboys at 5-6, so technically New York would also be in the race. We're omitting them for now because the possibility of a team that started 0-6 going to the playoffs is too depressing to consider.
Projection:
Eagles 6-5, Cowboys 5-6.

Week 13:
The Eagles host the
Arizona Cardinals
, who could be 7-4 pending the outcome of this weekend's home game against the
Indianapolis Colts
. With rookie head coach Bruce Arians and veteran quarterback
Carson Palmer
, the Cards' profile is similar to the one the Eagles encountered against
Philip Rivers
and the
San Diego Chargers
. The Eagles defense is miles better than it was then and, while this is a tough game to pick, the Eagles are likely to be favored.
By kickoff of that game, the Eagles will know exactly where the Cowboys stand. After the Giants game, Dallas has four days to prepare for a Thanksgiving Day home game against the
Oakland Raiders
. The Cowboys have to be favorites in that one.
Projection:
Eagles 7-5, Cowboys 6-6.

Week 14:
The Eagles host the
Detroit Lions
while the Bears play the Cowboys on an afternoon with profound consequences on the NFC East and North. With
Matthew Stafford
and
Calvin Johnson
on one side of the ball and
Ndamukong Suh
on the other, the Lions are probably the toughest of the Eagles' remaining opponents. Put another way, a win here would put the Eagles in a commanding position.
If Cutler is Cutler, the Bears are likely to be favored at home, especially as weather becomes a factor in Chicago.
Projection:
Eagles 7-6, Cowboys 6-7.

Week 15:
The Eagles travel to the
Minnesota Vikings
for what should be a comfortable win. Unless
Josh Freeman
is playing quarterback at an unexpectedly high level by then, the Eagles defense can focus on bottling up
Adrian Peterson
.
Dallas, meanwhile, hosts the Packers. Here's where Rodgers could really swing the NFC East race. If he plays at his usual level, it's hard to imagine Green Bay losing. If not, the game belongs to the Cowboys.
Projection:
Eagles 8-6, Cowboys 7-7.

Week 16:
Cutler comes back into the picture here. If he plays against the Eagles at Lincoln Financial Field, it's a very different game than if he doesn't. The guess here is that, with the Bears in playoff contention, he will.
Dallas goes to Washington.
Projection:
Eagles 8-7, Cowboys 8-7.

Week 17:
Eagles at Cowboys. Factoring in the Cutler and Rodgers variables, either team could be 9-6 or 7-8 just as easily. But what fun would that be? If they're both 8-7, this essentially becomes a playoff game.
Ah, but what if both teams are 7-8? That might be worse for the Eagles, since it would mean they went 1-3 between now and then. That could indicate injuries or instability at quarterback.
If the Eagles are 9-6 and Dallas is 8-7, the Eagles still might have to win the game to take the division. The first tie-breaker is head-to-head competition, so the Cowboys would edge them out if they both finish 9-7 that way. The second tie-breaker is record within the division. The Eagles are 3-2. Dallas is 3-0 with games against all three division opponents on their schedule. Winning any of those three would give the Cowboys the second tie-breaker.
Projection:
A big game in Arlington, Texas, on Dec. 29.
October, 21, 2013
Oct 21
12:30
PM ET
A review of four hot issues following the
Washington Redskins
'
45-41 win
over the
Chicago Bears
:
[+] Enlarge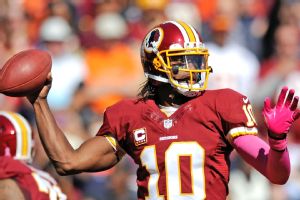 AP Photo/Nick WassRobert Griffin III showed off the Griffin of old against Chicago, rushing for 84 yards and throwing for 298.
Robert's return:
Quarterback
Robert Griffin III
has been playing all season, obviously, but Sunday marked the first official return of Griffin pre-knee injury. He hurt Chicago running (84 yards) and throwing (298 yards). What really helped the Redskins was the ability to be balanced in their play calls and to use a large dose of play-action passes. Defenders were out of position and alleys created because of Griffin's success. If the Redskins need him to play this well every week to win, then they'll continue to struggle because Sunday's game will be hard to duplicate. But when Griffin gets on a roll, it raises the confidence of everyone around him. Defenders talked often last year about how they knew that they had a quarterback who could bail them out.
Meriweather's status:
The NFL will suspend safety
Brandon Meriweather
. It's just a matter of how many games, according to ESPN's Adam Schefter. Meriweather plays with a lot of passion and an exuberance that rubs off on his teammates. He's also been effective -- not great but OK -- in the secondary. He's mostly a sure tackler, but his hits are killing the Redskins and cost them 22 yards Sunday. They'll cost him a lot more in his pocketbook -- and it will cost the Redskins a player for one or two games. The Redskins don't have the depth to withstand the loss. Meriweather says he's changed the way he hits and he probably has. And it's difficult for defensive backs to play with his old sort of abandon anymore. But Meriweather must change; if he can't, then it'll be difficult for a team to trust him in the future. It'll also make it a lot tougher on his current team.
Defensive inconsistency:
The Redskins played terrific in the first half against Chicago and quarterback
Jay Cutler
. They tackled well and prevented big plays and disrupted timing. And then they went in the tank against backup quarterback
Josh McCown
. The game tested the Redskins' resolve and they could learn a lot about themselves. But you could feel a lot better about the overall defense had Washington not been picked apart in the second half. With Denver's
Peyton Manning
and San Diego's
Philip Rivers
in the next two weeks, they need to do better or continue what they showed in Dallas and the first half versus Chicago.
Two-headed monster:
The Redskins surpassed 200 yards rushing for a second straight game and, while Griffin's legs certainly helped here, so, too, does having
Alfred Morris
and
Roy Helu
. Morris lacks Helu's burst, but his vision and patience makes him an excellent back. And Helu does more than just provide a change-of-pace. He's a big back (5-foot-11, 215 pounds) who has been effective in the red zone, in part because with him in the game the Redskins can run or pass. Most of the time when Helu is in the Redskins do pass, so defenses must honor that threat (as opposed to Morris, who is not a good pass-catcher). Having that balance in the red zone is imperative. It's why Helu rushed for three touchdowns. Meanwhile, Morris averaged 5.0 yards per carry and gained 95 yards. If Washington keeps games close, these two can both be productive and helpful.
October, 20, 2013
Oct 20
10:35
PM ET
Thoughts and observations after the
Washington Redskins
'
45-41 victory
against the
Chicago Bears
:
One win should not be cause for anyone to say the Redskins have turned their season around. That's not how it works. It only means they're capable of winning at home. Last year's turnaround really began on Thanksgiving Day in Dallas after a lay-up win over the struggling Philadelphia Eagles at home. Beat the Denver Broncos? They become legitimate factors. Short of that, just play well in Denver and, if they lose, win a couple games in a row. They need to play well for an extended stretch before we can talk turnarounds.
What I liked, however, is that the Redskins had to gut this one out. Of course, that shouldn't have been the case with Jay Cutler out and Josh McCown in at quarterback for Chicago. McCown picked them apart and hurt them with his legs. However, it did force the Redskins to reveal more of their character because they were tested. They gave up a punt return for a touchdown and responded with an 11-play touchdown drive to regain the lead. They allowed a 50-yard game-tying run to Matt Forte for a touchdown and followed that with an 83-yard scoring drive to regain the lead. Chicago scored three times in the fourth quarter; Washington scored twice. Punch; counter punch. Sometimes the most rewarding games are one's like this, when you are tested. Of course, a 45-20 win would have said a little bit more. But you get the point.
Brian Orakpo, it turns out, does have hands. It's quite shocking that Orakpo had never before scored in a game. For a guy who started playing in middle school, that's astounding. "I was so excited I didn't know what to do. It was a phenomenal feeling. I've been preaching that I'm trying to get my 'Ryan Kerrigan' on," Orakpo said. That play was huge (and give a big assist to safety Reed Doughty for being so quick to the ball and preventing Alshon Jeffery from catching a bobbled pass).
Yes, the zone read still works. Like any other play it must be run correctly and when it does? It works. The Bears focused so hard on stopping running back Alfred Morris that it enabled Griffin to get outside time and again. "I thought they would have had a better plan because we showed so much of it last week," Redskins tight end Logan Paulsen said. "But there's only so much you can do. We've seen those looks."
The Bears also helped by playing a lot of man coverage (as Dallas did) so when Griffin ran wide all he needed to do was beat a linebacker. And if that linebacker was focused inside, as they often were, it was a foot race he was going to win. Chicago would send two linebackers to the zone read side, with one who was supposed to eye Griffin. However, that wasn't always happening and Griffin could slip outside. But the Redskins also took advantage of this strategy. The 26-yard pass to tight end Jordan Reed on the final drive did just that. Both the inside linebacker and left outside linebacker flowed to the right to defend a zone read look that way (and a fake end around by Josh Morgan). Griffin could throw back to the left, with no linebacker in front of Reed.
The no-huddle look worked once again. I loved how they ran it with running back Roy Helu in the third quarter. He made it harder on a tiring defense because of his speed. The Redskins helped by doing what they did in Oakland: making the Bears defend wide to the right side one play, then force back to defend wide to the left on the next. Eventually, you could see the defense not getting down in their stance enough to shoot hard off the ball. "The defense can't get the call in quickly so you get those looks where half are up and half are down looking at each other waiting for the call," Paulsen said. Mix that with a little fatigue and it was a good recipe.
Thus far it's worked a change-of-pace. That doesn't mean it would work the entire game (I'm a huge Seinfeld fan, but would an entire show about Kramer have worked? No. Sometimes less is more). The Redskins can run a good chunk of their offense from this look, but the real fear is that if you run a no-huddle a quick three-and-out could eat up about 15 seconds. It has to happen at the right time, with the right field position and at a point where you have the right defensive personnel on the field.
Can you really say the special teams were that much better when they still allowed an 81-yard punt return for a touchdown. Yes, take that play away and the Bears had 109 return yards (four on punts; 105 on seven kickoffs). They avoided Devin Hester on kickoffs -- he managed 40 yards on two kick returns and, of course, the 81-yard punt return. The Redskins still get nothing out of their return game. Absolutely nothing. Do you hear me?
Nobody should be surprised by Reed's emergence. This is what he showed in training camp. I talked to tight ends coach Sean McVay on Friday about Reed and the next step he would take: the deep ball. Reed showed his downfield speed Sunday and, just as important, he played after getting banged up. That's huge for a young kid who came out of college with durability issues. And the fade throw to him in the end zone, matched against safety Chris Conte, was a no-brainer. Conte never had a chance as Reed took him inside and cut back outside. It was like lobbing the ball into the post to a big man against a guard.
When you run for more than 200 yards, you should have a strong game. This is who the Redskins are and the reason their offense has looked better the past two weeks. If they can't run play-action they're in trouble, but they could. They also could be more balanced in the red zone, something they haven't been able to be much of this season because of various factors: score, time of game, etc. It made a difference; they had four legitimate drives inside the 20 and scored touchdowns on each. Their play calling kept Chicago off-balance.
March, 5, 2010
3/05/10
3:20
PM ET
By
Matt Mosley
| ESPN.com
New York Giants
unrestricted free agent quarterback
David Carr
will visit the 49ers this weekend,
according to Mike Garafolo of the Star-Ledger
. Carr's also expected to be in the mix with the Cardinals, so it's likely that his time with the Giants has come to a close. We'll soon find out how much faith the Giants have in former Oklahoma/Sam Houston quarterback
Rhett Bomar
.
Keep in mind that the Redskins just released backup quarterback
Todd Collins
, who led Washington to the playoffs in '08. And there's always the
Jeff Garcia
option, although he's never really fancied himself as a backup.
Mark Brunell
had a great influence in the Saints' locker room. He's be a good option -- as long as he wasn't called upon to play more than a game or two.
I think you'd feel a lot safer with Collins or Garcia. Then you could try to get Bomar ready for the No. 2 job. Here are some other candidates off the league's official unrestricted free-agent list: Panthers QB
Josh McCown
, Lions QB
Patrick Ramsey
, Texans QB
Rex Grossman
(likely headed to Redskins because of Kyle Shanahan), Dolphins QB
Chad Pennington
(Hmmm...), Steelers QB
Charlie Batch
, Rams QB
Kyle Boller
.
Another possibility is former Bills quarterback
J.P. Losman
.