August, 29, 2013
Aug 29
11:04
PM ET
FOXBOROUGH, Mass. –- The
New York Giants
suffered yet another significant preseason injury Thursday, as running back
Andre Brown
broke his left leg during the Giants'
28-20 loss
to the
New England Patriots
.

What it means:
One week after losing safety
Stevie Brown
for the season to a torn ACL in a preseason game, Andre Brown breaks his left leg. It's the same leg on which Andre fractured his fibula against the Packers on Nov. 25 last year. The Giants said Andre could have returned that season if they made it to the Super Bowl, so he could be a candidate for the injured reserve/"designated to return" spot that would allow him to come back after eight weeks.
Andre Brown's injury is a blow to the running game. Coach Tom Coughlin wanted a one-two punch with
David Wilson
and Brown, who is the Giants' most well-rounded running back. Brown could run with power and speed and catch out of the backfield and was the team's best pass-protecting back. The team will now have to depend on and trust Wilson even more. Seventh-round pick
Michael Cox
might move up to the backup spot.
Ryan Torain
's and
Da'Rel Scott
's chances of making the team have increased with Saturday's final cuts looming.
The Giants could also always look outside and see what is available, especially after teams make final cuts on Saturday.
More injuries:
Brown wasn't the only Giant to suffer an injury. Backup safety
Tyler Sash
suffered a concussion, and the Giants were already smarting there with the loss of Stevie Brown for the year. With
Will Hill
having to serve a four-game suspension to start the regular season, the Giants can't afford to lose Sash for an extended amount of time. Rookie
Cooper Taylor
will be behind starters
Antrel Rolle
and
Ryan Mundy
if Sash has to miss time.
Also, tight end
Adrien Robinson
suffered an injury to what appeared to be his left foot. The severity of the injury wasn't immediately known. Already this preseason, the Giants have watched starters such as
Victor Cruz
(heel),
David Baas
(left MCL),
David Diehl
(thumb) and the two Browns suffer injuries in preseason games.
Offense awakens:
On a very small side note, the starting offense finished the preseason strong by scoring a touchdown in the red zone. After struggling in the preseason inside the opponent's 20,
Eli Manning
orchestrated a 10-play, 91-yard drive that resulted in a 3-yard touchdown strike to
Hakeem Nicks
.
Manning opened the drive with a 37-yard completion to
Louis Murphy
. Manning also hit tight end
Brandon Myers
on a 10-yard gain, and Wilson had a 16-yard run as well on the drive.
One more time:
Several Giants tried to make a final impression in the last preseason game. Defensive tackle
Mike Patterson
looked good, applying pressure to the quarterback several times and getting a sack and a half. Patterson might have solidified a roster spot with that performance.
Marvin Austin
, a second-round pick in 2011, might be fighting for a roster spot.
Middle linebacker
Mark Herzlich
also had a strong outing, snatching an interception off a deflection right before it hit the turf. Defensive ends
Matt Broha
,
Justin Trattou
and
Adewale Ojomo
all had sacks on
Tim Tebow
as well.
What's next:
The Giants will make final cuts on Saturday and play in Dallas in the season opener on Sept. 8.
August, 18, 2013
Aug 18
11:30
PM ET
EAST RUTHERFORD, N.J. -- For the benefit of those who are new around here, I'll restate this: I simply will not overreact to preseason NFL games. If you, as a fan, want to do that, that's fine with me. But don't come here expecting me to join in. So if you want me to tell you to be worried that the
New York Giants
had trouble scoring in the red zone in Sunday night's
20-12 "loss"
to the
Indianapolis Colts
, or that they struggled to cover receivers, or that
Eli Manning
didn't look sharp, too bad. You're going to have to go get that somewhere else. History clearly shows us that preseason games offer no predictive value whatsoever. Teams aren't game-planning for each other this time of year, and the fact that one team's offense/defense was effective/ineffective against another's on Aug. 18 is simply immaterial. How bad the Giants looked Sunday night means no more than how bad the Cowboys looked Saturday or how good the Eagles looked Thursday. It's the wrong place to focus.
So what we do here when we break down preseason games is highlight some individual performances or personnel patterns that might turn out to be noteworthy or significant. And, of course, we discuss injuries, which is where we will start Sunday night.
Wide receiver Victor Cruz and center David Baas both left the game during the first offensive series for X-rays, which turned out to be negative. The Giants say Baas has a knee sprain and Cruz has a heel bruise. Both are likely to get more tests, Baas especially. And while the news on Cruz obviously could have been worse, it's worth watching to see whether this is something that limits him this week in practice.
"He runs to make his living, and, obviously, he's got an issue with his heel," Giants coach Tom Coughlin said of Cruz. "Hopefully, it's not going to be a long thing. They're going to continue to do some tests on him."
Justin Tuck also left the game with a hamstring injury. Prior to that, I personally thought Tuck looked great. I'd singled him out prior to the game as someone I was going to watch, and in the first quarter he looked quick and energized as he hassled Colts quarterback Andrew Luck and batted down a pass. An energized Tuck would be a tremendous positive for the Giants this season, provided, of course, that energy comes with fully healthy hamstrings.
David Wilson is a lot of fun to watch run. He broke a 21-yarder and threw in a 16-yard reception on which he almost impossibly avoided falling to the ground along the sideline. But unless I missed one, there wasn't a single third down during his part of the game on which he wasn't replaced by Andre Brown. We know how important pass protection is going to be when evaluating these running backs and assigning them carries, and it seems clear that the Giants trust Brown more in pass protection right now than they trust Wilson. Brown looked good picking up blitzing safety Antoine Bethea on a third-down play in the second quarter that resulted in an 11-yard pass to Rueben Randle. Can that change before the season starts? Sure, and certainly before it ends. But a Wilson/Brown backfield committee looks like the plan right now. Brown had 36 yards on eight carries and caught one pass. Wilson had 34 yards on eight carries and caught two passes. Wilson did not return any kickoffs.
Michael Cox looks like a keeper, and not just because he looks like a non-Wilson option on kick returns. Cox had just two carries for four yards but also had two long receptions out of the backfield -- one for 20 yards and another for 28. "He's got a lot of fight," Coughlin said. "He breaks tackles, and he's very persistent in what he does. And he does the same thing on special teams, so he's making good progress." Cox is obviously ahead of Da'Rel Scott, who did not play in the game, in pursuit of a roster spot. And it's possible he could pass Ryan Torain on the depth chart as well, though Torain went into the game before he did and shows a lot as a blocker.
Right tackle David Diehl got beaten badly on a couple of plays, one of which resulted in an Erik Walden sack of Manning. But the Giants seem committed to playing him at right tackle over first-round rookie Justin Pugh, who's being brought along slowly. The offensive line is tough to judge because right guard Chris Snee barely played (he's still recovering from offseason hip surgery) and Baas went out early.
Lots of moving the linebackers in and out. Tough to pick out anything that either Mark Herzlich or Dan Connor did to separate himself in the middle linebacker competition. Jacquian Williams showed excellent speed and quickness in short-range coverage on a third-down pass attempt by Matt Hasselbeck to Robert Hughes in the third quarter. Williams is likely the Giants' best coverage linebacker and as such was used mainly on passing downs.
Justin Trattou had a sack on which he got help from Marvin Austin and Adewale Ojomo in collapsing the pocket. It was a decent night for the Giants' backup defensive ends in terms of creating pressure, even though they got only one sack. As for the defensive tackles, Austin looked fine on that one play but, in general, doesn't show much power at the point of attack. Second-round pick Johnathan Hankins looks like he could stand to get stronger as well.
Coughlin said last week that David Carr would play this game and Curtis Painter would play Saturday's game against the Jets. With fourth-rounder Ryan Nassib sure to make the team as the No. 3 quarterback, Carr and Painter are competing for the No. 2 job. Carr was just meh -- seven for 11, 57 yards -- and he got sacked three times. I guess if Painter looks great, he could win the job. But the Giants know and like Carr, so it's no sure thing.
And, finally, on the Reggie Wayne touchdown catch that first bounced off the hands of cornerback Aaron Ross: Ross said the lights blinded him and he lost the ball. He said he usually wears eye black or special contact lenses that help with that, but for some reason he wasn't wearing them Sunday. "Just one of those freak plays that thankfully doesn't count," Ross said. "I knew he was behind me, so as soon as I hit it, I looked back and … it was bad."
Preseason, though, Aaron. Just preseason. As Ross pointed out, it didn't count. None of it. And while Coughlin was annoyed about the performance, that's his job -- to keep giving these guys things to work on in the final three weeks before the start of the regular season.
June, 5, 2013
Jun 5
2:35
PM ET
They've already lost long-timer
Osi Umenyiora
to free agency, and they can't know at this point what they'll get out of
Justin Tuck
after two down years in a row. So the
New York Giants
' pass rush didn't need the news Tuesday that
Jason Pierre-Paul
was having back surgery that throws his status for Week 1 into doubt. The Giants like to maintain depth at defensive end, but that's being challenged right now.
Mathias Kiwanuka
moving back up to the line from linebacker can only help so much.
So
here's Ohm
on
Adrian Tracy
, who's been getting first-team reps in OTA practices due to the absences of others and could well be asked to take on a larger role for the Giants if Pierre-Paul has to miss any significant chunk of time:
The young defensive end nicknamed "Yosi" -- as in Young Osi -- hopes he can help fill the void left behind by Osi Umenyiora's departure to Atlanta and serve as the third defensive end now while JPP is sidelined.

"It is big not only for me but for everybody," Tracy said last week of the opportunity to move up with Umenyiora gone. "Somebody of that stature leaves for whatever reason, an opportunity always opens. Whoever seizes it will step in that place and hopefully that is me this year."
As Ohm points out later in the story, rookie
Damontre Moore
,
Justin Trattou
and 2012 camp star
Adewale Ojomo
also remain on the roster as pass-rush options, and it's possible one or more from that group could surpass Tracy. But since this is Tracy's fourth year in the Giants' system (counting the 2010 season he spent on injured reserve), it would appear to be his turn to seize playing time if it's to be presented to him. Even if Pierre-Paul ends up fine for Week 1 and Tuck plays the way he used to play, the Giants' pass-rush rotation is never overloaded. A good offseason for Tracy could mean more snaps for him regardless of other circumstances.
July, 3, 2012
7/03/12
8:00
AM ET
Morning. Big day here in the NFC East, as our division gets its turn tonight at 7 p.m. ET on "SportsCenter's" division-by-division previews. Yes, a one-hour "SportsCenter" special devoted to nothing but previewing the NFC East. Much more on that later, along with our weekly chat. But if you're going to start a day this big, you have to start it with links.
Philadelphia Eagles
The Eagles' team site is doing a "Top 5" series, and the latest entry is on defensive end Jason Babin. The video highlights
Babin's top five moments
from the 2011 season, from the pair of sacks of Sam Bradford in the opener to the hit that knocked Tony Romo out of the game in Week 16. I figure, with a shortage of links, Eagles fans might enjoy watching the highlights.
Oh, and I figure a lot of you probably saw this, but Michael Vick got married last weekend in Miami Beach.
Spent $300,000 on security alone
, hiring cops to confiscate cameras and cell phones at the door. I asked my wife if she remembered what we spent on security at our wedding, and she looked at me funny. I'm pretty sure it was less than $300K, though.
New York Giants
Giants 101 muses
on whether and how much defensive coordinator Perry Fewell will shuffle Mathias Kiwanuka around between linebacker and defensive end this year. They love to put him up front in pass-rush packages, but he was a very good strong side linebacker last year and likely will stay in that position at least on the early downs. I figure the amount of defensive end he plays will be determined by the health of their other defensive ends. They're working Adrian Tracy and Justin Trattou at that No. 4 defensive end spot vacated by Dave Tollefson, but if neither of them makes strides, that could mean more DE responsibility for Kiwanuka this year. They're also deeper at linebacker than they were last summer when they asked Kiwanuka to change positions, so they have the flexibility to move him around if they want to.
I've received a mailbag question or two on Joe Martinek, the Rutgers running back/fullback the Giants signed as an undrafted free agent. He's this week's
offseason Q&A
in The Star-Ledger, for those who are interested.
Dallas Cowboys
Calvin Watkins wonders if the Cowboys will have any
supplemental-draft interest
in Josh Gordon, the former Baylor wide receiver who had a big 2010 season before a drug arrest got him suspended and he left the program in 2011. Personally, I don't see it with the Cowboys right now, who have plenty of inexperienced guys for that No. 3 wideout spot and are generally trying to steer clear of potential trouble cases. But you never know if maybe a scout falls in love with something he sees.
The Cowboys' official site checks in on linebacker Dan Connor, who sat out the offseason program while recovering from shoulder surgery but
isn't worried about falling behind
and remains very much in the mix for that starting inside linebacker job next to old buddy Sean Lee.
Washington Redskins
Trying to be good neighbors, several Redskins players have
taken to Twitter
to try and get Washington Nationals outfielder Bryce Harper on the All-Star team. Hey, gotta do something to pass the time, I guess. Harper's a lot of fun to watch, but I seriously doubt this is his last chance to make that team.
And we'll throw a little more love the way of this
Cowboys versus Redskins blog
, which was debating Monday which team's pass rush is the better one. For our purposes, the Eagles and Giants have the best pass rushes in the division, so this is a fight for third place, but it'd be a fight for first in a few divisions, and it's an interesting debate topic in a brutally slow week, so I enjoyed it.
June, 21, 2012
6/21/12
8:00
AM ET
For the record, your reaction to the "More or Less" post, both on Twitter and in the comments section (which I've been trying to stay out of, because some people think its purpose is to bait me into a fight), is one of the main reasons I consider it foolish to do predictions in June. And kind of at all, actually. Yes, Giants fans. I'm looking right at you.
Anyway, on to the links. It's so hot, I feel like a used insole.
Dallas Cowboys
Tim MacMahon says the fact the Cowboys haven't caved in to Mike Jenkins' demands shows that they've
progressed as an organization
. He cites the case of Marion Barber, who had the same agent as Jenkins, as a past example of such "caving," and believes Cowboys fans should consider it a good sign that they're holding their hard line with Jenkins.
More than 90 percent of respondents to
ESPNDallas.com's poll
say they would not trade Dez Bryant for Percy Harvin, who has demanded a trade from the Vikings but almost certainly won't get one. I mean, I get that it's June, but how is this even a question? Has Harvin shown any more than Bryant has so far? I like Harvin a lot, but I don't get what's wrong with Bryant that anybody would even make this a debate. He's had two years in the league. I think he'll turn out just fine.
New York Giants
Ohm's spotlight series
takes a look
at the issue of replacing defensive end Dave Tollefson, which doesn't sound like a huge problem but could be if injuries require a reserve defensive end to play as much as they required Tollefson to play in 2011. It sounds as though they'd prefer to leave Mathias Kiwanuka at linebacker as much as possible and have someone like Justin Trattou or converted linebacker Adrian Tracy claim that spot. But it's good to know they have Kiwanuka as a pass-rush option if they need to call on him.
Remember the kid who sent Brandon Jacobs $3.36 from his piggy bank in an effort to get him to re-sign with the Giants? Well, Jacobs
took the kid and his brother out
for a fun day at one of those bouncy-castle joints while he was in New Jersey this week. Not bad, Brandon. Not bad.
Philadelphia Eagles
Sheil talks about how he thinks O.J. Atogwe fits with the Eagles. He speculates that Atogwe will in fact be
given a chance
to win a starting spot, and sure, I imagine he will, in the sense that everyone who goes to camp is. I just don't see Atogwe holding up as a starter, and I think the best way for him to help the Eagles is in a reserve role where he sees the field in certain strategic situations, not on every play.
DeSean Jackson is excited about his new contract and has said so on Twitter, but doing so has possibly brought him some trouble. Apparently, a jeweler who
claims Jackson still owes him money
would like the Eagles' star wideout to use a portion of his new contract to settle the debt.
Washington Redskins
Clinton Portis gave a
very entertaining Washington radio interview
in which he talked politics, retirement and said Redskins fans should give Dan Snyder a break. I guess you have to wonder, if the Redskins get stuck and need a veteran back in training camp due to injuries, if Portis could get another call. I'd have to think it's an incredibly long shot, but there's a fair bit of relationship there.
The Redskins have announced their
training camp schedule
, which begins July 26 and includes 13 practices that are open to the public. Just remember, it's still in Ashburn this year. The plan to move to Richmond would take effect next year. So, don't go to Richmond. And don't sell your hair to a wig shop. Especially over June NFL predictions.
June, 18, 2012
6/18/12
4:55
PM ET
Our position-by-position analysis of the NFC East's four teams wraps up its day on the defensive lines with a look at the most decorated one in the entire league -- that of the Super Bowl champion
New York Giants
.
Projected starters:
DE
Justin Tuck
, DT
Chris Canty
, DT
Linval Joseph
, DE
Jason Pierre-Paul
Reserves:
DE
Osi Umenyiora
, DT
Marvin Austin
, DT
Rocky Bernard
, DT
Shaun Rogers
, DE
Justin Trattou
, DE
Adrian Tracy
, DT
Markus Kuhn
, DE
Craig Marshall
, DT
Dwayne Hendricks
[+] Enlarge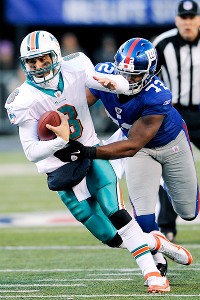 AP Photo/Bill KostrounOsi Umenyiora had nine sacks as Jason Pierre-Paul's backup.
Potential strength:
In a league that prizes the pass rush more than it ever has, there's simply no team that can match the Giants' group's combination of talent, depth and championship experience. Umenyiora could start for almost any other team in the league -- 4-3 or 3-4 defense, and he's a reserve on the Giants behind Tuck and the sky's-the-limit ability of Pierre-Paul.
Mathias Kiwanuka
could be a starting 4-3 end for someone, but he plays outside linebacker on the defensive end-rich Giants, who can still move him up to the front line (and play Tuck at defensive tackle) when they want to really make a quarterback sweat. There is some concern about a loss of depth with
Dave Tollefson
having left in free agency, but assuming Tuck and Umenyiora are healthier in 2012 than they were in 2011, they should be able to cover that loss.
Potential weakness:
Canty and Joseph are underrated players, likely because of their proximity to the superstars at the ends. But overall, the Giants weren't great against the run last year. They ranked 19th in the league in rush defense, and there were times during the first half of the year when they looked as though they were being pushed around physically by stronger offensive linemen. Like almost everything about the 2011-12 Giants, that issue got better in December and January. But they signed the veteran Rogers and brought back Bernard to make sure they had enough depth on the interior. The key to the whole thing could turn out to be Austin, the 2011 second-round pick who's missed the past two seasons (one college, one pro) due to injuries and could be a huge impact guy if he (a) can see the field and (b) isn't too rusty from all of that time off.
Keep an eye on:
Tracy. He was a linebacker last year, but injury denied him a chance to make much of an impact in spite of a great opportunity to do so. This offseason, defensive coordinator Perry Fewell said last week, the Giants have been working Tracy as a defensive end, and they like him there. Fewell named Tracy and Trattou as candidates to take Tollefson's spot. And while Tollefson wouldn't have played as much as he did last year if the front-line guys had been healthy, it's possible that turns out to be an important spot. Watch Tracy in the preseason and see how he takes to playing up front.