February, 13, 2014
Feb 13
3:00
PM ET
PHILADELPHIA -- Midway through the 2013 NFL season, SI.com's Peter King took a look at a league-wide trend and concluded, "Kicking field goals is too easy."
King didn't spend that much time in Philadelphia.
It wasn't so much that
Alex Henery
did a terrible job as the
Philadelphia Eagles
' kicker. He made 23 of 28 attempts, a success rate of 82 percent. But the more telling number wasn't the 23. It was the 28.
[+] Enlarge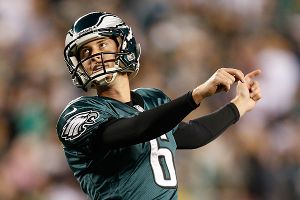 AP Photo/Brian GarfinkelAlex Henery has attempted just five field goals of at least 50 yards in his three NFL seasons.
The best kickers in the league don't just make 90 percent of their attempts. Their range and success rate give coaches the confidence to turn to them in all kinds of situations, at ever greater distances. New England's
Stephen Gostkowski
didn't just make 15 more field goals than Henery; Gostkowski attempted 13 more.
Henery attempted just two field goals of 50 yards or longer, making one. Gostkowski attempted six. Baltimore's
Justin Tucker
attempted seven. So did Green Bay's
Mason Crosby
and Dallas'
Dan Bailey
.
When the Eagles lost to the
New York Giants
at home in October,
Matt Barkley
was playing quarterback in relief of
Michael Vick
. Late in the second quarter, Barkley drove the Eagles to the Giants' 27 before being sacked for a 5-yard loss.
Instead of trying a 50-yard field goal with wind swirling, coach Chip Kelly decided to go for a fourth-and-12. Barkley dropped the snap and threw an incompletion.
Now it goes without saying that Barkley could have made better plays on third and fourth down. Taking the sack probably changed Kelly's strategy. But would the Patriots, Packers, Ravens, 49ers or Cowboys have balked at trying a 50-yard field goal?
The guess here is no. A week earlier, Kelly had made the second-guessable decision to have Henery try a 60-yard kick late in the first half against Dallas. He missed.
A coach without complete confidence in his kicker is like a baseball manager with a shaky bullpen. The ripple effect on his decision-making is constant.
Henery also missed a 48-yard field goal in the Eagles' 24-22 playoff loss to the Saints. His kickoff to the shallow end zone resulted in a long return that set up the Saints' game-winning score.
Henery presents a bit of a conundrum for the Eagles. They invested a fourth-round pick in him in the 2011 draft. At 26, he is still at the point in his career when many kickers find themselves. Is it better to take the risk that he will do just that with the Eagles, or the risk that he will do it for some other team?
Most of the top kickers in the league right now were undrafted. Gostkowski, like Henery, was a fourth-round pick. Green Bay's Crosby was a sixth-round pick. The more typical route is to be signed as a rookie free agent and bounce around until finding the right combination of opportunity and success.
Seattle is
Steven Hauschka
's sixth team. Denver is
Matt Prater
's third.
So the Eagles will almost certainly bring in a kicker to compete with Henery, something they didn't do last year. But it seems unlikely they will use a draft pick, unless somebody they really like -- Chris Boswell from Rice or Anthony Fera of Texas, maybe -- is sitting there in the sixth or seventh round.
Hauschka is to become a free agent, but will likely remain with the defending champions. Veterans
Adam Vinatieri
and
Phil Dawson
should be on the market. One intriguing name is
Dan Carpenter
, who had a good season in Buffalo. If the Bills re-sign Carpenter, that could make
Dustin Hopkins
, their sixth-round pick from Florida State last year, available.
Kickers are out there. The Eagles have a decent one. The question is whether that's good enough.
September, 16, 2012
9/16/12
2:46
PM ET
PHILADELPHIA -- Got to be honest here. I thought about going back and finding some of my early-season
Philadelphia Eagles
blog posts and copying one of them here. Because a game and a half into the 2012 season, the Eagles' biggest problem is the same as it was in 2011. They just can't stop giving the ball to the other team.


After committing five turnovers but somehow coming back to beat the Browns anyway last week in Cleveland, the Eagles have committed three turnovers -- including two in the red zone -- so far today. It's the main reason they trail the
Baltimore Ravens
17-7 at the half in spite of outgaining Baltimore 222 yards to 179 and possessing the ball for 18:15 out of the first 30 minutes.
Quarterback
Michael Vick
threw a terrible interception in the end zone at the end of the Eagles' first drive, throwing across his body while running toward the sideline and never seeing the defender. The Eagles got the ball right back and scored, so that one wasn't too costly. But after Vick and
Bryce Brown
fumbled a handoff in the second quarter, Baltimore cashed in with a 21-yard touchdown pass on which
Jacoby Jones
roasted
Nnamdi Asomugha
and put the Ravens up 14-7. And after
LeSean McCoy
fumbled on the Ravens' 9-yard line later in the second quarter, Baltimore moved the ball far enough down the field to pin the Eagles at their own 6-yard line with a punt. Just before halftime, they got the ball back, and rookie kicker
Justin Tucker
drilled a 56-yard field goal to set the halftime score.
I have little doubt that Andy Reid is absolutely letting the Eagles have it in the locker room right now about the turnovers, but the question is when will this problem get better? It plagued the Eagles throughout the early part of the disappointing 2011 season and, so far in 2012, does not seem to have improved. A small sample size is just that, but eight turnovers in six quarters feels like the sign of a deep-seated problem. If the Eagles don't figure out a way to hold onto the ball, they're not going to contend this year. This is the Ravens. You don't get to play the Browns every week.
August, 28, 2012
8/28/12
9:27
AM ET
People have been asking me all summer who's winning the
Washington Redskins
' kicker competition, and we now have our answer. It's the guy who lost the
Baltimore Ravens
' kicker competition.
Cundiff
One day after cutting veteran
Neil Rackers
(and ostensibly leaving the job to
Graham Gano
), the Redskins have signed former Ravens kicker
Billy Cundiff
,
Adam Schefter reports
. And according to ESPN 980 in Washington,
Gano says he's been cut
.
Cundiff was released by the Ravens on Sunday in a surprise move after undrafted rookie
Justin Tucker
outperformed him in camp. Clearly, the Redskins think the Ravens made a mistake, as they raced to sign him and cut both of the guys who'd been kicking for them all summer. The surprise part of today's move is the cutting of Gano, who hasn't been the most reliable of kickers but has a strong leg and might have been able to win a competition with Cundiff if given the chance. I mean, Justin Tucker did...
But kicker is really an eye-of-the-beholder thing, and Mike Shanahan must see something in Cundiff that he likes. Cundiff was a Pro Bowler in 2010, when he hit 89.7 percent of his field goals. And over the past two years, he's 53-of-59 on field goals of less than 50 yards and leads the NFL in touchbacks. Last year, he was 28-for-37 on field goals -- a more pedestrian 75.7 percent that compares closely with Gano's 75.6 and with Cundiff's career percentage of 76.7. But Cundiff was 1-for-6 from beyond 50 yards while Gano was 4-for-6 from that distance.
Cundiff did also, of course, famously miss a 32-yard field goal that would have tied last year's AFC Championship Game and sent the Ravens to overtime against the Patriots for a chance to go to the Super Bowl.
So what to make of this? Cundiff is more reliable inside the 50, which matters more than the ability to boom the occasional 50-yarder. But the main difference is on kickoffs, where 83 of Cundiff's 154 kicks (53.8 percent) have resulted in touchbacks over the last two years while just 40 of Gano's 144 (27.8 percent) have done the same. That's the part that matters most to coaches, who know kickers are eventually going to break their hearts on field goals but really want them to deliver in terms of field position. That's got to be the main reason Cundiff is the Redskins' new kicker while Rackers and Gano are looking for work.
NFC EAST SCOREBOARD
Thursday, 11/27
Sunday, 11/30