February, 3, 2014
Feb 3
9:15
AM ET
1. Talent matters when it comes to compiling a defense, but Seattle is proof of how you can get the most out of that talent, especially defensively. They did it without a lot of first-round picks; they did it without spending a lot of money. It's why the Redskins need to limit (quit) the blame game when it comes to any defensive problems.Certainly some issues played a part in what happened here (and, yes, turnovers killed the entire team this past season). The Seahawks are proof of what goes well when the organization is on that so-called same page and, when it came to the Redskins' defense, I'm not sure that was always the case. Still. It can be done without: spending a lot on players and no first-round picks. Not that Seattle lacked first-round picks, but the Seahawks' defense has thrived without many of them.
2. Seattle's starting lineup includes five players selected in the last three drafts – only one in the first round. The Seahawks did a good enough job that you forget about the big miss on linebacker
Aaron Curry
as the fourth overall pick in 2009.
[+] Enlarge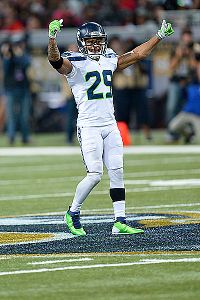 AP Photo/G. Newman LowranceSafety Earl Thomas is one of just two first-round picks starting on the Seahawks' defense.
3. The Seahawks' starting defense includes two former first-round picks (safety
Earl Thomas
, 2010; linebacker
Bruce Irvin
, 2011). That's it. The Redskins last season had five former first-round picks. But three of them were drafted by other teams. Way of life here. So the Seahawks have more picks in Rounds 4-7 (six) among their defensive starters than players selected in Rounds 1-3 (four). They also had a former undrafted free agent in
Chris Clemons
. Not every coach -- including good ones -- are strong at developing talent. They'd rather have players already developed (who wouldn't?). But the point is that you can get there this way and be successful. I don't know if outside linebackers coach Brian Baker is adept at doing this, but I know inside linebackers coach Kirk Olivadotti has been in the past.
4. This has become my favorite phrase the past couple of weeks, but I'll use it again: draft and develop. Seattle's defensive starters include nine of its draft picks. The Seahawks not only won a Super Bowl, they did it in inexpensive fashion. Their one big free agent,
Cliff Avril
(who does not start, but plays a lot), was key. Though he didn't record a sack his pressures in the past two games resulted in huge plays -- the tipped pass for a pick against San Francisco and
Malcolm Smith
's return for a touchdown Sunday. The point: use all avenues to improve, but you don't need a lot of free agents to succeed.
5. I like that players such as
Kam Chancellor
play special teams. My guess is that he hasn't lost the drive that turned him from a fifth-round pick in 2010 to a starter and Pro Bowler. Meanwhile, the Redskins had a sixth-round pick (
Bacarri Rambo
) who was not a good special-teams player. Nor was fifth-rounder
Brandon Jenkins
.
Sean Taylor
used to love playing on special teams. When guys have that sort of hunger, it trickles down. When you don't -- and when you have veterans who would rather not be on there -- it also trickles down.
6. It's not just playing with a hunger, it's preparing with one. That's what turned
London Fletcher
from an undrafted guy into what he became. The Seahawks have multiple players like that; even former first-round pick Earl Thomas, whose talent is enhanced by his preparation.
Phillip Thomas
, a fourth-round pick by Washington last season, had a reputation in college for preparing a certain way. I don't know if he'll develop into a good player, but it gives him a shot.
7. Seattle's defense plays fast and with a hunger that few other teams possess. It's hard to emulate unless you get the right collection of players. But Seattle's formula included constantly looking for such players, which is why the Seahawks made so many transactions early in Pete Carroll's tenure.
8. By the way, Carroll is a defensive coach. He hasn't harmed
Russell Wilson
's development. It's why, when the Redskins were looking for a coach, my thought was to not write off one side of the ball for candidates. Good head coaches come from any side; maybe Jay Gruden will be one for the Redskins. But it's why you should never limit yourself in a search (the Redskins did not, though it seemed like they favored Gruden from the get-go).
9. I also know that having John Schneider there helps tremendously. There are other successful organizations that do things well and do it a little differently (though the draft would be a common thread) so there's more than one way to get there. It's wrong to think only Seattle has that formula, but the Seahawks are the franchise du jour. But for the most part there's an organizational blueprint that is followed by the best teams, the ones who consistently win. I don't think the Redskins have always been on that same page. That's not to say they missed on everyone because they haven't; they just haven't developed enough lower-round picks to build depth or provide low-cost starters.
10. What Wilson did so well Sunday night is what
Robert Griffin III
needs to mimic: Hit the plays that are available, including those slant routes. They sustain drives. Wilson wasn't always perfect in the playoffs on these routes (watch the New Orleans game when he missed them a few times by throwing behind the receiver). But in the past two games he was on target with those passes, especially on third downs. He also extended plays (in the playoffs and all season) and consistently hurt teams when doing so -- by throwing the ball, not running. Wilson knows how to operate in the pocket and he threw with a terrific (and consistent) base. Wilson ran 11 times for 42 yards in the postseason, including 3 carries for 26 yards Sunday night. The ability to run is helpful and needs to be used, but if it's a constant crutch then it's not a good thing.
February, 3, 2014
Feb 3
9:00
AM ET
IRVING, Texas -- Is it too soon or too late to remind
Dallas Cowboys
fans that
Akwasi Owusu-Ansah
was drafted 13 spots before the
Seattle Seahawks
chose
Kam Chancellor
in the fifth round of the 2010 draft?
Or is too soon or too late remind them that
Josh Thomas
was picked 11 spots before the Seahawks took
Richard Sherman
in the fifth round of the 2011 draft?
Today, Chancellor and Sherman are celebrating a Super Bowl victory. Thomas at least made it to the playoffs with the
Carolina Panthers
as a reserve. Owusu-Ansah was on the
Detroit Lions
' practice squad last year. Maybe we can ask new Cowboys playcaller (and former Lions offensive coordinator) Scott Linehan how Owusu-Ansah looked.
When a team wins a Super Bowl, we all look for the differences as to why Team X played in the Super Bowl and Team Y didn't, and we say, "Copy those guys. That's the way to get it done."
It doesn't work that way. Well, it shouldn't work that way. A team has to have its own philosophy and make it work. Stick with it and hope it pays off. That's what Jason Garrett has referred to as building a program. It's maddening to hear, especially after three 8-8 seasons, but there is truth in what Garrett is saying.
The biggest difference between the Seahawks and Cowboys is the draft. Well, that and the Seattle defense. But for this post we'll stick with the draft.
Since 2010, the Seahawks picked 12 players from the third round and later -- or who were undrafted -- who have crucial roles in the team's success. The Cowboys have
DeMarco Murray
, a third-rounder in 2011, and three undrafted free agents. I could have counted
Dwayne Harris
, but the Cowboys actually cut him and needed him to pass through waivers before putting him on the practice squad in 2011.
If the Cowboys had not traded
Sean Lissemore
before the 2013 season, I would have counted their seventh-round pick in 2010 on the list.
As for undrafted picks, I'll go with
Barry Church
(2010),
Dan Bailey
(2011) and
Ronald Leary
(undrafted, 2012). I wasn't ready to say that
Kyle Wilber
(fourth round, 2012) and/or
James Hanna
(sixth round, 2012) are crucial to the Cowboys' success.
In order to win a draft, teams have to be successful in the middle rounds. The Cowboys have not been successful in the middle rounds in years. As a result, they lack depth. When they lose starters, they have to scour the street for help. When the Seahawks lose a player, they plug in a mid- to late-round pick as if nothing ever happened.
If we want to eliminate the third round, which is where Seattle drafted quarterback
Russell Wilson
in 2012, the Cowboys have to go back to the 2008 draft to find a real hit for the Cowboys in Rounds 4-7: cornerback
Orlando Scandrick
(fifth).
Doug Free
(2007) turned into a good fourth-round pick only after the Cowboys were forced to play him in 2009. The golden year was 2005 when the Cowboys got
Marion Barber
(fourth),
Chris Canty
(fourth) and
Jeremiah Ratliff
(seventh) in what was then the second day of the draft.
The Seahawks can point to guys like Sherman, Chancellor,
Walter Thurmond
(fourth, 2011),
Byron Maxwell
(sixth, 2011), Super Bowl MVP
Malcolm Smith
(seventh, 2011),
K.J. Wright
(fourth, 2011),
Robert Turbin
(fourth, 2012),
J.R. Sweezy
(seventh, 2012),
Doug Baldwin
(undrafted, 2011) and
Jermaine Kearse
(undrafted, 2012).
They aren't merely contributors. They are difference-makers.
If the Cowboys want to alter their "secret sauce" recipe, they can look at the Seahawks' cookbook.
January, 24, 2014
Jan 24
8:50
AM ET
The quote that catches the eye, naturally, is about
Sean Taylor
. That's the emotional one, the one that reminds anyone of his lasting impact, more than six years after his death. Safeties grew up idolizing him, both from his days at the University of Miami, and his too-short tenure with the Washington Redskins.
Taylor's memory will be at the Super Bowl with Seattle's
Kam Chancellor
. He's a Virginia native who played for Virginia Tech. (He was in college at the time of Taylor's death; in case you missed it,
there was news regarding his killer Thursday
.)
Here's what Chancellor told the Seattle Times earlier this month about Taylor:
[+] Enlarge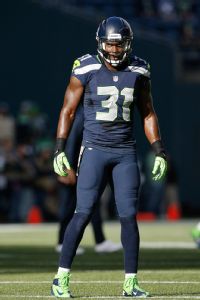 Joe Nicholson/USA TODAY SportsSeattle's Kam Chancellor patterned his game after that of former Redskins safety Sean Taylor, who was killed in 2007.
"Before every game I always watch his highlights, just the way that he approaches the game. The physicality that he brings to the game. He's a big safety, he can run, cover, unfortunately we don't have him now may he rest in peace, but that's a guy that I always try to simulate my game after, and I also watch
Earl Thomas
. Believe it or not that's a guy beside me that goes hard all of the time, so little things from his game that I try to put into my game are making me a better player."
Chancellor has patterned his game after Taylor's for a long time. Like Taylor, Chancellor is a big safety. When Taylor was in the secondary group, he looked like a linebacker at 6-foot-2 and 212 pounds. He was an intimidating force in the secondary, though he was best as a playmaking free safety. Chancellor is a strong safety capable of damage in the box. At 6-foot-3 and 232 pounds, his size and instincts allow him to be highly effective in this area.
"He was a big safety, the prototype guy for the position," Chancellor once told the Roanoke Times about Taylor. "I'm a big safety, too, and I've just always wanted to be just like him. I don't necessarily say I can be Sean Taylor before it's over, but I think I can be just as good."
"When I first took the job, I hadn't seen anybody that big, that fast, that athletic since Sean Taylor," Seahawks defensive assistant Marquand Manuel, a former NFL free safety, told
Seahawks.com.
Amazing to think that Chancellor was a fifth-round pick. Again: draft and develop. Chancellor has a skill that Seattle has allowed him to unleash. And often times that skill results in violent collisions against players such as San Francisco tight end
Vernon Davis
.
Obviously the Redskins could use such an enforcer in the back end. But there's another quote from Chancellor that caught my eye. This, too, is something the Redskins need. And it's something they haven't had enough of because of injuries and bad personnel decisions.
Here's Chancellor's quote on the Seattle secondary:
"I think it started clicking a lot more this year. I think it was starting to happen towards the end of last year, but this year sometimes man it's like we don't even say anything, but the movements are just right. It's like you can feel one another out there on the field, or out here at practice, especially with me and Earl with the way that we funnel the ball to each other. We always talk about that. We always talk about both of us running to the ball. If you miss it, I'm going to make it. If I miss it you're going to make it. That's just the mentality we have."
It's not one Washington has had in recent years. It's a subtle, but huge difference. If a corner knows how a safety likes to play a certain look, he can adjust his coverage accordingly. If the free safety knows what to expect from the strong safety, he can compensate. It's not always about scheme. Could
Phillip Thomas
develop into such a player? No idea; we barely saw him last summer. Could
Bacarri Rambo
? I'd be shocked if that happens based on what we saw this season, especially late in the year.
This isn't about finding the next Sean Taylor. He wasn't hard to identify when he first came out; anyone could see his talent. Chancellor is not Sean Taylor, and was not expected to be coming out of college considering where he was drafted. But he developed into a Pro Bowl player. But Seattle also had a clear vision in what it wanted from its defensive backs: big, physical corners and punishing safeties. Earl Thomas is more a ball-hawking safety, but he's the best at his position right now.
The Seahawks have a secondary that everyone would want now. They also have a defensive front that complements this group. The Redskins had it in 2007 with Taylor, corners
Shawn Springs
and
Fred Smoot
and rookie strong safety
LaRon Landry
. They need to find a way to get that back. It's great that they have money to spend, but there are other ways to accomplish this goal. And doing so would help the Redskins not only return to respectability but, perhaps, finally stick around.
December, 14, 2013
12/14/13
2:00
PM ET
The 5-8
New York Giants
host the 11-2
Seattle Seahawks
on Sunday at MetLife Stadium in a 1 p.m. ET game. Here are four things to watch for in the game between a Giants team that has no playoff hopes and a Seahawks team that looks like a favorite to be back at MetLife Stadium for the Super Bowl in early February.


Rough week for Eli?
The Seahawks have the No. 1 pass defense in the league, allowing just 175.6 passing yards per game.
Eli Manning
and the Giants' passing game have struggled through a rough season, averaging just 234 pass yards per game. Led by 6-foot-3 cornerback
Richard Sherman
and 6-3 safety
Kam Chancellor
, the Seattle secondary is big and physical and should beat up the Giants' receivers all game. The ability of
Hakeem Nicks
,
Rueben Randle
and
Victor Cruz
to withstand that beating will determine whether Manning can find success downfield. It would qualify as one of the week's larger upsets.
Look out for Lynch:
Seattle has the No. 3 rushing offense in the league, mainly because of monster running back
Marshawn Lynch
. Giants defensive linemen spoke in relative awe this week of Lynch as a running back it takes a whole team to tackle. "It takes more than one person to bring him down,"
Cullen Jenkins
said. "You've got to get 11 guys to the ball. You can't just leave one person hanging out to dry to try to bring him down himself, because he's a tough back, strong, fast, quick. He'll make you miss." After allowing 144 yards on 40 carries to the Chargers last week, the Giants have been paying extra attention to the run fits for their linebackers and safeties this week. It'll be more important than ever. One thing to note: Of the top 12 rushers in the league so far this year, Lynch will be the 10th the Giants have faced. (And next week,
Reggie Bush
will be the 11th. The only one they won't face this year is San Francisco's
Frank Gore
.) The Giants are 11th in the league in run defense, allowing 105.4 rush yards per game.
Road worriers:
If you've seen the Seahawks on TV this year, chances are it's been a prime-time home game, and they've looked fantastic. The Seahawks' average scoring margin in their home games, of which they have won all six, is 18.7. But in their seven road games (in which they are 5-2), it's just 5.7. So they don't always look unbeatable on the road, where they've lost in Indianapolis and San Francisco and won by less than a touchdown in Carolina, Houston and St. Louis.
Wide receiver matchups:
Seattle's
Percy Harvin
is still injured and will miss this game, so the big wide receiver weapons with whom the Giants' defensive backs will have to contend are
Doug Baldwin
and
Golden Tate
. Keep an eye on Tate, the fourth-year wide receiver out of Notre Dame. He's eligible for free agency after this season, and the Giants could be looking for help at that position, especially if Nicks leaves as expected.
January, 6, 2013
1/06/13
9:00
AM ET
WASHINGTON, D.C. -- Good morning. Lovely weekend here in our nation's capital. There's a great deal of excitement about the
Washington Redskins
' first home playoff game since 1999. The Redskins will take on the
Seattle Seahawks
at 4:30 p.m. ET at FedEx Field. Here are a few matchup-related notes I have left over from the time I spent with the Redskins earlier in the week:
[+] Enlarge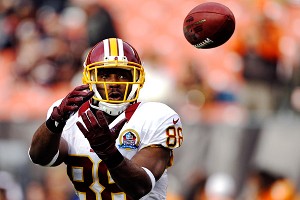 AP Photo/Mark DuncanPierre Garcon and the Redskins receivers will be challenged by a big, physical Seahawks secondary.
1. Redskins WRs versus Seahawks DBs:
The Redskins' wide receivers are big and physical and love to block, but Seattle's secondary has unusual size. Of the six defensive backs 6-foot-3 or taller who started at least 10 games in the NFL this season, three --
Richard Sherman
,
Brandon Browner
and
Kam Chancellor
-- play for the Seahawks. I heard lots of talk this week in Ashburn about how physical those defensive backs are. "They try to beat you up all the way down the field," Redskins offensive coordinator Kyle Shanahan said.
"We just have to keep their hands off of us and make sure we're allowed to run our routes," Redskins wide receiver
Pierre Garcon
said. "Just have to get into their shoulder pads and block them like you would anybody else. They can try to jam us; that's part of the game. We have to be physical. We've shown a lot of physicality this year."
One thing to look for is tighter splits, with the wide receivers playing closer to the line and further from the sideline than normal. Washington showed this in last season's game against Seattle (with less physical wideouts), and there are a couple of potential benefits. It allows the receivers more space in which to operate -- forcing the defensive back to guess which direction they're going as opposed to when they're wide and the sideline limits their range. And it might give a safety at least some hesitation, wondering if the play is a run or a pass and whether those receivers are in tight to run-block. If the Seahawks hesitate in coverage,
Robert Griffin III
has shown he has the ability to make them pay with his downfield accuracy.
2. Redskins' interior offensive line versus Seahawks DT Brandon Mebane:
Watch Mebane's ability to generate pressure up the middle, especially to the "play side," where the run play appears as though it will go. The Redskins' best way of countering the speed of the Seattle defense is likely with cutback runs by
Alfred Morris
(as well as play-action passing, but that goes without saying). If Mebane can penetrate and get to Morris before he cuts back, the Redskins could find their run game limited and their play-action game negatively affected as a result.
The left guard situation is particularly worrisome for Washington. Either starter
Kory Lichtensteiger
is going to be playing hurt or backup
Josh LeRibeus
will be starting in his place. If LeRibeus plays, the Redskins must worry about the timing of the blocks on the cutbacks. Washington started the same five offensive linemen in 15 of its 16 regular-season games, and the ability of that line to work together with comfort and familiarity had a lot to do with the success of the Redskins' top-ranked run game. If LeRibeus isn't in sync with the guys who have been there all season, that could create problems.
3. Redskins DBs versus Seahawks WRs:
Seattle doesn't have a top-flight, game-breaking wide receiver, though
Sidney Rice
and
Golden Tate
have been more than serviceable for rookie quarterback
Russell Wilson
. Last week against the Cowboys, Washington used an unusual number of "zero" blitzes that left cornerbacks on wide receivers one-on-one. The ability of
DeAngelo Hall
to handle
Dez Bryant
in solo man coverage was one of the more surprising aspects of that game, and Redskins coaches say they spent the week challenging Hall to step up his game because of how hot Bryant was. Will Hall be able to muster that same kind of intensity to play Rice or Tate? Will the return of
Cedric Griffin
from his drug suspension change the Redskins' coverages and reduce the need for Hall to play man all game? Wilson runs around outside the pocket like
Ben Roethlisberger
, keeping plays alive for a long time with his legs. The coverage by the Redskins' secondary needs not only to be tight but also persistent. The cornerbacks have to stay with the receivers longer than they're used to due to Wilson's ability to extend plays. This is a new challenge for a defense that has been able to overcome a lot of issues in recent weeks.