June, 9, 2014
Jun 9
11:30
AM ET
IRVING, Texas -- If the
Dallas Cowboys
are to break out of their 8-8 doldrums, they will need younger players to grow up in 2014.
Pete Prisco of CBS Sports
has two candidates for breakout seasons --
Travis Frederick
and
Terrance Williams
-- in his annual list.
Frederick
Williams
The Cowboys were one of four teams with more than one player. The
San Diego Chargers
had three:
D.J. Fluker
,
Melvin Ingram
,
Keenan Allen
. The
New Orleans Saints
(
Kenny Vaccaro
,
Akiem Hicks
) and
Denver Broncos
(
Montee Ball
,
Sylvester Williams
) also had two.
Here's what Prisco said about Frederick and Williams:
Travis Frederick, C, Dallas Cowboys -- When the Cowboys picked him in the first round of the 2013 draft, there were snickers. But it was the right move. He showed last season as a 16-game starter that he has a chance to be a really good center. He is smart and athletic, two musts for the position these days.
Terrance Williams, WR, Dallas Cowboys -- With
Miles Austin
now gone, this second-year player takes over as the starter opposite
Dez Bryant
. That should mean a lot of single coverage and a chance for big plays. Look for his numbers to go up dramatically from his 44 catches a year ago.
Defining how Frederick breaks out is tougher than Williams just because of the nature of his position. The Cowboys were stronger up the middle in 2013 than they had been in recent years because of Frederick. He did not miss a game as a rookie and carried himself as a veteran from the first day he arrived.
(As an aside, there is a similar feeling when it comes to this year's first-round pick,
Zack Martin
.)
For Williams, it can be a little easier to define because his statistics will be there for everybody to see. He caught 44 passes for 736 yards and five touchdowns as a rookie.
With Austin gone, Williams will be the starter opposite Bryant in 2014. The Cowboys have no reservations about Williams. They believe he will slide into that role without any issues. In coach parlance, they don't believe the game is too big for him.
He will get opportunities. Bryant will be the focal point of opposing defenses.
With Bryant catching 93 passes for 1,233 yards and 13 touchdowns in 2013, Austin caught 66 passes for 943 yards and six touchdowns as the No. 2 receiver in 16 games in 2012. The Cowboys would live with those numbers from Williams.
Cowboys' quarterbacks had 375 completions last year.
Pencil in Bryant for another 90-plus catch season.
Jason Witten
will catch 75-80 passes. The running backs will combine for 80.
Cole Beasley
should figure in that 35-45 catch range.
Dwayne Harris
and
Gavin Escobar
will have more than the 18 they combined for last year.
Devin Street
will be in that 20-30 range if things go well as well.
There will be opportunities for Williams to show 2014 will be a breakout season.
January, 10, 2014
Jan 10
5:00
PM ET
PHILADELPHIA -- There was a time a rookie offensive tackle would be eased into NFL action. He might even start out at guard and gradually move outside as he became more comfortable.
Of course, there was also a time a quarterback might sit for all or most of a season before becoming a starter.
That time, in the ever faster-moving NFL, is gone.
So it should be no surprise that
Lane Johnson
, the fourth pick in the 2013 draft, played 1,103 of a possible 1,104 offensive snaps for the
Philadelphia Eagles
in his first season. Johnson was given one down off to catch his breath in the first game against the Giants in October.
It still takes more than a season to evaluate a draft class, but the process is being sped up all the time. Here's a look at Johnson and the rest of the Eagles' rookies -- or as first-year coach Chip Kelly puckishly dubbed them, "My favorite draft class for the Philadelphia Eagles."
Johnson
First round
:
Lane Johnson, offensive tackle, Oklahoma
. The fourth overall pick, Johnson was one of the three offensive tackles taken at the top of the draft. He arguably had a better overall rookie season than No. 1 pick
Eric Fisher
(Kansas City) and No. 2 pick
Luke Joeckel
(Jacksonville).
Perhaps inevitably for a guy who had played quarterback and defensive end before being shifted to the offensive line in college, Johnson had some growing pains. According to Pro Football Focus, he allowed seven sacks in the first eight games of the season but just three the rest of the way. He was solid in run blocking, as well.
It's worth noting, too, that few rookie tackles (if any) are asked to line up split wide and block on bubble screens. Johnson took everything thrown his way with a smile and a shrug. He's got a chance to be anchored at tackle for this franchise for a decade.
Also on board: Almost everyone.
Good pick or bad pick? Very good pick.
Ertz
Second round: Zach Ertz, tight end, Stanford
. Taking Ertz here, 35th overall, was an expression of GM Howie Roseman's commitment to taking the top-graded player regardless of need. The Eagles already had signed
James Casey
in free agency and and had
Brent Celek
on the roster.
Would they have improved their overall team more by drafting cornerbacks
Darius Slay
or
Johnthan Banks
, or linebackers
Manti Te'o
or
Kiko Alonso
, or running back
Giovani Bernard
?
Maybe. But Ertz is going to be making plays in Kelly's offense for years to come. He's smart, driven and possesses excellent hands and good size (6-foot-5, 250). Like most young tight ends, he has to improve as a blocker and said he plans to spend time in the weight room in the offseason.
Also on board: Slay, Bernard, Te'o,
Geno Smith
and Tank Carradine were the next five players drafted. Alonso, who earned defensive rookie of the year consideration, went 11 picks later to Buffalo.
Good pick or bad pick? Good pick.
Logan
Third round: Bennie Logan, defensive tackle, LSU
. The 6-foot-2, 309-pound Logan's development allowed the Eagles to trade veteran
Isaac Sopoaga
at the deadline. Logan started at nose tackle the last eight games, which corresponded with the overall defense's improvement.
Oddly, Logan had his only two sacks in the first half of the season, when he was playing limited snaps. It remains to be seen if he's the true anchor/nose tackle of the future, but he has enough versatility to play in different fronts as needed.
Also on the board:
Tyrann Mathieu
,
Mike Glennon
,
Terrance Williams
,
Terron Armstead
,
Keenan Allen
.
Good pick or bad pick? Good. Best possible? A few of the guys taken right after Logan look pretty good, too.
Barkley
Fourth round: Matt Barkley, quarterback, USC
. The Eagles traded up to take Barkley at the top of the fourth round. It seemed an odd move at the time -- everyone thought Kelly would prefer more mobile quarterbacks -- and is still easily debatable.
It wouldn't be fair to read too much into Barkley's limited playing time. He was pressed into service when
Nick Foles
and then
Michael Vick
were injured. Barkley had little practice time to draw upon. He threw four interceptions and zero touchdowns in 49 attempts.
If he's the No. 2 quarterback here or eventually flipped to another team looking for a potential starter, he was worth the 98th pick in the draft. If he winds up starting here some day, he was a steal.
Also on board:
Nico Johnson
,
Akeem Spence
,
Ace Sanders
,
Josh Boyce
,
Ryan Nassib
.
Good pick or bad pick? Curious pick.
Wolff
Fifth round: Earl Wolff, safety, NC State
. By this point in the draft, there's an element of luck involved. The Eagles desperately needed safety help and took a shot on Wolff with the 136th pick. It was a good shot.
Wolff took the starting job from veteran
Patrick Chung
early in the season. He had his growing pains, but was starting to settle into the job when he hurt his knee Nov. 10 in Green Bay. Wolff made one brief appearance after that, aggravated the knee and didn't play again.
Also on board:
Jesse Williams
,
Tharold Simon
,
Montori Hughes
,
Stepfan Taylor
and
Oday Aboushi
were the next five players taken.
Good pick or bad pick? Good pick.
Seventh round: Joe Kruger, defensive end , Utah
. He spent the season on injured reserve. Should be an interesting guy to watch in training camp.
Seventh round: Jordan Poyer, cornerback, Oregon State
. Poyer made the team coming out of camp, but was released when the Eagles needed to clear roster space for a running back in October. Cleveland claimed Poyer off waivers and he finished the season with the Browns.
Seventh round: David King, defensive end, Oklahoma
. Released in camp.
Also on board: A bunch of guys.
Good picks or bad picks? Oh, come on.
November, 6, 2013
11/06/13
2:00
PM ET
1.
David Amerson
loves to play aggressive. That's what enabled the
Washington Redskins
' rookie cornerback to intercept San Diego quarterback
Philip Rivers
in the fourth quarter Sunday. He played for the inside break by receiver
Keenan Allen
, was right behind him and ran through his upfield shoulder to grab the ball. A pretty interception.
2. He still gets greedy, a knock on him from his North Carolina State days. Playmakers tend to be greedy; it's how they make plays. But it also leads to big plays allowed, too. And it makes such players easy to set up as the Chargers did in the fourth quarter. Allen had been running inside breaking routes all game, until he took one outside after Amerson's interception. It resulted in an easy 16-yard touchdown catch. Amerson played for a slant route and lost.
[+] Enlarge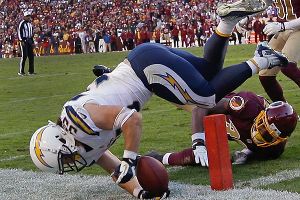 AP Photo/Alex BrandonThis tackle by Redskins cornerback David Amerson against Chargers running back Danny Woodhead was a pivotal play in Washington's win.
"He gave that to me all game, so I anticipated it. I was extra aggressive. It was a great counter move," Amerson said. "The best way to defend a double move is keeping your eyes on the receiver, not in the backfield. I was getting a little greedy."
It's tough to know where that line is between greed and aggressiveness. And the coaches say they like his mindset, but that fatigue led to his late-game mistakes. But Amerson has been set up in other games and will continue to be tested in this manner; teams often save that double move for late in the game as the Chargers did.
"Just being smart and knowing when to and when not to," Amerson said. "That's what really separates some of the great corners. That comes along with experience. ... There are some things you just have to live with, and you're out there on the edge. All your mistakes are highlighted or touchdowns. It's unfortunate, but as a corner it's something you have to deal with."
3. He made two excellent plays near the goal-line in the fourth quarter. The first was the diving tackle of
Danny Woodhead
, who was inches from touching the pylon with the ball. A knock on Amerson before the draft was his lack of physical play and his competitiveness. But on this play he was physical and competitive.
"I never thought I wasn't a physical guy," Amerson said. "People can say what they want, but you've just got to go out and compete and let your play speak for itself. A play like that will help me prove my case."
Then, on third and goal from the 1, he defended Allen, who ran inside and then cut back to the outside.
"When I see him going in," Amerson said, "out of the corner of my eye I see Philip scrambling and automatically I'm thinking this doesn't look right, so I knew he was going to try to sit down and come back out."
4. But Amerson was reminded of another valuable lesson when Allen caught a 12-yard pass off a Rivers scramble in the second quarter on a third-and-10. Allen ran another inside route, but when Rivers broke the pocket to his right, Allen cut back outside and was wide open.
"You can turn back to him and play better, but some things you've got to live with," Amerson said.
5. One week earlier, Amerson did a nice job on Denver's
Eric Decker
. The Broncos tested him on two passes downfield in the same series; neither were complete. Decker wasn't open.
"I was just trying to pressure him with outside leverage, and he kept releasing to my leverage," Amerson said. "It allowed me to get my hands on him, and that killed most of everything."
6. He's feeling more comfortable in press coverage, something he did not play last year. He still gets out of position in this coverage occasionally, but has improved.
"The main thing is experience, knowing how a guy releases and studying your guy," he said. "It's just staying patient. That's the biggest thing, and using my advantages and my length. Guys give you all this stuff and try to throw you off-balance, and all of a sudden you're running side by side with them or they're in front of you. You have to really study your guy."

NFC EAST SCOREBOARD
Thursday, 8/21
Friday, 8/22
Saturday, 8/23