May, 25, 2012
5/25/12
2:46
PM ET
Yeah, look. There's no point in trying to deceive anyone. I'm checking out for the weekend. This is one of my very favorite weekends of the year, and I'm going to get it started early. This is the last blog post I'm writing today, and other than a phone interview on NFL32 at 6 p.m., work is over for me for the week. But before I go off to a weekend of char-grilled relaxation, I wanted to do a "one more thing" post. What's a "one more thing" post, you ask? Well, it's something I just thought up where I go through each of our four teams and raise one issue we haven't been discussing very much on the blog. They're all going to be positive issues, because I don't want anyone to go into the weekend upset. We'll do them in order of how close each team's home stadium is to my house, because I just decided that as well.
New York Giants

Corey Webster
should get more love. The Giants have question marks at cornerback this year, with
Terrell Thomas
coming back from injury and 2011 first-round pick
Prince Amukamara
still learning on the job. But what doesn't get mentioned enough when we talk about those two is Webster, who had an absolutely incredible year in 2011. The Giants asked him quite often to play the
Darrelle Revis
role of the corner who just plasters himself to the other team's best wideout and keeps him from making plays. Webster was, far more often than not, up to the task. He's 30 years old now and doesn't get mentioned with the league's best corners, but he played like one of them last year, and another year like that will make sure he's on the national radar.
Philadelphia Eagles

I think the biggest thing working in
Demetress Bell
's favor as he works at the very difficult task of replacing
Jason Peters
as the Eagles' left tackle is the rest of the offensive line.
Evan Mathis
,
Jason Kelce
,
Danny Watkins
and
Todd Herremans
teamed with Peters last year to form maybe the best run-blocking line in the league. They are a confident, outgoing bunch of players who are eager to help, and Bell is certainly getting by-the-second lessons on Howard Mudd's blocking scheme from his new linemates. Bell doesn't have Peters' athleticism, and that's certainly likely to show up at times this year. But he's going to get a lot of help from some linemen who played extremely well together last year, and he's in a position to exceed expectations.
Washington Redskins

Don't rule out
Pierre Garcon
as No. 1 wide receiver material. No, of course he's never really been that traditional No. 1 we all think of when we think of guys like
Calvin Johnson
and
Larry Fitzgerald
. But Garcon doesn't even turn 26 years old until August. He had 70 catches and 947 yards last year for a Colts team that was using
Kerry Collins
,
Curtis Painter
and
Dan Orlovsky
at quarterback. And after deciding that one of his top priorities this offseason was finding a No. 1 receiver, Mike Shanahan picked Garcon from among the available free agents. This was the guy he wanted. The Redskins signed him within the first five minutes of free agency. For his offense, Shanahan was looking for a receiver with the speed and athleticism to catch the ball on a slant route and take it the distance. In Garcon, he sees a young man who can be that guy. Garcon will play with a rookie quarterback this year, as you're all aware, but he'll also grow and develop along with that quarterback, and the Redskins believe they have plucked a future No. 1 wide receiver just as he's about to become one.
Dallas Cowboys

Sean Lee
wasn't having a good year before his dislocated his wrist. He was having an eye-poppingly fantastic year. Wherever the ball was, there Lee seemed to be at critical moments, to make an interception, deliver a big tackle or break up a pass. He played fine after the injury, when he came back with that big old cast on his arm, but lost in the way the Cowboys' defense melted down at the end of 2011 was that Lee had been one of the best defensive players in the league for the first month. Assuming he's back to full health, Lee could be a monster player for the Cowboys in 2012 -- the kind of do-everything defensive leader they've lacked for so long.
DeMarcus Ware
is the best player on the defense (some say on any defense), and it's doubtful Lee will ever match him. But given Ware's preference for keeping to himself and out of the media spotlight, Lee's the kind of guy you can imagine emerging, assuming he plays the way he did early last season, as the face of the Cowboys' defense in the coming years. Last year's disappointment shouldn't dim the hopes Cowboys fans have for more great things to come from Lee.
And that's it for now. I really do mean it about this being one of my favorite weekends, and I hope it is for you too. Memorial Day is the day to remember the people who died fighting to protect us. People who literally died so that you and I could keep sitting here arguing about sports. I have no idea if I could die for my country, and as a result I am incredibly appreciative of the people who have done it and allowed me the time and freedom to keep wondering. Think about them as you enjoy the first weekend of the summertime, because we owe them that and much more.
July, 22, 2011
7/22/11
8:00
AM ET
Good morning, all. Yes, in spite of the hang-wringing and incredulous impatience of last night, I really believe today is the day. I think the players didn't like the way the NFL handled things last night, don't want to be forced into re-establishing their union if they don't want one and honestly felt they needed time to look over the deal the owners handed them before agreeing to it. I think all of this is reasonable. And from all I've been told, I have no reason to think any of it will hold up the deal beyond today. Could the players vote no and surprise me? Sure. But I think (a) this is a really nice deal for them and (b) they all want to get back to work. So, in the spirit of justified optimism, we link:
Dallas Cowboys
Skip Bayless and Chris Broussard debated on "First Take" on Thursday whether this is a "
make or break
" season for Tony Romo in Dallas. Skip says it is. Chris says he's nuts. Chris is right. If Romo throws for 4,000 yards and 30 touchdowns and the defense gives up the second-most points in the league again and they miss the playoffs, how exactly would that be Romo's fault? Said it before, say it again: Romo is the least of the Cowboys' problems.
Calvin Watkins' "
Old School
" series checks in with Nate Newton, who thinks, among other things, that the Cowboys should have designated Doug Free as their franchise player before the lockout began.
New York Giants
Mike Garafolo listened to Ahmad Bradshaw do an
interview with a Miami radio station
and couldn't figure out which way he was leaning -- Giants or Dolphins. On the heels of Drew Rosenhaus' comments about Bradshaw and the Dolphins earlier this week, Bradshaw sounds like a guy who wants and expects to be back with the Giants but is trying to use the Dolphins' potential interest as leverage for the best possible deal. Of course, the Dolphins really could use him and could make an offer to lure him away. It was Dolphins versus Giants last year for Antrel Rolle, and Miami was upset to lose out. Revenge?
Giants.com asks who was the
Giants' best free-agent signing of the past 15 years
-- Kerry Collins, Michael Barrow, Shaun O'Hara, Antonio Pierce, Kareem McKenzie or Plaxico Burress? Honestly, given where they were at quarterback before he signed, I might go with Collins here.
Philadelphia Eagles
The Eagles are ready to begin training camp next week if the players sign off on the deal, and they
still expect to have it at Lehigh
.
And we have
this latest entry
on why it would be better for the Eagles to sign a cornerback who's not as good as Nnamdi Asomugha than it would be for them to sign Asomugha himself. It's twisted logic every time I read it, and yet it's become something of a consensus. Fine. You guys want Ike Taylor, go get him. You just won't be as good as you could have been. I mean, jeez. If Asomugha doesn't fit into the defense you're planning to run, but you can afford him and he wants to sign with you ... maybe you should be running a different defense.
Washington Redskins
Jason Reid says the Redskins will be one of the teams most affected,
in a negative way
, by the lost offseason: "The accelerated schedule poses problems for ballclubs relying on inexperienced quarterbacks and those envisioning significant roster turnover, both of which describe the Washington Redskins' situation." I'll add that I also think they're hurt because this second year of Jim Haslett's 3-4 is a critical one in that transition, and they really didn't get to have the offseason I'm sure Haslett wanted to have with it.
Mike Jones lists Kevin Barnes, Keiland Williams, Graham Gano, Perry Riley, Anthony Armstrong and LaRon Landry as potential "
breakout" players
for the Redskins in 2011. Mike has written on Barnes a lot this offseason, wondering if the Redskins will indeed make him a starting cornerback and address other free-agent needs instead. Worth watching.
All right. More later. It's Friday, so you know we have plenty. But right now I have to go vote on a proposed bowl of cereal, pending the addition of a glass of orange juice.
July, 8, 2011
7/08/11
8:00
AM ET
Kerry Collins announced his retirement Thursday after 16 NFL seasons, and that matters to the NFC East blog because of the somewhat significant place he occupies in the history of the New York Giants.
No,
as Mike Garafolo points out
, he's not Phil Simms or Eli Manning, each of whom became a bigger star in the league's biggest market and delivered a Super Bowl title. But Collins did throw for 16,875 yards and 81 touchdowns in five years as the Giants' quarterback, and he did lead them to a Super Bowl, even though they lost it to the Baltimore Ravens. Mike's story paints the picture of Collins as a guy who rescued the Giants' quarterback position after a run that featured such luminaries as Dave Brown, Kent Graham, Tommy Maddox and Danny Kanell.
"We don't get to the Super Bowl without him," former Giants GM Ernie Accorsi told The Star-Ledger. "He raised the level of quarterback for us."
Collins isn't going to the Hall of Fame, but he had a better than respectable NFL career and gave Giants fans some unforgettable moments along the way. Hopefully his retirement announcement offered a chance to look back on those fondly.
More Giants
The Giants still don't know if the lockout will be settled in time for them to hold their training camp at the University of Albany as they always do. But if not,
things are fixing to get ugly
in the state capital.
Dallas Cowboys
Everson Walls had
some pretty harsh words
about Tony Romo, basically questioning whether Romo was the right quarterback for the Cowboys because he used to date Jessica Simpson or something like that. I love when these old guys just randomly spout inane stuff they would have killed somebody for saying about them when they played. People grow up, Everson. They mature and they learn their lessons. Holding stuff from 2007 against Romo is ... well, it's the kind of thing angry fans do. Somebody who played the game should be a little more forgiving and understanding.
Oh, and it looks as if Roy Williams
got his ring back
. I know you guys were all very concerned.
Philadelphia Eagles
Plaxico Burress was
tweeting about the Eagles
, and his apparent eagerness to sign with them. JasonB from Bleeding Green Nation suggests that Burress was joking, but I don't think he was. I think there's a real good chance the reports about Eagles' interest in Burress came from Burress' camp. I think Philadelphia would be a perfect spot for him to land for a variety of reasons. And I think he's probably really, really, really hoping they call. Whether the interest is mutual remains the question.
Les Bowen has a story about
the guy who'll be in charge of organizing everything
and rapidly setting up Eagles training camp if and when the lockout ends.
Washington Redskins
Tim McManus says the Eagles probably aren't going to be able to get Albert Haynesworth because
the Redskins aren't going to give him his wish and cut him
. I agree. I believe the Redskins think they can get something for Haynesworth in a trade. I believe they are correct and will succeed. And I believe that, no matter what the Eagles can offer, there's no chance in this world the Redskins would trade him to Philadelphia, reunite him with former Titans defensive line coach Jim Washburn and allow themselves to be knocked around by him twice a year.
And Mike Jones of the Washington Post wonders if more guys than just one will have trouble handling the shuttle runs and
passing the conditioning test
when training camp finally does start this season.
It's Friday, people, so let's have some fun out there.
June, 24, 2011
6/24/11
9:53
AM ET
We continue our position-by-position look at the way the free-agent seasons of the NFC East teams could be affected by the proposed return to the system that makes players unrestricted free agents after just four years of service time. Over the past couple of days, we've done cornerbacks, running backs, guards, outside linebackers and safeties. Today, we look at quarterbacks. And since
Jon Kitna
has proved himself a more-than-capable
Tony Romo
backup in Dallas and
Eli Manning
is as durable as any quarterback in the league, we're focusing on two of the division's teams.
NFC East teams in need
[+] Enlarge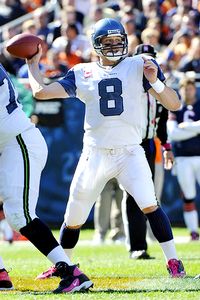 Rob Grabowski/US PresswireMatt Hasselbeck could be a decent stopgap starter until the Redskins find their long-term answer at quarterback.
Redskins
: Mike Shanahan has said he likes
John Beck
and is willing to give him a chance at being the starter.
Rex Grossman
, once re-signed, will hope to challenge for the position.
Donovan McNabb
is still on the roster, but there's no chance he'll be back. Clearly, if they intend to be a serious contender this year, Washington could use an upgrade at the most crucial position in sports. But with so many other needs, and with the projected first round of next year's draft deep at the quarterback position, it might not make sense for the Redskins to devote resources (especially long-term dollars) to a 2011 answer that isn't a long-term answer. So maybe they hunt for a veteran who can compete for the job in training camp, but they're not going to be looking to make a big commitment to a free-agent quarterback. Fortunately, the field leans heavily toward the former group.
Eagles
: The Eagles are actually very strong at the position at the moment. But assuming they trade
Kevin Kolb
once the lockout ends, they will need to find a veteran backup for starter
Michael Vick
, a running quarterback whose style puts him at risk of injury. They like the way
Mike Kafka
has developed in a reserve role, but he's not the kind of guy they could put into a game right now, should Vick get hurt, and expect to win it. The Eagles are a win-now, go-for-it team and they'll want someone more reliable in there if Vick has to miss a game or two.
Top five potential unrestricted free-agent quarterbacks
1. Matt Hasselbeck
. Looks like he's out in Seattle, and if healthy he can probably help someone as a starter. If they could get him for one year, he'd make a lot of sense for the Redskins. But I wonder if a place like Miami or Minnesota might give him more than one year and a chance to start.
2. Alex Smith
. Sounds as if he's staying in San Francisco. But if he were to leave, he probably has the most upside of this somewhat underwhelming bunch. Hard to see why he'd justify much more of Shanahan's faith than Beck, however.
3. Bruce Gradkowski.
Has some starting experience over the past couple of years in Oakland, and he's managed to have a modicum of success with it. Seems to have an ability to get guys around him to play hard for him. Another guy who'd be a better short-term option in Washington but likely isn't worth investing any real part of the future in. Might make sense as the Vick backup in Philly.
4. Kerry Collins.
If the Eagles are looking for a backup with experience who can competently manage a game should their starter have to leave due to injury...well...
5. Billy Volek.
Career backup probably doesn't fit what either of these teams is looking for, though some have speculated that he could wander east from San Diego with new Panthers coach Ron Rivera and be the stopgap starter until
Cam Newton
is ready.
Predictions that mean nothing:
Eagles wait to see if
Vince Young
becomes available and pounce if he does. If not, they sign Gradkowski. Redskins go with what they have, filling other needs and hoping to be or get in position to draft their franchise quarterback next April.
October, 24, 2010
10/24/10
4:24
PM ET
By
Matt Mosley
| ESPN.com
Let's a look at quick look at how the
Philadelphia Eagles
lost this game,
37-19
to the
Tennessee Titans
:


What it means:
It means the Eagles coughed up a game they had under control in the third quarter. The Eagles had a 16-7 lead and were moving toward the Titans' goal line when Titans defensive tackle
Jason Jones
caused a fumble and gave his team new life. Neither center
Mike McGlynn
nor right guard
Max Jean-Gilles
attempted to block Jones, so it's hard to say who blew the assignment. The play completely turned this game around and the Titans drove down and made it 16-10.
The goats:
The Eagles had no chance at covering Titans wide receiver
Kenny Britt
after he missed part of the first half as punishment for a night club altercation last week. Safety
Nate Allen
allowed an 80-yard touchdown early in the fourth quarter when he let Britt race right past him. Titans quarterback
Kerry Collins
badly underthew the ball, but Allen couldn't recover in time. It was the rookie's worst game of the season. And he didn't get much help from cornerback
Ellis Hobbs
, who allowed a 16-yard touchdown pass to Britt to give the Titans a 27-19 lead. Britt had seven catches for 225 yards and three touchdowns against the Eagles' secondary. He was brilliant in the second half, but the Eagles also gave him a hand by completely blowing coverages. And just so we don't leave anyone out, what a sad effort by
Asante Samuel
when
Chris Johnson
broke his tackle attempt to run for a first down late in the game.
The final nail:
The Eagles would have had the ball back with 3:49 left in the game trailing by eight, but
Jorrick Calvin
fumbled during a punt return. He didn't appear to field the punt cleanly, and then he complicated matters by fighting for extra yardage during the return. It's not like he was going to escape the players who had him in their grasp. It was a back-breaking mistake, but on this day, Calvin had plenty of help.
What's next:
The Eagles will have a week off to think about what may have been. This loss could haunt the Eagles the rest of the season as they now fall into a second-place tie with the Skins with a 4-3 record. And remember that the Skins have wins over the Cowboys and Eagles. The Titans absolutely own the NFC East with wins over the Eagles, Redskins and Cowboys. The Giants sit alone in first place in the division at 4-2.
October, 22, 2010
10/22/10
4:00
PM ET
By
Matt Mosley
| ESPN.com
»
NFC Final Word
:
East
|
West
|
North
|
South
»
AFC
:
East
|
West
|
North
|
South
Five nuggets of knowledge about the Week 7 games.
Can Kevin Kolb stay on a roll against an opportunistic defense?
You can throw for a lot of yards against the Titans, as the Giants and Cowboys showed. But the Titans' secondary is good at keeping teams out of the end zone. They've only given up six passing touchdowns this season and they have a knack for making plays in the red zone, as Giants running back
Ahmad Bradshaw
knows all too well.
Cortland Finnegan
is one of the more underrated cornerbacks in the league, but I think
Jeremy Maclin
can get open against him. If the Titans sell out to stop Maclin, Kolb will look for
Jason Avant
and
Brent Celek
. Against a quick defensive line --
Dave Ball
and
Jason Babin
have been outstanding -- Kolb will have to unload the ball quickly.
LeSean McCoy
has emerged as a big-time threat in the passing game, so look for him to try to get in matchups with former teammate
Will Witherspoon
in space. In a hostile environment, it's imperative that the Eagles have their quick game working early. I think Avant will be open on some drag routes because the Titans' safeties will let him cross their faces. If the Eagles have one turnover or less, I think they'll win. The Titans feed off defensive takeaways. When they don't happen, this can look like a pretty ordinary team.
[+] Enlarge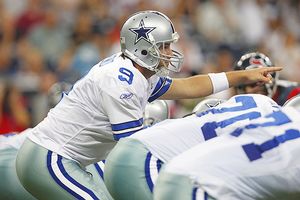 Aaron M. Sprecher/Icon SMITony Romo may lean heavily on the short-passign game to keep the Giants' defensive line at bay.
The Cowboys must be aware of Justin Tuck and Osi Umenyiora at all times.
Umenyiora has turned into the same beast we remember from '07. The Cowboys are going to have to help
Marc Colombo
against Umenyiora because of his speed and ability to get low around the edge. The former Pro Bowler has eight sacks and a staggering seven forced fumbles on the season. When
Mathias Kiwanuka
went down with a neck injury following the Titans game, Umenyiora raised his level of play significantly. And as Justin Tuck likes to point out, defensive tackle
Barry Cofield
is having a remarkable season. It's a good thing the Giants weren't able to complete that draft-day trade with him. Cowboys quarterback
Tony Romo
has great respect for the Giants' defensive line, and that's why you'll likely see a steady dose of screens again this week. I do think Romo will try to see if he can get Witten matched up against Giants middle linebacker
Jonathan Goff
early in this game. By the way,
Hakeem Nicks
(hamstring) and Tuck (ankle) missed Friday's practice,
but they're both expected to play
.
The Redskins can't fall asleep in the secondary.
You would hope the Skins have watched film of what the Giants did to the Bears three weeks ago.
Jay Cutler
was under siege from the opening snap of that game. He's really bad about holding the ball too long. If outside linebackers
Brian Orakpo
and
Lorenzo Alexander
can make Cutler uncomfortable, he's a mistake waiting to happen. This is a game where you always must be looking for the strip. The Bears killed the Cowboys by dumping the ball to
Matt Forte
and
Devin Hester
in the quick passing game. That set up a deep ball to
Johnny Knox
. The Bears don't have possession receivers, but they do have wideouts who can fly.
Kareem Moore
and
LaRon Landry
must make sure they're getting proper depth. And
DeAngelo Hall
must stop questioning his coaches long enough to have his head in the game Sunday and not give up any deep balls.
Can the Cowboys cut down on their penalties against the Giants?
Coach Wade Phillips hired officials for practice this week in an effort to identify some of the problems. The Cowboys lead the league by averaging 80.8 yards per game from penalties. They're called for nearly 10 penalties per game. The Giants were on a similar pace earlier in the season, but they've eliminated some of those mistakes. All this talk about how well the Cowboys have played from Phillips and Jerry Jones is falling on deaf ears. If they have 10 penalties against the Giants on Monday, I think they'll lose.
Eagles linebackers must be on their game against Titans RB Chris Johnson.
The Eagles were solid against
Frank Gore
and
Michael Turner
, but they realize that Johnson has a different gear. He's having a down year by his ridiculous standards, but he's still capable of going off for 170 yards and three touchdowns against pretty much any defense in the league. Defensive coordinator
Sean McDermott
has preached the importance of "gap-sound" football this week in practice.
"As soon as you think you have him stopped, he cuts it back and he hits a seam and he's off to the races," McDermott told reporters Thursday.
The Titans are the rare team that will stay with the running game if they fall behind by 10 points or so. Honestly, it's probably worse for the Eagles if
Kerry Collins
starts for
Vince Young
. With Young, you know he's only going to throw the ball about 20 times. Collins is still capable of having a big day in the passing game, though. But the Titans are smart enough never to abandon the running game.
November, 4, 2009
11/04/09
2:30
PM ET
By
Matt Mosley
| ESPN.com
Posted by ESPN.com's Matt Mosley
I'm going to start dipping into the Beast mailbag on a more frequent basis. Each afternoon, I'll choose a question of the day to answer. Who will be our first "winner"? Keep reading to find out:
Alex from Arlington, Va., wants to know what's so special about Eli Manning:
Matt, could you answer for me why people are so high on Eli Manning? Apart from catching fire in the 2007 playoffs and (admittedly) playing relatively well in 2008, he's been a mediocre QB in the NFL despite a consistent wealth of offensive talent nearly every single year. I wouldn't call him any more accomplished than, say, Drew Bledsoe,
Kerry Collins
, Trent Dilfer or any number of QBs who rode outstanding teams to playoff success despite being little more than caretakers. The problem I've always had with Manning is that even as a caretaker, he's inaccurate, erratic, and prone to lose his team more games than he's capable of winning by himself. You admit that his stock is falling right now, but for those of us who saw his Super Bowl "MVP" as nothing more than a fluke, his recent play is hardly that surprising. Love the blog, otherwise!
Mosley:
Alex, thanks for making us a (vital) part of your day. At his peak, Bledsoe was not a "caretaker" quarterback. You think of him like that because he played for Bill Parcells, but the mighty Tuna let Bledsoe sling it around quite a few Sundays. And I don't think Collins was strictly a game manager either. Yes, I agree that Eli Manning doesn't put up huge numbers, but he seems to be at his best during huge moments. He put together late drives against the Cowboys in the divisional playoff game in '07 and then he made clutch plays against the Packers and Patriots. I don't see how critics can sort of brush that away with the whole "fluke" argument. Manning had an excellent '08 season, but like the rest of his team, he faltered against the Eagles. He gets the benefit of the doubt because of his '07 run.
Right now, he's in a bad place. I don't know how bad his foot injury is right now because he's refusing to use it as an excuse. The scary thing is that he's making really poor decisions with the football. I think he has enough confidence to fight through this slump, but he needs to make it happen in a hurry. In the past, the defense could cover for Manning if he had a rough day. That's not happening at this point. The Giants need Manning to be great -- and he's not even good right now. But let's give it a month before we write him off as a "mediocre" quarterback. I, for one, don't think that '07 run was a fluke. And I think Manning will get it going soon.
Keep your questions coming. We just surpassed the 7,000-question mark in the mailbag. I'm hoping to answer at least 3,400 this week. All my best.
NFC EAST SCOREBOARD
Saturday, 12/20
Sunday, 12/21