November, 27, 2013
11/27/13
7:00
PM ET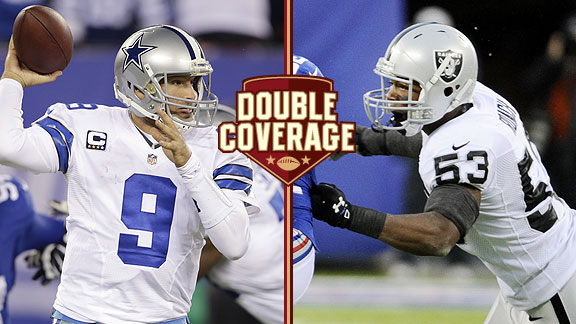 AP PhotoTony Romo's Cowboys host Nick Roach and the Raiders in a Thanksgiving Day duel.
IRVING, Texas -- For the second time in five years, the
Dallas Cowboys
and
Oakland Raiders
meet on Thanksgiving at AT&T Stadium.
The Cowboys won the 2009 matchup 24-7 with
Tony Romo
throwing for 309 yards and two touchdowns and
Miles Austin
catching seven passes for 145 yards. Since that game Austin has had more yards in a game just twice.
ESPN.com's Raiders reporter Paul Gutierrez and Cowboys reporter Todd Archer bring you this week's holiday version of Double Coverage.
Todd Archer:
The Cowboys are bad in most areas defensively, but they have given up 200 yards rushing in three games this season. The Raiders' strength, from afar, seems to be their running game. What makes it so good and how has it differed with
Terrelle Pryor
out?
Paul Gutierrez:
Hey, Todd, it's not just Pryor being out, but also
Darren McFadden
, who has missed three straight games and four overall with a strained right hamstring. He said Monday night he hopes to play after practicing (limited) for the first time since Nov. 1. The run game, though, has not missed a beat with underrated
Rashad Jennings
picking up the slack. In the past four games, he has run for 413 yards while averaging 5.7 yards per carry. In fact, the running game has been so surprisingly solid without McFadden and Pryor that the play-action pass game has picked up with undrafted rookie
Matt McGloin
under center.
Speaking of passing games ... no doubt Tony Romo can rack up stats, but has he decided to assume more of a leadership role yet as the QB of America's Team, or is that just not in his makeup?
Archer:
He has developed over the years as a leader, but there's no question that this has been "his" team the past three seasons. He is the veteran. He is the guy the Cowboys look to. The guys on this team now don't know of the Romo who burst on the scene in 2006 or had to deal with the
Terrell Owens
stuff. He's the guy who led the lockout practices and has been the big voice in the room. This year he has been given the added responsibility of being more involved in the game plan. The Cowboys' past two wins have come on last-minute drives led by Romo to beat Minnesota and the
New York Giants
. I don't think there's anybody questioning his leadership anymore. And if they did, well, the $106 million extension Jerry Jones gave him in the offseason should be more than enough proof to those guys that this is Romo's team.
Let's stick with the quarterback theme. Before the Cowboys lucked into Romo, they ran through a ton of guys after
Troy Aikman
's departure. Is there any reason to believe McGloin or Pryor can be a solution or do the Raiders need to go after one of these guys in next April's draft?
Gutierrez:
Well, the way I put it earlier in the season, before Pryor hit his purported ceiling and sprained his right knee, robbing him of his greatest strength (running) while accentuating his biggest weakness (passing), if Pryor was not the Raiders' Mr. Right, he was their Mr. Right Now. McGloin is a pure quarterback, a pocket passer whom Dennis Allen prefers for what he wants to accomplish offensively. It's hard to give Allen and GM Reggie McKenzie much credit for their evaluation of QBs, though, what with their misses on
Matt Flynn
and
Tyler Wilson
, not caring much for Pryor early on and then, similar to the Cowboys with Romo, stumbling upon McGloin. But it's hard to see them going all in with the undrafted rookie from Penn State, too. At least hard at the moment. Unless McGloin continues to improve and wins a few games, it would behoove the Raiders to draft another QB if they see one as a can't-miss prospect. I know, I know, they really wanted USC's
Matt Barkley
but Philadelphia traded in front of them so they traded back and selected Wilson. Oops. There is no doubt, though, that this Raiders regime prefers McGloin as a prototypical QB over the more electric Pryor.
No matter who is under center for Oakland, though, the Raiders' QB is going to have to keep an eye on
DeMarcus Ware
. Is he rounding back into shape as a dominant pass-rusher, or is he more decoy as he rehabs from his quad strain?
Archer:
I think he's still feeling his way through it. The fact that he made it through the Giants game healthy was a plus. He has been dinged up in just about every game with stinger and back strains earlier in the season before the quadriceps injury. We'll see how he fares on a short week, but the defense is a lot better with even the threat of Ware on the field.
Jason Hatcher
had two sacks against the Giants at least in part because of the attention Ware received. Ware has talked about wanting to make up for lost time. He has five sacks so far, his fewest this late in a season since his rookie year in 2005. Thursday would be a good time to look like the DeMarcus Ware of old.
This game is a homecoming of sorts for guys like
Mike Jenkins
,
Andre Gurode
,
Kevin Burnett
and Tony Sparano, but it's a real homecoming for Dennis Allen. How is he perceived in Oakland and will McKenzie be more patient with him than, say, Al Davis would have been?
Gutierrez:
The jury, so to speak, is still out on Allen in the streets of Silver and Blackdom. Of course, when the Raiders win a game, he's the man. When he loses, the fans turn on him and start pining for Jon Gruden ... again. But isn't that the nature of the beast? Even Allen himself said this was a results-oriented business. Of course, he was referring to the quarterback position at the time, but it still applies. Make no mistake about it, Allen is McKenzie's "guy" and he's going to roll with him and have patience with him. The plan coming in was to give Allen at least three years to right this ship and really, the only thing that could damage Allen's chances of lasting another year would be if the team quit on him, like it did last November before playing hard again at the end. Then again, it might not be McKenzie's choice. Owner Mark Davis is a more patient owner than his father and wants McKenzie to handle all football-related decisions. But a year after stating he was fine with just about anything but regression, Davis wants progress. Stagnancy won't cut it, either. So, stay tuned.
Sticking with the coaching theme, is Jason Garrett in Jerry World for the long haul, or was Jerry Jones' support merely the dreaded vote of confidence?
Archer:
Jerry has publicly backed Garrett, but he's also been a guy who's said, "Just because I say something, doesn't mean it's true." I do know this: He wants Garrett to be the guy. He desperately wants it to work. I really believe that. He believes in Garrett's approach and how he builds a team. Garrett will provide some blow-back to Jerry but not as much as, say, a Bill Parcells. Garrett knows what makes Jerry work and knows how to work around it to a degree or push Jerry in a certain direction. Honestly, Cowboys fans should want the Garrett deal to work out because it might be the best combination to mitigate the bad parts of Jerry and keep the good parts of Jerry.
October, 4, 2013
10/04/13
2:40
PM ET
IRVING, Texas -- The last time
Tony Romo
went against an undefeated
Peyton Manning
-led team he had only three starts under his belt as the
Dallas Cowboys
' quarterback.
On Thursday Romo was asked what he remembered about the week leading into the game against the 9-0
Indianapolis Colts
.
"Well, Bill (said to) me on Monday, 'I'm going to turn this game over to you,' and I said, 'Let's go,'" Romo said. "… And we ran it 36 times."
[+] Enlarge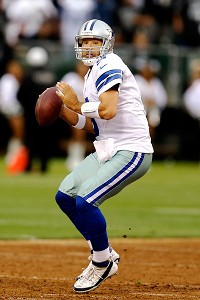 AP Photo/Ben MargotTony Romo has some experience leading the Cowboys to victory against unbeaten teams.
Bill would be Bill Parcells, and the Cowboys' coach was not ready to hand the game over to Romo, but the quarterback did complete 19 of 23 passes for 226 yards. He did not throw a touchdown pass, but he did complete 10 of his final 11 passes for 130 yards to deliver a 21-14 win at Texas Stadium, ending the Colts' perfect season.
Manning brings an undefeated
Denver Broncos
to AT&T Stadium. Romo will be making the 98th regular-season start of his career.
This will be Romo's fifth start against teams that have started at least 4-0. He beat Manning's Colts, lost to Tom Brady's 5-0
New England Patriots
in 2007, beat Drew Brees' 13-0
New Orleans Saints
in 2009, and lost to Matt Ryan's 7-0
Atlanta Falcons
last year.
"I think what you do is, you do what needs to be done throughout most of the football game, and as the game gets to a certain point in the game and the score dictates what you need to do to help your football team win," Romo said. "Before then, I just think as a quarterback you need to do what gives you the best chance to be successful on that play. If that's a deep ball, if that's a dump off, that's a handoff, whatever it might entail that gives your team the best chance to move the ball, that's what you need to do."
The Cowboys beat the Colts by holding the ball for 33 minutes, 42 seconds, and running the ball 36 times for 117 yards. On the second play of the game the defense recovered a fumble. On the fifth play,
DeMarcus Ware
sacked Manning. On the 11th play
Jay Ratliff
had a sack-fumble. Roy Williams had an interception near the Dallas goal line, and
Kevin Burnett
returned an interception for a touchdown.
Against the Patriots, the Cowboys were matching Brady, and the defense scored a touchdown on a
Jason Hatcher
fumble recovery. Trailing 31-24 early in the fourth quarter a fourth-and-1 conversion was overturned by a holding penalty, forcing a punt. Five plays later, Brady threw a 69-yard touchdown pass and the Patriots went on to win 48-27.
Against the Saints the Cowboys scored touchdowns on their first two drives and took a 24-3 lead on the opening drive of the second half.
Mike Jenkins
intercepted Brees near the Cowboys' goal line, and Ware, who was not supposed to play because of a neck injury, had two sacks of Brees and three hurries.
The Cowboys won 24-17, rushing 36 times for 145 yards and converting on eight of 15 third-down opportunities.
Last year at Atlanta, the Cowboys sputtered on their first two possessions inside the red zone and had to settle for two
Dan Bailey
field goals for a 6-0 lead. The Falcons took a 16-6 lead late in the fourth quarter, but Romo connected with
Kevin Ogletree
for a touchdown with 5:21 to play to cut the deficit to three points. The defense, however, could not get off the field on the ensuing drive (three third-down conversions) and Atlanta ate up all but 17 seconds on the clock.
"Teams get to 9, 10-0, 12-0 or whatever it might be, and they've obviously done a lot of good things right and Denver hasn't really played in a football game yet," Romo said. "It's a testament to their players. They're playing at a very high level. They deserve everything they've gotten. To beat a football team like this you have to play at a very high level, and you have to do a lot of things right. Saying that, there's a certain recipe and certain way to go about the process, and we're trying to do that."
July, 29, 2011
7/29/11
2:50
PM ET
The mystery of what the Eagles' defense will look like in 2011 with former offensive line coach Juan Castillo as its new coordinator is beginning to unravel. Castillo spoke to reporters at Lehigh on Friday after the Eagles' first practice and talked linebackers, among other things.
Rookie
Casey Matthews
was the starting middle linebacker for the Eagles' first training-camp practice, with
Jamar Chaney
playing on the strong side. And it seems as if the strong side is where Castillo wants Chaney to stay.
From the Philadelphia Daily News' Eagles blog
:
But the way Castillo envisions the Eagles' D, the strongside 'backer is going to need to be a very physical presence, which Chaney is.

"We're going to attack and get up the field," Castillo said.
The team has reportedly decided not to bring back oft-injured middle linebacker
Stewart Bradley
, who is said to be talking to the Cardinals. But instead of handing that job off to Chaney, who manned the middle in Bradley's absence last season, the Eagles are going to keep Chaney on the outside and ... do something else in the middle. Castillo talked up Matthews, and hey, you never know. But no draft analysis I saw ever had Matthews projected as a 2011 starter. So if we read between the lines here, it looks as though the Eagles will pursue a free-agent middle linebacker to start in between Chaney and, I guess,
Moise Fokou
.
Options? Well, the top middle linebacker on the market is Tennessee's
Stephen Tulloch
, but
Reuben Frank's got a source
telling him the Eagles have no interest in Tulloch and not much in
Nick Barnett
, who was just cut by the Packers. Other highly regarded names on the market include
Barrett Ruud
,
Kirk Morrison
,
Kevin Burnett
and
Stephen Cooper
. Fair number of options for the Eagles to consider, but for now it appears, from reading the tea leaves, they'll be looking for someone for the middle.
June, 24, 2011
6/24/11
4:01
PM ET
One more for the week in our continuing series of position-by-position looks at the proposed four-year unrestricted free agency and its potential impact on the NFC East. We turn our attention now to the inside linebacker position, where the Cowboys seem set, but the division's other three teams all could be looking for help depending on other developments.
NFC East teams in need
Giants
: They've overlooked the linebacker spot in general for the past couple of years, and as a result there are a few ways they could go. They could stick with
Jonathan Goff
in the middle and beef up on the outside, or they could sign a good middle linebacker and move Goff outside, where he'd probably be an upgrade over
Clint Sintim
. There are a lot of potential middle linebacker targets for the Giants, if this is the time they finally decide to get serious about it.
Redskins
: Washington could be fine even with
Rocky McIntosh
leaving, because there's a chance
Lorenzo Alexander
has to move inside anyway to make room for top draft pick
Ryan Kerrigan
. But after they address needs on the defensive line, there's a chance they could look to add depth here.
Eagles
: Hard to imagine this is a major priority for them, since even if
Stewart Bradley
leaves they can probably just leave
Jamar Chaney
in the middle. But if Bradley leaves and they decide Chaney's better on the outside, there will be some interesting options for them on the middle linebacker market.
Top five potential unrestricted free-agent inside linebackers
1. Stephen Tulloch.
Likely out in Tennessee because they fear he'll cost too much to keep, the 26-year-old Tulloch is the cream of this particular crop. He's a bit small, but he has great range and has shown the ability to handle the middle linebacker's responsibilities for the Titans. Lots of people expect former Titans defensive coordinator Jim Schwartz, now the Lions' head coach, to be Tulloch's most aggressive pursuer as he continues to build a monster defense in Detroit.
2. Barrett Ruud
. The question is how much responsibility he bore for the Buccaneers' miserable run defense in 2010. It's possible he was dragged down by those around him and he'll rebound with a big 2011. But his chances at a big free-agent deal certainly took a hit with his step-back 2010 campaign.
3. Paul Posluszny
. The Bills will work to keep him, and there's some thought that he's better off as an inside guy in a 3-4 scheme than as the middle man in a 4-3. But we've heard the Giants connected to him a lot, so it's possible he's a name on their list of targets for their middle spot.
4. Kevin Burnett.
Had a career season in San Diego, and the Chargers will try everything they can to re-sign him. It's more likely that his teammate,
Stephen Cooper
, will be free, and while slightly older than Burnett, Cooper could still be a helpful piece for a 3-4 team looking for help on the inside.
5. Bradley
. If he still wants to play in the middle, and if he can convince teams he's fully recovered from his knee surgery, Bradley could leave Philadelphia in free agency. Will be interesting to see if the Eagles commit to keeping him in the middle and if that helps convince him to stay.
Predictions that mean nothing:
Giants sign Ruud after Tulloch's price goes too high for their liking. Redskins stand pat or move further down this list (
Dhani Jones
?) as they focus on greater needs in the secondary and along the line. Eagles keep Bradley and play Chaney on the outside to start the season.
November, 15, 2009
11/15/09
11:02
PM ET
By
Matt Mosley
| ESPN.com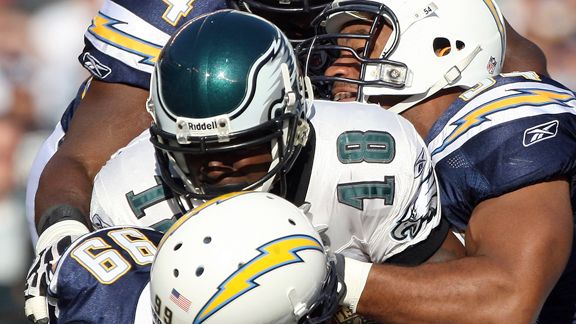 Donald Miralle/Getty ImagesThe San Diego defense made it difficult for the Eagles to get into the end zone from point-blank range.
SAN DIEGO -- Perhaps the
Philadelphia Eagles
should just save themselves the jet fuel in future West Coast trips. Sunday's
31-23 loss
to the
San Diego Chargers
wasn't quite as embarrassing as going belly up in the Black Hole, but it had its moments.
With the defense short on quality personnel, the Eagles needed their offense to realize its explosive potential and beat the Chargers in a shootout. But by the time wide receiver
Jason Avant
decided to take over the game, the Eagles had already dug themselves too deep a hole to overcome.
Donovan McNabb
's eye-popping 35-of-55 for 450 yards and two touchdowns will please fantasy owners, but those are empty numbers when it comes to this team's win total, which by the way is stuck on five. By taking the weekend off, the
New York Giants
leaped into a second-place tie with the Eagles at 5-4, and the
Dallas Cowboys
fell to 6-3 with a
17-7 loss in Green Bay
. The Eagles are still in the thick of the playoff race, which says more about the watered-down NFC than it does about anything this team has actually accomplished.
The Eagles' defense found a way to revive
LaDainian Tomlinson
's fading career, allowing him to rush for 96 yards and a pair of touchdowns. Eagles defensive coordinator Sean McDermott paid homage to Tomlinson after the game, but he tacked on a few harsh words for his players.
"When you play passive football, and not attacking, any running back's going to have a good day," McDermott said.
But it's hard to pick on a unit that was filled out by such immortals as
Dimitri Patterson
and
Ramzee Robinson
. On the play that the Chargers basically sealed the win late in the fourth quarter, McDermott called for safety
Quintin Mikell
to cover Pro Bowl tight end
Antonio Gates
. The Eagles actually have a puncher's chance in that matchup, but someone on the field checked out of that coverage, which forced Patterson to cover Gates instead. Rivers connected with Gates for a 17-yard completion -- and the Eagles began preparing for the in-flight movie.
"Yeah, if we could go back to that, we'd probably make a different check," Mikell deadpanned.
But at least the defense had some legitimate excuses for yielding 31 points. The Eagles' offense had all of its weapons on the field during the second half. They were missing left tackle
Jason Peters
(ankle), but McNabb had plenty of time to deliver the ball throughout the game.
After falling behind 14-0, the Eagles drove 77 yards and had first-and-goal at the Chargers' 1-yard line after
Jeremy Maclin
drew a pass interference penalty from
Quentin Jammer
. Three failed plays later, the Eagles were forced to settle for an 18-yard field goal.
On first down, Eagles fullback
Leonard Weaver
was stuffed for no gain, and on the next play McNabb fired an incomplete pass to
Brent Celek
in the corner of the end zone. On third-and-goal from the 1, coach Andy Reid decided it was a good spot to give rookie
Eldra Buckley
the first meaningful carry of his career. Former Cowboys linebacker
Kevin Burnett
blew up the play.
"When we get in there, we take a lot of pride in scoring touchdowns and not field goals," Reid said. "When you're that close with a first down, you expect to get in there, especially when you've seen [the Chargers] do it the week before, you want to use that and better yourself off somebody else's errors. We weren't able to do that."
The Eagles made two other trips inside the Chargers' 10-yard line that resulted in field goals. Trailing 21-6 in the third quarter, Reid opted to kick the field goal when the Eagles had a fourth-and-1 at the Chargers' 7-yard line. Avant could be seen mouthing the words, "C'mon coach!" in frustration as Reid sent
David Akers
onto the field.
For all of his offensive genius, Reid may be among the worst multi-taskers in the league. His problems with game management (burn those timeouts early) are well-documented, but you also have to question his game planning after Sunday's loss.
It took another
Brian Westbrook
concussion for rookie
LeSean McCoy
to get involved Sunday. McCoy had only two carries in the first half. And we're not talking about a guy who's been a fringe participant on this team. He's been one of the top rookies in the league, but Reid couldn't find a way to get him involved.
The coach said last week that Westbrook and McCoy probably would rotate series, but that's not what happened. At halftime, the Eagles had eight carries for 9 yards. McCoy, who finished with three carries for 5 yards, was at a loss for words as he was asked to explain his limited role.
"I really can't answer that," said McCoy. "It was kind of a normal week. There really wasn't a big difference."
I've heard some people within the organization suggest that Reid doesn't trust McCoy as a pass-blocker, but that's not a concern as long as McCoy has the ball in his hands. I think Reid spent the week trying to make sure Westbrook was featured in the game plan -- to the detriment of McCoy.
Reid devoted more time to calling plays for
Reggie Brown
(yes, still on the roster) than he did for one of the league's most talented rookie running backs. The Eagles had so much success with the big play in the first half of the season that they've forgotten how to score from point-blank range.
The silver lining for the Eagles is that they appear to be surrounded by mediocrity in the NFC East. Oh, and the West Coast portion of their schedule is complete.
March, 20, 2009
3/20/09
11:25
AM ET
By
Matt Mosley
| ESPN.com
Posted by ESPN.com's Matt Mosley
Happy times are here again. The upside to the Cowboys losing former second-round pick Kevin Burnett in free agency is that it creates an opportunity for former first-round pick Bobby Carpenter. In addition to being a go-to guy on ESPN's "First Take," Carpenter has been a valuable part of the Cowboys' special teams unit.
Now Todd Archer of the Dallas Morning News thinks that Carpenter can be an adequate replacement for Burnett at inside linebacker: "Carpenter is athletic. He is a workout fiend. He can cover tight ends and backs. He has experience blitzing. Those are musts in this defense as a nickel linebacker. At least give him the chance to really show he can't do it."
You could argue that Carpenter's done a pretty good job showing he can't do it over the past four seasons, but that feels like such a cynical point of view. Is anyone out there holding out hope that Carpenter can be a steady contributor as a nickel linebacker?
I'm willing to listen.
March, 11, 2009
3/11/09
9:59
AM ET
By
Matt Mosley
| ESPN.com
Posted by ESPN.com's Matt Mosley
Even though they drafted him in the second round, the Dallas Cowboys never saw Kevin Burnett as a starter. And that's why he's in San Diego today. Burnett signed a two-year deal worth $5.5 million. Roughly $4 million of the contract is guaranteed.
Burnett was a valuable part of the Cowboys' special teams and nickel units. But in the end, he was too much of a luxury player for the club to keep. The Cowboys wouldn't have brought in veteran Keith Brooking if they thought Burnett had a chance to be the starter. In San Diego, he'll have a much better chance to start.
Burnett grew up in the Los Angeles area, so it's a move he's very comfortable with. He was a T.O. disciple from early on, but he was also an independent thinker. He authored an entertaining blog for the Dallas Morning News in which he took readers inside the game. Will this come back to haunt the Cowboys?
Well, I think that Burnett will eventually go to a Pro Bowl with the Chargers. That ought to tell you something.
March, 10, 2009
3/10/09
11:27
AM ET
By
Matt Mosley
| ESPN.com
Posted by ESPN.com's Matt Mosley
Cowboys unrestricted free-agent linebacker
Kevin Burnett
has talked to the Texans, Raiders and Chargers, but nothing close to an offer has materialized. Burnett's agent had indicated that
a trip to Green Bay might occur
, but that hasn't panned out.
The Cowboys might be making a mistake by letting a talented player like Burnett walk, but at least for the time being, there's not much of a market for him. He'd be wise to sign a one-year deal like the one safety Sean Jones agreed to with the Eagles. If he starts and plays well, a team would probably try to lock him down in a long-term deal. If he plays a reserve role, he can take his chances again in free agency -- in what could be an uncapped year.
March, 4, 2009
3/04/09
11:13
AM ET
By
Matt Mosley
| ESPN.com
Posted by ESPN.com's Matt Mosley
Take a break from work for a few moments to read the following stories. It beats having to read that sports section someone left in the fourth-floor bathroom. The Beast realizes you have many choices on the Internet. Thanks for choosing us for the next 10-15 minutes. And don't worry, conspiracy theorists. The Eagles, Giants and Redskins' editions are on the way.
Cowboys
March, 2, 2009
3/02/09
9:00
AM ET
By
Matt Mosley
| ESPN.com
Posted by ESPN.com's Matt Mosley
Thanks to everyone who took part in our record-breaking (just assuming) free agency coverage on The Beast. Even though things have slowed down a bit, we'll continue to monitor the situation. Now let's go around the NFC East to see what everyone's saying:
Cowboys
Eagles
Giants
Redskins
August, 22, 2008
8/22/08
9:21
PM ET
By
Matt Mosley
| ESPN.com
Posted by ESPN.com's Matt Mosley
IRVING, Texas -- With Cowboys linebacker Kevin Burnett out with a knee injury, Bradie James will end up playing on more passing downs. On the Texans' touchdown earlier in this quarter, James allowed wide receiver Kevin Walter to cross his face and then waltz in for an easy score.
James was called out a couple of years ago by Lions quarterback Jon Kitna for being clueless in pass coverage, but it's a part of his game that he's really improved. When he first came out of LSU in 2003, he was very stiff and had trouble identifying certain routes. He's better now, but as Walter showed, there is still room for improvement.
Cowboys score to make it 17-10, and we have a barnburner on our hands.
NFC EAST SCOREBOARD
Sunday, 10/26
Monday, 10/27