October, 5, 2011
10/05/11
9:13
AM ET
Sending first-round draft pick
Danny Watkins
to the bench right before the start of the season didn't mean the
Philadelphia Eagles
were giving up on him. It just meant they didn't think he was ready yet to be their starting right guard. Some rookies had less trouble making the transition to the NFL in a compressed offseason than did others. Eagles center
Jason Kelce
is an example.
Cam Newton
is apparently another.
But Watkins did struggle in the preseason, so the Eagles went out and signed veteran
Kyle DeVan
to start at right guard in his place. Now, however, the kid is back. According to Geoff Mosher of The News Journal,
the Eagles plan to start Watkins
at right guard for this week's desperation game in Buffalo.
DeVan had a rough time Sunday against the 49ers, and that's got to be part of the reasoning. But the Eagles wouldn't be making this move if they hadn't seen some level of improvement from Watkins in practice each week. Part of the reason for drafting Watkins was that he looked like a guy who'd be ready to start right away. For whatever reason (the lockout, his holdout or any number of other possible reasons) he wasn't. But it's not out of the realm of possibility to think all he needed was another month in order to get ready.
The Eagles had better hope he is, because with left tackle
Jason Peters
out with an injury, the line is already thinner in front of
Michael Vick
. And the Bills will no doubt work on trying to attack the spot where a rookie is making his first NFL start.
October, 5, 2011
10/05/11
8:00
AM ET
Lively day yesterday in the comments, folks! Love the action. Just love it. But after a day of defending my manhood and my ability to do my job, it's always nice to relax with some nice, mellow, reliable links.
Washington Redskins
Phillip Buchanon
has had his drug suspension lifted and was
back on the practice field Tuesday
. It sounds as though he could be worked into the defensive back rotation right away in the team's Week 6 game against the Eagles, which would help deepen a Redskins' secondary that's been the one part of the defense that looks as though it could use a little help.
Ryan Torain
didn't mind sitting for the first three games of the season. He says he's used to having to be patient -- that it's the story of his career, really. And he was happy for his Week 4 chance to
show the coaches what he could do
.
New York Giants
Ohm Youngmisuk writes that
Jerry Reese
isn't surprised
by the Giants' hot start, and we know Reese isn't just blowing smoke because he said in August that he thought he had a playoff team in spite of his relative inactivity in free agency. It has to make Reese feel good to see the Eagles struggle while his team has started 3-1, as much grief has he took for doing nothing while Philly loaded up. Long way to go yet, but so far, Reese looks like the one who knew what he was doing.
The Redskins aren't the only first-place NFC East team adding cornerback depth, as the Giants have signed former Colts corner
Justin Tryon
to
add to the bench mix
behind starters
Corey Webster
and
Aaron Ross
. I don't think this means anything about the timetable for
Prince Amukamara
's recovery from his injury, but even once Amukamara is healthy, he'll still be a rookie with a screw in his foot, and depth in the secondary is a good thing for the Giants to be pursuing at this point.
Dallas Cowboys
Tim MacMahon writes that the Cowboys have no choice but to stick with
Tony Romo
and
ride the Romo-coaster
through all of its ups and downs. That appears to be what they're doing, though Tim seems to wonder if the team's belief in Romo's talent needs to be weighed against its own high championship standards of years past.
Tyron Smith
is a young man of few words, and the few he's using indicate that he's taking that
Willie Young
sack from Sunday's final minute pretty hard. I don't think he should. Smith's been outstanding for the Cowboys all year and was outstanding all day Sunday until letting Young through on what he called "
bad technique
." It's good to see him wanting to build off a mistake, but his overall body of work to this point is something of which he should be very proud.
Philadelphia Eagles
Sheil Kapadia's must-read weekly player-by-player review of the Eagles' game reveals that the second half of the 49ers game was
the most the offensive line has struggled all season
, with right guard
Kyle DeVan
and right tackle
Todd Herremans
having a particularly hard time against a strong San Francisco front.
Depth on the defensive line has been a strength for the Eagles, but it's being challenged now by injury.
Antonio Dixon
is on injured reserve and out for the year with a triceps tear, so the team re-signed defensive tackle
Derek Landri
, whom they liked in training camp,
to replace him
. If they can stay deep at defensive tackle, they could conceivably play
Cullen Jenkins
at end sometimes, especially while they're waiting for
Trent Cole
's calf injury to heal. They'll lean on that depth now.
I'm going to head over to East Rutherford today and check in on the Giants, see if I can't pick up a Thursday column on them. I'll let you know if anything interesting happens.
September, 10, 2011
9/10/11
10:00
AM ET
So here was
Evan Mathis
, free-agent guard, looking for work last month in the middle of the most frenzied free-agent market in NFL history. He'd told his agent he wanted to go somewhere and be a starter. His agent told him the
Philadelphia Eagles
were interested. Mathis ran through their linemen in his head and was interested but not convinced.
"Would you please have Howie Roseman call me?" Mathis asked his agent.
A short time later, Mathis told me in a phone interview Thursday, the Eagles general manager did call him. And this was the message he delivered about the team's plans for the offensive line:
[+] Enlarge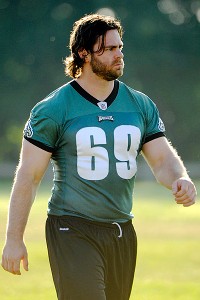 Howard Smith/US PresswireEvan Mathis is slated to be the starting left guard against the St. Louis Rams Sunday.
"He said, 'We're ready to win, we're going to be selfish about it and we're going to play the best five guys'," Mathis said. "That was enough for me. I came in with the intention of proving I was one of the best five."
Mathis knew the Eagles were planning to start first-round pick
Danny Watkins
at right guard, that injuries had left things unsettled at right tackle and that either he or the starting left guard,
Todd Herremans
, could move to tackle if need be. The Eagles were a team, Roseman had told him, that wasn't going to worry about people's feelings. Just because someone is the first-round pick doesn't automatically means he plays. It's Super Bowl or bust for the Eagles this season, and that's why the line has undergone so many changes already before a game has even been played.
Contrary to the early-August plans, it now appears as though Mathis will start at left guard and Herremans at right tackle in Sunday's season opener in St. Louis. It also appears as though sixth-round pick
Jason Kelce
will start at center and first-round pick Watkins will not start at guard, having been demoted this week in favor of newly signed veteran
Kyle DeVan
. Watkins' demotion is the clearest evidence yet that what Roseman told Mathis was true.
"I think a lot has been expected of Danny because he's the first-round draft pick," Mathis said. "But I see a guy who's built to play football, a very smart guy who's tough and physical, and I think Danny's going to be fine."
But it appears he'll need more time before he can crack this starting line, which is charged with the tasks of learning the aggressive new blocking schemes taught by new line coach Howard Mudd and protecting their slippery and mobile quarterback,
Michael Vick
.
"Whoever's back there, you're not really thinking about who it is. You just have to keep him clean," Mathis said. "The way he plays, sometimes it might just mean we have to roll out with him if he's doing that. Howard's scheme might work well with a quarterback like Michael Vick."
That's because Mudd picks quick, athletic linemen and teaches them to get out, push forward and block aggressively -- a scheme designed to dramatically increase the room in which the players behind the line have to work.
"Some of his techniques I've seen a lot of other places and seen a lot of other coaches use them, but not as much as Howard," Mathis said. "It's much more aggressive, but it works. The things he does work. And once you've done it enough times, you realize why it works."
It's got to work quickly, but Mathis isn't as worried as some on the outside are. I asked him if he thinks Kelce is going to be continuing his learning process during the regular season, and he said not as much as you'd think since there's been so much more focus on teaching and learning in this training camp than there usually is. Plus, he really likes Kelce.
"Very smart kid, very naturally talented, a lot of quickness," Mathis said when asked for the Kelce scouting report. "I think he came into college as a linebacker, and I think if he dropped 30 pounds, he could be a linebacker again. Plus, he's a smart, witty guy. Centers are usually like that. Centers are usually the only ones I think can compete with me in Words With Friends."
Nice to know they're all coming together. Maybe Sunday will bring about a more successful edition of "Block With Friends" than we saw from the Eagles' offensive line in the preseason.
September, 7, 2011
9/07/11
5:32
PM ET
So when I put together
the first All-NFC East team
this week and saw that there were
New York Giants
in four of the five first-team offensive line spots, I smiled, knowing my Giants fans would gleefully point this out to me, and you guys didn't disappoint. But facts are facts, and at those four spots the Giants either have (in the case of right guard and right tackle) the best player or (in the case of left guard and center) the best of a mediocre lot. (To be fair, it could be a lot about which we just don't know much.
Evan Mathis
could well turn out to be the best left guard in the division -- I just haven't see him there enough to know.)
But while the Giants should feel good about their line relative to the rest of their division, that says a lot about the serious concerns the other teams have on their lines with only four days left until the start of the season.
In Dallas Wednesday, right tackle and first-round pick
Tyron Smith
injured his knee and will be
out of action 2-to-4 weeks
. Smith was one of two rookies slated to start on the offensive line in Sunday night's opener and now will be replaced by the team's only backup tackle,
Jermey Parnell
. Rookie
Bill Nagy
is still expected to start at left guard with second-year man (and first-year starter)
Phil Costa
at center.
And in Philadelphia Wednesday, the Eagles apparently demoted their first-round pick,
Danny Watkins
, and elevated the newly signed
Kyle DeVan
to the position of starting right guard. Watkins struggled in August and was a big reason why Eagles quarterback
Michael Vick
was insufficiently protected in the team's second and third preseason games. In the past couple of weeks, the Eagles moved
Todd Herremans
from left guard to right tackle because of their injuries on the right side, made Mathis the starting left guard and elected to go with rookie
Jason Kelce
as the starting center over veteran
Jamaal Jackson
. "Upheaval" isn't an unfair word to apply here.
The Redskins feel good about their line, but it's loaded with guys who have to prove they can perform consistently as week-to-week starters. And even the Giants have a question mark at left tackle, where
Will Beatty
enters his first year as a full-time starter.
But the O-line situations in Philadelphia and Dallas, where hopes are high for playoff contention with high-scoring offenses, are worrisome and illustrate a key point about what to expect for the early part of this NFL season. Had 2011 been a normal year with no lockout and regular spring minicamps and OTAs, these teams could have sorted out many of their offensive line issues in May and June.
By now, the Cowboys and Eagles could have convinced themselves and their fans that the rookies were reliable players. They might have performed better in preseason games, inspiring more confidence, since they'd have been better trained before those games began. Players like Watkins and Kelce and Nagy and Smith will be better in a few months than they are now, but they're not as good now as they would have been if they'd been practicing since May.
Instead, we're entering an NFL season whose first month or so will be a continuation of the offseason in terms of teaching and learning and developing and putting lineups together. There are many teams -- the Eagles and Cowboys included -- who have new coordinators or new coaches or tons of new faces in new places and haven't had enough time to put everything together yet. The key for teams like this, who are likely to be better in November than they are in September, is how well they weather the early challenges. Do they squeak out a couple of tougher-than-they-should-be wins? Do they bounce back well from tough losses to teams they think they should have beaten? There are very few teams, if any, that are as prepared as they'd like to be for this season. The story of the early part of 2011 will be about that, in large part. The offensive line issues in the NFC East are but one example.
September, 6, 2011
9/06/11
8:00
AM ET
Ladies and gentlemen, welcome to the first week of the NFL regular season. The first real game is scheduled for the day after tomorrow, and we are five days away from the start of play in the NFC East. I have no doubt that you are pumped, fired up and ready for some hot, fresh Tuesday links.
Dallas Cowboys
The Cowboys may have something in the regular-season opener against the Jets that they didn't have all preseason -- at least one of their starting cornerbacks. Mike Jenkins says he
doesn't see any reason
he won't be ready to go, and he downplayed the idea that the lack of preseason game action cost him a chance to get up to speed on new defensive coordinator Rob Ryan's defense. We'll see about that. All along, those in the know have said the defense would look better once it had its cornerbacks. If not Terence Newman, at least Jenkins should be there once the games start counting.
Oh, and speaking of Ryan, he was asked about last season's foot-fetish controversy involving his brother, Jets head coach Rex Ryan, and he says Rex is "a little freaky," that it's
no big deal
, that everybody's got something weird and that he's probably worse than his twin brother is. I think this is the rare journalistic occasion on which follow-up questions aren't necessary or recommended.
New York Giants
Mark Herzlich says he wants "to go from being a feel-good story to making an impact on the field." He'll get his chance as part of
the Giants' rookie quartet of backup linebackers
. The Giants like a lot of things about this group, from the way they play on special teams to how hungry they are to make their contribution. If the Giants are suddenly strong at linebacker in a couple of years, you'll be seeing a lot of stories about how Herzlich and the rest of this group grew up together.
In case you were holding out hope, Osi Umenyiora has been
ruled out of Sunday's opener
against the Redskins, and Mike Garafolo thinks there's a chance he might not be ready until the Week 3 game against the Eagles as he continues his recovery from knee surgery. In the meantime, as you know, they go with Justin Tuck and Jason Pierre-Paul as the starting defensive ends, which should be fine assuming Pierre-Paul looks as good as he did in preseason.
Philadelphia Eagles
Danny Watkins was happy to meet newly signed guard Kyle DeVan, who played for Eagles offensive line coach Howard Mudd in Indianapolis, because
he believes he can benefit
from picking DeVan's brain. But Watkins, the Eagles' first-round pick from April's draft, also knows DeVan is there to step in and play if he continues his preseason struggles.
It's unclear whether Vince Young, signed to be Michael Vick's backup quarterback this season, will be ready for the Eagles' regular-season opener Sunday in St. Louis. Young pulled his hamstring in Thursday's preseason finale and didn't practice Monday.
In this notebook
, Jeff McLane also says the Eagles do not plan to add a veteran middle linebacker this week, which means it looks like Casey Matthews has the job.
Washington Redskins
Mike Shanahan says Rex Grossman won the quarterback competition over John Beck "
by an edge
," and that he hopes Grossman plays well enough that he won't have to reconsider or shuffle the two in and out of the starting job as the season goes along. Obviously, I have no idea how to handicap the chances that he will, since I was reading him wrong all along and believed he'd start Beck. Grossman could prove capable, or the thing could be a mess all year. Those would seem to be the two options at this point, since it seems as though Shanahan doesn't feel any more strongly about Beck than the rest of us do after all.
Jason Reid says the important thing now is for Shanahan to
stick with his decision
, and not start flip-flopping these guys at the first sign of trouble. I agree, of course. You're selling your team, at its most optimistic and excited point of the season, on Grossman as its leader. You have to show faith in him if you expect it from them.
Big week ahead. All kinds of stuff for you that we'll be trying out during the season. But it is of course Tuesday, and that means
we chat at noon
ET. That's the important part.
September, 5, 2011
9/05/11
9:23
AM ET
See, the thing about those Saturday roster cuts is that they aren't final and some things you think are settled get changed within the first 24 hours after the cuts. So it was that Sunday was a busy-work day for teams still churning the bottoms of their rosters, claiming guys off waivers, bringing just-released players back for the practice squad.
The moves the
Dallas Cowboys
and the
Philadelphia Eagles
made Sunday sent clear signals that neither team is yet comfortable with its offensive line situation a week before the start of the regular season.

The Cowboys cut veteran guard
Montrae Holland
, who you might remember looked like he'd been elevated to starting right guard after the team let go of
Leonard Davis
on the first day of free agency. Holland showed up out of shape, hurt his back and didn't play until the final preseason game last Thursday. During that game, Cowboys owner Jerry Jones said on the TV broadcast that Holland had impressed the team with surprisingly good conditioning and made them feel better about their line depth. And when the cuts came in Saturday, Holland was not among them.
A day later, though,
Holland was out
, and the Cowboys are bringing in former Redskins lineman
Derrick Dockery
as a backup offensive lineman instead. Cutting Holland knocked about $1.5 million off the Cowboys' salary cap figure for 2011 and Dockery will serve as one of the backups on an offensive line that will start two rookies (left guard
Bill Nagy
and right tackle
Tyron Smith
) and a second-year center in
Phil Costa
. This is not, however, the kind of move that makes you think they're done making moves. Since Dockery wasn't technically added until today, the Holland cut was to make room for newly signed fullback Tony Fiammetta. With Dockery being added today, the team released backup tackle Sam Young. And the wheel goes round.

It's a little bit easier to surmise the motivation behind
the line move the Eagles made Sunday
to bring in former Colts guard
Kyle DeVan
. Eagles offensive line coach Howard Mudd coached DeVan in Indianapolis, knows him and knows DeVan knows his system. The Eagles are planning to start first-round pick
Danny Watkins
at right guard, but the rookie has struggled in preseason, and it's got to be comforting for Mudd and Andy Reid to know they have another veteran option to use in case Watkins doesn't show the kind of improvement they expect and need from him over the first few weeks of the season. DeVan also offers another option at left guard in case newcomer
Evan Mathis
doesn't work out on that side.
We might get into the season and find the concerns about young offensive linemen in Dallas and Philadelphia were overblown. The Cowboys and Eagles certainly hope so. But watching them work to make sure and cover themselves just in case, you realize the concerns aren't just external ones -- that these two teams have the same questions fans do about their lines.