November, 29, 2011
11/29/11
12:00
AM ET
NEW ORLEANS -- A couple of thoughts on the overmatched
New York Giants
' third
loss
in a row:
What it means:
The Giants are playing uphill now. They're a full game behind the first-place Cowboys with a couple of very tough games left on their schedule. The two remaining head-to-head matchups against Dallas mean they'll have a chance no matter what happens next week, but they've given away their division lead quickly, and the confidence and momentum they had three weeks ago after their big win in New England has faded.


No answers:
The problem the Giants had on defense in this game had nothing to do with scheme or effort or energy or any of the things people usually like to jump on. This was all about personnel -- namely, the Giants' not having enough of it to compete with the Saints and all of their offensive weapons. With the weaknesses they have at linebacker and in the secondary, there's simply no way the Giants could cover
Jimmy Graham
and
Marques Colston
and
Lance Moore
and
Darren Sproles
and
... well, you get the picture. And when the Saints got close to the goal line in the second half and the receivers
were
covered,
Drew Brees
just ran the ball into the end zone himself. This was a mismatch from the start. There aren't a lot of defenses in the league that can handle the Saints' offense even when they're at full strength. The Giants' defense is not and hasn't been since training camp, and it showed up big time Monday night.
Manning can't do it all:
Once again, the Giants could do absolutely nothing in the run game. They are, statistically, the worst running team in the league, and they did nothing to change that Monday. The offensive line is opening no holes,
Brandon Jacobs
can't get yards around the edge anymore and
Ahmad Bradshaw
is still out with his foot injury. The complete absence of a run game has forced quarterback
Eli Manning
to carry the Giants' offense, and while he's done a good job of that for most of this season, they can't keep asking him to do everything. Manning hurt himself with an interception in the end zone in the first quarter. But while the Giants were able to move the ball for most of the night, and Manning did finally connect with
Victor Cruz
for a 72-yard touchdown once the game was out of hand, the Saints were able to get the stops they needed to get because they always knew Manning was going to have to throw.
Bright spots?
Sure. There were a couple. Cruz has emerged as a remarkably serious threat at the wide receiver position. He had a monster game even aside from the long touchdown catch -- finishing the night with nine catches for 157 yards and two touchdowns.
Jason Pierre-Paul
's tackle of Graham just short of the first-down marker on the Saints' early fake field goal was a brilliantly athletic play. And Jacobs did flash his old form on one play -- his 8-yard touchdown run, on which he barreled through defenders the way he used to. Not a good game for Jacobs overall, though.
Where's the pass rush?
People keep asking why the Giants don't blitz more, but I think it's because they don't trust their coverage units to play short-handed. So they need to get pressure with their front four to have a chance to run their defense the way they want to run it. Lately, that front four hasn't been getting to the quarterback the way it was earlier in the season. And when
Osi Umenyiora
left this game with an ankle injury, things got worse. The Giants' defense needs to get sacks in order to stop anyone.
What's next:
There's really only one way next week's game could be tougher than this one was, and that's if it were against the 11-0
Green Bay Packers
. Unfortunately for the Giants, it is. The good news for them is that at least they'll be home for that game, which is Sunday afternoon.
November, 28, 2011
11/28/11
10:23
PM ET
NEW ORLEANS -- When the Saints tried a fake field goal at the end of their very productive opening drive, you had to figure something was up. And to the chagrin of the
New York Giants
, that "something" was the Saints' belief that they'd be able to move the ball at will all night on the Giants' defense. The remainder of the first half justified that thinking, as the Saints rolled up 354 total yards of offense and took a 21-3 lead into halftime.


What went wrong? Well, just about everything. The Giants' pass rush, such a key to their 6-2 start and their big win in New England, has disappeared a bit over the past few games. They can't afford to blitz, since it leaves them exposed in coverage, and so the whole defense relies on their ability to get pressure with their front four. For whatever reason, they're not doing that Monday night, and the result is a mismatch between the Giants' linebackers and defensive backs against the dazzling array of passing-game weapons at
Drew Brees
' disposal.
Can
Corey Webster
cover
Marques Colston
? Sure. But even if he completely blankets him (which he hasn't, by the way) and even if
Aaron Ross
can stay with
Jimmy Graham
(which he hasn't, by the way), the Giants still need to account for
Darren Sproles
,
Lance Moore
,
Devery Henderson
,
Robert Meachem
... you get the idea. The Giants' talented secondary players could all do the best job they possibly can to take key players out, but somebody's always going to be open for the Saints. Brees completed passes to six different people in the first half, and a lot of them were just too easy.
The Giants aren't playing very well on defense. Ross, for instance, had a major brain cramp when he decided to give Graham a cushion on a play that was run from the Giants' five-yard line. Brees spotted it in an eyeblink and hit Graham for an easy touchdown. But the overwhelming issues are personnel deficiencies. Injuries in the secondary and at linebacker have been major issues for the Giants to overcome since training camp. During the first half of the season, they were overcoming them. Lately, not so much.
On offense, the Giants have moved the ball well against the Saints, collecting 200 total yards in the first half. But
Eli Manning
threw an interception in the end zone at the end of one drive, and the complete lack of the running game as a legitimate threat is forcing him to have to complete very precise passes in tight coverage. He's done it, for the most part, with the help of receivers
Victor Cruz
and
Hakeem Nicks
. But that's a tough way to have to play all night.
As for the interception, yeah, he underthrew the ball. But I'm not sure tight end
Jake Ballard
would have caught up to the pass had he led him with it. And I think Ballard could have done a better job of fighting
Will Herring
for the ball, so I'm not putting that one completely on Eli.
The problem is, the Giants' offense is putting everything completely on Eli, as it has all season. And at some point, somebody else is going to have to do something to win them one of these games.
June, 27, 2011
6/27/11
3:11
PM ET
Our position-by-position look at potential four-year unrestricted free agency and its impact on the NFC East teams rolls along this afternoon with a look at the wide receivers. Outside of Washington, this isn't a position of great need in the division, but we'll throw the Giants and Eagles in for the sake of keeping it interesting and for the very specific reasons outlined in their blurbs.
NFC East teams in need

Redskins
: This is a big-time need position for Washington, and what the Redskins do in free agency could be a very interesting signal about their long-term plans. The thought is that they'll just re-sign
Santana Moss
and let
Anthony Armstrong
,
Leonard Hankerson
and the young guys develop. And it could be difficult to lure a big free-agent wideout when they don't know who their quarterback is going to be. But if they pass up the chance to fill a need this serious, it could be the best indication yet that they plan to make their big play for their franchise quarterback in next year's draft and want to conserve the resources they'll need to (a) draft him, (b) pay him and (c) put the pieces around him once they know who he is.

Giants:
Steve Smith
's knee injury hurt his chances of getting the great big deal he wanted, and as a result it might help keep him in New York. The Giants want him back, since he fits his role so perfectly and therefore allows
Hakeem Nicks
and
Mario Manningham
to thrive in theirs. Should Smith leave, the Giants would be in the market for receiver help, though it's doubtful they'd have very much in the budget with which to pursue the top available guys.

Eagles
: The Eagles don't "need" a receiver. They're in here because they've been linked to
Plaxico Burress
, whose size and physicality would enable him to fill a very specific role for them if that's what he wants to do.
Malcom Floyd
, who's on this list, is also the kind of big, physical guy who could be that red zone presence for the Eagles. But he's liable to command a bigger deal than is Burress, and the Eagles have other needs on which to spend money.
Top five potential unrestricted free-agent wide receivers:
1. Santonio Holmes.
Given all of the supposed baggage, the early season suspension and the issues he was supposed to have after the trade, Holmes had an incredible year for the Jets, who have said they intend to keep him. Of course, if they do keep him, that could mean teammate
Braylon Edwards
is on the market.
2. Sidney Rice.
The big question with Rice is about his hip, which cost him almost all of the 2010 season. He was a revelation in 2009, teaming with
Brett Favre
to get the Vikings within an interception or two of the Super Bowl. If he's healthy, he could be a tremendous asset to whomever the Redskins have at quarterback -- this year and beyond.
3. Edwards.
Not the same kind of player Holmes is, but not a bad consolation prize either. The knock on him has always been dropped balls, but he showed improvement in that critical area in 2010.
4. Floyd.
Assuming the Chargers don't finally trade
Vincent Jackson
, they're probably going to let the 6-foot-5 Floyd hit the market. He'll be appealing to teams looking for that big, strong red zone target. He just hasn't shown the ability to produce over the long haul the way some of the guys ahead of him on this list have.
5. Smith
. His big year was 2009, and had he been an unrestricted free agent then, he'd likely have cashed in big-time on his 100-catch season. But the knee injury that knocked him out in 2010 is likely to hurt his value, and if he can't prove to teams he's 100 percent healthy, he's going to have to wait for that big payday.
Predictions that mean nothing:
The Redskins bring back Moss and decide to sit out the bigger-name market while they see what they have in Armstrong et al. The Eagles make a play for Burress, but another team offers more money and a bigger job and he goes to a situation that's less ideal for him. The Eagles then sit out the receiver market as well. Giants sign Smith, though not before
Lance Moore
's name is thrown around a lot as a potential fallback option.
December, 18, 2009
12/18/09
4:00
PM ET
By
Matt Mosley
| ESPN.com
»
NFC Final Word
:
East
|
West
|
North
|
South
»
AFC
:
East
|
West
|
North
|
South
Five nuggets of knowledge about Week 15: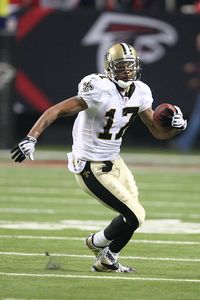 Scott Cunningham/Getty ImagesThe Cowboys' secondary will have its hands full with Robert Meachem and the rest of the Saints' receivers.
The Cowboys can't allow the Saints' receivers to run wild.
I watched the Saints receivers destroy an overwhelmed Giants secondary earlier this season. You cannot allow them free access to their routes. Cornerbacks
Mike Jenkins
,
Terence Newman
and
Orlando Scandrick
must get solid jams and make the Saints receivers compete.
Robert Meachem
and
Devery Henderson
are vertical route runners who can destroy you on any play.
Marques Colston
does an excellent job of working across the middle. Communication will be the key. If you mess up on one play, Meachem will be dancing in the end zone. Sean Payton has done an amazing job of convincing every receiver that he's a No. 1 guy. When
Lance Moore
gets back out there Saturday night, he won't be thinking of himself as a No. 4 guy.
Drew Brees
doesn't care who he's throwing to -- as long as the guy's open. The Cowboys' corners will have their hands full like never before.
The Eagles' defense can't be lured into another shootout.
Conventional wisdom suggests
Donovan McNabb
and the offense will score enough points to win but we've also seen this Eagles team go belly up against teams such as the Raiders. The defense was embarrassed by all the missed tackles against the Giants last Sunday. They allowed more than 500 yards of total offense but benefited from an
Eli Manning
self-induced fumble. In this game,
Trent Cole
and the defensive ends have to get some hits on
Alex Smith
. The 49ers' quarterback has been playing a lot better in recent weeks and the ball's coming out quicker than in the past. It also helps that he has an explosive receiver like
Michael Crabtree
. The former Texas Tech star is great at catching balls in tight windows and he'll turn upfield and take it to the house if you don't watch it. Players such as
Asante Samuel
and
Quintin Mikell
have to do a much better job of wrapping up. And you better not give
Frank Gore
too many cutback lanes. If you're too aggressive off the snap, Gore will make you pay dearly. This is the most underrated Beast game of the weekend.
With Albert Haynesworth back, the Redskins need to have another huge game in the pass rush.
If you give Eli Manning too much time in the pocket, he'll pick you apart. The Giants hung more than 500 yards of total offense on the Eagles on Sunday. The last time the Redskins and Giants played, left guard
Rich Seubert
and Haynesworth had quite a battle. Rookie outside linebacker
Brian Orakpo
is seeing more time at defensive end and that's been a great thing for the Redskins' defense. He had four sacks against the Raiders and he's a matchup nightmare for the Giants' offensive tackles. His bull rush is already one of the best in the division. But the problem for the Skins is that
LaRon Landry
refuses to stay back on deep balls and is susceptible to getting burned. I could see
Hakeem Nicks
having a big game. He's a strong receiver who can beat the jam and get vertical in a hurry. For the Redskins to get the upset, they'll need to have three or four sacks and cause a couple of turnovers. And by the way, it wouldn't be that huge of an upset.
The Cowboys better account for Reggie Bush on every play:
When Sean Payton returned to Texas Stadium in '06 and hung 42 points on Bill Parcells, he used a guy named Mike Kearney to expose the Cowboys' defense. On Saturday night in the Superdome, I think he'll try to line up Reggie Bush all over the field. The Cowboys will assign a cornerback to him at times but he'll also end up against linebackers. If
Keith Brooking
is chasing Bush across the middle, that's a bad situation for the Cowboys. Of all the favorable matchups the Saints have in this game, this one could end up giving the Cowboys the most nightmares.
The Giants have been able to grind out wins against the Redskins with the running game in the past.
For some reason, I smell a big game for
Brandon Jacobs
and
Ahmad Bradshaw
. Tom Coughlin has hated the fact this offense has lost its identity. He believes with all his heart you win games in December in the Beast by pounding the ball on the ground. The Giants have spent a ton of time trying to solidify their running game. And Jacobs is starting to gain some confidence. This might be his game. Please clip and save this last piece of advice. Everything coming out of the Meadowlands suggests the Giants are going to run it like crazy against the Skins. Have a wonderful football weekend.
October, 18, 2009
10/18/09
8:17
PM ET
By
Matt Mosley
| ESPN.com
| | |
| --- | --- |
| | |
| | Matt Stamey/US Presswire |
| | New York defensive back C.C. Brown was continually victimized by New Orleans quarterback Drew Brees on Sunday. |
Posted by ESPN.com's Matt Mosley
NEW ORLEANS -- I tried to ignore the fact the Giants built their 5-0 record against some rather questionable competition. But in the aftermath of a
48-27 drubbing by the Saints
, questioning the Giants' status in the NFC is fair game.
Coach Tom Coughlin better hope the Saints are the best team in the league because they made it look easy against the (former) top-rated defense in the league. Moments after the game, at least one Giants defender was trying to recall if Saints quarterback
Drew Brees
was ever touched Sunday. Nope, Brees was long gone by the time linebacker
Chase Blackburn
recorded the first sack.
This was supposed to be a battle of NFC heavyweights, but in all honesty, the Giants didn't belong on the same field as the Saints. Time after time, Brees dropped back and threw to whomever Giants safety
C.C. Brown
was covering. And when that finally got old, he tossed a couple of touchdowns in cornerback
Kevin Dockery
's direction.
Brees was 23-of-30 for 369 yards and four touchdowns. He released the ball before there was anything close to a pass rush, in part, because receivers were allowed to race across the field unattended. He targeted
Marques Colston
and
Lance Moore
a combined 15 times -- and they caught 14 of those passes for 244 yards. Playing without injured linebacker
Michael Boley
, the Giants looked old and slow.
For reasons that were not explained after the game, the Giants allowed the Saints to lure them into a shootout. We'll never know what could've happened if offensive coordinator Kevin Gilbride had slowed the game down with the running game, although I suspect the Saints would've prevailed. Under Sean Payton, the Saints had been notoriously bad -- Brees called them "awful" -- coming off the bye week. On Sunday, though, they were brilliant on offense and opportunistic on defense.
In wins over the Buccaneers, Chiefs and Raiders, the Giants were able to mask some of their weaknesses on defense. They signed Boley to a lucrative free-agent contract because he's capable of covering athletic tight ends and running backs in the open field. They knew Brown didn't have the coverage skills of
Kenny Phillips
-- out for the season with a knee injury -- but they hoped he could elevate his game. On Sunday, he looked completely lost. Even when he was in position, Saints wide receivers treated him as nothing more than a nuisance.
"We had two people in spots a couple of times on the deep ball and didn't make a play," Coughlin said after the game. "They would go up and get the ball and we're standing on the ground. We've got to locate the ball and get up as if the ball is ours."
Brown finished with a team-leading 13 tackles, but too many of them came after huge gains by the Saints. I kept trying to figure out why the Giants didn't give recent addition
Aaron Rouse
a chance to play. It seemed punitive to let Brown endure the Brees-led onslaught.
But to be fair, Brown had plenty of help. A somewhat questionable pass interference call on cornerback
Corey Webster
in the second quarter gave the Saints a 35-yard penalty and first-and-10 at the Giants' 12-yard line. They quickly made it 27-10 and the Giants were pretty much done.