June, 9, 2011
6/09/11
10:56
AM ET
You know, someday, maybe not too far in the future, the Redskins are going to be back on top. And when they are, they're going to look back on the summer of 2011 and laugh. "Hahahahaha," the Redskins fans will say. "Remember when the only lists we ever finished on top of were the bad ones? Gosh, those were some goofy times. What a laugh we get now, remembering them."
Meanwhile, Football Outsiders has this list of the
top 10 most disappointing free agents
of the past 25 years. And while it's an Insider piece that not all of you will be able to read, I'm going to reveal the name at the top of the list. Ready? Seriously, I hope you're sitting down for this. It's ... it's ...
Haynesworth
Yeah. It's
Albert Haynesworth
.
"Haynesworth has pocketed nearly $35 million from the Redskins, produced 53 tackles and 6.5 quarterback sacks in 20 games and has been a near-constant headache for two coaching staffs," Brian McIntyre writes. "Haynesworth complained about his role in former coordinator Greg Blache's defense and challenged the authority of new head coach Mike Shanahan last summer, failing to complete the team's conditioning test, which relegated him to working against trash cans after the rest of the team had practiced. During the season, Haynesworth refused to play certain roles, leaving Shanahan with no choice but to suspend him without pay for the final month of the regular season."
Hey, I'm no scout, but none of that sounds very good. I will say, though, that I was there for some of those conditioning-test days, and those trash cans had
no chance
against Big Al.
Making matters worse for Redskins fans who are probably getting sick of these kinds of posts, there's no other NFC East player or team represented in the top 10. In fact,
Alvin Harper
finished No. 2 and
Larry Brown
No. 10 for deals they signed with other teams after leaving the Cowboys.
Someday, Redskins fans, you will have your revenge. It may be hard to see it from here, but someday it'll happen. It just has to.
February, 5, 2011
2/05/11
8:27
PM ET
By
Matt Mosley
| ESPN.com
DALLAS -- The Redskins had a pretty good feeling that linebacker Chris Hanburger would be voted into the Hall of Fame, so they gathered some quotes from his former teammates. And by the way, the footage of Hanburger clotheslining running backs and quarterbacks was pretty remarkable. Folks in the audience were gasping as he clotheslined Cowboys quarterback Don Meredith in the late 1960s.

Here are a few quotes on Hanburger:

Larry Brown, former running back: "He should have been inducted long before now based on him being to the Pro Bowl nine times. That's a significant accomplishment. He was very quiet and that was kind of hard for him to do. I thought in most situations, he allowed his performance to speak for him."

Sonny Jurgensen, quarterback: "He was serious. He played the position differently. He took full advantage of his quickness and his great anticipation. He had great anticipation, reading snap counts and figuring out what the offense was doing. He was really a great linebacker. Every game you would get 100 percent from him."

Brig Owens, defensive back: "He was a great player, very fast and he was one of those rare linebackers who had a lot of speed. He wasn't your typical large linebacker, but the way he played the game, you expected him to be there on every play. He was a student of the game, a great teammate and a friend."
June, 22, 2010
6/22/10
11:30
AM ET
By
Matt Mosley
| ESPN.com
Notable players
: QB
Mark Rypien
, RB
Earnest Byner
, WR
Gary Clark
, G
Mark Schlereth
, DE
Charles Mann
, CB
Darrell Green
, K
Chip Lohmiller
[+] Enlarge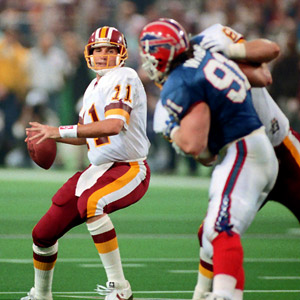 US PresswireMark Rypien threw for 3,564 yards and 28 touchdowns during the 1991 season.
Analysis
: Maybe I should've leaned toward the Riggo-Theismann teams, but in my mind, the '91 team was too stacked to ignore. Clark was such an unbelievable competitor and he still drops by practice from time to time and inspires the current players. Green was the primary reason opposing teams only managed 6 yards per passing attempt that season. His battles with
Michael Irvin
were priceless.
The '91 offensive line was dominant to a ridiculous degree. Redskins quarterbacks were only sacked nine times that season, which is a decent half for the current unit. Rypien had 14 touchdown passes of 25 yards or more to lead the league. Washington could beat you with the pass or run and then its defense knew how to protect leads.
Most impressive win
: The Redskins breezed through the regular season with a 14-2 record and then pounded the Lions and Falcons in playoff games. But the 37-24 Super Bowl win over the Bills stands out to me. The Bills were in the middle of a remarkable run and they had an immensely talented offense. The Redskins didn't care about any of that. We remember the Cowboys being the dominant team of the '90s, but the Redskins set the table in '91 with a memorable season.
Best player
: Green was brilliant at cornerback, but Rypien was the MVP of the league. For that one season, he put up numbers (3,564 yards passing, 28 TDs) that would make any quarterback envious. And the man threw an excellent deep ball.
Honorable mention
1987
: I'll never forget Doug Williams' performance in the Super Bowl. He was shaky early in that game, but after the Skins fell behind the Broncos by 10, Williams settled down and started shredding the defense.
1983
: I know the '82 team won a Super Bowl, but that was in a strike-shortened season. Give me the '83 team even though it was pummeled by the Raiders in the Super Bowl.
1972
: The Skins ran into the perfect Dolphins in the Super Bowl, but Billy Kilmer and the gang had a tremendous season. Larry Brown was a monster and the great George Allen had the Cowboys in full paranoid mode. It was a classic time in the rivalry because the Cowboys also had become an elite team.