July, 9, 2014
Jul 9
10:00
AM ET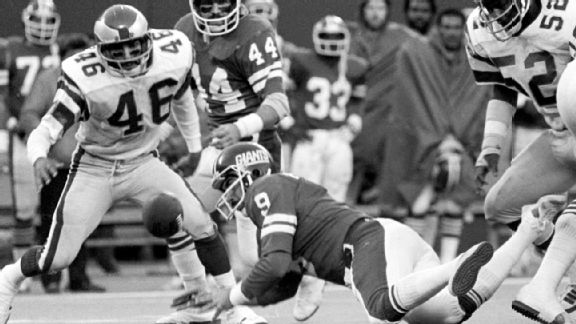 AP Photo/Burnett
»
VOTE HERE
»
NFC Plays:
East
|
West
|
North
|
South
»
AFC:
East
|
West
|
North
|
South
This is one of three nominations for the most memorable play in
New York Giants
history. On Monday we looked at David Tyree's "helmet catch" from the Super Bowl XLII victory over the
New England Patriots
, and on Tuesday we looked at the Lawrence Taylor sack that broke Joe Theismann's leg in 1985. Please vote for your choice as the Giants' most memorable play.
Score
: Eagles 19, Giants 17
Date
: Nov. 19, 1978
Site
: Giants Stadium

The fourth-place Giants had taken a 14-0 first-quarter lead on the third-place Eagles. And in spite of a comeback, the game appeared won when the Giants intercepted the ball inside the two-minute warning. Fans headed for the exits as Giants quarterback Joe Pisarcick knelt to the ground on first down in an attempt to run out the clock. But instead of giving up the game, the Eagles banged away at the middle of the Giants' offensive line in an attempt to force Pisarcick to fumble. Because of that, the Giants decided not to run the kneel-down play on second down, and instead had Pisarcik hand the ball off to running back Larry Csonka, who picked up 11 yards and set up a third-and-2. One more kneel-down would have won the game for the Giants.
Instead, on third down, offensive coordinator Bob Gibson called another handoff to Csonka. But the exchange between Pisarcick and Csonka wasn't clean, and the ball came loose. Eagles defensive back Herman Edwards, who was blitzing on the play, picked it up and ran it back 26 yards for a stunning touchdown and an Eagles victory.
It was the fourth straight loss in what would be a six-game losing streak in the second half of a 6-10 Giants season. Gibson was fired the next day. The Eagles would go on to finish 9-7 and reach the playoffs, and since the winners write the history books, "Miracle at the Meadowlands" became the name by which the play would forever be called by everyone but Giants fans. They refer to it, simply and grumpily, as "The Fumble."
July, 9, 2014
Jul 9
10:00
AM ET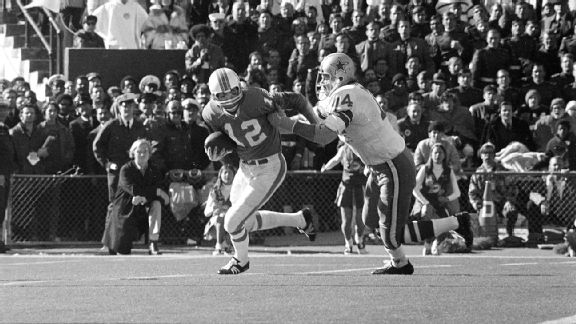 AP Photo
»
VOTE HERE
»
NFC Plays:
East
|
West
|
North
|
South
»
AFC:
East
|
West
|
North
|
South
This is one of three finalists for the most memorable plays in Cowboys history. We already discussed the Troy Aikman-to-Alvin Harper pass in the 1992 NFC Championship Game and the Hail Mary from Roger Staubach to Drew Pearson.
Please vote for your choice as the Cowboys' most memorable play.
Score:
Cowboys 24, Dolphins 3
Date:
Jan. 16, 1972
Site:
Tulane Stadium
The Cowboys were known as "Next Year's Champions" after losing the 1966 NFL championship to the Green Bay Packers, the '67 title game (better known as the Ice Bowl) to the Packers and Super Bowl V to the Baltimore Colts.

But the Cowboys quickly put to rest any doubt that they would win Super Bowl VI against the Miami Dolphins.
After taking a 3-0 lead, the Cowboys forced Dolphins quarterback Bob Griese into retreat mode. Larry Cole had the first chance at Griese but jumped in the air, allowing the quarterback to escape. Briefly. And in reverse. Eventually, Bob Lilly, Mr. Cowboy, was able to bring Griese down for a 29-yard loss.
Doomsday had dominated, and with their 24-3 victory, the Cowboys were "This Year's Champions," becoming the first team to win a Super Bowl the year after losing one.
The Cowboys lost Super Bowl V to the Colts on a Jim O'Brien field goal that led Lilly to flinging his helmet in disgust. A year later, Lilly had his championship moment.
The sack remains the largest negative play in Super Bowl history. The Cowboys are the only team not to allow a touchdown in a Super Bowl. A Miami offense built around Larry Csonka, Paul Warfield and Jim Kiick was shut down. Csonka and Kiick had 40 yards rushing each. Warfield had 39 receiving yards, with 23 coming on one play.
Roger Staubach was named the Most Valuable Player of Super Bowl VI with two touchdown passes, completing 12 of 19 passes for 119 yards. But it was the defensive dominance, highlighted by Lilly's sack, that brought Tom Landry and the Cowboys their first championship.
@toddarcher it was just the sheer dominance of that defense. That was the play where you KNEW Dallas was going to win that game.

— Bess Maxwell (@LaSpiritsBess) July 2, 2014
May, 27, 2011
5/27/11
8:00
AM ET
All right. I'm working today. Who's with me?
(***crickets***)
Well, whatever. The few of you who stick around get a full day of NFC East bloggage before the big weekend hits. We're going to try to top last week's Eli-Romo debate and the 1,200 or so comments it generated by rolling out a new debate topic later this morning. This afternoon, we'll post the results of the "Flash Points" polls in which you guys voted on the most important event in the history of each of the division's four franchises. And we'll even start with a sing-songy riddle:
What walks down stairs, alone or in pairs and makes a 'Linkity sound?
A spring! A spring! A marvelous thing! Everyone knows it's ... the NFC East breakfast links!!!!
Dallas Cowboys
Eric Edholm at
Pro Football Weekly
believes new defensive coordinator Rob Ryan will talk Jerry Jones into upgrading at safety once free agency starts. Oakland's Michael Huff, an old Ryan friend from his Raider days, could top the list. A lot of the Dallas safety speculation seems to assume the departure of Gerald Sensabaugh, but whether he's back or not, they'll still have a need for a veteran there. Huff might actually make more sense for the Cowboys than CB Nnamdi Asomugha, whose name must appear in he NFC East breakfast links at least four times per week per contractual agreement.
Blogging the Boys
tried to answer the question of how much longer the Cowboys' core group of players will be young enough to have a chance to win a title together. Those windows do shut rather quickly in this league, don't they?
New York Giants
Rich Cimini moonlights on ESPNNewYork.com's Giants blog with a
funny little item
about Hall of Famer Floyd Little and his memories of Tom Coughlin complaining about a lack of carries while he was sharing a Syracuse backfield with Little and Larry Csonka in the '60s. "Why would we let you carry the ball when we have me and Csonka back there," Little recalls telling Coughlin more than once. "Are you crazy?" At least he gave it to him straight. Gotta believe Coughlin appreciated that.
The Giants' Facebook page is taking a look at the
evolution of the team's logo
through the years, which is kind of cool if you like that sort of thing. Which I do.
And there's
more Tiki stuff
today on the Anne Frank comments, but I'll spare the Giants fans a long diatribe on that one. You don't want to answer for that clown anymore, and you shouldn't have to.
Philadelphia Eagles
Kevin Kolb says Eagles head coach Andy Reid told him, "
I'll do what's best for you
" in a recent text message about Kolb's desire to be traded to a team for which he can start at quarterback. There's reason for Kolb to believe him. Reid consulted Donovan McNabb last year before trading him to the Redskins, in part because Washington was where McNabb preferred to go. Of course, there's a careful-what-you-wish-for lesson in that for young Kevin, no?
At the request of the U.S. Attorney's office, Michael Vick
spoke to high school kids
about the dangers of gun violence. Seventeen shootings in Philly this week, 11 of the victims under 21 years old. Vick called the stats "astonishing" as he spoke to the kids about "decision-making." Think what you want, but I guarantee you those kids were paying attention.
Washington Redskins
Mike Jones makes it sound as if Kedric Golston
wouldn't mind sticking around
to be part of the defensive line solution in Year 2 of the Jim Haslett 3-4 defense. The big man appears to have been working hard during the players-only minicamp that just wrapped up Thursday.
Jets coach Rex Ryan said he called former Redskins coach Joe Gibbs to
ask for tips
about weathering an NFL work stoppage, since Gibbs' Redskins teams won the Super Bowl after the strike-shortened seasons of 1982 and 1987. This feels like a good time to plug
my column from yesterday
, in case you didn't read it, and to go eat breakfast. Enjoy your day, and please ... try to concentrate. The long weekend will be here soon enough!
NFC EAST SCOREBOARD
Saturday, 12/20
Sunday, 12/21