August, 25, 2011
8/25/11
11:46
PM ET
Observations from the Redskins' 34-31 preseason loss to the Ravens on "Monday Night Football":
Everyone loves a horse race, so it's no surprise so many people who are watching the
Washington Redskins
' apparent quarterback competition are treating it as one.
Rex Grossman
bounces a couple of throws, he's in trouble.
John Beck
hits a deep ball, he's in the lead. Grossman looks sharp in the 2-minute drill, he's not dead yet. Beck throws an interception, he's lost the job! Oh wait! Beck comes back and leads a 95-yard touchdown drive! The job is again his to lose!!!
[+] Enlarge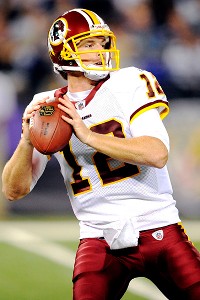 Rafael Suanes/US PRESSWIREJohn Beck rebounded from a second-half interception with a long touchdown drive.
It's just not as cut and dried as that. The key thing to remember about the preseason games is that we never really know what we're looking at. Some teams concoct game plans, some teams don't, and you have no idea, really, who is trying hard and who isn't. So the evaluations have to be about more than performance and results. And for Mike Shanahan and the rest of the Redskins' coaching staff, they are.
Shanahan and the Redskins know exactly what Grossman is. He doesn't have to show them anything. They believe, if they install Grossman as the starter, they know exactly what they'll get. And so far this preseason, nothing he's shown has done anything to sway them from that opinion.
They believe, however, that Beck has the ability to give them more. That he can make plays and move the chains with his feet. That he has a quicker release, and that he anticipates throws better. They think the upside is higher with Beck, and what they wanted to see from him when this preseason began is how he would handle the pressure of being the starter -- or at least the opportunity to finally be a starter in the NFL.
So while, yes, it matters that Beck made a bad throw that was intercepted on his first play of the second half, it almost certainly matters more that he rebounded to lead that long touchdown drive. You're not going to judge a guy on one throw, good or bad. But to watch Beck engineer that drive, make smart decisions quickly, let go of the ball with that kind of speed ... that's the kind of thing that, if the question is whether Beck can handle the pressure of the situation, the answer is affirmative. Shanahan is not likely to announce his decision for another week or so at least, but I believe Beck has been the favorite all along and has done nothing to lose that status.
Some other thoughts from what turned out to be an exhibition loss when
Tyrod Taylor
and the fired-up Ravens went in for a touchdown with 22 seconds left:
1. Ryan Kerrigan is an impact player.
Sure, he's a rookie still learning to play standing up as a linebacker instead of in the three-point lineman stance he used in college, and he still needs to get used to the coverage schemes. But when they send Kerrigan after a quarterback, he can flat-out get there. He picked up his second sack in two preseason games, and it appears as though he and fellow outsider 'backer
Brian Orakpo
can be a fearsome combination. Overall, the Redskins' first-team defense looked very good, although it could suffer if the knee injury sustained by rookie defensive end
Jarvis Jenkins
in the first quarter is a long-term issue. Jenkins has been a star during training camp.
2. Terrence Austin is playing himself into a roster spot.
For the second game in a row, Austin was a standout at the receiver position. He caught Beck's touchdown pass and had 71 yards on five catches. He's also served as the punt returner the past couple of weeks with
Brandon Banks
out (although he got only one chance in this one), and that could help him make the team. If he has a connection with Beck, and if Beck is the starter, it's going to be difficult to cut Austin.
3. Interesting night for DeAngelo Hall.
He had the interception return for a touchdown, nicely anticipating the route and sitting on it while
Joe Flacco
fired it right to him, but he also gave up
Lee Evans
' touchdown for Baltimore. He had tight coverage on Evans and just didn't see the ball in time to make a play on Flacco's pinpoint throw. In general, the Redskins' secondary has been the weak spot of the defense in this preseason. In fairness, they have been playing without starting safety
LaRon Landry
and cornerback
Josh Wilson
-- as well as without inside linebacker
London Fletcher
, who is not a member of the secondary but is an on-field leader of the defense whose presence and knowledge are missed. It was encouraging to see
O.J. Atogwe
on the field for the first time this preseason, and
Reed Doughty
has played well at safety during the injuries to the starters. But once Landry is back there, things will feel much more whole.
4. Santana Moss will be a huge help to whichever guy is the quarterback.
Moss is simply a great, professional route-runner. They could use a bigger red zone threat than they have, but Moss is going to be a safety net for Beck and/or Grossman all year as they work on moving the ball down the field. As for that red zone threat ... maybe
Leonard Hankerson
can develop into it. We got on his case last week for drops, so it should be noted that he made a very nice shoestring catch on the only ball that came his way on this night. And
Anthony Armstrong
looks like a potential deep threat, as Beck found him for 33 yards on his first throw of the game.
5. Tim Hightower.
Not much else to say. He ripped off another big run, didn't fumble the ball and looks like he's moving up fantasy draft boards as the season approaches. Nine carries for 56 yards, no sign of injured
Ryan Torain
to challenge him and
Roy Helu
looks like a fun, speedy backup at this point. Hightower is a factor in the passing game as well, as a blocker and a receiver, and if he holds onto the ball, he's going to be an asset.
Once again, no way to know whether the good stuff we've seen from the Redskins will carry into the regular season, and no real reason to think it will. The preseason just doesn't have that kind of predictive value. But even though they lost the game, there were a lot of things about Thursday night to help make the Redskins feel good about themselves, and there is value in that as the season gets ready to start.
August, 12, 2011
8/12/11
8:00
AM ET
Well, it was fun to watch some football, wasn't it? At least for the first halves of the games, when there were players in there you could imagine playing on Sundays this fall. Good for the NFL for solving that pesky labor dispute and getting the preseason started on time. Good for Jason Garrett for going for two and for the Eagles' defense for preventing that last touchdown, because overtime in the preseason is about as lame a concept as there is. And good for you for getting your breakfast links.
Dallas Cowboys
Jean-Jacques Taylor writes that the Dallas defense, in its first game under Rob Ryan, looked like a defense that was
still feeling its way
into its new scheme. I agree completely, and with Marcus Spears' assertion that they're "not playing anywhere like we'll be playing later in the year." And I think you saw glimpses of some encouraging things, such as pressure Spears and Anthony Hatcher were able to generate, and that first play where DeMarcus Ware got his hand on a Kyle Orton pass. Ryan's never had a player like Ware before, and it'll be fun to see how he uses him. But let's be honest here: The Cowboys don't have all year to learn this stuff. Sure, they need to look better and more sure of themselves later this season than they do now, but they need to look a lot better in 30 days than they do now, too. At least they have some tape they can take back and work with.
David Buehler says he feels like
the kicker job is his to lose
. We'll see if Dan Bailey gets his chances next week. This could turn out to be one of the least inspiring position battles in NFL history.
New York Giants
Unless everybody on his side is just pulling our legs (still possible, but feeling less likely), it appears as though Osi Umenyiora has reached the point where he's realized his holdout is no longer doing him any good. The sense is that he'll be
back at practice Monday
, after he got his knee checked out by a specialist Thursday and was apparently cleared. Good for Umenyiora if he was able to get any any extra money or incentives out of this, and good for the Giants for standing their ground when they didn't have to cave. He's an important player for them, and if he has a great year, he'll have more leverage next time around.
Lots of people had thoughts on Jerry Reese's odd news conference Thursday.
These are Tara Sullivan's
. Tara's point, a good one, is that Reese is perfectly within his rights to say you don't have to make a big free-agent splash to win, but that if you believe that you need to keep your own players. And in losing Steve Smith, Kevin Boss and Barry Cofield, Reese failed to do either thing: "The collateral damage has left coach Tom Coughlin with as thin a roster as he's had in years, not a comfortable position for a man with two years left on his contract and a playoffs-or-bust mandate to get any more," Tara writes.
Philadelphia Eagles
As great as the Eagles looked in and felt after the preseason victory over Baltimore, there is growing concern about the health status of wide receiver Jeremy Maclin, who's
headed back to St. Louis
(which is home for him, I guess) for further tests on the medical condition the Eagles won't discuss in detail. Andy Reid continues to insist he believes Maclin will be there for the Eagles when the season begins, but he doesn't seem to have much evidence for that belief. The most important thing is that the young man is OK, of course, not whether he plays football again. But from a strictly football standpoint, a Maclin absence would mean a lot more of Jason Avant, who looks very good.
The Eagles will go into this high-hopes season with rookies at kicker and punter. And while Alex Henery and Chas Henry are decorated collegiate kickers, the fact that they're rookies will keep the spotlight on them all year.
They passed their first test
, it would seem.
Washington Redskins
The Redskins defense you'll see in the early part of Friday night's game against the Steelers should be much improved over last year's, but defensive coordinator Jim Haslett
told Mike Jones
that he's looking forward to a time when it's fully healthy. LaRon Landry is on the PUP list while he continues to recover from his Achilles injury, and fellow safety O.J. Atogwe could miss the game with a hamstring pull. Safety was to have been a position of strength for the Redskins, and so you can see why Haslett would want his starters on the field with the rest of the more questionable guys.
Lots of eyes will be on the rookie receivers tonight, and
Deron Snyder
offers a look at Leonard Hankerson, who's looked good in camp except for those pesky drops, which I imagine could continue to be an issue that holds him back.
One final note: Yes, Buffalo is putting Lee Evans on the market. Yes, you can make the case that all four of these teams could use a receiver. But don't overrate Lee Evans here, folks. The Giants don't need to get Lee Evans just because they lost Steve Smith. Evans is nothing like Smith. He's the opposite of Smith, really -- a burner who can't get open and has never lived up to his considerable potential. (And no, it's not all because Buffalo hasn't had a quarterback. Steven Johnson managed to have a great year there last year because he can shake receivers and find the ball before defenders do.) If your team gets this guy, the best you can hope is that they didn't trade much to get him and that a change of scenery helps. But don't get too nuts about it.
Anyway, catch you later on. Redskins game tonight, so I'll be on the Twitter during that and filing my impressions when it's over.
June, 25, 2011
6/25/11
11:18
AM ET
See, how it works is, you e-mail the questions, I sort through them, delete all the profane and insulting ones and answer the ones I think are the most interesting. A democracy? No. Just a lil' ol' weekend mailbag.
tmcsfinest from Toronto
thrilled us all Friday morning with a stirring tale of his efforts to post a question on the mailbag. His problem apparently was that his question was too long, so he posted it instead as a comment on
a post about the Giants hiring
Larry Izzo
. Fortunately for him, I read almost all of the comments -- even the ones that have nothing to do with the post under which they sit. Unfortunately for him, he was right about his question being too long, so I can't copy/paste the whole thing here. Basically, he asks if I think it'd be smart for the Redskins to add to their wide receiving corps via trade or free agency, because what they have there isn't great and there are some interesting options on the market.
Dan Graziano:
No doubt, receiver is a need the Redskins should address if they can. The issue is that some of the names you suggest (
Lee Evans
,
Darrius Heyward-Bey
) likely wouldn't be big enough upgrades over what they already have to justify parting with resources to acquire them. Free agents such as
Braylon Edwards
and New York
Steve Smith
don't fit the No. 1 wideout description.
Sidney Rice
is an injury question, and
Vincent Jackson
and Carolina's
Steve Smith
will be pricey. Considering that no one they bring in will have an established NFL quarterback throwing to him, I'm not sure it's wise for Washington to deal away a bunch of picks for a star or commit long-term dollars to the relative flotsam that's out there on the free agent market when they're probably gearing up to position themselves to draft their quarterback of the future next spring. Yes, they need help at receiver. But given the probable price of upgrading, I wonder if they might just be better off bringing back
Santana Moss
and finding out a little bit more about what
Anthony Armstrong
's got.
---
Evan O'Gibney, a Long Branch, N.J. native, checks in from Baghdad
with a question about the Giants. Evan is "worried about the Giants" because "
Jerry Reese
is too conservative, Coughlin is starting to get surrounded by more players who weren't there when they won the big one and just see the hard-nosed coach and don't respond well.
Brandon Jacobs
is not worth the money he's making over the next two seasons and our O-line is all but about to start collecting social security. And I'm still not over the decision to not trade up to get
Rolando McClain
when ILB is by far our biggest need instead of getting ANOTHER DE. (i like JPP, but it wasnt the right move, backflips dont count in hall of fame votes)"
DG
: Couldn't have said it better myself, Evan. I don't like the way the Giants have made their offseason decisions the past couple of years. I've been clear on this. And I think, if they don't address that linebacker position in free agency and add some offensive line depth, they're setting themselves up for disappointment. But as you'll see if you check back on the comments in a few hours, there are many Giants fans who think I'm all about unwarranted doom and gloom. I'll just point out, again, that you and I have played in as many playoff games as the Giants have in the past two seasons.
---
Bill in D.C.
wonders what will become of
Barry Cofield
if he and the Giants part ways in free agency, and if I "think he could play the 5 technique in a 3-4? He seems to have the speed and size (6'4", 309) to do so. If so, he might make an interesting addition to the Dallas D line."
DG
: Cofield has played on the inside in the 4-3 in New York, and I confess I don't know much about the technical aspects of making a position switch like that. My gut tells me it'd be easier than, say, switching to 4-3 defensive end. And given the freedoms that talented players enjoy in Rob Ryan's scheme, it's possible the five-technique in Dallas won't be a traditional five-technique position. Certainly, if you put him on the same side as
DeMarcus Ware
, he might not have to worry as much about rushing the passer or keeping offensive tackles off his linebacker. It's an interesting thought, but I can't offer any insight into whether it's something Cofield himself would want to do.
---
Andrew in Dallas
wants to know, if the Eagles are going to have as much cap room as it appears they will, "why don't they re-sign some key players (like
DeSean Jackson
) to a contract with a lot of money this season to lower the price for later years? By front-loading the contracts, they could build in more room in later caps, in addition to locking up vital players."
DG
: In theory, sure. But the Eagles are thinking about winning this year, and I imagine they'd rather dole out up-front money to players who can help with that than worry about the long-term situation with Jackson. And Jackson's situation is its own mess, as I believe he plans to hit the open market with Drew Rosenhaus at his side and see what he can get. I'm not even sure Jackson would be interested in locking up long-term at a price the Eagles would find acceptable right now. In short, I think the Eagles are focused a lot more on a 2011 Super Bowl run than they are on cap room in future years.
Keep the questions coming, folks. And if they don't fit in the mailbag, as tmcsfinest showed, you can always just throw them into some random post during the week and hope I find them. It's a mixed-up, muddled-up, shook-up world...
March, 9, 2009
3/09/09
9:00
AM ET
By
Matt Mosley
| ESPN.com
Posted by ESPN.com's Matt Mosley
March, 7, 2009
3/07/09
6:29
PM ET
By
Matt Mosley
| ESPN.com
Posted by ESPN.com's Matt Mosley
| | |
| --- | --- |
| | |
| | James Lang/US Presswire |
| | Terrell Owens agreed to a deal with the Bills on Saturday. |
Former Cowboys wide receiver Terrell Owens may not have nine NFL lives, but he has at least four. According to a report by ESPN.com's John Clayton, T.O. has agreed to a one-year deal worth $6.5 million with the Buffalo Bills.
The $6.5 million is apparently guaranteed, which would appear to be a huge win for T.O., whose prospects looked bleak when he was released by the Dallas Cowboys on Wednesday. T.O.'s agent, Drew Rosenhaus, had predicted his client would have a deal in place by the end of next week, and that sounded pretty optimistic considering T.O.'s much-publicized issues in Dallas. Several teams quickly issued press releases saying they wouldn't be interested in the controversial player, but the Bills were there to catch him.
He'll join an offense led by quarterback Trent Edwards, and he'll play opposite receiver Lee Evans, who's been on the decline since an 82-catch season in 2006. After spending his career with three big-market teams, T.O. is in for a huge change in Buffalo. But it's not like he'll be able to avoid the spotlight. He remains the biggest lightning rod in the league, which will make the Bills' 2009 training camp a completely different experience.
FOXsports.com was the first outlet to report T.O.'s visit to Buffalo. He was reportedly scheduled to leave town Saturday night if a deal wasn't in place, but the Bills obviously moved quickly. I'm sure Bills owner Ralph Wilson spent some time on the phone with Cowboys owner Jerry Jones, who had offered to be T.O.'s No. 1 reference.
The biggest surprise in all of this is the guaranteed contract. T.O.'s combination of age (35) and past issues screams for an incentive-laden contract, but much like Jones did three years ago, the Bills decided to make a serious commitment to the player. Even for a 35-year-old receiver with a spotless past, making $6.5 million per year would be a tremendous feat. And you wonder why players fall all over themselves to sign with Rosenhaus?
T.O.'s proven that he can destroy any locker room -- no matter how tight it might be. The Bills are being naive to think they could be the exception. But in reality, he's being brought in as a mercenary. Buffalo apparently thinks it's one elite player away from making a playoff run. That seems like a stretch to me in the competitive AFC East.
Tim Graham of AFC East blog fame, this guy is all yours!
November, 23, 2008
11/23/08
2:46
PM ET
By
Matt Mosley
| ESPN.com
Posted by ESPN.com's Matt Mosley

Owens
The Cowboys are headed for a blowout at Texas Stadium. So while I prepare to write my "Welcome back, T.O." column, here are some interesting numbers from the fine folks at Elias:
Most TD receptions of 75-plus yards for active players
Also, it's Tony Romo's third pass of 70 yards or more this season. No other quarterback in the league has more than one pass of that distance. Oh, and he missed three games with a broken pinkie.