August, 31, 2010
8/31/10
6:50
PM ET
By
Matt Mosley
| ESPN.com
January, 1, 2010
1/01/10
4:20
PM ET
By
Matt Mosley
| ESPN.com
»
NFC Final Word
:
East
|
West
|
North
|
South
»
AFC
:
East
|
West
|
North
|
South
Five nuggets of knowledge about Week 17
:
[+] Enlarge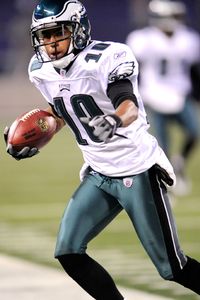 AP Photo/Bill KostrounThe Cowboys will have a difficult time covering Philadelphia's DeSean Jackson.
I thought we had looked at every conceivable angle of Eagles-Cowboys this week, but let's go even deeper.
I'm interested to see how the Cowboys attempt to defend wide receiver
DeSean Jackson
. He wasn't effective in a 20-16 loss at the Linc and the Cowboys did a really nice job of keeping someone behind him at all times. Since that game, cornerback
Mike Jenkins
has been playing at a Pro Bowl level. You'll see him try to get a good jam on Jackson and then you'll see safeties
Ken Hamlin
and
Gerald Sensabaugh
helping over the top. One of the underrated matchups will be
Jason Avant
against cornerback
Orlando Scandrick
. That will be an important contest because Avant is capable of making big plays.
I'm curious to see how much pride the Giants display after a disgraceful performance against the Panthers.
Will the defense stand up and play for embattled defensive coordinator Bill Sheridan? The host Vikings are a team that desperately needs a win heading into the playoffs after a December collapse.
This is the type of game we'll find out about some of the Giants' young players. They need players such as
Jonathan Goff
and
Bruce Johnson
to make plays. And after being gashed by
Jonathan Stewart
, let's see how the defense reacts against another elite runner in
Adrian Peterson
.
The Redskins appear to have little if any chance of winning this game at the Chargers.
But let's take a look at how right guard
Edwin Williams
and safety
Kareem Moore
play.
These are young guys being asked to play well in starting roles. And you could even see
Lendy Holmes
starting at safety now that
LaRon Landry
's been ruled out.
This has to be coach Jim Zorn's last game, although he's in full denial mode. Will his players put it on the line for him one more time or fold like they did against the Giants? We're about to find out.
I'm anxious to see how the Eagles use their linebackers.
Akeem Jordan
saw the majority of the snaps at middle linebacker last week. He can't cover
Jason Witten
in the middle of the field. Defensive coordinator Sean McDermoot could go with
Will Witherspoon
and Jordan as the only linebackers if he wants to try to nickel cornerback
Joselio Hanson
on Witten.
Jeremiah Trotter
can help blow up the running game at middle linebacker but he would get abused by Witten. McDermott has some interesting decisions to make.
I could see Eli Manning getting in a shootout with Brett Favre.
And this could be
Hakeem Nicks
' game of the season. He's shown the ability to make plays after contact. If the offensive line can give Manning time, I think he'll light up this Vikings' secondary.
I'm also very interested to see how
Ahmad Bradshaw
performs as the feature back. The Vikings have an excellent defensive line but there will be some cutback lanes available. If he has a big day, Giants fans will spend the offseason calling for him to be the starter in 2010.
I think these teams will combine for at least 68 points. Just call it a hunch.
September, 6, 2009
9/06/09
4:06
PM ET
By
Matt Mosley
| ESPN.com

Posted by ESPN.com's Matt Mosley
The
Washington Redskins
have added five players to their practice squad: Safety
Lendy Holmes
(undrafted), defensive end
Rob Jackson
(seventh round in '08), wide receiver
Trent Shelton
(former Baylor player), defensive end
J.D. Skolnitsky
(undrafted) and fullback
Eddie Williams
(seventh round in '09).
So where is
Chase Daniel
? I was assuming he'd be added the Skins' practice squad, but maybe he's interested in signing with another team. Daniel was pretty impressive against the Patriots -- and that team happens to need a backup quarterback. We'll let you know if anything develops.
September, 5, 2009
9/05/09
7:29
PM ET
By
Matt Mosley
| ESPN.com
Posted by ESPN.com's Matt Mosley
Biggest surprise:
Most former NFL quarterbacks turned head coaches love to surround themselves with as many QBs as possible. But Redskins coach Jim Zorn is taking a new approach after placing
Colt Brennan
on injured reserve with a hamstring injury and a previously undisclosed hip injury (torn labrum). The Skins also released Brennan's competitor for the No. 3 job,
Chase Daniel
, but there's a good chance that Daniel shows up on the practice squad. I don't think Brennan will ever play for the Redskins again -- even when he's healthy. The two sides will reach an injury settlement and go their separate ways.

Mildly surprising to see running backs
Anthony Alridge
and
Dominique Dorsey
both end up on the chopping block. Alridge missed too much time in camp and then he had ball security issues. Dorsey and Alridge would both be practice squad candidates.
Cody Glenn
was sort of a head-scratcher from the time the selection was made.
Trent Shelton
's definitely a practice squad candidate. The rise of seventh-round pick
Marko Mitchell
out of Nevada made it impossible for Shelton to make the team. The good news is that Shelton has already sent out a Twitter update indicating that
he'll be signed to the practice squad
.
No-brainers:
You knew
Marcus Mason
was going to make this team as the fourth running back. And by the end of the season, it wouldn't surprise me if he's the backup to
Clinton Portis
. He's just a nice change-of-pace. I thought it was no-brainer to keep him around. I think some folks might be a little surprised to see
Jeremy Bridges
go, but the Redskins just thought he would stand in the way of some of the young guys. He didn't look that good to me in the preseason, so I don't have any problem with that decision. You hate to see a guy like
Alex Buzbee
work his tail off to rehab from knee surgery and then not make the team. There's at least one cornerback still on this team (Tryon) because of where he was drafted in '08, and that's a shame. I liked the way safety
Lendy Holmes
tackled in the open field. Maybe there's a spot for him on the practice squad.
What's next?
The Redskins are old at defensive end. Vinny Cerrato should take a peek around and see if any talented, young pass-rushers were released. But for the most part, I think the Redskins are pleased with their 53-man roster. They'd hate it if someone signed Daniel, but I don't think that will happen.
August, 23, 2009
8/23/09
8:00
AM ET
By
Matt Mosley
| ESPN.com
Posted by ESPN.com's Matt Mosley
I don't think it's time to panic about Jason Campbell going 1-of-7 for 10 yards in a 17-13 preseason win over the Steelers. But it's important that Campbell finds a rhythm in the third preseason game -- and he knows that.
Campbell missed Malcolm Kelly on a deep ball and he was high on a throw to Santana Moss. I think he was pressing a bit because he knew he was only going to play three series. The good news is that Washington's running game looked strong throughout the game. OK, here are a few things that caught my eye:
Brian Orakpo has been sensational through two preseason games. I enjoyed watching him playing with the backups in the second quarter. At that point, he was obviously the best player on the field and he even looked solid in coverage. Orakpo embarrassed his former college teammate at Texas, Tony Hills, in the second quarter. Orakpo used a bull rush to push Hills back in the pocket. He knocked Hills about 3 feet into the air.
Jim Zorn made it sound like Campbell had a nice evening. Zorn praised Campbell for his decision making and thought he managed the team well. Obviously Zorn want to make sure Campbell's confidence level remains high. Campbell put on a brave face for reporters after the game, but I assure you he's beating himself up over the six incompletions.

How can you keep Marcus Mason or Marko Mitchell off this roster? Mason's one of the best preseason backs this organization has had. On Saturday, he showed the speed we've grown accustomed to seeing, but he also mixed in some power. He sent a Steelers safety flying at the end of one play. Mitchell made the nice touchdown catch from Chase Daniel. He hesitated at first in order to give Daniel some space to throw the ball. Then Mitchell simply won a jump ball. The former Nevada receiver might end up being the fifth receiver.

I still think Devin Thomas will make some mental errors, but he's capable of making big plays. I liked the twisting catch he made Saturday night. He has all the tools, but he needs every rep in the preseason he can get.

Scary moment in the first half when fullback Mike Sellers was writhing in pain with a knee injury. The good news is that Sellers only has a bruised knee. He's such a vital part of the Redskins' running game. They would really struggle without him.

Reed Doughty was everywhere . I pretty much wrote the guy off last season, but he's actually had a solid camp. He made a couple of open-field tackles that were very impressive and he looked confident in the secondary.

Is it too early to start worrying about the Skins' awful coverage units? They looked especially bad in punt coverage. They didn't have anything close to containment on the edges.

I used to watch Redskins safety Lendy Holmes when he was in high school. The former Oklahoma Sooner was one of the surest tacklers on the field Saturday. A lot of rookies look a little wide-eyed at this point. That's not the way Holmes operates.

I love the fact that safety Kareem Moore is a high-energy guy, but he needs to play under control. It seems like Moore's constantly going for the interception. Moore and another '08 draft pick, Rob Jackson, have a tendency to overrun plays.

I'd cut D.J. Hackett the first chance I had. It's not that I think he's a bad player, but right now, he's simply taking up space. I'd much rather see Mitchell, Thomas and Kelly getting the majority of the reps.

Daniel had a really effective outing. I think he has the edge on Colt Brennan at this point. And yes, I know that hurts at lot of you guys.

On the interception that Todd Collins threw, Thomas needs to come back for the ball. He sort of froze on his comeback route, and that allowed former Colts cornerback Keiwan Ratliff to make a really nice play on the ball.

If you're Brennan, you can't throw the ball into traffic in the red zone. I'm sure Zorn was incensed with that turnover. Just an awful decision by Brennan.

Kelly does a really nice job of catching the ball away from his body. He did some nice things in Saturday's game, but the best thing he does is catch the ball consistently. Thomas might have the most upside, but Kelly's showing the most maturity right now.

Former CFL star Dominique Dorsey has to make this team as a return specialist. And he's halfway home. He had some outstanding returns. The Skins need to reserve a spot on the roster for him. He's that good as a return guy -- and he runs with a little power.