December, 12, 2013
12/12/13
12:00
PM ET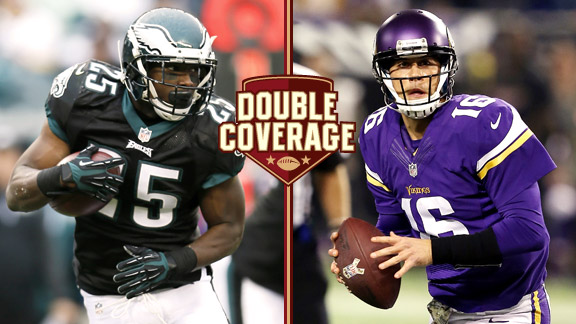 AP PhotoLeSean McCoy and the explosive Eagles offense visit Matt Cassel and the struggling Vikings.
The
Minnesota Vikings
and
Philadelphia Eagles
couldn't be in much different places than they were a year ago.
In 2012, the Vikings made a seven-game improvement, winning their final four games and riding
Adrian Peterson
's 2,097-yard season to a 10-6 record and a playoff berth. The Eagles, meanwhile, lost nine of their final 10 games, finished 4-12 and fired longtime coach Andy Reid. This season, it's Philadelphia that's racing toward the playoffs, with a new quarterback (
Nick Foles
), one of the most exciting offenses in football and an 8-5 record. The Vikings haven't been able to settle on a quarterback, have blown five leads in the last minute of games and might be preparing to part with coach Leslie Frazier after starting the season 3-8-1.
To get you ready for the game, ESPN.com Vikings reporter Ben Goessling and Eagles reporter Phil Sheridan discuss the matchup and the rapidly changing directions of both teams:
Ben Goessling:
Phil, it's been surprising to see how much better the Eagles' offense has worked under Nick Foles than
Michael Vick
, considering how well Chip Kelly's system seemed to suit Vick. What is Foles doing to make it work so well, and just how bad of a matchup is this for the Vikings' defense?
Phil Sheridan
: At the moment, I'd have to say the Eagles' offense is a tough matchup for any defense. Their past two opponents, Arizona and Detroit, came in as well-regarded defenses. The Eagles scored 24 points on the Cardinals by early in the third quarter and then exploded for 34 second-half points in the snow Sunday against the Lions. The Eagles are able to run or pass at a high level right now, which makes them just plain tough to defend.
As for Foles and Vick, it does seem counterintuitive that a running threat wasn't as effective as the relatively slow-moving Foles in Kelly's offense. But Foles is good at several key facets of what Kelly wants done. He's become adept at keeping the tempo up in the no-huddle. He's been accurate in the passing game. And he's made good decisions when Kelly's play call presents him with an option.
Kelly gave a hearty endorsement of
Toby Gerhart
, whom he faced while he was at Oregon and Gerhart played at Stanford. Kelly said he thought Gerhart could be an impact player who just happens to be stuck behind one of the great backs of all time. What's the deal? Can Gerhart replace Peterson and keep the Vikings' offense going?
Goessling:
It depends on his health. He's dealing with a hamstring issue of his own, so if Peterson does indeed miss the game because of his sprained foot, Gerhart might not be able to handle the same kind of workload as Peterson. He's only got two games of 20-plus carries in the NFL, but then again, as Kelly said, he's certainly built to take a pounding. He's a stout, physical back who runs well between the tackles and does a solid job picking up blitzes. Plus, he's not exactly afraid to embrace the idea that he's auditioning for other teams before he hits free agency in March. He certainly isn't going to be a featured back in Minnesota behind Peterson, and while I'm sure the Vikings would like to keep him, he might find better opportunities elsewhere.
What's the key to solving the Eagles' defense? The Vikings probably won't be at full strength this week, given their running back situation and the fact they've been shuffling through quarterbacks all year. What do they need to do to move the ball and avoid the turnovers the Eagles have been creating lately?
Sheridan:
It is still possible to move the ball on the Eagles. They give up a lot of yardage and are vulnerable to runs after the catch in the short- and intermediate-passing game. I was fascinated to see if they could handle
Calvin Johnson
and
Reggie Bush
on Sunday. But the weather limited Johnson and Bush didn't play at all, so that riddle remains unsolved. Teams have been able to move the ball but have bogged down or turned it over in the red zone. If the Vikings can find ways to score from inside the 20, they can stay in the game.
One key for opponents is not falling behind. Green Bay, Washington and Arizona did, and that allowed the Eagles' defense to concede rushing yards and go hard after quarterbacks. That has led to turnovers as much as anything.
Not so long ago, it was intimidating for opposing offenses to come into the Metrodome and deal with
Jared Allen
coming off the edge with all that crowd noise behind him. Is Allen still that kind of force, and has the atmosphere changed with the team struggling this season?
Goessling:
Allen hasn't been the same guy this season. He'll still play hard, and he's as relentless in his pursuit of a quarterback outside the pocket as anybody you'll find in the league, but he just looks like he's lost a step. He isn't as quick around the edge as he used to be, and he's gotten lost when he's been double-teamed. The guy who has brought more of the Vikings' pass rush this season is right end
Brian Robison
, who got a contract extension from the team during the season. He's not quite as quick off the edge as Allen was in his prime, but he might be a better edge rusher now, and he's good at knowing when to disengage from his blocker, step back and deflect a pass.
The Metrodome has lost a little of its edge in recent weeks with the Vikings struggling, but I wouldn't sleep on the fans there: If the game is close Sunday, they'll still get loud. They've only got two more games to crank up the volume in that old Teflon-coated warehouse before it's torn down, so I'd expect the noise level to be there, if partly for nostalgic reasons.
From afar, it would seem like the Eagles have every reason to be confident heading into the final stretch of the season. How far do you think they're capable of going in the playoffs?
Sheridan:
That's a heck of a question, because the whole idea of the playoffs seemed so remote just a few weeks ago. Gradually, as the Eagles got within striking distance of the Cowboys in the NFC East, it seemed like a good first season for Kelly if the Eagles could get a taste of the postseason.
Now? After five wins in a row, they are in sole possession of first place in the division. Foles and
LeSean McCoy
are putting up epic numbers. The defense hasn't allowed more than 21 points in nine games. That sounds to me like a team that can win a home playoff game. Can they go to Seattle or New Orleans and win? That seems like a stretch, but the Eagles keep raising their own ceiling.
Leslie Frazier's first NFL coaching job was here in Philadelphia as an assistant on Andy Reid's staff. He seems to be in a tough spot there, with the kind of quarterback issues that undermine even good coaches. Is the feeling that Frazier is to blame for this season, and what kind of job security does he have?
Goessling:
I certainly wouldn't put it all on Frazier -- the quarterback situation has been a mess, and the Vikings have also paid dearly for GM Rick Spielman's decision to cut
Antoine Winfield
and go almost completely with young defensive backs. That's had as much to do with the Vikings' defensive issues as anything else, and when you've got problems at quarterback and in the secondary, you're going to have a really hard time in today's NFL. Players are still playing hard for Frazier, but the Vikings have blown five leads in the last minute, and coaching issues seem to have contributed to at least a couple of those breakdowns. What's more, Frazier didn't get a contract extension after the Vikings' surprise playoff berth last year, so to come back, he'd either have to coach into the final year of his deal or get an extension. Neither one of those seem as likely as him paying the price for the Vikings' many issues this year.
October, 31, 2013
10/31/13
12:00
PM ET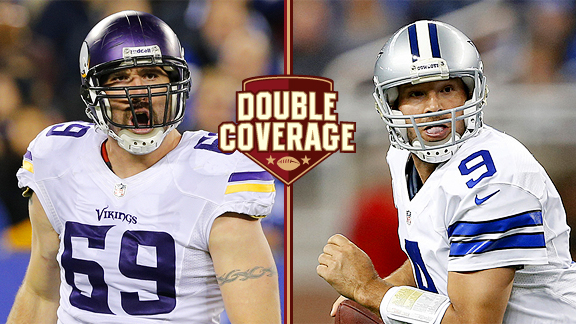 AP PhotoJared Allen's Vikings and Tony Romo's Cowboys match up on Sunday in a game where neither team looks like much of a playoff threat.
IRVING, Texas -- The
Dallas Cowboys
kick off the second half of their season at AT&T Stadium on Sunday against the
Minnesota Vikings
, who are still looking for their first win in the United States this season.
A playoff team a year ago, the Vikings have been one of the biggest disappointments in the NFL. At 4-4, the Cowboys are looking at their third straight 8-8 season under Jason Garrett.
ESPN.com Vikings reporter Ben Goessling and ESPN.com Cowboys reporter Todd Archer debate the game in this week's Double Coverage.
Archer:
I think a lot of people assumed the Vikings would be a serious playoff threat, but obviously that's not the case. How is it sitting with the veterans on the team like
Adrian Peterson
,
Jared Allen
,
Chad Greenway
and guys who have experienced success?
Goessling:
A lot of those players have been disappointed, but they all seem to be sticking behind coach Leslie Frazier, at least for now. There have been a few hints of discontent from players with the defensive scheme, but nobody seems to be quitting on the season. A lot of the problems are out of the Vikings' control, at least in the sense that they can do only so much with the roster they have. It's hard to win and have an open competition at quarterback at the same time. And the Vikings' moves in the secondary have backfired terribly. This hasn't been the same team without
Antoine Winfield
, and now that
Harrison Smith
is hurt, the Vikings have few playmakers on the back end of their defense.
Speaking of quarterbacks, it looks like
Tony Romo
is playing some of his best football this year. I suppose with him, we never really know what to think until the playoffs, but does it seem to you like he's turned any type of a corner?
Archer:
I think he's played at a higher level than most people want to say for the past few years, but he's been stuck with this tag that he can't shake until (if) the Cowboys make the playoffs and win a couple of games. This year, he has more say in the offense in terms of the game plan, so I think that has him feeling more weight to make the correct play and not be so much of a gunslinger. He's struggled the past three games with his accuracy, but he's made big plays and mostly stayed away from the bad ones. He remains creative when things break down, but he's also willing to take a sack or throw the ball away.
Peterson is coming home, so to speak. How have things been different for him this season after 2,000 yards last season?
Goessling:
He has been dealing with a minor hamstring injury for the past few weeks, but I think the biggest problem for Peterson has been the play of his offensive line. The group hasn't been anywhere near as good as it was last season at opening holes for Peterson, and fullback
Jerome Felton
has struggled to get into a rhythm after missing the first three games because of a suspension. At times, Peterson has looked impatient, wanting to make that one extra cut for a 60-yard run and winding up with a 2- or 3-yarder when the hole closes. He's also seeing more eight-man fronts than any other back in the league, and without a line that's able to handle the extra attention, Peterson isn't going to beat those defenses all the time. Even he isn't that good.
But maybe this is the week the Vikings can resurrect their passing game, playing against the worst pass defense in the league. Are the Cowboys so bad that they'll have trouble even with the Vikings' ensemble cast at quarterback?
Archer:
Unless
Christian Ponder
,
Josh Freeman
or
Matt Cassel
morph into Peyton or
Eli Manning
,
Philip Rivers
or
Matthew Stafford
, I can't see it happening, even as bad as the pass defense has been. When it has played against middling quarterbacks --
Alex Smith
(yes, I know he's 8-0, but he's not a great passer),
Sam Bradford
, a returning-to-health
Robert Griffin III
and
Nick Foles
-- the defense has looked good. When it has faced top passers, it has allowed the most 400-yard games in NFL history for a season -- in just eight games. Monte Kiffin's scheme is very basic and designed to not give up big plays, yet the Cowboys have given up a ton of big plays. They have missed
DeMarcus Ware
the past two games and will have a banged-up secondary Sunday. If Ware returns, that should help, but I think the biggest aid for the defense will be whomever Frazier picks to play quarterback.
For years, the strength of the Vikings D, to me anyway, has been the pass rush. Statistically, it's not very good, but is that a product of the secondary issues you talked about?
Goessling:
I'd say it's the other way around. The Vikings were certainly better in the secondary last year than they are this year, but they were helped out by the fact the front four was getting to the quarterback enough to keep teams from exploiting them in the passing game. This year, the Vikings have been done in by teams that can get the ball out quickly (the Lions and Packers, especially), and they just haven't gotten much push up the middle. Allen and
Brian Robison
are hustling, but they can do only so much when they're getting the bulk of opposing teams' attention. The Vikings still aren't a blitz-heavy team, but they have had to bring extra guys a little more often than usual this year and
Aaron Rodgers
burned them on a blitz Sunday. If Romo gets the ball out quickly, he should have plenty of openings. The good news for the Cowboys is A) the Vikings could have three defensive backs out with injury, and B)
Josh Robinson
will be on the field.
The week after the Vikings lost in the final seconds against the Bears, they got beat by the Browns at home. Do you expect any kind of shell shock from the Cowboys after that Matthew Stafford touchdown last week?
Archer:
I really don't. The Cowboys have had so many of these types of losses that they know how to bounce back. The bad thing is they have had to do this too often. We came up with
21 losses since 2005
that can be described as "crazy" with late-game shenanigans. The Lions loss was just another one to add to the list. The Cowboys lost a game in 2010 because they missed an extra point. They lost a game in 2008 in overtime on a blocked punt returned for a touchdown. And those both came at Arizona.
So the Cowboys somehow do a good job of compartmentalizing things and putting a bad week behind them. Garrett deserves some credit for that, I guess.
October, 18, 2013
10/18/13
12:00
PM ET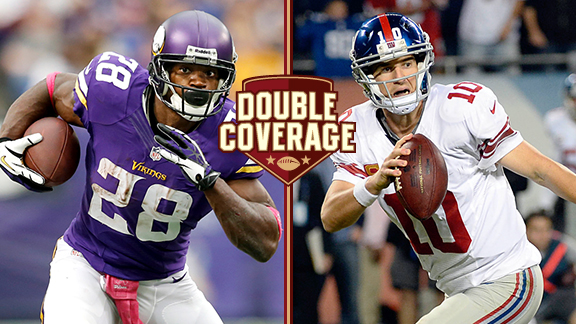 USA TODAY SportsAdrian Peterson and Eli Manning will likely have to carry the offenses on Monday night.
This time last year, the
New York Giants
and the
Minnesota Vikings
were both 4-2 and headed for winning seasons. But as they get set to square off on "Monday Night Football" at MetLife Stadium, the Vikings are 1-4 and the Giants an even more miserable 0-6.
ESPN.com Giants reporter Dan Graziano and ESPN.com Vikings reporter Ben Goessling break down the matchup of NFC disappointments.
Dan Graziano
: Ben, the Giants only have four interceptions and five sacks, so I imagine there were a lot of people in the Vikings locker room interested in playing quarterback in this game. Why did the Vikings pick newcomer
Josh Freeman
, and what do you expect their offense to look like with him running it for the first time?
Ben Goessling:
A lot of this, I think, is an attempt to make a quick-course correction after things with
Christian Ponder
didn't pan out. If it works, GM Rick Spielman can make people forget about the Ponder pick, the Vikings might win a few games to keep coach Leslie Frazier's job and they could have a solution to their quarterback problem for next season. If it doesn't work? They're only out $3 million.
As for Monday night, I'd expect the Vikings to try to limit how much they put on Freeman, so I expect we'll see plenty of
Adrian Peterson
(not that we wouldn't anyway). Considering how bad the Giants have been at stopping the run, that could be a good approach for the Vikings. They're always better when they can get a lead and let Peterson go to work, and they haven't done a good job of controlling the clock so far this season. This matchup might give them a shot to do that.
Now back to the quarterbacks: We know
Eli Manning
has a tendency to turn the ball over, but this has been strange even by his standards. What has been his biggest problem?
Graziano
: Yeah, 15 interceptions in six games is stone-cold ridiculous, and I think it speaks to a general lack of comfort for Manning, who for years has thrived on comfort and routine and familiarity. The Giants started the season with major problems on the offensive line, and they have continued (and in some cases worsened) as the year has gone along.
The inability to establish any kind of run game, combined with the early-season failures in pass protection, rattled Manning, and even though the protection has improved overall and
Brandon Jacobs
managed to rush for 106 yards against Chicago, Manning still just doesn't seem right. He's not making those great, deep sideline throws he used to make, he's missing too many easy throws, and even when he's throwing well, he's staring down receivers and isn't setting his feet. He's just been erratic, and the result the past couple of weeks has been interceptions in the worst possible spots. The Bears didn't really pressure him that much, but he coughed it up anyway in the clutch. Just not himself.
Will he have a chance to get comfortable at all Monday night? How's that Minnesota pass rush these days?
Goessling
: It hasn't been up to the Vikings' normal standards, which has been one of their biggest issues on defense. In the past, the Vikings have been able to survive because their pass rush generated enough pressure to mask issues in the linebacking group and the secondary. But the Vikings have just 10 sacks this season, and what's worse, they've had to bring pressure to get some of them -- three of the 10 are from linebackers
Chad Greenway
and
Erin Henderson
. They shouldn't have to bring extra pressure with
Jared Allen
,
Brian Robison
,
Everson Griffen
& Co. on the defensive line, and having to do so exposes a porous secondary, which might be even worse this week with
Harrison Smith
battling turf toe. So, yeah, I think this might be a good week for Manning to get on track.
The Vikings also haven't been as good as they're accustomed to being against the run. Is Jacobs in line to hurt them, or do you see his game against the Bears being a fluke?
Graziano
: Got to be a fluke, Ben. The Bears are down to third-stringers in the middle of that defensive line, and the Giants' game plan wisely took advantage of it for Jacobs' throwback-to-2008 game. His 106 rushing yards against Chicago represent 26 percent of the Giants' team total for the season. And, perhaps, most importantly, both he and
Da'Rel Scott
injured their hamstrings in that game. Scott has been released, and Jacobs didn't practice Monday. Even if he does play, they may not want to work him as hard as they did in Chicago.
The backups are rookie
Michael Cox
, who doesn't have an NFL carry yet, and
Peyton Hillis
(yeah, same guy), who signed Wednesday and is no sure thing to even get a uniform for this game. New fullback
John Conner
looked to be an asset as Jacobs' lead blocker in Chicago, so it's possible things are getting better for the Giants in the run game. But based on their options for carries, this has to come down to Manning and the passing game getting on track.
But I'd like to get back to something you said in your last answer. Ten sacks! That's twice as many as the Giants have. Oddly, in spite of the overall yardage totals, one thing they have done well on defense is stop the run up the middle. They're allowing just 3.9 yards per carry and have held
Matt Forte
,
LeSean McCoy
and
Jamaal Charles
to 67, 46, 65 yards, respectively, in the past three weeks. Peterson is obviously his own special case, but he didn't have a big game Sunday. Do you think the off-field tragedy was or could be a factor in his performance?
Goessling
: I didn't see that as a huge issue on Sunday, though I'm sure it was on his mind. It had more to do with the Panthers' stout run defense and the inability of an offensive line that was pretty good last season to open holes for Peterson. As a result of that, he has gotten anxious at times, trying to turn every run into a big play, and he just hasn't looked as fluid this year as he did last season. Missing
Jerome Felton
, his Pro Bowl fullback, for the first three games didn't help, but now that Felton is back, Peterson has everything he had last year.
If the Giants have been able to hold the point of attack up the middle, Peterson might not have as much success as I would have initially thought. He's obviously capable of breaking a big run at any time (he has touchdown runs of 78 and 60 yards this season), but we're still waiting for him to control a game like he did so often last season.
To wrap this up, complete this sentence for me: The Giants will win on Monday if they ...
Graziano
: Get some pressure on Freeman and don't turn the ball over more than once. I'm not holding my breath. Thanks, Ben. This has been fun. See you Monday night.
.
January, 5, 2011
1/05/11
1:00
PM ET
By
Matt Mosley
| ESPN.com
»
NFC Wrap-ups
:
East
|
West
|
North
|
South
»
AFC
:
East
|
West
|
North
|
South
Arrow indicates direction team is trending.

Final Power Ranking
: 7
Preseason Power Ranking
: 15
[+] Enlarge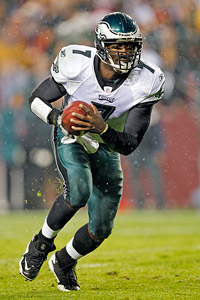 AP Photo/Brian GarfinkelMichael Vick revived his career in leading the Eagles to the playoffs.
Biggest surprise:
Perhaps the biggest surprise in the league was the breakout season for quarterback
Michael Vick
. The Eagles traded
Donovan McNabb
because they were convinced
Kevin Kolb
was ready to be the franchise quarterback. But when Kolb suffered a concussion in the first game of the season, Vick came in and performed brilliantly. By the time Kolb was healthy enough to return, Eagles coach Andy Reid had named Vick the starter. I don't think anyone saw this coming. The Eagles went from what looked like a transition season to becoming Super Bowl contenders. In fact, their entire season now hinges on Vick's health heading into Sunday's game against Green Bay.
Biggest disappointment:
The secondary allowed 31 passing touchdowns. I realize that the pass rush has a lot to do with giving up passing yards, but the Eagles' group of nondescript cornerbacks (outside of
Asante Samuel
) didn't do its part.
Aaron Rodgers
could torch this group if the Eagles can't figure out a way to apply some pressure. It was also disappointing that
Brent Celek
went from being one of the best tight ends in the league in 2009 to an afterthought in this season's offense. Vick has looked for Celek more in recent weeks, so perhaps the tight end will get hot in the playoffs, as he did in 2008.
Biggest need:
The Eagles need to bring in reinforcements at cornerback. I always felt like trusting
Ellis Hobbs
to start at cornerback was a mistake. He had an awful game against the
Tennessee Titans
and then he had to be placed on injured reserve. Now the Eagles have had to bench corner
Dimitri Patterson
for poor play. I said before the season the Eagles needed more depth at cornerback, but they didn't do enough to address that issue. GM Howie Roseman has done a really nice job in other areas, but it always seemed like the Eagles were going to be exposed in the secondary. The good news is that rookie safety
Nate Allen
played really well before suffering a season-ending injury.
Team MVP:
Do I really have to say it? It's none other than Vick, who should finish No. 2 behind
Tom Brady
in the league MVP voting.
Worst moment:
I'd have to say that "effort" against the
Minnesota Vikings
in Week 16 ranks near the top. The Eagles were still playing for a shot at a first-round bye, but they didn't act interested in playing that game, which was postponed until Tuesday night because of a snowstorm. When the game started, it was obvious that Vikings coach Leslie Frazier had prepared his team for battering Vick. I thought the overall lack of effort against the Vikings in a meaningful game really stood out this season. And the defense made
Joe Webb
of the Vikings a household name around the league.
December, 29, 2010
12/29/10
12:03
AM ET
By
Matt Mosley
| ESPN.com
Well, at least
Michael Vick
doesn't have to worry about any Vikings asking for his autograph after this game. Here are some thoughts following a
24-14 loss
and a lackluster performance by the
Philadelphia Eagles
:


What it means:
The Eagles didn't look all that interested in playing this game. After a 48-hour delay because of a snowstorm, it was the Vikings who acted as if they had something meaningful on the line. A rookie quarterback named
Joe Webb
came out and showed a great deal of poise and ability in sticking it to the Eagles' defense. Philadelphia (10-5) had an opportunity to stay in contention for a No. 2 seed in the playoffs, but now they won't have a playoff bye. There were conspiracy theories that the Eagles wanted to wait for the snow to clear because they thought a slow field would help the Vikings. But in a rare Tuesday night game, the Vikings ran circles around Vick and his dynamic wide receiver
DeSean Jackson
. It was remarkable to watch the Vikings cornerbacks simply bully Jackson (two catches, 32 yards) at the line of scrimmage and then lock him down when he tried to go deep. The Eagles are still a dangerous team, but Vikings interim coach Leslie Frazier showed just how vulnerable this team is to the blitz.
What happened to Vick?
I think it's safe to say that
Tom Brady
now has the MVP in hand. Coming off a brilliant comeback against the Giants, Vick was running for his life against the Vikings. They came at him in waves, and when he escaped the first blitzer, he usually encountered a huge defensive tackle. I zeroed in on Eagles Pro Bowl left tackle
Jason Peters
in the second half. He didn't have a chance against defensive end
Jared Allen
and he could've been called for holding several times. But it was Vick who made the key mistake in the game. With the Eagles attempting to add to a 7-0 lead just before the half, Vikings cornerback
Antoine Winfield
blitzed off the corner and poked the ball away from Vick. He scooped it up and returned it for a touchdown to tie the score. Vick was 25-of-43 for 263 yards and one touchdown, an interception and two fumbles lost. The Vikings did a brilliant job of surrounding him throughout the game. Vick ran for 63 yards and a touchdown, but he was limping around the field in the fourth quarter. Frazier knows Andy Reid as well as anyone because he coached for the Eagles. You could see the influence of the late Jim Johnson with several of those blitz calls. And Frazier may have earned himself the full-time gig in Minnesota with the way his team performed.
Broken record alert:
Reid and offensive coordinator Marty Mornhinweg are so enamored with the passing game that they go long stretches without feeding the ball to running back
LeSean McCoy
. The Vikings didn't have to respect the play-action game when they know McCoy is rarely going to touch the ball in the running game. He was probably the Eagles' best option in this game, but he only touched the ball 17 times.
Gashed by the run:
The Eagles had held teams to an average of 89.1 rushing yards per game, but the great
Adrian Peterson
had 22 carries for 118 yards and a touchdown. And on the game-clinching drive, Peterson toyed with the Eagles' defense. When rookie safety
Kurt Coleman
took the wrong angle toward Peterson on a counter play, the running back exploded outside for a big gain. Then he bulled his way into the end zone.
What a tangled Webb:
You'd think the Eagles would be used to mobile quarterbacks after seeing Vick in practice, but Webb baffled defenders with his legs. On a touchdown run in the second half, he froze defensive end
Juqua Parker
with a nice move and then he made linebacker
Moise Fokou
look silly before waltzing into the end zone.
What's next?
Andy Reid will have the opportunity to rest Vick and some of his other starters against the
Dallas Cowboys
, but I think he'll try to play them for at least a half. I heard one broadcaster suggest late in this game that the loss to the Vikings could be a good thing for the Eagles because it would open the door to Reid resting some of his players. But I assure you Reid would rather not have that "luxury." The Giants were actually rooting for the Eagles to win this game because it meant the Bears might try harder to beat the Packers next Sunday. I received the following text from Giants defensive tackle
Barry Cofield
in the fourth quarter: "It looks like Philly is gonna [hurt us] even when we aren't playing them."
Maybe Eagles fans can find something positive out of Tuesday's game, but I'm at a loss right now.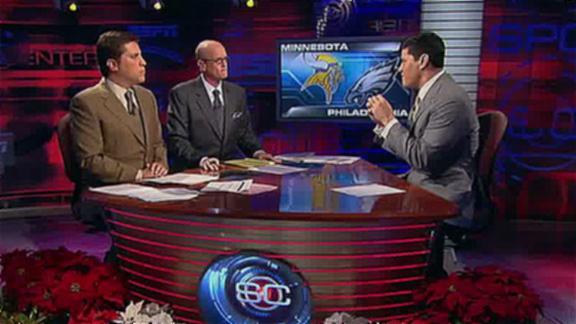 December, 24, 2010
12/24/10
4:00
PM ET
By
Matt Mosley
| ESPN.com
»
NFC Final Word
:
East
|
West
|
North
|
South
»
AFC
:
East
|
West
|
North
|
South
Five nuggets of knowledge about Week 16 games:
Can the Giants shake off last Sunday's devastating loss to the Eagles?
Giants quarterback
Eli Manning
requested time alone with his teammates Monday, and coach Tom Coughlin was happy to oblige. His speech was short, but it grabbed everyone's attention. Defensive tackle
Barry Cofield
told me Thursday that he couldn't believe how much energy he saw in the locker room this week. The Giants have done a nice job of recognizing their obvious failure late in last Sunday's game and then moving on to Green Bay. Offensive coordinator Kevin Gilbride has tried to get his unit to come out with a sense of urgency in recent weeks, and I think you'll see that against the Packers on Sunday afternoon. New York will want to take the crowd out of the game as soon as possible.
[+] Enlarge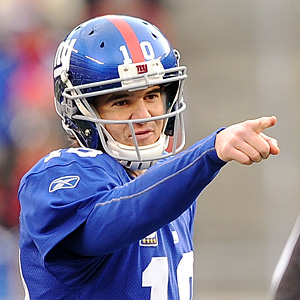 AP Photo/Evan PinkusEli Manning held a players-only meeting on Monday to address the failures of Sunday's loss to Philadelphia and to get the team focused on Green Bay.
Can Eagles cornerback Dimitri Patterson bounce back from an embarrassing performance against the Giants?
Patterson has played well at times this season, but the Giants' wide receivers made him look silly in the first half. The Vikings still have firepower at receiver, so it will be interesting to see what happens if Patterson gets matched up with
Sidney Rice
. "I'm looking forward to it," Patterson said Friday. "As far as I'm concerned, that was two quarters, three plays, however you want to look at it. I finished that game, I came back in the second half. And I will finish the rest of the season." I think Patterson will do a lot better this week because the Eagles will likely have a better pass rush against the Vikings' offensive line.
Jason Garrett needs this win to finalize his campaign to become permanent head coach.
Cowboys owner Jerry Jones admitted last week that a loss to the
Washington Redskins
would've given him pause about Garrett's future. But the Cowboys pulled out a 33-30 win with a late field goal, so Jones didn't have to worry about that. Dallas should dominate the Cardinals, who are playing with a rookie quarterback. If the Cardinals somehow pull off a Christmas miracle and beat the Cowboys, fans will call for Jon Gruden and Jeff Fisher as the next head coach. But I'd be really surprised if the Cowboys found a way to lose this game.
Eli Manning needs to have a big-time game in Green Bay.
As I wrote in Thursday's column
, Manning has struggled in December throughout much of his career (14-16). He played well against the Eagles last week, but still has a good shot at leading the league in interceptions. The good news for Giants fans is that Manning has wonderful memories of Lambeau Field. He's said that he actually enjoyed winning the '07 NFC Championship Game (played in Jan. '08) more than the Super Bowl. Those wins helped define his career, and I think he'll draw on that experience from three seasons ago in beating the Packers on Sunday.
Can Mike Shanahan get something accomplished in Jacksonville?
We learned Friday that Pro Bowl outside linebacker
Brian Orakpo
(hamstring, groin) will miss a game for the first time in his NFL career. Orakpo will be replaced by
Rob Jackson
, who will make the first start of his career. And there's also a chance that
Kevin Barnes
and
Macho Harris
could be the starting safeties.
Reed Doughty
is out with a concussion and
Kareem Moore
will be a game-time decision. I don't know if the Skins have much hope of winning, but Shanahan will have a chance to evaluate some young players. And it will be interesting to see how
Rex Grossman
performs following his excellent second half against the
Dallas Cowboys
. Shanahan will make massive roster changes this offseason, but a few players could help their cause with strong performances against Jacksonville.
December, 13, 2010
12/13/10
4:00
PM ET
By
Matt Mosley
| ESPN.com
I asked
Philadelphia Eagles
coach Andy Reid late Sunday night whether he felt bad for the
New York Giants
because of their travel woes. I thought he might have a funny response, but he was too caught up in the aftermath of a 30-27 win over the
Dallas Cowboys
and he just sort of mumbled a couple of sentences before a team employee resumed his line of questioning about left guard
Todd Herremans
' touchdown catch.
Eagles players have already gone through a walk-through this morning and they'll be preparing for a day off Tuesday while watching the Giants and Vikings on TV -- as long as they have the NFL Sunday Ticket.
"I don't feel bad for them at all," wide receiver
Jason Avant
told me. "We've played on short weeks a lot of times in the past."
SI.com's Peter King
talked to
Giants left tackle
David Diehl
about his team's journey over the weekend. Diehl talked about one of Tom Coughlin's favorite phrases:
"A lot of times,'' said Diehl, "he'll say to us, 'Midstream adjust, midstream adjust,' when you've got to change what you're doing because something comes up or something changes. So we're like, 'Hey coach, midstream adjust! Midstream adjust!' I actually think it was good for us. Usually, when you leave for a road game, guys go off on their own and do whatever. Here, we were all together. Bonding time. I didn't hear guys being mad about it."
Something tells me that Giants fans will far outnumber Vikings fans at Ford Field. And of course we have the drama of whether or not
Brett Favre
will play with that bum shoulder (
Leslie Frazier said it's "doubtful" Favre will play
). ESPN will have a camera focused on Ed Werder from now until kickoff in case something breaks.
December, 5, 2010
12/05/10
9:07
PM ET
By
Matt Mosley
| ESPN.com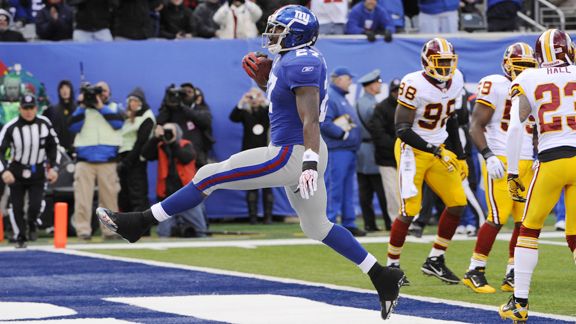 AP Photo/Bill KostrounThe Giants' Brandon Jacobs muscled his way to 103 yards and two TDs in New York's rout of the Redskins.
EAST RUTHERFORD, N.J. -- One of the worst things you can do in the NFL is evaluate a team moments after it has played the
Washington Redskins
. In their current state, the Redskins have made both the
Philadelphia Eagles
and
New York Giants
look like legitimate Super Bowl contenders.
And that's why I won't read too much into the Giants' merciful
31-7
win against the Redskins. Unlike Eagles coach Andy Reid, Tom Coughlin embraced the holiday season and took a benevolent approach in the fourth quarter. But it took less than 10 minutes for the Giants to make this a non-competitive situation. It was a first half that featured a dominating rushing attack and pass rush that made former Giants killer
Donovan McNabb
powerless.
The score would've been 28-0 at halftime if not for another head-scratching interception by
Eli Manning
, who tossed a ball into triple coverage in the Redskins' end zone for no apparent reason. Playing without their two starting wide receivers and two full-time starters on the offensive line, the Giants annihilated an inferior opponent. They lost interest in the game briefly in the third quarter, but it didn't matter because the Redskins were committing turnovers on nearly every possession.
The Giants (8-4) now head to Minneapolis for a game against a Vikings team that has responded to interim coach Leslie Frazier with consecutive wins. And then the Giants and Eagles (8-4) will square off in an enormous divisional game the following week in New Meadowlands Stadium.
"Well, it's the time," Coughlin said after Sunday's win. "It's December in the National Football League -- it's the time. If you're going to have an opportunity to get into position, it's now. So, we're trying to improve as we play. We've got to continue -- many, many big games coming down the stretch, so getting better each week, playing better in the games, play stronger, being physical -- all those things are important."
Coughlin's decision to bench running back
Ahmad Bradshaw
because of his fumbling and replace him with the lumbering
Brandon Jacobs
appears to have galvanized this offense. Jacobs, who was such a huge part of the Giants' Super Bowl run in 2007, began this season as a brooding player who was hazardous to fans because of his helmet-tossing. Bradshaw was clearly the more talented player, and Jacobs lost his cool at least twice when the pesky New York media asked him tough questions such as, "How do you feel today, Brandon?"
But on the second play from scrimmage Sunday, Jacobs bounced a run outside for 39 yards. Never mind that he was running behind offensive linemen who were never supposed to be on the field this season. And after catching his breath, Jacobs ran eight yards for his first of two touchdowns. He finished with eight carries for 103 yards. Jacobs finished off the Redskins for good with a 28-yard touchdown in the third quarter during which he froze safety
Reed Doughty
with a move in the open field.
When Jacobs was acting erratically early in the season, Giants general manager Jerry Reese told him that "less is more." He encouraged him to keep his emotions in check and then requested that he put the "power" back in the Giants' power running game. Bradshaw's still the feature back in this offense -- he had 25 carries -- but Jacobs helps give the running game an identity.
"He played well, he played powerful," Coughlin said of Jacobs. "He broke some tackles, he established really a sound foundation for us as far as rushing the ball."
The Giants also turned in a dominating performance on defense. They forced six turnovers and had four sacks. In 2007,
Justin Tuck
emerged as a pass-rushing force to go along with Pro Bowl defensive ends
Osi Umenyiora
and
Michael Strahan
. Now rookie
Jason Pierre-Paul
is beginning to cash in on his freakish talent. He had two sacks Sunday to go along with the two he had against the Jaguars last week. On his first sack against the Redskins, Pierre-Paul found a clear path to McNabb after Tuck blew up the right guard. McNabb managed to avoid most of the damage by falling to the ground.
In 2007, the Giants struggled to grasp new defensive coordinator Steve Spagnuolo's defense, but they obviously got hot at the right time in the playoffs. This year, the defense didn't immediately adjust to new defensive coordinator Perry Fewell, but they started to find something three weeks ago in a road loss to the Eagles.
"There are a lot of similarities to that team" Tuck told me Sunday. "We kind of hit a lull this season, but we've done a great job of showing resiliency. This reminds me a lot of that run we went on. That team wasn't as talented as we are this year, but we'll see how it works out."
The final indignity for the Redskins was seeing their former second-round pick,
Devin Thomas
, star for the Giants on special teams. Thomas downed a
Matt Dodge
punt deep inside Redskins territory, he made a big hit on electrifying return specialist
Brandon Banks
and then he partially blocked a
Hunter Smith
punt that traveled 8 yards. After the game, Thomas didn't even realize that
Kareem Moore
had been flagged for holding him on the play.
After facing the Vikings and Eagles, the Giants will finish with road games against the Packers and Redskins. As wide-open as the NFC is, the Giants have as good a shot as anyone to put together a late run.
"We feel like we're a mismatch for every team right now," Tuck said. "And that gives you a lot of confidence."
December, 5, 2010
12/05/10
4:02
PM ET
By
Matt Mosley
| ESPN.com
EAST RUTHERFORD, N.J. -- Some quick thoughts on the
New York Giants
'
dominating win
over the
Washington Redskins
. This one was over by halftime.


What it means:
The Giants did what you have to do against an inferior opponent: break their spirit early. Giants offensive coordinator Kevin Gilbride talked last week about how he likes to get a feel for what defenses are doing on the first drive of the game. But against the Redskins, the Giants were determined to set the tone early. They scored a touchdown on their first possession for the first time this season on the strength of running back
Brandon Jacobs
. He had a 39-yard gain on the second play from scrimmage and then finished off the drive with an 8-yard run. The Redskins were playing without their highly paid defensive tackle
Albert Haynesworth
, who is battling an undisclosed illness. But I don't think it would've mattered. Between Jacobs and
Ahmad Bradshaw
, the Giants rolled up 139 rushing yards in the first half.
Devin Thomas' revenge:
Let me start this by saying that the Redskins had plenty of reasons to finally release their former second-round draft pick this season. But it looks like the Giants picked up the wide receiver at the right time. He downed a punt deep in Redskins territory, had a big hit on
Brandon Banks
on a kickoff return and then he tipped a
Hunter Smith
punt that traveled 4 yards. And that's why I have to call it a "tip" instead of a "block." It wouldn't surprise me if Giants coach Tom Coughlin gave Thomas a game ball.
A fast start:
Safety
Antrel Rolle
was upset about his team being booed by Giants fans at halftime last week against the
Jacksonville Jaguars
. But there wasn't much to boo about a 21-0 halftime lead that should've been 28-0 if not for a ridiculous interception by quarterback
Eli Manning
. But about the fast start, the Giants scored touchdowns on their first two possessions and ended any hopes of a competitive game. Even against the lowly Redskins defense, it was impressive to see this offensive line take over the game.
Poor Donovan McNabb:
I know the man received a lucrative contract extension a few weeks ago, but you still had to feel for him as he watched his teammates drop all those passes.
Chris Cooley
and fullback
Mike Sellers
dropped perfect passes in the first half, and tight end
Fred Davis
got involved later in the game. McNabb did throw one awful interception in the end zone after the Skins had trimmed the lead to 28-7.
Terrell Thomas
had the easiest interception of his career when McNabb forced a ball into heavy coverage for no apparent reason. I lost count at one point, but I believe the Redskins had six turnovers in the game.
What's next?
The Giants travel to Minneapolis next Sunday to play a Vikings team that has won two consecutive games under interim coach Leslie Frazier. If the Giants can win that one, they'll be 9-4 when the Eagles come to town. The Eagles will have to get past the
Dallas Cowboys
to have an identical record. But with
Steve Smith
and
Hakeem Nicks
returning to the lineup soon, the Giants are poised to get on a roll. The Redskins don't have any hope of making the playoffs after today's loss. Breaking news, there.
November, 26, 2010
11/26/10
7:20
PM ET
By
Matt Mosley
| ESPN.com
We do it every week at the same time. Let's take a look at what our
fearless ESPN experts predicted
in games involving NFC East teams and then I'll make my own picks:
Jacksonville Jaguars at New York Giants:
Adam Schefter was the only one on the panel to pick the Jaguars. He made this his upset special this week.
Mosley pick:
Giants 27, Jaguars 17: The Jaguars will be missing left tackle
Eugene Monroe
because of a concussion. I think the Giants will take advantage of Monroe's absence and make life tough on
David Garrard
. I also think
Ahmad Bradshaw
will have a strong performance after being benched for his fumbling. Coach Tom Coughlin talked to his team about what happened to
Roy Williams
at the end of Thursday's game against the Saints. He wants the Giants to secure the football above all else. I love the Giants to win this game.
Minnesota Vikings at Washington Redskins:
Merril Hoge, Adam Schefter and Chris Mortensen all picked the Vikings to win this game for interim head coach Leslie Frazier. That's not showing much respect to Mike Shanahan's team after the Skins found a way to beat the Titans on the road. And The Skins certainly have more on the line than the Vikings.
Mosley's pick:
Redskins 20, Vikings 17: I know we've seen the Cowboys rally around Jason Garrett, but I don't see the Vikings doing the same thing for Frazier this week. I think
Brett Favre
will continue to make mistakes, and
DeAngelo Hall
will make him pay in this game. The Skins are still in the playoff conversation, and I think that will help in this game.
Philadelphia Eagles at Chicago Bears:
Beloved former Eagles quarterback Ron Jaworski likes the Bears in this game and he's joined by ESPN The Mag's Seth Wickersham. The other six panelists went with the Eagles.
Mosley's pick:
Eagles 23, Bears 16: I think
Michael Vick
will bounce back with a strong performance on the road and the Eagles will improve to 8-3. I also think
Asante Samuel
will play through this MCL sprain and have at least one interception against
Jay Cutler
.
November, 8, 2010
11/08/10
6:21
PM ET
Owners typically hire a new coach with the opposite demeanor of the old coach.
For
Dallas Cowboys
owner Jerry Jones, it's uncertain whether he will follow tradition in replacing Wade Phillips and new interim head coach
Jason Garrett
after the season. Phillips has always been a coach who creates a positive, supportive environment for players, which has led to criticism his teams sometimes were undisciplined.
The logical move would be to hire a disciplinarian, as Jones did in 2003 when he chose Bill Parcells to replace Dave Campo. Logic would point to a big-name coach with winning experience.
Although successful, the Parcells experience was tough on Jones. Parcells wanted a big voice in personnel. Jones likes to pick the players and have coaches teach them. That's why Bill Cowher -- perhaps the biggest winning name available -- probably won't get the job. Since leaving the Steelers, Cowher has been looking for a head-coaching job that pays top dollar on a franchise that has an elite quarterback. Like Parcells, Cowher wants control of the personnel office. That's why he probably isn't a fit. Remember, Jones could have hired Mike Shanahan during the offseason but decided to stay with Phillips. Expect Garrett to be interviewed, but I don't think he will get this job.
Here are the main candidates for the Cowboys' job:
Jon Gruden, former head coach of the Oakland Raiders and Tampa Bay Buccaneers:
Gruden is the perfect choice, but there is more of a chance he will stay in broadcasting until at least 2012. Should Gruden decide to coach in 2011, Mike Holmgren of the
Cleveland Browns
could be after him, but Jones will be all over him. Gruden, who signed a multiyear extension with ESPN last November, has a brilliant offensive mind. He is a master of the West Coast offense, but he also orchestrates a well-structured running attack. Some of Gruden's run schemes are the most innovative in football. Gruden would be a nice mentor for
Tony Romo
. Though he can be tough on veteran quarterbacks, Gruden got the best out of
Rich Gannon
when he was with the Raiders and
Brad Johnson
when he was with the Bucs. This could be Gruden's job to lose, but don't be surprised if he passes on the opportunity.
John Fox, Carolina Panthers head coach:
There would be no better compromise candidate than Fox. He's a winner. He fits in Dallas because he doesn't demand control of personnel. He's a coach's coach. Fox, in the last year of his contract with the Panthers, has taken players given to him in Carolina and made the most of the situation. With Jones, Fox would be getting an owner who isn't afraid to spend and keep a talented team together. Fox is considered a players' coach, but he is organized and runs a disciplined operation in which players enjoy the experience.
Marvin Lewis, Cincinnati Bengals head coach:
Lewis, whose contract is up after the season, has won two division titles for Mike Brown in Cincinnati. He would like more control of personnel in Cincinnati. Although he might not get that control in Dallas, coaching for one of the best brands in sports is highly appealing. Jones knows Lewis well from their time together on the Competition Committee.
Leslie Frazier, Minnesota Vikings defensive coordinator:
Frazier is one of the league's hotter assistant coaches, but it's debatable whether Jones will go for an assistant. Phillips was the Chargers' defensive coordinator when Jones hired him as Dallas' head coach. Phillips' head-coaching experience in Denver and Buffalo appealed to Jones. This would be Frazier's first chance to be a head coach.
Ron Rivera, San Diego Chargers defensive coordinator:
Rivera was a hot name a few years ago when he was the
Chicago Bears
'defensive coordinator. He's getting hot again because of the work he has done in San Diego, which has the league's second-ranked defense. Rivera took a chance in joining the Chargers to learn the 3-4 scheme. Even though the talent base of the Chargers has dropped off the past couple of years, Rivera has put together creative schemes.
Mike Zimmer, Cincinnati Bengals defensive coordinator:
A former position coach and defensive coordinator in Dallas, Zimmer is disciplined and aggressive, and players like playing for him. And Jones knows him, a big plus.
January, 19, 2010
1/19/10
3:58
PM ET
By
Matt Mosley
| ESPN.com
Pardon me if I was a little startled by the news Monday that the
Buffalo Bills
were going to hire Chan Gailey as their next head coach
. What, was Bruce Coslet not available?
[+] Enlarge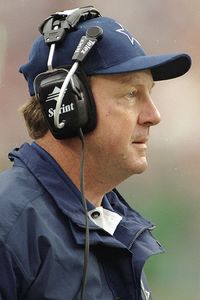 Getty ImagesGailey led the Cowboys to the playoffs in both seasons he served as the head coach.
It appears that the Bills swung for the fences -- and then settled for a weak grounder to short. To label this an uninspiring hire is an injustice to the uninspiring men who preceded Gailey in Buffalo. One of those men, Wade Phillips, just led the Cowboys to their second division title in three seasons.
Gailey took over a star-studded (if aging) Cowboys team coming off a 6-10 season and led them to the playoffs in 1998 and 1999. Owner Jerry Jones was so impressed with Gailey's 18-14 record that he fired him after a playoff loss to the Vikings and replaced him with Dave Campo. No one really likes to say this in polite company, but quarterback Troy Aikman clashed with Gailey and wanted him gone. And Jones didn't hesitate in pulling the trigger. Here's what
Jones said at the time
:
"This decision I had to make is about football,'' Jones said in Jan. 2000. ''It wasn't about egos. Chan Gailey, relative to when he accepted this job, burned the midnight oil. He worked hard, he was diligent, he was honest. He did everything I imagined."
And it turns out that Jones was still thinking about the Gailey firing when he decided to retain Wade Phillips following the '08 season's December-January collapse. Something about continuity. Here's what Jones said about his decision to fire Gailey earlier this month:
"The most unfair that I've ever been in anything in sports and maybe in other parts was dismissing Chan after two years,"
Jones said
. "That wasn't right. ... That is one thing I look at today in my mirror and say you just weren't as fair as you needed to be there to the team, the fans and certainly to Chan to make that change after two years."
So there you have it. The lesson Jones learned from the Gailey firing is one of the main reasons Phillips is still around. That and the fact that Jones hates the idea of coaches sitting at home while he pays them $3 million. And by the way, Gailey was making $500,000 per year as the head coach of the Cowboys when he was fired in 2000.
The club's offensive coordinator, Jason Garrett, makes roughly $3 million per year now. For any Bills fans who may stumble onto this blog, Gailey is a remarkably nice man. He has no business being a head coach in this league, but I can pretty much assure you that he won't be accused of striking an assistant coach at any point in the near future.
If I'm someone like Leslie Frazier, this hire really ticks me off. Some of these assistants have worked their tails off to position themselves for a head-coaching opportunity. And they're passed over for a man who flamed out in Dallas a decade ago.