October, 10, 2011
10/10/11
1:19
PM ET
You guys ask so much about why the
Philadelphia Eagles
haven't signed veteran linebacker
Lofa Tatupu
that, frankly, I've kind of stopped paying attention to it. But the idea has shown up now in a very interesting place that makes me wonder if something might finally happen soon with Tatupu. That place is
Adam Schefter's mailbag
, which includes this item:
Q: Adam, why have the Philadelphia Eagles not signed anyone like Lofa Tatupu or anyone else for help at linebacker? It seems like even a slightly unhealthy Tatupu would be better than a trio of Brian Rolle, Jamar Chaney and Casey Matthews?

-- Isaac (Penn.)

A: Hard to argue against your point, Isaac. The interesting part is that Tatupu wanted to play for the Eagles as much as, if not more than, any team in the league when this season kicked off. He did have some casual conversations with the Eagles during the summer, but Philadelphia wanted to see its young linebackers and how they performed. So far, not so well. At the same time, Tatupu's knees weren't quite as ready as he wanted them to be, though they are now. He is ready to play. But he has wanted to play for a winning team and right now the Eagles are struggling. However, to think Tatupu would be the difference for this team is a bit short-sighted. For now, the Eagles' issues are larger.
My thought on Tatupu all along has been that, since he's been out there for two months and nobody's even looked at him, he must be washed up or unlikely to be a help. But Adam indicates that he's healthier now than he was when he and the Seahawks parted ways, which means maybe a team like the Eagles could take a look. Two interesting points, though, from Adam are that the Eagles aren't the "winning team" right now for which Tatupu wants to play and that the Eagles' problems likely don't have a solution as simple as adding one linebacker.
One of those problems appears to be myopia. The idea that "Philadelphia wanted to see its young linebackers and how they performed" is completely out of line with everything else the Eagles did this offseason. We were led to believe -- told, actually -- that they were going all-in for a Super Bowl run this season. A team that does that doesn't decide to look at young guys at one position while piling up veterans everywhere else. The Eagles seem to have believed that they could mask linebacker deficiencies with excellence on the defensive line and in the secondary. But that's a strategy that has cost the Giants in recent years, and it's cost the Eagles this year, in part because the secondary hasn't been excellent and in part because the strategy just doesn't make any sense. NFL offenses will seek out weaknesses and attack them, and the Eagles' weaknesses weren't hard to find.
The Eagles'
problems are systemic
, it would seem, and unlikely to get better anytime soon or with the help of any midseason acquisition. So while it wouldn't be surprising to see them make such a move, I'm not sure it would be the panacea that Eagles fans might imagine it to be.
September, 6, 2011
9/06/11
5:06
PM ET
The
New York Giants
' injury situation may have reached the point of absurdity.
Multiple reports have surfaced Tuesday afternoon that
Jonathan Goff
, the Giants' starting middle linebacker, has a torn ACL and
will miss the entire 2011-12 season
. ESPN's Adam Schefter reports via Twitter that the team is planning to sign former Giants linebacker
Kawika Mitchell
to replace him.
[+] Enlarge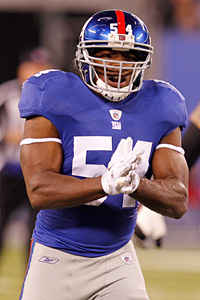 William Perlman/The Star-Ledger via US PresswireThe Giants reportedly lost Jonathan Goff for the season to a torn ACL.
This is really ridiculous now, and you have to wonder how much more of this the Giants can possibly take. They've already lost starting cornerback
Terrell Thomas
and backup linebacker
Clint Sintim
for the year with ACL injuries. Cornerback and first-round draft pick
Prince Amukamara
is out for the first month or so with a broken foot. Defensive tackle and second-round pick
Marvin Austin
is out for the year with a torn pectoral muscle. Defensive end
Osi Umenyiora
is coming off knee surgery and will miss at least the first week and probably more. And that's just the defensive damage report. On offense, they're reasonably healthy but did lose wide receiver
Steve Smith
and tight end
Kevin Boss
to free agency and didn't replace either one.
The Giants have maintained all along that their developmental depth was strong and they would be able to handle injuries, but the fact is their relatively inactive offseason and the injuries that have dogged them since the lockout ended have left them thin at several key spots, none more so now than linebacker. They believed they were set with Goff,
Michael Boley
and
Mathias Kiwanuka
as starters, and the four reserve linebackers they kept when they made their cuts Saturday were all rookies. Now, it looks as though they could bring in Mitchell, who played for the Giants in 2007 and for Giants defensive coordinator Perry Fewell in 2008-09 when both were in Buffalo, to add some veteran presence. But Mitchell isn't a middle linebacker. So if he's there to add depth and not to man the middle, you could see a rookie such as
Greg Jones
or
Mark Herzlich
get some time at that middle spot, or the Giants might look again to the waiver wire for someone like
Keith Bulluck
or
Lofa Tatupu
.
Regardless, five days from the regular-season opener in Washington, the Giants had hoped their rotten injury luck was behind them for this year. There is a lot of talent on their roster, and especially on their defense. But they're reaching the point where you have to wonder if this is too many injuries to overcome. I've never been big on Goff as a starting middle linebacker, but he was their starter. Without him, they will scramble, and likely be worse than they would have been with him. If this was the first of these injuries, it'd be easy to say sure, they can take it. But it's not. Far from it.
August, 2, 2011
8/02/11
2:47
PM ET
All right. I didn't forget you guys. Been a busy day what with the chat and some video stuff we've been working on for the site. But I have been here at Redskins Park, where some things are happening. Let's take a little spin through some of them.
Item No. 1: Rex Grossman returns.
[+] Enlarge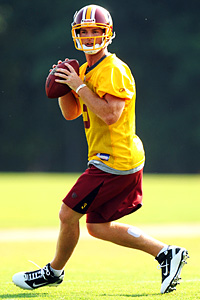 Mitchell Layton/Getty ImagesJohn Beck has had a slow start to training camp.
Mike Shanahan said in his morning news conference that Grossman would "be here tonight," which is something about which many people have been asking me and for which I now have an answer. Grossman was a free agent and is re-signed to enter the quarterback competition along with
John Beck
, who's taken so many first-team reps that, Shanahan says, his "arm was a little sore today" and "He didn't have the zip on it that he normally has."
The other thing everybody's asking is how Beck looks, since it sounds like Shanahan favors him as the starter. I wish I had better news for you guys. Beck has not looked good the two days I've been here. His throws are consistently behind receivers, his deep passes wobble and he looks jittery when he sees extra rushers (who aren't even allowed to hit him, by the way). It's only Aug. 2, so it's unfair to judge a guy based on the way he looks right now. But you guys are asking how he looks, so there it is, with those caveats.
What do I think they'll do at quarterback? I think they'll decide between Beck and Grossman, depending on how each looks in camp and maybe even switch it back and forth during the season depending on how they play. I do not think they'll bring anyone else in, and I think the quarterback spot will be a glaring weak spot that costs them a chance to contend in 2011. I believe their offseason moves have been good ones, but I think that because this is a team building for the future, not a 2011 playoff team.
Item No. 2: Phillip Buchanon is back ... sort of.
The Redskins re-signed the cornerback Monday, and Tuesday Shanahan revealed that Buchanon would be suspended for the first four games of the season. Didn't say why, but four games does tend to mean a second violation of the substance abuse policy. (A first violation gets a warning that's not made public.) Buchanon will be here and eligible to practice Thursday and throughout camp but will miss the first four games. And no, I don't expect them to bring in another corner for those four games. Could be a chance for a guy like
Kevin Barnes
to show something.
Item No. 3: Ryan Kerrigan still hurt.
Shanahan said the team's first-round pick would miss "another two or three days" of work because of the bone bruise on his knee. Said they don't want to rush the kid, who hasn't had injury problems in the past. What long-term effect this has is a good question. Kerrigan will be a rookie who didn't have minicamps, and every day of training-camp practice he misses is a day lost in learning the new techniques he must learn to play 3-4 outside linebacker as opposed to the 4-3 defensive end spot he played in college. That could explain why they are, as has been reported, looking for inside linebacker help. They tried on
Nick Barnett
before he signed with Buffalo, and
Lofa Tatupu
was supposed to be in for a visit today. Bringing in help there could allow them to keep
Lorenzo Alexander
at the outside linebacker spot opposite
Brian Orakpo
in the event that Kerrigan isn't ready to take all the starter snaps beginning in Week 1. Alexander's versatility is critical here. He lined up in several different linebacker spots this morning, and they could use him in a variety of ways regardless of Kerrigan's status.
Item No. 4: Jarvis Jenkins
The defensive line was one of the most impressive-looking things about the Redskins in morning drills, and Jenkins stood out, particularly in his ability to create pressure up the middle against the run and the pass. "You can tell he likes to work," Shanahan said of his second-round pick. "All the things you look for in a guy, I believe he has." Jenkins will have an opportunity for playing time on the line even once
Barry Cofield
and
Stephen Bowen
are able to practice.
The Redskins have a walk-through in a little while and we'll get some more interviews, so I'll keep you posted if anything else happens or anybody says anything especially interesting. But hopefully these here give you something to chew on in the meantime. If you need me, you know you can find me on Twitter.
August, 2, 2011
8/02/11
8:00
AM ET
I hate to say this without throwing a pinch of salt over my shoulder, but things seem to be settling down a bit on the free-agent front. The Giants got Ahmad Bradshaw locked up, which was the big move in the division Monday, but there isn't nearly as much chaos swirling around as there was a week ago this time. The Cowboys still need their two safeties, and each NFC East team has some more tinkering it could do, but sanity is beginning to set in as teams get into their training-camp rhythms. The one thing that's been consistent through it all, of course, is the links.
Dallas Cowboys
Little bit of
mild trash-talking
between Cowboys defensive coordinator Rob Ryan and new Eagles defensive lineman Cullen Jenkins, who replied on Twitter. It's not Osi versus Shady, but it'll do. Nice of Ryan to remind everyone that the rest of the division hasn't handed the title to the Eagles based on what happened last week. I mean, of course they haven't, but if you're a fan of one of the other teams you have to enjoy that someone's saying it.
Blogging the Boys
takes a point of view
that differs from almost everything I've been hearing from Cowboys fans -- that this team may not have needed to have a very active offseason in order to improve over last year. It's about the coaching, they say, and they make a decent point. Still need those two safeties, but it's a little bit refreshing to hear from someone who's not in outright panic over the lack of moves in Dallas.
New York Giants
Ralph Vacchiano has
identified five teams
-- Rams, Seahawks, Broncos, Chargers and Ravens -- interested in Osi Umenyiora now that the Giants have given him permission to seek a trade. But as Ralph points out, that hardly means they'll actually trade for him. The Giants want a first-round draft pick if they deal him, and remember -- the issue with Osi is his contract. Who's going to give up a first-round pick
and
pay him what he wants to be paid? He's good, but you'd better be getting Reggie White for a price like that.
Incidentally (and yeah, I know, two Osi links, sorry), I'm not sure whoever said Umenyiora was a "bad guy" or "not a team player" as he claims in
his email rant
about his situation. He's right about the system being unfair, and everyone knows it. All I've heard said (and what I've written) is that there's nothing he can do to correct his situation other than make himself a pain. And I have to believe even he'd acknowledge at this point that that's exactly the strategy he's enacting. No?
Philadelphia Eagles
Paul Domowitch offers a long look at rookie Casey Matthews and
his worthiness as a starting middle linebacker
for the Eagles this year. Stranger things have happened, I'm sure, but I can't say with any confidence that I believe the Eagles are sticking with what they have at that position. Everybody keeps asking about Lofa Tatupu, and he'd be a fit here.
This Jonathan Tamari notebook
includes an item on Nate Allen's health and one on how Howard Mudd is trying to sort things out on the right side of the Eagles' offensive line -- another position where it's conceivable they might yet add someone. First-round pick Danny Watkins
signing
Monday night obviously helps, as he's slated to be the right guard.
Washington Redskins
Jason Reid writes
on London Fletcher, one of the Redskins' rocks in a time of great and rapid roster turnover. Jason calls Fletcher's signing the best of the Dan Snyder era. Being around the Redskins, it doesn't take long to realize they have strong leaders, and Fletcher is the name everybody mentions first.
Rich Campbell looks at
the offensive line
and wonders if the continuity of personnel there will help its chances of improvement in 2011. This is one of those nowhere-to-go-but-up deals, and I think there's merit to the idea that the zone-blocking scheme takes a while to get comfortable with and that those who were around last year should perform better in it this year.
Anyway, I'm headed back over there to see the Skins again today.
We'll do our chat
at noon, as we always do on Tuesday, but if I'm a little late, please assume it's because I'm doing interviews whose aim is to help me learn more so I can be as informed as possible when you start asking me questions on Twitter later tonight.
August, 1, 2011
8/01/11
5:20
PM ET
ASHBURN, Va. -- I like talking to
Brian Orakpo
because he's a friendly, insightful guy and because he's got this awesome deep voice that matches his physically intimidating presence. I am not alone.
[+] Enlarge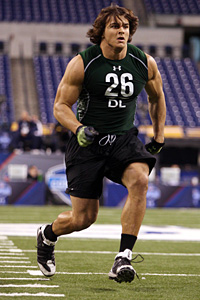 Brian Spurlock/US PresswireRyan Kerrigan, a college defensive end, will be switching to outside linebacker for the Redskins.
"I can certainly see where you're coming from," Redskins rookie linebacker
Ryan Kerrigan
told me after morning practice when I ran that observation past him. "He's got the traps that are almost up to his ears, and his voice certainly matches his physique. He's certainly an imposing guy and a good guy to have on our side."
Especially good for Kerrigan, the first-round pick who played 4-3 defensive end at Purdue but will stand up and play 3-4 outside linebacker in Washington. Orakpo made a similar transition last season when the Skins switched from a 4-3 defense to a 3-4 (he'd been a 4-3 strongside linebacker in 2009 who rushed from a three-point stance on passing downs), but he told me Kerrigan's will be tougher.
"You just kind of practice your technique differently as far as the balls of your feet, staying low, different things that you pick up," Orakpo said. "The transition wasn't that difficult for me, but Kerrigan, he was strictly defensive end, so it's going to take a while to kind of get used to it."
Orakpo said the biggest difference for him was learning to generate explosiveness from just his feet and legs, as opposed to his hips and his hands. Kerrigan seems to feel the biggest difference is in perception and point of view.
"It's just seeing the field from a whole new perspective," Kerrigan said. "When you're a DE in a 4-3 scheme, you kind of have tunnel vision because you can kind of only see what's ahead of you when you're in a three-point stance, but when you're in a two-point stance you're seeing the whole field and seeing everything from a whole different angle, and I think that's the biggest adjustment."
This twosome will be spending a lot of time together here, even though a bruised knee has been keeping Kerrigan out of practice for the past few days. He's planning to pick Orakpo's brain, and Orakpo doesn't mind. He's entering his third year in the league, but roster turnover here has thrust him into a surprising role.
"Very odd, man," he said. "I'm only going into my third year and already guys are looking at me as being the veteran on the team. So it's a different era, where we're at right now, but I'm excited for the opportunity."
*You wanted observations, I have a few:
Trent Williams
looks much less fat than I remember him looking when I was here last year, and Orakpo said he's noticed the difference in Williams' performance at the point of attack...
John Beck
was intercepted by
DeAngelo Hall
on consecutive pass attempts at one point during 11-on-11 drills, which wasn't exactly awesome. But he threw some nice deep balls, including one beauty that
Anthony Armstrong
dropped... Beck was the quarterback who ran the first-team offense... If there's a receiver about whom people are talking, it's
Leonard Hankerson
, though it's obviously quite early. He seems energetic and involved...
Santana Moss
loves him some Mike Shahanan. Said during the lockout and his very brief free agency that he "stayed away from anything that had to do with not being here. The coaching staff we brought in here last year, what they showed me gave me the confidence that, if we put the right pieces in the right places, we can do great things." But when asked about Beck, Moss shrugged, said he'd played with 10 different quarterbacks in 11 years and doesn't pay much attention to it. So there's that.
*Jason La Canfora of the NFL Network tweeted that recently released former Seahawks linebacker
Lofa Tatupu
and recently released former Colts cornerback
Kelvin Hayden
will
visit the Redskins this week
. I wonder now if Hayden's visit will still happen, though, since
Phillip Buchanon
tweeted that he was coming back to the Redskins and that, along with the recently signed
Josh Wilson
, should provide the depth at the cornerback spot even with
Carlos Rogers
leaving. Tatupu could play inside linebacker next to
London Fletcher
, but Scouts Inc's Matt Williamson told me recently he didn't think Tatupu would fit in Washington since he's not the kind of big, physical "take-on" linebacker they need in that spot. So we'll see. Everybody's been asking for Tatupu news, so now you have some.
*Kicker news!! The Redskins have signed kicker
Shayne Graham
to compete with
Graham Gano
and to confuse everybody when Shanahan shouts "Graham!" in an effort to get one of them to pay attention.
"We'll have competition there as well as at all the positions," Shanahan said. "You look at Graham's percentages last year, and he knows he's going to have some competition and that if he doesn't perform, somebody's going to take his spot."
He was talking about Gano there, FYI.
October, 30, 2009
10/30/09
10:19
AM ET
By
Matt Mosley
| ESPN.com
Posted by ESPN.com's Matt Mosley
The Seahawks' Pro Bowl linebacker
Lofa Tatupu
has been
placed on injured reserve
with a torn left pectoral muscle and he'll be replaced by undrafted second-year player
David Hawthorne
out of mighty Texas Christian University. We had a chance to visit with Hawthorne on 103.3 ESPN in Dallas this week -- and he's not certain which team his father will be rooting for Sunday at Cowboys Stadium.
Hawthorne grew up in Corsicana, Texas, which is about 45 minutes southeast of Dallas. He said his father wore a Cowboys jersey under a Seahawks jersey to last season's game at Texas Stadium. Obviously the loss of a player of Tatupu's caliber hurts, but Hawthorne has played remarkably well in his absence. Hawthorne had 16 tackles (15 solo) and an interception in a 25-19 loss to the Bears in Week 3. Tatupu nicknamed him "The Heater" after he continued to light players up during training camp.
He's only 6-feet, 240 pounds, but he's built like a rock. He was given little chance to make the team, but now it looks like he'll get to start the final 10 games of the season. A member of the Seahawks' coaching staff told me Thursday evening that Hawthorne's one of the best character guys on the team.
It wouldn't surprise me to see Hawthorne have a big day against his "hometown" team.
November, 27, 2008
11/27/08
11:44
PM ET
By
Matt Mosley
| ESPN.com
Posted by ESPN.com's Matt Mosley
| | |
| --- | --- |
| | |
| | Mark J. Rebilas/US Presswire |
| | Dallas linebacker DeMarcus Ware celebrates after sacking Seahawks quarterback Matt Hasselbeck in the third quarter of a 34-9 Cowboys win. |
The Cowboys finally ran out of NFC West teams to play Thursday. After dropping games to the Rams and Cardinals last month, they said goodbye to a season-saving November with a 34-9 whipping of an overmatched Seattle team.
With touchdowns on their first three possessions, the Cowboys quickly put the Seahawks (2-10) out of their misery and kept pace with several teams in the hunt for a wild-card playoff spot. With an 8-4 record, America's preseason champs are starting to bear a passing resemblance to a solid team. They can now sit back this weekend and root for the Giants (10-1) to beat the Redskins (7-4).
The Cowboys will have 10 days to prepare for a road trip to Pittsburgh, where they'll encounter the best overall defense in football. On Sunday, though, they encountered a team simply trying to finish the season. In addition to the fast start -- the first time since Oct. 9, 1994, the Cowboys began a game with three consecutive touchdowns -- the Cowboys relied on a swarming pass rush.
| | |
| --- | --- |
| | |
| | NFL.com Video |
| | Watch highlights of the Cowboy's 34-9 victory over the Seahawks. |
Seahawks quarterback Matt Hasselbeck never had a chance as Cowboys outside linebacker DeMarcus Ware overwhelmed Pro Bowl left tackle Walter Jones for most of the game. Ware accounted for three of the Cowboys' seven sacks. He made Jones look silly by faking the straight-ahead bull-rush and then racing past him to the outside. It was the most sacks for the Cowboys since Nov. 9, 1997, when they had nine.
"It's a shock," said Jones. "It's a shock. But it's the game of football. You go out there, you don't want to give up sacks and stuff. But you have to move on."
The downside for the Cowboys was that Ware had to leave the game with a sprained left knee. Replays showed his left knee buckling, but he walked off the field under his own power. He even stopped to pick up Fox's "Galloping Gobbler" award before retreating to the locker room.
The other bad news for the Cowboys is that running back Marion Barber sprained his right pinkie toe late in the first half. He returned to the game in the third quarter, but quickly had to leave again. It's a huge worry for a team that already lost rookie running back Felix Jones for the season with a toe injury.
Fourth-round pick Tashard Choice filled in nicely with 57 yards on 11 carries. If Barber can return from the toe injury, Choice could become a nice complementary back. But an extended absence would put even more pressure on Tony Romo and the offense.
In this game, Romo and Pro Bowl tight end Jason Witten got back on the same page. Witten might not have a mouthpiece such as Deion Sanders on retainer, but behind closed doors, he asked Romo to look for him more. On the first drive, he burned Seahawks safety Deon Grant for a 36-yard catch and he finished with nine catches for 115 yards. Witten is playing with broken ribs and an injury to his sternum, but neither injury seemed to bother him Thursday.
"Jason Witten is the absolute perfect tight end in all ways," Romo said. "He runs great routes, he blocks in the backfield and he is a good run blocker. His timing is impeccable. He's got good hands, his size and then on top of that he is a tough guy and a high character guy. And he is a really easy guy to play with and makes everyone around him better."
But the Cowboys realize that their cruelest month is about to arrive. They haven't had a winning record in December since 2001, when the team rallied to finish 5-11. If the Cowboys can get to 10 wins, they have a great shot at one of the wild-card spots.
The only problem is that the Steelers, Giants and Ravens loom on the schedule. And they'll finish on the road against an Eagles team that would love to play the role of spoiler. Even though he might not acknowledge it, Cowboys coach Wade Phillips knows his coaching future is hanging in the balance.
"Three weeks ago we're looking at a different thing," Phillips said. "Of course, the last part of the season is going to be big for everybody. You can see how the climate can change quickly in this league. What you need to do is win and get on a winning streak. We started that."
September, 1, 2008
9/01/08
11:44
AM ET
By
Matt Mosley
| ESPN.com


Posted by ESPN.com's Mike Sando
The Rams face an extremely tough draw in their opening-week matchup with the Eagles in Philadelphia. These franchises have very little in common.
The Eagles' roster features 33 players drafted by the organization, one behind league leaders Chicago and Green Bay. The Rams have only 23 of their own draft choices. Holding onto one's own draft choices isn't necessarily a good thing, but failing to hold onto them often reflects poor drafting, poor management, frequent scheme changes, etc.
By my count, 18 Rams players entered the NFL as draft choices for other teams, about four more than the league average. The Eagles' corresponding number is seven. The low figure reflects a disciplined approach to roster management.
For more on the Eagles, pick up a copy of Philly's 25-category roided-out roster. Five quick notes on the team I picked to represent the NFC in the next Super Bowl:
The Eagles' Jon Runyan is one of the biggest -- and oldest -- starting right tackles in the league. Pass protection is not his specialty. The Rams will have to keep this game close to free up their pass rush. If they do, a healthy Leonard Little could give Runyan some problems.
On the other side, Eagles left tackle Tra Thomas welcomes Rams first-round draft choice Chris Long to the NFL. Long fashions himself as a technician, but he's still making the adjustment from 3-4 to 4-3 defensive end.
Quarterback Donovan McNabb hasn't started 16 games in a season since 2003, but he's been at his best in September. McNabb has thrown 28 touchdowns with only four interceptions in September games over the last four seasons. The numbers dip to 25 touchdowns with 13 interceptions in October, 17 touchdowns with nine interceptions in November and 14 touchdowns with four interceptions in December (all since 2004).

Brian Westbrook has 2,550 yards rushing and 167 receptions over the last two seasons. Rams middle linebacker Will Witherspoon finds himself overshadowed in a division featuring Lofa Tatupu and Patrick Willis. Westbrook presents his greatest challenge of the season. No other back on the Rams' schedule threatens a defense in so many ways.
That note about McNabb not finishing seasons as strong (if at all) casts doubt on my Super Bowl prediction. At least I took the Chargers to win (not that San Diego has any injury concerns entering this season, come to think of it).
The Rams had to grimace when they saw the 2008 schedule for the first time. This was a fragile team coming into the offseason, to the point that coach Scott Linehan
wanted to win preseason games
for momentum. A victory over the Eagles in the opener would represent a giant step forward for the Rams under Linehan, but it's a tough draw.