February, 19, 2014
2/19/14
1:00
PM ET
The
Washington Redskins
don't need to get a quarterback this offseason. They do have questions at the position after
Robert Griffin III
's second season. After one terrific season followed by a tough one -- yes, brought on in part by other factors -- Griffin has shown promise but also rough edges that need smoothing when it comes to his development as a passer. He'll also now get his first full offseason to work on his game. So Wednesday's question for our experts is about Griffin.
[+] Enlarge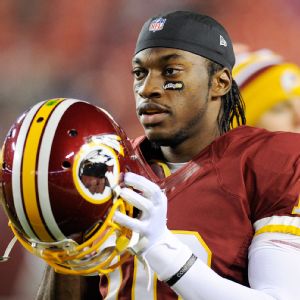 AP Photo/Nick WassRedskins QB Robert Griffin III has a hefty challenge ahead of him for the 2014 season.
What are your expectations for RG III -- and what do you think for him going forward?
Louis Riddick
: It's lukewarm. Obviously a player's success and failure has a lot to do with other factors that you can't necessarily scout and that means the relationships between players and coaches and players and players, off-field distractions, how he lives his life and how dialed in he is. Those are things you can't evaluate from afar. Number one, his relationship with Jay Gruden, his health, his relationship with teammates, what his level of commitment to being an all-around great quarterback. Those are all things that determine it. From what I've seen and know and what I've heard, I think it could really go either way with him. He could turn out to be the guy everyone thought he would be coming out of Baylor and what he showed glimpses of his rookie year. I also would not be surprised to see him become a guy who never fully realizes or meets the expectations of being the second overall pick in the draft and is looked back on in disgust. Was it his relationship with Mike Shanahan or the knee injury or the fact that he was never going to be the prototype pocket passer. Was he always going to be reliant on the zone read and be a one, two progression thrower and he just missed. It could go either way. That has yet to be determined for me.
Matt Williamson:
Just watching him on tape I'll bet he was never healthy all year. He has to get healthy first and foremost. He rushed back way too soon, but that wasn't the only problem. His lower body mechanics were bad and I don't know if it was because of the injury or not. I think you need to build him from the ground up with the new staff. I imagine they will. I think the league caught up to the read option, too. It was the first offseason that every defensive coordinator was putting time into stopping the read option. That's such a key component. That's a big blow. Everything was read option or play-action. They ran so much play-action [in 2012] they weren't able to do that nearly effectively [last season]. Game scripts were part of the reason, too; the defense was so bad. A Shanahan offense is based off that zone run game but when you're down 21-0 in the second quarter no one cares about your run game.
I'm still confident he's going to be a star. But that was a rough year. He didn't put any good tape for most of the season. I think he's so unbelievably gifted, we saw him make a lot of great plays -- not just as a runner. He's a good deep passer. He has a big arm. Jay Gruden has to be salivating. I'm not an
Andy Dalton
fan at all and he got a lot out of Dalton. People looked at it the wrong way by asking why hire a guy whose quarterback falls apart in the postseason. I'm saying, 'We hired a guy who had a quarterback with below-average skills and he got them to the postseason.' There wasn't a lot of clay to mold in Cincinnati.
February, 18, 2014
2/18/14
12:00
PM ET
The Redskins face numerous questions this offseason. Too many to mention, perhaps. But there are a number that can be addressed and answered -- with the help of people who know the game much better than me. So all week I'll pose a different question to two experts -- former NFL executive, player and scout Louis Riddick (now an ESPN NFL Insider) and former NFL and college scout Matt Williamson (now ESPN's NFL scout). Tuesday's question is one the Redskins already answered because it involves defensive coordinator Jim Haslett. But this topic remains a lightning rod for fans, so ...
There's been a lot of talk about Jim Haslett coming back and how the lack of interference from Mike Shanahan can help. How much do you think it can help that Haslett is more on his own -- and what did you think about the Redskins retaining him?
[+] Enlarge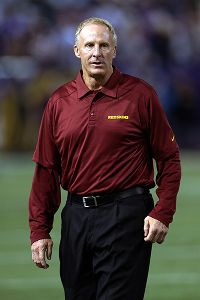 AP Photo/Paul SpinelliThe Redskins decided to retain defensive coordinator Jim Haslett even though Washington was tied for 30th in points allowed in 2013.
Matt Williamson:
That's a good question. I don't think Haslett needs help. I'm not sure keeping him was the right move either. I'm not necessarily a fan of his, but I also don't think he's in over his head. He's been doing it long enough that he understands his job so it could be a good thing [without Mike Shanahan around]. Shanahan obviously was offensive-minded, but I'm sure he knows defense. But maybe he wasn't helping.
At the time, I did not understand [keeping Haslett]. But he does have ties to Jay Gruden so knowing that, it makes sense. But at the time I was wondering what Haslett has done to make the defense any better than it should be. They were really lacking in personnel so it's tough to kill a coordinator when you don't have the horses. But I don't think he got more out of anybody in particular.
Louis Riddick:
Depending upon what the level of interference was and depending on how knowledgeable Shanahan is about teaching and scheming and calling defensive football given that his background is offense. It's hard to know how much it will affect it in a positive way. I will say this, knowing Jim like I do and having played for him back in the early '90s when I played for him in the World League, I know he knows defense and I know what he believes in philosophically. I know he likes to pressure and I know he understands good coverage guys and wants safeties with good range and has a good feel for down and distance tendencies. He's not a guy overwhelmed by the moment on game day. He's a very good teacher and motivator. So I would think if the interference was a negative then, yes, this could be a positive. … Sometimes the communication issues you have between a coordinator and head coach can cause things to go off the rails because people are grasping at straws. Everyone thinks they have an answer when the best answer is to let the people who you hired do their jobs. But the calls weren't the problem for Washington, the players were the problem.
Only because there was so much chatter around the fact that the defense has underperformed since he's been there and there seemed to be a desire to make a clean sweep and start over, I was surprised they were keeping him. But knowing him like I do and believing in how he approaches a game philosophically I think it's good that they did keep him. He's more than capable and deserving of leading that defense. I'm not with the public opinion that he needed to go based on where they finished statistically because there's more to it than that. If he can do it the way he wants and teach the way he wants and call it the way he wants on game day, I think you'll see a tremendous improvement in that defense from a statistical perspective, provided they address areas that need to be addressed.
In case you missed it:
Monday's question:
What would you do with Brian Orakpo
?
February, 17, 2014
2/17/14
12:50
PM ET
The Redskins face numerous questions this offseason. Too many to mention, perhaps. But there are a number that can be addressed and answered -- with the help of people who know the game much better than me. So all week I'll pose a different question to two experts -- former NFL executive, player and scout Louis Riddick (now an ESPN NFL Insider) and former NFL and college scout Matt Williamson (now ESPN's NFL scout). These also are the sort of discussions that are taking place at Redskins Park. And you'll see that even smart football men won't have the same opinion on a player or situation. The most
talked-about Redskin this offseason
has been linebacker
Brian Orakpo
. Naturally, that's where we'll start this series.
What would you do with Brian Orakpo?
Louis Riddick:
It's interesting. He'll be a tough comparable for me right now, only because of not knowing exactly what they were asking him to do from an assignment perspective, and not being on the inside, I don't know if I'm seeing the whole story with him. I read and heard
that he thinks he can have a lot more production in the pass rush
, whether it's QB hits or hurries or sacks if he had more freedom, but that he was trying to play within the confines of the defense. But at the same time, just watching him as a one-on-one pass-rusher, would I value him as a top five or top 10 pass-rusher in the league? No, I don't think I would do that. Let's put it this way:
Greg Hardy
,
Robert Mathis
,
Robert Quinn
,
DeMarcus Ware
, when healthy. I don't put [Orakpo] in that category. He's somewhere in that second tier and I'm saying because of supply and demand being where it's at, he could wind up – if he hits the market – getting something that far exceeds what I'm comfortable paying him.
There's not a number for how I would value him. It's going to be tricky. Would I want to keep him? Yes. Would I want to extend above and beyond and get him into the nose-bleed area for guaranteed money in the first three years? No, I would not. ... I'd be very prepared to let him walk. That being said, there aren't a lot of good pass-rushers available in free agency and there aren't a lot of guys who will win one-on-ones early in their career in the draft so that will work in his favor.
Matt Williamson:
That defense needs everything, it really does. He's their best player on defense, they have a lot of cap room, they can't let him go. He's one of the few free agents that you have to give the big money to. If that means franchising him, I think he's worth it. He's an all-around player. He's their best pass-rusher, probably one of the best 10 pass-rushers in the league in his prime and he recovered from his injury. I thought he had a good year. He was a constant pressure guy. He's a quick-twitch athlete who can get low and still be powerful. He explodes off the ball and he's a high-motor guy. I don't think he'll be elite. He won't be
Dwight Freeney
in his prime, and if you looked at his strengths and weaknesses as a pass-rusher, he's not extreme in any of them but he's above average in many. Freeney was so low and explosive off the snap, you always remember those things with him. Orakpo doesn't have one trait that you say, 'Wow, I've got to stop that.'
December, 14, 2013
12/14/13
10:00
AM ET
Louis Riddick endured the chaos in Washington from 2001-07, first as a scout and then as director of pro personnel. He knows the toll it takes and what needs to happen. This is Part 1 of our conversation with the ESPN NFL Insider.
What does Dan Snyder need to do?
[+] Enlarge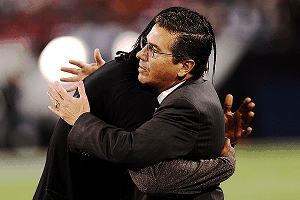 AP Photo/Paul SpinelliOne has to wonder just how strong the relationship is between Redskins owner Dan Snyder and star QB Robert Griffin III.
Louis Riddick:
He can do whatever the hell he wants. He owns the place. He doesn't have to ignore players. But he has to understand the delicate culture of an NFL locker room. You can't empower a first-year quarterback to feel he is bigger than everyone else when you have 8-, 9-, 10-, 11-year vets that you're not doing things for. You can't do that to a point where a head coach feels as though he has to make a stand against that kind of stuff to this degree – if you believe that's what's happening now and why wouldn't you believe it considering the fact that to different degrees you've seen it before with Bruce Smith or Clinton Portis. You've seen players say, 'I can do what I want because I'm tight with the main guy.' … You have to respect how the game has to be managed from the ground level, not from the board room and be cognizant of the power and authority the head coach deserves and needs. If it's just about, 'I'll do what I do because I have a right to do it,' then don't be mad when the results are what they are. This is a long-winded way of saying you have to make some adjustments, otherwise you'll face this over and over.
There's nothing wrong with wanting to be personable. This is a relationship business. It's still a people business. I don't think the upper level of management has to be so cold and impersonal that it lacks the ability to relate to or communicate effectively with the people who work for you. But the dynamic of running an NFL team from a head coach's perspective is very unique and you can't in any way undermine it.
Assuming this staff is gone, someone will take this job.
Riddick:
Yes. … I know Dan cares about this team dearly, desperately. I know he does. He just has to make some adjustments.
I know from Robert Griffin's perspective all the talk about his relationship with Snyder is off the mark, that they're not as close as it's being leaked.
Riddick:
A lot of times it's funny how when you're a part of it and part of the problem you don't realize how much you're part of the problem. 'How can what I'm doing be so bad? I'm not doing anything. I'm just hanging out.' If you could have him step outside himself and look at himself. … When I used to look at old pictures of myself as opposed to now, I was wearing earrings and had all the chains and I was like, 'What the hell is that? That can't be me.' While I was doing it I thought this is the way it's supposed to be. You don't have perspective. Perspective is going to be the key.
What's the formula for Snyder?
Riddick:
The hardest part for him is to be objective. You can't help from keeping his subjective feelings and preconceived attitudes and biases about this game out of it. He just can't help it. He is really attracted to the names, the star power, the perceived star power and big names and doesn't dig deep to see what's substance and staying power those star power names have, whether or not it really is something and if star power and names have earned all the accolades and attention they get. If you look at Mike [Shanahan], you can ask 50 different people and get all kinds of different opinions, and one thing you'll constantly hear people say is if it wasn't for John Elway, now what? They'll keep saying that. That's what they'll keep saying. If you look past that, once he left and started to get total control and was building the organization, what happened then? What do people say about you after that point? Dan needs to stop chasing names and start trying to look for substance and look for real qualifications and then he has to re-examine his information gathering process and let the process lead to the name instead of looking to the name and saying the process took care of itself because I got the name. It's almost like doing it backwards. He'll eventually get what he wants if that process is sound, which is to stop getting embarrassed.
The sad part is the process once led them to Jim Zorn.
Riddick:
It's just as important in the head coach hiring process for the people who are doing the interviewing to have prepared and studied and researched what they need to ask and what they need to hear as it is for the person who is being interviewed. If you have taken the time to find out what the answer is I'm looking for, what characteristics I'm looking for that are going to take my organization to the places I want to take it to. If you don't know what they are, then you have no shot. You'll hire this guy, try that guy. You need to stop and look at yourself and say, 'Am I respecting the process and respecting the game and how hard it is to build a winner?'
December, 13, 2013
12/13/13
10:40
AM ET
Louis Riddick endured the chaos in Washington from 2001-07, first as a scout and then as director of pro personnel. He knows the toll it takes and what needs to happen. This is Part 1 of our conversation with him.
You worked here when you had to deal with a lot of distractions. How crazy did it get when you worked here?
[+] Enlarge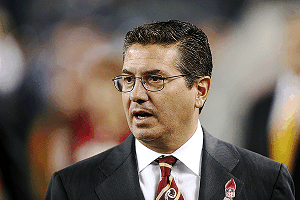 Matthew Emmons/USA TODAY SportsHigh turnover and disarray within the organization have been constants during the Dan Snyder era in Washington.
Louis Riddick:
I'm not going into great detail, but I'll say this: It's very difficult to build a team in the NFL without all those types of extra distractions to deal with, meaning the team has to be structured very clearly both when you're talking about how the front office is set up – there are different ways to set up a front office, but the structure has to be very defined as to whose role is what and the coaches have to have it the same way. Everyone has to be allowed, as Bill Belichick says, to do their job without interference from anyone. The problem here is it's very difficult to do that when the person at the very top, who has the right to do what he wants because it's his team, puts obstacles – whether knowingly or unintentionally – in the way of you doing your job to the utmost of your ability, but then holding you accountable. It's an impossible situation to win in. Thus it leads to continuous turnover that is always marked in the end by huge circus-like blowups. It's always ugly. It gets uglier every time. That vicious cycle can only be stopped by one person. I don't know exactly what's happening there because I'm not there. But looking at it and listening to what's being said brings back some very familiar feelings and memories as to what it's like to deal with that. I know the owner cares about the team and is a lifelong fan and wants to win.
The blueprint is there from a management and structure perspective as to how to give yourself the best chance to get a Super Bowl championship. To knowingly not give yourself the best chance to do that by having these kinds of situations come up, like the treatment of
Robert Griffin
III … it takes away from giving the team the best chance to win.
This isn't just about Mike Shanahan and RG3 and the owner, this is about the coordinators and assistant coaches and training staff, the weight training staff, all the support staff, the secretaries, the personnel people, the marketing people. They all look at it going, 'Here we go again.' What you become reduced to, regardless of whether it's the
Washington Redskins
or any other company embroiled in controversy, you just start working for a check and look forward to getting paid. You become detached. You don't care about the color or brand because you feel the brand and colors don't care about you and if they did it wouldn't be allowed to happen over and over.
People will read some of that and say Mike Shanahan is getting no blame. What's his role in this mess?
Riddick:
Everyone's looking at Dan and the continuous change that's taken place there every few years. If you look at Shanahan's track record, is it not documented that generally speaking he's considered someone who makes things personal and takes things to a new level when it comes to having relationships that end badly with specific players? From the outside looking in it seems very much so. You hear that it can become very personal with him and it crosses the line from being professional to personal and from different things we've heard, it has become personal. He may have let some of this get out of control even though he knew he could have done things to reign in this whole Robert Griffin is too entitled and coddled line at an earlier time and he didn't do enough to get it under control and this is the result, this kind of theatrics and drama. The other role is he's had control of this team for four years and this happened under his watch and he controlled everything. Everyone in that building that I know says he has exercised final say over everything. So to not have a line that can protect this kid, to not have constructed or put together a defense from a personnel perspective that can give them a fighting chance to stay in games and to have the offense become something it's not good at, which is a dropback passing offense, that's his fault. And for allowing the never-ending series of press conferences and offseason to become a back and forth, almost like a tennis match, between him and Robert. Mike has final say to football operations and he could have put an end to that. Now, even though you've given contractual control to Mike doesn't mean Dan can't have a negative influence. I was there when Marty had control over everything and things got ugly then, too. But at the same time the head coach can't turn around and start playing this through back channels and laying it at the feet of the owner, either. [Shanahan] is more responsible for the product on the field, more than responsible. It's him.
Do you ever think it could change here?
Riddick:
Sure. Everybody has a pain threshold. Everybody at some point comes to the realization that whatever they're doing is not working and it's getting too painful and counterproductive to continue down the path they're on. ... It's hard to build a team with all the distractions available to [players], let alone when you feel like there are other forces within your own building that are making it even more difficult to keep the ship moving in the right direction. When you're imploding from within, you have no shot. Even when you're doing everything theoretically correct a lot of times it doesn't work out because there are always unforeseen circumstances. It's hard enough. You throw this on top of it, it makes it 20 times more difficult. And then you hold the people who are building the team and coaching the team responsible, but did you really give them a chance to succeed? The answer is obviously no, you didn't. As I'm watching it, I can still remember the kind of things you start thinking about as you're a part of it. It's tough to have to deal with because you feel you're a part of the team and you feel in some ways you start losing your fire a little bit. You lose your edge to help the place pull out of it.
November, 15, 2013
11/15/13
9:45
AM ET
Former NFL player and executive (with the
Washington Redskins
and
Philadelphia Eagles
) Louis Riddick, who appears on ESPN's NFL Insiders, is always honest and insightful. Here's our conversation:
What are your thoughts on the Redskins? They were 3-6 a year ago and turned it around. Do you see similarities?
[+] Enlarge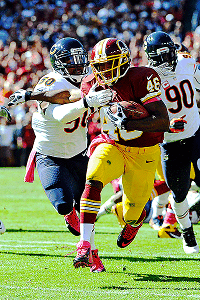 Brad Mills/USA TODAY SportsAlfred Morris is the key to a Redskins offense that's not designed to be overly reliant on the passing game.
Louis Riddick:
RG3 needs that [zone-read] component very much and their offense needs that. It makes them very inflexible in terms of being able to be successful on that side of the ball. If the run game is not going it has a snowball effect in a negative way because that line is not built to pass protect in a true dropback manner. RG3 is not built, and his skill set is not such, that he is a dropback passer who can play catch-up football and throw the ball all over the yard. He definitely needs the run game to be clicking and right now it is and you see how much better they are. Everything has to go right for them to score points. Defensively the secondary is still a problem. DeAngelo [Hall has] come up with interceptions. They've been more scheme-driven and bad decision-making on opponents' part than because he still has elite-level skills. He doesn't run like he used to and has to win at the line and can't play off-man coverage and has to win with his mind.
David Amerson
is still ridiculously inconsistent. You saw that in the Chargers game. That final drive when they tied it up they spun him around. It's not physical, it's mental. Some players never get that straightened out no matter how much you want to say with experience they'll grow and mature and become better. You never know. You hope he does.
Josh Wilson
's skills are deteriorating. The safety position has been a mess because of injury and performance.
Brandon Meriweather
is still a hammer, but he doesn't move the same.
Reed Doughty
is not a good cover guy. They put
E.J. Biggers
in there to play safety. Jim [Haslett] is trying to work miracles back there. London [Fletcher's] arrow is pointing down. I can see teams attacking him more in the middle of the field with the better tight ends and backs when they can get him one-on-one.
And as much as I like Brian [Orakpo] and Ryan [Kerrigan] because of their style of play and competitiveness, they can go long stretches [without anything]. They're going to have to catch lightning in a bottle. I'm not optimistic about it and I originally picked them to win the division.
How much should the salary-cap situation be a reason for their struggles?
Riddick:
Unless there was a free agent that they felt could have made a significant difference, we've all seen that is not a very consistent way to build a team and not a very productive way to build a team on a regular basis. Lower-round draft picks and college free agents, that's where teams can separate themselves from a scouting perspective and build depth that winds up playing significant roles on special teams. The cap didn't prohibit them from doing that. That's not taking a shot at their scouting department, that's just a reality. Ask the Dolphins where [free agency] led them. They had a lot of cap room and tried to take that approach. Ask the Eagles in 2011, who tried to get over the hump by applying that model. It doesn't work. When you're building your team it's not because of one year and a bunch of free agents you sign as to why you get better. That's a process that builds up over time. I don't like that argument.
How would you evaluate Orakpo and Kerrigan?
Riddick:
They're high motor, tough, consistent in terms of effort. Both are predominately power rushers, leverage rushers who want to get under your pads or use a long-arm stab bull rush and take the inside hand and put in the middle of your chest and drive you back to the quarterback. Brian has shown he can go high side, dip and skim the edge. Other than that if you watch him he doesn't have a consistent inside move; he doesn't have a package in terms of counter spins. Maybe he'll come inside off a designed call .… Ryan is very much the same way. If you have tackles that are fundamentally sound and can handle their power, they will be neutralized -- I don't want to say easily, but effectively.
How would you compare Alfred Morris to last year?
Riddick:
You know his strengths are his vision and consistency and center of gravity and ability to break tackles. I don't think he's better than last year. I think he's gotten stronger as the year has gone on. He's a guy who will give you exactly what you're seeing right now; he's doing what's asked within the confines of the offense.
Are there good pieces to build around?
Riddick:
Sure there is. At tight end,
Jordan Reed
is dynamite. You can't utilize him enough. The more creative you can get with him the better. He's very crafty and instinctive as far as working away from coverage. He has great hands and gets great yards after the catch. He can put up crazy stats.
Do you think there is a problem if the Redskins don't give Mike Shanahan an extension?
Riddick:
Sure … Even though you're dealing with professionals who are supposed to play hard no matter what, that's good as long as things are going good. But when things start to go bad that's when teams start to fall apart and lose direction and motivation and focus. That's not something you want to risk, especially at a place where you've been trying so hard to get over the top and return to the glory years.
September, 20, 2013
9/20/13
2:00
PM ET
Former NFL safety Louis Riddick spent seven years in the Redskins' organization, first as a scout and then as director of pro personnel. Then, from 2008-2013, he worked as a scout and eventually served as director of pro personnel for Philadelphia. So he knows the game from two perspectives: player and front office man. Here's what he had to say about
Robert Griffin III's
performance thus far. He was good, so I'm not wasting time using any of my thoughts.
Here you go:
[+] Enlarge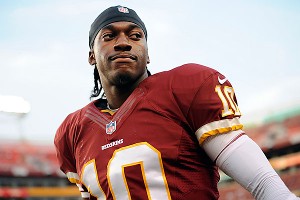 Geoff Burke/USA TODAY SportsFormer NFL exec Louis Riddick says opponents will pressure Robert Griffin III until he proves he can beat them throwing from the pocket.
On Griffin's progress:
"I know everybody says 'well he's not the same when the threat of running is not there,' when people don't think he's a threat on the perimeter on the zone-read to pull the ball and run. If he has to have that in order to be effective … there's more to play-action than just the threat of the zone-read itself. When
Kirk Cousins
is playing they still benefit from play-action because of
Alfred Morris
, because he can run the outside zone stretch. They still have the threat of the play-action pass game even though Kirk is not a runner. Denver did it for years. I played against it. When I was with the Rams and they had Elway and Terrell Davis, I got beat on a play like that where Elway ran an outside zone and I thought he was handing to Davis, and I come flying up from safety and he pulls up and Rod Smith is screaming across the field on a deep post. … What Robert has to demonstrate is that he can still be effective throwing the ball from the pocket going through reads and delivering the ball to
Santana Moss
and
Josh Morgan
and
Pierre [Garcon]
. He has to demonstrate that, or they have to throw caution to the wind and say if Robert is not operating the pistol and run[ning] the zone-read he's just another average quarterback. I wouldn't want to be them and saying that's the case given what they gave up to get him. If that's the case, then oh boy.
Colin Kaepernick
had moments where he's shown he can operate a more conventional shotgun or under center throwing the ball down the field. Maybe Robert needs to take off one time and put fear back into defenses … But you have to give him time. You just do. He's a one-year player. The expectations for him are ridiculous."
On what the extra pressure defenses are sending at Griffin tells him:
"A couple things. It tells me that until proven otherwise they don't believe Robert has the ability -- that he can identify different rush schemes knowing where he needs to go with the ball quickly and delivering it accurately -- at this point. Yet. They're also seeing issues with their pass protection. There's a lot of components that go into a quarterback's success. It isn't just all on Robert. Alfred Morris needs to play better; the receivers need to get open more; the line needs to block better. But what they're saying is, 'Robert, we don't think you can beat us just running Mike's old Denver offense. Show us you can. Show us you can play like Elway or
Jay Cutler
when the threat of the zone-read isn't there. We think you need to do that. Until you do, here we come.'"
More on the pressure:
"He has expressed in the past that he wants to be known as a well-rounded quarterback, as he should want to be. Teams are saying, 'Right now we're not expecting you to take off, so beat us with your arm.' That's just smart football. And people are taking advantage of the fact that he hasn't practiced [much]. All that stuff works against him. In his defense, you can't be out there just dicing people up like
Aaron Rodgers
right now. It's a perfect storm working against him, and he has to dig his way out of it. People have to be patient and adjust their expectations. Unless they just say 'the hell with it, we're back to 2012 and we're doing it.'"
On the criticism:
"It has to be tough on him. He's known nothing but success, this has to be killing him. People are saying put Kirk Cousins in. I guarantee if you ask people there and you're asked what bothers me more than anything is when people start suggesting that maybe Kirk should play. That has to kill him and burn him up. It's tough. I wish him the best. It's tough watching a young player go through that. But from an opponent's standpoint, they'll be coming like a pack of wolves after him until he shows he can fend them off again."
August, 16, 2013
8/16/13
12:00
PM ET
RICHMOND, Va. -- Every time second-year quarterback
Kirk Cousins
plays, he has a chance to make himself more valuable to the Redskins -- both as a backup and a potential trade chip further down the road. His importance as a backup is much more pressing, given
Robert Griffin
III's health (though he remains on pace to start the opener) and questions about his durability. Eventually, Cousins' value around the NFL will become more intriguing.
To get a look at his progress and his potential future value, I talked to former NFL executive (currently a part of ESPN NFL Insiders) Louis Riddick. After a six-year NFL career, Riddick spent seven years in the Redskins' organization, first as a scout and then as director of pro personnel. Then, from 2008-2013, he worked as a scout and eventually served as director of pro personnel for Philadelphia.
For those who enjoyed the newsletters I used to do, this is a similar format. Except that it's not coming to your email inbox. But, hey, it's still free so you'll get your money's worth. All the quotes are Riddick's.
Pre-NFL thoughts:
Let's start from the beginning, because it reveals what Riddick saw from Cousins when he played for Michigan State and it explains why, at least from one perspective, he lasted until the fourth round. It will also let you see how his thoughts have changed and how he thinks Cousins has improved. There were some areas Riddick had no doubts about Cousins: his football character, his off-field character, his leadership, his intelligence. He called Cousins an A-plus in every one of those categories.
Now, for his football assessment. First, the good: "He can make the plays that are supposed to be made. He can throw hitches and the three-step quick game. He can learn the offense and operate well within the offense and they don't have to scale down the playbook for him."
Now, the other side: "What I had problems with him at Michigan State was coming through for his team in crucial situations, whether it be third down or toward the end of the half and getting his team in the end zone or time to bring his team back. Those are the areas where I thought Kirk didn't always deliver on his end. I'm not saying it's all his fault, but I didn't think he always delivered."
Riddick noticed other attributes that made him pause, starting with his pocket presence.
"He would have issues getting rattled by the rush and locking in on primary targets and not being able to quickly find second and third options. On film you saw they were open but he couldn't get to them. Sometimes he couldn't get to them because his eyes went from downfield to looking at the rush. And there were times where, when his eyes did come down to the rush, his feet weren't able to get his behind out of harm's way and get his eyes back to, 'OK, where are my seconds, where are my thirds.' "
Last season:
More of the same from his college days. Don't forget: Cousins struggled for several drives in the pocket vs. Cleveland in what turned out to be a highly productive start (329 passing yards, two touchdowns, one interception; 104.4 passer rating). Getting him outside the pocket on bootlegs helped. So what did Riddick see in general?
"I saw a little of the same thing. Good in the short to intermediate game and timing and rhythm passes where his No. 1 option is open, but he still wasn't initially finding those second and third receivers, letting the ball go early before throwing window closed."
Improvements:
Cousins completed six of seven passes for 52 yards and a touchdown in the preseason opener against Tennessee. Riddick watched and saw an evolving quarterback. He saw a quarterback comfortable in the system.
"This is a guy who is getting the offense in and out of the huddle quicker; he has a soundness to him as far as his operation under center, his feet getting away from the center, getting the ball out of his hands with confidence, with quickness, with timing, with precision. He's hitting receivers in stride. He looks really good running their boot and play action game. He can make plays outside the pocket, throwing on the move."
Needs to see:
Cousins has played in five preseason games, made three relief appearances and one NFL start. There's still a lot more to learn about Cousins, especially for teams who, down the road, might try to trade for him. Or before some are convinced they know what type of quarterback he is, or will be.
"You want to see him do all the things against these vanilla defenses in the first two games in particular that he should be doing. He should be carving up very simple, rudimentary coverage schemes. It should almost be like 7-on-7 to some degree as long as he's not getting pressure. The third game is a stronger litmus test."
Specifically, Riddick said a team would like to see how Cousins reacts when there's more of a game plan to stop him and when he's throwing outside the numbers or pushing the ball downfield.
"Make all the throws that will get people excited as far as after the season is over, 'Is this a guy we have to try and make a play for a la
Matt Schaub
, a la
Kevin Kolb
.' I'm interested to see him continue to progress."
Determining value:
Obviously the Redskins aren't about to trade Cousins. But at some point that could be an option. If he keeps progressing, then when his contract is up it would make sense for him to seek a starting job elsewhere (assuming Griffin remains healthy and productive). Riddick said evaluating quarterbacks on film is the "hardest thing to do in this profession" because you need to know what's going on inside their heads
"No amount of film will tell you that. It's something you have to sense that, OK, I get a feeling this guy is coming on. There's no play or sequence of plays where it clicks in your head where you say, 'I've seen it now.' It comes over time where you've seen it in other quarterbacks and you can sense it in a quarterback still on the [rise] who you're still trying to project how he's going to do."
Some teams like a big sample size, but that can be difficult. So, Riddick said, a team would like to see how a quarterback plays when he has a week to prepare, how he fares on the road, how he plays against division opponents, how he handles end-of-half or end-of-game situations or when his team is trailing. In Cousins' case, he won on the road and threw a late touchdown pass and scored on a quarterback draw to tie Baltimore late, though it was Griffin who put them in scoring range. Cousins threw two interceptions late in relief vs. Atlanta.
"You don't know how big an exposure to him you'll get so you want the exposure you do get to focus on those situations. When that's all done you go back and look at his college stuff, as far as character and what makes him tick and what mental makeup he has and you find out how that has transferred to his time in Washington. ... People aren't as willing to give up information like that, especially if you're trading with Washington for him. It's not like they're willing to try and help you out and give you all the inside information. It's not their obligation to tell you everything. So you hit up all the resources you can so you reach a comfort level to where we say, 'We're comfortable taking a risk on a guy who is a backup who we're now projecting to be a starter.'"