April, 19, 2013
4/19/13
12:00
PM ET
»
NFC Eight in the Box
:
East
|
West
|
North
|
South
»
AFC
:
East
|
West
|
North
|
South
What would be the ideal first-round scenario for each NFC East team in next week's NFL draft?

Dallas Cowboys
Because of the perceived lack of top-level skill-position talent in this year's draft, a lot of the mock drafts and projections have the top offensive linemen going off the board early.
Mel Kiper Jr.'s latest mock

, for example, has six offensive linemen going in the top 12 picks, which means well before the Cowboys pick at 18 and probably too early for them to make a sensible trade-up to grab someone like Alabama guard
Chance Warmack
or North Carolina guard
Jonathan Cooper
. This would be unfortunate and far from ideal for the Cowboys, but history offers hope. The last time six of the first 17 picks in the draft were offensive linemen was 1966, when there were only 15 teams in the league. Only three times since then -- 1977, 1985 and 2008 -- have as many as five offensive linemen been picked in the top 17. The Cowboys probably can't expect any of the top three tackles to fall to them, but their ideal first-round situation would be for Warmack, Cooper or even Alabama tackle
D.J. Fluker
to fall to 18 and allow them to shore up their most significant area of short-term and long-term need. If only one of those guys is still available by 14, the Cowboys should look into trading up to get him.

New York Giants
The Giants live for value in the first round, so their ideal scenario is that someone who's very high (say, top-10) on their draft board falls to them at No. 19. It happened two years ago, when they were picking in the exact same spot and were stunned to find cornerback
Prince Amukamara
still there. It could happen again, especially if the Cowboys get their aforementioned wish and those offensive linemen drop into the second half of the first round. Although the Giants haven't picked an offensive lineman in the first round since 1999, the value on someone like Warmack or Fluker, if either is still there at 19, might be too good to pass up. It's easy to look at linebacker as a glaring need and project someone like
Alec Ogletree
here, but the Giants haven't taken a first-round linebacker since 1984, and it's unlikely they have a first-round grade assigned to any linebacker in the draft. The Giants' ideal scenario is not to draft for need but to wait and hope some highly talented prospect at one of their premium positions (
Tavon Austin
?
Kenny Vaccaro
?
Dee Milliner
?) drops into their laps.

Philadelphia Eagles
Sitting at No. 4 in the first round, the Eagles probably would be excited to see one of the draft's top two tackles --
Eric Fisher
or
Luke Joeckel
-- available to them at that spot. Drafting one of those players would allow the Eagles to move
Todd Herremans
inside from right tackle to right guard, play the rookie at right tackle and groom him to replace
Jason Peters
eventually at left tackle. It's an immediate-need pick and a future building-block pick all wrapped up in one package. The Eagles also probably would be happy to take a defensive lineman like
Star Lotulelei
or a pass-rusher like
Dion Jordan
here, but in my opinion the tackle scenario is more ideal given their situation. I also think part of their ideal situation would include a drop for West Virginia quarterback
Geno Smith
, which would allow them to trade back into the first round to take him somewhere in the 20s, as Kiper suggested in
his recent "Grade A" draft post

.

Washington Redskins
As a result of last year's trade for quarterback
Robert Griffin III
, the Redskins don't have a first-round draft pick and don't pick until 19th in the second round, so a trade-up into the first is unlikely. Their ideal first-round scenario is that the teams picking in the first round believe they can wait on safety and cornerback, and that some of the top players at those positions of significant need are still there by the time Washington starts picking at 51.
March, 30, 2013
3/30/13
10:50
AM ET
Been a few months now since we took the mailbag to Twitter, and I think we can all agree the improvement is tremendous. All you have to do is tweet a question using the hashtag #nfceastmail, at any time during the week, and then at the end of the week I go find the list of questions and pick out a few to answer. Like these here.

March, 15, 2013
3/15/13
10:00
AM ET
The
Philadelphia Eagles
entered free agency with oodles of salary-cap room, and they have signed eight players already. Seven of them are defensive players, but they're at a variety of positions -- safeties, cornerbacks, linebackers and a nose tackle. This is a team that went 4-12, changed coaches and has a lot of needs, and it's working to address them all.
Philadelphia also has the No. 4 pick in next month's draft, and I think the work the Eagles have done this week has had an important effect on what they'll be able to do with it. Specifically, I think the work they have already done this offseason will allow them to select the best player available, regardless of positional need. When you can operate your draft like that, you're a happy franchise.
[+] Enlarge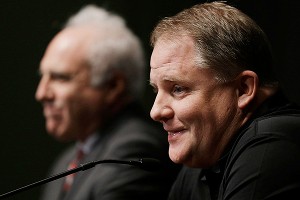 AP Photo/Matt RourkeFree agency has afforded new coach Chip Kelly and the Eagles flexibility in the draft.
They want to draft Alabama cornerback
Dee Milliner
? Sure. I mean, they already signed
Cary Williams
and
Bradley Fletcher
, but you can't be too deep at corner and it's possible Milliner is better than either of those guys. Might be able to bring him along slowly, not ask too much of him in his rookie season since they are covered at the position. And if those other two guys play great, you have great depth and options on next year's market.
They want to pick one of the big tackles,
Luke Joeckel
or
Eric Fisher
if they fall to No. 4? Why not? Even if they sign a free-agent right tackle, as I think they might, they don't know how
Jason Peters
is going to come back from those Achilles injuries. And the Eagles surely learned last year the importance of having depth on the line.
A defensive tackle? A pass-rusher? Can't have too many of those. The Eagles' new defense looks as though it's going to be varied enough to allow (or even require) them to rotate players in and out in different situations. Draft, develop and build your defensive program around what you have. The more talent to work with up front, the better.
And how about a quarterback? What if the past couple of weeks have changed the Eagles' opinion on West Virginia's
Geno Smith
as the possible answer at franchise quarterback? Wouldn't it be nice to be able to take him at No. 4 because you already addressed your other needs weeks before the draft? The Eagles may well find themselves in such a position -- able to pick a quarterback at that spot if they fall in love with one.
This is the benefit of all that cap room the Eagles had when this week began. They're able to find all kinds of pieces to fit all kinds of holes. When draft day rolls around and they tell everybody they took the best player available, it's going to be easy to believe them. Because they won't be caught in that not-very-fun position of having to draft for immediate need.
March, 8, 2013
3/08/13
2:35
PM ET
Does anyone feel as though I've been writing too much about offensive lines lately? No? Good, because that's what this post is about.

Jeff McLane of the Philadelphia Inquirer
analyzed the free-agent offensive line landscape as it pertains to the
Philadelphia Eagles
. I know we've mainly focused on defense with the Eagles this offseason (and quarterback, which remains an apparently unsolvable mess), but the offensive line situation in Philadelphia is an interesting one. The best way for them to improve is for the starters who missed time last year due to injury --
Jason Peters
,
Jason Kelce
and
Todd Herremans
-- to return to full health. That would drastically improve things on the line, and there appears to be a strong chance that happens. But even if it does, the Eagles could tinker with the right side of their line in an effort to improve there:
If Peters, Kelce, and Herremans return to their pre-injury form, the Eagles should be fine. But there's still an issue with Watkins at right guard, and Mathis (31 years old), Peters (31), and Herremans (30) aren't getting any younger.

The aging of the line's core suggests that the Eagles could use the draft -- and perhaps the fourth overall pick -- to add youth. They could target one of three tackles (Luke Joeckel, Eric Fisher, or Lane Johnson) or a guard (Chance Warmack) with their first-round pick.

The Eagles could instead stock their line with some later-round picks and use free agency to fill the one glaring hole on the line. Of the Eagles' current starting five, only Watkins -- a 2011 first-round pick -- was taken before the third round.

One player the Eagles could consider is right tackle Eric Winston, who was released on Wednesday by the Chiefs.
I like the idea of a tackle for the Eagles at No. 4 because of the flexibility it offers them. It would be someone who could play left tackle if Peters can't make it all the way back from his devastating injuries of last summer or someone who could play right tackle, move Herremans back inside and perhaps someday take over at left tackle when Peters is done. Makes a lot of sense.
If they decide they would rather take a defensive lineman or cornerback
Dee Milliner
at that spot, Jeff points out that the free-agent market for right tackles is very deep. Winston is one option, as are
Andre Smith
and
Sebastian Vollmer
. With all of the cap room they have, the Eagles could target and likely sign anyone they want.
The plan of getting a right tackle, moving Herremans back to guard and cutting the cord on
Danny Watkins
makes a lot of sense for the Eagles. The line was supposed to be a strength of their team last year, and if everyone hadn't got hurt, it likely would have been. The lesson is that depth and flexibility at those positions is something for which to strive.
January, 5, 2013
1/05/13
10:00
AM ET
Welcome to this week's edition of the Twitter mailbag, which can be accessed at any time simply by tweeting a question with the hashtag #nfceastmail. I go through them all at the end of the week, and the result looks a little something like this.
@mcintosh37:
I know he is playing, but make a case for
London Fletcher
as a 1st Ballot HOFer?
@ESPN_NFCEast:
This came up in the
Washington Redskins
' media room the other day in light of the retirement announcement of
Baltimore Ravens
linebacker
Ray Lewis
. The specific question was why Fletcher, whose career résumé is quite similar to that of Lewis, isn't treated with the same kind of superstar respect. Redskins cornerback
DeAngelo Hall
said in interviews this week that he'd take Fletcher over Lewis, and I think most people who played with Fletcher do hold him in the same kind of regard as Lewis' teammates have for him. The big differences, as I see them, are in public personality and turnovers. Lewis is a much more outwardly visible and vocal leader than ... well, than anyone. Maybe ever. And I mean, like, in politics, too, not just football. Lewis has been an inescapable presence on TVs and video screens for more than a decade. I feel as though he's been "miked up" for every game of his career. Sometimes it looks as though he's performing, though those who know him insist it's all genuine. The end result, though, is that he gets a great deal more attention than a quieter leader such as Fletcher might get. But statistically, where Lewis outpaces Fletcher is in the category of big, game-changing turnovers. They're even or close to even in terms of years, games played, tackles, Super Bowl titles and even sacks. But Lewis has collected 50 turnovers in his career -- a stunning number at the linebacker position. Fletcher has 35, which is a more reasonable number. In the end, I'd say Fletcher probably should be a Hall of Famer, but he's not as obvious a Hall of Famer as Lewis is. Fletcher's underappreciated and Lewis is probably a bit overappreciated, but they're both great players who deserve that consideration.
---
@bomb_odnar:
does Jerry cut Ratliff after this season? Could that possibly open up cap space like the Newman cut last year?
@ESPN_NFCEast:
Cutting
Jay Ratliff
would certainly help the
Dallas Cowboys
against the cap, and after he and owner/GM Jerry Jones had it out in the locker room during the season, you wonder if it's more of a possibility. But recall this about the
Terence Newman
case from last year: Newman was cut because the Cowboys decided he was playing too poorly and they needed to upgrade at that position, which they did with their big free-agent signing as well as their first-round draft pick. Replacing Ratliff would be more difficult, and with
Josh Brent
's status in doubt as a result of the intoxication manslaughter charges he's facing, there's no ready replacement on the roster. Ratliff isn't super-safe, but if I had to guess I'd say he's back since they don't have better options available to them and they need help in other places on the defensive and offensive lines.
---
@DuaneWhittaker:
What are the Eagles likely going for at #4 at the draft. Is Nnamdi there next year?
@ESPN_NFCEast.
Ah, two questions in one! A lot of the
Philadelphia Eagles
can't be answered until we find out who the new head coach is going to be, as he'll be involved in many of the decisions. In a vacuum, though, I'd take an offensive tackle with that No. 4 pick. Someone like Texas A&M's Luke Joeckel, if he lasts that long. Don't rule out the possibility that one or more of these quarterbacks sees his draft stock rise between now and the draft, though, and if whoever the new coach is likes someone better than he likes
Nick Foles
, they could certainly take a quarterback with that pick. As for
Nnamdi Asomugha
, the disappointing cornerback, he'll have to restructure his deal if he wants to stay in Philadelphia. If he were willing to do that, I believe they might bring him back for another chance and work instead to beef up at safety.
---
@OilCountry10:
Do you see The Giants drafting a corner to replace Webster ?
@ESPN_NFCEast:
Corey Webster
certainly had a disappointing season at cornerback for the
New York Giants
, a year after he was excellent as one of the cogs of their Super Bowl title team. So the question now is what the Giants think about him. Is he done? Did he just have a bad year? Will he bounce back? I doubt they've made that decision yet. I will say, though, that they used their first-round pick on cornerback
Prince Amukamara
in 2011 and their third-round pick on cornerback
Jayron Hosley
in 2012, so resource-wise they're pretty heavily committed there. They need help on the offensive line, and while they haven't used their first-round pick on an offensive lineman since
Luke Petitgout
in 1999, it may be time to think about a franchise-caliber piece at tackle. Even if
Will Beatty
is growing into the role, it wouldn't be the worst thing in the world to have bookends at that position. The most likely scenario for the Giants is always drafting a pass-rushing defensive lineman in the first round, and with
Osi Umenyiora
leaving and questions about
Justin Tuck
having surfaced this year, that's probably the way I'd bet. If I bet. Which I don't.
Thanks for the questions. Back with more this time next week.