October, 22, 2013
10/22/13
5:15
PM ET
PHILADELPHIA --
Michael Vick
talked to reporters Tuesday for the first time since a new
Forbes.com poll
declared him the "most disliked" active player in the NFL.
Vick
After talking about practice, potentially starting Sunday against the
New York Giants
and the progress of his injured hamstring, Vick was asked about the dubious distinction.
"I care nothing about that," Vick said. "I care nothing about people that dislike me. I care nothing about people who still have ill feelings about me. What matters most to me is the people I do know care about me. That's something you can never take away from me."
According to the poll, 53 percent of respondents named Vick as an NFL player they disliked. San Diego linebacker
Manti Te'o
was second at 48 percent, followed by
Detroit Lions
defensive lineman
Ndamukong Suh
and
Pittsburgh Steelers
quarterback
Ben Roethlisberger
.
It has been four years since Vick was released from federal prison, where he served 18 months for charges resulting from a dogfighting ring. Vick was reinstated by NFL commissioner Roger Goodell in 2009 and signed with the Eagles that August.
He has not been in any kind of trouble since then. He has gotten a few endorsement deals. Still, his image clearly remains tarnished.
"I don't feed into all that," Vick said. "People are entitled to their own opinions, and I respect it. Just let me do what I do, let me be me. As long as I have my freedom, my health and my family, nothing else matters."
October, 21, 2013
10/21/13
2:55
PM ET
The
Forbes.com poll
that lists
Philadelphia Eagles
quarterback
Michael Vick
as the most disliked NFL player, four years after his release from prison, is both surprising and unsurprising.
It is surprising because Vick's behavior has been exemplary since he was reinstated in 2009 by NFL commissioner Roger Goodell. But perceptions linger, and a breakdown of the data by E-Poll Market Research shows Vick was better liked by those who identify themselves as close followers of the NFL. In other words, people who have paid closer attention to Vick have less lingering animosity than those who have not.
It is unsurprising for a few reasons. First, the poll asked only about active players with name recognition of at least 10 percent among those polled. That rules out
Aaron Hernandez
, the former
New England Patriots
tight end who is facing charges in a murder case. And it rules out lesser-known players who have been suspended or investigated for various offenses.
The polling also says much about the way perceptions linger, whether fair or unfair. San Diego rookie linebacker
Manti Te'o
was second to Vick on the list, with 48 percent saying they disliked him. Te'o didn't commit any felonies or serve any prison time. He was merely caught telling an untrue story about a non-existent girlfriend.
Perceptions about Vick, named as disliked by 53 percent of those polled, don't change easily. Those who see him as the Eagles' best hope to win now and in the future under Chip Kelly don't seem to grasp that he is 33, injury prone, and has been the franchise quarterback through 8-8, 4-12 and now 3-4 seasons. The Eagles were 1-3 in the four games Vick started and finished this season. He has not won a playoff game since the 2004 season.
Just as Vick's fans see him as the dynamic player he was early in his career, and for brief flashes in 2010 and this year's season opener, his detractors see him as the unsavory character that killed dogs, ran an illegal dogfighting ring and once flipped off Atlanta fans who booed him.
The reality: It is somewhere in the middle. Vick has said many times that he knows some people will never forgive him, and he has publicly been a very humble man. He has diligently paid back the money he owed creditors after being forced into bankruptcy. It has also been said often that Vick could make people forget his past by leading the Eagles to the Super Bowl. He hasn't exactly been that player, either.
April, 27, 2013
4/27/13
6:30
PM ET
»
NFC draft analysis
:
East
|
West
|
North
|
South
»
AFC
:
East
|
West
|
North
|
South
The draft started off heavy in the NFC East, as the three teams with first-round picks this year used them on offensive linemen. And while there were a few little surprises and treats along the way, it never really got hot. All four of the division's teams had workmanlike drafts that balanced need and value and didn't stray into any of the juicy storylines. No
Manti Te'o
,
Geno Smith
or
Tyrann Mathieu
for us.
There was a trade-down in the first round, as the
Dallas Cowboys
moved out of a No. 18 spot they didn't like and still managed to get their first-round offensive lineman, while adding a third-rounder to the mix. There were two trade-ups in the fourth round, as the
Philadelphia Eagles
and the
New York Giants
maneuvered to add quarterbacks in surprising moves. And there were the
Washington Redskins
, without a first-rounder but fine with it because they have
Robert Griffin III
, who waited it out and got two talented safeties in the late rounds for a secondary that needs rebuilding.
We'll be breaking this all down for days and weeks and months, but here's a quick early look at the way the 2013 draft went in the NFC East.
BEST MOVE
In the absence of any earth-shaking moves in the early rounds by NFC East teams, I'm going to have to go with the Eagles taking tackle
Lane Johnson
at No. 4. They probably could have traded down and out of the pick, but this was a draft in which six offensive linemen went in the first 11 picks, and the value of the third-best tackle with the fourth pick was worth hanging in there. After what happened to their offensive line with injuries in 2012, the Eagles were wise to load up there, taking an athletic player who can start at right tackle right away and maybe move to left tackle down the road once
Jason Peters
is done. It also helps that Johnson is the kind of lineman who can move. If Chip Kelly plans to run a lot of read-option, or even a lot of bubble screens, Johnson's ability to get out and block at the second level is going to be a big help.
Also considered: The Eagles' trade-up for quarterback
Matt Barkley
at the top of the fourth round. ... The Redskins' getting two quality safeties in the fourth and sixth rounds in
Phillip Thomas
and
Bacarri Rambo
. ... The Cowboys trading down in the first round and getting wide receiver
Terrance Williams
with the third-round pick they added in that deal.
RISKIEST MOVE
[+] Enlarge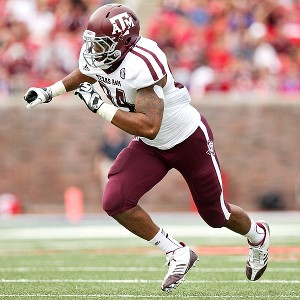 Thomas Campbell/US PresswireDamontre Moore put up impressive numbers at Texas A&M, but he has to disspell concerns over his work ethic and attitude at the next level.
There weren't any real big risks taken by NFC East teams with their most valuable picks in the first and second rounds, I didn't think. So I'm going with defensive end
Damontre Moore
, who went to the Giants in the third round. Moore is a big-time talent with big-time production numbers in college -- 12.5 sacks last year, 26.5 over the past three. But there are good reasons a player as good as he is was still there at pick No. 81, and in Moore's case those reasons include a marijuana bust and a reputation as a young man who struggles with attitude and work ethic.
Now, Moore is just 20 years old, and it's wrong to assume anyone that age will always be what he has been so far. But Moore is the player from this draft whose job it is to bolster the future of the Giants' pass rush with
Osi Umenyiora
gone and
Justin Tuck
aging. If he's a solid citizen and produces the way he did at Texas A&M, he's going to be a steal. If he's an attitude case who doesn't take to coaching and causes problems, the Giants are going to have to keep looking for long-term solutions at defensive end in the next several drafts. A third-round pick isn't too much to risk on a player with Moore's potential, but it's a pick with which the Giants could have found help elsewhere. So if he does flop, they will regret it.
MOST SURPRISING MOVE
The Eagles pulled the surprise of Day 3, moving up three spots to the top of the fourth round, where they selected USC quarterback Matt Barkley. Most analysts were convinced Kelly would seek a fast, athletic, running quarterback when he finally pulled the trigger on that position, but Barkley was a pro-style pocket passer at USC and doesn't fit the "system" everyone seems to be assuming Kelly is determined to run now that he's in the pros. As you know if you read this blog regularly, I think that's hogwash and that Kelly is smart enough to know that the best way to coach is to find talented players and figure out the best way to coach them -- not come wading in with your own "system" and only look for players who fit it.
Kelly knows Barkley from coaching against him in college, and Barkley is a guy who a year ago was thought of as a possible No. 1 overall pick. If 2012 was just a bad year for him and he ends up being a good NFL quarterback, nobody's going to care that he can't run the read-option. For a fourth-round pick and a seventh-round pick, which is what it cost the Eagles to move up and take him, it's a worthwhile risk. And it leaves Kelly with a lot of options at the most important position on his team as he begins his first offseason as an NFL coach.
The Giants pulled a surprise of their own later in the round, trading up six picks to select Syracuse quarterback
Ryan Nassib
to develop behind
Eli Manning
. The 32-year-old Manning hasn't missed a game since 2004, so it's unlikely Nassib sees the field anytime soon. But the Giants decided it was time to start thinking down the road at the position.
FILE IT AWAY
I liked the Cowboys' first round more than most people did, because I thought they absolutely needed to come out of that round with an offensive lineman, and they did. And while
Travis Frederick
may have been a reach at 31, reaching for an offensive lineman wasn't a bad move for this particular team in a draft in which eight offensive linemen went in the top 20 picks. They traded down from 18 and got the pick that netted Frederick and the third-round pick that netted wide receiver Terrance Williams, and they like that pair better than they liked what was available to them at 18.
But they won't have to look far to remember what might have been. The Giants took Syracuse offensive lineman
Justin Pugh
at 19, which means the Cowboys could have stayed put and picked up a better-regarded lineman than Frederick (though, obviously, not also get Williams in the third). If Pugh turns out to be a great player for the Giants and Frederick flops in Dallas, the Cowboys could end up regretting the Day 1 trade-down in the long run.
April, 25, 2013
4/25/13
2:26
PM ET
Where they're picking:
19
Conventional wisdom tells us
the
New York Giants
are a "best-player available" team that uses the draft not to address specific areas of immediate need but rather to augment and maintain a deep roster from year to year. That means the player they take at 19 is probably going to be the highest remaining player on their board, and possibly someone who falls from a projected top-10 slot the way
Prince Amukamara
did two years ago. So the mock drafts have the Giants taking anyone from tackle
D.J. Fluker
to linebacker
Alec Ogletree
to cornerbacks
D.J. Hayden
or
Xavier Rhodes
or
Desmond Trufant
, but the Giants are generally content to wait and see what gem may fall into their laps.

History tells us
that, while the Giants do stick to their board, they do apply their own beliefs about position values when assembling that board. So that while someone like Ogletree or Fluker may be the objective "best player available" at 19, he may not be the highest-ranked player on the Giants' specific board. It has been 29 years since they took a linebacker in the first round and 14 since they took an offensive lineman. And while, yes, it had been 12 since they took a running back before they picked
David Wilson
last year, that was the 32nd pick in the round and their pre-2000 history shows that running back is a position that carries first-round value for them. They were able to ignore it for a while due to the success of
Brandon Jacobs
and
Ahmad Bradshaw
, who are now both gone. Recently, the Giants have seemed to like taking defensive backs. They've taken one with their first pick in four of the last eight drafts.
They probably won't
trade up. It would be unlike the Giants to identify a specific player or need and give up later picks in order to move up in the first round -- especially since their biggest needs are at positions to which they don't generally assign first-round value. That No. 19 spot feels like a comfortable spot for the Giants, who will likely find a player who can develop in their system and work his way into a starting job over the next year or so.
They could shock us by
taking Notre Dame's
Manti Te'o
. He'd be their first first-round linebacker since Carl Banks, so it would be a heck of a statement about what they think of him as a prospect. But it would be shocking for a number of reasons that have nothing to do with the Giants' draft history or established organizational philosophy about linebackers. Te'o comes with weird off-field baggage, the likes of which the Giants don't need in their market. He's tested poorly in the pre-draft process and he was beaten like a rug in his last college game. Some have connected Te'o with the Giants during the mock-draft period, but I'd be surprised if they broke a 29-year first-round linebacker drought for him.
My prediction:
I took cornerback
Desmond Trufant
for the Giants in the ESPN blogger mock draft earlier this week, and the reason I made that pick was because he was the highest-ranked defensive back left on the Scouts Inc. board at that time. If cornerback
Dee Milliner
or safety
Kenny Vaccaro
drops this far, I believe the Giants will run to the podium to draft him. Otherwise, Trufant, Rhodes, Hayden ... all good guesses, as are the Florida State defensive linemen.
April, 25, 2013
4/25/13
8:00
AM ET
Draft day, people. The day on which you'll finally get to start finding out which members of the least exciting NFL draft class in recent memory will be disappointing you and your team come September. Can you feel the excitement?
Well, can you at least click the links? There you go. Click the links. It'll make you feel better.
Washington Redskins
A few people have asked what the chances are that the Redskins find a way to trade up into the first round of this year's draft. They'd have to move up 19 picks. That's a pretty tough trick, and Mike Shanahan certainly doesn't sound as though he plans to be picking anyone until Friday night. He does, however,
sound like a man at peace
, and that's because he got his quarterback last year.
The Redskins could look to add pieces to their offensive line in the middle or late rounds, but they don't feel pressed to find starters, since they're bringing back their starting five offensive linemen from last year.
Robert Griffin
III, the aforementioned quarterback,
is happy about that
.
Dallas Cowboys
Like every other team in the first round, the Cowboys have made noise in recent days about trading down.
Tim MacMahon has a look
at Jerry Jones' history of doing so. Some good, some bad.
If the Cowboys were to trade up tonight, it likely would be for someone like North Carolina guard
Jonathan Cooper
, who
hopes he's long gone
by the time the Cowboys' pick rolls around at No. 18. Not because he doesn't like the Cowboys, mind you, but because he wants to get picked earlier than that.
New York Giants
If you know what the Giants are going to do at No. 19 tonight, please call me. Because I can't even make a good guess.
Ralph Vacchiano wonders
if they might take controversial Notre Dame linebacker
Manti Te'o
. Tough for me to imagine, but in this draft anything's possible I guess.
The Giants haven't drafted a linebacker in the first round since 1984. By comparison, the stretch since they last drafted a first-round offensive lineman (1999) is relatively short. Could Alabama's
D.J. Fluker
be
their man
? If I had to put money on it, I'd still say defensive back or defensive lineman. But I'm real glad I don't have to put money on it.
Philadelphia Eagles
Sharrif Floyd
seems to have obtained a sense of what the Eagles plan to do on defense under Chip Kelly. And while he's been dismissed in some circles as a poor fit because he's more of a 4-3 guy and everybody thinks the Eagles are going to run a 3-4, Floyd says
it's not that simple
and that he'd be able to do what the Eagles need him to do should they make him the No. 4 pick tonight.
We do not know what the Eagles will do in the draft either, but Jeff McLane thinks he knows a few things
they won't do
, including take an Oregon pass-rusher just because that's the school at which Kelly used to coach.
April, 23, 2013
4/23/13
8:00
AM ET
Oh yeah. That's right. Today at noon is our ESPN.com blogger mock draft, in which I and my fellow division bloggers make the first-round picks for the teams in our respective divisions. Trades are allowed and encouraged. It's a good time, and you should drop whatever you're doing at noon and come right back here to the blog to follow along, comment, whatever you like. You know you're not going to be thinking about work today anyway, what with the draft two days away. So please, come join in.
By then you should have digested your links.
New York Giants
John Mara says a
long-term deal
between the Giants and wide receiver Victor Cruz will be done in time. And while the dispute between the two sides about Cruz's relative worth as a slot receiver or a No. 1 receiver or whatever is significant, Mara's statement likely reflects the reality that it's best for them both that the long-term deal get done to keep Cruz in New York. I think he's right that the way this ends is with Cruz in a Giants uniform for a long time. I just think it'll be a bumpy road to the finish.
Tom Rock makes a good point about the Giants potentially drafting guys with off-field issues like Manti Te'o and Tyrann Mathieu -- namely, that they have the locker-room and coaching-staff
infrastructure
to handle guys like that the right way and bring them along in their program. Still don't see them breaking a 28-year stretch of not taking linebackers in the first round with Te'o.
Philadelphia Eagles
Fletcher Cox is looking ahead to a second straight year of
significant change
, as the Eagles' 2012 first-round draft pick learns a new coaching staff and defensive scheme.
Phil Sheridan thinks the best thing for the Eagles to do with the No. 4 pick in Thursday's draft is to
keep it
and draft a very good player -- i.e., not trade down. Sheridan is a wise man, and 100 percent correct. The Eagles don't need quantity. They have lots of good players. They need a franchise building block, and they'll find one at No. 4.
Washington Redskins
Keith McMillan ponders the question of whether the Redskins should try and
trade their second-round pick
this year for a first-round pick next year. I mean, sure, yeah, if they could. But do other teams really do that? I don't see it. And with their cap problems, the Redskins kind of need to try and find a 2013 starter there in the second anyway.
The Redskins really liked safety Jordan Bernstine coming out of training camp last year and likely could have used him as the secondary suffered so many injuries along the way. If he recovers from the significant knee injury he suffered in last year's season opener,
Bernstine could be a factor
in this year's secondary. Surely, it appears, there will be opportunity.
Dallas Cowboys
Jerry Jones says the Cowboys "
really are in good shape
" on the defensive side of the ball leading up to the draft. That could be interpreted as a clue that they'll spend their first-round pick on an offensive lineman, which they absolutely 100 percent should. Or it could be useless pre-draft words from a team owner/GM who has no interest in divulging clues about his team's actual plans. Or it could be both. You use it however you want.
DeMarcus Ware clarified that "
put up or shut up
" comment from a couple of weeks ago, which everyone breathlessly rushed to take as a shot at Tony Romo. I don't think he needed to clarify it, but I guess I'm in the minority.
March, 8, 2013
3/08/13
8:00
AM ET
Washington Redskins
While it now appears that inside linebacker London Fletcher will return to the Redskins for the 2013 season, it's still important for the Redskins to be planning for
what they'll do
when Fletcher is no longer around.
Can Richard Crawford be part of the 2013 answer for the Redskins' secondary. He showed some flashes in 2012, and obviously will be around to help in the return game. But is it possible he could
show enough
this offseason to earn a significant role in the defense next year? The Redskins' cap concerns means he's likely to at least get an opportunity.
New York Giants
The Giants cleared a good chunk of cap room Thursday with a pay cut for Corey Webster and a restructure for David Baas. But
as Ohm Youngmisuk writes
, they still have a lot of decisions to make about their own free agents and others in the coming days and weeks.
Some have suggested Manti Te'o for the Giants in the first round, but listening to Tom Coughlin talk doesn't make you feel as though that's something the Giants
have any interest
in doing.
Dallas Cowboys
The latest in ESPNDallas.com's free agency series looks at the
offensive tackle market
and the Cowboys' need there, which is significant. I kind of agree with Tim MacMahon here that the Cowboys won't be able to pay for the top guys on the market, and that settling the way they did at guard last year is a recipe for more trouble.
I still don't think the Cowboys plan to trade Anthony Spencer or could find a great deal for him if they wanted to, since whoever acquired him would have to give up a draft pick and then find a way to pay him. But since it's out there, the guys at
dallascowboys.com
take a look at what he might fetch in a trade. I agree that they'd want more than a third-rounder for him. I don't think they'll find that. Which is why I think he plays for the Cowboys in 2013.
Philadelphia Eagles
Les Bowen reports that the Eagles are
indeed interested
in Eric Winston, the veteran right tackle cut by Andy Reid and the Chiefs on Wednesday. As I wrote Thursday, they ought to be. Putting Winston at tackle and moving Todd Herremans to guard would give the Eagles a formidable offensive line in 2013, provided everyone else comes back healthy.
The Eagles have more than a mess in the secondary, and
Geoff Mosher has a look
at how they got there, and what they might be able to do to climb out of it.
February, 27, 2013
2/27/13
8:00
AM ET
Washington Redskins
Tight end Fred Davis has made a rapid recovery from his Achilles injury and has been
cleared to play
. The question now is whether he can or will play for the Redskins, who have some tough choices to make as they negotiate their cap problems in advance of free agency. I've been thinking for a while that Davis could stay in Washington on a long-term deal with a low 2013 base, but Rick Snider seems to think he's the
odd man out
.
This is the
latest from Maske
on the Redskins' continuing fight against the cap penalties. Still say I'll believe the legal action thing when I see it and not before. The idea that they're publicly threatening such things in an effort to convince the league to grant them some relief is more plausible, though I don't expect it will work.
New York Giants
Giants GM Jerry Reese said he wouldn't rule out Notre Dame linebacker Manti Te'o because of his off-field controversy, but he might do so for on-field reasons. Te'o didn't help himself with his 40 time at the combine, and
Ohm seems to think
the Giants would be better off passing if he were still there at pick No. 19 in the first round of the draft in April. I agree with Ohm, who is wise.
Even if Osi Umenyiora leaves as expected in free agency,
Mike Eisen believes
the Giants will continue to use Mathias Kiwanuka as both a linebacker and a defensive end. Certainly, Kiwanuka's versatility in this regard has been a boon to the Giants the past couple of years, and they're likely to continue to lean on it as they figure out how to restructure their front seven.
Dallas Cowboys
Todd Archer speculates that the Tony Romo contract extension to come could be a
five-year extension
that takes Romo through the 2018 season as a Cowboy. He also has a coach telling him Romo would be the highest-paid player on the free-agent market this offseason if he were actually a free agent. Which isn't a big surprise. Throw any top-1o quarterback in the league onto the open market and he'd get the biggest deal. That's why teams don't let that happen. Unless the guy's hurt and they're about to draft Andrew Luck. Then, it's OK
.
Rowan Kavner thinks
the Cowboys could go with Phil Costa at center if they upgraded at guard, and I think he's probably right. Costa played fairly well when he actually did play in 2012, and if he can stay on the field he could develop into a good player for them. It's not crazy. And as we have discussed, it's not realistic to think they're going to run five Pro Bowlers out there.
Philadelphia Eagles
Alabama cornerback Dee Milliner ran the heck out of his combine 40, and Sheil Kapadia thinks that's good news for the Eagles on
a number of levels
. First, Milliner is a strong option for the Eagles with the No. 4 pick in the first round. And second, since everybody knows he won't get past the Lions at No. 5, the Eagles could find themselves fielding decent offers for that No. 4 pick if some team is determined to trade up and take Milliner before Detroit does.
Another strong option at that No. 4 pick could be Oregon pass-rusher Dion Jordan.
The new coach knows him
.
February, 25, 2013
2/25/13
8:00
AM ET
Good morning. Good to be back. Since I've been off for five days and the combine has been going on, we should have no shortage of things to discuss. And no shortage of links.
Washington Redskins
The weekend brought this from Dr. James Andrews, who has Robert Griffin III "
well on his way
" to recovery from his reconstructive knee surgery. Fresh meat for the optimists, which is fine. No one's rooting against a Griffin recovery in time for Week 1 (except maybe the Redskins' opponent that week). But the priorities here need to be care and caution, and it sounds as though that's the message Andrews is trying to send. I think.
Many of you have asked what the Redskins have planned in terms of this last-ditch effort to fight their salary cap penalties. Mark Maske's latest update makes it sounds as though
the plan is to ask nicely
. Good luck with that.
New York Giants
Jerry Reese is
hoping for a big-time rebound
from Justin Tuck, who didn't play as well in 2012 as he's accustomed to playing and apparently knows as much.
Reese also said during his media session at the combine that the team
would not rule out
drafting Manti Te'o just because of the Notre Dame linebacker's off-field controversy. Which is no surprise. I think it's more likely that they'd rule him out because they don't like linebackers.
Dallas Cowboys
Jerry Jones has
no plans
to part ways any time soon with quarterback Tony Romo or wide receiver Miles Austin. As we have discussed many times, an extension for Romo is forthcoming because his performance merits one and they need to reduce his 2013 cap number. And just because Dez Bryant surpassed Austin this year doesn't make Austin a bad player all of a sudden. Plenty of teams would love to have such a No. 2 wide receiver.
Sean Lee appears to have been born to play the middle linebacker spot in the Cowboys' new 4-3 defense, and Jason Garrett says that's
exactly what the star playmaker will be doing
in 2013.
Philadelphia Eagles
Keep a close eye on what the Eagles do in the outside pass-rusher market. They'll need to feature at least one,
as Jeff McLane writes
, and if they're not convinced Trent Cole or Brandon Graham can play the "predator" position in Bill Davis' defense, they will be in the market for someone who can rush the passer from the outside linebacker position.
Don't forget that quarterbacks will shoot up the first-round projection boards in the months leading up to the draft. And if the Eagles fall in love with someone like Geno Smith, he
could be the guy
they take at No. 4. Seriously, don't rule it out.
January, 23, 2013
1/23/13
7:06
AM ET
By
ESPN.com staff
| ESPN.com
Dallas Cowboys
After Jay Ratliff's DWI arrest -- in an incident that took place less than two months and just a few miles from where teammate Jerry Brown lost his life in a drunken-driving accident involving a car driven by Cowboy Josh Brent -- Todd Archer writes that the nose tackle "
should not wear a Cowboys uniform again
."
In his strongest comments yet about the Cowboys' play-calling situation, owner and general manager Jerry Jones implied to reporters at the Senior Bowl
that coach Jason Garrett would no longer call the team's offensive plays
and that offensive line coach/offensive coordinator Bill Callahan would take over that role.
Callahan, meanwhile, responded to charges that, as their head coach, he "sabotaged" the Oakland Raiders' chances in Super Bowl XXVII, calling Tim Brown's allegations "
ludicrous and defamatory
."
New York Giants
Ohm Youngmisuk takes a quick look at the Giants'
five biggest contracts
.
At a charity event Tuesday night, Justin Tuck
promised better things
in 2013, and
weighed in on the predicament
of Manti Te'o, whom Tuck helped recruit to Notre Dame.
Philadelphia Eagles
At practices in Mobile, Ala., ahead of Saturday's Senior Bowl, new coach Chip Kelly and general manager Howie Roseman met with Syracuse quarterback Ryan Nassib -- who's from the Philadelphia area and is an Eagles season-ticket holder. Nassib's take, per the Inquirer: "
That was cool as hell
."
Kelly likes to play fast. How fast?
Rich Hofmann of the Philadelphia Daily News
breaks it down. "The average NFL team ran 64 plays per game in 2012. The Eagles, the sixth-fastest team in the league, averaged 67 plays. The Patriots -- schooled by Kelly and, by far, the fastest-paced team in the NFL -- averaged 74 plays per game. Oregon last year? Try 81 plays per game."
Washington Redskins
Alfred Morris gets some love from the Examiner's John Keim after his breakout season in Keim's
running back position review
.
With all of the success Washington had on offense this past season,
questions remain
heading into the offseason because of Robert Griffin III's knee injury.
January, 18, 2013
1/18/13
11:42
AM ET
Obviously, the most bizarre story in sports this week is Notre Dame linebacker Manti Te'o and
his fake girlfriend
. Still unclear what exactly happened -- whether Te'o made the whole thing up or was the victim of some elaborate prank. And until some more answers on that come in, it's hard to know whether or how the whole thing will affect his standing among NFL teams in advance of April's draft.
[+] Enlarge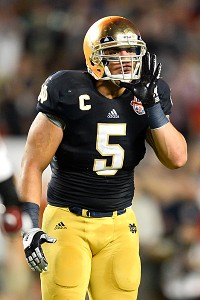 Cal Sport Media/AP ImagesManti Te'o would neatly fill a need for the Giants, but his baggage might be too much to overlook.
Prior to the revelations, Mel Kiper Jr. had Te'o projected to go No. 8 overall to the
Buffalo Bills
in
his first mock draft

. That would have taken him out of the mix for any NFC East team but the Eagles. But obviously that was just an early projection, and even before this stuff came out there was a decent chance he could be available for the
New York Giants
at No. 19.
As a football player, Te'o kind of represents exactly what the Giants need. They got by all right with
Chase Blackburn
at middle linebacker this year, but Blackburn isn't the kind of defensive leader they need, and by all accounts Te'o would be. He has the instincts and the leadership ability to play the middle linebacker position in the 4-3 (or one of the inside linebacker spots in a 3-4 such as Buffalo's), and if you thought there was a spark missing from that Giants' defense in 2012, he's the kind of player who could help address that.
The problem is, now that there are questions about what kind of guy Te'o is and whether he made up a fake girlfriend in an effort to get Heisman votes or for some other reason, he'd bring a circus with him. And of the two teams in New York, the Giants are the one that disdains the circus. Already a team that doesn't like to use first-round picks on linebackers, the Giants don't seem to me to be the kind of team that will invite Te'o and his fresh baggage into their locker room. As much as he might be able to help them as a football player, my bet is, even if he falls to 19, the Giants pass.
A quick look at the other three NFC East teams and whether they'd consider drafting Te'o:
Philadelphia Eagles (4): If they switch to a 3-4 defense and decide (as the Texans did) that DeMeco Ryans doesn't fit in it, Te'o would fit the profile as a nice replacement for Ryans. But No. 4 seems a little high to take him, and the Eagles have other significant needs. Plus, if they stay in a 4-3 (as I think they should), they won't have need for him in the middle.

Dallas Cowboys (18): They are switching to a 4-3, but they're set at middle linebacker with Sean Lee. Their need would be on the strong side, and I don't think Te'o has the speed or athleticism they'd be looking for at that spot. Also, Dallas needs help elsewhere, especially on the lines.

Washington Redskins (no first-round pick): Te'o actually makes some sense for them as a potential London Fletcher replacement, either this year if he retires or soon down the road. Just hard to imagine him falling into the late second round, which is where Washington's first pick lies.
November, 29, 2012
11/29/12
2:09
PM ET
This week's "Hot Read" on our ESPN.com NFL page is
about the 2013 draft
-- and I mean, all about it. It's a conversation with Mel Kiper Jr. and Todd McShay about a lot of the key issues, teams and players involved in next year's draft. And while the
Philadelphia Eagles
(currently in the No. 4 position in the draft if the season ended today) are the only NFC East team whose playoff dreams are really out the window, I know every team's fan base always has at least one eye on what's next. So here are a few of the items of potential NFC East interest in this piece, which is
not
Insider!
Jones
Mel picks the
Dallas Cowboys
and the
New York Jets
when asked which team cannot afford to have a bad draft. Of the Cowboys, he writes, "I loved the Cowboys' first pick in 2012 with
Morris Claiborne
, but this is a team that's had mixed results over the years, particularly lower on the board, and Jerry Jones' role as an evaluator is constantly a cause for debate. I don't think the Cowboys are in a bad situation overall in terms of personnel, but the spotlight seems like it'll be brighter than ever this season."
Four of the top five players Mel lists as potential No. 1 picks play defense, and none play quarterback. He names Notre Dame linebacker
Manti Te'o
, of course, along with pass-rushers
Jarvis Jones
of Georgia and
Damontre Moore
of Texas A&M, as well as Utah defensive tackle
Star Lotulelei
and Texas A&M left tackle
Luke Joeckel
. If the Eagles really are picking in that top five and don't have a quarterback with whom they're in love, they could look at a top offensive lineman such as Joeckel or a linebacker like Te'o. Of course, much would depend on who's making the pick, since it does not appear as though it'll be Andy Reid anymore.
Todd says this draft will be light on skill-position players -- i.e., no clear elite quarterbacks, no real first-round running backs and not much top talent at wide receiver. This is likely fine for the NFC East teams, all of whom could use line help on either side of the ball. Todd also says defensive line is this draft's deepest position group, which is fun news for teams like the Eagles and the
New York Giants
, who like to draft defensive linemen.
Mel says only two of this draft's quarterbacks appear to make sense as potential Week 1 starters in 2013 (after five rookies started at quarterback in Week 1 this year). They are USC's
Matt Barkley
and West Virginia's
Geno Smith
, though he doesn't seem sold on either. Of course, as Todd points out, few had
Ryan Tannehill
as a 2012 NFL starter this time last year.
Mel lists the
St. Louis Rams
as one of the teams in the best position to make a splash, because of the extra first-round pick they have as a result of the
Robert Griffin III
deal with the
Washington Redskins
, who undoubtedly wish the Rams well with the picks, but have no regrets.
NFC EAST SCOREBOARD
Saturday, 12/20
Sunday, 12/21