December, 29, 2013
12/29/13
9:35
PM ET
FOXBOROUGH, Mass. -- For the second time in two games,
Buffalo Bills
defensive tackle
Marcell Dareus
was benched for violating team rules.
Dareus confirmed after the game that he had been late to team meetings, which led to him being held out of the first half of Sunday's 34-20 loss to the
New England Patriots
. He had previously been benched for the first quarter of last Sunday's win against the
Miami Dolphins
.
[+] Enlarge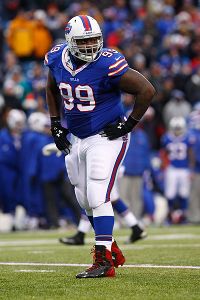 AP Photo/Bill WippertBuffalo's Marcell Dareus had a career best 7.5 sacks this season.
"I just hate that I put my team in a position like that," Dareus said Sunday. "As a player I'm just going to get better. Me and Coach [Doug Marrone], we talked about it. I'm going to grow as a player in the offseason, continue to just work and do the best I can to not put my team in that position."
"We're both going to continue to work through it and move forward," Marrone said.
Dareus said he apologized to his teammates for being a repeat violator.
"I let them know like, I'm so sorry for what happened. I'm sorry about the game today, and of course last week," he said. "They know that I'm wholeheartedly sorry for what happened and what was done. It's a team rule and we roll with it. I respect coach and we're just going to continue to move forward as a team and as a unit."
Early in the fourth quarter, Dareus made his afternoon worse by jumping offside on a Patriots field goal attempt. The penalty yardage gave New England a first down, which they turned into eight points after a touchdown and two-point conversion.
"I was so mad. It's already I felt like I put my team in the worst possible position ever by not being in the first half. But second half, I just wanted to get everything ... I wanted to exert all of my energy on the field, just show the team I'm there for them, I have your back," he said. "That offsides penalty really, really killed me. It hit me, because I want to win, I want to do the best for my team. That offsides penalty really hit me in the gut, like, 'what happened, what's going on with you Marcell? Just focus.' It tore me up."
Dareus acknowledged that his actions go against the grain in Buffalo, where first-year coach Doug Marrone has tried to establish a winning culture in a team that hasn't qualified for the playoffs since 1999.
"We're trying to change the whole culture of the Buffalo Bills. Being late, there's no excuse for it," Dareus said. "Being on time, you're being there for the team. I have nothing bad to say. This is what we're trying to do in Buffalo. I'm on board, I'm all with it. I take my half [on the bench]. I'm still going to give the best I can. I'm not going to be lazy the second half because I'm mad. I'm still going to give the best I can. Me and [Marrone], we talk, we're on the same page, we're going to communicate more this offseason, just to be on the same page when I come back."
The Bills selected Dareus third overall in 2011. He set a career high this season with 7.5 sacks, but now enters the final season of his rookie contract.
"If I'm going to get to the next level, to where I'm supposed to be as an elite player in the league, [I need to] try to get to the point to where I can be a captain on some team -- or the team here -- just do the best I can and continue to get better and be on time and just have no excuses no matter the outcome of the situation," he said. "This is my third year. I'm 23 years old. I have a lot of space to improve as a young man and as a football player. Grow into a leadership position one day."
In the mean time, Dareus knows that he must invest in something simple: an alarm clock.
"Just set your alarm clock all season and continue to get up and be on time," he said. "Do what you're supposed to do. Just kind of be accountable for yourself. Just continue to get better all the way around."
January, 27, 2011
1/27/11
6:32
PM ET
By
Matt Mosley
| ESPN.com
We've already inspected the first mock drafts from Mel Kiper and Todd McShay, so let's go outside the company for a moment. Don Banks from SI.com is a man who will release at least 17 mock drafts in the coming weeks.
And here's his first edition:
9. Dallas Cowboys:
DE/DT Marcell Dareus, Alabama
10. Washington Redskins:
QB
Cam Newton
, Auburn
19. New York Giants:
OT Tyron Smith, USC
23. Philadelphia Eagles:
G/C Mike Pouncey, Florida
What did Banks write about Newton?
"A consensus seems to be forming for Newton to land in Washington, where Mike Shanahan and Co. will undertake his transition into a pro-style passing game," he writes. "I guess I can buy that, although drafting a second Auburn first-round quarterback in the span of six years (
Jason Campbell
, 2005) might make some Redskins fans nervous. Shanahan was thought to be very high on Washington quarterback Jake Locker last year at this time, so don't rule out the ex-Husky if he continues to bounce back from a rough senior season."
From what I'm hearing, it would be a real stretch for the Skins to take Locker at No. 10. And he hasn't helped himself at the Senior Bowl this week.