November, 15, 2013
Nov 15
3:15
PM ET
IRVING, Texas -- The bye week is a good thing for the
Dallas Cowboys
, considering their injuries, but it will be costly for linebackers
Bruce Carter
and
Ernie Sims
.
Carter was fined $15,570 for a horse-collar tackle of
New Orleans Saints
running back
Darren Sproles
, and Sims was fined $7,875 for grabbing the face mask of Saints running back
Mark Ingram
. Both penalties came on New Orleans' third-quarter drive that ended on Ingram's 4-yard touchdown run. The Saints did not throw a pass on the eight-play drive.
Cornerback
Orlando Scandrick
was not fined for a second-quarter face mask penalty.
Carter and Sims are the fourth and fifth Cowboys to be fined this season.
Dez Bryant
was fined $7,875 for a throat-slash gesture versus the
St. Louis Rams
. Safety
Barry Church
was fined $5,250 for throwing a football into the stands after his touchdown versus the
New York Giants
. Linebacker
Cameron Lawrence
was fined $21,000 for a blindside block against the
Washington Redskins
.
November, 11, 2013
Nov 11
8:00
AM ET
NEW ORLEANS -- A review of four hot issues from the
Dallas Cowboys
' 49-17 loss to the
New Orleans Saints
.
Going nowhere:
Only three times in their first 10 games have the Cowboys converted on at least 40 percent of their third-down opportunities. They were 0-for-9 against the Saints.
Tony Romo
missed on all six of his third-down passes, continuing a poor season-long trend for the quarterback. Romo was the 30th-ranked quarterback in third-down passer rating before Sunday, ranking ahead of only
Matt Schaub
and
Brandon Weeden
. Winning on third down is a must, and the Cowboys don't win nearly enough.
"Typically you have to get yourself in favorable third-down situations," coach Jason Garrett said. "I believe you have to make first downs on first down and drive the football and stay out of some of those third-down situations. But when the time comes you've got to convert and you've got to make some plays, and we've just got to do a better job. We'll evaluate what we're doing and see if we can put our players in better positions to do that."
[+] Enlarge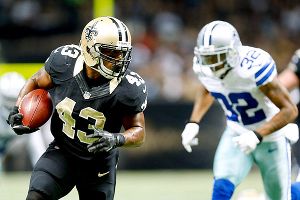 Derick E. Hingle/USA TODAY SportsDallas gave up three scores on the ground and 242 rushing yards to the Saints.
Pounded on the ground:
The Saints ran for 282 yards against the Cowboys.
Mark Ingram
had 145 yards.
Pierre Thomas
had 87 yards. It was the second time this season the Cowboys gave up 200-plus rushing yards. Washington had 216 yards on Oct. 13 but lost. The Cowboys have given up at least 84 yards on the ground in six of their last seven games. The Cowboys had eight players in the box Sunday, dropping a safety, but the line was of no help with the running backs often not getting touched as they broke through to the second level. That's where they missed
Sean Lee
, but the tackling was atrocious.
"It's not good when they can just line up and run it right at you," defensive coordinator Monte Kiffin said.
Slowing down:
Terrance Williams
was able to catch a 21-yard touchdown pass from Romo, but it was his only catch of the game on five targets.
In the last three games, Williams has caught just five of the last 22 passes thrown his way. Not all targets are created equal and viewing them purely in a batting average fashion can be dangerous, but Williams has to be more efficient. If teams are going to do whatever they can to take away
Dez Bryant
, then Williams has to win more. If he wins, then Bryant cannot be doubled as easily as he has been doubled. A healthy return of
Miles Austin
would also help the offense and Williams.
What's the deal?
Maybe the Cowboys don't lead the league in hamstring injuries, but they must be close. Lee was forced from Sunday's game in the first half.
Justin Durant
was forced out in the second half. Claiborne did not play against the Saints because of a hamstring injury. Austin missed his fifth game in the last seven weeks because of a hamstring injury.
Garrett is confounded by the issue that has cropped up and has said the Cowboys examine all of their stretching issues before and after practices as well as before games.
"I think they're fairly common around the league," Garrett said, "but we've certainly had our share of them."
November, 10, 2013
Nov 10
11:46
PM ET
NEW ORLEANS -- A few thoughts on the
Dallas Cowboys
' 49-17
loss
to the
New Orleans Saints
on Sunday.
What it means for the Cowboys:
By the time the Cowboys play again on Nov. 24 against the
New York Giants
they could be out of first place in the NFC East.

They are currently tied with the
Philadelphia Eagles
at 5-5 and are technically in first place because of their 17-3 win at Lincoln Financial Field on Oct. 20. The Giants and
Washington Redskins
are only one game back in the loss column.
This was the worst loss of the Jason Garrett era. The previous one was a 34-7 loss at Philadelphia in 2011.
Stock watch:
Jerry Jones, falling. On a night in which nothing went right it's too easy to point out a player or a coach. The owner and general manager is in the crosshairs tonight. He put together this lot and believes there is a chance to compete for a championship. The defense was awful. The offense was stone cold. Other than that Jones had a fine time in New Orleans.
Defense shredded again:
The Saints scored on eight of 11 possessions and one ended on a missed field goal. The Saints showed mercy on their final possession and took a knee.
They had 40 first downs, setting an NFL record. The Cowboys gave up 625 yards. They allowed
Mark Ingram
to rush for 145 yards. They saw
Marques Colston
get 107 receiving yards.
The good news:
Drew Brees
did not throw for 400 yards. He finished with 392 yards and threw four touchdowns.
Blame the absences of
Jason Hatcher
,
J.J. Wilcox
and
Morris Claiborne
at the start of the game and the in-game absences of
Sean Lee
(hamstring) and
Justin Durant
(hamstring). Know that
DeMarcus Ware
was in and out in his return to the lineup after a three-game absence with a quadriceps strain.
It wouldn't have mattered. Maybe it would've made the outcome a little closer, but the Saints rolled all over Monte Kiffin's defense the way the
Denver Broncos
and
Detroit Lions
did.
Missed opportunity:
On a night when the Cowboys knew it would be a struggle for the defense, they needed to take advantage of every chance they got.
Darren Sproles
' fumble gave the Cowboys a chance at the Saints' 22 in the first quarter, but the Cowboys had to settle for a
Dan Bailey
field goal. A third-and-1 play was turned into third-and-6 after a
James Hanna
false start.
Tony Romo
's third-down pass was incomplete and would have been wiped out anyway by a
Ronald Leary
hold.
In the past five games the Cowboys have had 11 takeaways and scored just two touchdowns after those turnovers, and both of those drives started inside the opponents' 5.
What's next:
The Cowboys are off until Nov. 24, when they visit the New York Giants. Players will practice on Tuesday and Wednesday before getting their first prolonged break since their first training camp practice on July 21 in Oxnard, Calif.
April, 29, 2011
4/29/11
10:30
AM ET
By
ESPN.com staff
| ESPN.com
April, 28, 2011
4/28/11
3:48
PM ET
By
ESPN.com staff
| ESPN.com
ESPNNewYork.com's Ohm Youngmisuk
provides his analysis
of the New York Giants' predicted picks in the final mock drafts of Mel Kiper and Todd McShay.
April, 21, 2011
4/21/11
12:00
PM ET
»
NFC Draft Watch
:
East
|
West
|
North
|
South
»
AFC
:
East
|
West
|
North
|
South
Each Thursday leading up to the NFL draft (April 28-30), the ESPN.com blog network will take a division-by-division look at key aspects of the draft. Today's topic: Dream scenario/Plan B.
Dallas Cowboys

Dream scenario:
If the Cowboys play things the conventional way and sit tight at No. 9, they'll probably be looking at either defensive end
J.J. Watt
or offensive tackle
Tyron Smith
. Either one would provide good value or fill a big need, and the Cowboys would improve. But Dallas owner Jerry Jones doesn't always do things the conventional way. Although trading up to the top five might be difficult, Jones' imagination could heat up if LSU cornerback
Patrick Peterson
makes it past the first five picks. The entire Dallas secondary had a horrible year last season, and Peterson would provide an instant upgrade. Jones might not be able to sit still if he's within striking distance of Peterson.
Plan B:
If there's no chance at Peterson and the Cowboys aren't excited enough about Watt or Smith, they could reach slightly and take Nebraska cornerback
Prince Amukamara
. He's the second-best cornerback in this draft, and most mocks have him going somewhere in the teens. If the Cowboys like the player enough, it wouldn't be much of a reach to just take him. If another team is looking to move up for another player, the Cowboys could drop down a few spots and still have a shot at Amukamara.
Washington Redskins

Dream scenario:
The Redskins, who need a quarterback perhaps more than any other team on the planet, would love nothing more than for something bizarre to suddenly cause
Cam Newton
or
Blaine Gabbert
to start falling. It's not out of the realm of possibility. Carolina's leaning toward Newton but hasn't made a final decision. Even if the Panthers go with Newton, Buffalo could go with linebacker
Von Miller
at No. 3, and the word out of Arizona is the Cardinals probably are looking more for a pass-rusher than a quarterback. That would put the Redskins within striking distance on Gabbert, and general manager Bruce Allen and owner Daniel Snyder could try to move up to grab him. Or they could just take a chance that he'll be available at No. 10.
Plan B:
If Newton and Gabbert are gone, there's no quarterback worthy of the No. 10 pick. Defensive tackle also is a major need, but the Redskins could fill that in free agency. Snyder enjoys making a splash, and if he can't do it with a quarterback, he might do the next-best thing and take a guy who would catch passes from whoever ends up throwing them. With
Santana Moss
as a free agent and not much else in the receiving corps, Alabama's
Julio Jones
could be a very nice consolation prize.
New York Giants

Dream scenario:
The desperate need is at outside linebacker, but the only player who is really a sure thing is Miller, and he almost certainly will be a top-five pick. So the dream ends there and reality sets in, and the other reality is the Giants have big needs on the offensive line, where everyone but guard
Chris Snee
is starting to get old. Florida center/guard
Mike Pouncey
could really solidify the interior of the line, where the need is greatest. Tackles
Gabe Carimi
and
Anthony Castonzo
also could be possibilities as the Giants could consider moving tackle
David Diehl
to guard.
Plan B:
This may sound a bit off the wall because the Giants have decent running backs in
Ahmad Bradshaw
and
Brandon Jacobs
. But what if Alabama's
Mark Ingram
happens to be available? The Giants might have to consider him. He might be better than Bradshaw and Jacobs. Also, along the same lines, don't rule out the possibility of a defensive tackle like Temple's
Muhammad Wilkerson
if he's available. The Giants appear to be in good shape in the middle of the defensive line, but general manager
Jerry Reese
places a high value on having lots of depth, especially in the middle of the defensive line.
Philadelphia Eagles

Dream scenario:
In a perfect world, the Eagles would package their first pick (No. 23 overall) with quarterback
Kevin Kolb
and trade their way into the top five, where they would aim for cornerback Peterson. The Eagles have a desperate need for a cornerback to play opposite
Asante Samuel
, and Peterson is the only sure thing in this draft. But this is not a perfect world. Unless the lockout somehow ends between now and the start of the draft, they're not allowed to trade Kolb. If they stay put, the Eagles have to hope Amukamara somehow falls to them, or they might have to take a chance on Colorado's
Jimmy Smith
, who comes with some background questions.
Plan B:
The right side of the offensive line needs to be upgraded. Most teams stay clear of guards in the first round. But tackles Castonzo,
Nate Solder
and Carimi all could be available when the Eagles pick. Any one of them could step right into the lineup and start.
April, 12, 2011
4/12/11
10:12
AM ET
By
ESPN.com staff
| ESPN.com
April, 6, 2011
4/06/11
7:10
PM ET
Mel Kiper and Todd McShay have released their newest mock drafts and there's one slight change. The ESPN NFL draft experts had Florida center/guard
Mike Pouncey
as their choice at 19 for the Giants in their previous mock drafts.
Here are their takes this week with picks for the first three rounds:

FIRST ROUND
Kiper:
19. Mike Pouncey, OL, Florida
"I don't think Pouncey is quite as versatile as his brother, who was taken at No. 18 overall last year and became a Pro Bowl player in his first year with the Steelers. But Mike offers a very similar skill set. He can play guard or center, gets to the second level very well and should help the Giants in the running game. I'd slot him in at guard to start and only look for help at center in a backup role, but he's easily the top interior lineman in the draft."
McShay:
19.
Anthony Castonzo
, OT, Boston College
"The ideal scenario for the Giants is Pouncey falling to them, and trading back is also a possibility if the right player is not available. Their biggest need is for a difference maker at linebacker and (Mark) Ingram could also be in play, but with no impact linebacker available the best offensive lineman on the board would be the best option. Castonzo could play inside at guard as a rookie and then kick out to tackle, or the Giants could plug him in at tackle immediately and shuffle their existing personnel. Either way, Castonzo has the ability to be a quality starter for the next decade and the Giants would do well to start addressing the future of their offensive line."
SECOND ROUND:
Kiper:
52.
Quan Sturdivant
, LB, North Carolina
McShay:
52.
Ryan Williams
, RB, Virginia Tech
THIRD ROUND:
Kiper:
83.
Terrell McClain
, DT, South Florida
McShay:
83. McClain, DT, South Florida
OHM's take:
McShay has Pouncey going 15th overall to the Dolphins, who would be passing up on Alabama running back
Mark Ingram
.
If that were the case, the Giants would have to think about Ingram if he were available at 19 with Ahmad Bradshaw potentially becoming a free agent. Even if they re-sign Bradshaw as expected, the Giants can start thinking about the future at running back. Brandon Jacobs is under contract for two more seasons but trying to keep both Jacobs and Bradshaw could be too expensive.
Of course, if Ingram's knee scares teams away, the Giants' best value at 19 may be offensive line. There are plenty of defensive linemen available and of value at 19 and I would never discount Jerry Reese from taking a defensive lineman in the first round. In McShay's mock, he has the Giants passing on Clemson's Da'Quan Bowers, a defensive end who has top-10 talent but is also a medical risk.
With free agency likely coming after the draft and uncertainty surrounding free agents and restricted free agents, the Giants have to protect themselves with offensive linemen Shaun O'Hara, Rich Seubert and Adam Koets all rebounding from surgeries. That doesn't include Shawn Andrews, who had back issues last year.
Pouncey would give the Giants a center for the future and one who can start there or at left guard in case O'Hara and Seubert are not physically ready for the season. Pouncey, though, tweeted that he would be shocked if he weren't a Cowboy after he visited Dallas. The Cowboys draft ninth overall and that would be a lot higher than most mock drafts have Pouncey going.
Castonzo is on the Giants' radar as offensive line coach Pat Flaherty ran Castonzo through drills at Boston College's Pro Day.
Both Pouncey and Castonzo make sense for the Giants and fill a need. The Giants' other greatest need is at linebacker and Kiper has the Giants drafting a linebacker in Sturdivant in the second round. McShay has the Giants going with Williams, the Virginia Tech running back who could be one of the top three backs in the draft. McShay had the Giants drafting Illinois running back
Mikel Leshoure
in his previous mock draft.
And in the third round, it's interesting that both Kiper and McShay have the Giants drafting McClain, the defensive tackle who was Jason Pierre-Paul's teammate at South Florida. McClain would certainly provide insurance in case the Giants don't re-sign Barry Cofield, who said he will consider asking for a trade if he doesn't receive a contract extension and has to play for a restricted free agent tender.
So what do you guys think of the latest mock drafts? Tell us below.
March, 3, 2011
3/03/11
8:58
AM ET
By
ESPN.com staff
| ESPN.com
February, 18, 2011
2/18/11
10:50
AM ET
By
Matt Mosley
| ESPN.com
ESPN's Todd McShay had high praise for Alabama running back
Mark Ingram
during a conference call Thursday:
[+] Enlarge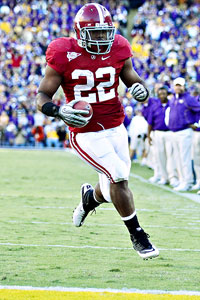 Derick E. Hingle/US PresswireMark Ingram averaged 5.7 yards per carry during his career at Alabama.
"He's one guy that really belongs in the first round. …He is so instinctive," said McShay. "And the three things that really jump out, the instincts, the lateral quickness -- he just feels a hole opening and is able to get in and out of it so quickly. And then, finally, the yards after contact, just the way he runs with his pad level and anticipating contact, he is so good in that area. ... Everyone's comparing him to Emmitt Smith. Usually, I'd try to find something different and unique. I just think it's a perfect comparison because Emmitt Smith didn't have all the great measurables coming out, but obviously, went on to have one of the most productive rushing careers of any back in NFL history."
No, Smith had
the
most productive rushing career in NFL history -- if you're into total yards. No one's really talking about running back in this draft, but keep a close eye on
New York Giants
GM Jerry Reese. I don't think Ingram will be available at No. 19, but if he is, I believe the Giants would pounce. They drafted Ingram's father, Mark Sr., in the first round in 1987 and he helped Bill Parcells win another Super Bowl.
There's also another NFC East team that might have some interest in Ingram. Everyone assumes the Redskins will select a quarterback with the No. 10 overall pick, but it wouldn't shock me if Mike Shanahan chooses Ingram. The Redskins left themselves exposed last season at running back and wide receiver. With the uncertainty surrounding free agency, there's more pressure than ever to land starters via the draft.
We'll keep you posted.