January, 7, 2014
Jan 7
1:15
PM ET
It's not the sort of award anyone wants to win -- and it's certainly not one they want to repeat. But it does serve as recognition for how a player responds to adversity. And that's why
Robert Griffin III
was named the
Washington Redskins
' Ed Block Courage Award winner.
Griffin
The award honors how RG III overcame his knee injury, returning to start the season opener eight months after surgery to reconstruct the ACL and LCL in his right knee. Griffin completed 60.1 percent of his passes for 3,203 yards, 16 touchdowns and 12 interceptions in 13 games. He was inconsistent all season, but did not miss any time until being benched for the final three games. He's one of only five Redskins quarterbacks to throw for more than 3,000 yards in consecutive seasons, joining Sonny Jurgensen, Joe Theismann,
Mark Rypien
and
Jason Campbell
.
"Robert's commitment this offseason helped him fully recover from a major knee surgery," Redskins head athletic trainer Larry Hess said in a release. "His passion and dedication toward his profession motivated him throughout this process and made working with him enjoyable. He is well deserving of this award."
Griffin said in a release: "It's an honor to be selected by my teammates to receive this award. I received a tremendous amount of support throughout the rehab process from my teammates, the doctors, the trainers and everyone involved in the organization. This award is not only a testament to how hard I worked to return, but also a testament to the support system I've had around me for the last 12 months. I'm grateful for their hard work and support and look forward to preparing for the 2014 season."
Guard
Kory Lichtensteiger
won the award last season and
Stephen Bowen
won it in 2011. It's named for the former longtime trainer of the Baltimore Colts.
March, 28, 2012
3/28/12
8:00
AM ET
PALM BEACH, Fla. -- One more day here by the beach. As you read this, I am at the NFC coaches' breakfast listening to what Andy Reid, Jason Garrett, Tom Coughlin and Mike Shanahan have to say. I shall spend the remainder of the morning and the afternoon working feverishly to communicate back to you the items of NFC East interest from this session before my flight leaves for home this evening. They had links at the AFC coaches' breakfast Tuesday, along with bacon and some kind of cool steak eggs benedict deal. Not sure if today's spread will be the same, but you know you can always count on having links right here, every morning at 8 a.m.

Dallas Cowboys
The only thing you know for sure about the draft this time of year is that everybody's lying. Everything's a smokescreen and no one's telling you what they really think or plan. So
take this with a grain of salt
, even though I agree with Jerry Jones that it wouldn't be a great idea for him to take an offensive lineman in the first round after drafting three of them last year and signing two more earlier this month.
Yeah, I wish Jones would tell us what he really feels about the salary-cap penalties, too, but he's smart to keep his mouth shut until the arbitrator rules on it, and so
this little crack
about wanting to settle his dispute with John Mara on the field will have to do for now.

New York Giants
Coughlin's getting a contract extension, obviously. Mara
told the New York Post
that he expects the deal to be done within four to six weeks, and there's every reason to think the Giants coach, who's won two Super Bowl titles in the past five years, will get paid a salary similar to those of the best coaches in the league -- upward of $7 million per year. I'm thinking it ends up being a three-year deal.
Defensive end
Dave Tollefson
continues to draw interest on the free-agent market,
now scheduled to visit
the suddenly free-agent-happy
Green Bay Packers
. As they are with
Jonathan Goff
and, to some extent,
Brandon Jacobs
, the Giants are letting Tollefson test the market while also letting him know they'd like to have him back. If he can't find a better offer than what the Giants are willing to give him, he comes back. If not, they move on and find a replacement. It's how they roll.

Philadelphia Eagles
Eagles general manager Howie Roseman sure made it sound as though the team believes it
can find a trade market
for cornerback
Asante Samuel
between now and the draft. Roseman discussed that issue and several others Tuesday with Jeff McLane. One point further down in the notes: Roseman declined to say where he expected
Jamar Chaney
to play because the Eagles are "still in the talent acquisition phase" of the offseason. Says to me they're still looking for linebackers, even with
DeMeco Ryans
in the fold.
Former Andy Reid assistants Pat Shurmur and John Harbaugh, now the head coaches of the Browns and Ravens, respectively, came to the defense of their former boss -- and of defensive coordinator Juan Castillo --
in conversations with Paul Domowitch
at the aforementioned AFC coaches' breakfast.

Washington Redskins
Yes, the Redskins were
seriously interested
in
Peyton Manning
when he was on the market. No, it's not clear how good their chances were of getting him. But Mike Shanahan and Kyle Shanahan met with Manning even after trading for the No. 2 pick in the draft, and it's clear that he was a serious option in their minds if they hadn't been able to move up to the spot from which they now plan to draft their next franchise quarterback.
Former Redskins quarterback
Mark Rypien
is at the front of
the latest lawsuit
by former players against the league over head injuries. These suits continue to be filed, and will continue to be filed, and if you don't think they worry the league, then think again about why the punishments against the Saints for the bounty stuff was so severe.
February, 16, 2012
2/16/12
8:00
AM ET
Less than a week until the combine. Less than a month until free agency. Still a ways to go before the draft. This is humbly, simply, Thursday, which doesn't have much going on but is nonetheless proud of its links.
New York Giants
Less than two weeks since their Super Bowl title, the Giants aren't even the biggest sports story in New York right now. Antonio Pierce asked his Twitter followers which out-of-nowhere star was the bigger surprise — the Giants' Victor Cruz or the Knicks' Jeremy Lin — and ESPNNewYork.com is
asking for your vote
on that question. Lin's winning the poll big, and I think he's the right answer. But Cruz isn't a bad comparison.
Chad Jones, the former LSU safety who nearly died in a car accident shortly after being drafted in the third round by the Giants in 2010, is apparently
cleared to play
and plans to be at minicamps and OTAs this year. Interesting to see whether he can author this comeback story. If he can, the Giants' secondary will be able to find a place for him.
Philadelphia Eagles
Howard Bryant says one of DeSean Jackson's big problems is the NFL's franchise player rule, which he thinks is
unfair
and should have been a target of the players' union in last year's collective bargaining negotiations. I talked with Howard about this column, and he asked if I thought Jackson would play well if he got the franchise tag and no new contract this year. I think he would, since he'd be happy with the nearly $9 million raise that would represent. But I still think it's likely the Eagles will look to trade him after franchising him, and that his best bet for a big new contract is with some other team.
The Eagles have announced that they
will not raise ticket prices
for 2012. I consider this a wise decision.
Dallas Cowboys
Troy Aikman isn't sure he and the Cowboys could have won those three Super Bowls without the help of Charles Haley, and he'd like to see Haley
get into the Hall of Fame
.
I don't know if the Cowboys will franchise Anthony Spencer, and I haven't decided whether I think they should.
Spencer's heard the talk
, and he says he's surprised by it and would prefer to hit the market and get a long-term deal from Dallas or some other team. But he doesn't sound as though he'd be crushed if he were franchised. I promise to keep thinking about this and eventually post a reasoned opinion. Just don't have one figured all the way out yet.
Washington Redskins
John Keim breaks down the
pros and cons
of a Redskins pursuit of Robert Griffin III. Look, in a vacuum, with everything being equal, I believe Griffin is the best option for the Redskins this offseason at quarterback. But all things are not equal, and the price for trading up to the No. 2 pick and getting Griffin could be too high. If it is, the Redskins need to find out soon so they know how to proceed in free agency with guys like Peyton Manning, Kyle Orton and Matt Flynn.
Mark Rypien says a Manning pursuit
would not constitute a reversion
by the Redskins to their old methods of signing old, big-name stars without thinking about how they fit, because (if healthy) Manning's a different case. What I have learned today is that Mark Rypien is a smart man, a rare voice of reason amid the cap-city cacophony spouting too-simple comparisons to years past without appreciating what's different about the team's current management structure. Thank you, Mark Rypien. Those of us trying to inject sense and nuance into this discussion need all of the help we can get.
May, 23, 2011
5/23/11
8:00
AM ET
As a new week dawns in the NFC East, thoughts turn to the Oneida Correctional Facility, where former Giants WR Plaxico Burress has two weeks left before his release. He'll turn 34 in August, hasn't played in two years and is returning to an NFL that has no idea when, or if, its season will start; to a field of potentially interested teams that have no idea when or if they'll be able to sign him. But speculation is unavoidable, and you're going to hear plenty of Plaxico speculation here in the NFC East.
Gary Myers of the New York Daily News wrote over the weekend that he's heard
the Eagles would be first in line
to sign Burress upon his release. Myers names the Steelers, Chargers, Falcons and Ravens, too, and he doesn't think the Giants will go for a reunion. But the Eagles idea is interesting. Obviously, the
Michael Vick rehabilitation experience
indicates the Eagles can handle such a project and that coach Andy Reid doesn't mind the idea of bringing in a talented ex-convict and being patient with him. Burress would give Vick the kind of big downfield target that neither DeSean Jackson nor Jeremy Maclin, for all of their exciting talents, offer. And Philadelphia isn't too far from Burress' New Jersey home, which might make it appealing on his end.
Contrary to what Myers thinks, I wouldn't rule out the Giants. They seem set at receiver, but Burress still has many friends there, and those friends are eager to bring him back. I'm sure they'll at least discuss it. And I'm not counting out the Redskins, either. Leonard Hankerson notwithstanding, they're not exactly loaded at WR. As for the Eagles, they were a stunning destination for Vick, if you'll recall. They came out of nowhere to sign him. If they're to sign Burress, I imagine we won't hear much from them in advance of it. They like to keep things close to the vest there. But Burress to the Eagles makes a decent amount of sense if you're speculating. Which, at this point, we all are.
Meanwhile, as they say in Scotland: To the links!
Dallas Cowboys
Blogging the Boys looks at the
Dallas secondary situation
, wondering specifically what would become of Terence Newman if Dallas went out and signed a free-agent cornerback. Specifically, some thought here that the Redskins might be interested in Newman if they lose Carlos Rogers and don't sign Nnamdi Asomugha, whose name is required to appear in every edition of the NFC East breakfast links.
Charean Williams talked to backup QB Stephen McGee about
what he's learning
in the player-only workouts with Tony Romo. She didn't ask him whether he ranked Romo or Eli Manning higher, presumably because she assumed he'd already weighed in
here
along with the rest of you. (tee-hee)
New York Giants
Giants coach Tom Coughlin, the original coach of the Jacksonville Jaguars, is back in Jacksonville for his annual
Jay Fund charity golf outing
, which raises money for children with cancer. Several Giants players are there along with him. The
Giants' Twitter page
quotes from Coughlin's Sunday night speech: "Thanks for being here tonight and giving me a chance to see my players." What a card, huh?
Ahmad Bradshaw has
apparently changed agents
, dropping Craig Domann and signing up with Drew Rosenhaus. Now, Bradshaw and Rosenhaus both wait and hope that the 2011 free-agency rules turn out to make him an unrestricted free agent, rather than a restricted one.
Philadelphia Eagles
Jon Tamari talked to 2010 first-round pick Brandon Graham about the
challenges he faces trying to come back
from his knee injury during the lockout. The Eagles can make all of the improvements they want on defense this offseason, but few would help as much as the healthy return of last year's 13th overall pick to the pass-rush effort.
Interesting look by Moving the Chains at Trent Cole's rank among defensive linemen in a stat Football Outsiders calls "
defeats
." A defeat, in this case, is a good thing if you're a defensive player, and Cole is obviously a very good one. (Further down, incidentally, Sheil Kapadia disagrees with me and Gary Myers about the likelihood/sense of the Burress thing.)
Washington Redskins
Mark Rypien told the Washington Post that he thought Donovan McNabb was "
the perfect guy for the job
" of Redskins quarterback. Rypien shares this opinion with the August 2010 versions of McNabb and Mike Shanahan.
Oh, and Skins GM Bruce Allen
did a little backpedaling
over the weekend, attempting to clarify
Friday's remarks
about how "aggressive" the team was planning to be once free agency started. It is important to Allen that people don't expect the Redskins to resume the irresponsible free-agent spending that preceded his tenure under Dan Snyder. Asked specifically about that issue, Allen says, "No, we've dealt with that." Obviously, his comments Friday were interpreted in many places (including here) as an indication that Washington would return to its free-spending ways. Allen seems to be wanting to deliver the message instead that the team is in a good position to spend to address its many needs. It's a subtle but critical distinction for which he deserves the benefit of the doubt. Snyder stayed out of the way last offseason, and there's no reason yet to believe he won't keep that same promise to Allen and Shanahan this year.
June, 22, 2010
6/22/10
11:30
AM ET
By
Matt Mosley
| ESPN.com
Notable players
: QB
Mark Rypien
, RB
Earnest Byner
, WR
Gary Clark
, G
Mark Schlereth
, DE
Charles Mann
, CB
Darrell Green
, K
Chip Lohmiller
[+] Enlarge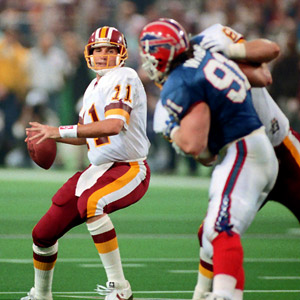 US PresswireMark Rypien threw for 3,564 yards and 28 touchdowns during the 1991 season.
Analysis
: Maybe I should've leaned toward the Riggo-Theismann teams, but in my mind, the '91 team was too stacked to ignore. Clark was such an unbelievable competitor and he still drops by practice from time to time and inspires the current players. Green was the primary reason opposing teams only managed 6 yards per passing attempt that season. His battles with
Michael Irvin
were priceless.
The '91 offensive line was dominant to a ridiculous degree. Redskins quarterbacks were only sacked nine times that season, which is a decent half for the current unit. Rypien had 14 touchdown passes of 25 yards or more to lead the league. Washington could beat you with the pass or run and then its defense knew how to protect leads.
Most impressive win
: The Redskins breezed through the regular season with a 14-2 record and then pounded the Lions and Falcons in playoff games. But the 37-24 Super Bowl win over the Bills stands out to me. The Bills were in the middle of a remarkable run and they had an immensely talented offense. The Redskins didn't care about any of that. We remember the Cowboys being the dominant team of the '90s, but the Redskins set the table in '91 with a memorable season.
Best player
: Green was brilliant at cornerback, but Rypien was the MVP of the league. For that one season, he put up numbers (3,564 yards passing, 28 TDs) that would make any quarterback envious. And the man threw an excellent deep ball.
Honorable mention
1987
: I'll never forget Doug Williams' performance in the Super Bowl. He was shaky early in that game, but after the Skins fell behind the Broncos by 10, Williams settled down and started shredding the defense.
1983
: I know the '82 team won a Super Bowl, but that was in a strike-shortened season. Give me the '83 team even though it was pummeled by the Raiders in the Super Bowl.
1972
: The Skins ran into the perfect Dolphins in the Super Bowl, but Billy Kilmer and the gang had a tremendous season. Larry Brown was a monster and the great George Allen had the Cowboys in full paranoid mode. It was a classic time in the rivalry because the Cowboys also had become an elite team.