Mark Schlereth and Marcellus Wiley have differing opinions on which teams have the NFL's most dangerous attacks.
Adam Schefter, Mark Schlereth and Mike Golic discuss the possibility that the former BYU quarterback, who hasn't thrown an NFL pass since 2007, will be coach Mike Shanahan's starter next season.
It's at this time every week the Beast blog throws down its predictions for Sunday -- and occasionally Mondays. First, let's find out what the experts are saying about the four games involving NFC East teams.
Each Friday afternoon during the regular season, the NFC East blog makes its predictions in case anyone's still at work. But first, let's take a peek at what the experts came up with for Eagles-Redskins and Bears-Giants.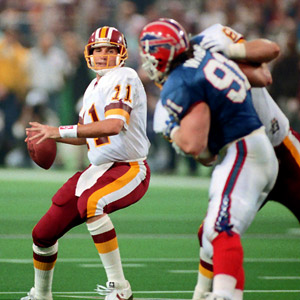 Notable players: QB Mark Rypien, RB Earnest Byner, WR Gary Clark, G Mark Schlereth, DE Charles Mann, CB Darrell Green, K Chip LohmillerAnalysis: Maybe I should've leaned toward the Riggo-Theismann teams, but in my mind, the '91 team was too stacked to ignore.
Let me be the first NFC East blogger to wish you a Happy New Year this morning. Looking forward to big things in 2010!Now let's take a look at what our Bristol experts are predicting for this weekend's games.
I had the Saints winning big over the Cowboys. I am not ashamed to admit it. But kudos to Adam Schefter and Seth Wickersham for having the guts to pick Dallas in this game.
Every Saturday during the season, I make my predictions for games involving NFC East teams. I'm really riding the fence on both the Eagles-Giants and Cowboys-Chargers games.
Posted by ESPN.com's Matt Mosley Before I make my weekly predictions, let's take a look at what the ESPN selection panel came up with for today's NFC East games.
Posted by ESPN.com's Matt Mosley I just spoke with NFL Live anchor Trey Wingo via phone and he said the show is hoping to go outdoors this afternoon (4 p.