May, 17, 2011
5/17/11
5:43
PM ET

Adam Schefter, Mark Schlereth and Mike Golic discuss the possibility that the former BYU quarterback, who hasn't thrown an NFL pass since 2007, will be coach Mike Shanahan's starter next season.
October, 15, 2010
10/15/10
7:12
PM ET
By
Matt Mosley
| ESPN.com
It's at this time every week the Beast blog throws down its predictions for Sunday -- and occasionally Mondays. First, let's find out what
the experts are saying
about the four games involving NFC East teams.
Detroit Lions at New York Giants:
All eight experts picked the Giants, which shouldn't come as a surprise. Is this the week the Giants start running away with the division? There's a decent chance the other three teams lose, so a 4-2 record could be big.
Mosley's pick:
Giants 27, Lions 17: I respect the fine work of Lions coach Jim Schwartz, but the Giants have too many weapons at receiver right now and
Ahmad Bradshaw
's one of the top backs in the league. And no one will be able to block
Justin Tuck
in this game. You heard it here first.
Atlanta Falcons at Philadelphia Eagles:
I was surprised that only one member of our distinguished panel picked the Eagles to win at home. Do we really have this much respect for the Falcons? Only Mark Schlereth made the brave choice to pick Philadelphia. But he's about to have company.
Mosley's pick:
Eagles 24, Falcons 21: Quarterback
Kevin Kolb
will give Andy Reid something to think about when he throws for 300 yards and two touchdowns.
Dallas Cowboys at Minnesota Vikings:
This is another surprising breakdown from the experts. Apparently they think the Cowboys' talent will be too much for
Brett Favre
and the Vikings. I figured the Vikings would win out with the experts. Mike Golic, Ron Jaworski and Schlereth were the only experts to go with the home team. I picked the Cowboys for ESPNDallas.com, but I've changed my mind since finding out that
Andre Gurode
is banged up.
Mosley's pick:
Vikings 28, Cowboys 20
Indianapolis Colts at Washington Redskins:
Eric Allen, Merril Hoge and Jaworski all picked the Skins over the Colts. Folks are starting to believe that Mike Shanahan can will this team to the playoffs. This is another great test.
Mosley's pick:
Colts 28, Redskins 21
October, 1, 2010
10/01/10
3:10
PM ET
By
Matt Mosley
| ESPN.com
Each Friday afternoon during the regular season, the NFC East blog makes its predictions in case anyone's still at work. But first, let's take a peek at
what the experts came up with
for Eagles-Redskins and Bears-Giants. The
Dallas Cowboys
have a bye week.
Washington Redskins at Philadelphia Eagles:
Chris Mortensen flirted with the idea of picking the Redskins when he joined us on the radio Thursday, but he couldn't muster the courage. All eight experts chose
Michael Vick
and the Eagles.
Mosley's pick:
Redskins 24, Eagles 23: I know the Skins were lousy in St. Louis last Sunday but something tells me Mike Shanahan will have them ready to play against the Eagles. I think
Donovan McNabb
throws for 300 yards and three touchdowns in his homecoming. And yes, Eagles fans will give him a nice round of applause during introductions. I'm serious.
Chicago Bears at New York Giants:
Mark Schlereth
,
Mike Golic
and
Eric Allen
were the only experts who picked the Bears to win Sunday night. Apparently Mort and Adam Schefter still believe in Tom Coughlin after three weeks.
Mosley's pick:
Giants 20, Bears 16: I think the Giants will respond to Coughlin in a big way in this game. They moved the ball really well against a tough Titans defense. On Sunday, they'll move the ball and limit their personal fouls. Have a splendid weekend.
June, 22, 2010
6/22/10
11:30
AM ET
By
Matt Mosley
| ESPN.com
Notable players
: QB
Mark Rypien
, RB
Earnest Byner
, WR
Gary Clark
, G
Mark Schlereth
, DE
Charles Mann
, CB
Darrell Green
, K
Chip Lohmiller
[+] Enlarge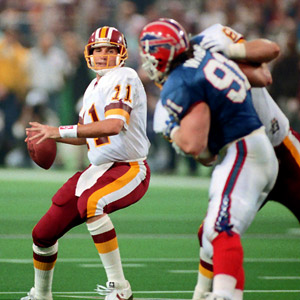 US PresswireMark Rypien threw for 3,564 yards and 28 touchdowns during the 1991 season.
Analysis
: Maybe I should've leaned toward the Riggo-Theismann teams, but in my mind, the '91 team was too stacked to ignore. Clark was such an unbelievable competitor and he still drops by practice from time to time and inspires the current players. Green was the primary reason opposing teams only managed 6 yards per passing attempt that season. His battles with
Michael Irvin
were priceless.
The '91 offensive line was dominant to a ridiculous degree. Redskins quarterbacks were only sacked nine times that season, which is a decent half for the current unit. Rypien had 14 touchdown passes of 25 yards or more to lead the league. Washington could beat you with the pass or run and then its defense knew how to protect leads.
Most impressive win
: The Redskins breezed through the regular season with a 14-2 record and then pounded the Lions and Falcons in playoff games. But the 37-24 Super Bowl win over the Bills stands out to me. The Bills were in the middle of a remarkable run and they had an immensely talented offense. The Redskins didn't care about any of that. We remember the Cowboys being the dominant team of the '90s, but the Redskins set the table in '91 with a memorable season.
Best player
: Green was brilliant at cornerback, but Rypien was the MVP of the league. For that one season, he put up numbers (3,564 yards passing, 28 TDs) that would make any quarterback envious. And the man threw an excellent deep ball.
Honorable mention
1987
: I'll never forget Doug Williams' performance in the Super Bowl. He was shaky early in that game, but after the Skins fell behind the Broncos by 10, Williams settled down and started shredding the defense.
1983
: I know the '82 team won a Super Bowl, but that was in a strike-shortened season. Give me the '83 team even though it was pummeled by the Raiders in the Super Bowl.
1972
: The Skins ran into the perfect Dolphins in the Super Bowl, but Billy Kilmer and the gang had a tremendous season. Larry Brown was a monster and the great George Allen had the Cowboys in full paranoid mode. It was a classic time in the rivalry because the Cowboys also had become an elite team.
January, 1, 2010
1/01/10
9:59
AM ET
By
Matt Mosley
| ESPN.com
Let me be the first NFC East blogger to wish you a Happy New Year this morning. Looking forward to big things in 2010!
Now let's take a look at what
our Bristol experts are predicting
for this weekend's games. I'll be back later today with my predictions in the Beast:
Adam Schefter is the only member of the esteemed panel picking the Giants to beat the Vikings.
Eric Allen, Mike Golic, Ron Jaworski and Mark Schlereth are all picking the Eagles to beat the Cowboys. I'm sure it's only a coincidence that three of the four used to play for the Eagles. Chris Mortensen, Adam Schefter, Merril Hoge and Seth Wickersham are picking the Cowboys.
Sadly, all eight panelists were unanimous in picking the Chargers to beat the Redskins in what is likely Jim Zorn's final stand.
Right now I'm leaning toward picking the Cowboys at home, but the day is young.
December, 19, 2009
12/19/09
10:22
PM ET
By
Matt Mosley
| ESPN.com
I had the Saints winning big over the Cowboys. I am not ashamed to admit it. But kudos to Adam Schefter and Seth Wickersham for having the guts
to pick Dallas in this game
.
Let's see what the experts predicted in the other two games involving NFC East teams followed by my pick:
San Francisco at Philadelphia:
Not a single panelist picked the 49ers, but I think Eagles fans should be worried about this game. Yes, the Eagles are used to playing in poor weather conditions but the 49ers have been playing hard. For some reason, I think the 49ers will push Philly in this game.
Beast pick:
Eagles 24, 49ers 20.
New York at Washington:
Mike Golic, Chris Mortensen and
Mark Schlereth
all picked the Redskins to pull off the slight upset. And I think the change at general manager may have given this fan base a little spark. With
Albert Haynesworth
returning and
Brian Orakpo
playing at a high level, I think
Eli Manning
could have some major issues. Give me the Skins.
Beast pick:
Redskins 28, Giants 23
December, 12, 2009
12/12/09
4:57
PM ET
By
Matt Mosley
| ESPN.com
Every Saturday during the season, I make my predictions for games involving NFC East teams. I'm really riding the fence on both the Eagles-Giants and Cowboys-Chargers games. The Eagles have owned the Giants in December and early January, but Tom Coughlin's team is as healthy as it's been in a couple months and the Eagles don't have a lot of veteran leadership.
But before I unveil my predictions, let's take a look at
what the experts from Bristol
came up with this week. Merril Hoge has been on a roll this season, but he's coming off a rare 8-8 week. Mike Golic went 10-6 during a week where there were some upsets, so let's keep an eye on him.
The esteemed panel came to a split decision on Cowboys-Chargers. Eric Allen, Mark Schlereth, Golic and Hoge went with San Diego. Ron Jaworski, Chris Mortensen, Adam Schefter and Seth Wickersham picked the Cowboys.
Beast prediction:
Cowboys 31, Chargers 28
I was shocked that Schefter was the only human panelist to pick the Giants. That doesn't make a lot of sense to me -- especially since the game's being played in Giants Stadium. I think the desperate-team theory will work again for the Giants this week.
Beast prediction:
Giants, 21, Eagles 17
Golic, Hoge, Schlereth, Schefter and Wickersham are all picking the Raiders to beat the Redskins. I think
Jason Campbell
will take advantage of the Raiders' man coverage and have a big day.
Beast prediction:
Redskins 21, Raiders 13
November, 8, 2009
11/08/09
7:00
AM ET
By
Matt Mosley
| ESPN.com
Posted by ESPN.com's Matt Mosley
Before I make my weekly predictions, let's take a look at what
the ESPN selection panel came up
with for today's NFC East games. Of the eight esteemed panelists, only two picked the Cowboys to win at the Linc tonight. That would be
Merril Hoge
and Adam Schefter.
The panel has lost a lot of respect for the Giants during this three-game losing streak. Four guys picked the Chargers to walk into Giants Stadium and hand New York its fourth consecutive loss.
Eric Allen
,
Mike Golic
,
Mark Schlereth
and Seth Wickersham all picked the Chargers.
As you probably expected, all eight panelists picked the Falcons over the Redskins. It would be nice for someone other than Dan Snyder to go out on a limb and pick the Redskins, but it would also be foolish at this point in the season. I do have a feeling that the Redskins will keep this one close in the first half. OK, here are the Beast predictions:
Eagles 24, Cowboys 21:
The game will live up to all the hype and
David Akers
will nail the game-winner late in the fourth quarter. I like how Cowboys quarterback
Tony Romo
is playing right now, but he doesn't have a good history against the Eagles. Defensive coordinator
Sean McDermott
doesn't think Romo responds well to contact and that's why you'll see a lot more blitzes than he called against the Giants last Sunday.
Giants 31, Chargers 20:
They desperately need a win -- and I think this is a bad spot for the Chargers. The Giants could get a couple of players back on defense, which will make them a lot more versatile.
Philip Rivers
is going to get hit a lot in this game. I also think
Eli Manning
will play well against a Chargers defense that doesn't like to blitz a lot. It's imperative that the Giants get off to a fast start in this game. I think that's exactly what will happen for them.
Falcons 27, Redskins 10:
The Falcons have lost two straight games for the first time during the
Mike Smith
era. I don't think the Redskins are poised to make it three in a row. New play-caller Sherman Lewis has had more time to familiarize himself with the personnel, but with tight end
Chris Cooley
out of the lineup, there aren't many weapons. I think the Falcons will overwhelm the Redskins' inexperienced offensive line.
OK, have a wonderful Sunday. I'll be in Philly for Cowboys-Eagles.
December, 19, 2008
12/19/08
12:36
PM ET
By
Matt Mosley
| ESPN.com
Posted by ESPN.com's Matt Mosley
I just spoke with NFL Live anchor Trey Wingo via phone and he said the show is hoping to go outdoors this afternoon (4 p.m. ET) to let viewers have a sense of what it's like to play football in the snow. Sunday's Patriots-Cardinals game in Foxboro is what inspired Friday's show in which former players Mark Schlereth and Marcellus Wiley will demonstrate the keys to performing in the snow.
The only problem is that it's not snowing in Bristol right now. I'm a little concerned about what role Wingo will play in this scenario. As a quarterback for the Baylor Phi Delt B2 team in 1985, he threw five interceptions in a narrow loss to the Sigma Chis.

NFC EAST SCOREBOARD
Thursday, 8/21
Friday, 8/22
Saturday, 8/23