July, 2, 2014
7/02/14
9:20
AM ET
The
Washington Redskins
' 12-member draft class in 2011 was supposed to yield a number of key players. With those players entering the final year of their original contracts, it has not lived up to expectations -- or hopes. As of now, only one player will enter the season as a guaranteed starter and by this time next year it could well be that only a couple players remain from this group. Injuries didn't help as five of these players have missed an entire season or a substantial part of a year. Here's a look at how they stand:
Kerrigan
LB Ryan Kerrigan (first round):
Established as the starting left outside linebacker. He's become a solid player for Washington and was off to a terrific start last season with 6.5 sacks in the first seven games. Kerrigan injured his knee and, though he said it did not cause any dropoff in his play, he also admitted he lost a little explosiveness because of how it felt (he had just two sacks in the final nine games). Like
Brian Orakpo
, he should benefit from the arrival of outside linebackers coach Brian Baker, defensive end
Jason Hatcher
and rookie linebacker
Trent Murphy
. Kerrigan does well moving around and rushing from the inside. He'll need to get out of the habit of trying to mostly rush with contain. But if others are being effective, Kerrigan will have a solid year with his relentless style. The Redskins gave him the fifth-year extension, so he will return next season -- as he should.
DE Jarvis Jenkins (second round):
Not even guaranteed to start this year, though he'll definitely be in the rotation. And if he does start, he likely won't play as much in the nickel until he proves he can help as a pass-rusher -- something he has yet to do. Jenkins can be valuable at helping against the run. He needs a strong year to garner another contract from the Redskins.
Hankerson
WR Leonard Hankerson (third round):
There's no guarantee he'll even be ready to start the season. He's been inconsistent and has never become the player Washington's previous staff hoped he would be. Injuries haven't helped him at all. But Hankerson lacks any sort of explosiveness after the catch. He'll have a tough time this season coming off his knee injury. Not the way he'd want to enter a contract year.
RB Roy Helu (fourth round):
He can still help, but what he's proven is that while he can at times look excellent in the open field he's not a patient runner from scrimmage, leading to too many short runs. The Redskins drafted
Lache Seastrunk
, but Helu has a big edge over him in the pass game. It's not just about catching the ball, it's about knowing how to run routes and pick up blitzes and recognize coverages. Don't underestimate that aspect of the job because it's huge. But if Seastrunk improves and shows he can be more than a runner from spread formation, then Helu's future beyond 2014 is in doubt. For now, he's insurance if something happens to
Alfred Morris
.
S DeJon Gomes (fifth round):
The Redskins cut him before the 2013 season and he was picked up by Detroit. He's still with the Lions, but will be a reserve and special teamer. He never developed in Washington.
TE Niles Paul (fifth round):
Entered as a receiver with decent speed, but was more known for his blocking on the edge as a rookie and then moved to tight end in his second season (after some discussion of trying safety instead). Paul hasn't become the sort of tight end the coaches felt he might, but he was better last year than in 2012. Still, he's a third tight end who can block on the move. The Redskins drafted
Ted Bolser
, but based on watching his college tape and again this spring, he did not seem like a real threat to unseat Paul. The latter is a key special teams player, too. He's a tough guy and adds a lot on that unit.
Royster
RB Evan Royster (sixth round):
Will enter once again as a guy on the bubble. He was insurance last year and carried the ball twice and caught one pass. With Morris, Helu and Seastrunk, it's hard to imagine Royster being anything other than insurance again. It will depend, too, on how
Chris Thompson
looks this summer -- and how many backs Jay Gruden wants to keep. Tough to see Royster being around in 2015.
WR Aldrick Robinson (sixth round):
He improved down the stretch, but to expect a big leap this season would require much faith. Robinson has had to learn how to run routes at the proper speed and depth, something he did get better at in 2013. But like Hankerson he needs to improve his consistency. At best he's a fourth receiver this season and if
Ryan Grant
progresses, he'll eventually bump him from this role (not a lock for that to be the case this year however; Grant needs to get a lot stronger). Another guy who could be gone after this season.
CB Brandyn Thompson (seventh round):
Cut before the 2012 season; now plays for Ottawa in the CFL.
OT Maurice Hurt (seventh round):
Has never really looked in great shape. He missed all of last season with a knee injury and will have a tough time making the roster. Worked at right tackle in the spring. He's not a right tackle.
LB Markus White (seventh round):
He looked the part, but never quite grasped the position. Cut during the 2012 season. He spent time with Tampa Bay that season, but was cut last August. He now plays for Saskatchewan in the CFL.
NT Chris Neild (seventh round):
Opened with a flash as a rookie with two sacks early in the season. His game, though, is not built on sacks so that was an anomaly. He's a try-hard guy, but will have a real tough time making the roster.
April, 30, 2011
4/30/11
7:30
PM ET
»
NFC draft analysis
:
East
|
West
|
North
|
South
»
AFC
:
East
|
West
|
North
|
South
To survive in the NFC East, you usually must have the "go-for-it'' mentality.
Redskins owner Dan Snyder usually goes for it in free agency or trades. Cowboys owner Jerry Jones is always willing to go for the home run. The Eagles are consistently aggressive. The Giants have a great flair for personnel.
But NFC East teams were safer, maybe smarter, in the 2011 draft. The Cowboys and Eagles took offensive linemen in the first round. Both were safe, solid picks. The Eagles, in fact, passed up the chance to gamble on Colorado cornerback
Jimmy Smith
, who has off-the-field issues, for the safe selection of Baylor guard
Danny Watkins
. The Giants drafted to the ratings on their board instead of reaching for players at need positions.
If that wasn't enough, the Redskins kept trading down and acquiring picks. The NFL may be struggling through the "Year of Living Dangerously" on the labor front, but the NFC East played it safe for three days.
BEST MOVES
The NFC East was starting to become Jurassic Park for offensive linemen. The Redskins and Cowboys let their offensive lines get too old and paid the price. The Giants are on the verge of doing the same. The
Cowboys
made the best moves, taking
Tyron Smith
, the 6-5, 307-pound offensive tackle from Southern Cal in the first round, and Missouri State guard
David Arkin
in the fourth. Smith's selection was the best. Outsiders thought the Cowboys would jump at the chance to fix last year's problems at cornerback, but Jones rightfully looked at 2010 as off seasons for talented cornerbacks
Terence Newman
,
Mike Jenkins
and
Orlando Scandrick
. Whether Dallas plays Smith at left tackle or right is irrelevant. The Cowboys are younger at tackle with
Doug Free
, their top priority for re-signing, and Smith. It also helps that offensive line coach Hudson Houck comes from USC and knows how to take young, talented blockers and turn them into stars. Kudos to Jones for not being cute and trading down for more picks.
RISKIEST MOVE
[+] Enlarge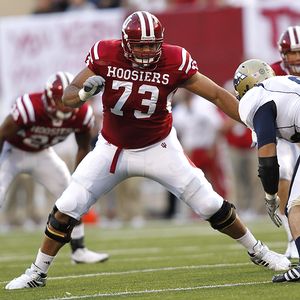 AJ Mast/Icon SMIDid the Giants wait too long to take an offensive tackle by drafting James Brewer in the fourth round?
The
New York Giants'
decision to wait until the fourth round to take their first offensive line prospect, tackle
James Brewer
from Indiana, is a big risk. Brewer isn't a sure bet. He'll take time. There is no faulting the decision to take cornerback
Prince Amukamara
in the first round. The Giants, according to sources, liked Colorado offensive tackle
Nate Solder
, who went two spots before their pick in the first round. They didn't have grades on offensive tackles
Anthony Castonzo
and
Gabe Carimi
that matched the 19th pick. Amukamara was considered a top-11 prospect. In the second round, they got defensive tackle
Marvin Austin
, who had a low first-round grade. Teams shouldn't go against their draft boards, but at some point, the Giants need to get an offensive lineman who will start as a rookie. We've seen this too often in the NFC East, and now the Giants might have to scramble in the free-agent market for help, and that will be tricky.
MOST SURPRISING MOVE
The Redskins skipped the chance to draft a quarterback even though they are going to move
Donovan McNabb
and don't have
Rex Grossman
signed to a contract. Here's why:
John Beck
might be their quarterback in 2011 unless something opens up in free agency or a trade. That's right, John Beck, the former second-round pick of the Miami Dolphins who is 0-4 as a starter in the NFL. When Beck came into the league in 2007, he was considered a
Kurt Warner
-type quarterback, but like Warner, he's already well-traveled. (He's with his third team.) There is a belief in Redskins Park that they don't need to rush into a quarterback as they did last year in making the McNabb trade. Knowing they weren't drafting a quarterback, the Redskins worked on getting bigger players to fit their 3-4 defense.
FILE IT AWAY
The Redskins made five draft trades that enabled them to increase their number of draft choices from eight to 12, an unusual strategy for a franchise that loves to go for splash and flash. So file away the names of the players acquired and watch whether they become valuable role players or potential starters down the line.
Ryan Kerrigan
(left outside linebacker) and
Jarvis Jenkins
(defensive end) could be starters in the 3-4 defense, and third-rounder
Leonard Hankerson
is an interesting receiving prospect. The key name to file away is halfback
Roy Helu
from Nebraska, a fourth-round pick whom the Redskins actually traded up to get. The other names to file away are safety
Dejon Gomes
, wide receiver
Niles Paul
, running back
Evan Royster
, wide receiver
Aldrick Robinson
, cornerback
Brandyn Thompson
, guard
Maurice Hurt
, defensive end
Markus White
and defensive tackle
Christopher Neild