NFC East:

Marty Schottenheimer
January, 10, 2014
Jan 10
12:15
PM ET
ASHBURN, Va. -- Bruce Allen said it after Mike Shanahan was fired. And nothing will change now that Jay Gruden has been hired.

Allen is in charge. There will be a shared approach to decision-making, but ultimately one person must have final say. In the past four years it was Shanahan. This time it won't be Gruden.
"It will be my responsibility," Allen said.
As a first-time head coach, Gruden should not be granted ultimate power. He'll have enough to worry about as a head coach -- and play-caller -- to dabble that much in personnel, too. Morocco Brown will be the director of pro personnel; Scott Campbell the director of player personnel. Former San Diego general manager A.J. Smith, currently a senior executive, could have a greater role in the future (he did not earn high praise for how he worked with the coaches in San Diego; Marty Schottenheimer said in "A Football Life" that he learned of roster moves at times through the media).
But Allen said Gruden's time in Cincinnati should prepare him for the current setup.
"The coaches were really involved with the personnel office," Allen said. "We'll make our selections based on the Redskins choices. The scouting department will give us the players and the list, and we'll work through with the coaches and analyze it. Every player will be chosen as a group."
But Allen has to prove he can build a winner as the primary decision-maker. He said he does not feel any more pressure than he previously did, though it's also true that general managers don't often stick around long enough to make a third hire if the first two don't work.
"We have to get it right," he said. "We need to get the franchise back on track in a winning direction. That is a responsibility, but I've felt that responsibility every day."
January, 10, 2014
Jan 10
10:30
AM ET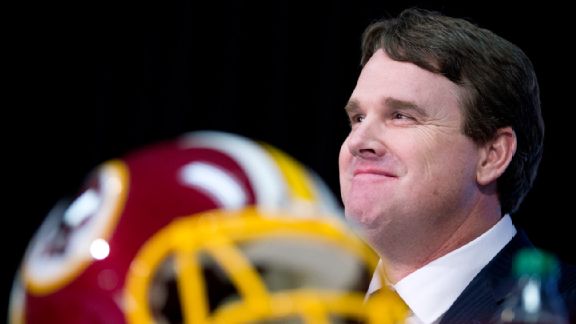 AP Photo/Manuel Balce CenetaNew head coach Jay Gruden comes to the Redskins with something to prove.
ASHBURN, Va. -- At some point during Jay Gruden's introductory news conference, it became clear: Gruden was, for lack of a better phrase, a breath of fresh air.
That doesn't mean he'll work out as the
Washington Redskins
' head coach. No coach has proved he can win in Washington under owner Dan Snyder. The owner isn't always the reason, but it is his organization and facts are facts: No coach that he's hired has left here with a winning record.
And he's hired some of the all-time winningest coaches: Marty Schottenheimer (career winning percentage: .606), Joe Gibbs (.665) and Mike Shanahan (.552). He hired the college hot shot, Steve Spurrier (.730). Yet that group posted a combined winning percentage of .420 as Redskins coaches with eight losing seasons out of 11. The three longtime NFL coaches combined for seven losing seasons in their other combined 48 NFL seasons.
Again, it's not all on Snyder. But the organization can't hide from its past and this is what they've done here.
Yes, Jim Zorn was not Snyder's typical hire, though that resulted as much from lack of preparation as anything. They were caught off-guard by Gibbs' retirement and had no real plan. Zorn, a nice personable guy, could not command a room and did not have the respect of his players. Even coaches would wonder about some of the bizarre tales he would tell the team, wondering how it related to his ultimate message. After Zorn's first news conference, I remember thinking: I'll like this guy, but it will not go well.
Gruden also is atypical, though in a different way than Zorn. He, too, comes across as personable. He does not come here with the résumé of the other non-Zorn hires. You can point to reasons why he'll be good and equally point to reasons why he won't be. A case can be made either way.
But it's good that Gruden arrives without the sizzle of the others. Gibbs did not arrive with any in 1981 either. Nor did Schottenheimer when he took over in Cleveland. Shanahan was a hot-shot coordinator but failed first-time head coach when he got the Denver job. They all won.
There's a different sort of energy that comes with a guy trying to reach a certain place rather than trying to maintain it. When you've had success, perhaps you start to get too confident in what you can do -- and with whom. You can overestimate your abilities as a coach because of your track record. Gruden, it seems, understands he'll need help -- from coaches, but mostly from players.
The past brings instant credibility, but it clearly hasn't guaranteed anything here. It's not like other teams wouldn't have hired any of these previously successful coaches. During their first news conferences you could see, and feel, why they'd won in the past. But duplicating past success is difficult, especially when you work for an organization with a weak foundation. Is it more firm now? Will there really be a better way of making decisions? I say: Prove it. We've heard this talk before about Redskins Way and Redskins Grades. Why is this time different?
But this is why hiring someone such as Gruden is intriguing. He needs to work hard to prove himself to his players rather than pointing to his résumé. It's not that the others weren't respected; they were. And I'm not even blaming them solely for their losing records here; good organizations win. The Redskins have not. Schottenheimer probably would have won had he stayed longer, but taking all control from Snyder was a bad move, one he felt he could do because of, well, his track record of success.
Of course, the track records buy respect with the owner and can keep him less involved.
But with Gruden, the newness brings something new, something fresh. His personality could be good for quarterback
Robert Griffin III
, a more personable coach with an even-keeled demeanor. I also can't imagine a former quarterback isn't hard on his own quarterbacks. And it's not as if Shanahan was out of control; Griffin deserves his share of the blame in this breakup. However, Gruden might just be a better fit for him.
Every coach needs authority, but not every coach needs power. Too often here there's a power struggle. Spurrier had none, but he was ill-equipped for the NFL. Zorn had none, but was blinded by an 8-2 start into thinking he was a coach he really wasn't. Only Gibbs knew how best to use that power under Snyder.
Gruden doesn't arrive here as a polished guy, nor as someone who will wow anyone with his charisma when he walks into a room. Maybe that's good because, for a change, it's not all about the coach here. The coach must be in charge; he must be the authority. But he doesn't have to be the star.
A lot has to go right for Gruden to work, just as would be the case anywhere (though Griffin could make his life easier by returning to his old self). The Redskins have never proved all will go right for more than a season at a time. So this is far from just up to him. That can't be emphasized enough. The front office must provide the players and also the support. The owner can't undermine his coach -- whether it's real or perceived -- by his conduct, whether in recommending certain moves or getting too tight with players.
The coach has to do his part too. That's where Gruden's newness can help. Yes, he has a famous last name. But he still needs to make his name.
January, 3, 2014
Jan 3
9:20
AM ET
I've been told several times that Bill Cowher is not returning to coaching. But to think that Washington Redskins owner Dan Snyder hasn't at least reached out to him is insane. Snyder has lured Marty Schottenheimer, Joe Gibbs and Mike Shanahan to his organization. You don't think he's at attempted to get Cowher -- one of two big names still on the sidelines (Jon Gruden being the other)? Don't forget, Snyder heard "no" from Gibbs a couple times over several years before snagging him. Of course, Snyder has hired three of the all-time winningest coaches -- and in their nine combined seasons they produced three winning records and one NFC East title in Washington. Not a great track record. Cowher is smart and would have to know the issues involved, and past obstacles, in coaching here.

Cowher

The CBSThisMorning twitter feed sent this out this morning: Bill Cowher (@CowherCBS) says there is "nothing to" the rumor he'll return to coaching, but the "door is never closed."
That's why, when I hear that they haven't talked, I laugh. Any team that doesn't reach out to Cowher to gauge his interest is not doing its job. And no owner is more attracted to star power than Snyder. Cowher exudes the power and confidence any owner would love, especially Snyder. If he thinks that door is "never closed" of course he'd pursue him.
Having said that, even if that door is closed here, if I'm Snyder and Bruce Allen I'm tapping into all my resources to find the right coach. Snyder has a relationship with Cowher, so there's just as strong a chance that if they have talked, it's also to run names by him and pick the brain of a Super Bowl coach. Just like Allen would be doing with Gruden. They might not be interested in coming to Washington -- at all -- but they can still help in the search. It's what I'd do as well. It's smart. My guess is they'll pick the brain of many others about the job.
I also remember when Gibbs was hired, there was a spotting of Snyder's plane in Charlotte several days earlier. A reporter, Len Pasquarelli, asked Snyder about it -- and about Gibbs -- and was pretty much told nothing was going on. He was hired a few days later. Snyder's plane was in Denver early in the 2009 season, and again we were told it had nothing to do with a meeting between the owner and Mike Shanahan; instead the plane was there for someone else's use on business. That was the line. Later we found out differently. Point is, believe nothing and consider everything until it's over.

Gruden

And I'm not saying I think Cowher is coming. At this point I have zero evidence to the contrary, and people I respect and trust say it's not happening, so that's what I stick with. But I've learned not to fully believe certain denials by the organization.
The Redskins face an uphill battle in some ways with their search. Yes, there are attractive parts to the job -- young offensive nucleus, cap space -- but the reality is a 15-year record of mostly losing and chaos every few years. That will scare some candidates off and make others leery. So find out from experts such as Gruden and Cowher what they need to do -- and who they need to interview.
And just because they interview someone, it does not mean they have a strong interest in them. It's good to interview coaches with various backgrounds to see how they assess your team and organization. If you limited your search to just, say, offensive-minded coaches, you would not learn all you need to know. It would be quite dumb to operate that way.
From what I've been told, they have not yet reached out to Arizona defensive coordinator Todd Bowles.
San Diego offensive coordinator Ken Whisenhunt, an intriguing candidate for any opening, was teammates with Detroit general manager Martin Mayhew from 1989-90 in Washington. I heard that they've maintained a friendship, which could help lure him to the Lions. But if the Chargers win this weekend, would the Lions wait just for him? Not sure about that. One potential drawback to the Lions job: I've heard they want to maintain the defensive staff. If another coach wants to hire all of his coaches, that could be an issue.
December, 31, 2013
12/31/13
8:15
AM ET
Before the
Washington Redskins
' head coaching search gets fully underway -- though, in reality, it began a couple weeks ago -- let's take a look back at the coaching hirings owner Dan Snyder has made. This will be his sixth hire since buying the team in 1999. That leads to constant changing of schemes, which means a constant changing of talent to fit those schemes. And constant losing. Will this time be any different?
Here's a look at his past coaches, all but one of whom was considered a big-name hire:
Marty Schottenheimer
Why he was hired:
Predecessor Norv Turner was viewed as too soft when it came to discipline. Snyder went for a strong-willed, no-nonsense coach.
Why it failed
: Schottenheimer had too much power for Snyder's liking. When Schottenheimer fired Vinny Cerrato shortly after taking over, it started the beginning of the end for him. Partners in Snyder's group did not like Schottenheimer and, by Week 3 of his first season, rumors of his demise already had begun.
Record:
8-8 in one season.
[+] Enlarge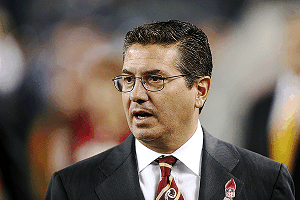 Matthew Emmons/USA TODAY SportsDan Snyder will be making another coaching hire this offseason.
The ending:
Schottenheimer had to wait nearly a week after the season ended to have his fate decided. And every day a media horde would follow him from the facility to his car awaiting an update. It was bizarre. The day Steve Spurrier resigned from Florida, colleague Liz Clarke of the Washington Post and I were in the press room. I remember her immediately saying, "Snyder's going to hire him." It was a gut feeling based on knowing how the then relatively new owner operated. I hedged, saying how people close to him said he'd never: A) Leave Florida and B) Coach in a colder climate. A week later I vowed never to assume anything. And I'll still say this: Had Schottenheimer remained in control, the Redskins would have had more success. He went .500 with
Tony Banks
and
Kent Graham
at quarterback and a roster devoid of serious talent. You did not hear excuses when he was done.
Steve Spurrier
Why he was hired:
After watching Martyball for a season, the Redskins opted for the supposedly innovative Spurrier, whose offenses at Florida were fantastic. He also was hired because he did not want power. That was evident from the get-go and most especially during the draft when Spurrier had little involvement.
Why it failed:
Turns out personnel matters more than scheme. Who knew? Spurrier thought he could win with former Florida quarterbacks
Danny Wuerffel
and
Shane Matthews
. Nope. Spurrier did not keep typical NFL coaching hours. He was ill-prepared for the NFL and he did not have a front office that could bail him out. He was a good guy and entertaining. But I remember his first press conference when he could not name but one Redskins player. It became clear: He was unprepared for the job.
Record:
12-20 in two seasons.
The ending:
Spurrier wasn't fired, but rather resigned. When the news broke he was on a golf course. I happened to be on the phone with one of his former assistants, who said he had earlier told his wife that after being on his staff he could not figure out how the guy even won in college.
Joe Gibbs
Why he was hired:
Because he's Joe Gibbs. Snyder was like every other Redskins fan, a Gibbs worshiper because of the Redskins' success under him in the 1980s and early '90s. Three Super Bowl wins tend to make you a legend.
Why it failed:
It didn't fail as much as it didn't succeed in grand fashion. The Redskins did make the playoffs twice in four years under Gibbs. But the coach who oversaw dominant offenses throughout the 1980s with nine finishing in the top 10 in total yards had a mediocre attack in Washington. Their top ranking in total yards per game was 13th and in points was 11th.
Record:
30-34 in four seasons.
The ending:
Before the 2007 season, Gibbs, myself and another reporter chatted casually outside their weight room. He talked about golfing and other leisure activities and seemed like a man wanting an easier lifestyle. Adding to that desire: His grandson had leukemia, which he often talked about. Then came the 2007 season and Sean Taylor's death. By the end Gibbs was drained. Only Redskins management was caught completely off-guard by his retirement.
Jim Zorn
Why he was hired:
Because others turned them down, notably, and lastly, Steve Spagnuolo, who did not like that the staff already had been hired. A month-long search led them back to Zorn, hired as an offensive coordinator. The Redskins also touted him as Gibbs-like in terms of his personal side.
Why it failed:
Because he should never have been hired as a head coach. The Redskins started strong under him, winning six of their first eight games and there was a thought that perhaps the quirky Zorn could indeed make it work (players and coaches would say they often had no idea where he was going with his messages once he started talking). He could not. Injuries hurt down the stretch, but the Redskins went 2-6 and then 4-12 the next year. Zorn had no power in the organization and several players could bypass him and go right to the owner. But Zorn was overmatched.
Record:
12-20 in two seasons.
The ending:
Came fast. Zorn was fired after the Redskins returned from a season-ending loss at San Diego.
Mike Shanahan
Why he was hired:
He was the biggest name available and Snyder had been talking to him for a while. There was even chatter that had the Redskins indeed landed quarterback
Jay Cutler
, their next move would have been to fire Zorn and hire Shanahan. His two Super Bowl rings and résumé suggested it would at least be a solid hire.
Why it failed:
All sorts of reasons, from the salary-cap situation to
Robert Griffin
III's knee injury. But to just blame those would be incorrect. There were bad personnel decisions, not enough depth produced through the draft and a head coach who perhaps trusted his instincts too much. They had little margin for error so when anything went wrong, games (and seasons) unraveled.
Record:
24-40 in four seasons.
The ending:
As you know, it occurred Monday morning.
September, 15, 2013
9/15/13
10:30
PM ET
GREEN BAY, Wis. --
Ten observations after the Redskins' 38-20 loss at the Green Bay Packers.
Do not assume that just because the Redskins were 3-6 and won seven straight that they will emerge from this horrid start to have great success. It wasn't that they lost 38-20 to Green Bay, it's that the Packers could have done a lot more. Of the Redskins' first six losses a year ago, they really only were out of one game -- the loss in Pittsburgh. And even after that one they came away with a feeling of missed opportunity because of all the dropped passes. It was hard to imagine a seven-game win streak; it was not difficult to envision a stronger finish just because of how the offense was playing. Now? Neither side of the ball is providing any real help.

Is this a coaching issue? It's the same staff that guided them to seven straight wins and earned praise for never panicking. Did they forget how to prepare? I don't think so. But do they deserve blame? Of course. When you're 0-2 and look terrible -- think back to the early Marty Schottenheimer days -- everyone deserves heat. Calling plays are one thing; coaching is as much about getting players to buy into what you want them to do. From there, it's about making plays. There were times, for example, that Green Bay quarterback Aaron Rodgers read the coverage wrong. He still made plays. Dropping passes that are slightly off; missing tackles; dumb penalties ... those don't qualify as "making plays."

[+] Enlarge

Jeff Hanisch/USA TODAY SportsDavon House and the Packers made Sunday frustrating for Washington QB Robert Griffin III.

But with the amount of penalties, undisciplined ones at that, it's going to be easy to paint this as a frustrated team that needs better coaching from Mike Shanahan on down. Have at it. I won't disagree and neither will, or should, they. Some of the issues go away if Robert Griffin III gets going. The trickle-down effect of his play is tremendous. Great players, which is what he was last year, cover up many sins. But good luck covering up all their sins thus far with one player turning himself around. The Redskins need Griffin -- and he must work through his rust, and regain trust in himself to be the player he was a year ago -- but this is way more than just about him.

Receiver Josh Morgan has a pass skip off his hands on a crucial fourth down (he would not have made the first) that leads to an interception. Somehow Perry Riley is alone with speedy receiver Randall Cobb on a fourth-and-3 -- one safety, Bacarri Rambo, rotated to the right flat to cover a receiver and the other safety, Brandon Meriweather, ran to his left to double Jordy Nelson. So the Packers' most dangerous receiver was left with a linebacker. Who blew it? Does it matter? There are other examples. The point is made. It keeps happening.

Sunday's game against Detroit becomes the biggest of the season. This team can't afford to start 0-2 at home, particularly against two teams you feel you were better than (on paper, at least). This is far from a gimme: the Redskins have problems with big defensive tackles; the Lions have them. They struggle against offensive playmakers. The Lions have them.

They did get to Rodgers in the first quarter with three sacks, helped on one by the coverage. And then? The Packers went to more three-step drops. "Rodgers even told me himself they weren't dropping back anymore. I was like, You gotta be kidding me," Redskins linebacker Brian Orakpo said.

Don't be surprised if more teams go that route. If a team is struggling to tackle in the back end or missing assignments, then why not test that ability? They are not playing disciplined football. You know the Redskins can apply some pressure, but can they tackle consistently? They didn't Sunday, that's for sure. By the way, five different Packers had gains of at least 27 yards -- and four had gains of at least 32. That's unbelievable. So is 480 yards passing.

You know why I like rookie tight end Jordan Reed? He's one of the few receiving targets who made a catch on a pass that wasn't perfect. On his 3-yard touchdown reception, the ball was behind him. On his 4-yard catch in the fourth quarter, he had to reach up high. Too many others are dropping those passes. Yes, Griffin isn't as accurate right now as he needs to be; not even close. He also needs players to help him out; Reed did. He should play more.

Third downs have been a killer, particularly in the first half. In the last two games the Redskins are 1-for-9 on third downs in the opening two quarters. Only one of those has been for under five yards. It's a tough way to live. They were 1-for-5 Sunday, which is why they managed zero first-half points despite averaging 6.5 yards per play. Oh, and of their 24 drives this season, 17 have started at their 20 or worse. Meanwhile, the opponents have combined to convert 9-of-17 third down chances in the first half.

You knew it would be tough with two rookies playing key roles in the secondary. Both safety Bacarri Rambo and corner David Amerson will be given time to grow and there will be bumps. For Amerson Sunday, it was a blown assignment. He thought he was in one coverage, but did not realize they had checked to something else. Rather than stick with receiver James Jones running down field, he bumped and released him. Jones was free for a 57-yard gain. Defensive coordinator Jim Haslett gets defensive when talking about his rookies. That's fine; he's protective. This isn't about whether or not they can play. Time will decide that. But they do have a lot to learn. That's not second guessing; that's reality. Sadly, it's not as simple as these two players improving and everything else goes away. This is a collective effort -- and that's what's scary.
January, 29, 2013
1/29/13
5:25
PM ET
Gary Myers' new book, Coaching Confidential, apparently contains a chapter that should be of great interest to
Washington Redskins
fans, as it sprung from an apparently lengthy interview with Redskins owner Dan Snyder. Gary got Snyder to talk to him about the reasons for the hirings and firings of past Redskins coaches, including Marty Schottenheimer, Steve Spurrier and Jim Zorn, and to explain that the reason he fired GM Vinny Cerrato was because Cerrato did a poor job of protecting Snyder from himself.
Per Dan Steinberg
:
On Jim Zorn: "The general manager needs to prevent the owner from hiring someone who's not qualified. And that's why Vinny is no longer here, to be truthful with you. He's not here because his job was to prevent the owner from hiring a not-qualified coach. Having said that, we went in and had the worst two-year experience I ever dreamed. I apologized, according to my wife, ten thousand times. I apologize openly. I made a big mistake. It's a terrible experience when you know you got the wrong guy to lead the franchise."
The reason I found this interesting was because several people, when I spent time around the Redskins this past season, told me they thought that current GM Bruce Allen acts as a critical buffer in the Redskins' current power arrangement. The thought is that Snyder is, essentially, as off-the-wall as ever behind the scenes but that Allen absorbs it and deflects it away from coach Mike Shanahan and keeps Snyder from going public with or acting on his impulses. Snyder contractually promised Shanahan that he'd stay out of the spotlight and let Shanahan build and run the team his way, and he appears to have kept that promise. It's possible that the reason he's been able to do so is that he has the kind of GM he didn't think Cerrato turned out to be.
February, 15, 2012
2/15/12
9:58
AM ET
We had our weekly chat Tuesday, and if you missed it, that's just too bad for you. A mere recap of a few of the highlights is a poor substitute for the glory that is the chat itself. But I offer it anyway, because I understand that not everyone is fortunate enough to be able to experience these things first-hand. You had work, school, nap, whatever. You forgot. Whatever the reason, I'm disappointed, but I'm here for you.
Alex from NY
asked about Texas A&M's Ryan Tannehill as a possible quarterback solution for the
Washington Redskins
at No. 6 in the draft.
Dan Graziano
: He's a wild card. Converted WR who I think made 30 college starts at QB. Can he move all the way up to No. 6 pick territory between now and April 26? He's not there yet, from what I've seen, but he could be this year's
Christian Ponder
-- a guy who goes much sooner than anyone expected because of the importance placed on that position. Long time between now and the draft. I always go back to two years ago, when at this point
Mark Sanchez
was a late first-rounder but the Jets traded all the way up to 5 to pick him on Day One.
Gobizzle from D.C.
wanted to know whether the
Dallas Cowboys
might finally move
Jay Ratliff
to defensive end from nose tackle this offseason.
DG:
I believe it'd make sense to move him out there. If they can't upgrade over
Anthony Spencer
at OLB, which is a possibility, they'll need playmakers on the ends. I'd look for a big, monster NT to eat up blockers and let Ratliff do his more athletic thing on the edge.
Luke M from NJ
asked whether offensive line or defensive back was a more important position for the
New York Giants
to address this offseason.
DG:
I think the line is more important, since they have last year's first-round pick,
Prince Amukamara
, as well as possibly
Terrell Thomas
in the DB mix. The line is aging,
Kareem McKenzie
is a free agent,
David Diehl
won't be there forever... they need to be thinking about what their line will look like for the next half-decade or so.
Mike from New Lisbon
asked whether the
Philadelphia Eagles
would fire Andy Reid if they failed to reach the Super Bowl this coming season.
DG:
I don't see how they have to reach the Super Bowl. What if they have the year the Packers just had -- go 15-1 and lose in the playoffs? Can you fire a coach off of that?
And then
Person from DC
helpfully pointed out that the Chargers once fired Marty Schottenheimer off a 14-2 season that included a first-round playoff exit, so it does happen.
DG:
It does. And it could. My point is that the Eagles have to have a great season, but that you can have a great season and still not reach the Super Bowl. Also, I think there were some personality conflicts in San Diego with Schottenheimer and management.
Again, we do this every Tuesday. Next week, please do drop by.
January, 7, 2011
1/07/11
11:42
AM ET
By
Matt Mosley
| ESPN.com
Let's take a quick look at what folks around the country are saying about the Dallas Cowboys' new head coach. And if you're an Eagles fan, I'll have a column posted by about 2 p.m. ET if that works for you guys.
November, 13, 2009
11/13/09
12:41
PM ET
By
Matt Mosley
| ESPN.com
Just spoke with Redskins executive vice president of football operations Vinny Cerrato on the phone. Sounds like he thinks the Skins are poised for an upset win. We can discuss Skins-Broncos, Cowboys-Packers or Eagles-Chargers. It's really up to you guys. Welcome back to the Mailbag, a place where we can say how we really feel about each other. Continue for reading for nuggets that will change and enhance your life:
Dan from Swedesboro, N.J., would like to know why the Eagles' Joselio Hanson was suspended for doing virtually the same thing that players from Minnesota and New Orleans were doing.
Mosley:
Dan, it's a fair question. That's exactly the point that attorney David Cornwell made on Hanson's behalf. It appears that the players' union and owners will at some point in the future agree to reduce the punishment for players who test positive for using diuretics. Cornwell has said that Hanson took a pill before last season's NFC title game because he was feeling "bloated" and that pill turned out to be a diuretic. It certainly doesn't seem fair that Hanson's suspended while the StarCaps players continue to stay on the field, but the Eagles cornerback's appeal was denied. But let's at least point out that players don't really have an excuse for taking a pill if they're not 100 percent sure what it is. It's not like the whole diuretics angle is a new one. Hanson needed to be more vigilant in finding out what he was taking. Or maybe he should simply avoid Chinese food before games in the future.
---
Aaron from Candor, NY wants to know if Cowboys outside linebacker Anthony Spencer is a bust and if he should be replaced by rookie Victor Butler. He'd also like to know if Spencer's struggles have led to DeMarcus Ware's relatively low sack total.
Mosley:
Aaron, I'm not going to use the "bust" word for Spencer just yet. It's not like he's been turned into a nickel linebacker (Bob Carpenter) at this point. Spencer has actually held up really well against the run this season and he's put some pressure on the quarterback. But yes, he was drafted in the first round to be a dynamic pass-rusher who can collect at least 10 sacks per season. That hasn't happened. He's not at "bust" status yet, but check back with me at the end of the year. And I don't think Butler should start, but he's definiely earned some more snaps. In limited action, he's had three sacks. The play he made against Donovan McNabb on Sunday night helped preserve the win for the Cowboys. He's been highly productive so far. Why not give the man some more reps?
---
Stephen Kogon from the great state of Maryland says that we "ain't seen nothing yet" if the Redskins retain Vinny Cerrato at the end of the season. Stephen thinks the fan base would rebel at that point.
Mosley:
I spoke to Cerrato via phone this morning. In the past, I would've said that Dan Snyder would keep Cerrato around no matter how the team finishes, but I'm sensing a new level of disgust from the owner. Not specifically with Cerrato, but with the entire situation. I think he realizes that fans have lost faith in pretty much anyone in a management position. Snyder and Cerrato settled for Jim Zorn as a head coach because they ran out of other options. They looked pretty smart in the first half of the 2008 season, but they were close to firing Zorn by the end of the season. Cerrato hasn't told me this, but I think his best chance of remaining with the organization is for Snyder to hire Mike Shanahan as head coach. Cerrato and Shanahan worked together in San Francisco and have a good relationship. If any of the other big names took the job (Cowher, Gruden, Holmgren), Cerrato could find himself without a job. But the last time Snyder "fired" Cerrato, he was only in exile for a season. That was the Marty Schottenheimer regime.
---
Andrew from New York is concerned that I haven't spent enough time this week analyzing "the three incorrect spots" in the fourth quarter of the Cowboys-Eagles game.
Mosley:
Andrew, the only spot that looked wrong to me at the time was the fouth-and-one play where Donovan McNabb went with the quarterback sneak. NFL vice president of officiating Mike Pereira admitted that he would've
moved the ball forward a few inches
, which may have given the Eagles a first down on a crucial drive. But here's why I haven't made a huge deal about that spot: The Eagles had a second-and-1 that went for no gain followed by a third-and-1 that went for no gain. Those didn't look like bad spots to me, they looked like poorly executed plays. If the Eagles can't come up with a play that results in a 1-yard gain on two (and perhaps three) consecutive plays, how much sympathy do they deserve? I sense that some Eagles fans agree with me on this point. Over the past few years, Andy Reid teams have not been good in short-yardage situations. They'd been better this season -- until last Sunday night. So anyway, that's why I didn't spend much time taking up the Eagles' cause this week.
---
Bardo from Utah, you get the final word today because you bring up a great name:
Regarding Veterans Day, not many stories on former New York Giants Al Blozis. Sad that he's a forgotten man today... Al played tackle for the Giants in 1944. He had also held the world record for the shot put at the time. Shortly after losing the Packers in the 1944 title game, Al left for Europe and directly to the Battle of the Bulge. Al was a Lieutenant and killed in his first patrol. I wish someone could spread more info on this real hero. Thanks!
Mosley:
On Dec. 2, 1945, here's what was
written in the official game program
for the Giants-Eagles game:
This last day of the professional football season at the Polo Grounds is dedicated by the Giants to two of their teammates who lost their lives in the war, Al Blozis, who died in the Vosges Mountains and Jack Lummus who was killed on Iwo Jima.
Al and Jack were splendid men. That they also were grand fellows and fine football players now, alas, is only incidental. The Giants miss them. They miss their fellowship, they miss the tone these men lent to the clubhouse and field ensemble. Today plaques commemorating their deeds are unveiled here at the Polo Grounds.
Blozis joined the Giants in 1942 after winning fame in football and as the world's champion shot putter at Georgetown. Big Al (he weighed 250 and stood 6-6) did well in his freshman year with the pros. In his second he won all league tackle honors. After the 1943 gridiron campaign, the North Bergen, N. J. giant got into the Army the hard way. He had been turned down several times because of his size. After winning his gold bars, Al received special permission to play with the Giants the last three 1944 games. His gridiron farewell was December 17, when the Giants opposed the Green Bay Packers for the title. Two days later Al was on his way to the front.
1st Lt. Lummus was killed in an infantry-tank attack which broke one of Japan's final and most stubborn lines of resistance on Iwo Jima. The following year, On May 5, 1946 Harry S. Truman, President of the United States, signed the Citation awarding posthumously the Medal of Honor to First Lieutenant Jack Lummus.
September, 24, 2009
9/24/09
10:26
AM ET
By
Matt Mosley
| ESPN.com

Posted by ESPN.com's Matt Mosley
Anyone who thinks Jim Zorn's job is safe until the end of the season hasn't spent much time around Redskins owner Dan Snyder. He's a Jerry Jones protege, only without the Lombardi trophies. And quite honestly, Jones has a lot more patience than Snyder -- as evidenced by Wade Phillips still roaming the sidelines.
Snyder happens to own an ESPN radio affiliate in the D.C. area and one of his hosts, Kevin Sheehan, asked the following question of Zorn this week: "Is Sunday a game that could affect your job security?"
Zorn, normally a patient man, shot back: "I won't even answer that question. I'm trying to get ready for Detroit. I'm not worried about my job."
And while I've been a firm supporter of the Zorn administration, it's true that his fate could be decided over the next four games. With a favorable schedule, there's no reason the Redskins couldn't be 4-2 heading into a big divisional game against the Eagles. But as
Mike Wise points out this morning in the Post
, a 3-3 record might cause Snyder to make an in-season move. That's not something his hero, Jones, would do but it's certainly in Snyder's playbook. He fired Norv Turner in Dec. 2000, when the Redskins had a 7-6 record. And speaking of impatience, Snyder fired Marty Schottenheimer despite the fact the Redskins won eight of their final 11 games in 2001. The ol' ball coach was too good to pass up at that point.
I personally think it would be crazy to fire the guy who calls the plays and manages the quarterbacks midway through the season, but don't put it past Snyder to make a move. Right now, it's not looking good for Zorn and quarterback
Jason Campbell
. But I do recall a certain NFC East coach who barely held onto his job following the '06 season -- and he went on to win a Super Bowl.
I'm just sayin' ...
February, 20, 2009
2/20/09
11:00
AM ET
By
Matt Mosley
| ESPN.com
Posted by ESPN.com's Matt Mosley
As far as NFL executives go, the Redskins' Vinny Cerrato is normally about the closest thing to an open book as you'll find. When his position as owner Daniel Snyder's right-hand man was eliminated by coach Marty Schottenheimer in 2001, Cerrato took his gift of the gab to ESPN, where he served as a college football analyst.
But before Snyder could even deliver the news that Schottenheimer was fired after one season, Cerrato was back on the payroll. The two have been inseparable ever since, which is something that annoys a lot of Redskins fans. Coaches come and go, but Cerrato is the one constant.
| | |
| --- | --- |
| | |
| | Andy Lyons/Getty Images |
| | Second-round picks Fred Davis and Devin Thomas have yet to contribute much on the field. |
He's now the executive vice president of football operations and he's led a delegation of coaches and scouts to the NFL combine this week in Indianapolis. I visited with him for about 20 minutes Thursday, although I did most of the visiting. Unlike our conversations in the past, Cerrato seemed determined not to shed any light on which direction the Redskins might go in free agency and the draft.
Cerrato asked whether Giants general manager Jerry Reese had pulled back the curtain on his plans for Plaxico Burress. I quickly informed him that Reese had e-mailed the plan over that very morning.
Cerrato's sick of hearing the same questions, but they're not going away anytime soon. When you draft two wide receivers and a tight end in the second round of the 2008 draft and they combine to do virtually nothing, the questions come from every direction. Devin Thomas has game-breaking speed, but his work ethic came into question last year. Malcolm Kelly had a knee injury and tight end Fred Davis out of USC seems like somewhat of a flake. Cerrato defended the draft picks, but he's also challenged each of them.
"You can't panic," he said. "The two receivers missed all of training camp. Malcolm had the knee injury. Devin and Fred will improve a lot. But I've told them them that our improvement as a team depends a lot on how they do this offseason. I'm putting the pressure on those guys."
Most people were relieved to see the Redskins bypass all the wild-spending in free agency to build through the draft last April. But out of nine picks, seventh-rounder Chris Horton was the only player to make a significant impact. On the surface, it looks like the Redskins grossly overestimated the core group of players that helped them make an emotional playoff run following Sean Taylor's tragic death in 2007.
Over the last eight years, the Redskins haven't made drafting offensive and defensive linemen a major priority. It's hard to believe they have drafted only four interior linemen in the first four rounds of the draft since 2000. And that's a large reason they now have the oldest offensive line in the NFL.
You can talk about the quarterback and the lack of a pass rush all you want, but this team's collapse in the second half of last season coincided with the breakdown of the offensive line. Pro Bowl left tackle Chris Samuels, a former first-round pick, suffered a season-ending injury and veteran players such as Jon Jansen, Randy Thomas and Pete Kendall appeared to wear down. Kendall is an unrestricted free agent and coach Jim Zorn revealed Thursday that Thomas recently underwent surgery for a neck injury.

Jason Campbell
#17 QB
Washington Redskins


2008 STATS
YDS
CMP%
TD
INT
RAT
3,245
62.3
13
6
84.3
But since this league's all about the quarterback, it's important to note that Jason Campbell is entering the final year of his contract. He would like the security of an extension this offseason, but the Redskins aren't showing any interest in making that happen. I reminded Cerrato (not that he needed it) how Jerry Jones ended up paying Tony Romo an extra $10 million or so because the quarterback played so well early in a contract year. And the Cardinals are now dealing with a similar issue with Kurt Warner. Still, Cerrato told me the Redskins don't feel any pressure to extend Campbell at this point.
"He made some strides last year," Cerrato said of Campbell. "He cut down his turnovers. I thought he made great strides with that."
But I've spent enough time with Campbell to know that he functions best when he believes the organization is completely behind him. The fact the Redskins aren't even considering an extension will be weighing on his mind as he enters t
he 2009 season. I know it was something that bothered Romo in 2007, but he used it as motivation and ended up sticking it to Jones, who didn't mind that much since the Cowboys were winning games.
Cerrato said he's talked to the agents for all of the team's unrestricted free agents. He didn't come out and say it, but it's pretty obvious that re-signing free-agent cornerback DeAngelo Hall is a major priority. Cerrato confirmed that he will meet with Hall's agent at the combine to discuss a long-term deal. But with corners such as the Colts' Kelvin Hayden receiving lucrative deals already, there's really no hope of Hall giving the Redskins a hometown discount.
"We're going to meet with his people," Cerrato said. "He played really well for us last year."
On the surface, it doesn't look like the Redskins have the salary cap space to do anything dramatic in free agency, but Cerrato said the team is in position to be relatively aggressive.
"We'll have room to do things," he said. "We've moved some things around to put us in position."
| | |
| --- | --- |
| | |
| | AP Photo/Tony Gutierrez |
| | Many mock drafts have the Redskins selecting Texas DE Brian Orakpo with the No. 13 pick. |
Of all the things that go into the combine, Cerrato said he values the interview sessions the most. The Redskins normally have six or seven people sitting in the room, and they used to bring in a psychologist. Cerrato said that quarterbacks Peyton Manning and Brady Quinn were two of the best interviews he's observed.
"I like the interviews because it's sort of an unknown," Cerrato said. "But the most important thing in the whole process is the film. That's where you gather a lot of the information."
Cerrato said the best combine workout he's ever seen involved former Notre Dame safety Tom Carter, who had 18 interceptions for the Redskins from 1993-96. He said Carter had a 42-inch vertical and ran a 4.3 in the 40-yard dash.
Cerrato's hoping he can find someone with similar ability in the No. 13 spot. The Redskins could end up taking an offensive lineman or a pass-rusher. He said this draft has a lot of "tweeners" at defensive end and outside linebacker. Texas defensive end Brian Orakpo keeps showing up on mock drafts at 13, but Cerrato wasn't about to tip his hand.
With only four picks in April's draft, though, the Redskins don't have much margin for error.
February, 19, 2009
2/19/09
1:06
PM ET
By
Matt Mosley
| ESPN.com
Posted by ESPN.com's Matt Mosley
Many former Giants players and personnel will gather Sunday in Owosso, Mich., to say goodbye to former Pro Bowl linebacker Brad Van Pelt, who died Wednesday of an apparent heart attack at the age of 57. His teammates had some wonderful things to say about him in a press release sent out by the Giants.