June, 28, 2014
Jun 28
10:00
AM ET
The second round of mail focused on
Alfred Morris
' role, Jay Gruden's AFL days,
Tanard Jackson
's future and more. Enjoy.
@john_keim #redskinsmailbag Do you see Alf's role next yr being more like BGE or closer to the last 2 years for him?

— NP (@enkay85) June 27, 2014
John Keim: Well, he's better than BenJarvus Green-Ellis so I would expect Alfred Morris to get a lot more carries. Plus I'm not sold that the Redskins have their Giovani Bernard type to take away that many carries from Morris. Roy Helu will get some and perhaps Lache Seastrunk, especially in the spread. But I would expect Morris to still be a factor. But how much of one? Honestly don't know yet. I know the Redskins will keep the same run game, but I also know Jay Gruden's reputation is that he likes to throw the ball (it was also Kyle Shanahan's, too, until he landed Morris and Robert Griffin III). Morris "only" had 276 carries last season compared to 335 as a rookie (losing so often last year didn't help). I could see his totals being closer to last year than his rookie year, just because of the added weapons in the pass game. Green-Ellis, by the way, carried 278 times two years ago but only averaged 3.9 yards per carry. Morris averaged 4.6 yards last year and 4.8 as a rookie. Big difference.
@john_keim #RedskinsMailBag Do you think Tanard will make the team?

— Rob (@CaptainBudz) June 27, 2014
Keim: If I had to guess right now I'd say yes, but there's so much more that needs to be seen -- and not just with Jackson. There's no way to fully know where his game is at based off the spring. Heck, he admitted he wasn't able to stay in the best shape during his suspension because he also had to work. Understandable. But now you have someone who needs to get back into NFL shape and then prove he can still play after missing two years. Maybe he'll get there; too early to know. Then it also depends on how others are doing as well. Has Bacarri Rambo improved at all? How does Akeem Davis look? Davis could sneak his way onto the roster. Jackson was a talented player once upon a time. He just needs to prove he still is one this summer. If so, he'll be fine.
@john_keim With no NFL head coaching experience, do you give any value to Gruden's winning pedigree as an AFL head coach? #redskinsmailbag

— Big John (@Big_John_1906) June 20, 2014
Keim: Not a whole lot. Maybe others do, especially if they're trying to paint a certain picture, but I don't. Then again, had he been a losing coach there ... Steve Spurrier had a winning pedigree in college, as did many others who tried to make that leap. It does help that Gruden has been in charge, but it's such a different game and level. I'm sure certain aspects translate, but I'm not about to go overboard with that experience. What helps is that he's been immersed in the pro culture since he was a kid because of his father and brother. What also helps is that he's been exposed to good coaches throughout his career, from Howard Schnellenberger to his brother Jon to Marvin Lewis.
#redskinsmailbag How do you feel special teams and the secondary has improved this off season?

— Aeh Vee (@AehVee) June 22, 2014
Keim: I really like what they've done on special teams this offseason and it's sort of gotten lost at times with all the other storylines. But they bolstered the unit by adding linebackers who can help here -- not just the veterans in Darryl Sharpton, Akeem Jordan and Adam Hayward, but also drafting Trent Murphy. Rookie corner Bashaud Breeland will help, too. The Redskins kept too many players last year who were low on their position totem pole, yet provided poor help on special teams. Those days must be over if they want to build anything right. Not sure yet about the kicker Zach Hocker and if he's an improvement. Still concerned about punter. As for the secondary, they improved the leadership by adding Ryan Clark and they need David Amerson to play well. The biggest way they can help this group is by applying more pressure with their front seven. If that happens, then the secondary will benefit.
@john_keim #redskinsmailbag #redskins who will be the possible starters on offense?

— Alexandre Castello (@alexcastello29) June 26, 2014
Keim: Easier to just link to the story I wrote on that earlier this week. It's how the starting lineup looks entering training camp. The only position I can see changing is right guard. Otherwise, things are pretty well set.
@john_keim How do you think Gruden's success coaching-up Andy Dalton will translate to him working with #RGIII? #redskinsmailbag

— sonny katz (@DCLeisurist) June 26, 2014
Keim: Well, the one thing I liked that Gruden did with Dalton is played to his strength as a passer, which is why he incorporated Giovani Bernard into the game plan. Dalton was not a strong-armed passer so he gave him a good option underneath. Obviously Griffin has a stronger arm so he can do different things. But the point is that it seems like he'll focus more on what his quarterbacks can do and then build his offense. At least I think that's the case. Until we see him with a different quarterback we really won't know how much he'll adapt. Gruden also had a strong relationship with Dalton, which if he builds the same with Griffin will help. But one knock against him in Cincinnati is that perhaps he got too close. So it's the opposite of what happened in Washington.
April, 3, 2014
Apr 3
5:24
PM ET
With so many toys at Jay Gruden's disposal in
Robert Griffin III
,
Pierre Garcon
,
Andre Roberts
,
Jordan Reed
and
DeSean Jackson
, how does
Alfred Morris
fit in offense?
Morris
In his three years as the
Cincinnati Bengals
offensive coordinator, Gruden had two 1,000-yard rushers in
Cedric Benson
(1,067 in 2011) and
BenJarvus Green-Ellis
(1,094 in 2012). The Bengals ran for 1,788 yards, 1,745 yards and 1,755 yards in Gruden's three years as coordinator.
But he also had
A.J. Green
,
Marvin Jones
,
Andrew Hawkins
and
Mohamed Sanu
at receiver. In the playoff loss to the
San Diego Chargers
, he got pass-happy.
"Jay sees the offense through the eyes of the quarterback, and having played the position, he has a great deal of respect for the position," said Bengals coach Marvin Lewis said at the NFL owners meetings in this
Washington Post story
. "He'll say these guys are the luckiest guys because he would've given his right arm – left arm, I guess – to have the opportunity to be an NFL quarterback. So, he really is conscientious of that. He really has things unfold through the eyes of the quarterback."
Because he sees things as a quarterback, will he rely more on the passing game? It has been an argument used against Jason Garrett for his years as the playcaller with the
Dallas Cowboys
. Sean Payton was a quarterback and he leans more to the pass with the
New Orleans Saints
.
It's only natural.
But Morris offers Gruden a better running back than what he had in Cincinnati. He rushed for 1,613 yards and 13 touchdowns as a rookie in 2012. He followed that up with 1,275 yards and seven touchdowns in 2013.
Was it a function of Mike Shanahan's scheme and the coach's ability to find running backs anywhere and everywhere?
The NFL is a passing league these days, but Gruden can't get away from Morris and become too pass-happy if the Redskins want to be successful.
March, 31, 2014
Mar 31
4:30
PM ET
Louis Riddick wasn't surprised by
DeSean Jackson
's release. He also knows what Jackson would provide a team, having arrived in Philadelphia the same year as Jackson (2008) and rising to become the Eagles' director of pro personnel two years later. Riddick, now an ESPN NFL Insider, offers insight into what Jackson would provide an offense and how the Redskins, or any team, need to have a well-constructed plan. This is Part 2 of Riddick's thoughts;
Part 1 ran earlier on Monday
.
Jackson arrives in Washington Monday, but the bulk of his visit will take place Tuesday, a team source said.
Were you surprised by his release?
Louis Riddick
: From a football sense, sure. From a team sense, no. The battle that team builders have all the time, the battle they fight, is weighing off-field personal character with on-field skills and potential production. … It's a lot easier to do it at this point because Chip Kelly is the new sheriff. The investment emotionally and professionally is not bad for him. He wasn't the guy who decided to give him an extension or who called him on draft day. So it's easier for him to say if you're not doing things exactly the way I want, you're out. It's obvious that it shows Chip is in charge because two years ago the same people who decided to give DeSean an extension are still there. I have a hard time believing it's easy for them to say two years later now we'll cut him. They know DeSean; they know the good and the bad. This is Chip's decision. He's running things there.
[+] Enlarge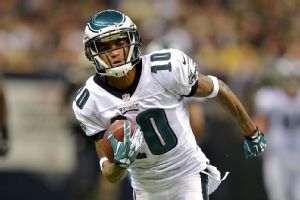 Drew Hallowell/Philadelphia Eagles/Getty ImagesNew regimes face unique challenges when considering adding a veteran like DeSean Jackson, who has established a way of doing things.
DeSean has growing up to do. That's fine. That's not a crime. That's just the way it is. You're not dealing with the easiest guy to deal with. That's been known. I played with players like that, as teammates, as friends. That's OK. You just better have a plan. Everybody is at different stages in their program. Philadelphia is a year into their program build. So they're still trying to implement and get to where everyone they have is on board with it and Chip was the overseer of that.
The Redskins are three months into their new program. Now you're considering bringing in a player who doesn't fit with one program. You don't know what the program will be yet because you haven't seen it in action yet. They haven't been around you. You haven't interacted with them in a setting that matters and now you're possibly taking on the task of implementing a guy who likes to do things in a certain way and you don't know how he'll do them in your program. I know it sounds redundant to say you have to have a plan, but the implementation part of player acquisition is where it all goes wrong. They spend so much time daydreaming how beautiful it can look on the field. I lived through it.
He's a guy who could make an impact with just one or two catches, as the Redskins saw in 2010. He had that opening touchdown and one other catch in that game. Yet he made a huge impact.
Riddick
: He did that kind of thing multiple times during my time in Philadelphia, as someone who was very involved with advance scouting and how we attacked opponents back then. Every week we'd ask, is there someone on that defense we can exploit and match up our No. 1 game-breaker against? We knew he would turn them inside out.
The first play against LaRon [Landry] -- he's a 4.3 guy in the 40 -- and DeSean basically strided past him and it didn't look like he was even trying. The ball was in the air and you saw him kick into another gear. But it wasn't a strain, it was, 'OK, I need to go from sixth gear or seventh gear.'
DeSean's top-end speed is transcendent. It's not like anything you've really seen in the NFL ever. That's the intoxication I'm talking about when scouting a guy like him. In this case you have to weigh that with the fit and the program you have in place and whether it can be managed, whether he is still maturing and still wants to change some of the ways he conducts himself in the building, in the classroom or on the practice field. The Redskins have largely a new staff, especially on offense. It's a total unknown and there are people there who have never proven themselves as administrators in this regard.
Can it help Jay Gruden having seen how Marvin Lewis implemented plans when bringing on guys like Adam Jones in Cincinnati?
Riddick
: Marvin was established. Mike Zimmer was there and that played a role in implementing a plan. He had a nice program rolling there. You're talking about a place where the coaching staff has been together since January. They've never been on the field with these guys. It's a lot for them, but if they feel up to it, more power to them.
November, 8, 2010
11/08/10
6:21
PM ET
Owners typically hire a new coach with the opposite demeanor of the old coach.
For
Dallas Cowboys
owner Jerry Jones, it's uncertain whether he will follow tradition in replacing Wade Phillips and new interim head coach
Jason Garrett
after the season. Phillips has always been a coach who creates a positive, supportive environment for players, which has led to criticism his teams sometimes were undisciplined.
The logical move would be to hire a disciplinarian, as Jones did in 2003 when he chose Bill Parcells to replace Dave Campo. Logic would point to a big-name coach with winning experience.
Although successful, the Parcells experience was tough on Jones. Parcells wanted a big voice in personnel. Jones likes to pick the players and have coaches teach them. That's why Bill Cowher -- perhaps the biggest winning name available -- probably won't get the job. Since leaving the Steelers, Cowher has been looking for a head-coaching job that pays top dollar on a franchise that has an elite quarterback. Like Parcells, Cowher wants control of the personnel office. That's why he probably isn't a fit. Remember, Jones could have hired Mike Shanahan during the offseason but decided to stay with Phillips. Expect Garrett to be interviewed, but I don't think he will get this job.
Here are the main candidates for the Cowboys' job:
Jon Gruden, former head coach of the Oakland Raiders and Tampa Bay Buccaneers:
Gruden is the perfect choice, but there is more of a chance he will stay in broadcasting until at least 2012. Should Gruden decide to coach in 2011, Mike Holmgren of the
Cleveland Browns
could be after him, but Jones will be all over him. Gruden, who signed a multiyear extension with ESPN last November, has a brilliant offensive mind. He is a master of the West Coast offense, but he also orchestrates a well-structured running attack. Some of Gruden's run schemes are the most innovative in football. Gruden would be a nice mentor for
Tony Romo
. Though he can be tough on veteran quarterbacks, Gruden got the best out of
Rich Gannon
when he was with the Raiders and
Brad Johnson
when he was with the Bucs. This could be Gruden's job to lose, but don't be surprised if he passes on the opportunity.
John Fox, Carolina Panthers head coach:
There would be no better compromise candidate than Fox. He's a winner. He fits in Dallas because he doesn't demand control of personnel. He's a coach's coach. Fox, in the last year of his contract with the Panthers, has taken players given to him in Carolina and made the most of the situation. With Jones, Fox would be getting an owner who isn't afraid to spend and keep a talented team together. Fox is considered a players' coach, but he is organized and runs a disciplined operation in which players enjoy the experience.
Marvin Lewis, Cincinnati Bengals head coach:
Lewis, whose contract is up after the season, has won two division titles for Mike Brown in Cincinnati. He would like more control of personnel in Cincinnati. Although he might not get that control in Dallas, coaching for one of the best brands in sports is highly appealing. Jones knows Lewis well from their time together on the Competition Committee.
Leslie Frazier, Minnesota Vikings defensive coordinator:
Frazier is one of the league's hotter assistant coaches, but it's debatable whether Jones will go for an assistant. Phillips was the Chargers' defensive coordinator when Jones hired him as Dallas' head coach. Phillips' head-coaching experience in Denver and Buffalo appealed to Jones. This would be Frazier's first chance to be a head coach.
Ron Rivera, San Diego Chargers defensive coordinator:
Rivera was a hot name a few years ago when he was the
Chicago Bears
'defensive coordinator. He's getting hot again because of the work he has done in San Diego, which has the league's second-ranked defense. Rivera took a chance in joining the Chargers to learn the 3-4 scheme. Even though the talent base of the Chargers has dropped off the past couple of years, Rivera has put together creative schemes.
Mike Zimmer, Cincinnati Bengals defensive coordinator:
A former position coach and defensive coordinator in Dallas, Zimmer is disciplined and aggressive, and players like playing for him. And Jones knows him, a big plus.
February, 12, 2010
2/12/10
7:46
PM ET
By
Matt Mosley
| ESPN.com
Former
Dallas Cowboys
cornerback Adam "Pacman" Jones worked out for the Bengals on Thursday,
according to ESPN's Adam Schefter
. Jones was released by the Cowboys last February and was out of the league last season.

Jones
Owner Jerry Jones did everything in his power to salvage Pacman's troubled career but the player refused to cooperate. The Bengals have never shied away from troubled players during the Marvin Lewis era, but Pacman's a different story. Perhaps Lewis is simply kicking the tires on Jones to see what type of condition he's in. I'd love to hear what former Cowboys defensive coordinator Mike Zimmer thinks about the possibility of adding such a notorious player. Zimmer is now the Bengals' defensive coordinator.
Even when he was behaving off the field, Jones was not regarded as a very coachable player with the Cowboys. In fact, he often tuned out coaches and exploited his direct line to the owner's office. Former Titans defensive coordinator Jim Schwartz constantly challenged Jones in practice -- and the player actually responded. But the organization could no longer deal with Pacman's nightmarish off-the-field behavior.
The Bengals went ahead and signed another troubled player Friday in wide receiver
Matt Jones
. I know that Jerry Jones desperately wanted to draft Matt Jones when he was coming out of Arkansas, but folks at Valley Ranch convinced him that it was a bad idea.
But is Jones (the wide receiver) worth taking a one-year, $700,000 chance on? I certainly think so. It's amazing how some players react when they're literally down to their final opportunity -- and I think the Joneses are right there. But of the two players, I think Matt has a much better chance of rehabilitating his career.
December, 18, 2009
12/18/09
6:30
AM ET
By
Matt Mosley
| ESPN.com
I remember the Redskins being in a state of shock after
Sean Taylor
's death on Nov. 27, 2007. And I'm sure a lot of those memories came flooding back when players heard the tragic news of Bengals wide receiver
Chris Henry
's death Thursday morning.
Taylor was away from his teammates at the time of his death because he was recovering from an injury. I think the fact that he hadn't been around his teammates as much as usual made it harder for them to accept what had happened. Because Henry was on injured reserve and wasn't required to be around his teammates all the time, I'm sure they're going through something similar.
Redskins players such as former University of Miami stars
Clinton Portis
and
Santana Moss
took it harder than anyone because of the special bond that players from The U enjoy. Moss was having a difficult season and he was almost inconsolable after Taylor's death.
Taylor, 24 at the time of his death, was a more accomplished player than Henry. And he didn't have a particularly troubled past -- as some people portrayed it to be at the time. One of the most important things that former Redskins coach Joe Gibbs did was allow his players time to grieve. He encouraged everyone to talk about Taylor. I recall hearing that safeties coach
Steve Jackson
could barely make it through team meetings. But all the tears from the coaches definitely brought the team closer together.
After a last-second loss to the Bills, the team flew to attend Taylor's funeral.
Todd Collins
had become the quarterback because of an injury to
Jason Campbell
. The Redskins went on an improbable winning streak and somehow made the playoffs. I know they used their pain and their love for Taylor to drive them during those weeks. I always think it seems trite, and even downright insensitive, when we immediately start talking about how teams are going to rally around a tragic situation. I don't look it at that way. But I do think the Redskins played with more passion the rest of the way in order to honor their fallen teammate.
It was one of Gibbs' finest moments in a Hall of Fame career. He let players see him grieving -- and that was important. It let them know that it was OK to open up to each other and put a voice to what they were feeling. With the death of Bengals defensive coordinator Mike Zimmer's wife, Vikki, and now this tragedy, the Bengals are a team that has seen a ridiculous amount of adversity. I think this is a group that performs at a high level no matter what the circumstances.
But I do think that the Bengals will face a lot of things this week and next that are nearly impossible to prepare for. I think coach Marvin Lewis would be wise to give Gibbs a call. He's one of the few coaches out there who could relate to how Lewis is feeling right now.
September, 21, 2008
9/21/08
4:21
PM ET
By
Matt Mosley
| ESPN.com
Posted by ESPN.com's Matt Mosley
Giants win the overtime coin toss and will get the ball first. That was brilliant work by Carson Palmer to lead his team down the field, but I haven't heard anyone point out how poor the clock management was at the end of regulation. It's third-and-1 with 28 seconds left, and Palmer delivers the ball with about seven seconds left. You're already in field goal range. How do you not have a quick play designed at the sideline? And if you get a quick first down, then you could throw it in the end zone at least once.
In other clock management news, that Aaron Ross injury hurt the Giants big time. If your shoulder's hurt, you need to drag yourself off the field. That play saved the Bengals a timeout, which they used to set up the final field goal.
If memory serves correct, the team that has the ball first in overtime wins 53 percent of the time.
September, 17, 2008
9/17/08
1:42
PM ET
By
Matt Mosley
| ESPN.com
Posted by ESPN.com's Matt Mosley
I just received a transcript from Bengals coach Marvin Lewis' conference call with Giants reporters this morning. In attempting to praise wide receiver Chad Ocho Cinco for his new approach, Lewis ended up taking another swipe at him. Asked to comment on the controversial receiver's recent name change, Lewis responded:
"He is still Chad to me and it doesn't matter to me what name is on the back of his jersey, he is still Chad. That is what he is and it is good to have him back and not to worry about the other guy that was around here for the last two years. He has his spirit back and he feels good about things and that is good. He has kind of put some of the issues he was dealing with in his past behind him and that has been a good, refreshing experience in this season thus far compared to where we were the last two seasons."
How's that for a back-handed compliment? What's interesting is that coaches are often more candid when talking with reporters who cover other teams. It's like they let down their guard a little bit because of the different audience.
That said, Lewis hasn't shied away from being critical of Ocho Cinco (isn't this fun?). It's just a little curious that he would use a conference call with New York reporters to take another swipe.
And what does it mean to say a player has his "spirit" back? I think Ocho Cinco has looked like a clown at times, but it's probably unfair for Lewis to cryptically refer to his "issues."
All that does is make us want to know more about the player's state of mind.