January, 28, 2010
1/28/10
4:54
PM ET
By
Matt Mosley
| ESPN.com
I know many of you are looking forward to the announcement of the (2000s) NFL All-Decade team that will be released Sunday during the Pro Bowl broadcast on ESPN. We already know that Cowboys outside linebacker
DeMarcus Ware
and Eagles kicker
David Akers
are part of that fabled team.
But that list pales in comparison to the 2009 All-Beast team, which you guys helped select in the comments section. At last glance, there were 278 responses to
my blog item requesting your participation
. I secured a local accounting firm in Dallas to tally your votes and I came up with my own list separately. Now let's take a look at the All-Beast team, with selected comments from some of my thoughtful readers:
Offense
[+] Enlarge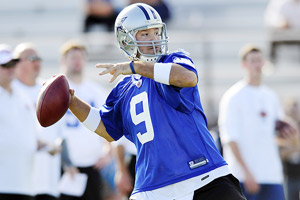 Steve Mitchell/US PresswireTony Romo threw for 4,483 yards and 26 touchdowns this season.
QB: Tony Romo, Cowboys:
I looked at this from every angle. Romo was more accurate and he had a better TD-to-INT ratio with 26 touchdowns and only nine interceptions. But the most important thing was that he elevated his game in December and January, including back-to-back wins over
Donovan McNabb
and the Eagles.
Reader comment: Barbarian will says: Romo has a better quarterback rating, threw for more yards and touchdwowns, threw one less interception, had a better completion rating, and outperformed McNabb in the three games they played head-to-head.
RB: Felix Jones, Cowboys:
I know starter
Marion Barber
had more yards, but Jones emerged late in the season as a true big-play threat. He had four carries of more than 40 yards and it's now obvious that he should be the Cowboys' starting running back.

Bradshaw
RB: Ahmad Bradshaw, Giants:
I went back and forth between Bradshaw and
LeSean McCoy
on this choice. If we just went on numbers, you could argue for
Brandon Jacobs
and Barber. But Bradshaw and McCoy were the most explosive backs for their teams. Even while fighting through injuries for much of the season, Bradshaw somehow managed to average nearly 5 yards per carry and seven touchdowns. Giants fans can make the same argument about him that Cowboys fans are making about Jones. The Giants have to give Bradshaw more touches.
Reader comment: NYBigBlue says: Most Giants fans can agree Bradshaw doesn't belong on the list for '09. But then again, Jones and McCoy are the only guys I'd put ahead of him in the division. It's not like Barber had a good year either, Choice wasn't used enough, and Westbrook and Portis were injured for much of the season. I'd argue Bradshaw possibly over Jacobs I guess for the third spot. Speaking of which...the Pro Bowl takes three of them, so add Bradshaw to my RBs.
Weaver
FB: Leonard Weaver, Eagles:
I think this one's pretty much a no-brainer. He brought some athleticism to the Eagles' backfield while
Brian Westbrook
fought through injuries. He played well enough to earn All-Pro honors, so I'm pretty sure he deserves his spot on the All-Beast team.
TE: Brent Celek, Eagles:
You guys had some interesting thoughts at this position. But in the end, Celek's eight touchdowns trumped
Jason Witten
's eye-popping 94 receptions. Celek emerged as one of McNabb's most-reliable weapons. Witten is still the better all-around tight end at this point, but Celek had the better season.
WR: DeSean Jackson, Eagles:
It's so ridiculous that the league ranks receivers in terms of receptions. By that measure, Jackson's down the list. But to me, it's about what you do with the receptions that truly counts.
Steve Smith
was superb this season, but he doesn't strike fear in cornerbacks like Jackson. Smith was second only to
Wes Welker
in receptions with 107, but Jackson averaged 7 more yards per catch and had two more touchdowns.
WR: Miles Austin, Cowboys:
Only Jackson and Houston's
Andre Johnson
had more touchdowns of 40 yards or more. Austin had his breakout game against the Chiefs in the first half of the season and never lost steam. He surpassed both Jackson and Smith in total receiving yards, and he led the talented trio with 11 touchdowns. He basically saved the Cowboys' season, so let's give him the nod.
Reader comment: TLmauer3 writes: THE ALL SCRUB TEAM: Roy Williams, Clinton Portis, Osi [Umenyiora], Nick Folk, Jim Zorn, Jacobs...that's all I can think of for now."
OT: Flozell Adams, Cowboys:
I've been highly critical of Adams for his personal fouls, but he did have a pretty nice season. He was at his best down the stretch. He's a nasty player who can still dominate a game at times. Will he be the starter at left tackle next season? We'll know soon enough.
OT: Jason Peters, Eagles:
I thought he had a somewhat disappointing season. Like Adams, Peters is a heavily-penalized player. Counting the playoff game, he was hit with a team-leading 11 penalties this season. But he's still athletic enough to shut down some of the game's top pass-rushers at times.
David Diehl
's not far behind Peters, but I'll give the former Razorback the nod.

Snee
G: Chris Snee, Giants:
He's the best guard in the NFC East at this point in his career. And I think we'll be saying that for the next four or five seasons.
G: Kyle Kosier, Cowboys:
Here's my upset special. I realize that
Leonard Davis
is headed to the Pro Bowl, but the scouts I've talked to said that Kosier had the better season. He did a really nice job pulling and working in space. He didn't hold up well against the Williams Wall, but you can say that about a lot of players.
C: Shaun O'Hara, Giants:
Andre Gurode
received the nod in the Pro Bowl, but O'Hara had the better season. And it seems like Eagles, Skins and Giants fans agreed with me in the comments section.