NFC East:

Matt Hassellbeck
September, 2, 2014
Sep 2
7:59
AM ET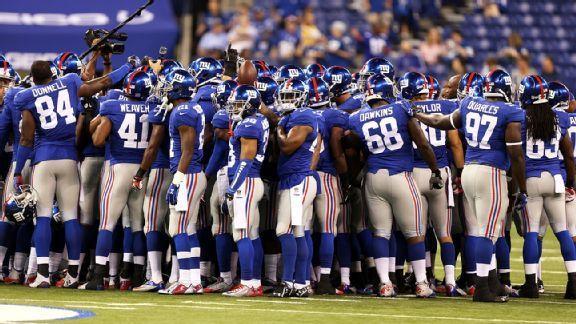 ESPN.com
New York Giants
reporter Dan Graziano makes his game-by-game picks for the 2014 season.
Week 1: at Detroit Lions
The Giants are coming off a mess of a preseason, undermanned and overwhelmed, with the offensive line still a mess and the new offense not clicking at all. No one will pick them to win this game. Except me. Prediction: Win
---
Week 2: Arizona Cardinals
This one's a comedown off the Week 1 surprise, as Arizona's banged-up defense still manages to flummox Eli Manning and collect a few interceptions. It's a bummer of a home opener as reality begins to set in. Prediction: Loss
---
Week 3: Houston Texans
Houston's defense is as liable as Arizona's to make life miserable for Manning and the offensive line. But Houston has bigger questions on offense than even the Giants, and this is a win for the New York defense against Ryan Fitzpatrick. Prediction: Win
---
Week 4: at Washington Redskins
The short week and Washington's stellar crew of offensive weapons prove too much for the Giants to overcome. Will Beatty still sees Brian Orakpo in his nightmares. Prediction: Loss
---
Week 5: Atlanta Falcons
The pattern continues, and the Giants overcome two Osi Umenyiora sacks to outscore the Falcons with a furious Manning comeback in the final minutes. The Giants poke their heads over the .500 mark as they make the turn into the most brutal stretch of their schedule. Prediction: Win
---
Week 6: at Philadelphia Eagles
The Giants don't have Matt Barkley to kick around this time when they visit the City of Brotherly Love. Chip Kelly and the Eagles show them what a truly innovative offense looks like. Prediction: Loss
---
Week 7: at Dallas Cowboys
The season-long debate about what gives when an anemic Giants offense meets a pathetic Cowboys defense tilts in Dallas' favor in the first meeting. Tony Romo & Co. have more than enough weapons to outscore Manning and his bunch, and the Giants hit the bye with a 3-4 record. Prediction: Loss
---
Week 9: Indianapolis Colts
After a long break before the Monday night home game, the Giants get taken apart by Andrew Luck, Hakeem Nicks & Co. at MetLife Stadium for a third straight loss. The offense is starting to run more smoothly, but it still doesn't have enough playmakers to outscore one of the league's better offenses. Prediction: Loss
---
Week 10: at Seattle Seahawks
You're kidding, right? Prediction: Loss
---
Week 11: San Francisco 49ers
The Giants have obviously handled the Niners in recent years and in some high-profile situations. But by this point in the season, San Francisco's defense is back to full strength, and the 49ers can't afford to lose ground to the Seahawks by failing to beat the team Seattle just beat the week before. Prediction: Loss
---
Week 12: Dallas Cowboys
A sixth straight loss is by no means out of the question here, as Romo and his crew still have the potential to outscore anyone in a given week. But from this far out, I'll forecast that something goes wrong for Romo late in this game, and the Giants get a gift. Prediction: Win
---
Week 13: at Jacksonville Jaguars
This is where the schedule starts to soften up, when the Giants start playing teams that insist on not starting their best quarterback. It's unfortunate they're 4-7 at this point and just about out of the playoff hunt, but they will get it going against the bottom-feeders. Prediction: Win
---
Week 14: at Tennessee Titans
I think the Titans are going to be dreadful this year, and by December they won't be very difficult for anyone to beat, even at home. A third straight victory keeps the Giants' hopes alive. Prediction: Win
---
Week 15: Washington Redskins
Have to be honest: The NFC East is so unpredictable that, when doing these predictions, I just decided to give the Giants a 3-3 division record with victories in all three home games and losses in all three road games. It's as fair a way as any to do it, I believe. Prediction: Win
---
Week 16: at St. Louis Rams
After moving back to .500 with four straight wins, the season falls apart at the hands of the St. Louis pass rush. An offensive line that has once again been the Giants' biggest problem all year can't protect Manning in a must-win game. Prediction: Loss
---
Week 17: Philadelphia Eagles
Tom Coughlin's teams can always find a way to play for pride. The Giants' playoff hopes are extinguished, but they still manage to end the season on a high note and with a .500 record. Prediction: Win
---
Predicted Record: 8-8
November, 21, 2008
11/21/08
4:00
PM ET
By
Matt Mosley
| ESPN.com
Posted by ESPN.com's Matt Mosley
New York Giants (9-1) at Arizona Cardinals (7-3), 4:15 p.m. ET
Quarterback Kurt Warner played for the Giants during Eli Manning's rookie season and watched him struggle through a 1-6 finish. Warner's career appeared to be over, but he's emerged as an MVP candidate in Cardinals offensive coordinator Todd Haley's offense.


The Giants are banged up a bit right now at linebacker and in the secondary, but the defensive line will be ready to go. Warner does a great of job of getting the ball away quickly, but defensive ends Justin Tuck and Mathias Kiwanuka will get to him at some point.
The Cardinals have had decent production from rookie running back Tim Hightower, but it's not like they're interested in establishing the run. They'll line up in a lot of four wide-receiver sets and try to spread out the Giants. Warner has the luxury of throwing to Pro Bowl receivers Anquan Boldin and Larry Fitzgerald, who might be the best in the game at catching the ball in traffic. The Giants will try to keep Warner from finding his rhythm early in the game.
On offense, there's a chance the Giants could be without starting running back Brandon Jacobs and wide receiver Plaxico Burress. Jacobs could play if he has to, but the Giants have excellent depth with Derrick Ward and Ahmad Bradshaw. Manning will turn to Steve Smith and Domenik Hixon if Burress can't go. Teams have been taking Burress out of games, but so far he hasn't shown a lot of frustration. This trip should bring back great memories for the Giants, who just won the Super Bowl in Glendale, Ariz. But this isn't a sentimental team. Expect the Giants to win big Sunday.
San Francisco 49ers (3-7) at Dallas Cowboys (6-4) , 1 p.m. ET
Mike Singletary has San Francisco playing inspired football, so this one's not a given for the Cowboys. Tony Romo gave the Cowboys a huge lift in Washington last Sunday, but it was the defense that delivered the win.


The Cowboys will put an extra defender in the box to slow down 49ers running back Frank Gore. Expect DeMarcus Ware and Jay Ratliff to feed off quarterback Shaun Hill's inexperience.
The 49ers have almost completely ignored their offensive line over the past few years, and there's a chance they get overwhelmed. On defense, the 49ers are pretty solid at linebacker. Patrick Willis is a tackling machine, and he's not the type of player who will shy away from Marion Barber. Singletary, the former Baylor University and Chicago Bears great, told me last season that Willis had a chance to be one of the best middle linebackers to ever play the game. That's a pretty lofty goal, but Willis has been sensational early in his career.
The Cowboys have lost rookie running back Felix Jones for the season because of ligament damage in his big toe, but Barber can handle 18 to 20 carries per game. Look for Jason Garrett to put Terrell Owens in a lot of pre-snap motion again this week. He has to have a breakout game at some point. Perhaps playing against his old team will do the trick. The 49ers simply don't have enough firepower on offense to win this game. And I think the Cowboys will be able to run on the 49ers in the second half. The Cowboys' Pro Bowl-laden offensive line finally put it together against the Redskins. I expect them to do it again Sunday.
Washington Redskins (6-4) vs. Seattle Seahawks (2-8), 4:15 p.m. ET

If I'm a Redskins fan, this game scares me to death. Coach Jim Zorn is returning home to where he played and coached for years. He comes across as a very patient, cerebral guy, but he's also pretty emotional at times.


Zorn needs to settle into a play-calling rhythm early in this game and not take needless chances. A team like the Seahawks is just waiting for something bad to happen. The Redskins can't be the team making mistakes.
This is a game where you need to get Jason Campbell going early. If he can hit a couple of downfield passes early, it will open up the running game for Clinton Portis.
The NFC Beast talked to London Fletcher on Tuesday. He's confident that the Redskins will respond well to their first two-game losing streak. The Redsk
ins haven't created a lot of pressure, but they should be able to get to Matt Hasselbeck. Zorn learned a lot working under Mike Holmgren. Nothing should surprise these two guys, but the Redskins will win because Zorn has more weapons.
Philadelphia Eagles (5-4-1) at Baltimore Ravens (6-4), 1 p.m. ET
Eagles fans can kiss their slim playoff hopes goodbye with a loss in Baltimore. The Ravens' vaunted defense was embarrassed by the Giants. It was the first time a team had run for 200 yards against them since 1997. But the Eagles are the last team you need to worry about running right now.


Coach Andy Reid refuses to commit to the running game, which makes his offense even more predictable. The Ravens will try to disrupt Donovan McNabb's rhythm early -- and he's been a notoriously slow starter this season. The Ravens' defense might be reeling, but I actually think rookie quarterback Joe Flacco handled himself pretty well against the Giants. He's a threat to run at any time, and he has a big arm.
The Eagles desperately need guard Shawn Andrews back in the lineup. The offense hasn't been the same without him. If the Eagles can get to 6-4-1, they'd at least be back in the conversation. But I don't see the Cowboys or the Redskins losing. It's must-win time.
John Harbaugh, obviously, has a great feel for the Eagles' personnel. This could be a really bad spot for the Eagles. McNabb's been way too streaky, and Ray Lewis and Co. will be in a horrible mood following last Sunday's 30-10 loss to the Giants.