October, 7, 2013
Oct 7
8:05
AM ET
Washington Redskins quarterbacks coach Matt LaFleur was encouraged by Robert Griffin III's outing against Oakland because he saw something he hadn't seen a whole lot of in the first three games. It's a good sign for Griffin moving forward. "He finally was able to make some big-time off-schedule plays in key situations," LaFleur said. "He's getting more comfortable and confident." As you'll recall, it wasn't just Griffin's eluding the corner blitz and running to his right to hit running back Roy Helu en route to a 28-yard gain, it was him stepping up in the pocket and finding Helu for 15 yards on an earlier third down (Griffin's third-down numbers need improving; 52.3 completion percentage; 73.3 passer rating though it was 105.9 versus the Raiders -- 7-of-13 for 104 yards and a touchdown). Griffin also got outside the pocket and found Niles Paul for 16 yards when he could have run.

Griffin III

LaFleur said those plays show maturation in Griffin's game. A year ago, those receivers were open, but Griffin often decided way too early to tuck the ball and run. Therefore he never saw them -- and often took unnecessary hits. "He knows where our guys are going to be now whereas in Year 1 it's survival mode. You see what you see," LaFleur said. "He didn't see Niles [against Oakland] but he knew he was going to be there and that's why he threw to him. ... It shows that he's growing as a quarterback to make those plays as well. A lot of guys get in situations where it's dicey and the [route] concept hasn't shown itself yet and no one's quite open and they'll take off and run." Griffin tried to do that against Detroit late in the first half; because of it he missed a receiver breaking open downfield late. He slid out of the pocket to the left, had the ball poked away and recovered his fumble. But against Oakland it was different.
More on this particular topic because it's a big one for Griffin, and it's why his legs remain vital to his game. Griffin can improve as a passer from the pocket, but his legs always will be a factor. That doesn't mean having to run the zone-read but it does mean getting outside the pocket and making plays, with his arm or legs. The more he extends plays and then hurts teams with his arm, the more he can limit hits and sustain his career. Remember, the questions about his durability do not just apply to running the zone-read; there were scouts and draft experts who wondered pre-2012 draft about him surviving in the pocket, too, because of his leaner frame. Anyway, LaFleur was encouraged. "Again, you like to see that body movement, not only for us but for himself to prove that he can make that play."
LaFleur also noticed a steady improvement in Griffin's mechanics over the first four games. "In this last game his footwork compared to the first game was much more smooth. Better weight transition in his throws as well." The Washington Post's hard-working reporter Mike Jones took a look at this same subject during the bye week. Here's my report on Griffin's game against Oakland, providing a detailed look at some progress (and areas that still must improve).
Can the Redskins and Griffin still be effective with the zone-read option? The Washington Post's Mark Maske interviewed a number of people to look at this, more so from how it's being defended it league-wide. Two weeks ago I talked to some Redskins players about this topic because it's clear the zone-read runs have not been as effective. But a lot of this is because of Griffin's lack of explosiveness in the first couple of games. Defenses have given him the outside on some runs because they knew he wasn't going to run -- or would not be as effective if he did. And it's not as much that defenses have figured out new strategies to deal with the zone-read. What's happened is that they're sticking to their assignments better, showing less hesitation at times on the run. Detroit took away some of the zone-read simply because its tackles won one-on-ones against the Redskins' interior. Still, in a nutshell, defenses are more prepared. But the zone-read play-action fakes still work as the amount of time it holds the linebackers is often about the same as last year (around 1.9 seconds). Last season, according to ESPN Stats & Information, Griffin ran off the zone-read 43 times for 344 yards (8.0 per carry) and gained 1.02 yards after contact. This season? He's rushed four times for 19 yards out of this look with .25 yards after contact. The trickle down is that running back Alfred Morris, who averaged 5.25 yards out of this look in 2012 now averages 3.18 yards per carry. Last year he gained 2.30 yards after contact -- partly because of hesitation as defenses weren't sure who would have the ball, leading to arm tackles. Now, with Griffin's legs not as big (yet?), Morris gains only 1.27 yards after contact. If Griffin regains more of his old explosiveness, it'll be interesting to see what happens to these numbers.
August, 28, 2013
Aug 28
11:58
AM ET
Once
Robert Griffin III
made it through Tuesday's practice, the final one of the week, with no setbacks, the next move was a mere formality: He would start the Sept. 9 season opener versus Philadelphia. And, Wednesday morning,
ESPN's Adam Schefter reported that
, indeed, this would be the case.
It's not a surprise. It is, for Redskins fans, a welcome relief mixed with a little angst: Is he indeed ready? Griffin told ESPN 980 radio on Tuesday that
he was fully recovered
. And that he could run a 4.3 in the 40-yard dash if he were at the combine.
"I would say I'm 100 percent, but you can't put a number on it," he told the station. "No one ever knows when they are 100 percent or what percentage they're playing at. The biggest thing is, I'm not below 100 percent."
Later in the day, offensive coordinator Kyle Shanahan, always a little more forthcoming than his father, said Griffin looked 100 percent to him. Then his dad, head coach Mike Shanahan, followed in his presser a half hour later by talking about how well Griffin has looked in practice the past two days and the noticeable improvement he's made since training camp started.
"You can see he is in football shape and there hasn't been a setback, so everything has been very positive," Mike Shanahan said.
"Football shape" is one of Shanahan's favorite phrases. Once Griffin was in football shape, any decision on Griffin starting was just a formality. It was going to happen. Griffin will still undergo an examination by Dr. James Andrews when the Redskins visit Tampa Bay on Thursday. One team source said that has not changed. And if Andrews finds anything wrong with Griffin's knee, he won't start. But Andrews has examined him recently and found no setbacks. Nothing has changed, certainly not for the worse.
"I've seen much improvement from the first day to where he's at now from when he first came out -- just in his ability to move, his ability to scramble, just the ease in which he practices," Shanahan said.
The minute he awoke from surgery, Griffin set a goal to return by Week 1. As shown in his documentary on ESPN on Tuesday, "The Will to Win," Griffin was consumed with this goal. After a night out in Las Vegas for his bachelor party, when he and his friends rolled in around 5 a.m., Griffin bypassed sleep to work out at UNLV. When Griffin saw the numbers for the Redskins' iron man competition in the offseason, he announced he would set a record. He did.
But there was still the question of whether he could pull it off. Before training camp, I believed he would. Once camp started and we saw how cautious Mike Shanahan was with him, I started wondering what would happen. But the pace has accelerated of late, and the fact that Griffin never took a day off -- which is highly uncommon for players coming off knee surgeries -- sealed the decision.
[+] Enlarge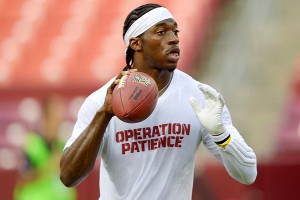 AP Photo/David DrapkinQuarterback Robert Griffin III will start the Washington Redskins' opener on "Monday Night Football" on Sept. 9 against the Philadelphia Eagles.
There are questions: How will he do without the benefit of the preseason? The Redskins say their practices are better than the games. Indeed, the Redskins showed little of their offense in games last summer. However, Griffin did learn lessons in how to anticipate throws or escape trouble in the pocket. They're not a total waste, but would he have really benefited from playing one or two series this summer?
In 2004, Redskins backup quarterback
Rex Grossman
ruptured ligaments in his knee, ending his season. Then, early in the 2005 preseason, he broke his left ankle. He missed the first 13 games before returning -- without the benefit of anything other than practice. Like Griffin.
"I know from my experience coming back, it might take a little bit to knock the rust off, but it's not going to be a whole game," said Grossman, who completed 9 of 16 passes for 93 yards in his first game back. "It might be the first half of the first quarter or once you take a hit. Once you get into the rhythm of the game you rely on everything you've done to that point to get ready, all the practices and experiences from last year. It all kind of comes back. There might be an initial uneasiness that you wouldn't normally have, but every first game of the season, every season opener, I don't care how much you've played in the preseason, it's different and it takes a little while to get going. I don't think it will be that big a deal."
August, 22, 2013
Aug 22
12:00
PM ET
The focus remains on his knee, just not always in regards to whether it's fixed or not. At this point, it's close to fully healed. Rather, it's on how
Robert Griffin III's
passing remains impacted by the knee -- if at all -- when it comes to his mechanics.
ESPN analyst
Ron Jaworski said on "Mike & Mike in the Morning,"

that he noticed a difference in watching Griffin warm up before the Monday night game versus Pittsburgh. Jaworski said he didn't see the weight transfer that he would have liked, though pointing out he was not watching him in person.
The Redskins saw the same thing in the past -- just not anymore.
[+] Enlarge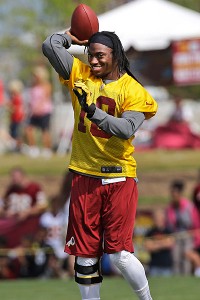 AP Photo/Steve HelberThe Redskins are watching Robert Griffin III's throwing mechanics closely as he recovers from a serious knee injury.
"I think I noticed it a little bit early, just when he first started back," Redskins quarterbacks coach Matt LaFleur said. "I think just talking to other guys that have had that --
Rex [Grossman]
had an ACL, and he said it does take a while, especially when it's on your back leg, to come back to full strength. I think now I don't notice it."
When it comes to Griffin's mechanics, there's a belief that the time off combined with the maturation in the offense has helped. If Griffin not only wants to play in the first game, but have success, then trusting sound mechanics is a must.
But the Redskins aren't as worried for a good reason: LaFleur said Griffin is much better in this area than a year ago.
"When you're comfortable with the scheme and you know where you're going with the ball, there's a lot less thinking going on," LaFleur said.
Some of that stems from the knee injury and what he was unable to do for a while.
"It's got to slow him down," Redskins offensive coordinator Kyle Shanahan said. "He just can't come out there and just go as hard as he can. He is slowing everything down and really focused on his technique and focused on his mechanics. I think he worked at that his whole rehab session, and he is trying to carry it over to the field now. I see it getting better, and I think it will get better each week. Hopefully we will get him ready for that first week."
The lower body mechanics are clearly a big deal. He can put more zip on the ball with better weight transfer, being able to fully plant and drive. As LaFleur said, there were days early in camp where it was clear Griffin could not plant and drive with authority because of his surgically-repaired right knee. But that hasn't been the case the past couple weeks.
What LaFleur likes is how quickly Griffin learns when it comes to his throwing mechanics. Last week, for example, Griffin missed receiver
Pierre Garcon
wide on an out route. LaFleur knew why: Griffin had over-rotated his shoulders. They talked and Griffin went to the next play: a perfectly-thrown out route to the other side.
Another example from last week. The Redskins were working on their five-step hitch throws, and Griffin threw behind a couple times. The message to him: Speed up his steps, throw the ball earlier, but with less velocity.
"In two days he looks flawless," LaFleur said. "He is a quick learner. You only have to tell him something once."
It's not like Griffin is perfect. One of his worst throwing days in camp occurred more because of sloppy footwork than anything. He tried to throw to his right while his feet remained pointed either straight ahead or slightly to the left. Bad misses followed. Veteran quarterbacks struggle with this issue at times (
Tom Brady
missed on a couple throws against the Redskins two years ago for this reason). But it's one the Redskins will continue to harp on with Griffin.
"You're always working on footwork, and my biggest thing with him is try to get his body in position to make a good, accurate throw," LaFleur said. "If you have good balance, you have a much better chance of being accurate over the long haul. He is an extremely talented athlete and a quarterback as you know. He's capable of making any throw even if he doesn't have good balance. It's just the consistency factor."
The Redskins have analyzed his throwing motion since his return and compared it to how he was pre-injury. Coach Mike Shanahan estimates he's made about 600 throws in the spring and summer. They didn't want to put him in too soon and have Griffin alter his mechanics to compensate because he wasn't quite ready.
"We've been watching him practice and he's getting better and better. We see progress," Shanahan said. "One of the reasons we didn't throw him right in the fire is because we didn't think he was ready right away."
Griffin didn't want to share much about his mechanics or what he perhaps learned through watching himself on film or what he's worked on post-injury. But he did say he sees a change because his knee feels better. He didn't need to see the film to tell him that.
"It's a feel," Griffin said. "I could feel the difference late in the year between having a healthy knee and not having a healthy knee. I can feel the difference now, having a healthy knee. … I feel like I'm miles ahead when it comes to just playing football than I was then. When it comes to just being healthy and planting off the back foot, I feel good there, too."
August, 15, 2013
Aug 15
7:30
PM ET
RICHMOND, Va. --
Highlights from Robert Griffin III's practice, his second working against the Redskins' scout team:
1. Had to miss most of Robert Griffin III's practice to hop on an important work phone call. However, I do know he completed 14 of 15 passes during work against the scout team, again running a variety of plays. Griffin took 21 snaps, five more than he did the previous day -- his first time in any sort of 11-on-11 drills. "I thought he was really sharp today," Redskins quarterbacks coach Matt LaFleur said. "I didn't see a lot of hesitation in his decision making. His footwork was clean. He had a good day."
Griffin III
2. LaFleur's best quote was about Griffin's health in general and if he noticed any issues with his back (and plant) leg. Early in camp Griffin didn't always plant and drive with authority. He pushed off gingerly other times. But that hasn't been the case for a while. "I noticed a little bit early when he first started back. Now, I do not notice it," LaFleuer said. Neither do I.
3. Redskins offensive coordinator Kyle Shanahan also said Griffin looked sharper than he had Wednesday, though he felt that way about the entire offense. There's a natural progression for Griffin. "He's getting his health back, and now it's just about getting the rust [off] and trying to get those reps," Shanahan said.
4. The Redskins drilled Griffin on the side every day during practice until he returned to full-team work against the scout team Wednesday, trying to simulate movements in the pocket. Thus far against the scout team, Griffin has not made any off-scheduled plays on dropback passes. That's a good sign for him as a passer. "He has been able to get the ball out and get rid of it," Shanahan said. "He hasn't broken the pocket. I think we had two keepers with him today -- or bootleg, whatever you guys want to call it -- where he is faking the outside zone and running the other way. So he has had some design scrambles but he has been able to get rid of the ball before leaving the pocket in dropback plays."
5. Shanahan said that even though Griffin isn't being tackled -- no quarterbacks in any camp ever would be -- or even hit, they can get him used to dealing with the rush. "You definitely have to move, you definitely have to react just to move in the pocket and make the reads."
6. Yes, Shanahan was asked if he plays the middleman in the Griffin-coach Mike Shanahan relationship. The short answer? No. Here's his long answer: "Middlemen mess things up. I would rather those two communicate to each other. I understood his frustrations. I am just as frustrated. The whole team, everybody wants him out there. Me being young and everything, I want him out there the very first day. I don't have much experience in this. The main thing is we can't risk him getting hurt. As hard as it is, as frustrating as it is for him, myself, the head coach, every player out here, it is what we have got to do. We have to keep him healthy that is the most important thing and make sure he is definitely ready to get out there and I think we have been smart about that."
Notes:
Linebacker
Brian Orakpo
left practice early with a bruised right quad. ... The Redskins signed linebacker
Quan Sturdivant
, who spent part of last season on Kansas City's practice squad. Sturdivant, a sixth-round draft pick in 2011, can play inside. ... There is no practice report today. Will have one after Friday's practice.
June, 12, 2013
Jun 12
3:58
PM ET
ASHBURN, Va. -- Are the
Washington Redskins
planning to reduce the number of read-option plays in their playbook in order to keep quarterback
Robert Griffin
III safe? No chance. Redskins offensive coordinator Kyle Shanahan said Wednesday that one of the benefits of the read-option is that it helps keep the quarterback safe, and that the plays on which Griffin got injured in his rookie season were pass plays on which Griffin decided to scramble.
Griffin III
"The zone-read is something I feel, in the long run, helps the quarterback," Shanahan said. "The quarterback's only going to run if there's no one there to hit him. If there is someone there to hit him, he's going to hand it off. I think the zone-read stuff is the least of where he got hit. The three injuries were pass plays. They weren't zone-read plays."
Shanahan was one of several Redskins coaches who spoke after Wednesday's minicamp practice about the need to help continue to coach Griffin to learn techniques for self-preservation -- when to throw the ball away, when to run out of bounds, when to slide, etc. He said Griffin's high level of athleticism and the success he's always had with his legs are the reasons he hadn't had to learn those things prior to his arrival in the NFL.
"Most of the other quarterbacks on our roster have been throwing the ball away since high school," Shanahan said. "They can't outrun that guy who's going to hit them. Robert's been outrunning that guy his whole life, now all of a sudden you find you can't."
Redskins quarterbacks coach Matt LaFleur said he believes Griffin is on board with the effort to learn to protect himself better on the field.
"I think he realizes the toll these hits can take on his body, and in general he'll be better at staying out of harm's way," LaFleur said. "As a competitor, you never want to give up on a play. But you've got to know when to burn the ball and live to play another day. We're constantly on him about that, and he's on himself about it, too."
Griffin worked on the side during the Redskins' just-completed three-day minicamp as he continues to work his way back from reconstructive knee surgery. He has said he's hoping to return in time for training camp, which begins late next month in Richmond, Va. Backup
Kirk Cousins
has been working at quarterback with the first team in the meantime, and Cousins is prepared to start if Griffin cannot.
January, 5, 2013
Jan 5
3:00
PM ET
ASHBURN, Va. --
Kirk Cousins
has made his peace with life as the
Washington Redskins
' backup quarterback. A young man of strong faith, he says he believes two things -- that a divine hand placed him here and that his long-term development will be helped by the coaching of Mike Shanahan and Kyle Shanahan, even if he has to sit come gameday while
Robert Griffin
III becomes a Washington superstar.
But that doesn't mean he doesn't have his moments.
"After watching Robert having so much success on a Sunday afternoon, and then driving home and turing on the TV and seeing the success guys like
Andrew Luck
,
Russell Wilson
and
Ryan Tannehill
are having, human nature would suggest that I'd get a little frustrated," Cousins said Friday. "And I'd be lying to you if I didn't have those thoughts sometimes. But I'm looking at my career as a marathon, not a sprint, and that helps."
[+] Enlarge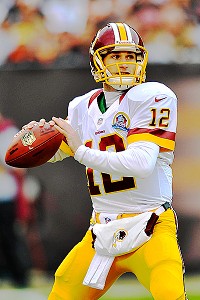 David Richard/USA TODAY SportsHow good can Washington rookie QB Kirk Cousins be in the NFL? His coach says think Drew Brees.
The back story is that Cousins was the Redskins' fourth-round pick in the 2012 draft. This surprised a large number of people, Cousins included, who'd seen the Redskins trade three first-round picks and a second-round pick so they could take Griffin in the first round. They were obviously drafting Cousins to be a backup, in spite of other roster needs, and the heads of draft observers far and wide were well-scratched that day.
Mike Shanahan says it was a no-brainer.
"I was shocked he was still there," Shanahan said Thursday. "Kirk Cousins, I thought, would go early in the second round. I thought he was a first-round pick because he knew the pro-style game. The reason why I liked him was I thought he could come in and play right away. I think he's
Drew Brees
. Drew Brees at Purdue, early in the second round. And he'll prove it while he's here."
His chances, however, are likely to come only in the preseason or in games such as the one the Redskins played in Week 15 in Cleveland, when Griffin sat out with a knee injury and Cousins led the Redskins to victory over the Browns. He played well in that game, as he did in the preseason, and that's the kind of tape he'll have to show teams when and if he gets the chance to go looking for his next job. It's the tape Shanahan might someday show teams if he decides, late in Cousins' rookie contract, to try and trade him for valuable picks. But if you're thinking that happens this offseason, you should think again.
"You never know when a quarterback's going to go down, and look at what happened," Shanahan said. "If we don't have Kirk Cousins for that game, are we here right now? He's so bright, and such a good kid, too. He knows he can play in this league, and that's what's hard for him. I tell him, 'Hey, don't be mad at me. I picked you. Don't be mad at me.'"
Cousins will tell you he's not mad at anybody. And certainly the fact that one of the Redskins' 10 wins this season goes on his ledger is a nice feeling as Washington gets ready for Sunday's playoff game against the Seahawks.
"No doubt about it," Cousins said. "The opportunity as a rookie to have a hand in your team making the playoffs is a great feeling."
Not as great, though, as what guys like Griffin and Wilson and Luck are feeling as they collect all of the accolades and adulation they're getting for leading their teams into the playoffs in their rookie seasons. That, for Cousins, would be even cooler.
"He's a good person, a good teammate and he doesn't ever admit it," fellow backup
Rex Grossman
said of Cousins, "but I know just from being around him what a competitor he is. I told him the other day, if they did the draft over again, he'd go in the first round. He's going to be fine, but I can tell he's got a chip on his shoulder."
Nothing wrong with that, especially if it motivates Cousins to stay on the track he hopes his career takes. He has mentioned to those around him the case of
Aaron Rodgers
, who had to sit as Brett Favre's understudy for three years in Green Bay but emerged from that experience to become the best quarterback in the league.
"He's going to take the positive out of this situation," Redskins quarterbacks coach Matt LaFleur said. "He likes what we're doing here and he knows where we're going. Everybody believes in him here, and he's only going to benefit from that."
And yeah, Cousins knows that. It's no easy thing for a confident 24-year-old football player to stay patient while he watches guys he beat in college become NFL stars. But that's Cousins' job right now, and he is learning to embrace it.
"As much as it was a shock and I was disappointed, after being here a year, I know this is where I'm supposed to be," Cousins said. "My job is to make the most of it."