February, 10, 2010
2/10/10
9:57
AM ET
By
Matt Mosley
| ESPN.com
With former Redskins guard Russ Grimm being voted into the Hall of Fame last Saturday, we've heard a lot of great stories about him. But Redskins blogger Matt Terl pulled back the curtain on the voting process Tuesday
by visiting with Grimm's presenter, David Elfin
.
[+] Enlarge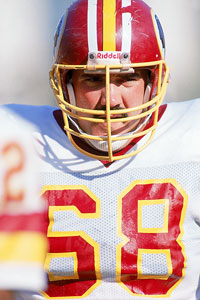 Bernstein Associates/Getty ImagesRuss Grimm received some lofty praise from former opponents.
The former Skins beat writer for the Washington Times (when it still had a sports section) was refreshingly honest about what led to Grimm finally making the final cut. And he talked about how difficult it is to quantify an offensive lineman's worth to a team. Elfin set out to talk to coaches and players who had faced Grimm over the years. And obviously the strategy paid off:
"What I chose to do this year was go to people who opposed Russ. I don't mean the voters, I mean the people who played and coached against him," said Elfin. "Because if they had good things to say, that would be more decisive than anything [Joe Bugel] or [Joe] Gibbs or anybody on the Redskins could say.
"And Randy White said that Russ Grimm was one of the best guards he ever faced. Bill Parcells said that Mike Munchak was the only one that he's ever seen in his time who was better than Russ -- and he was on the Patriots when they had John Hannah.
"Harry Carson said that Russ always gave him a headache and was the glue that held the Hogs together. And Matt Millen said basically that he was the smartest offensive lineman he had ever seen. So that was the basic gist. Those four people, I think, were pretty decisive."
Terl also asked Elfin to talk about who's next for the Redskins in the Hall of Fame:
"For me, if you wanted to name Redskins who are deserving, Chris Hanburger is number one," says Elfin. "Nine Pro Bowls, there's no question. I would say Len Hauss is second, with, like, seven Pro Bowls. And then you'd probably throw [Dave] Butz into the group with Jake and Pat Fischer and Larry Brown and ... off the top of my head, those'd be the lead guys."
The one name missing from that group in my mind is wide receiver Gary Clark. Who's next in your minds? As hard as this is to believe, defensive end Dexter Manley only went to one Pro Bowl. But he was named to the All-Pro team twice and had 103.5 sacks. That sack total is higher than Charles Haley's. Defensive end Charles Mann went to four Pro Bowls but he only finished with 83 career sacks, 82 with the Redskins. But he did play on three Super Bowl-winning teams.
October, 14, 2008
10/14/08
5:38
PM ET
By
Matt Mosley
| ESPN.com
Posted by ESPN.com's Matt Mosley
On the same afternoon that NFL commissioner Roger Goodell trumped Jerry Jones' speedy internal investigation of last week's Pacman Jones incident with an indefinite suspension, the Cowboys' owner engineered a dramatic trade for Detroit Lions wide receiver Roy Williams. ESPN's Ed Werder first reported that the deal was close to being consummated, and the Cowboys have now confirmed it.
It sounds as if Jones fought hard to keep his first-round pick, but in a rare "victory" for Lions management, they finally talked him out of it. The Cowboys gave up a first-round draft choice, a third and a sixth in exchange for Williams and the Lions' seventh-round pick in 2009.
At a time when the Cowboys appeared to be imploding with the loss of starting quarterback Tony Romo for three games and the suspension of Pacman, the trade for Williams might provide the spark they need to regroup as a team.
Jerry Jones spent the entire offseason coveting veteran wide receivers such as Chad Johnson, Anquan Boldin and Williams. But two weeks ago, he denied that he was in the market for a wide receiver. Would this deal have been done if Romo and rookie running back Felix Jones hadn't been hurt against the Cardinals? I think it would have, because Jones was sick of watching T.O. get dominated by no-name cornerbacks.
Jones hated to give up the first-rounder because he remembers how the trade for Joey Galloway blew up in his face in 2000. But that was a move made in a desperate attempt to win one more Super Bowl with Troy Aikman. Williams will now have a chance to grow old (as a football player) with Romo, Jason Witten, Marion Barber and Felix Jones.
Of course, the trade begs the obvious question, "How will T.O. react?" I'm sure he'll say all the right things Wednesday, but we'll see what he thinks when Williams has seven or eight catches and he has three.
The Cowboys have tried to cover up T.O.'s ineptitude the past three weeks by talking about how teams have double- and triple-teamed him. But the truth of the matter is that T.O. can't get off the line of scrimmage against cornerbacking greats such as "Neon" Leon Hall and Rod Hood.
T.O. could definitely benefit from Williams' presence, but there's a chance he will feel threatened by his arrival. Williams is the big, fast receiver that Jones has coveted. Like the player the Cowboys just faced, Larry Fitzgerald, Williams is capable of making huge plays downfield. T.O. does a superb job of running after the catch, but he has never been great at competing for balls in tight spaces. And if that sounds wrong to you, just ask any NFC scout for his opinion.
Williams is the happiest man in Michigan right now. He grew up in West Texas (he played at Odessa Permian High, the inspiration for "Friday Night Lights"), and he has been open about his desire to play for the Cowboys. He had 82 catches for 1,310 yards in 2006 and made his first Pro Bowl appearance, but his career has been in a steady decline since then.
In 2007, he averaged 5.3 receptions per game and 69.8 yards. This season, he has averaged 3.4 receptions and 46.4 yards per game. He'll immediately replace Patrick Crayton as the team's second receiver.
Who's the happiest man at Valley Ranch today? That would be Tony Romo. Adding another star receiver may have a healing effect on his broken pinkie finger.
By the way, Brad Johnson also has to be excited. He doesn't have much of an arm left, but he can still launch it high enough to let Williams make a play on the ball. It wouldn't surprise me if the Cowboys activated Williams for Sunday's game against the St. Louis Rams.
This entire trade is a classic Jerry Jones misdirection play. The news cycle for Wednesday would've been all about Pacman, but now Jerry Jones has caused a diversion. Werder called a few minutes ago to remind me about a story from the early '90s. Former Cowboys wide receiver Jimmy Smith had just won a grievance against the club, and Jerry Jones had been very smug about how he never "lost in court."
On the day before the embarrassing story was set to run in the Dallas Morning News, Jones decided to announce a monster extension for Aikman. Do you think that was a coincidence? Yeah, me neither.
I'm not saying the Cowboys are headed to a Super Bowl, but they have a much better chance this afternoon than they did this morning. T.O.'s recent decline only reinforced Jones' desire to bring in another quality wide receiver. He has learned the hard way that you have to wait two or three years for a young receiver to develop. On Tuesday, he took a shortcut.
He should send flowers to the Ford family for finally firing Lions general manager Matt Millen. Or given the state of the economy, maybe purchasing some stock would be the most appropriate display of gratitude.
And if you're wondering why your team isn't receiving more coverage today, tell your owner to have a player suspended and then trade for a Pro Bowl wide receiver on the same afternoon. We go wherever the news is. And today, it's all coming out of Valley Ranch.
September, 24, 2008
9/24/08
2:08
PM ET
By
Matt Mosley
| ESPN.com
Jeremy Green reacts

to today's NFL news that Plaxico Burress has been suspended and Matt Millen is out in Detroit.
NFC EAST SCOREBOARD
Saturday, 12/20
Sunday, 12/21