February, 13, 2014
Feb 13
3:00
PM ET
PHILADELPHIA -- Midway through the 2013 NFL season, SI.com's Peter King took a look at a league-wide trend and concluded, "Kicking field goals is too easy."
King didn't spend that much time in Philadelphia.
It wasn't so much that
Alex Henery
did a terrible job as the
Philadelphia Eagles
' kicker. He made 23 of 28 attempts, a success rate of 82 percent. But the more telling number wasn't the 23. It was the 28.
[+] Enlarge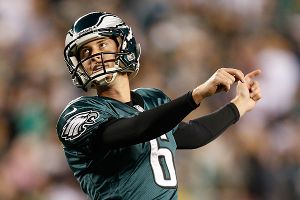 AP Photo/Brian GarfinkelAlex Henery has attempted just five field goals of at least 50 yards in his three NFL seasons.
The best kickers in the league don't just make 90 percent of their attempts. Their range and success rate give coaches the confidence to turn to them in all kinds of situations, at ever greater distances. New England's
Stephen Gostkowski
didn't just make 15 more field goals than Henery; Gostkowski attempted 13 more.
Henery attempted just two field goals of 50 yards or longer, making one. Gostkowski attempted six. Baltimore's
Justin Tucker
attempted seven. So did Green Bay's
Mason Crosby
and Dallas'
Dan Bailey
.
When the Eagles lost to the
New York Giants
at home in October,
Matt Barkley
was playing quarterback in relief of
Michael Vick
. Late in the second quarter, Barkley drove the Eagles to the Giants' 27 before being sacked for a 5-yard loss.
Instead of trying a 50-yard field goal with wind swirling, coach Chip Kelly decided to go for a fourth-and-12. Barkley dropped the snap and threw an incompletion.
Now it goes without saying that Barkley could have made better plays on third and fourth down. Taking the sack probably changed Kelly's strategy. But would the Patriots, Packers, Ravens, 49ers or Cowboys have balked at trying a 50-yard field goal?
The guess here is no. A week earlier, Kelly had made the second-guessable decision to have Henery try a 60-yard kick late in the first half against Dallas. He missed.
A coach without complete confidence in his kicker is like a baseball manager with a shaky bullpen. The ripple effect on his decision-making is constant.
Henery also missed a 48-yard field goal in the Eagles' 24-22 playoff loss to the Saints. His kickoff to the shallow end zone resulted in a long return that set up the Saints' game-winning score.
Henery presents a bit of a conundrum for the Eagles. They invested a fourth-round pick in him in the 2011 draft. At 26, he is still at the point in his career when many kickers find themselves. Is it better to take the risk that he will do just that with the Eagles, or the risk that he will do it for some other team?
Most of the top kickers in the league right now were undrafted. Gostkowski, like Henery, was a fourth-round pick. Green Bay's Crosby was a sixth-round pick. The more typical route is to be signed as a rookie free agent and bounce around until finding the right combination of opportunity and success.
Seattle is
Steven Hauschka
's sixth team. Denver is
Matt Prater
's third.
So the Eagles will almost certainly bring in a kicker to compete with Henery, something they didn't do last year. But it seems unlikely they will use a draft pick, unless somebody they really like -- Chris Boswell from Rice or Anthony Fera of Texas, maybe -- is sitting there in the sixth or seventh round.
Hauschka is to become a free agent, but will likely remain with the defending champions. Veterans
Adam Vinatieri
and
Phil Dawson
should be on the market. One intriguing name is
Dan Carpenter
, who had a good season in Buffalo. If the Bills re-sign Carpenter, that could make
Dustin Hopkins
, their sixth-round pick from Florida State last year, available.
Kickers are out there. The Eagles have a decent one. The question is whether that's good enough.
December, 27, 2009
12/27/09
11:30
PM ET
By
Matt Mosley
| ESPN.com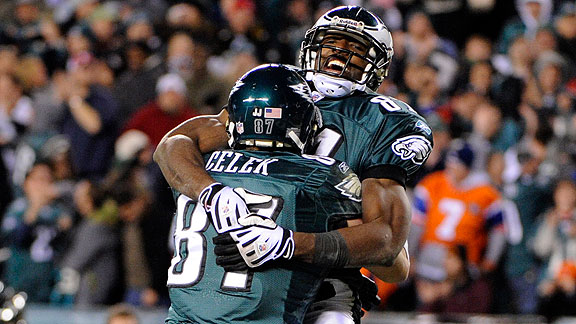 Barbara Johnston/US PresswireBrent Celek and Jason Avant were part of an Eagles offense that sputtered in the fourth quarter.
PHILADELPHIA -- As we speak, the
Philadelphia Eagles
are the hottest team in the NFC. While the Vikings and Saints have stumbled down the stretch, the Eagles (11-4) keep stacking wins.
The hard part is figuring out how much to read into the Eagles' six-game winning streak. Midway through the third quarter Sunday at the Linc, I was ready to make them the odds-on favorite to reach the Super Bowl. They had pulled off one of their patented lightning-quick drives to go up 27-10 and it appeared the visiting Broncos were just about done. But a couple plays involving Eagles rookie
Macho Harris
turned the game around and the Eagles were forced to claw out a
30-27 win.
That the Eagles were able to survive this game speaks to their character, but it is not something they want to try on a weekly basis. This is the most explosive offense of the Andy Reid era. A couple of years ago, this offense would have gone in the tank without running back
Brian Westbrook
. But now he's merely a complementary piece in the Eagles' high-powered offense.
In the first half, the Broncos assigned All-Pro cornerback
Champ Bailey
to cover wide receiver
DeSean Jackson
at all times. Quarterback
Donovan McNabb
responded by hooking up with tight end
Brent Celek
four times for 121 yards and a touchdown. Matched up with a linebacker in the first quarter, Celek made a one-handed catch for 31 yards to set up the Eagles' second score.
The Broncos finally dropped into zone coverage in the second half and it paid immediate dividends when Bailey intercepted McNabb on the Eagles' second play from scrimmage. The Eagles answered when
Jason Avant
made a brilliant adjustment on a ball that was deflected by Broncos safety
Renaldo Hill
. Avant's touchdown put the Eagles up 27-10, and they appeared to seal things when cornerback
Asante Samuel
picked off
Kyle Orton
at the Eagles' 8 yard line. But Harris was called for unnecessary roughness during the return and Samuel was flagged for spiking the ball. The Broncos finally held the Eagles and started their next drive at Philadelphia's 25-yard line.
A stunned crowd watched the Broncos score two touchdowns in 49 seconds to pull within 27-24. The Eagles' offense went flat and the Broncos' blitzes started to bother McNabb. The Broncos tied the score with
Matt Prater
's 46-yard field goal with 6:11 left in the game and actually losing to Denver became a possibility for the Eagles.
Facing a third-and-25 on the ensuing drive, McNabb turned back the clock in racing 27 yards for a first down. The Eagles ended up punting on the drive, but McNabb's mad dash saved them from poor field position. When the Eagles got the ball back with 1:41 left, McNabb fired a 27-yard pass to rookie wide receiver
Jeremy Maclin
, who was barely able to keep both feet in bounds.
"We work on that sideline drill every day in practice," Maclin said after the game. "It's hard when you come from college because you only have to get one [foot] down. But I knew had it all the way."
It was initially ruled an incomplete pass, but the call was overturned when the booth asked for a replay.
It was the third time this season the Eagles have either overcome a deficit or tie in the fourth quarter to win. That is the most they have had since 2006, when
Jeff Garcia
was filling in for an injured McNabb. And though it is a good sign that the Eagles are capable of winning close games, they certainly do not want to see large leads evaporate.
"It's something we can't keep doing," Celek said. "It takes a toll on you to keep putting yourself in that position week after week. I don't know why we seem to have the lulls here and there, but we need to get it fixed."
The Eagles could still overtake the Vikings (11-3) as the No. 2 playoff seed in the NFC. But right now they are focused on beating the
Dallas Cowboys
in Arlington, Texas next Sunday to win an outright NFC East title. Everything else will take care of itself.

NFC EAST SCOREBOARD
Thursday, 8/21
Friday, 8/22
Saturday, 8/23